I recently saw a Japanese car customiser that had taken a Ferrari F40 and "stanced" it like you would with a Mazda RX7 or a Toyota Supra. Like it or hate it, it sure made a big splash. But it also got me thinking; if you've got an unlimited budget and just an average amount of talent, building custom automobiles is easy. You just pick a super rare/expensive/collectable car or bike and throw a crazy idea at it to see if it sticks. It's easy. It just goes like this: what about a Ducati Desmosedici as a cafe racer? Or a Brough Superior as a drag bike? Hell, what about a giant Caterpillar mining dump truck as a low rider? As you can hopefully see, there ain't no skill in that. Just a big pile of cash.
But money can't buy you talent, so the real test of a customiser's mettel is when you give them a smaller budget and a very average vehicle and then see what they do. And funnily enough, this is exactly what Sydney's Sabotage Motorcycles were just asked to do with the uber ubiquitous Yamaha SR400. Hell, it wasn't even an old SR; this one was in fact both a brand new off the showroom floor and one of the very first "official" SRs in the country before Yamaha eventually decided to pull the pin on their 45 year production run in 2021. We spoke to Sabotage's Andy Door and Giles Colliver to see just how they managed to make so much with seemingly so little.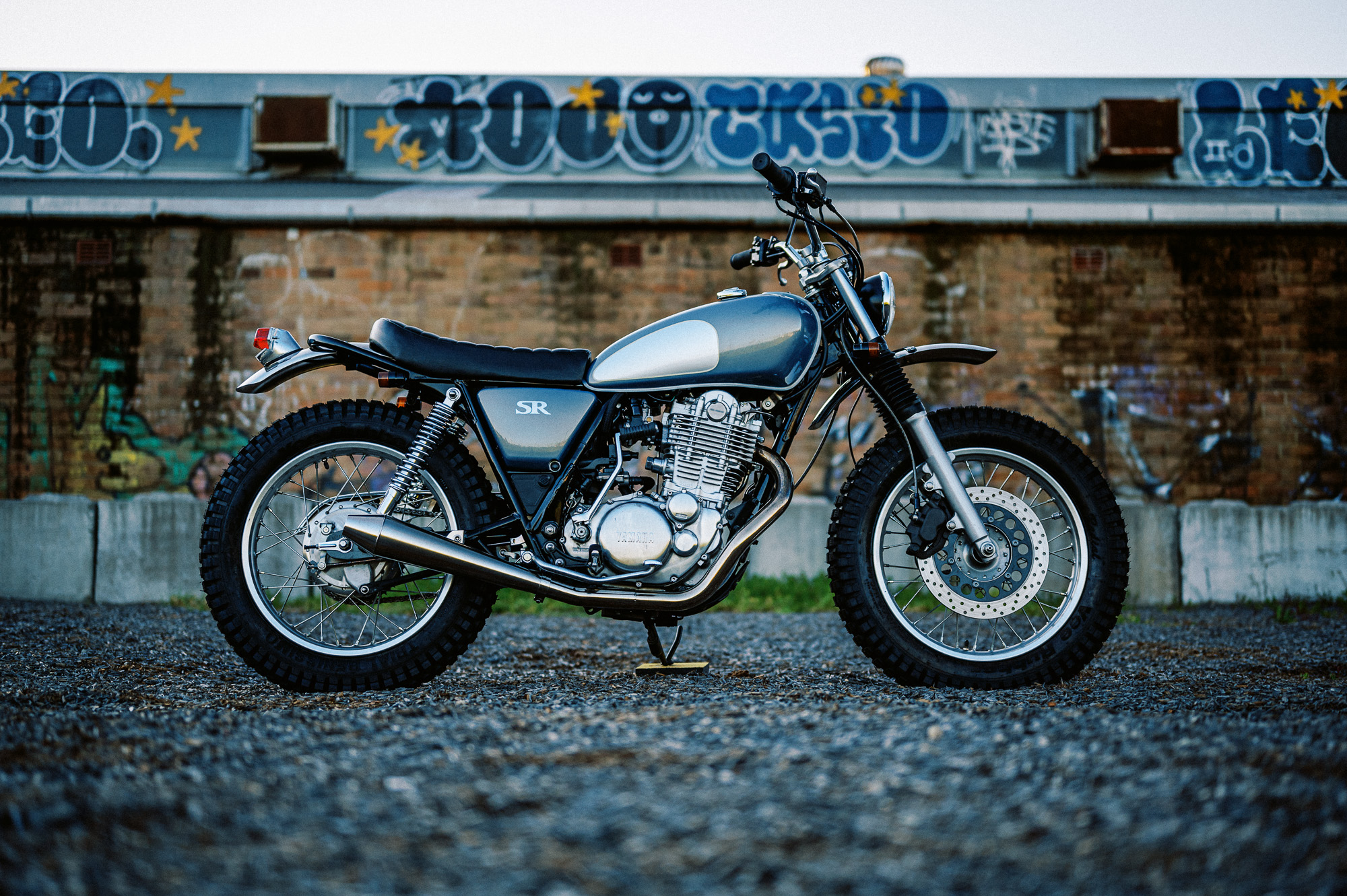 Always up for a chat, I asked the boys what they have been up to of late. "Well the weather here in Sydney has been warming up," says Andy in opening. "So as is the law in Australia, we've been firing up the barbie at lunch. There's nothing like a nice kangaroo burger during a fabrication session." That's right, Aussies do really eat kangaroos. Apparently, they taste like venison. But enough culinary claptrappery, we're here to talk motorcycles.
The boys tell us that their client was after a "vintage-style motorcrosser," but without the high pipes. Now while the peanut gallery may have an issue with low-slung pipes and talk too loudly about authenticity and useability, it'd be best to remember that this bike isn't being prepped to race in any official events anytime soon. The upshot here is that a high pipe is much more likely to burn your leg than a low pipe is to collide with a giant boulder and be torn off. "Horses for courses," as they say. And personally, I think it looks pretty damn sweet.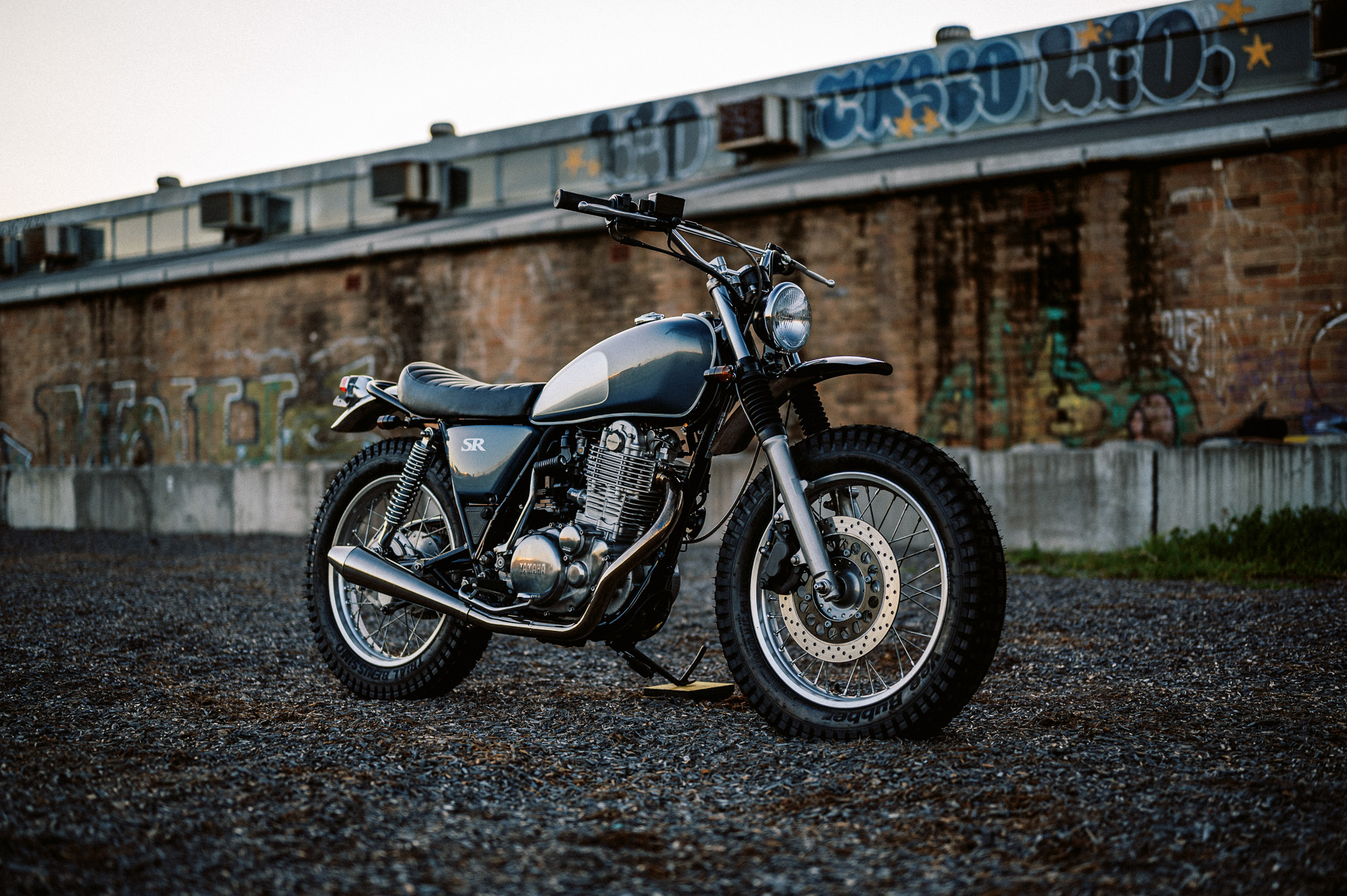 What adds to the story here is the fact that this particular SR400 was one of the very first of its kind to be officially imported into Australia and not a "grey" import, as all the army of previous bikes had been. Being anything but unique didn't serve this poor little bike too well, as it sat around on the showroom floor for quite a few years before it managed to find its first real home.
As we all (hopefully) know, the SR is an incredible bike that not only provides owners with a direct connection to classic motorcycling from a bygone era, but it also managed to almost single-handedly reignite this whole cafe racer craze that's been so big over the last 15-ish years. Talk about leaving its mark; no Yamaha SR400, no Deus Ex Machina.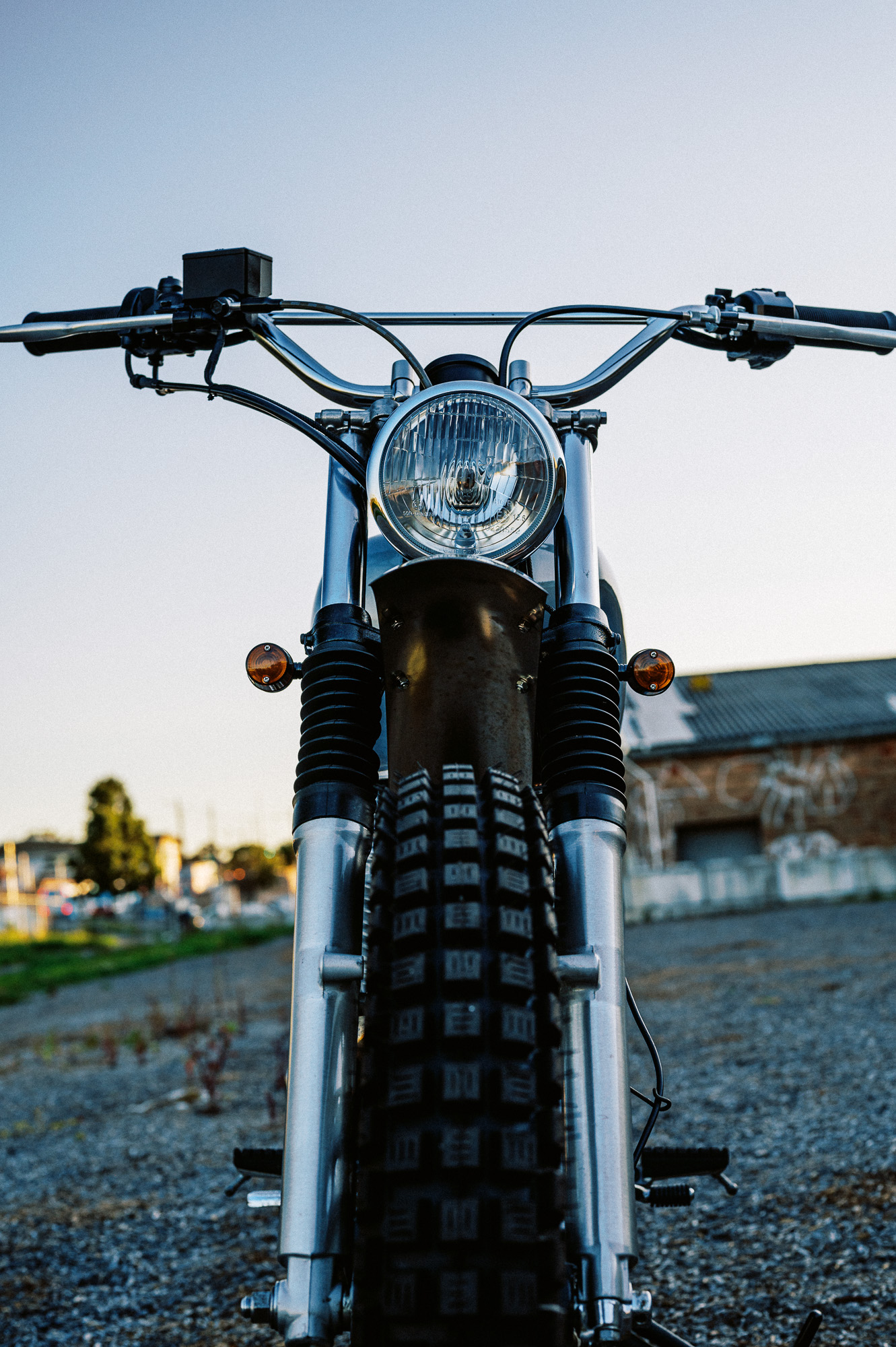 But how did the whole build come about? "It was an out-of-the-box 2014 SR400," says Giles in response. "Remarkably, it had been sitting at our clients' local motorcycle sales shop out in Whoop Whoop for years. He noticed that it was pretty much mint, had very low mileage and was in completely stock form, so he snapped it up for a very reasonable price."
As we all do at one point or another, he began dreaming about how cool it would be to customise this little gem. Just imagine! All those cool mods and personal touches that would make the bike truly his. But life – as it always does – got in the way. And his kids, too. He slowly began to realise that he just wouldn't have the time to make his custom bike dreams come true. Enter stage left, Sabotage Motorcycles.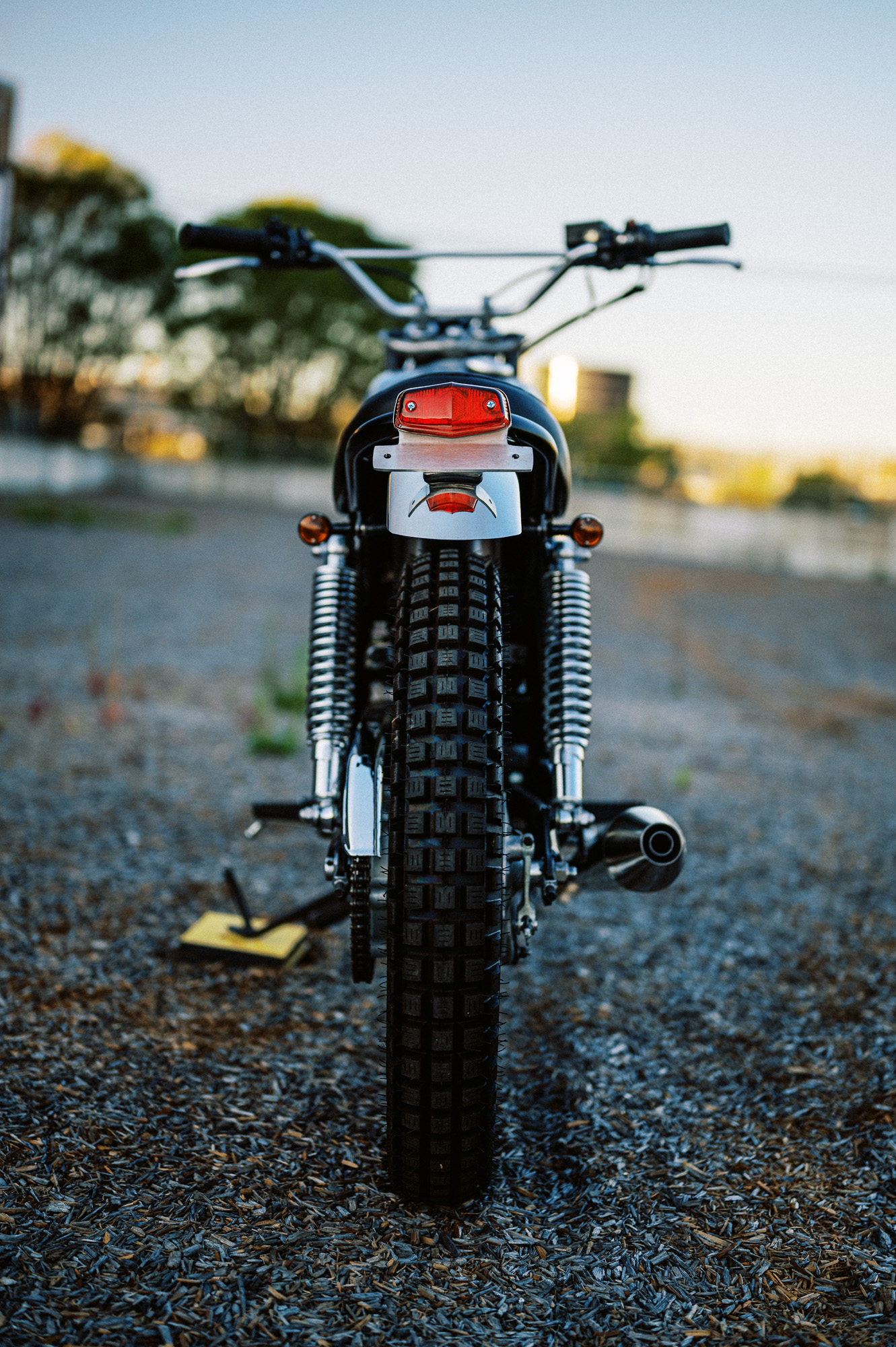 "We asked him for a brief for the build and he obliged. As he lives in the bush, he was adamant that he wanted a custom bike with both off-road and on-road capabilities for those relaxing weekend twisty blasts while also allowing him to go and chase the odd stray sheep or wild yowie when the need arises." Call me crazy, but doesn't that make this a farm bike of sorts? It gives me faith in the human race that while he could have just popped down to the local ag store and grabbed himself an AG200F, he instead chose to start with an SR and build it up from scratch.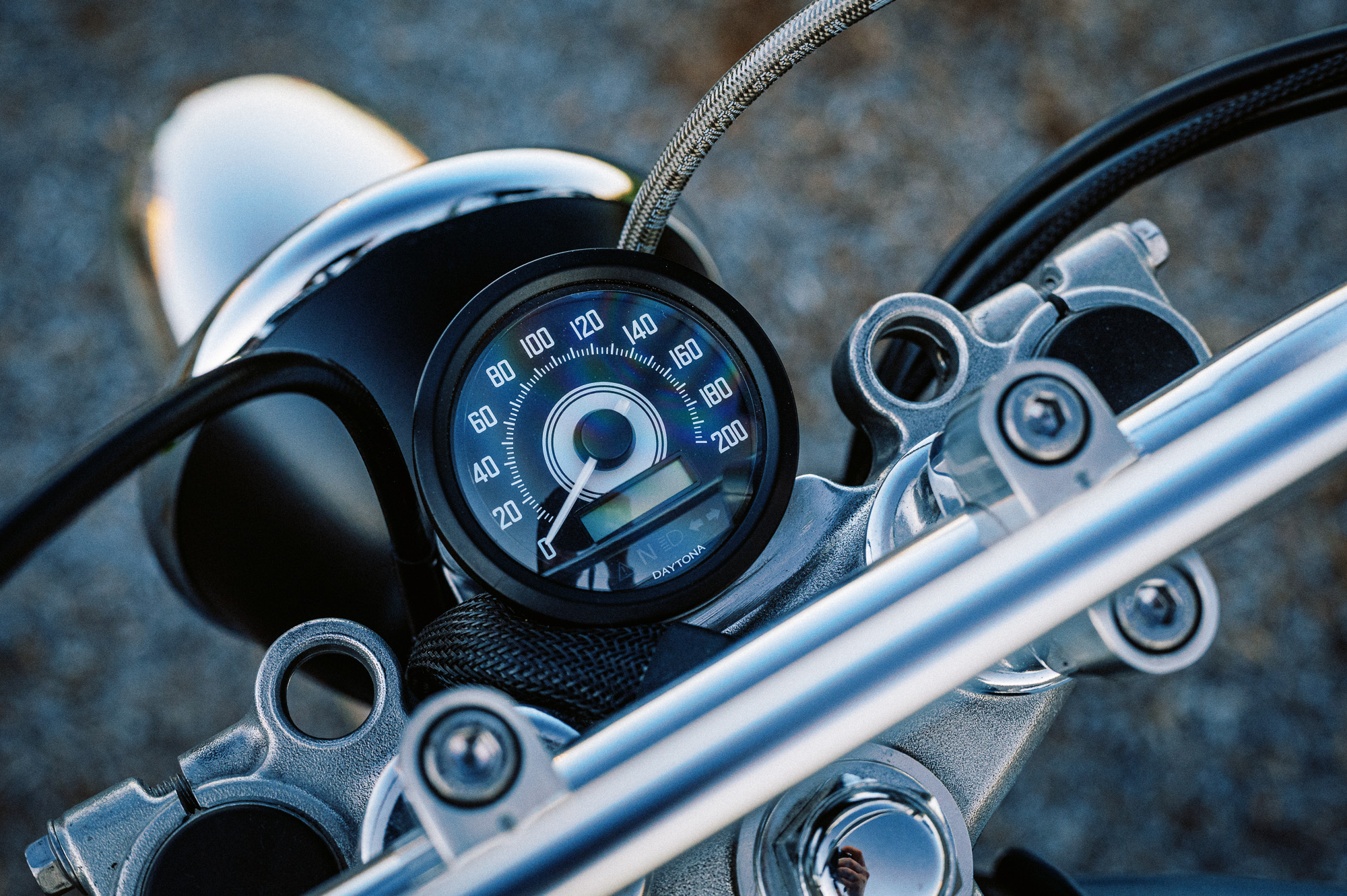 So on to the build itself. "When he brought the bike to us, he also had a whole array of parts he had already purchased for it," explains Andy. "Luckily those parts he'd chosen were good quality items from the likes of Posh and Daytona in Japan, so we knew we could get those working on the build for him and not have to replace them with new items. Thus we set about creating a simple, fun, road-legal take on a vintage motocross bike."
Giles continues. "Being a 2014 model, this SR has fuel injection and all the electronic components to go with it. We could've gone hardcore, ripped all of that stuff out and replaced it with a good old flat slide carb, but we wanted to retain the reliability of the fuel injection.We still did modify the engine a smidgen with a custom stainless steel header and a "quiet core" muffler, which gives the bike a really nice sound without it being irritatingly loud."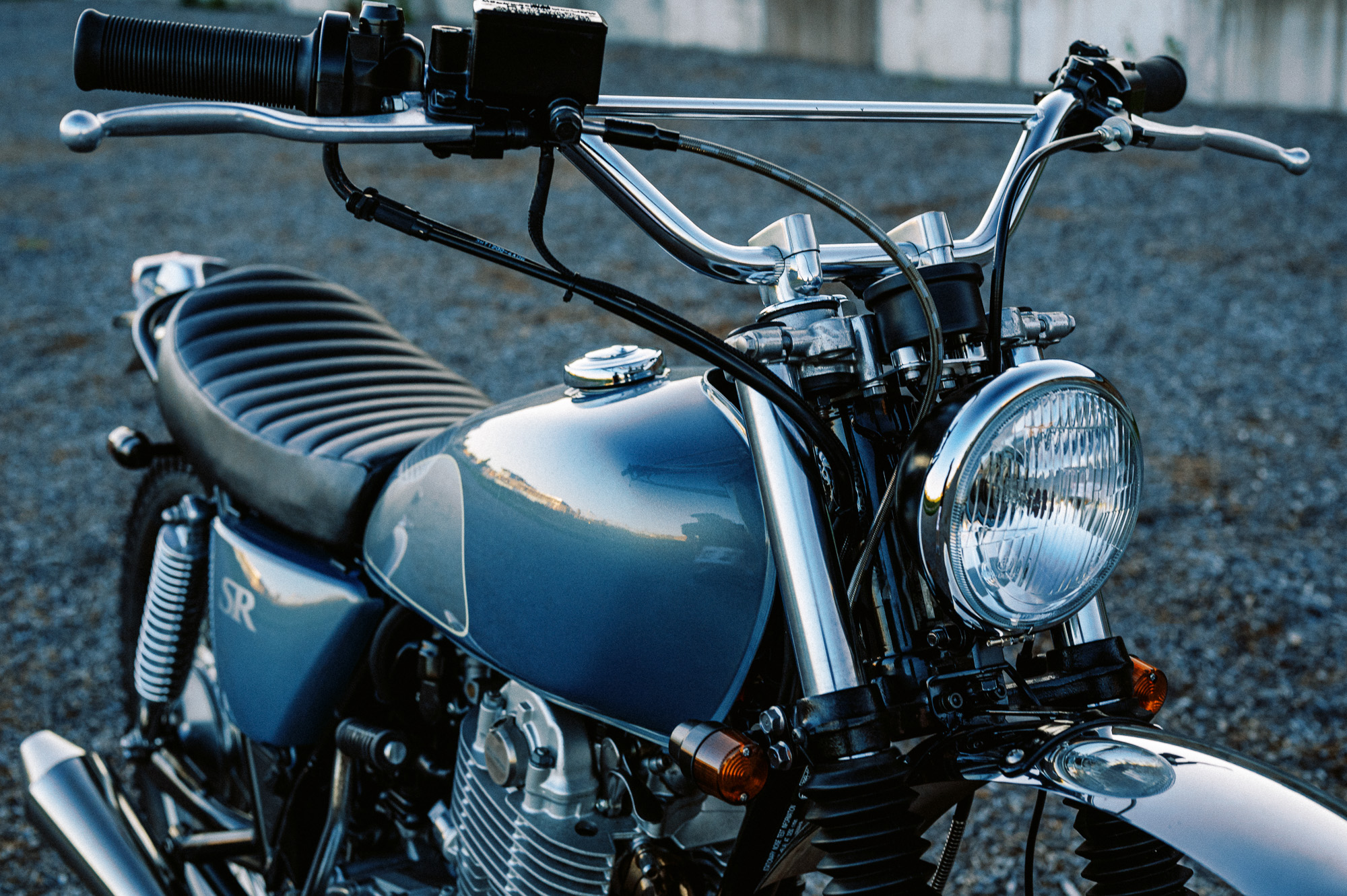 To get the bike's lines absolutely right, they then lifted the back of the bike with some longer shocks. "Naturally we chopped out the ugly part of the sub-frame," Says any. "We then fabricated an exposed rear hoop with a slight rise to it and we added in a stainless steel rear fender to keep the mud and rain off the rider's back." Then the seat was shortened and upholstered by Andy and Giles themselves in a classic black vinyl. For anyone who's tried to do their own moto upholstery, it's no walk in the park. And that goes doubly for guys who are more used to whacking things with hammers and melting metal with welders.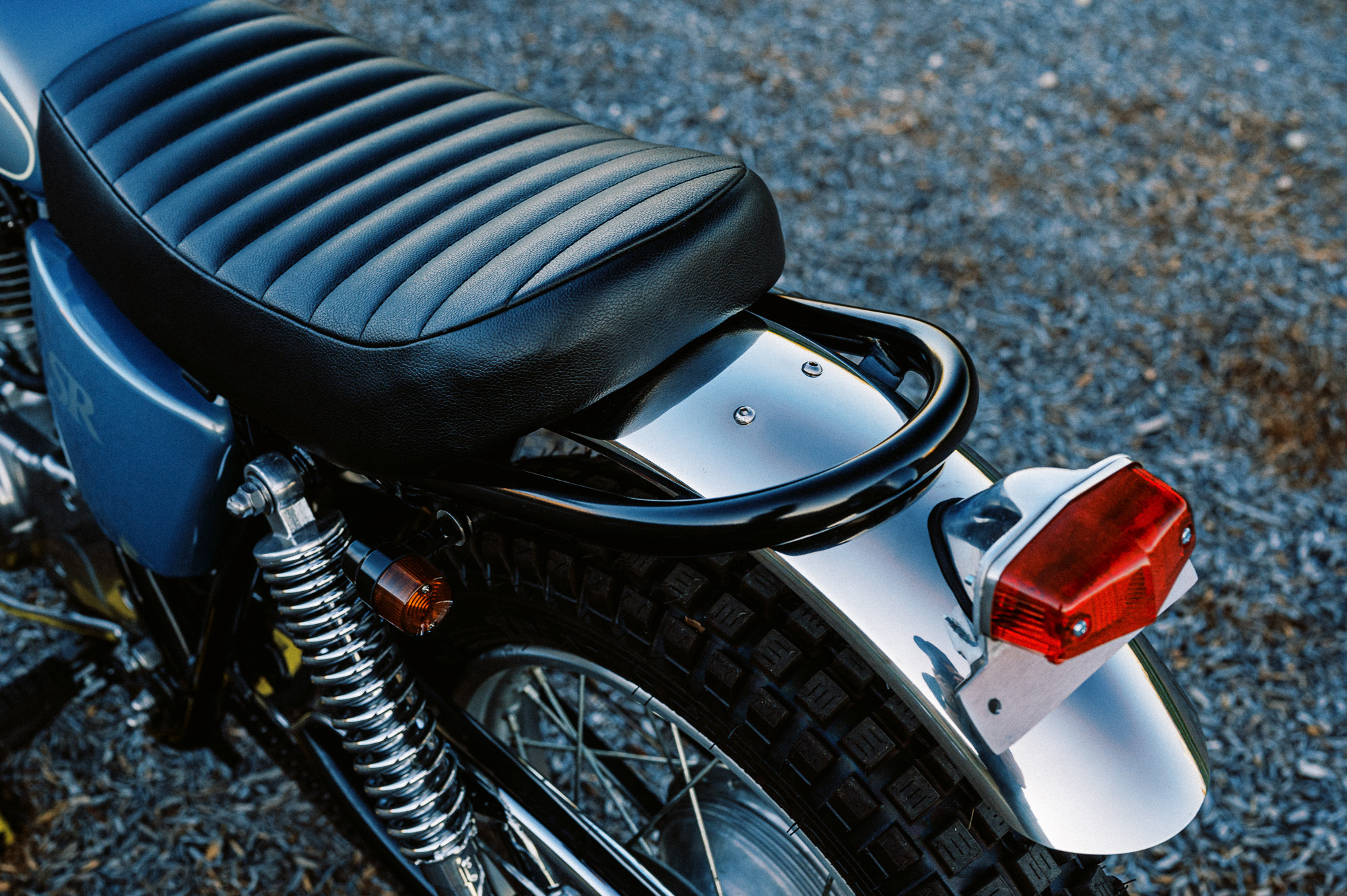 "We put Vee Rubber road-legal trial tyres front and back. Complementing this, we cleaned up the front by bolting on some vintage mx-style handlebars with the switch block wires internally routed through them. We also added a small headlight and gave it a high-mounted front fender." The paintwork is a subtle-yet-modern take on the vintage motocross style using a contrasting pearl metallic grey and bright silver, with a subtle vintage cream pinstripe that adds perfectly to the bike's whole 1960s vibes. And having seen the paintwork in the flesh, it's truly impressive; a perfect case of a subtle spray job that somehow manages to impress over and above something that could have been much more expensive and gaudy.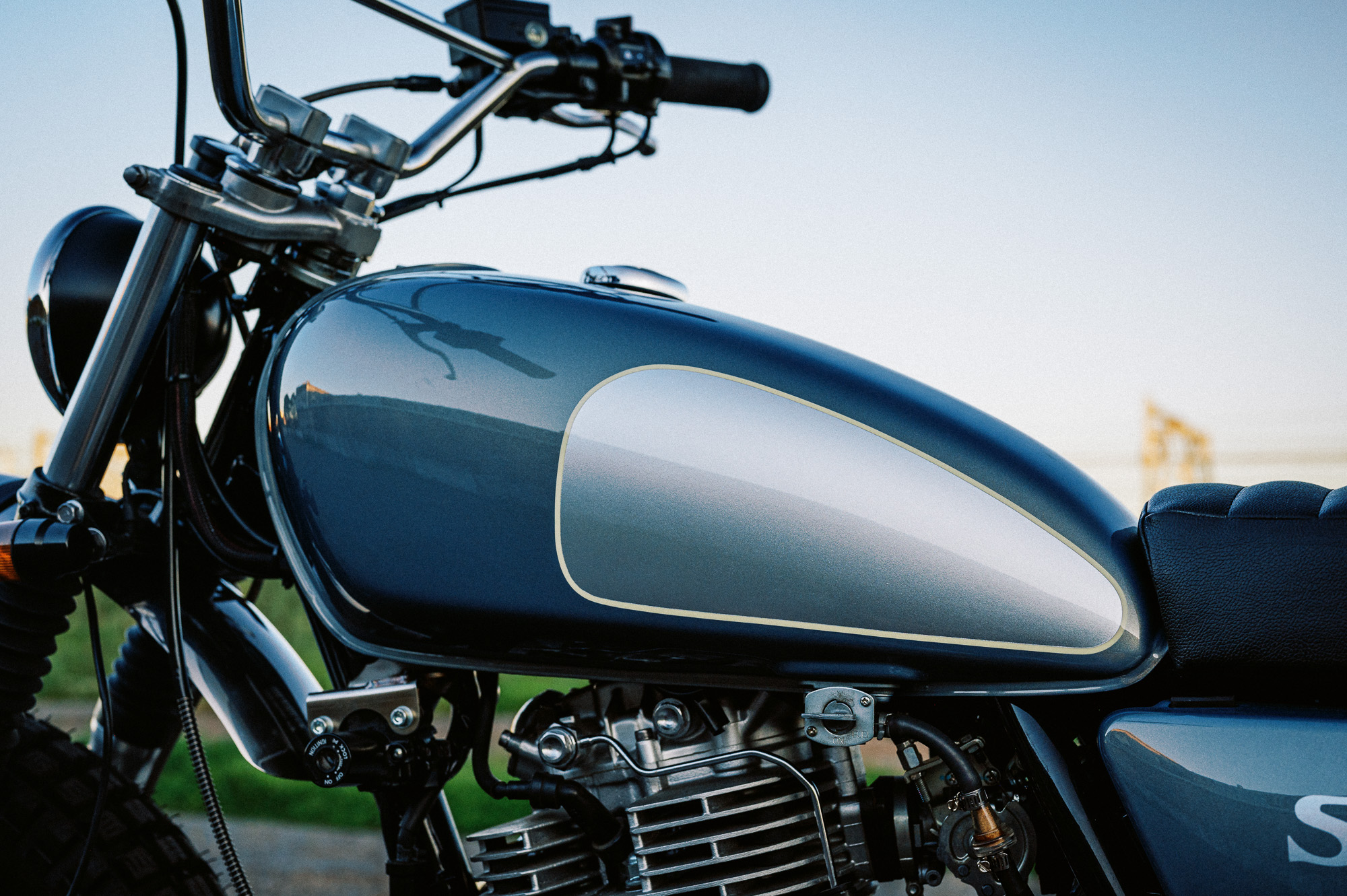 And despite the superb-looking finished product, the boys say that the seat was also the hardest part of the overall build. "To end up where we did, we took the original plastic seat that had all the required mouldings and cutouts for the factory EFI components and cut it down so it was shorter and slimmer, then we reinforced it all with fresh fibreglass. Following this, we cut the foam down, shaped the new 'glass and we finished it off by fully re-upholstering it in-house." Sounds like Sabotage might have a new feather in their neatly sewn caps. I look forward to their new range of vinyl riding chaps…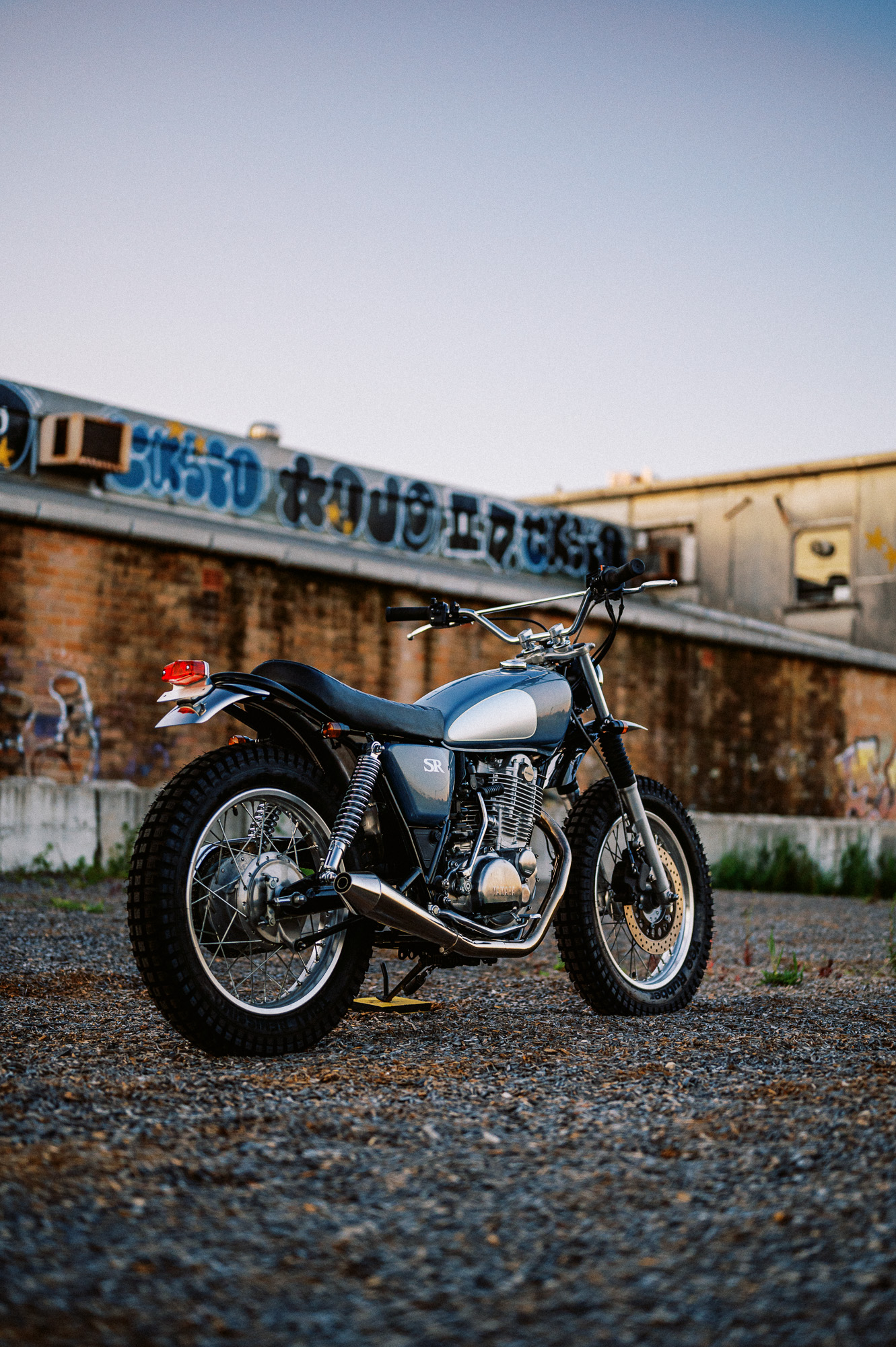 And the upshot to all these shenanigans? Well, as you can see here, they've somehow gone and managed to create an SR that throws shade on some of the biggest names in the scene. Not bad for two knockabout Sydney lads who seem equally as interested in a BBQ lunch as they do moto fabrication. To finish up, we asked them what they thought was the best part about their new creation? "Well, naturally we've had the chance to ride the bike and we have to say that there is nothing quite as cool as having a bike that looks this classic and cool while also knowing that it's brutally reliable, too. You can just jump on the finished bike, start it and go."
That's a big ask of a bike that doesn't have the luxury of an electric starter. And while owning a kick-start-only motorcycle can pose certain challenges to their riders – especially when it comes time to start it while a ]crowd full of stranger looks on in anticipation – it's fair to say that if ever I was in that situation, this is the bike I'd want to embarrass me.