Ever heard of a "cool down lap?" It's the circuit you do of a racetrack on your bike between trying to set your best time and pulling back into the pits. Usually there's still other bikes on track, so you can't just crawl around the track at walking speed. You've got to keep up with the Joneses, but usually you'll just back off a little bit from your previous ten tenths riding. Now, would you believe that it's common for riders to set their best times on these laps? The logic is pretty sound, too; you've got the track down pat but on a cool down lap you're not consciously trying to go fast. You're just relying on muscle memory and letting the bike do its thing.
And in a similar mindset, Sydney Sabotage Motorcycles seem to have knocked it out of the park with their latest build for very similar reasons. Originally tasked with making a Kawasaki KZ400 into a cafe racer, when they pushed back on the bike's owner saying that they didn't think it'd look any good, they probably expected the job to be taken elsewhere. But when he came back with a "what do you think we should do with it?" question, they relaxed into it knowing that they'd pretty much have carte blanche to do whatever they wanted to.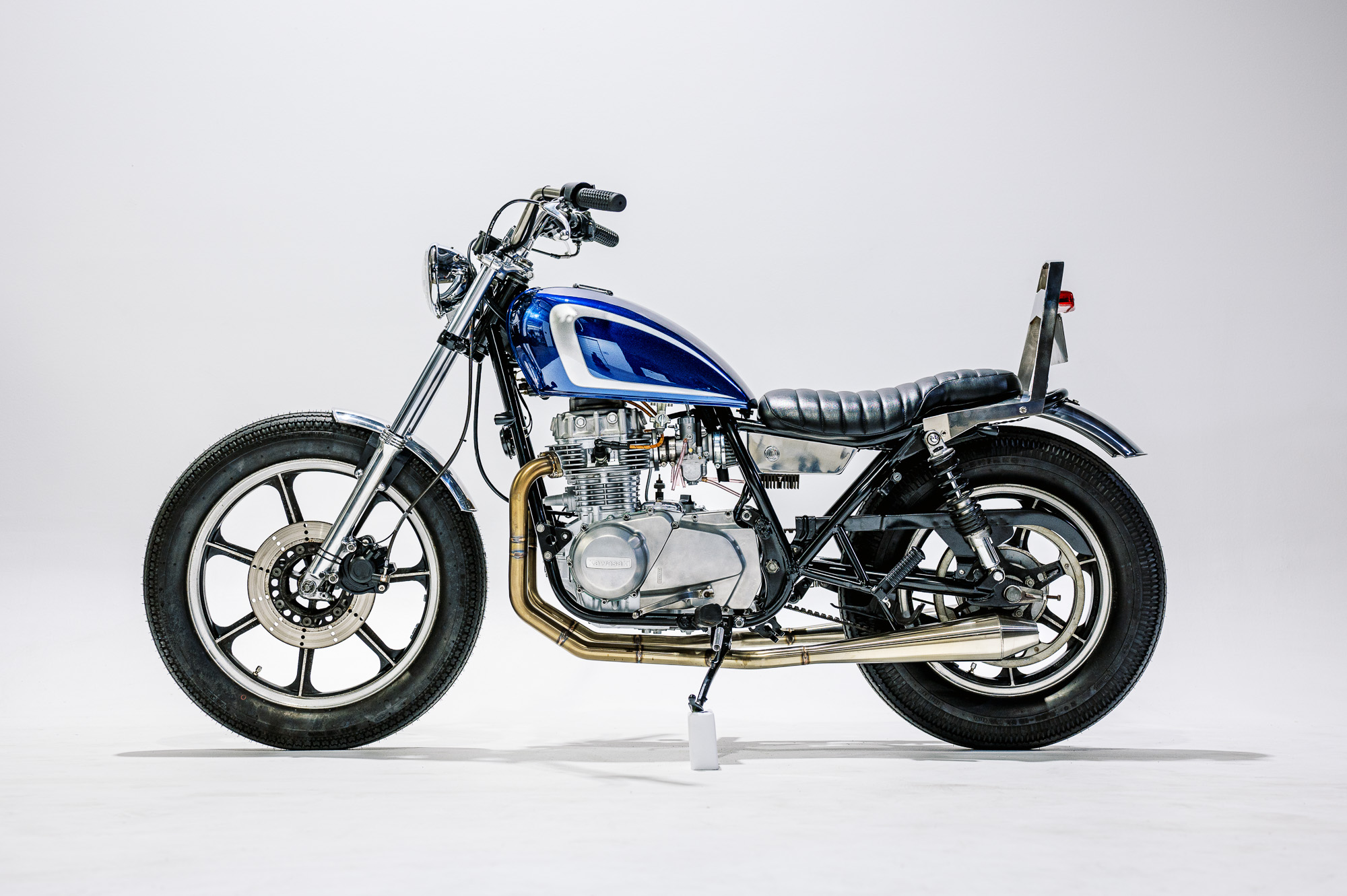 "We are a full service custom motorcycle shop based in Sydney," says Giles, who makes up one part of the shop's dynamic duo. Specialising in restoration and customs for vintage and modern classic motorcycles, the two started off building bikes in Giles' suburban garage, which also happened to be less than a kilometre from where I'm writing this story (and living) right now. I asked him what the latest news was from the shop, now located in Sydney's Inner Western suburb of Marrickville, but instantly regretted it. "The latest news is, we had chicken burgers for lunch." Nice one, mate.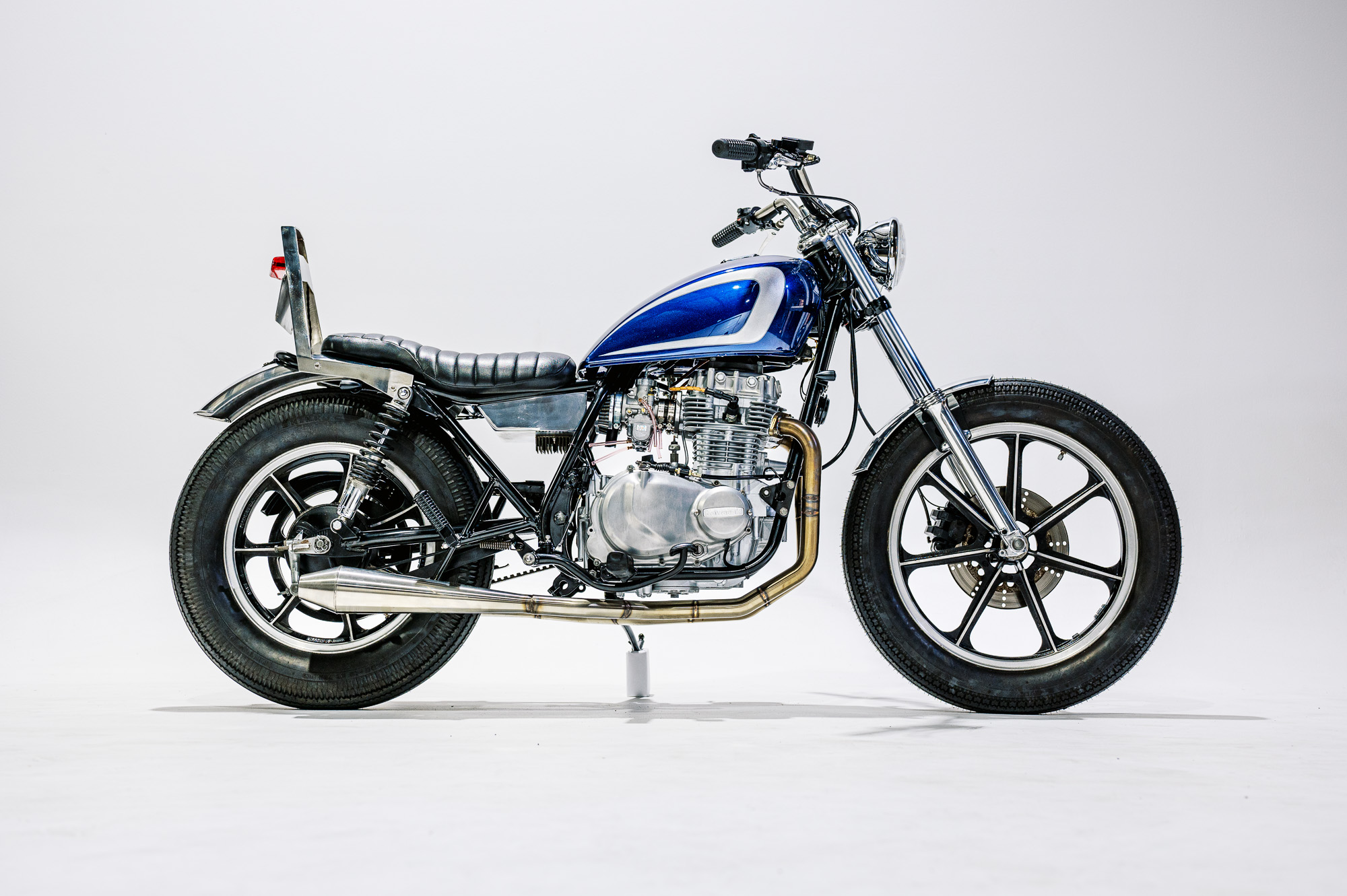 But I digress. So, exactly what sort of bike is it? Giles responds by saying, "It's a little Japanese 'Chopper Chaser.' A Chopper Chaser? It doesn't take a genius (or a quick Google search) to realise that up until now, there's no category of custom bike that fits that description. So did they just invent their own category of bike? "I guess we just came up with the idea while brainstorming how the KZ could look. In our heads, we see it as a Japanese Mini Chopper kind of a thing, but for some reason, we ended up calling it a 'Chopper Chaser' as it's physically smaller and has a lower capacity than a fully-blown Harley…"
Interesting, huh? Abstract thoughts aside, we do know for a fact that the donor bike was a 1984 Kawasaki KZ440 LTD, which to my eyes looks a lot like Yamaha's Virago from 1980. As such, that would make it part of the wave of Japanese Cruisers that had Harley Davidson concerned enough to lobby the US Government for protection.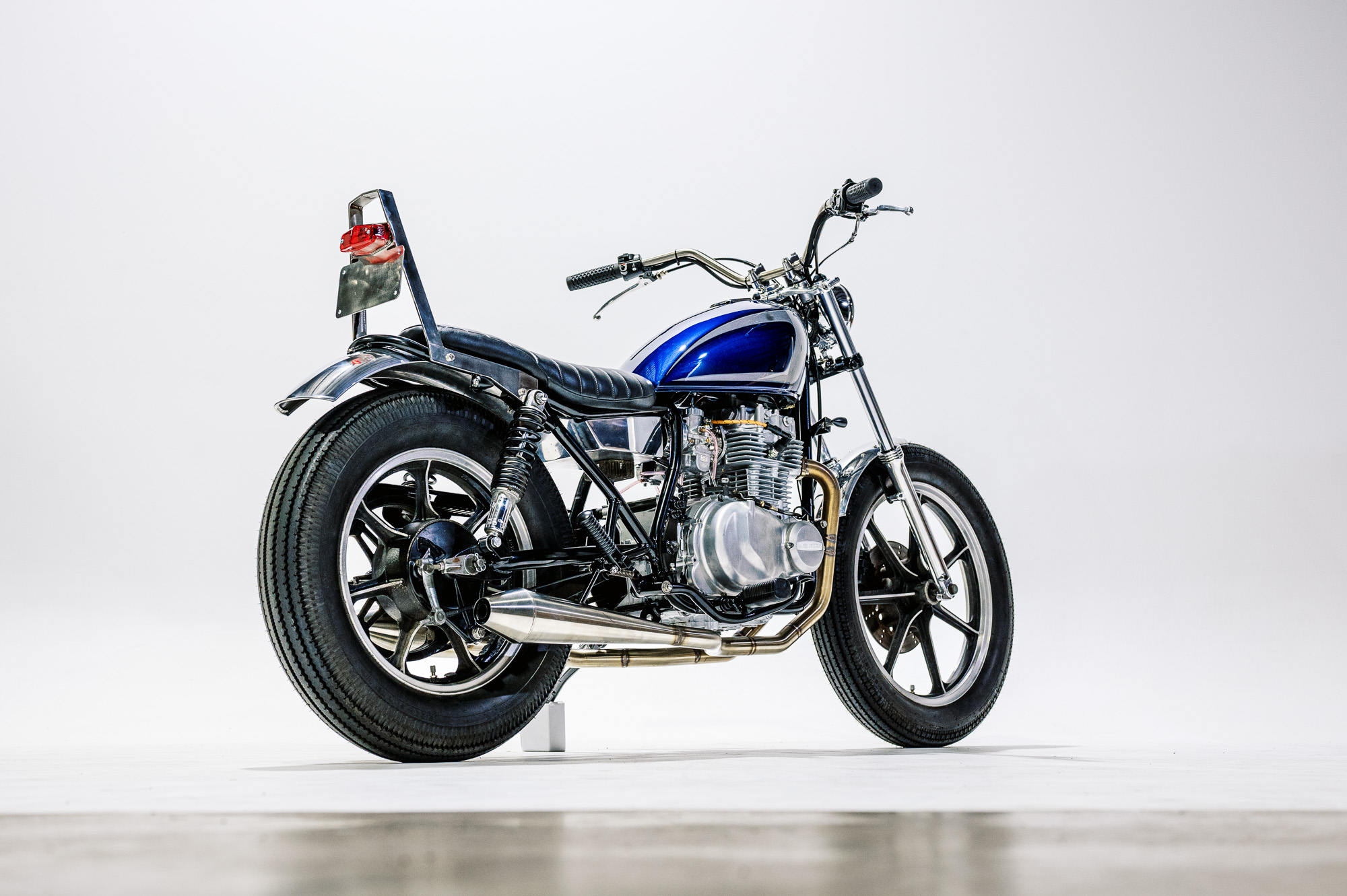 But you may (as did I) assume that the bike was therefore built in Japan, but no. "These Kawasaki units were part-built in Lincoln, Nebraska," Says Andy, the other half of Sabotage. "So customising it with a certain amount of American flare isn't as far-fetched as it may seem." As mentioned, the customer's brief was actually for a cafe racer but as the bike is the cruiser model, Andy and Giles had to turn away from that brief and gently suggest to the owner that  a cruiser-style build may be something more suitable to the frame – especially with that big belt drive for all to see hanging off the rear wheel.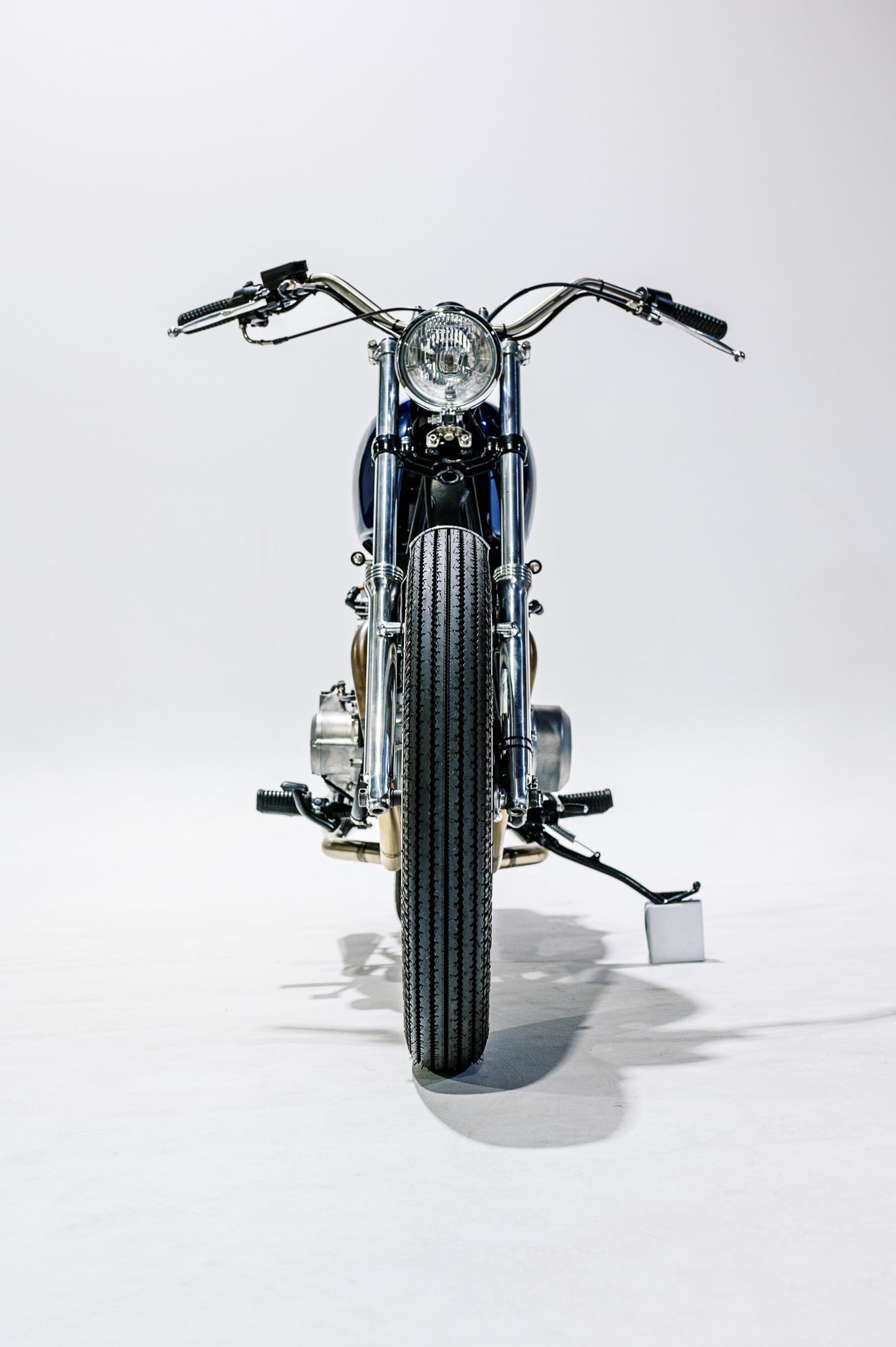 "Once we'd shifted the brief and got stuck into the teardown, we were able to get our creative juices flowing with a warm bottle of sake – which took a while considering the condition of the bike when it came in." They boys went on to say that the KZ was in a very sorry state, with a whole bunch of cobwebs, leaves, dust and grime covering it. "But it's nothing we haven't dealt with many times before," notes Andy. Budding young customisers please take note; making sick bikes for a living is not all wine and roses. Especially when the wine and roses turn out to be Australian spiders and their egg sacs.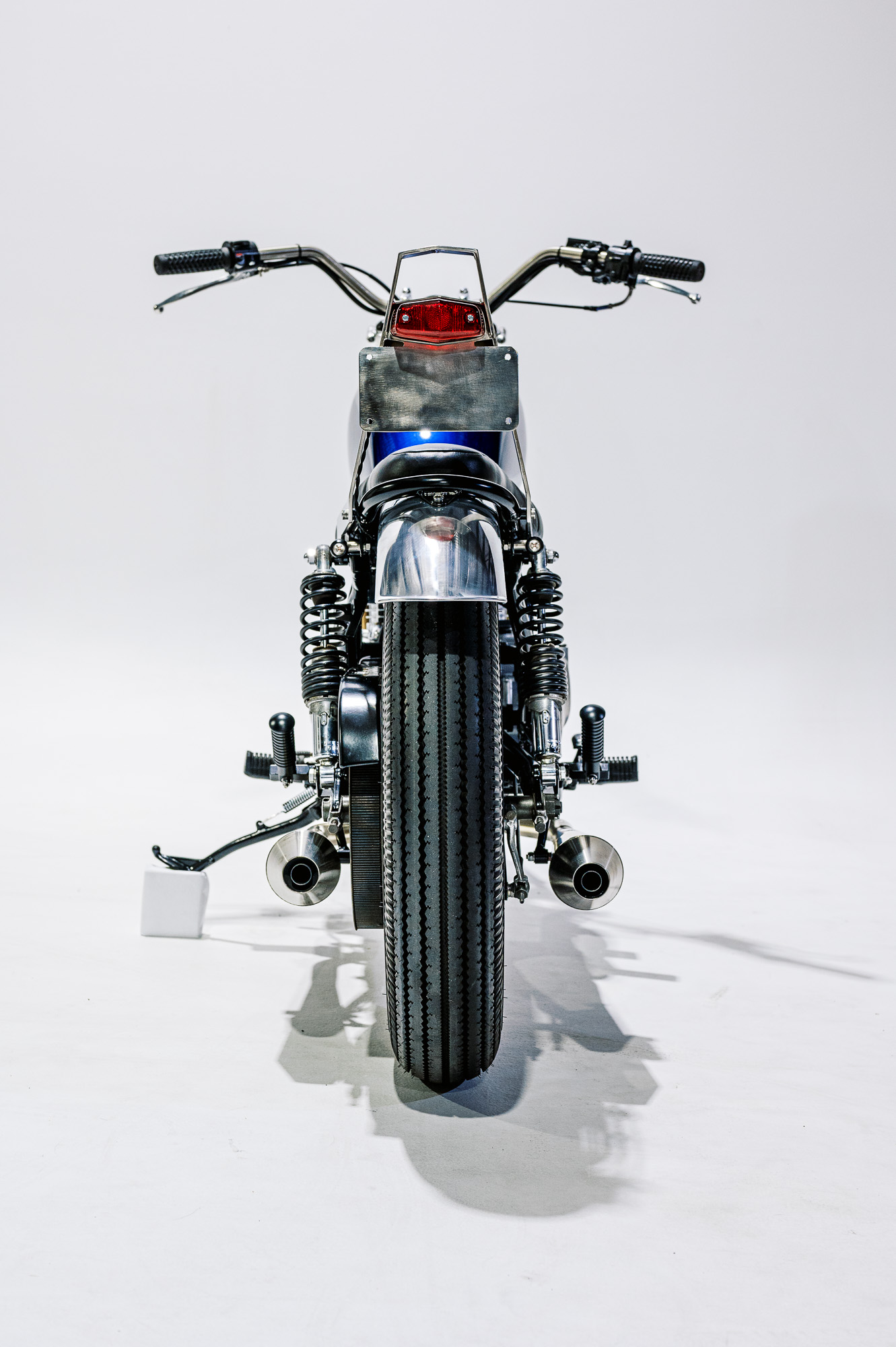 The more they got into the design and start of the fabrication, the more they were surprised at how much they started to love what this build was turning into. "We must admit, we were not that excited about this bike when it was first dropped into the shop. But it's ended up being one of our all-time favourites."
Their aim was for a stand out build, but still keeping comfort and practicality in mind. Pushing on, they commenced the engine resto and mods in the shape of a full custom stainless exhaust system. They went with quiet core mufflers, which provide a nice pipe note without being obnoxiously loud. "Then we upgraded the carbs to Mikunis. It resulted in a bit more punch. Not a Tyson punch, but enough to put a smile on your face."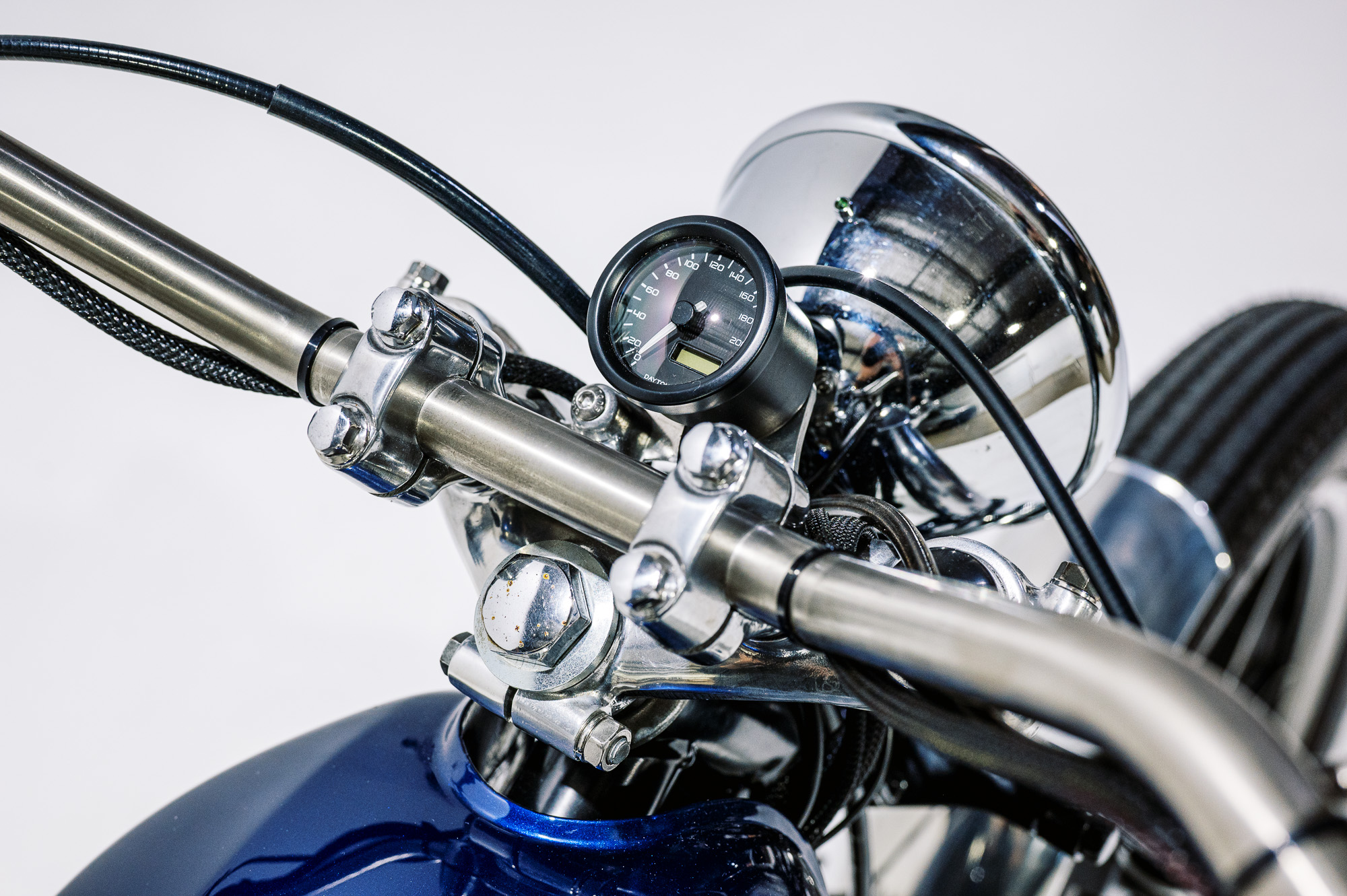 But then came the back end mods and all was definitely not smooth sailing. "The rear end on these bikes is more than a little unusual. It was a huge challenge on this bike and we felt like we were on all manner of substances looking at it from the back. Thanks to the rear wheel offset required by the belt drive, the subframe is wonky as hell on the KZ cruisers." So getting any sort of centre line and symmetry – whilst sticking to their vision of a clean and simple build with spot-on proportions – meant lots of back and forth with the fab work.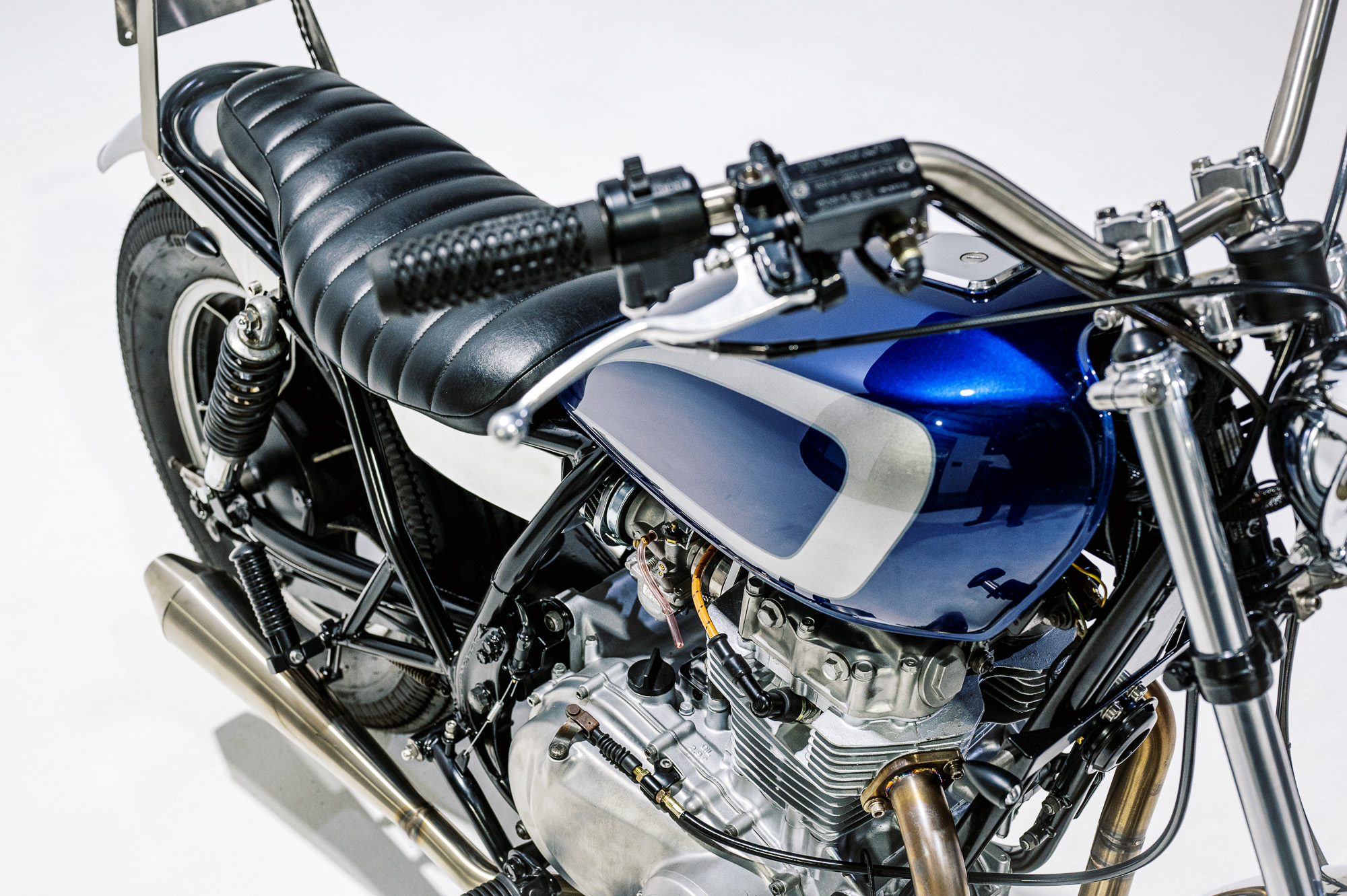 "Up front, we always try to get our builds as clean and tidy as possible while still retaining some OEM-style functionality. We used our own Sabotage handlebars, which are a stainless steel set with a nod to the cool, tracker-style items. This gives an easy-going riding style which suits this build perfectly." The switches are original Honda and Kawasaki units, which bring more classic style and provide absolute ease of use without looking too modern or out-of-place.
Next up, The forks were fully rebuilt and they polished the lowers so they could make fun house of mirror-style reflections in them. The brakes were overhauled and upgraded with stainless braided lines and a new master cylinder to slow down all those hundreds of horses they added to the engine (not) and the blinkers were tucked under the tank, again to minimise the front end.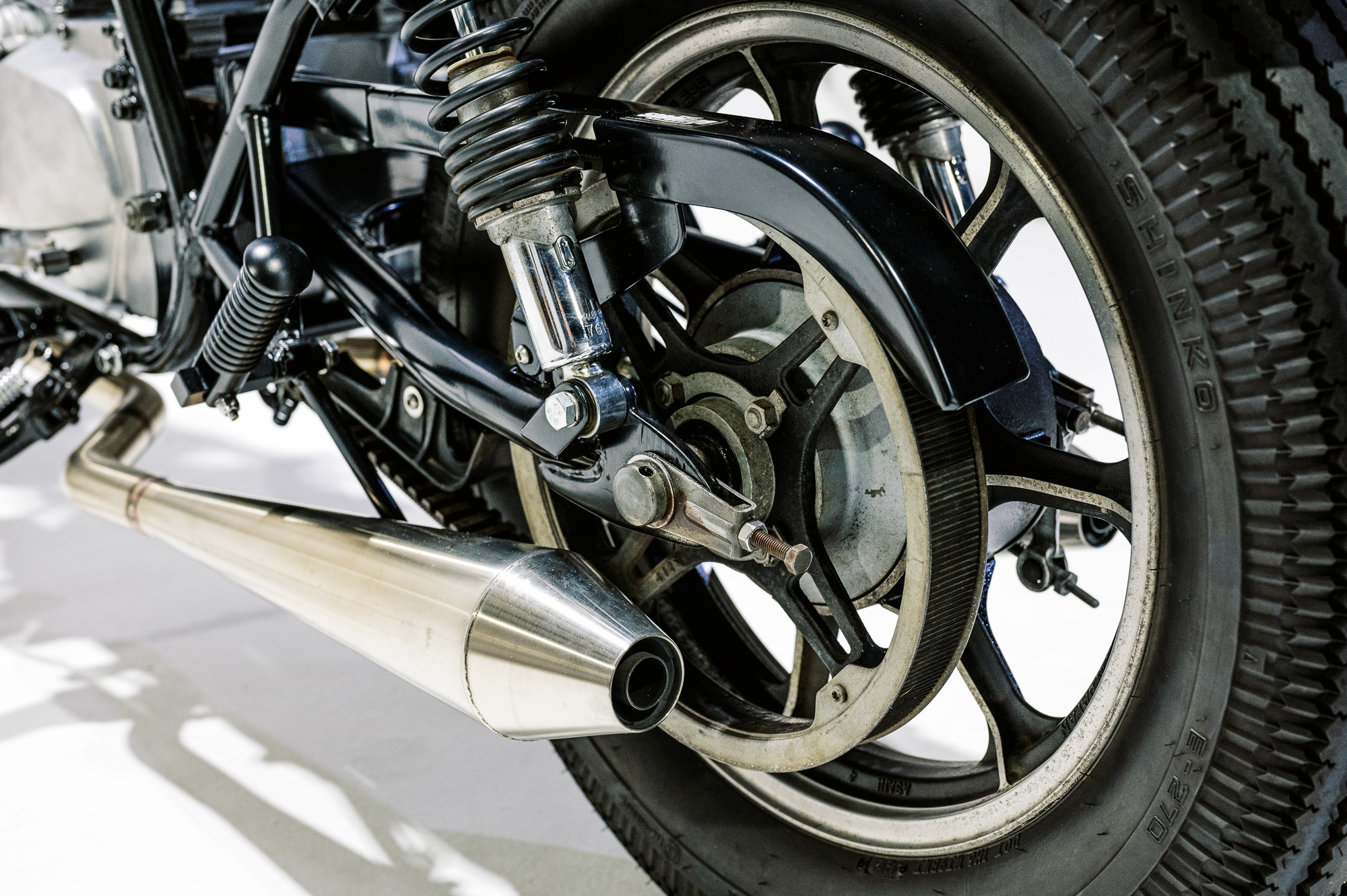 A handmade polished aluminium battery box holds all the wiring along with a full size gel battery for maximum crank, "Because we all get cranky when the battery goes flat." Boom tish. The seat is also reminiscent of a chopper style item, flowing over the rear fender and the rear section is finished off by a squared-off sissy bar – a nice nod to the 80s – rather than the rounded out 70s style for some urban utility to strap your bags to if you don't have a foxy lady and/or man friend to carry around.
"What was initially started as a light custom build turned into a full nuts and bolts overhaul. Isn't it always the way? The paint was done by Sydney's finest; Kyle at Smith Concepts. The blue is a more vibrant version of the original 1984 paint colour of the bike, with a beautifully hand-painted scallop encased in a pinstripe to make it absolutely unique. Everything else on this build was done completely in-house except the chicken burgers."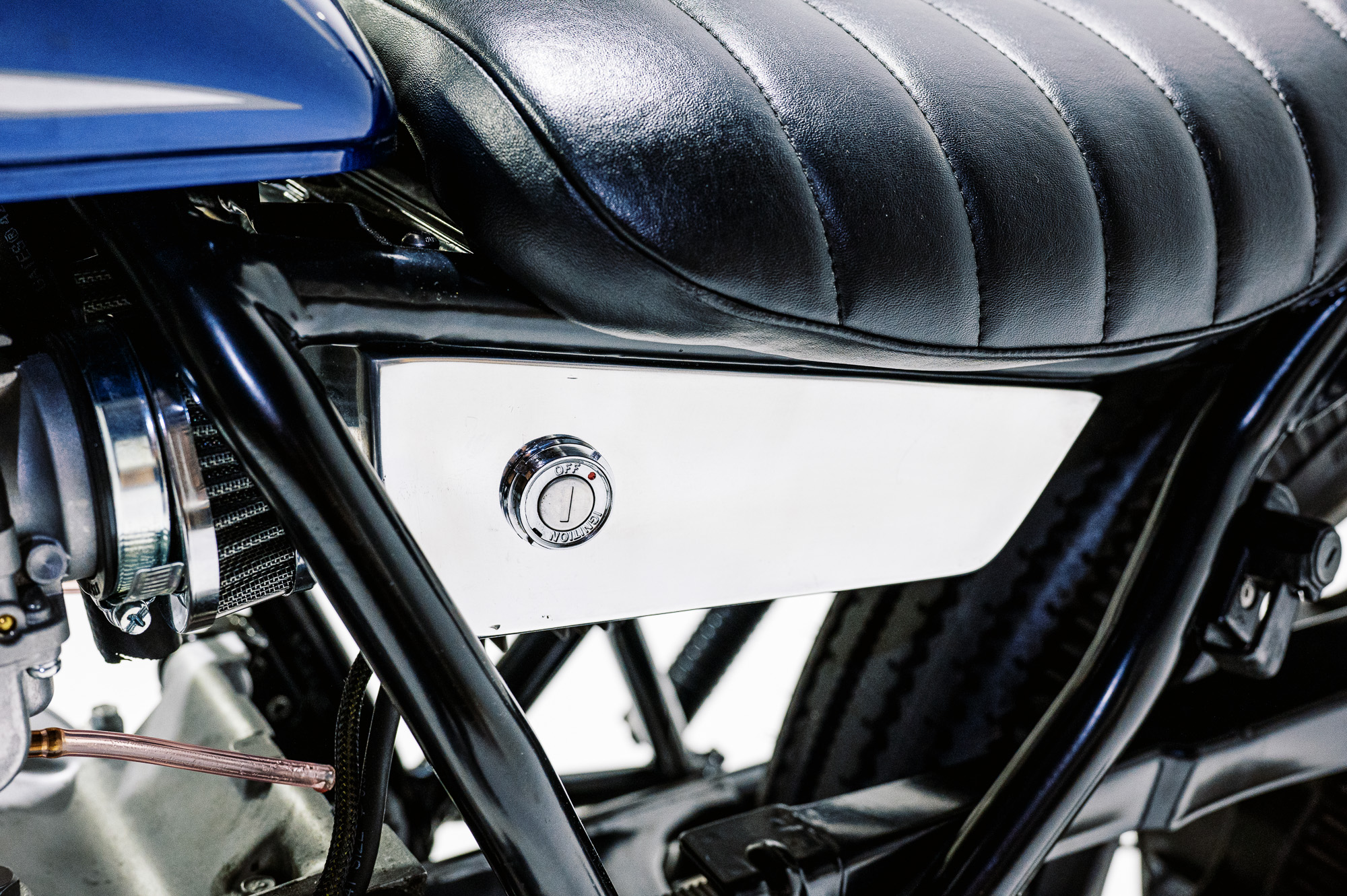 The boys note that the hardest part of the build was definitely getting their heads around the sub frame section of the bike. "We knew what we wanted to achieve, but the original sub frame had so many odd angles it was almost impossible to get a symmetrical line down the middle that didn't then throw off the rest of the design."
"In the end we think we've built a bike that is both comfortable and usable, which sounds odd for a custom motorcycle. But this is a super reliable, very easy to ride bike that has some epic custom and handmade features that make it stand out as totally unique, without sacrificing practicality," says Giles to wrap things up.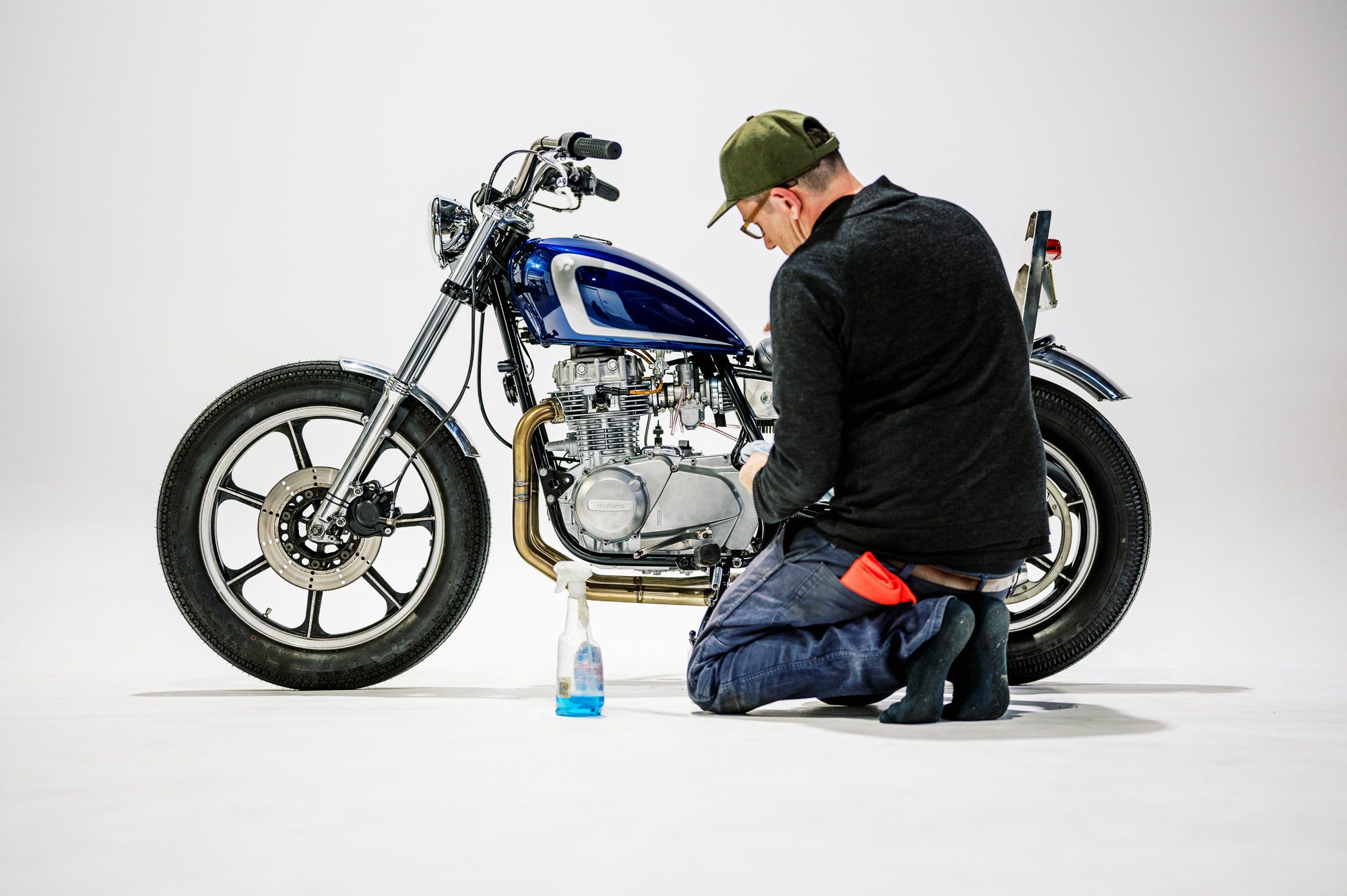 Sure, Giles and Andy have the skills and the tools to push just about any square peg into a round hole if they wanted to. Hell, with enough time and dedication they probably could have made the bike into a 2024 MotoGP winner. But instead they trusted their own guts and – as many seasoned customising professionals like them do on a regular basis – they told their customer not what they wanted to hear, but instead they told them what they needed to hear. And just look at the results…