Home To Airdrie
The ride home was the opposite of the ride to Dawson City.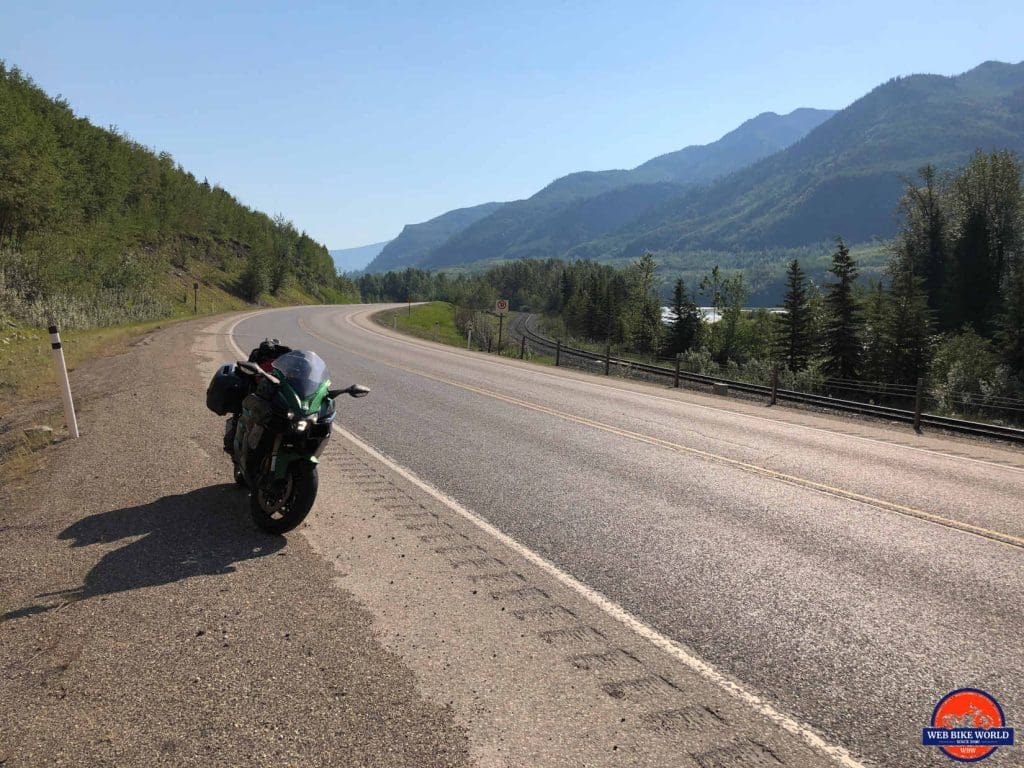 The Ninja was still flawless and precise, but the weather was hot and sunny the whole three days' time for a change. I shed thermal layers quickly along the way until I was down to just my base layer and all the vents were open on my jacket and pants. What a different experience!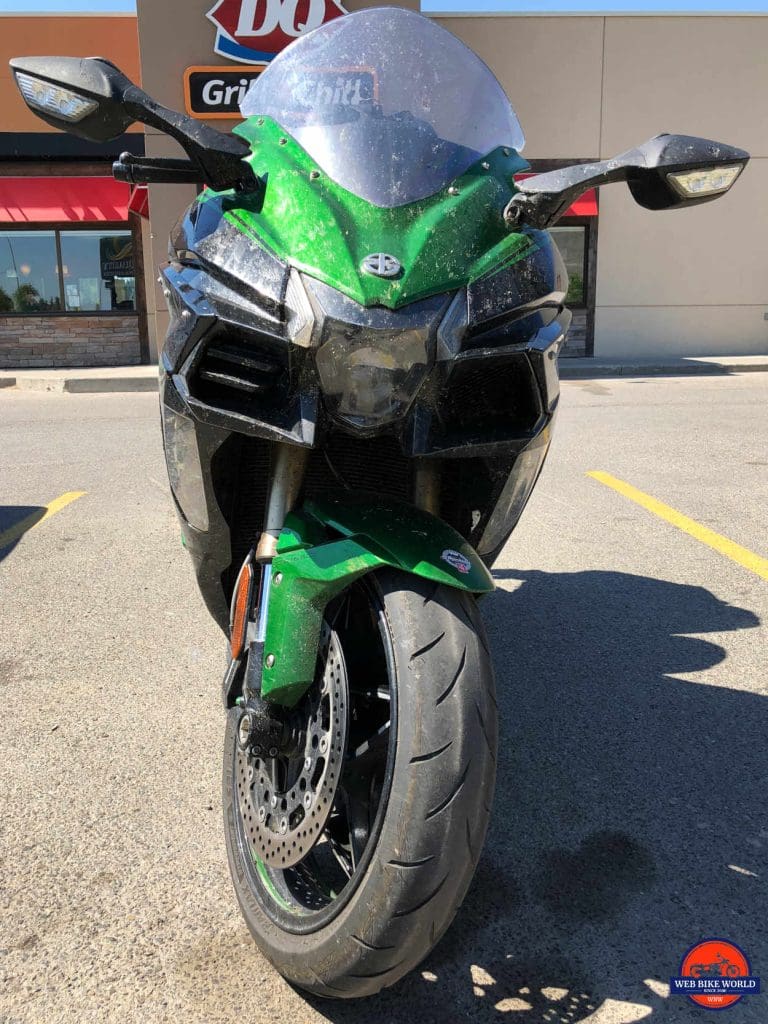 Instead of fighting to see through pouring rain obscuring my visor as I had on the way up, it was a gory layer of horsefly and mosquito guts coating my helmet, jacket, and motorcycle that made things challenging now.
I rode the Alaska highway backward and enjoyed it very much with all its wildlife, twists and turns along the way. Especially nice was the collection of S curves around Muncho Lake and Toad River. Spectacular scenery and good motorcycling fun.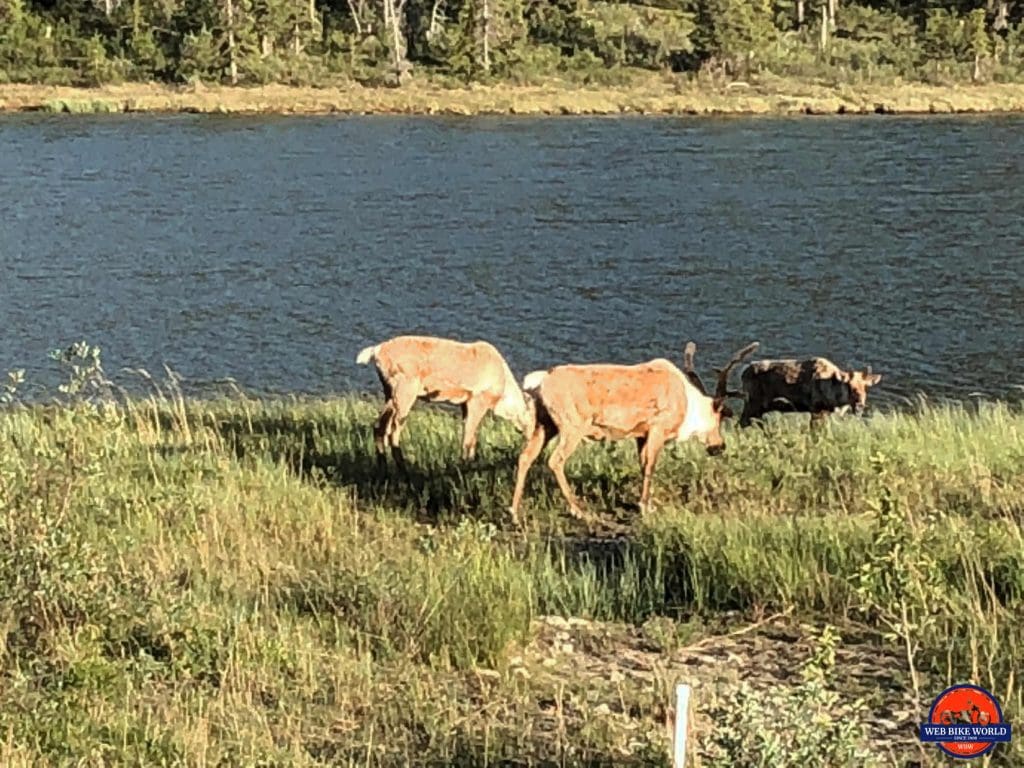 There's Always Someone Better
Between Whitehorse and Watson Lake I stopped for gas at the Rancheria Mile 710 Restaurant and noticed a European Kawasaki KLR 650 parked out front with a license plate from Ireland on it! I had to go in and meet this rider for sure.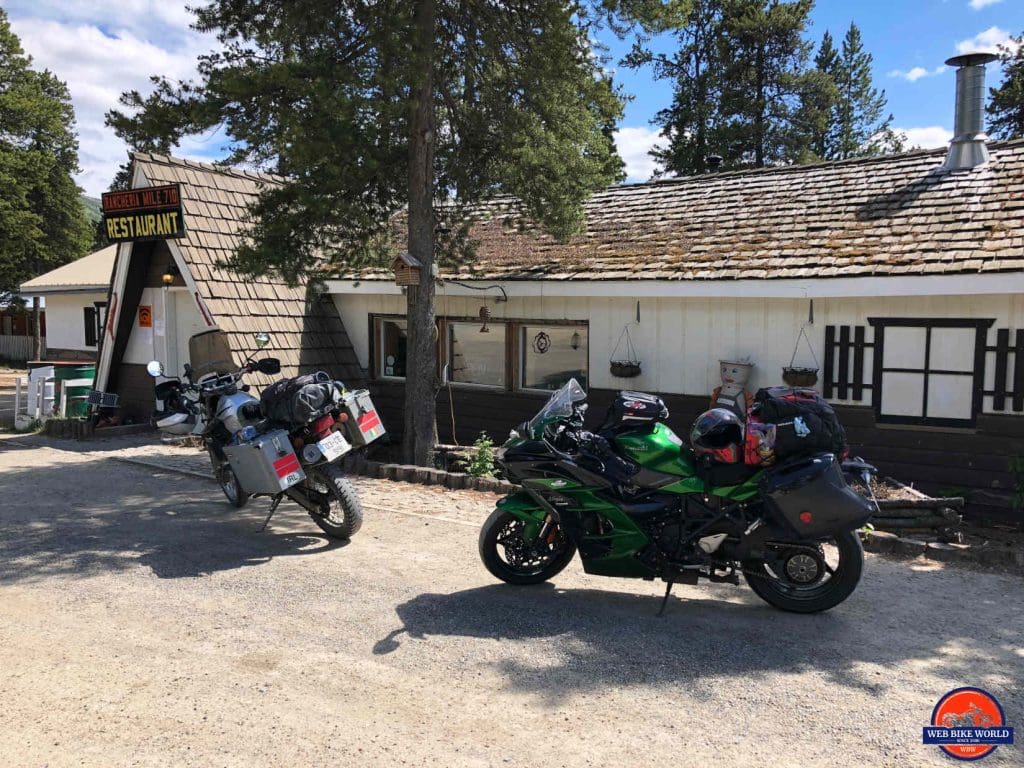 Inside it was like a scene from out of a movie to me. Alone (other than the waitress) and seated at a table was a tall man wearing dark green BMW riding gear that was so dirty and road-worn I could tell this guy was a very experienced adventurer who had seen a lot of miles recently.
Either that or possibly just a bit of a slob. Happily, it turned out to be the former, not the latter.
He had a map spread out on the table in front of him with an untouched bowl of onion soup going cold beside it. We got to talking right away and I came to find out he was riding around the world in stages on his KLR.
He had already tackled most of Alaska including the Top of the World Highway and the Dalton Highway right to Prudhoe Bay. He had also been up the Dempster to Tuktoyaktuk the day before me and now was on his way south along the west coast of Canada and the US, eventually to end up in Panama before calling it quits and flying home.
In discussing the Dempster he told me when compared to the "roads" he had recently ridden across Russian and Mongolia the soft, bumpy mess of loose gravel I had fought to ride through was "quite a good road".
I told him he was my hero and that I could only dream of traversing the continents on a motorcycle he had already put behind him.
His response was quite simply: "Well then watch out because that's the way it started for me too. Dreaming of doing it."
Home At Last
My family was thrilled to have me home 5 days early and vice versa.
I took some time to give the Ninja a thorough cleaning, but sadly there is some grime that even I can't quite get off the muffler much to my distress. It was such a pristine, beautiful machine when I left for Tuk compared to now.
I'm happy to say I actually used the bike for its intended purpose instead of leaving it to be a garage queen or Sunday driver, but it still hurts just a little bit to see it not looking showroom condition anymore.
The Cost Of Dropping An H2SX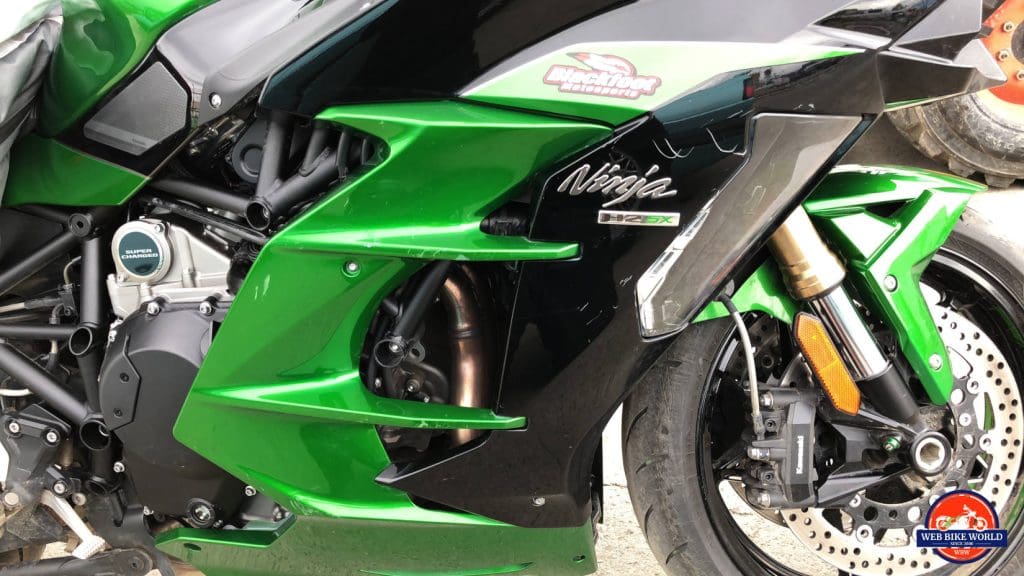 I priced out replacement fairings for the right side. Yikes. In case you didn't read the first half of this adventure, it pains me to say that my bike tipped over at a gas station on the way to Dawson City and scratched up the right side fairings.
The green portion isn't too bad at $272 (Canadian dollars), but the black section is a whopping $414. I think I'll put off complete replacement while I look at repainting options for the black section at least. Happily, I can replace them myself and save on labor costs.
The Tires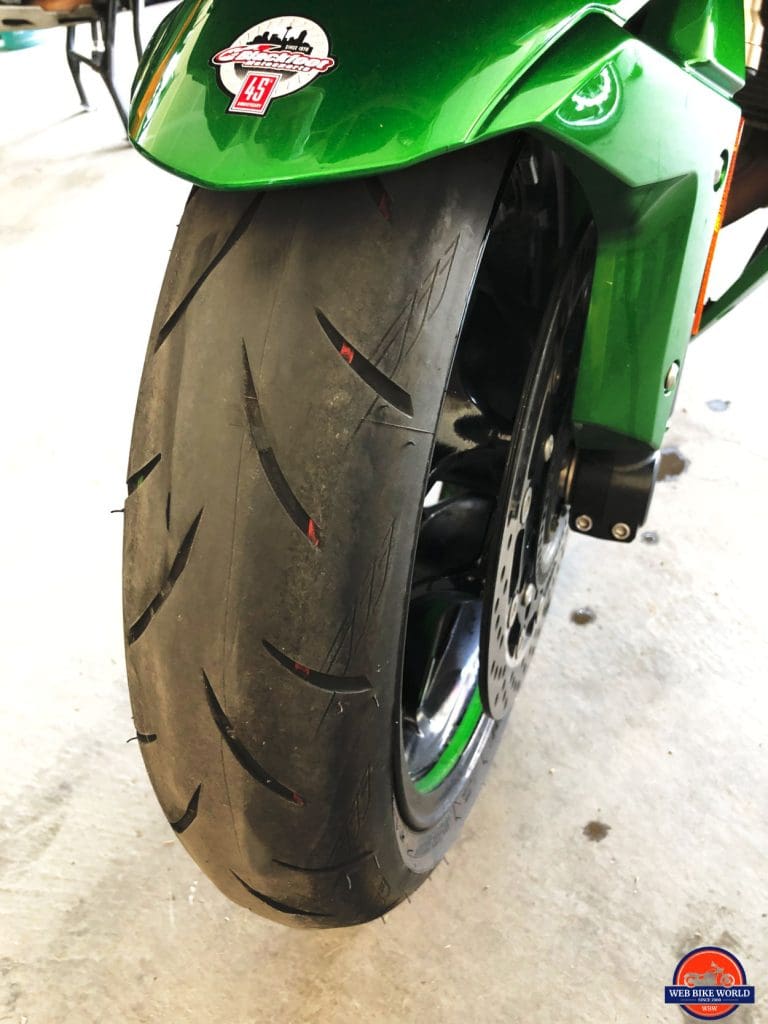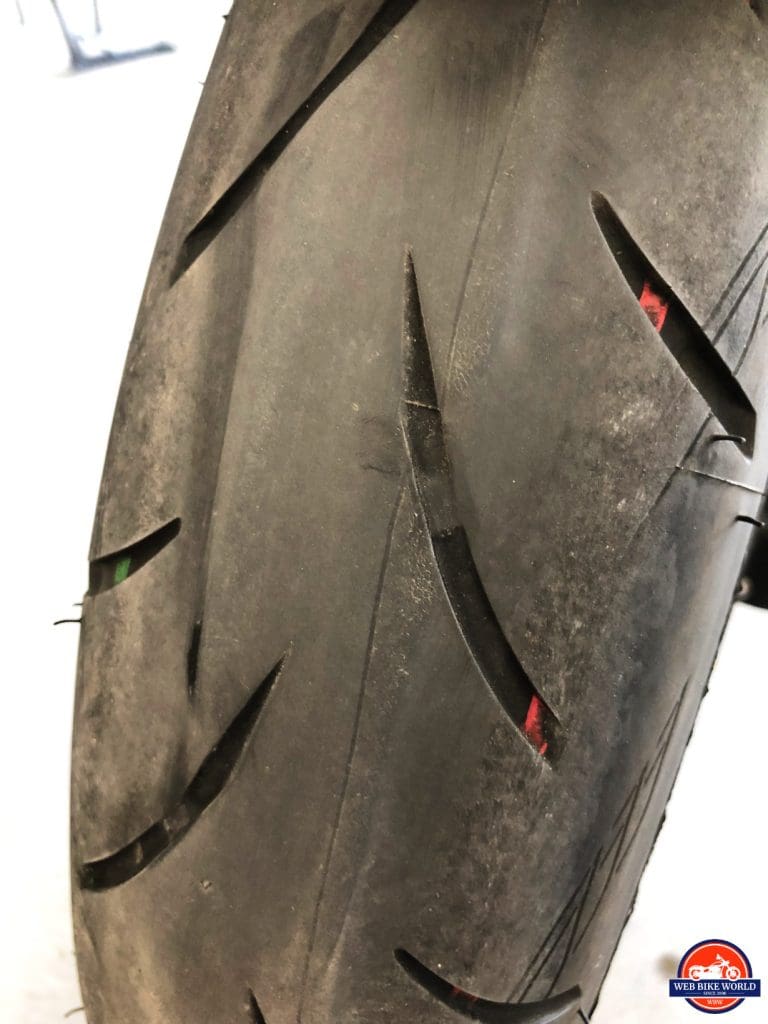 The Bridgestone Battlax tires that came from the factory with the Ninja really did well, considering how rough the roads were they traveled on. At times I traveled through construction zones that were so torn up, gravel, mud-covered and rough it reminded me of sections I encountered on the Dempster!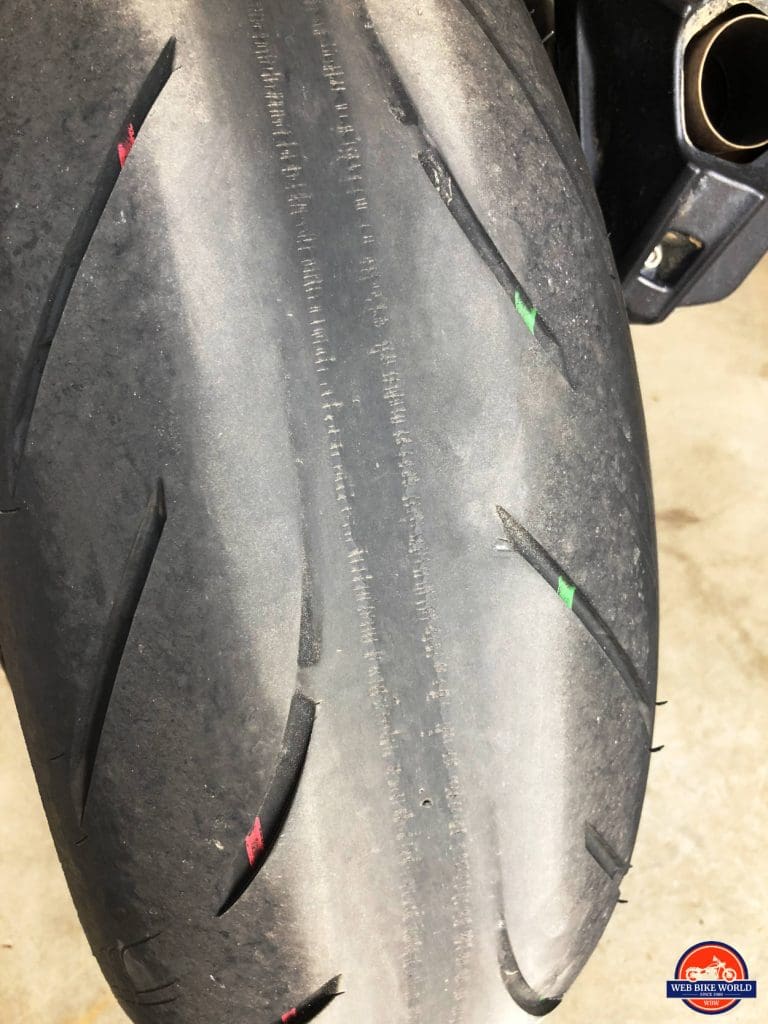 I had purposely kept the Ninja in Medium Power mode instead of Full Power in an effort to make the tires last the whole trip. I barely managed it as the cords were starting to show on the rear tire halfway through the return trip home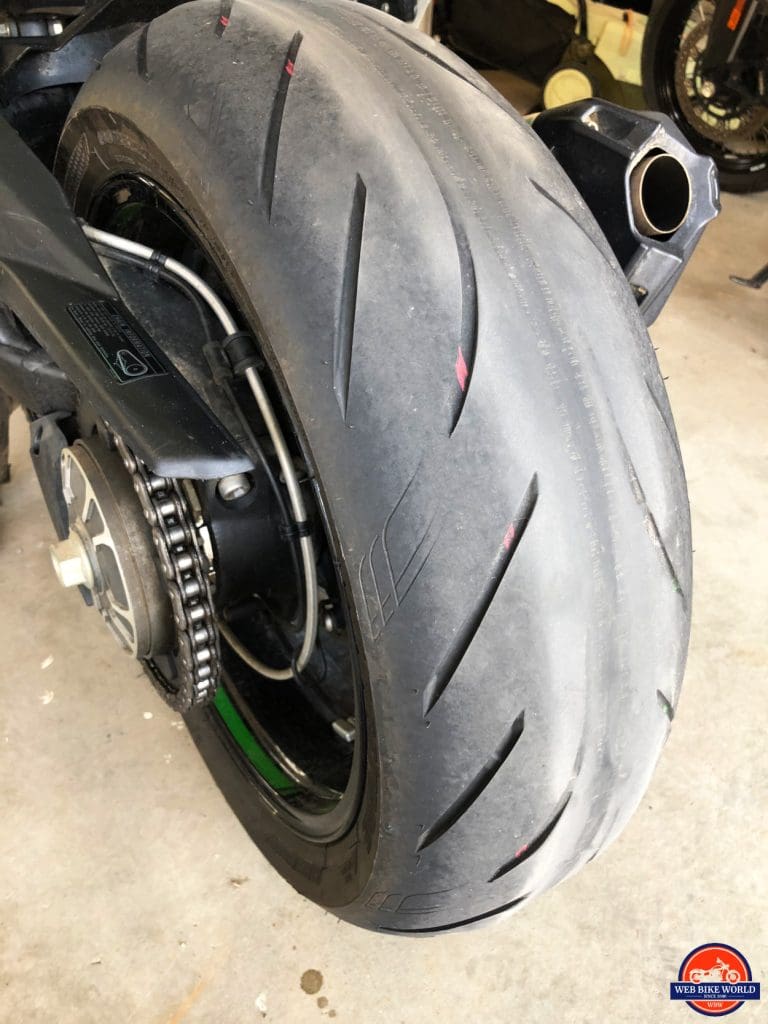 On the FaceBook H2SX forum, some riders were reporting only getting 4000 km (2500 miles) out of their rear tire, while I managed 8200 km (5000 miles).
Now I've installed some Michelin Pilot Road 5 sneakers on the Ninja and will be doing a review soon, once I get some miles on them.
The Last Word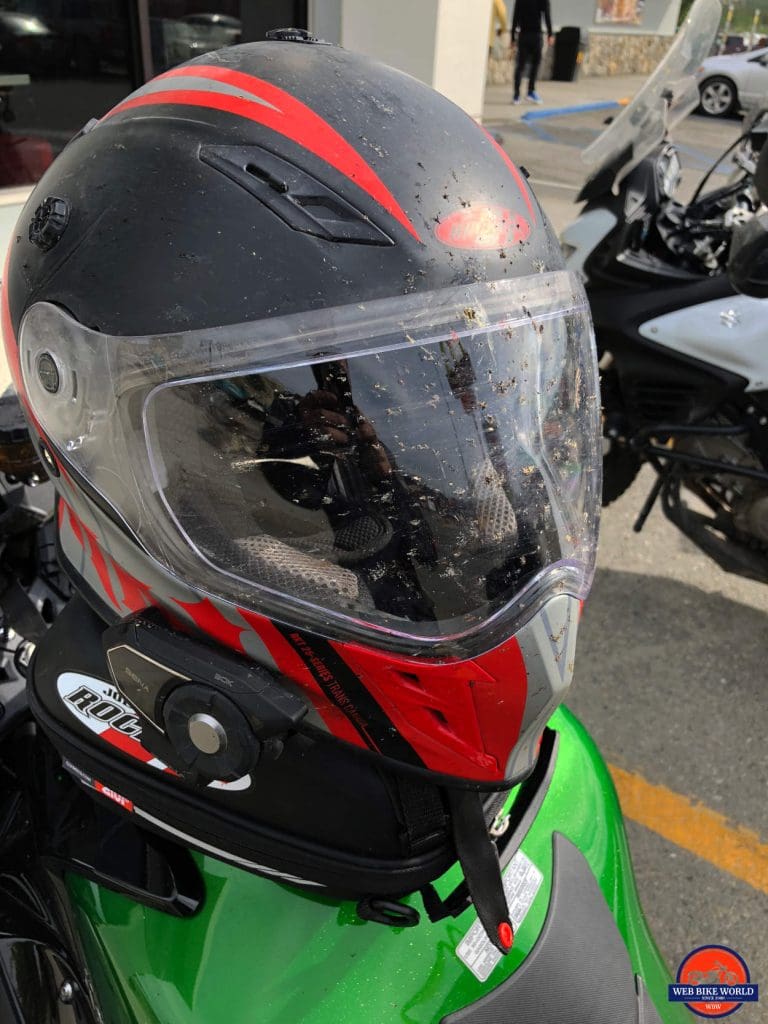 This experience was life-changing for me. I'm not exaggerating in saying that.
My riding skills improved, my confidence grew and anytime I travel to a new place I gain insight into different lifestyles while also learning about what makes me tick.
This article has nearly turned into a novel, because I couldn't help notice, well… everything and feel the need to share it. I'm the kind of person who wants everyone around me to live life to the fullest degree possible, so when I find something to help do that, I spread the news.
This isn't a trip for everyone to take, but perhaps anyone could do a portion of it and still experience part of the growth I did.
I'm Hooked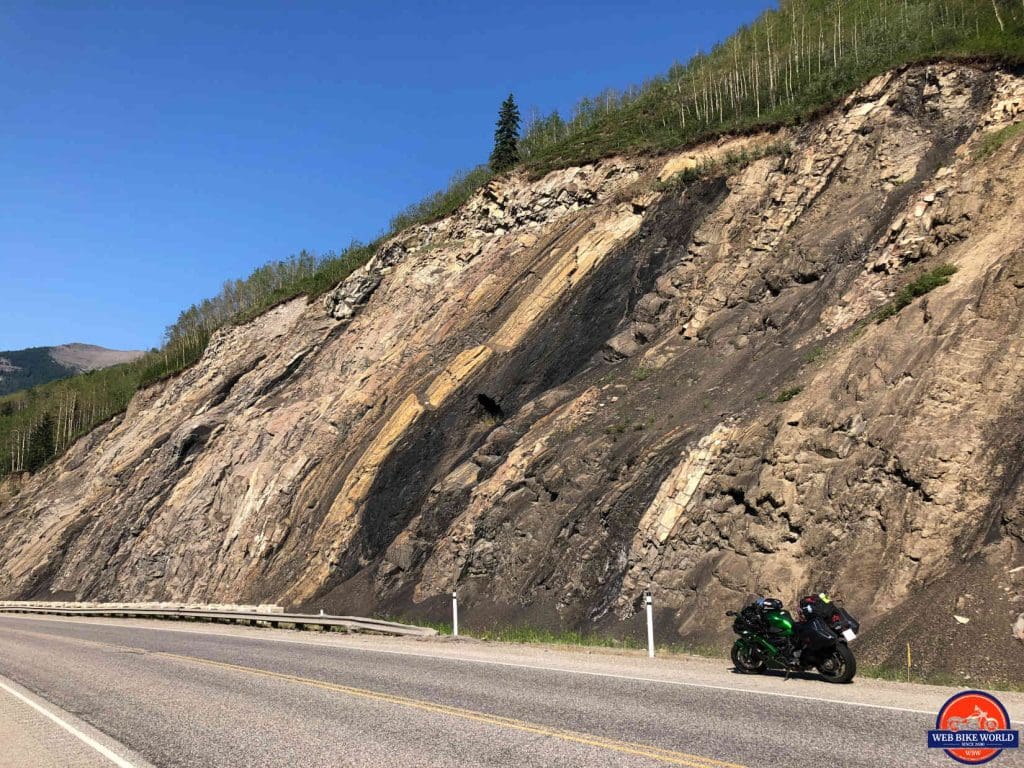 I'm already planning the next WBW adventure ride thanks to the success of this one. There are a number of options I'm looking at. Some are with tour groups like DARE while others are on my shoulders entirely.
I think this time I would like to experience riding in a totally different climate than the Arctic, and so tropical or desert is where I'm looking.
Riding the Baja course (not racing, just riding).
Riding the Trans America Trail.
Riding the Trans Europe Trail.
Riding in Thailand.
Riding in Africa.
Riding in Israel.
So many possibilities are out there it's difficult to choose just one. What a great problem to have, eh?