This is the last half of the story to finish the one I wrote about riding my 2018 Kawasaki Ninja H2SX SE from my home in Alberta, Canada to Dawson City, Yukon. That part can be found here Ride to Tuktoyaktuk, Canada: Part One and shouldn't be missed before reading this one.
For this half, I switched from the Ninja to a 2017 Honda Africa Twin all geared up for tackling the Dempster Highway.
Riding from Dawson City, Yukon to Tuktoyaktuk using the infamous Dempster Highway is not for the faint of heart as you'll soon read. The 1000 mile round trip journey shouldn't be underestimated or taken lightly. Looking back now, I'm quite surprised no one has died attempting to ride it this year.
The daily ride reports that make up this article are taken from the FaceBook posts I made each day along the way and the photos help showcase the beauty of this rugged area located on top of North America, right beside Alaska.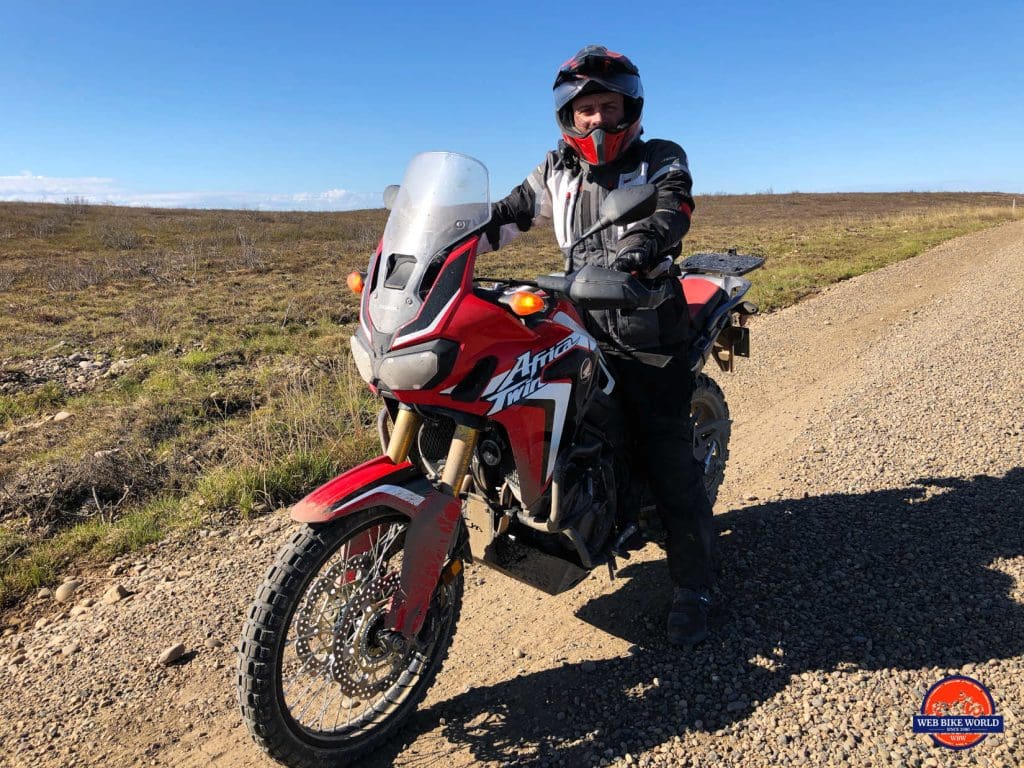 My trusty steed through it all was a 2017 Honda Africa Twin outfitted with an Outback Motortek skid plate and crash bar set. The skid plate was severely tested by flying gravel continuously, but happily, I never tried out the crash bars on the trip. There are plenty of videos showing the quality of the bars in weathering a tip over onto varied terrain on the web.
This half of the trip begins in Dawson City, Yukon at the Downtown Hotel. Previous to this day I had encountered 7 straight days of pouring rain on the road and wasn't savoring the idea of enduring more on the "highway that hates you" up to Tuk.
Day 1 Ride To Tuktoyaktuk: Glorious Gravel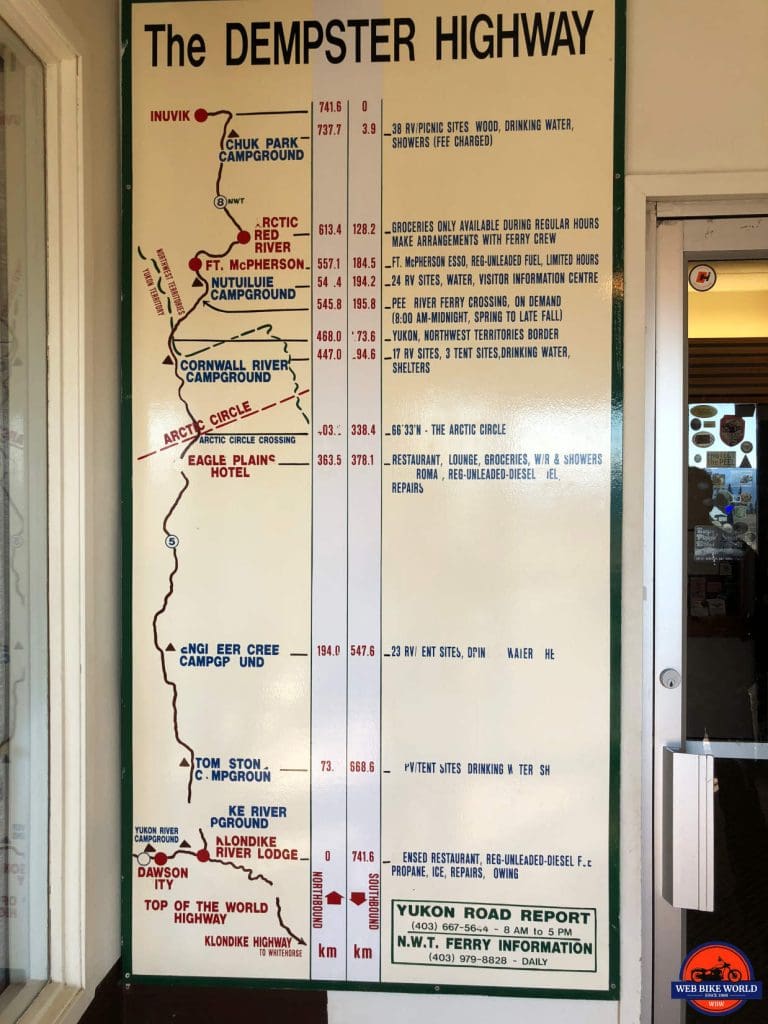 I woke up bright and early to finally see a beautifully clear, blue sky outside my window. Could it mean we might get good weather for the ride north??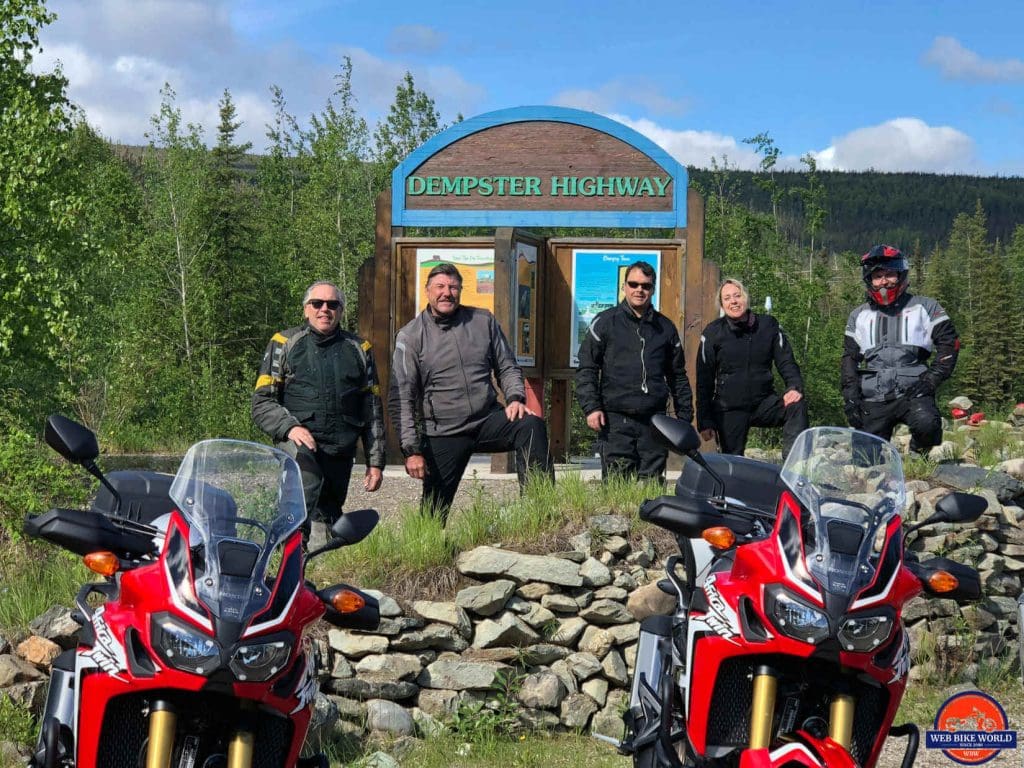 Arriving at the meeting point for the group, Wade informed us that last night it had snowed in Inuvik so much that travelers had been trapped there. Yikes. Doesn't matter, we're going anyway and we'll see how far we can get.
The large sign marking the start of the Dempster greeted us and after a quick group photo we all tore off on the bikes down the road. It wasn't long before it turned to a hard packed mixture of gravel, dirt and calcium chloride. It's really quite hard to the touch and the Mitas E10 and E09 tires on the Hondas bit in well giving us excellent traction.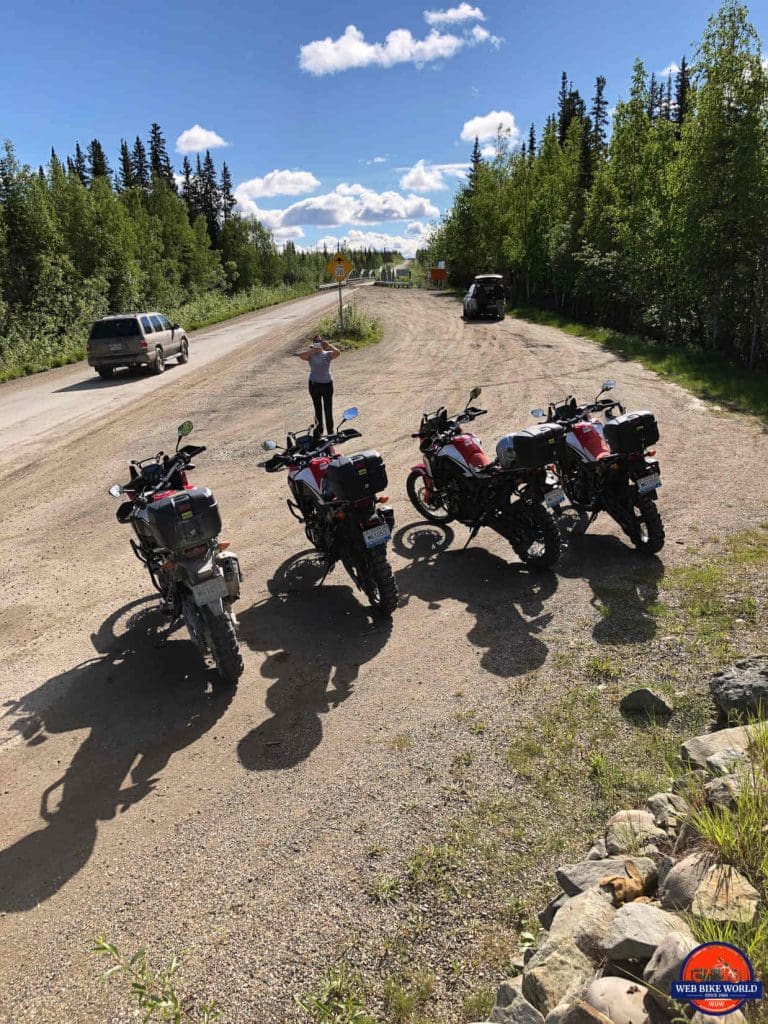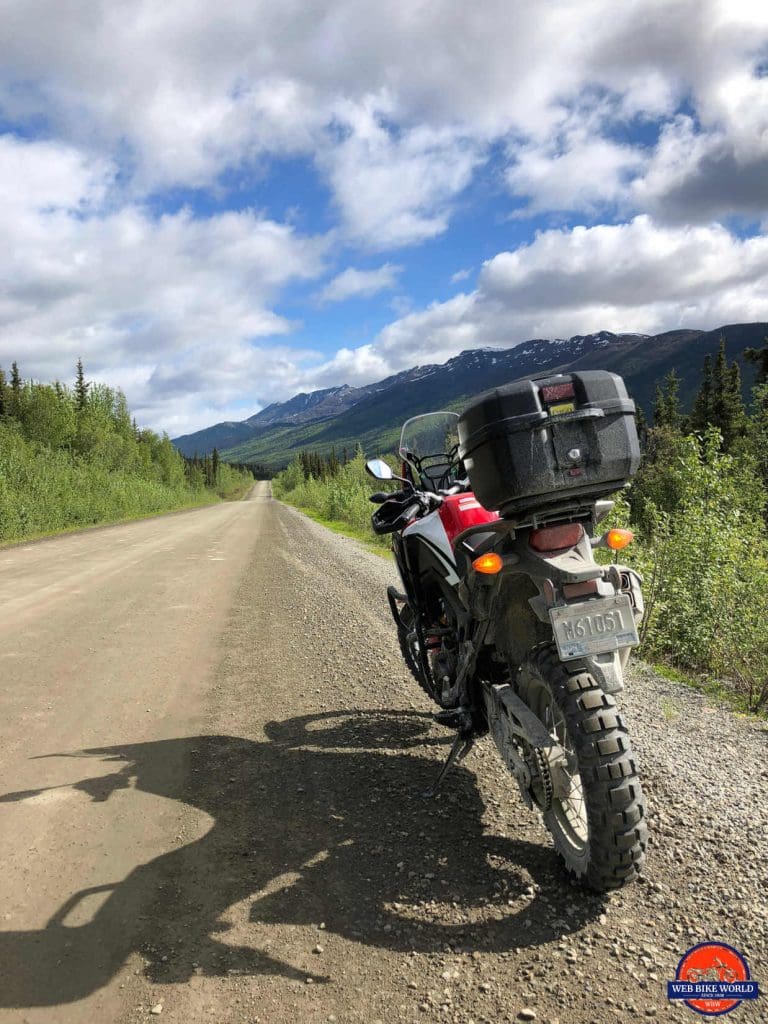 I was cautious at first, not even shifting out of 4th gear or going above 80 kph, but as time went on and I even passed through patches of soft gravel 2 inches deep without any loss of control I realized just how perfect the setup of these bikes was, and I went for it!
The Africa Twin has a 1000cc inline, 2 cylinder engine that produces the sweetest growling exhaust note, 97 hp and gobs of linear torque. It's a fairly lightweight bike compared to many adventure bikes that steer light and tight. It has traction control and ABS to keep things on the road more often than not too.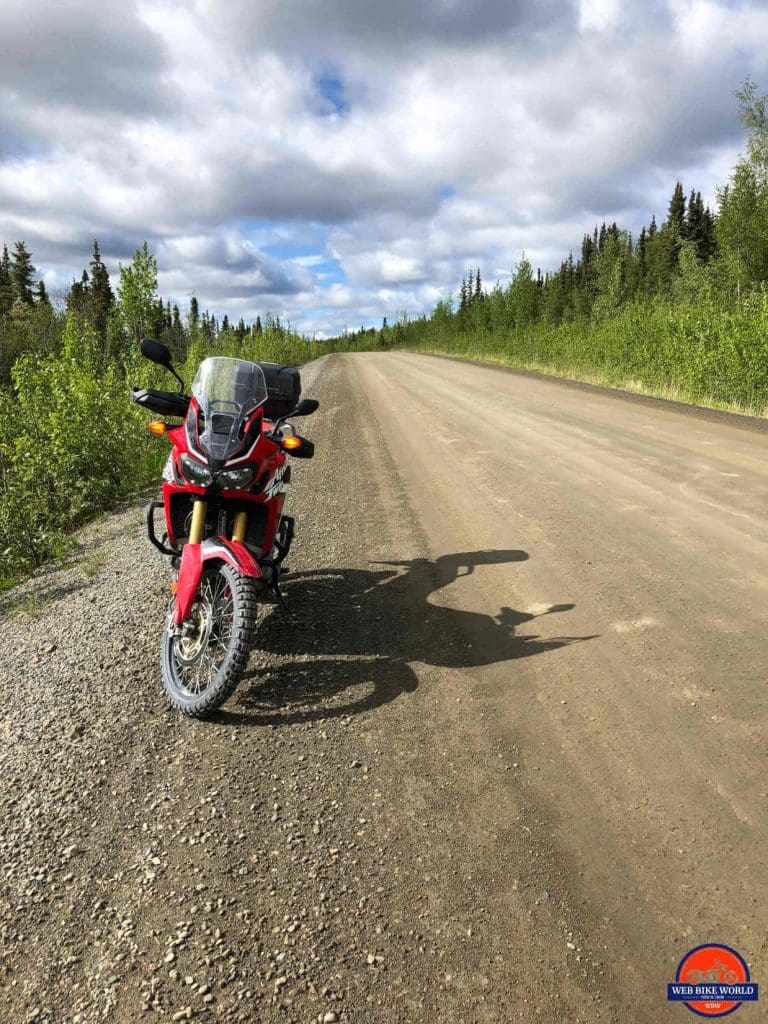 I dialed back the traction control to level 2 instead of maximum (level 3) because I found when I really honked on the throttle it robbed me of all tire-spinning power which is boring and a problem when trying to pass a car for example. The middle setting was perfect.
This Honda just loves to play in any loose ground and is so well suited to the Dempster that I was flying around corners and leaning hard into them with full confidence. The bike was just as solid on this rough road as my Ninja is on asphalt.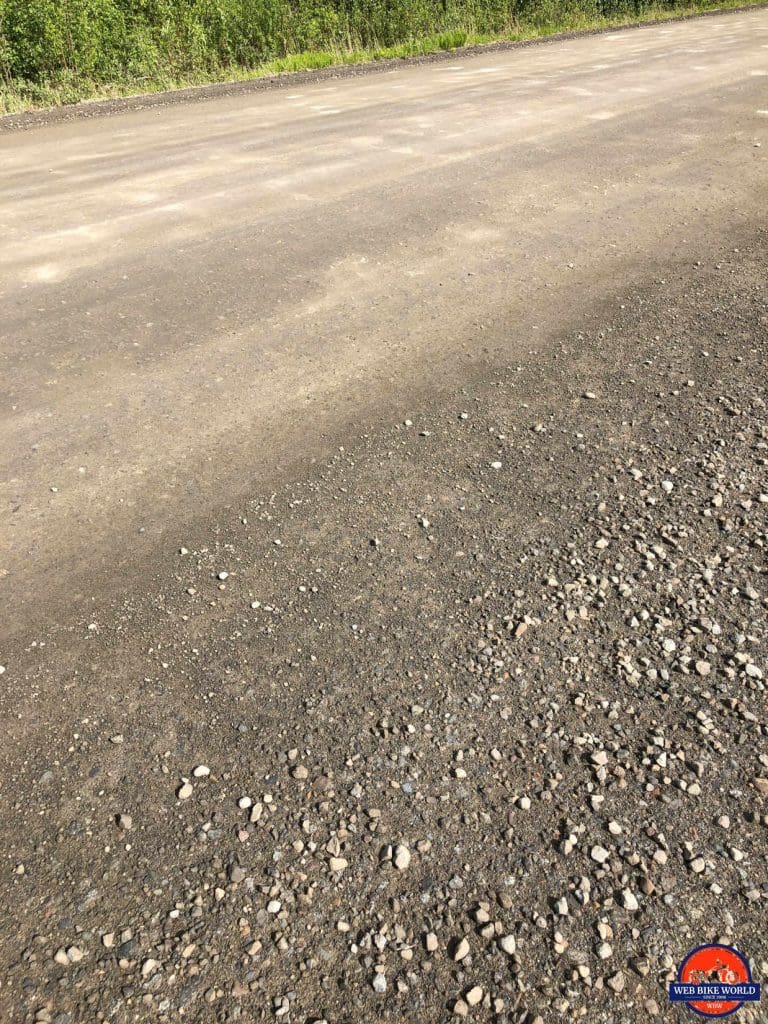 The Dempster is littered with all different sizes of potholes everywhere. It makes for a very fun game to try dodging them all and the Honda makes the game pretty easy.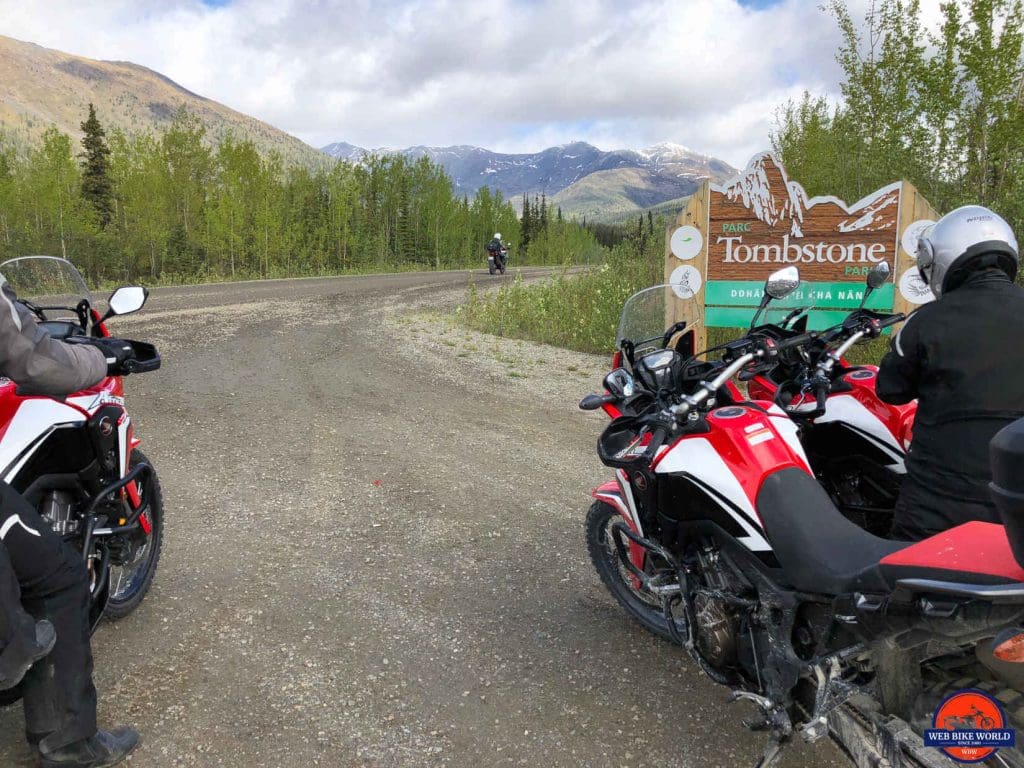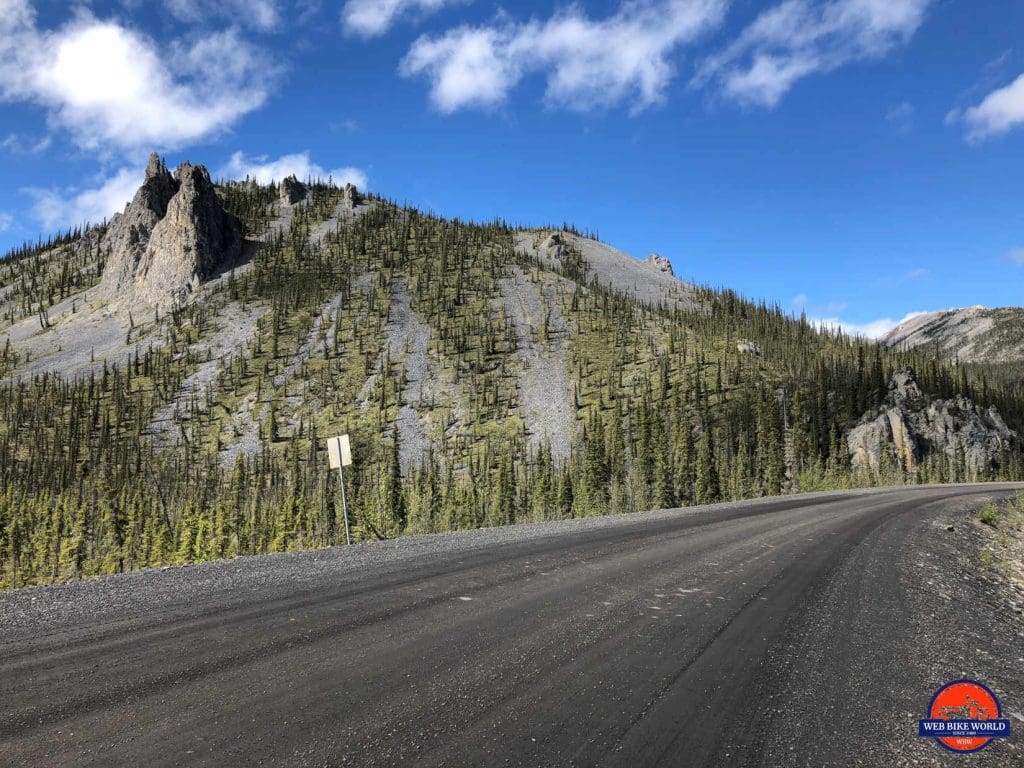 We took a break and stopped at the Tombstone National Park interpretive center to look around, and I spotted a small grizzly inside that was quite friendly as you can see in the photos.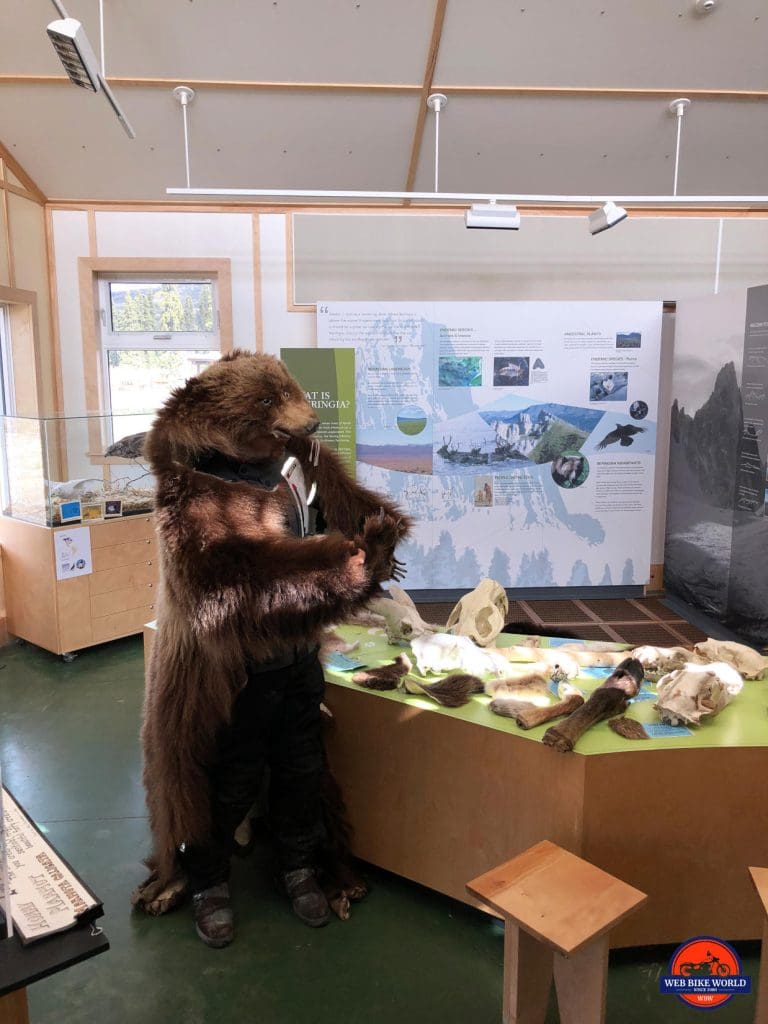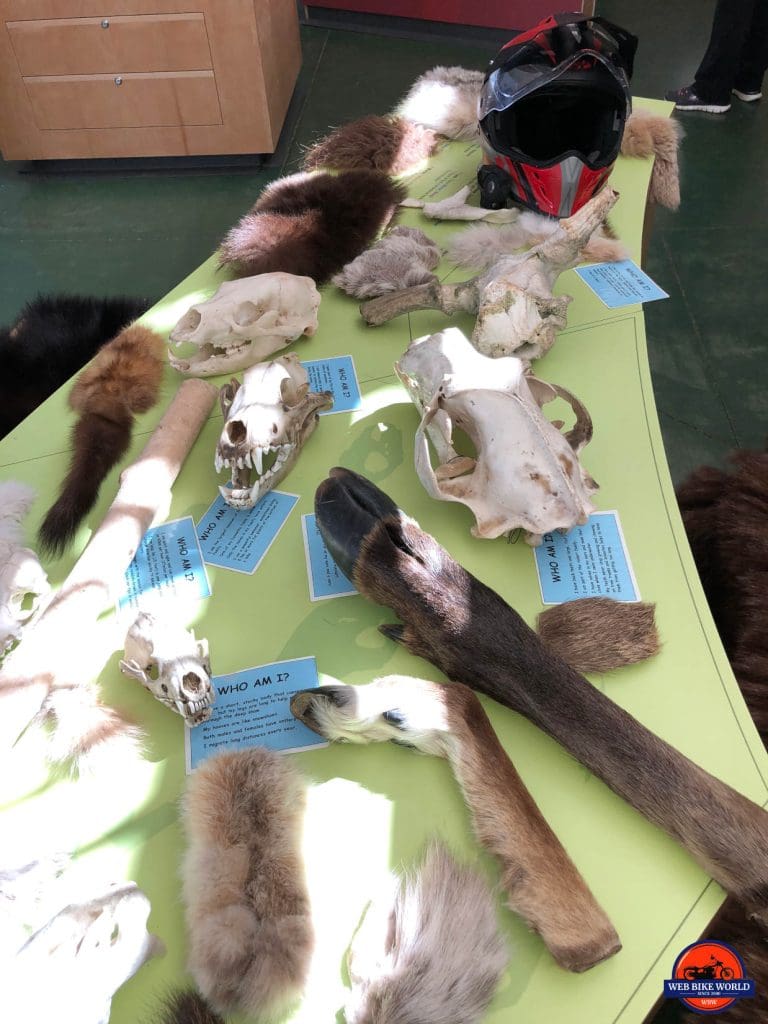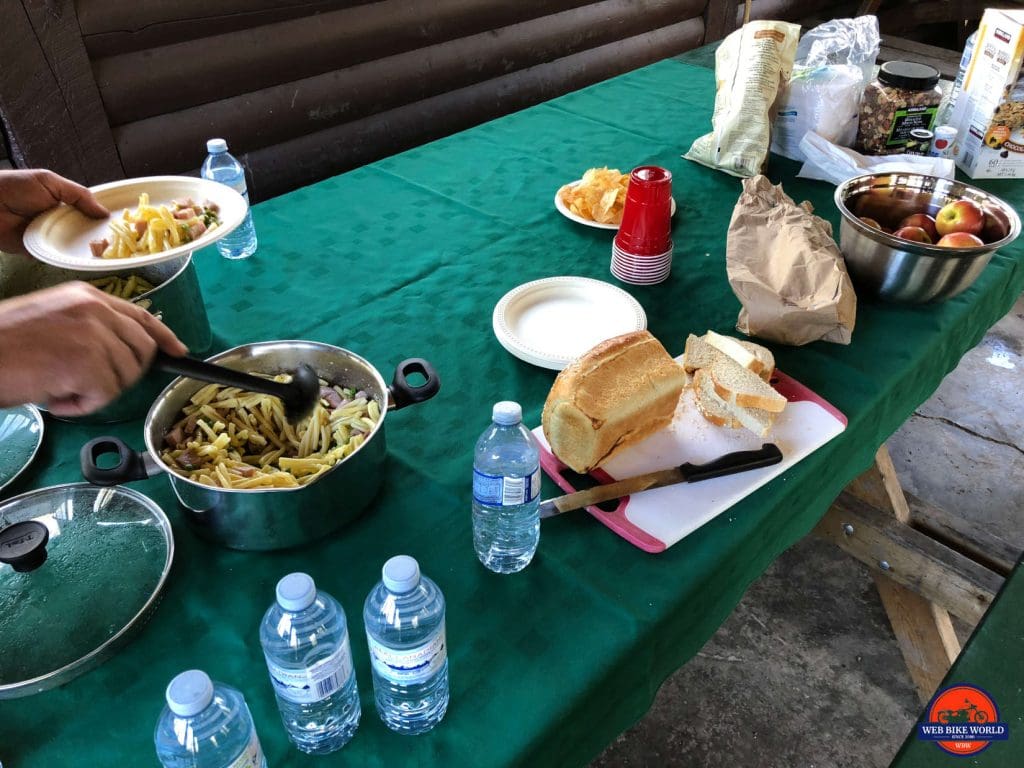 We rode until noon when Tammy rolled out an Italian pasta feast for us to enjoy out in the middle of absolute nowhere. I didn't expect such decadent food out on the road, but she really delivered and made the day.
She and Wade have gone out of their way to help me and the others feel looked after. We're getting the royal treatment. I'm glad I decided to go on this tour instead of trying to handle everything myself for this ride.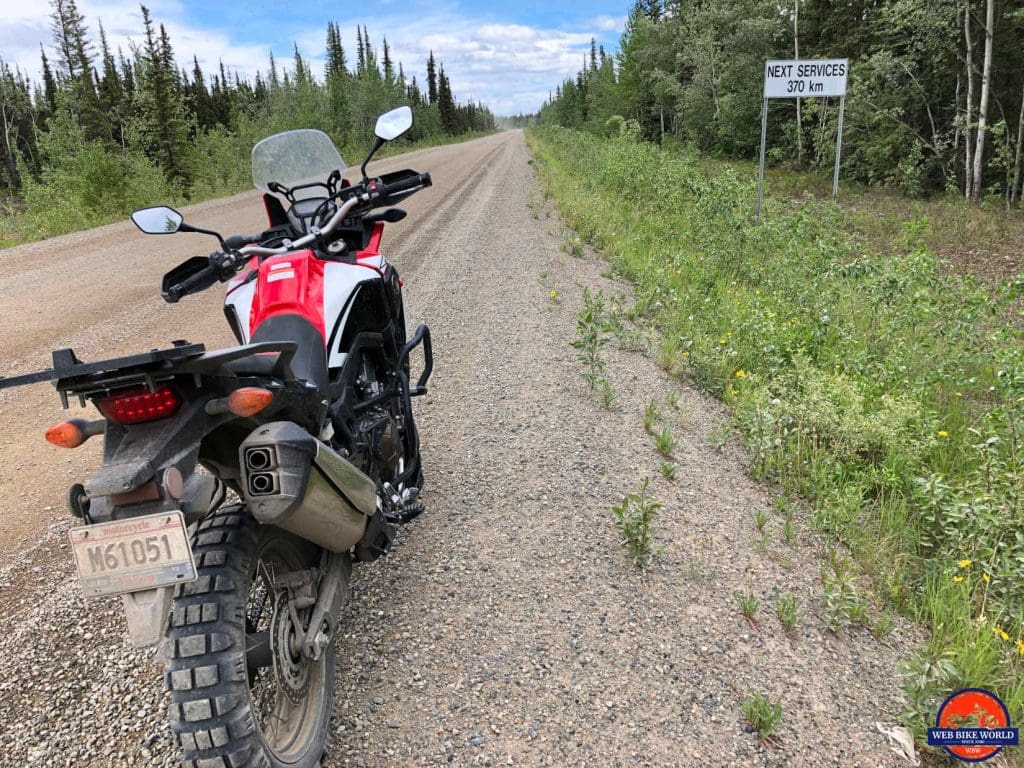 We refueled all the bikes at this point even though it looked like these Twins have enough range to barely make it the 370 km to Eagle Plains on one tank.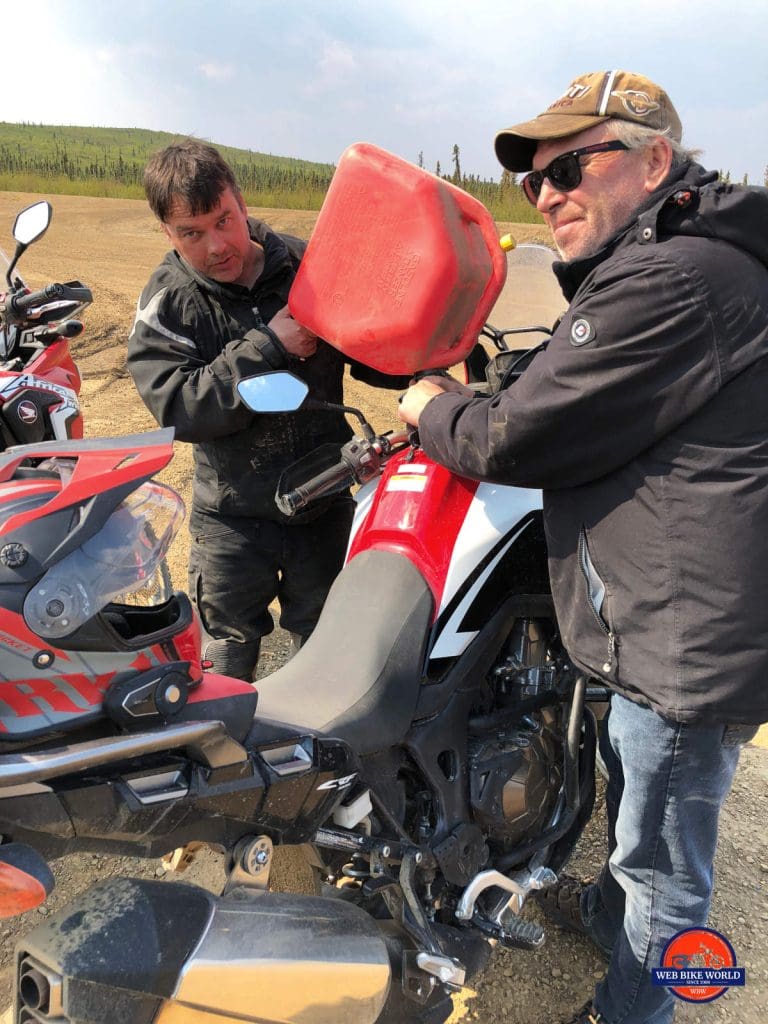 Not having any luggage weighing them down likely helped increase the range of the Twins significantly.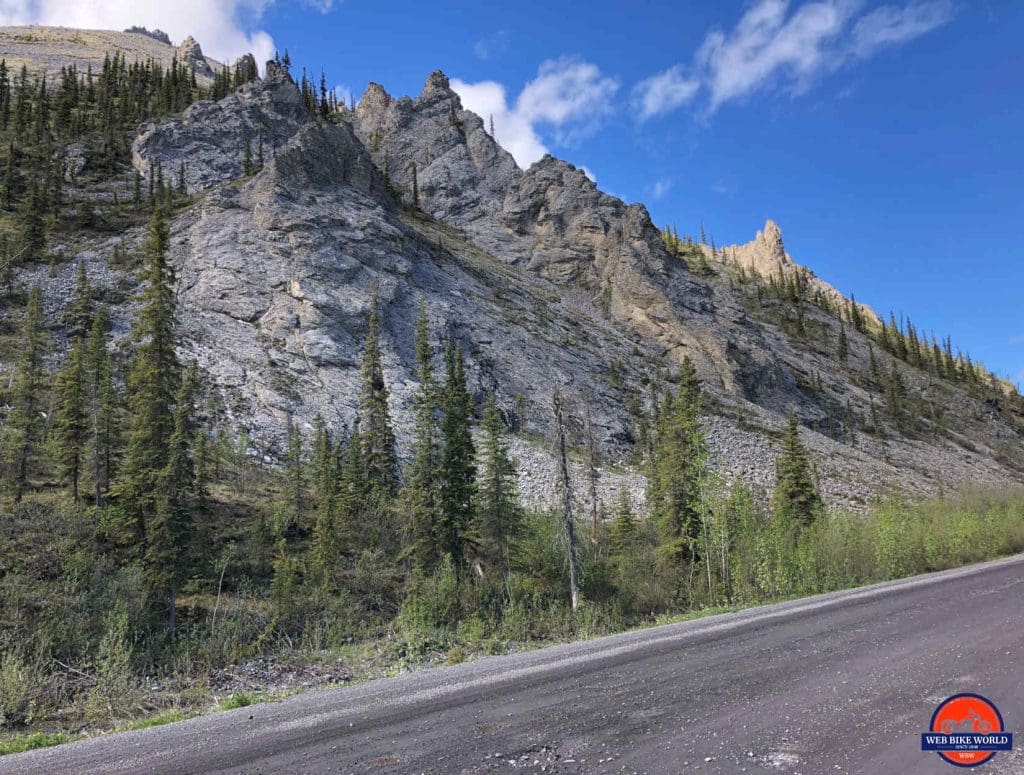 The scenery from there was beyond breathtaking. I think most of the photos I took today are panoramas because I couldn't capture what I wanted just using a standard size. There were wide open valleys without a single tree in them, then five minutes later snow-capped peaks with glaciers and dense forests around them.
What lovely eye candy this varied terrain is.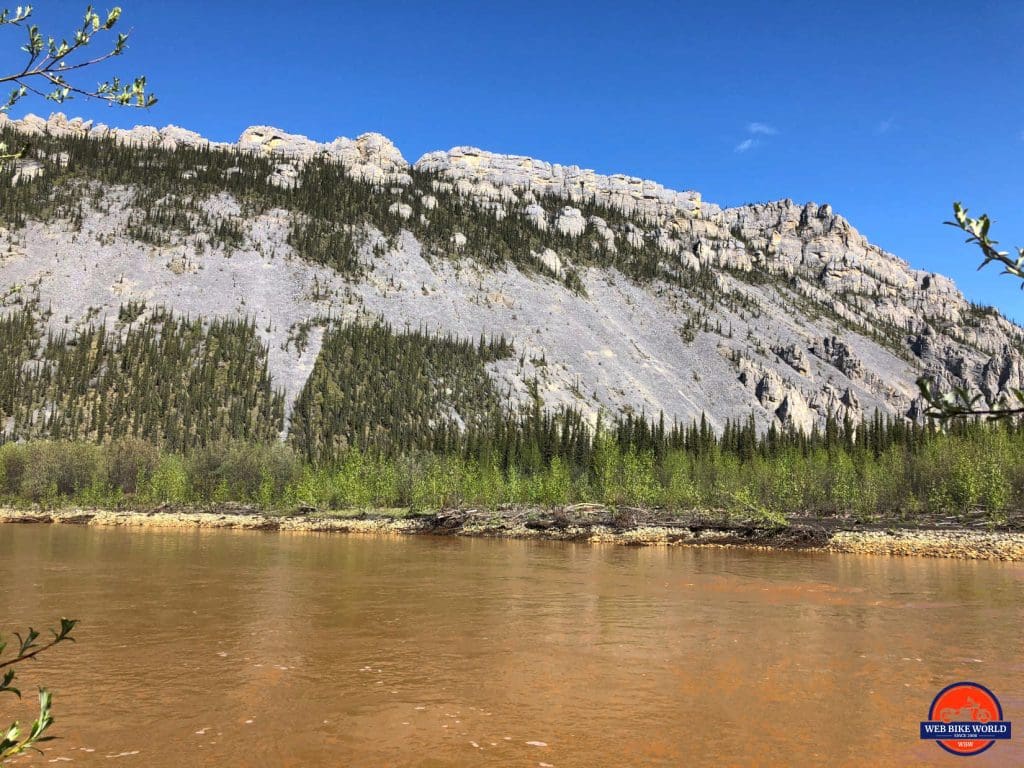 Especially weird were the ORANGE colored streams! I'm guessing the rocks in the area are very high in iron content and so rust is formed when the spring melt of snow flows into the streams turning them a fairly bright orange/rust color.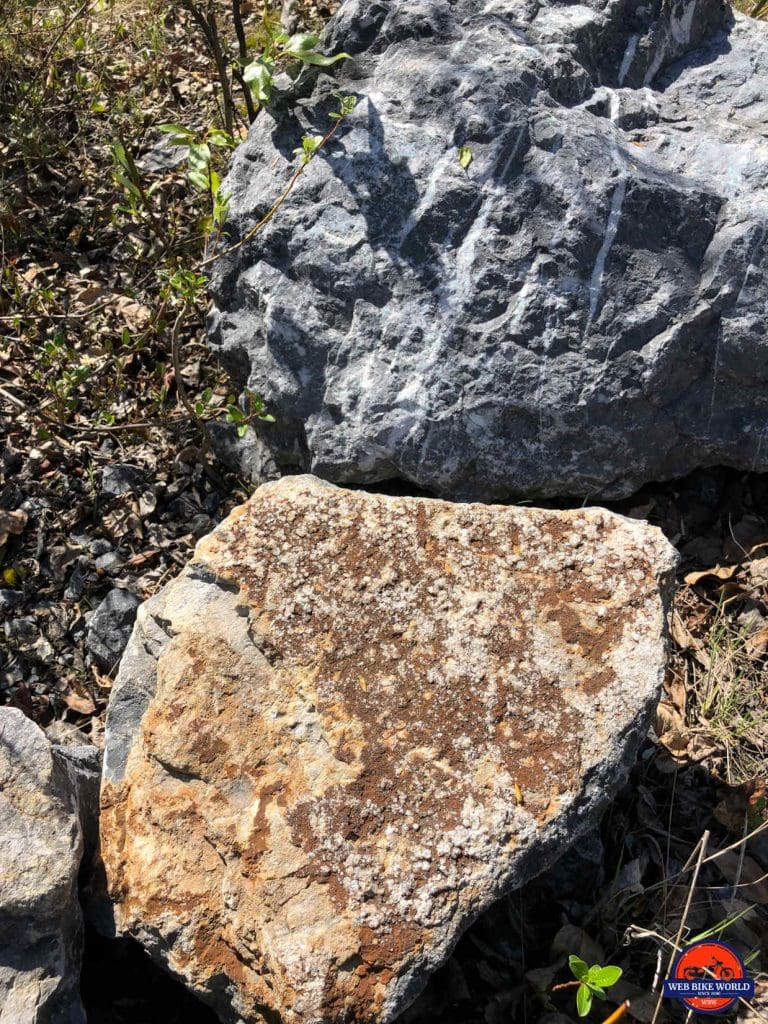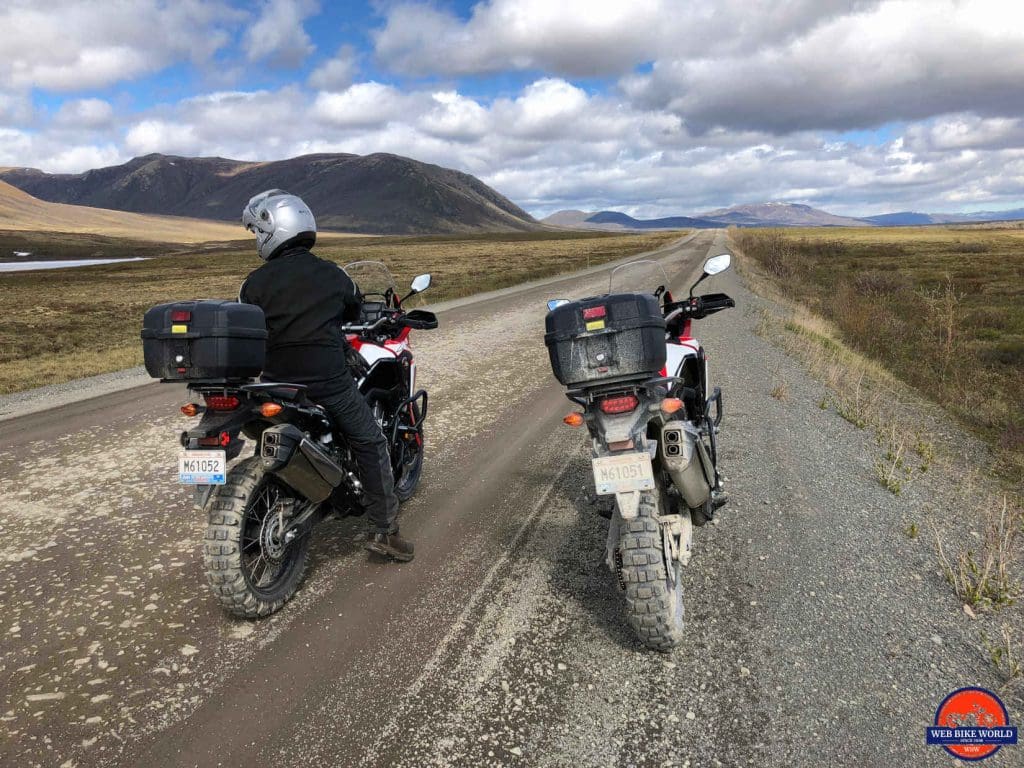 The road suddenly changed to a dark and wet looking paste from there. The consistency of Play-doh and quite tough to steer through even with the Mitas tires gripping at it. This is what pouring fresh calcium chloride on the mud and gravel will produce along with recent rain or snow. It dries hard as concrete, but otherwise can be treacherous to ride on.
I slowed down to better navigate it and then it was no problem.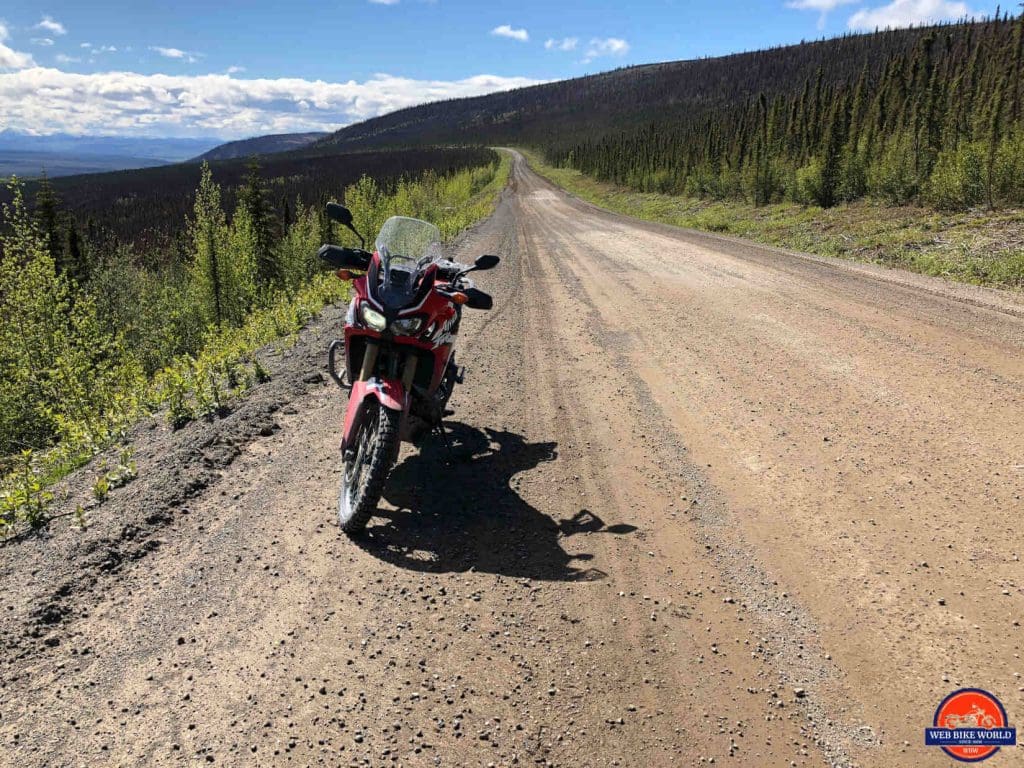 I'm amazed at the number of people bicycling on the Dempster! Seriously, what are they thinking? There are bears everywhere (though I didn't see any today other than that strange, friendly indoor one), the road is very rough and would be hard to navigate if you're pedaling. The Ogilvie Ridge climbs for many kilometers and would be brutal on a bicycle.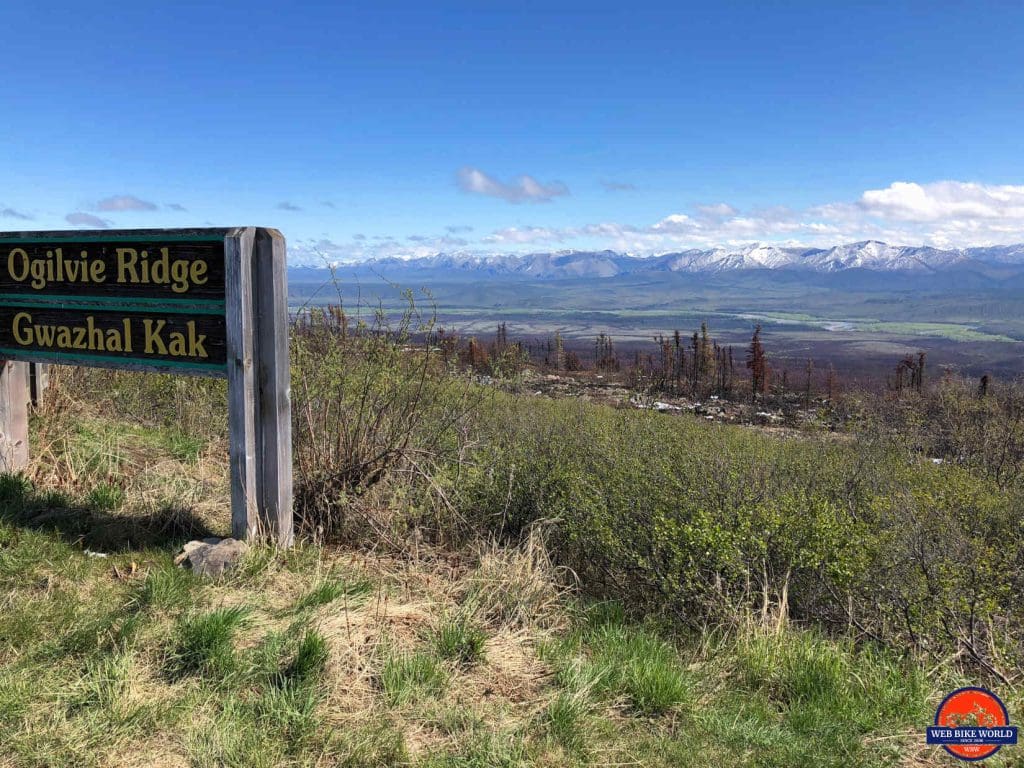 That's just a question of endurance I suppose, but some cyclists just aren't being careful. I came upon a couple of them riding on my side of the road directly towards me and they wouldn't move over to the other side. I couldn't believe it! They expected me to move over to the opposite side of the road when I had the right of way or crash into them head-on.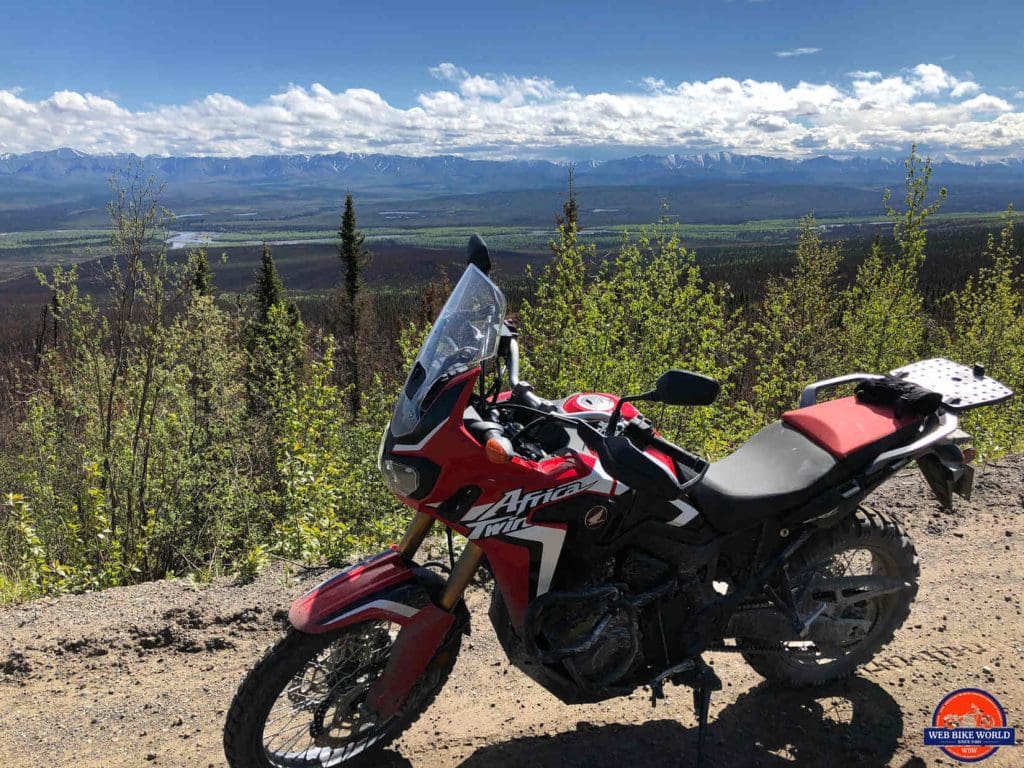 Another shocking example of people not taking the Dempster seriously came when I found people driving a Toyota Prius out there! Yes, the Prius has excellent range, but look at the puny tires on it, the weak suspension and steering components. That car is going to be destroyed driving through all the potholes and ruts.
Better yet, if it gets wet and slippery it has no AWD and will definitely get stuck. What is wrong with these people? They clearly haven't done proper research to investigate how dangerous this road can be.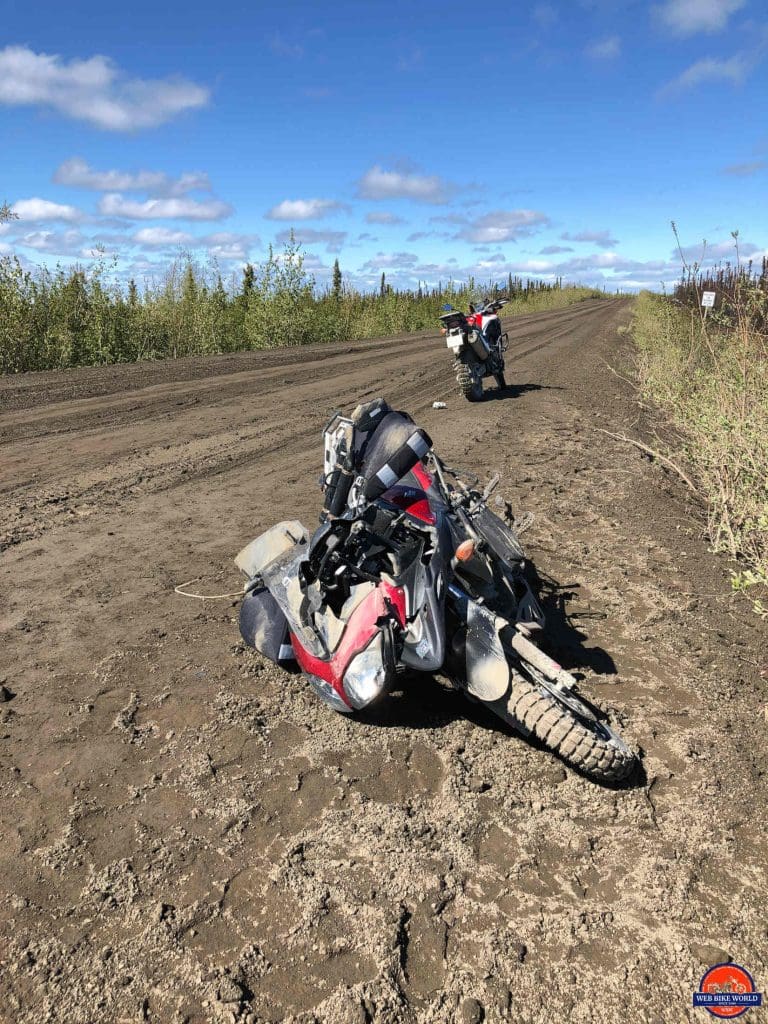 Not long after this, I spotted what turned out to be a Suzuki V-Strom crashed on the side of the road. I stopped right away and jumped off my bike to search the ditch for a hurt rider. I didn't find anyone happily so I figured they must have found help. This V-Strom had Ontario plates on it and was trashed as you can see from the photos.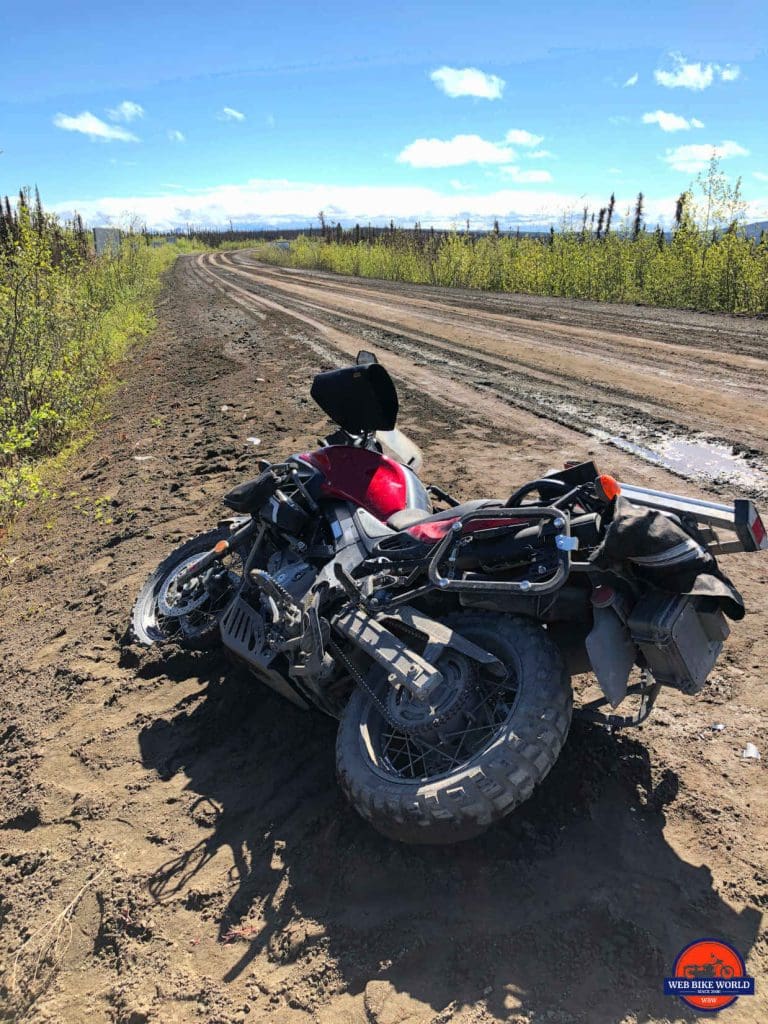 If you don't stay focused on this road, you can crash very easily or ride off a cliff, into a swamp, stream or rock face. It's not difficult to hit a big pothole and destroy your wheel rim or blow out a tire too. This isn't named the "highway that hates you" for nothing.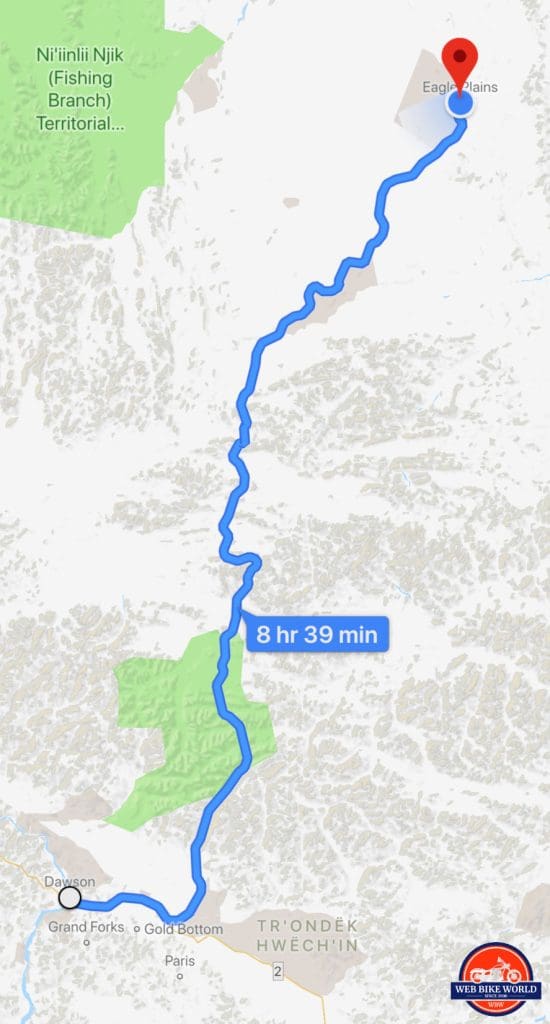 Not long after the broken bike I reached our rest stop for tonight and roughly the halfway point to Tuk called Eagle Plains. We traveled 400 km today in 8 hrs of riding.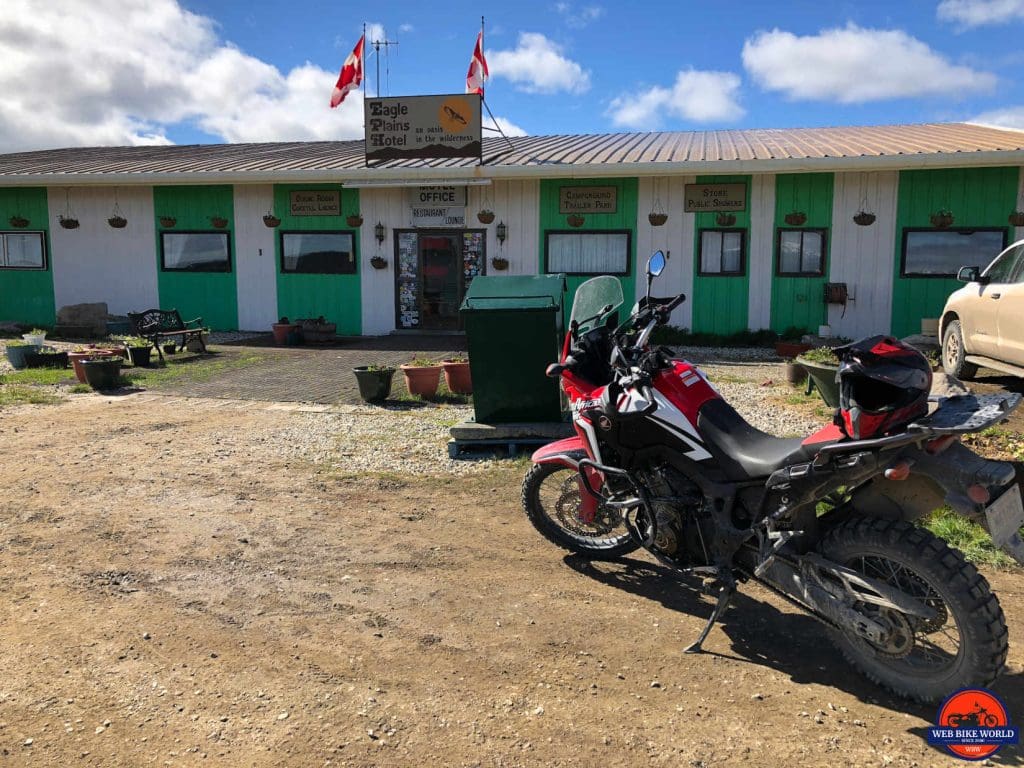 Eagle Plains is motorcycle traveler friendly. They'll let you pressure wash the filth off your bikes if you want for free.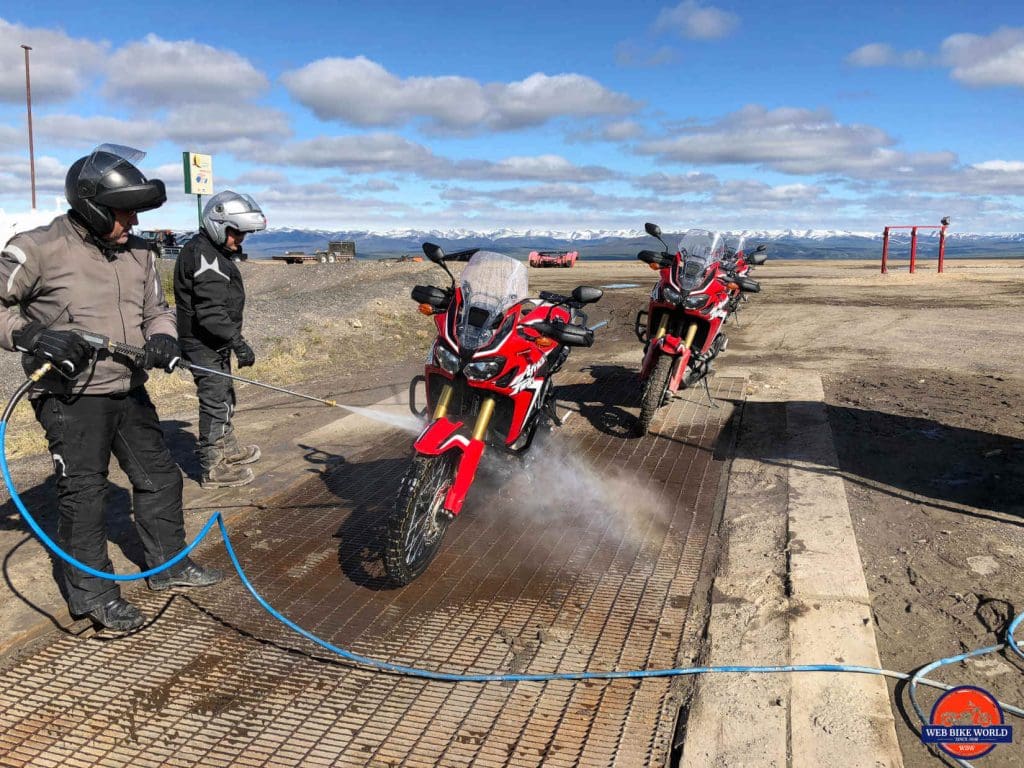 I met and spoke to a rider from Edmonton at the hotel who had also crashed his bike the day before while trying to ride in a freak snowstorm. He said the road suddenly iced up and he lost traction.
Luckily he wasn't hurt, but the mount for one of his saddlebags had broken in the fall and he had just gotten it towed to Eagle Plains for repairs. He mentioned another rider had broken his leg in a crash two days before while riding too fast in more bad weather.
Today was the first day the weather was perfect, warm and rain-free since I started this journey and I'm grateful for that. The forecast shows us getting more perfect weather the rest of the week and that thrills me. I really want to reach Tuktoyaktuk without incident and return to Dawson City in one piece afterward too.
I'm having a great time.