Day 2: Steady as She Goes
This morning we sat down as a group for breakfast early to plan out the day at the Eagle Plains motel restaurant.
As luck would have it the two men sitting next to us were both involved in motorcycle crashes the day before. One of them was the owner of the smashed bike I took the photo of yesterday. The poor guy had lost control on that Play-doh mud section of road, gone into a wobble and flipped V-Strom! He had landed on his back, but happily, the level 2 back armor in his jacket saved him from injury.
The other rider we had already spoken to yesterday (lost traction in the snowstorm) and was still trying to figure out whether his bike was rideable or not. He crashed in the snowstorm after not being able to find a hotel room in Inuvik or Fort McPherson to wait it out. The whole experience mentally rattled him and he was genuinely afraid to get back on the bike if it meant taking on the Dempster again.
Wade told him if he was still there when we came back from Tuk in a couple of days he could load his bike in Wade's trailer and we would take him back to Dawson City with us where he could figure out what his next move was. Ditto for the V-Strom rider.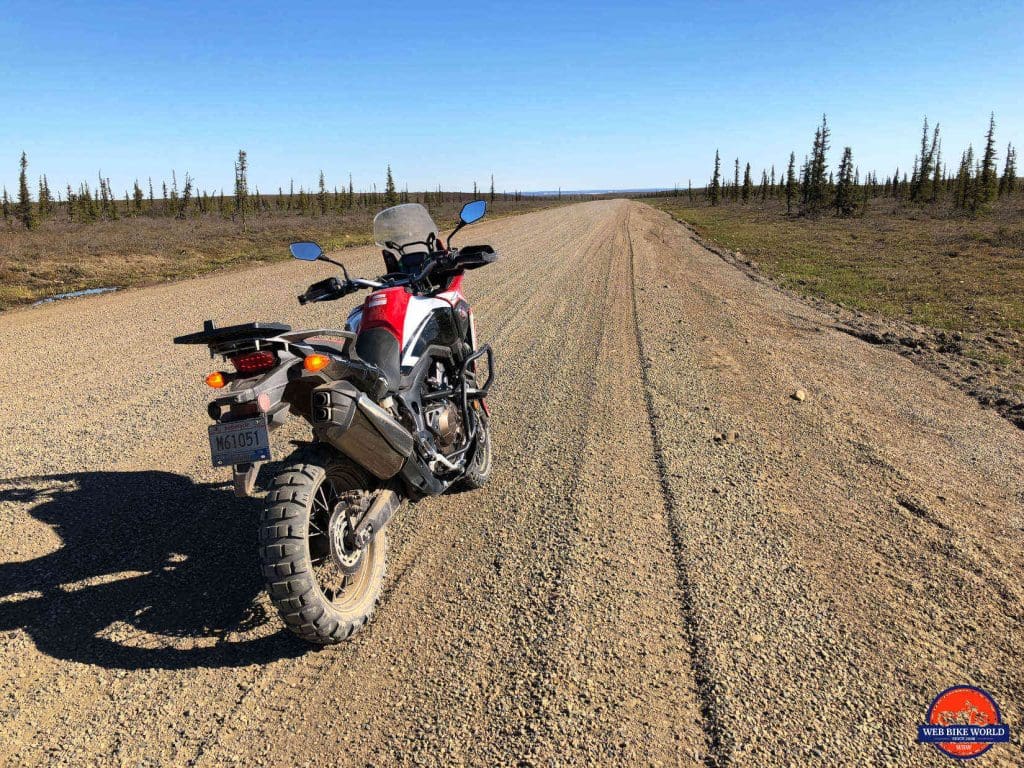 Their stories and their fear hit home with me. Riding a motorcycle safely on a road like the Dempster takes confidence, concentration, and skill. Without confidence though, it's really hard to harness the other two. Having all systems online between your ears while you hurtle down the road is paramount.
With that fresh in my mind, I jumped on my bike and roared off northbound from Eagle Plains. I decided to take it a bit easier today not only because of what I'd just heard but a truck driver had given us a heads up that "resurfacing" was going on right near the Yukon and NWT border, which we would be passing through soon.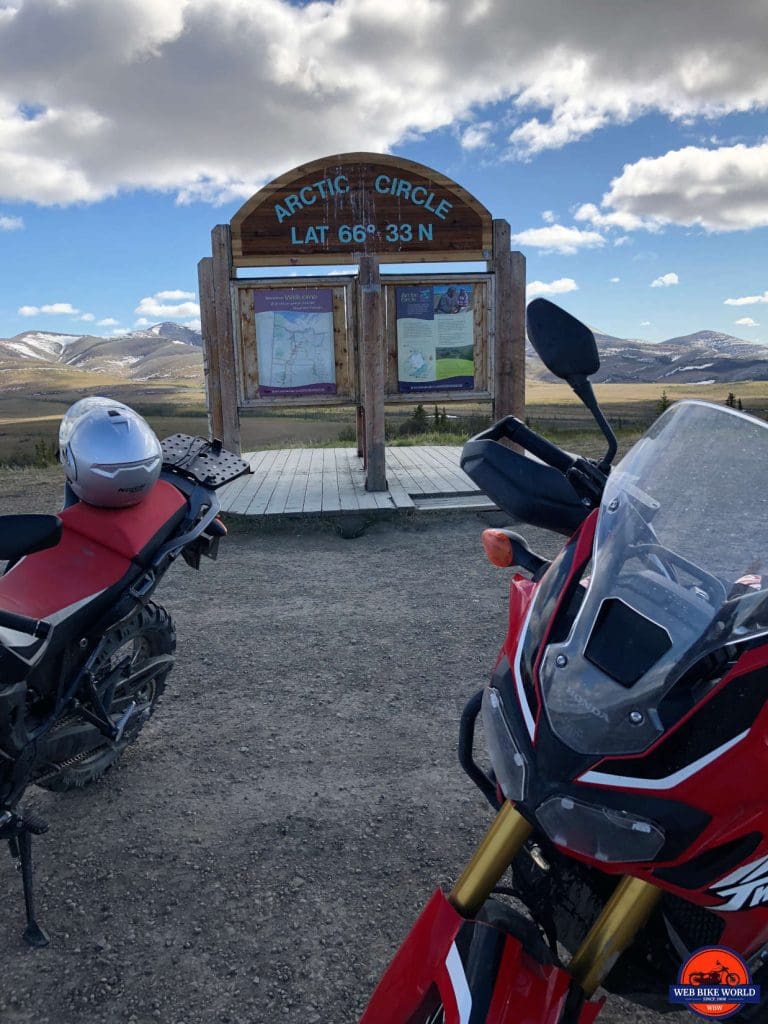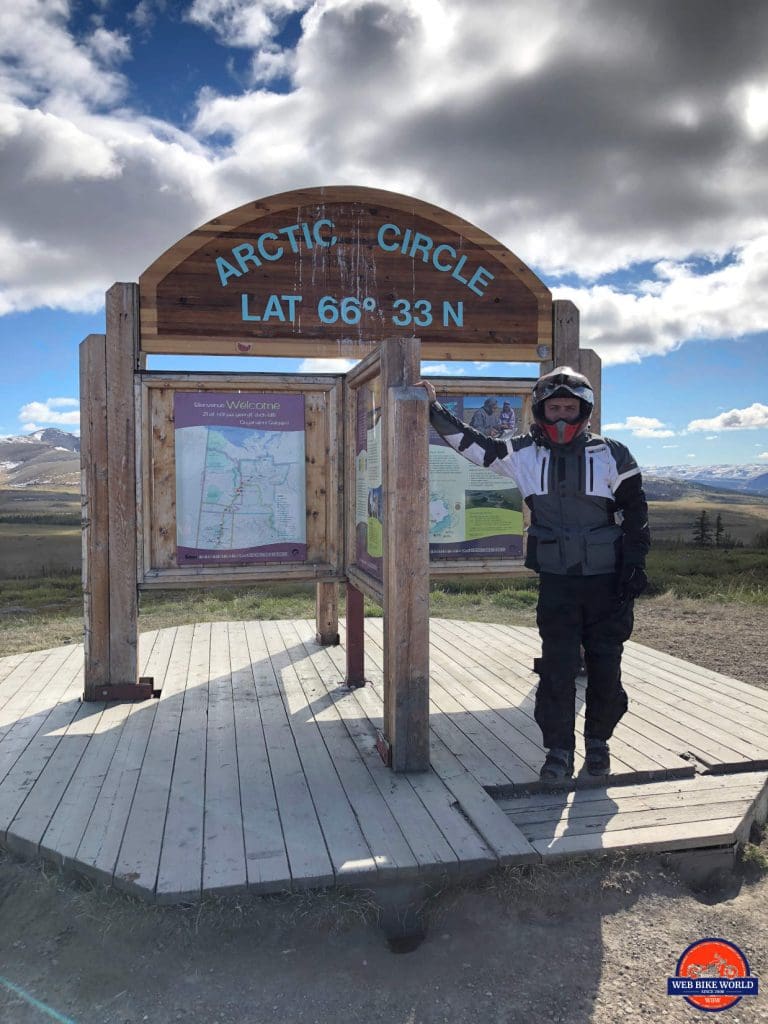 We arrived at the marker for the location of the Arctic Circle around 10 am and all celebrated that milestone with photos and a certificate. We met a couple from Florida there who had driven all that way in their truck and brought their old Siamese cat with them! I would bet that hasn't happened a whole lot over the years. We bid them a good journey and carried on.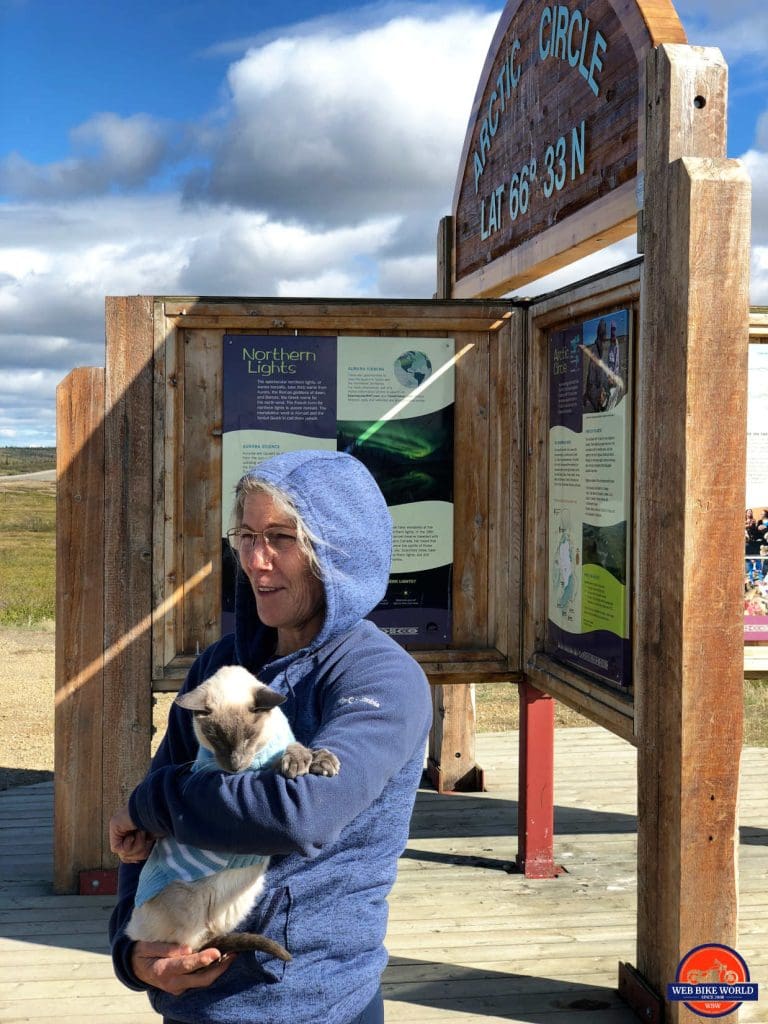 The road then turned very soft and covered in loose gravel about 3 or 4 inches deep for many kilometers. Obviously, the trucker was right and this was the work of a grader and road crew.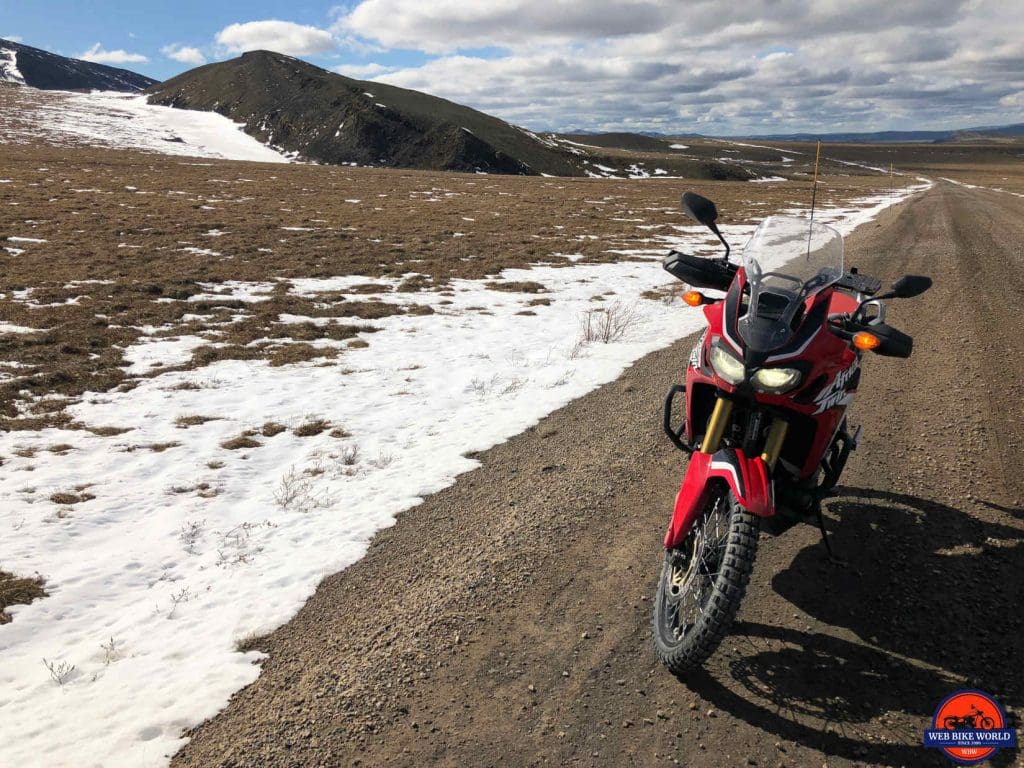 The good news is that it means no more potholes. The bad news for motorcyclists is that the deep gravel makes your bike weave back and forth instead of tracking straight, even with excellent tires and bikes like we're riding.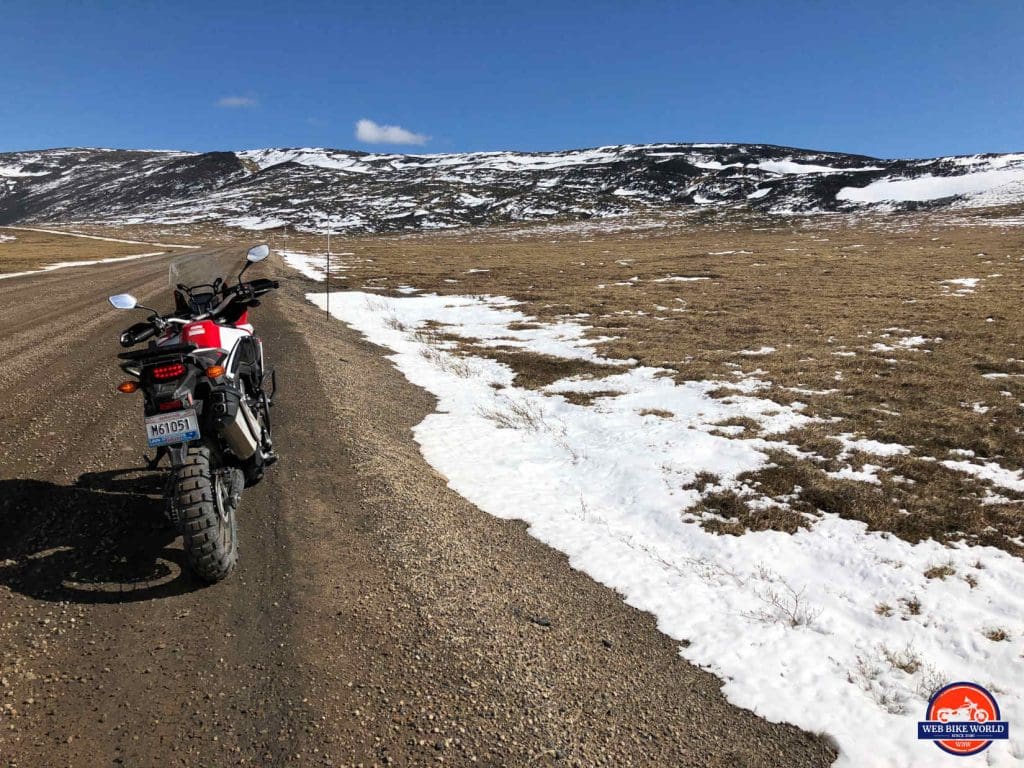 I turned the traction control down as low as I could to give me the ability to drift when necessary in order to keep the bike pointed straighter and stayed in 4th or 5th gear throughout this messy section of road. It's a fine balance while riding in this stuff to know when the bike is weaving at an acceptable level and when it's about to go out of control and throw you.
Basically, if it wobbles once or twice in a row and then straightens that's fine. Any more than that and you have to gently roll off the throttle until it settles.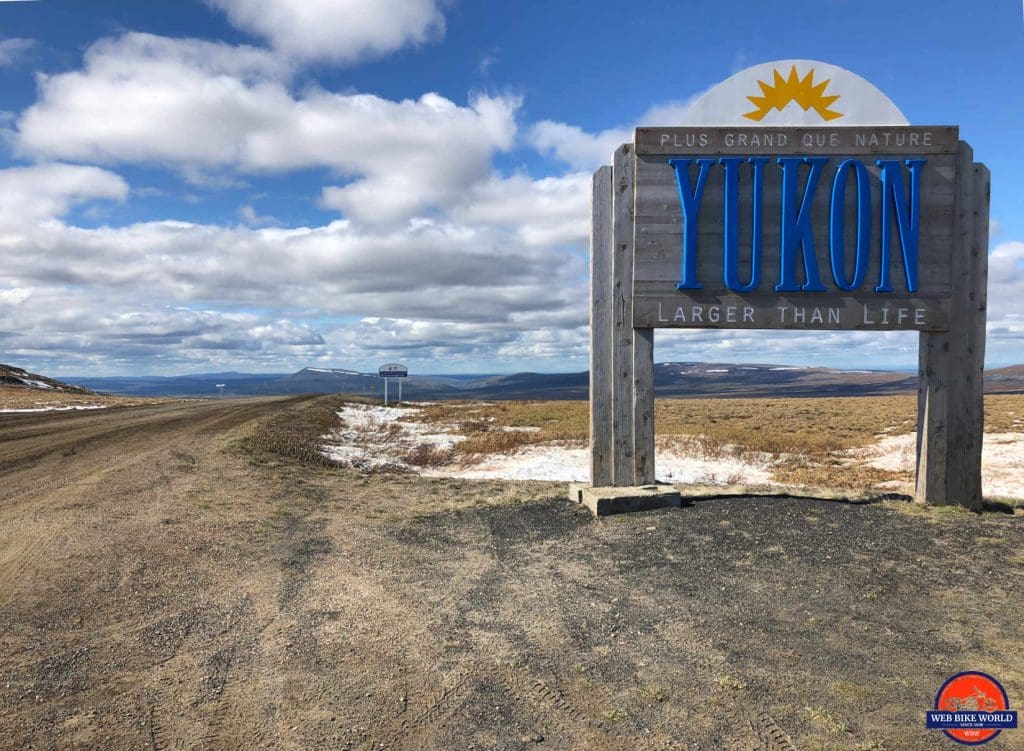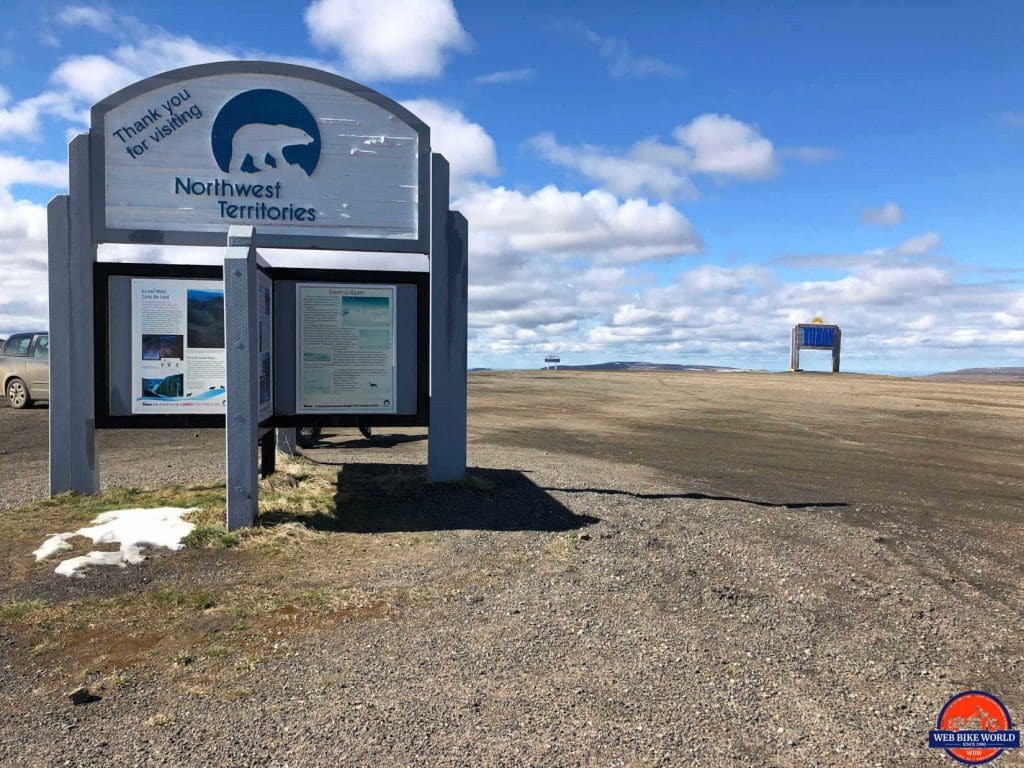 The NWT/Yukon border was next and the temperature dropped since it's at a higher elevation. We had been traveling up and up until that point. There was plenty of snow all around the road and on the hills surrounding the area.
The bright sunny day really lit it up and I was glad the Joe Rocket helmet had an extra dark sun lens in it. We took some pics at the sign, chatted with travelers from all over and carried on to our first ferry crossing over the Peel River.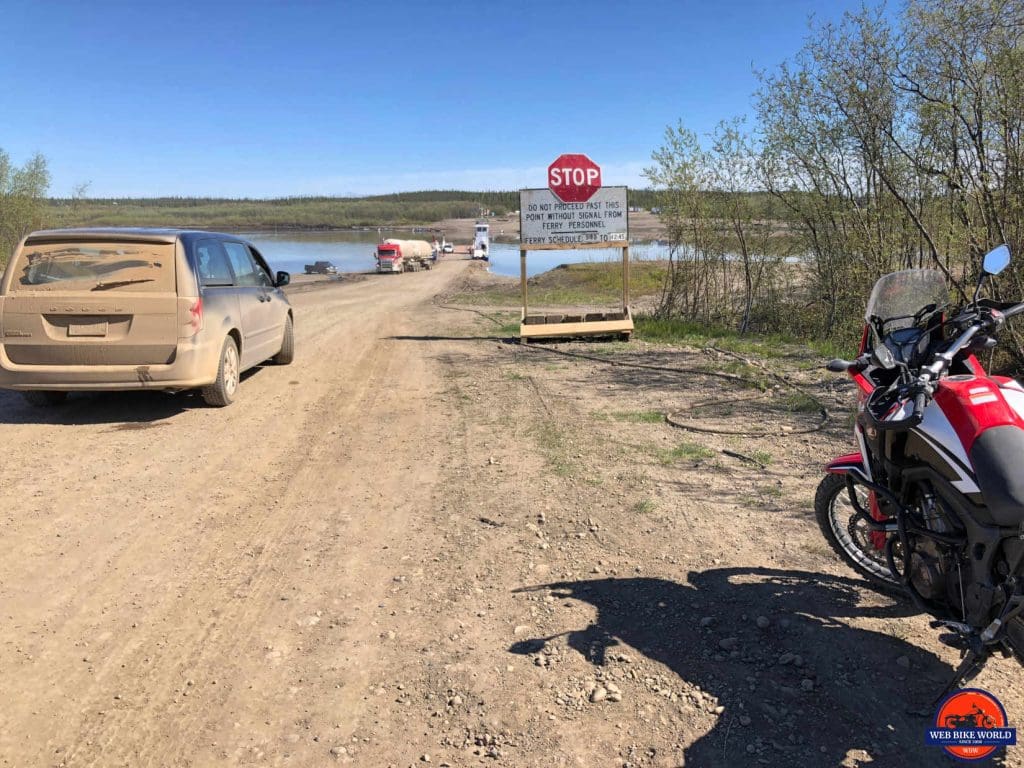 This river is only about half a kilometer across, but I didn't feel like trying to jump it a la Evel Knievel and drove up on the barge instead. It was a very uneventful crossing and we found ourselves right in Fort McPherson moments later to stop for gas and lunch.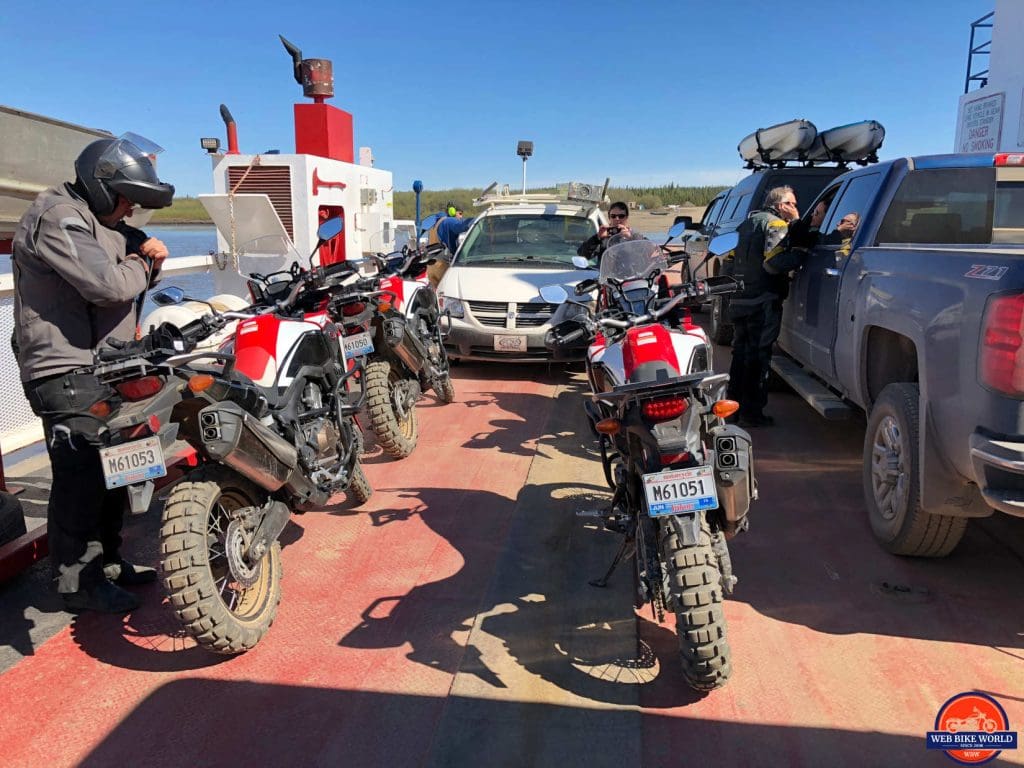 Tammy and Wade once again made sure we ate like kings. They even laid out a table and chairs at the gas station and we dined on delicious finger foods in the parking lot. It really must have looked bizarre to the passing locals, but I loved the contrast of luxury dining set against the harsh environment we find ourselves riding in.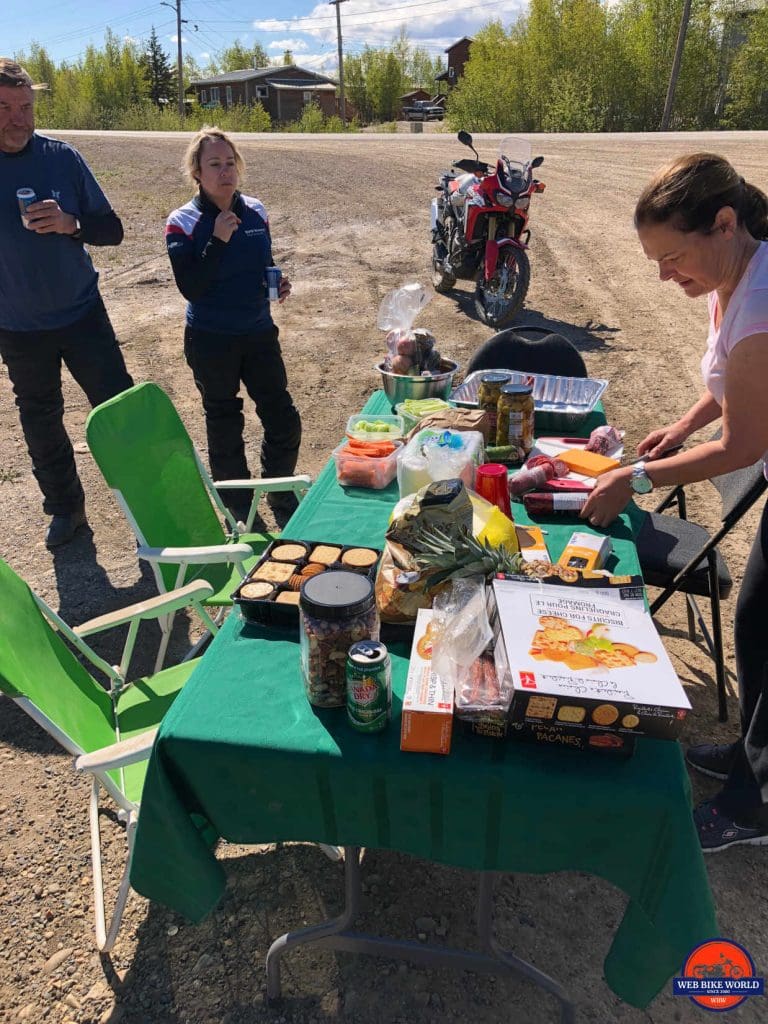 Past Fort McPherson, the deep gravel got even deeper and I even came across a tanker truck spraying calcium chloride on the newly graded gravel. So now not only am I fighting deep gravel, but I'm fighting soaking wet deep gravel.
Yeeeeeehaaaaaa! It was a wild rodeo of weaving back and forth for the next 70 km (50 miles) until I was flagged down by a road worker who "informed" me about all the new gravel on the road ahead and that extra care should be exercised.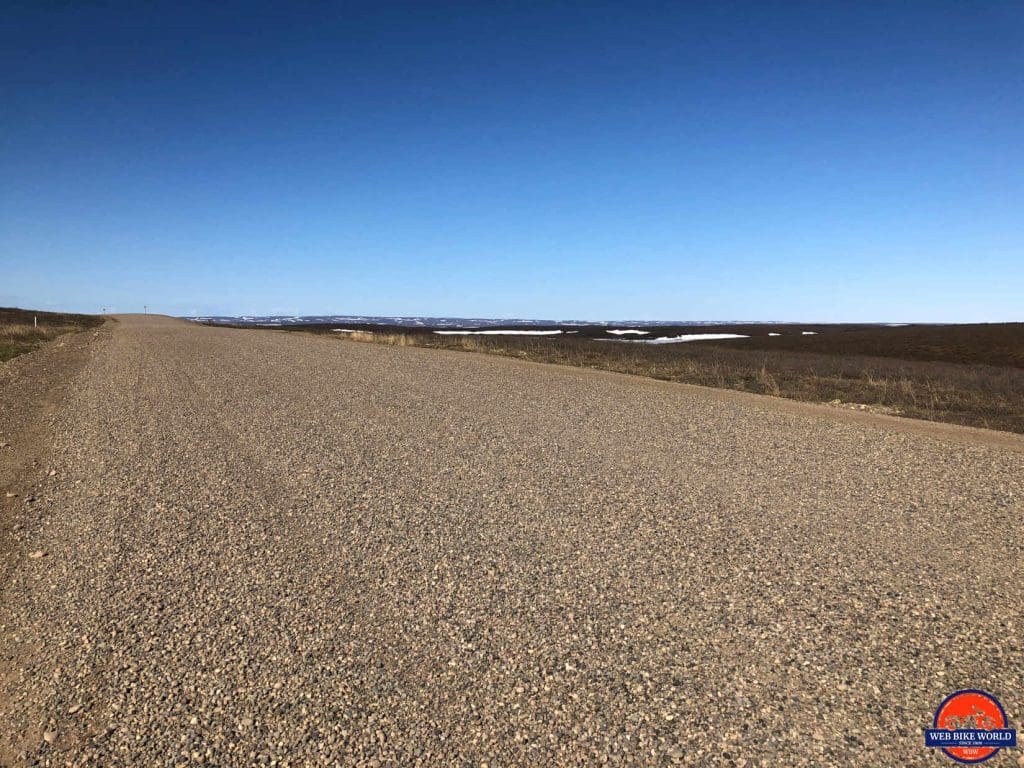 No kidding, eh? Thanks for the hot tip.
The irony is that only about 10 km (6 miles) after that the road went back to the hard-packed normal gravel variety and I was able to ride at normal speeds again.
The terrain has changed dramatically since the border crossing. The mountains are now gone from the horizon and we are noticeably descending. The temperature has gone from a chilling 6 degrees Celsius all the way up to 23 Celsius while we were at lunch and I've peeled off two inner layers of clothing, opened my jacket and pant vents and switched to summer gloves from my Rukka ones.
What a refreshing change!
The only problem now is that the road is really, REALLY dusty and the oncoming transport trucks whip up such huge clouds of dust when they go by that you're riding totally blind for about 10 seconds afterwards.
The only way to deal with this is to pull over as close as you dare to the edge of the road while the truck passes and the dust cloud diminishes. It's more than a little concerning, but there's no alternative.
This is a brand new problem to deal with: being covered in dust. The visor is getting harder to see through and so are the gauges on my bike display.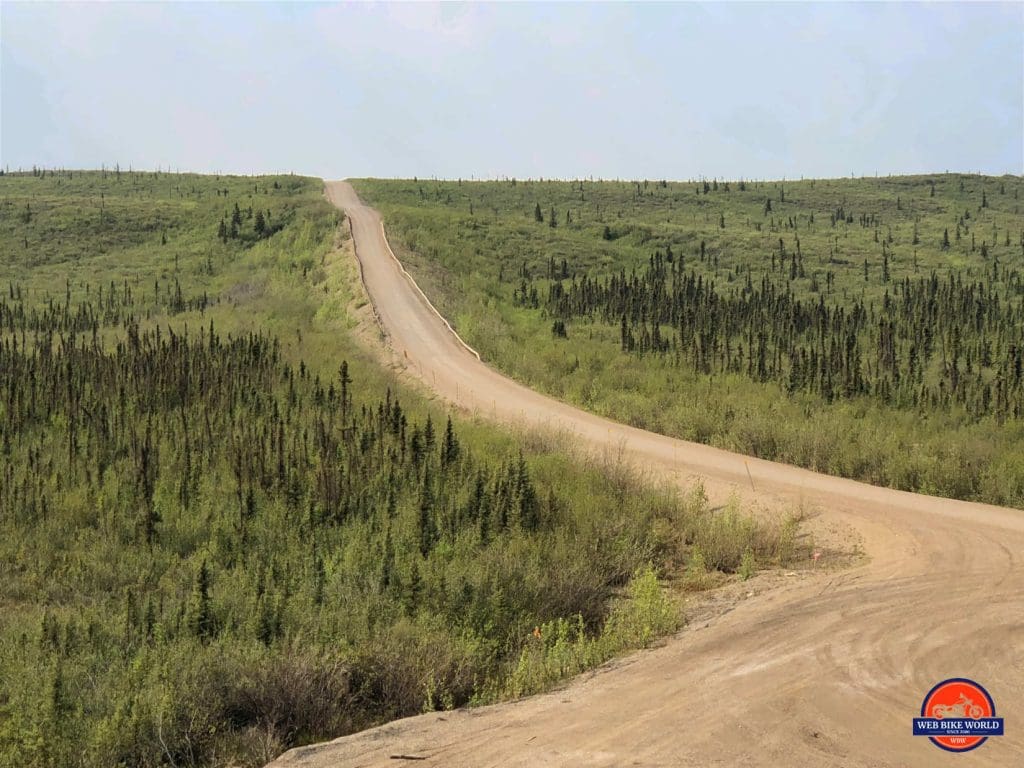 As I carry on I pass sprawling expanses of evergreen trees broken up only by tranquil lakes embedded in them. It's a really beautiful countryside.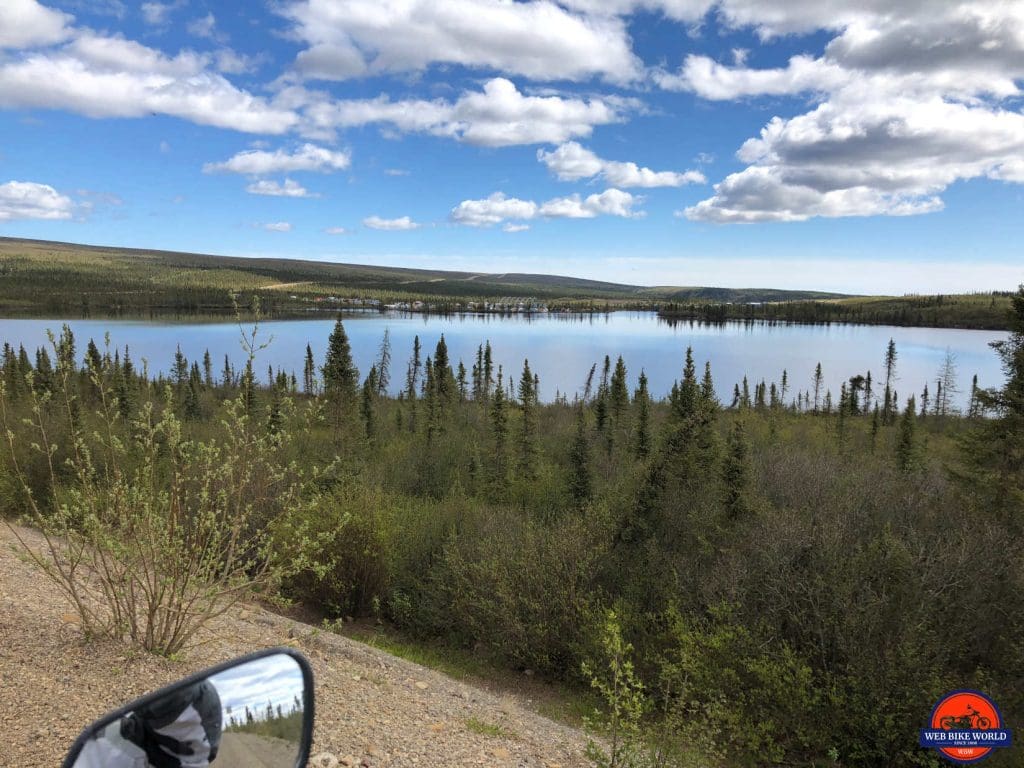 The small settlement of Tsiigehtchic came into view at the top of a hill that had the next ferry crossing at the bottom. We're at the MacKenzie River now and the last ferry before we get to Inuvik.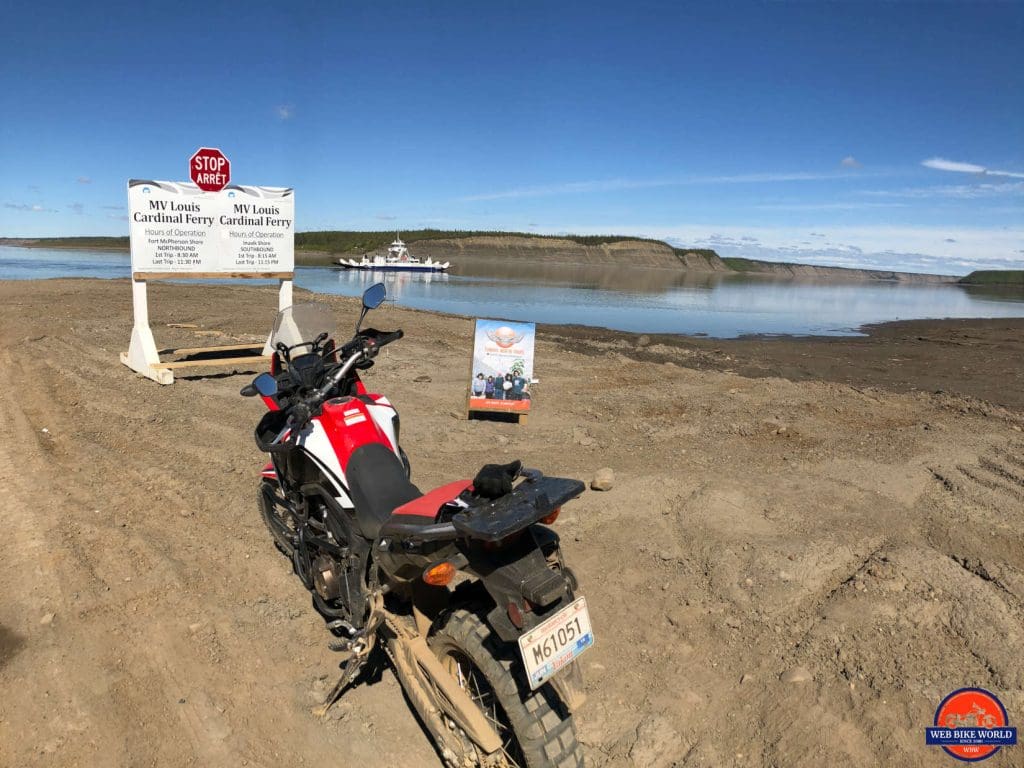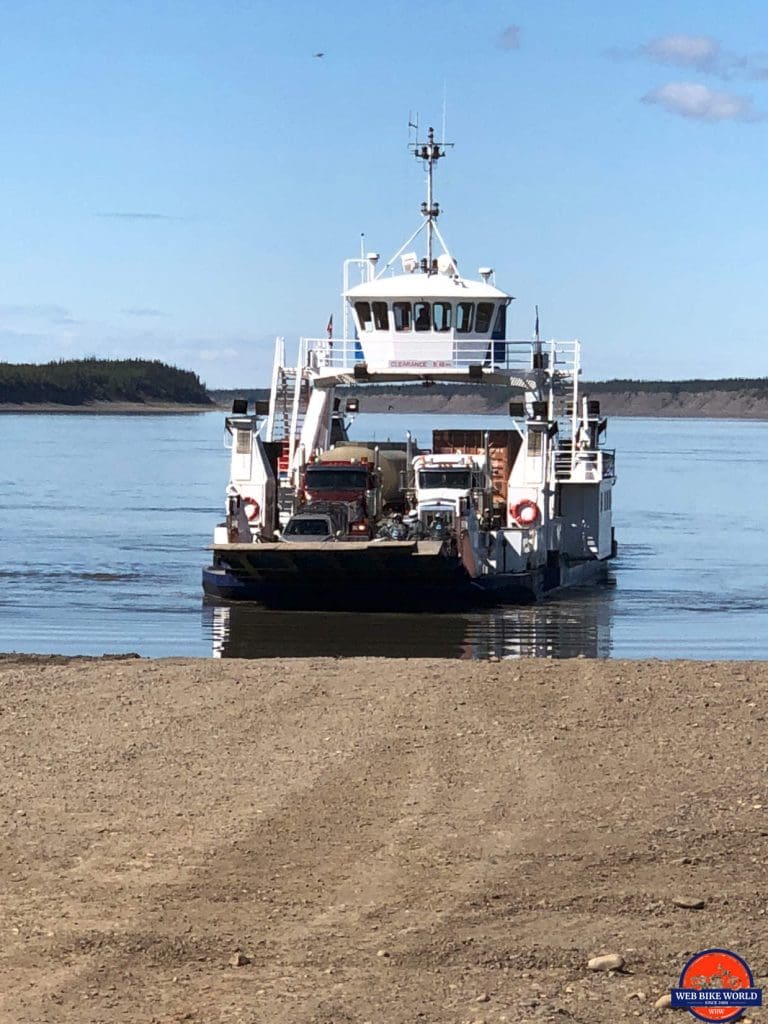 This ferry crossing is a long one and I take a few minutes to catch up on emails since suddenly we all seem to have regained cell service, surprisingly.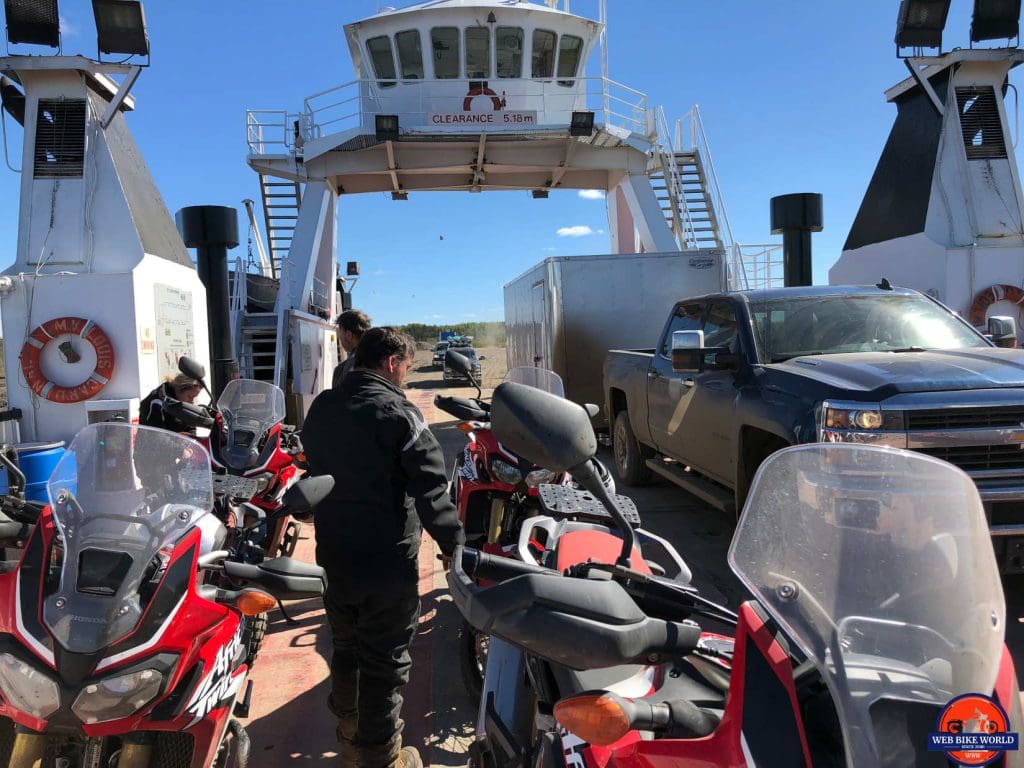 I feel refreshed and unencumbered now that it's sunny and warm. The road ahead looks hard packed with a light coating of gravel on it. You know what that means? Good traction. Good traction means, it's time to have some fun and let the horses out for a bit.
A Side Note About The Honda Africa Twin Performance
Let me talk a bit more about the Africa Twin and how it handles out on this road. It absolutely dominates on this kind of terrain with its 21-inch front wheel, excellent torque, and precise steering.
This bike is just so… how can I put this? Honda! The bikes they build are so good at giving the rider confidence by providing terrific handling and the kind of power that is useful without being unpredictable.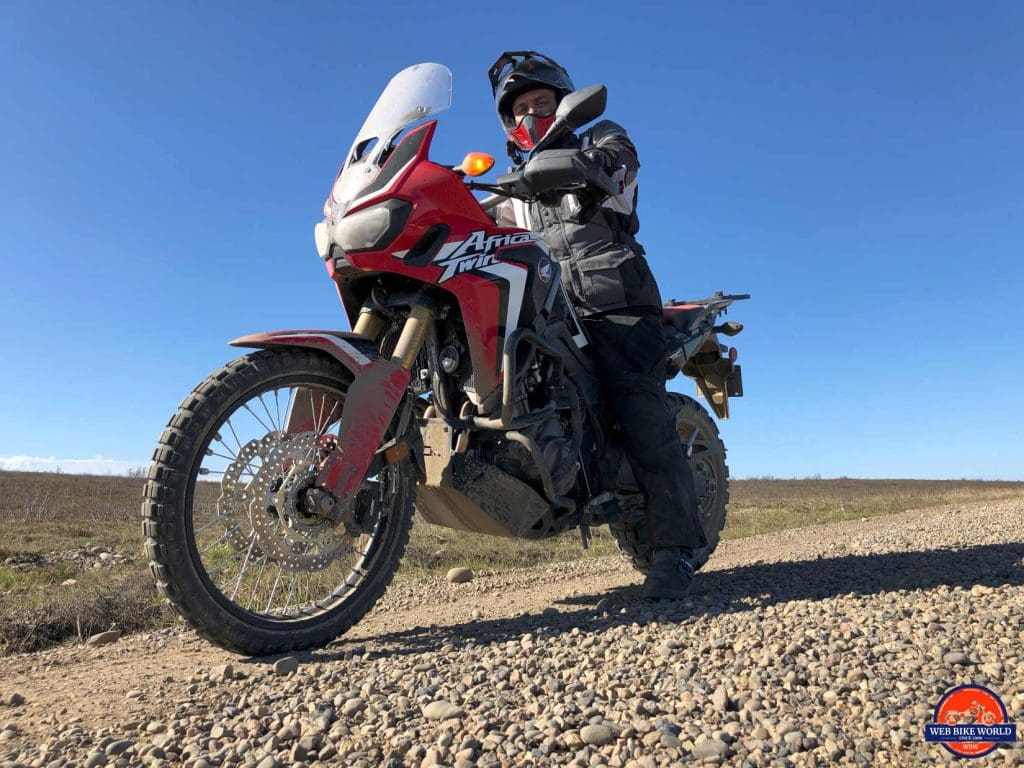 I've read in more than one forum about how people don't appreciate the suspension on these bikes, but nothing could be further from my experience with it this trip. This terrain is rough, bumpy and very uneven. The AT has soaked up everything I've gone over with ease.
The road after the ferry is wide open and straight all the way to our next stopover at the Gwi'Chin Campground just outside Inuvik and let me tell you, I was doing some low level flying with the bike on that hard packed gravel road.
I just couldn't resist opening the Honda up on this road. By the time I remembered how dangerous that is to do in the middle of nowhere I was traveling 178 kph (110 mph) down the Dempster. I quickly came to my senses and rolled back on the throttle recognizing how far from any help I was if I crashed.
I'm not including my speed to brag, but more to the point I was amazed how well this bike handled at such a high speed on a gravel road. It was rock solid in fact and still pulling hard as I cranked on the throttle.
Bravo Honda! The Africa Twin has totally won me over at this point and I really like the whole package. The bike was completely under my control and I managed to dodge two rabbits and three gophers that ran out on the road with ease even at unsafe speeds.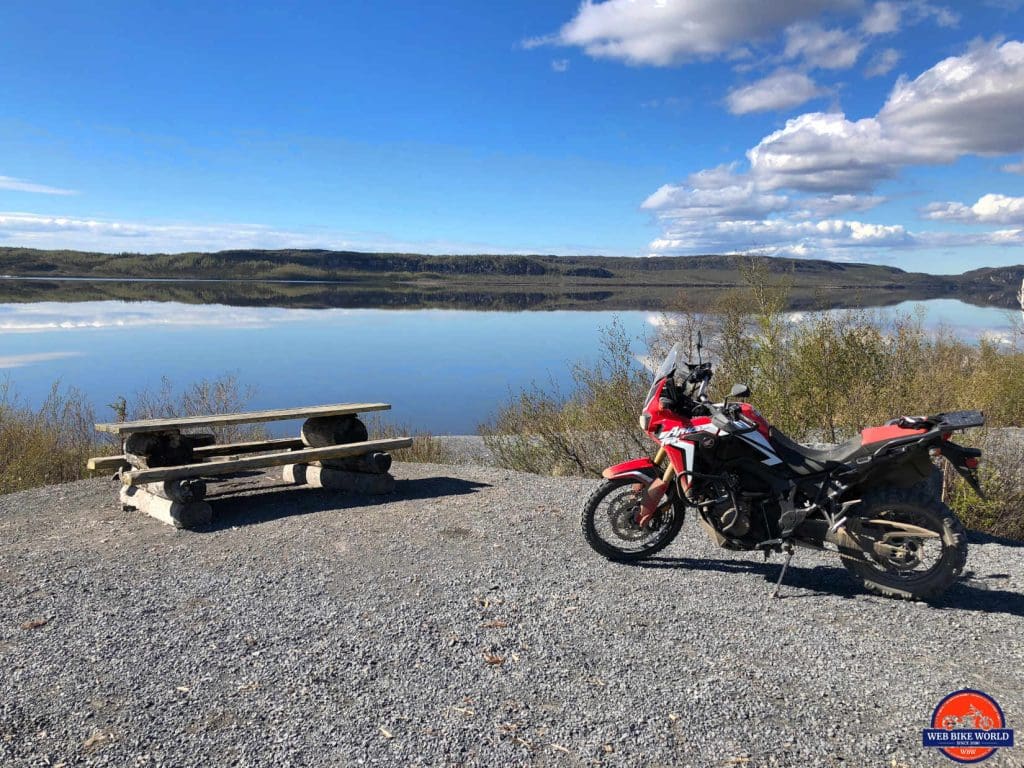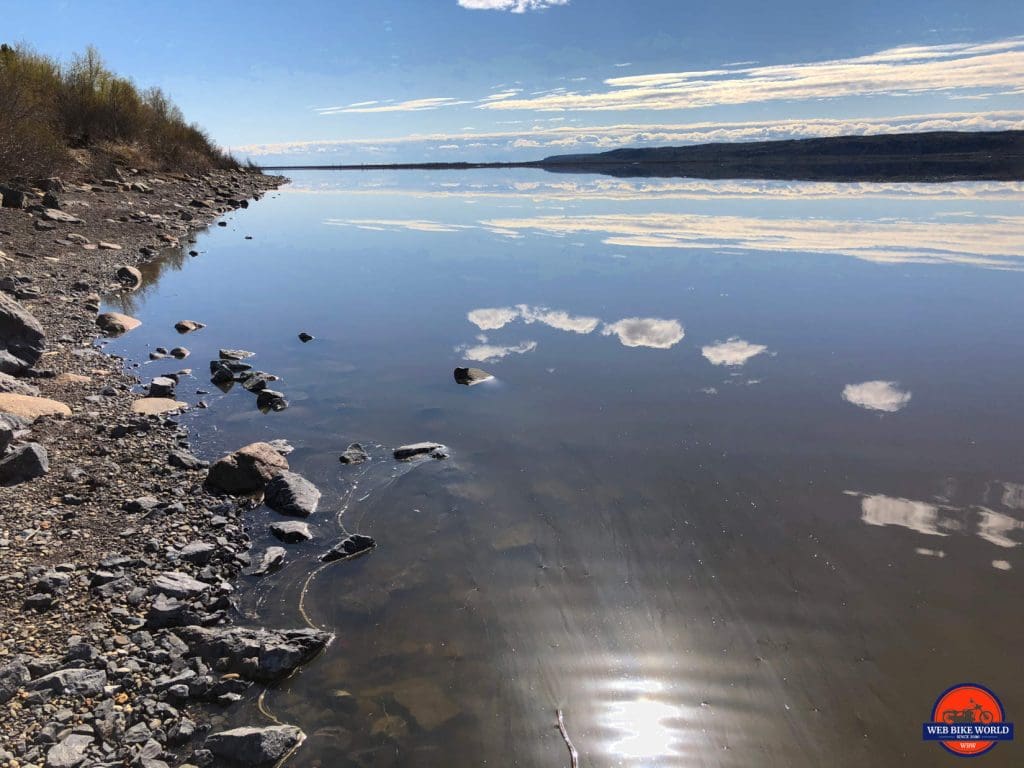 The lake at the Gwi'Chin campground was like something off a postcard. The surface didn't have a single ripple on it and was dead calm. The mirror reflection on it of the sky was something special to behold. Not a soul was out there and it looked frozen in time as if someone had paused a movie scene on an HD TV.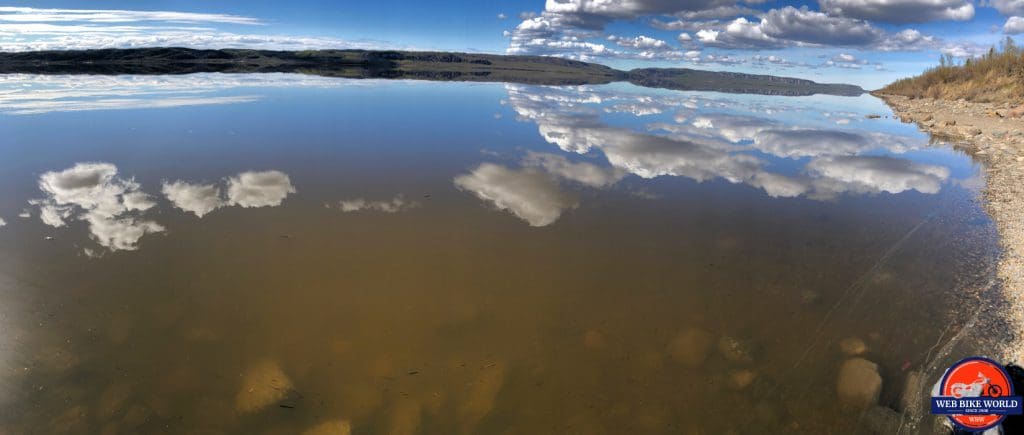 After a well-deserved water break at the lake, we mounted up and rode into Inuvik to check into the MacKenzie Hotel. The sign outside Inuvik is outdated now that it's no longer the end of the Dempster Highway.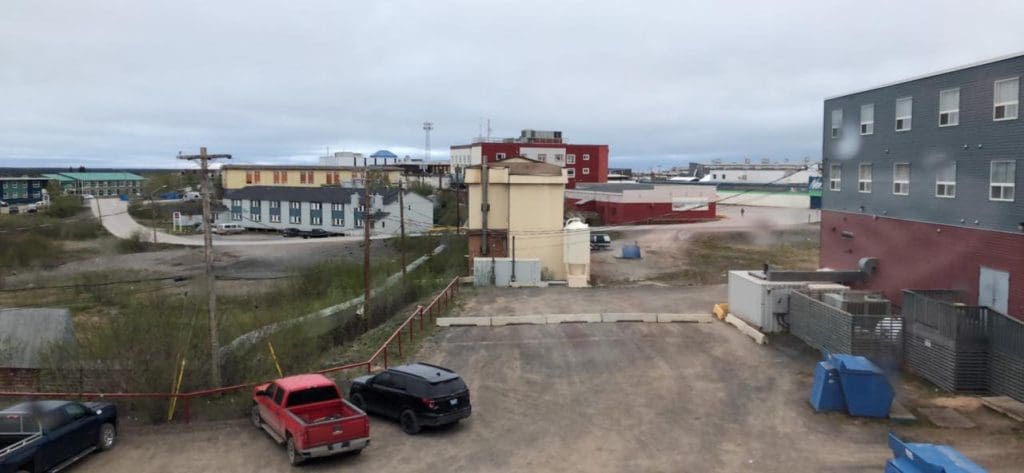 It's midnight now as I write this and the sun is high in the sky outside as you see in the photo above. We have to close heavy drapes in order to get any sleep up here. We are VERY far north, and only about 180 kms (115 miles) from Tuktoyaktuk.
The final goal is in sight, the weather appears to favor us reaching Tuk tomorrow afternoon and celebrating the end of half the journey I started planning about a year ago, thanks to an off the cuff suggestion my friend Charlie Villeneuve made to ride to Tuk.
Utilities Oddities In The North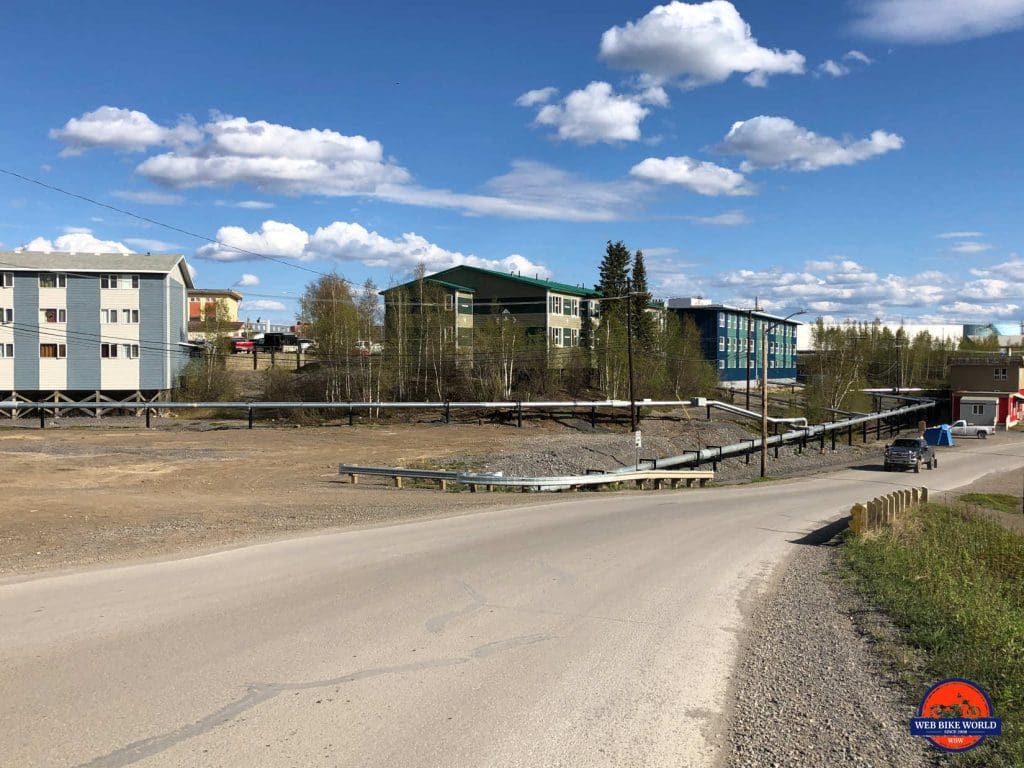 An interesting aside about Inuvik is how the utilities are distributed up here.
The ground is permafrost or very hard granite here making it too costly to run conventional underground water and sewer lines.
Instead, as you can see in the photo above they run everything in large steel conduits which are heated in the winter to avoid having things freeze up.
In smaller and more remote communities like Tuktoyaktuk, all the buildings and houses work more like RVs where they have a large holding tank for water and sewage which have to be pumped out or refilled regularly whatever the case may be. These tanks are heated in winter as well to avoid really messy problems as you can imagine.