Richa Atlantic GTX Waterproof Gloves Review Summary
Review Summary
The Richa Atlantic GTX Gloves are mid-season waterproof gloves. If you are in the market for all-around mid-length street/touring/adventure gloves, you should give these some consideration.
Pros
Solid construction
Comfort (once on)
Gore-Tex waterproofing
CE Level Protection
Value
Cons
No Touch Screen fingertips
Tight to put on
Richa Atlantic GTX Waterproof Gloves Image Gallery
Last year I reviewed the Richa Airstorm WP Jacket and Softshell Mesh Pants and liked them. So when I reached out to review their new Brutus GTX jacket and pants this spring, they suggested the Atlantic GTX gloves would complete the package. So, of course, I said yes.
The Atlantic GTX are mid-season adventure/touring motorcycle gloves for around $150 USD. In addition, they have Gore-Tex waterproofing, D3O CE Level 1 knuckle protection, and good comfort.
I tested the gloves on two different bikes. The first was a touring/cruiser (Yamaha Stratoliner), and the second was a standard/naked (Kawasaki ZRX) bike.
I received everything in April and hoped for some warm spring weather. I was able to get plenty of opportunities to test the Atlantic GTX gloves in combination with the Richa Brutus GTX jacket and pants.
About Richa
Richa dates back to 1952 when company founder Charles Rigaux launched his first pair of leather motorcycle gloves. His goal was quality, which remained a priority throughout later RICHA collections.
Richa grew, creating leather motorcycle clothing, including motorcycle jackets, pants, and accessories with high-tech coatings and advanced D3O® protection. Since 2011, Richa gloves have been GORE-TEX® certified. In 2015, Richa also received a GORE-TEX® license for their motorcycle clothing.
Today, Richa is a trusted motorcycle apparel brand sold in over 40 countries worldwide. They offer a full range of products for any budget, staying true to the Richa motto: 'Feel safe, feel good.'
I would like to thank Stijn and the folks at Richa for providing the opportunity to review the Richa Atlantic GTX Gloves.
Features
Several features stand out on the Atlantic GTX gloves.
Features:
Waterproof Gore-Tex Gore Grip technology
D3O® impact knuckle foam
Anti-abrasion SuperFabric  zones for slide protection
Double wrist closure
Visit the Richa Atlantic GTX product page for a complete list of features.
First Impressions
When I first opened the package, I was immediately impressed by the technology used in these gloves, Gore-Tex Gore Grip, D3O, and SuperFabric. Add to that simple, attractive styling.  The gloves are well constructed, giving a quality look and feel.
The first ride with gloves started cool, so I carried them in the saddle bag until the day warmed up.  This is not unusual for me, as I always have extra gloves on hand for changing weather.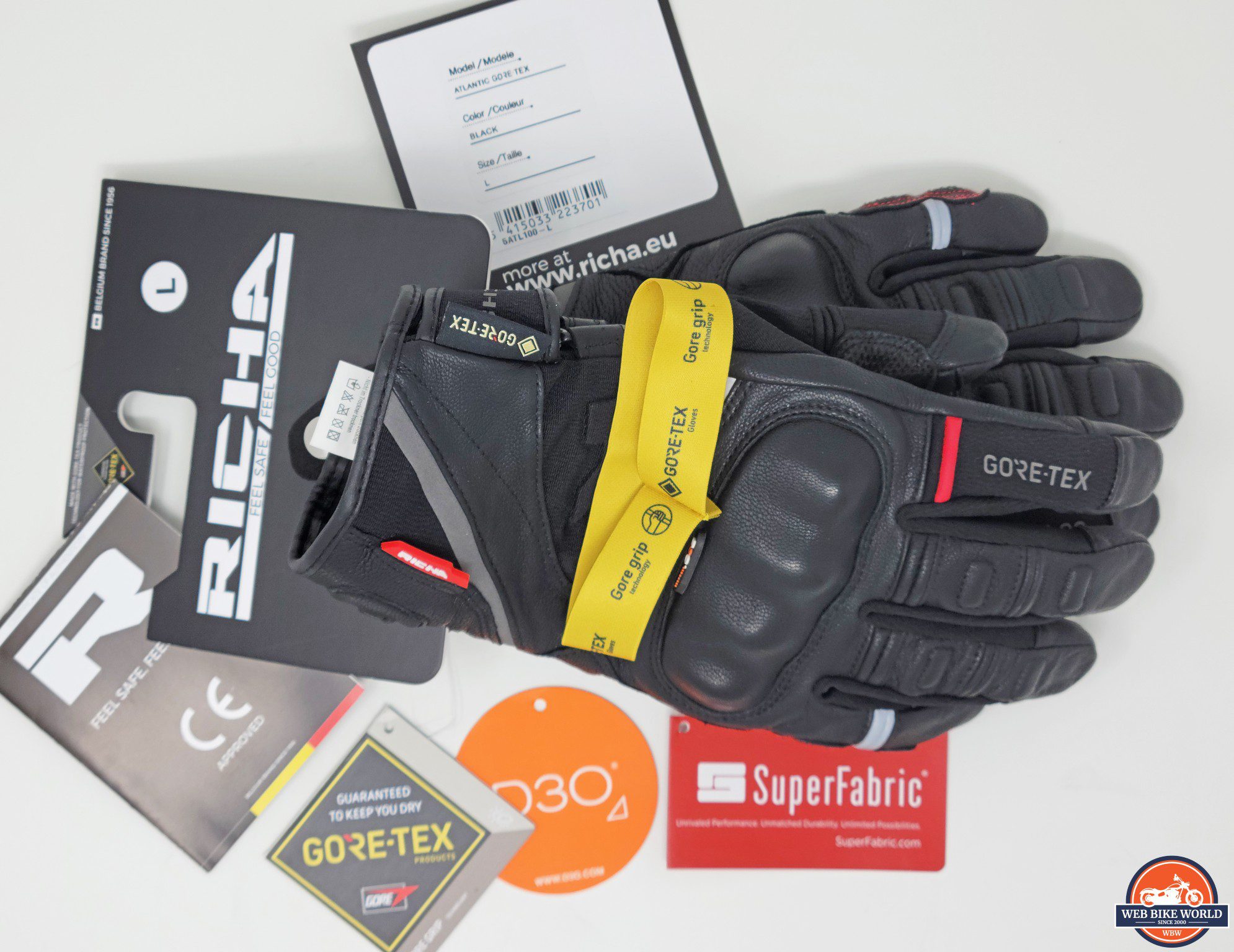 Richa Atlantic GTX Glove Construction
Outer Shell
The outer shell is mainly leather with a mix of nylon. The palm is all leather and has an additional layer of patterned leather.
The back of the hand and gauntlet are leather and nylon with D3O CE Level 1 knuckle protection. The finger boxes combine leather and nylon with stretch panels at the knuckle for extra comfort.
All the protective padding and additional leather are double stitched.
Outershell
61% Genuine Leather
34% Polyamide
3% Polyurethane
2% Polyester
D30 Knuckle Protector
Lining
Insert
Protection
The Richa Atlantic GTX features multiple layers of protection:
Mainly leather construction with leather palms.
A second layer of patterned leather in the thumb and index finger area.
Palm heel padding with SuperFabric for added skid resistance.
Additional leather and padding run up the outside of the palm to the end of the pinky finger with additional SuperFabric.
Double closure to ensure the gloves stay on.
Padding on the outside of the wrist.
D3O Level 1  knuckle protection.
Although the gloves have a lot of protection built-in, many people feel that a hard palm slider is necessary. Richa has used SuperFabric on the padding as a replacement for the slider. This helps improve the overall comfort and remove bulk. In addition, the knuckles have D30 CE Level 1 Knuckle Protection (KP) rated armor.
There is a CE standard for motorcycle gloves, EN 13594:2015, with two categories: Level 1 and Level 2. Motorcycle gloves with Level 1 performance provide a lower level of protection but offer greater flexibility than Level 2. In contrast, Level 2 gloves provide increased safety, but they may not be as flexible as Level 1 gloves due to their increased protective armor.
Waterproofing
The Atlantic GTX gloves use Gore-Tex Gore Grip waterproofing. With Gore Grip, the membrane is bonded to the shell, so it doesn't move, dislodge, or resist damp hands. The bonding also has less bulk allowing for better dexterity and control.
Wiper Blade
The Atlantic GTX gloves include a rubber wiper blade on the left index finger. During my rain testing, this was very appreciated and adds an extra level of functionality to the product.
Branding
The branding is subtle black on black or grey on black, which I like. Richa branding is on the back of the gauntlet and the gauntlet closure. Additionally, you can find the Richa 'R'  logo on the wrist pad, back of the hand, and gauntlet and wrist closures.
There is also branding for Gore-Tex, D3O, and SuperFabric.
Colorways
The Atlantic GTX gloves are available in titanium/black, light gray/black, black, and dark gray/black.
Overall Build Quality
The Richa Atlantic GTX gloves appear to be very well put together. During my review period, I have not encountered any problems with the build quality.
Richa Atlantic GTX Glove Fit & Feel
Sizing
Depending on the manufacturer, I wear either a large or extra-large. Because of this, I always refer to the sizing charts. My hand measures about 9 in (23 cm). Using the Size Chart Guide, I ordered a size Large. The gloves fit nice and snugly once on. The problem for me was getting them on.  They have stretched out some with use, but I think XL would have been a better choice for me.
The Atlantic GTX comes in 7 sizes: Small, Medium, Large, X-Large, 2X-Large, 3X-Large, and 4X-Large.
No women's specific sizes are listed for this model. However, Richa does have a full range of women's gloves.
Comfort
The gloves include multiple materials, which allows for a short break-in period. The fingers are pre-curved and accordion knuckles for better articulation. There is elastic at the wrist, but it's a tight fit to get my hand past the wrist opening. Once the gloves were on, they were very comfortable. XL would have been a better choice.
The Gore Grip reduces bulk and allows for better agility. In addition, the polyester liner makes for a very comfortable interior feel.
The mid-length gauntlet fits nicely inside jacket sleeves to avoid capturing the rain.
Retention
The Atlantic GTX uses a velcro wrist and gauntlet closure to keep things snug.
Care Instructions and Warning Label
The care label leaves one option for cleaning, hand washing.
Do not bleach
Do not iron
Do not dry clean
Do not tumble dry
I would recommend spot cleaning with a damp cloth. The dark color options should not show much dirt.
For details, please visit Richa Washing Instructions and Gore-Tex Care Instructions.
Warranty
RICHA offers a 2-year warranty on the complete collection: motorcycle jackets, pants, jeans, gloves, rain clothing, functional underwear, boots, and shoes. In addition, RICHA products produced with the GORE-TEX membrane (e.g., waterproofing and breathability) are subject to the GORE-TEX "Guaranteed to keep you dry" warranty.
For details, please visit Richa Warranty.
Richa Atlantic GTX Glove Road Testing
I received the gloves in April, not expecting that I would get any use from a mid-summer glove for some time.  However, I could get in many rides with some early season warm weather.
Most of my use was between 10 degrees Celsius (50 degrees Fahrenheit) and 30 degrees Celsius (85 degrees Fahrenheit).
If the temperature were going to stay in the single-digit range all day, I would reach for insulated or heated gloves. But, if the forecast called for rising temperatures, the Atlantic GTX met my needs.
At the other end of the temperature range, I found the gloves worked great right up to 30 degrees Celsius. When my hands got sweaty, the issue with getting them on was exaggerated. If the temperature gets above 30 C, I think I will be switching to more breathable gloves along with other warm weather gear, unless, of course, it is raining.
The Richa Atlantic GTX is waterproof. Therefore, I had the opportunity to use gloves in the rain. I usually try to avoid dark rainy skies, but I went out for a ride to find rain.
The gloves use Gore-Tex Gore Grip technology. Rather than a separate liner, Gore Grip is laminated to the outer shell. This lamination allows for less bulk and no shifting, typical of lined gloves.
The gloves worked great. My hands were comfortable in all conditions. I have used the gloves in various situations around town and on secondary and major highways.
I often use my smartphone as a GPS for speed/speed limit and music. I think these gloves would work great for touring or adventure riding, so the lack of touchscreen-enabled fingertips surprised me. Touch-sensitive fingertips are now a common feature of modern motorcycle gloves.
Conclusion
I have few negatives to say about the Richa Atlantic GTX Gloves and much to praise.
Minor negatives include the lack of touch-sensitive fingertips. As for the tightness of putting the gloves on, I'll take the blame for that.
It is difficult to say that $150 pair of gloves is a good value. But, when you consider the technology used, I think you make an argument that they are a good value.
They are tech-laden with Gore-Tex, D3O, and SuperFabric. In addition, they have the features that I look for in a mid-season pair of gloves; waterproof, excellent protection, comfort, and subtle styling.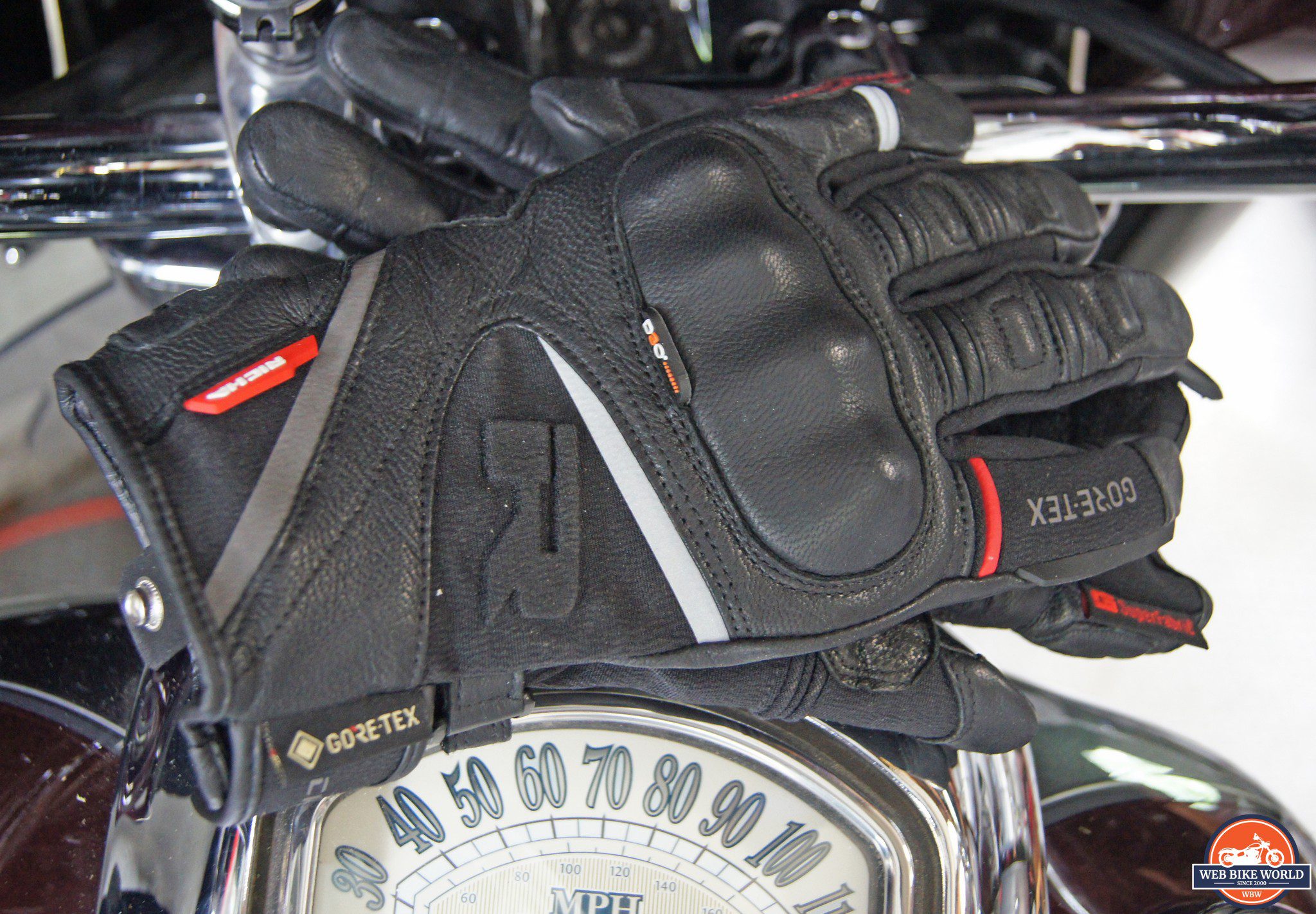 A real winner!
Specs
Manufacturer: Richa
Price: (When Tested) $150 USD
Colors: black, titanium/black, light gray/black, and dark gray/black.
Sizes: S, M, L, XL, 2XL, 3XL, 4XL.
Review Period: April – June 2022
Important Links / Where to Buy