Review Summary
The Richa Airstorm WP Jacket includes D3O CE Level 1 armor in the shoulders and elbows, excellent ventilation, and a comfortable slim fit. The jacket is a good value for the price.
Pros
Excellent Ventilation /
Numerous Color and Size Options
D3O CE Level 1 Armor on Shoulders and Elbows
Pockets for Back and Chest Protection
Highly Waterproof
Value Pricing
Cons
Only Level 1 Armor
Back Protector not included
Liner zipper catches
Richa Airstorm WP Jacket Image Gallery
I can be a bit of a YouTube junkie when it comes to motorcycles. Over the last couple of years, I have followed several UK-based YouTubers (the Missenden Flyer and Richy Vida, to name two) that often wear Richa gear. Intrigued by the brand, I reached out to Richa to see if I could review a waterproof mid-season jacket and pants.
In this case, the newly-released Airstorm WP Jacket fits the bill. The Airstorm WP is a mid-season textile motorcycle jacket for around $270. It features a waterproof liner, mesh panels for ventilation, and D3O CE Level 1 protection at the shoulders and elbows.
I tested the jacket on two different bikes. The first was a touring/cruiser (Yamaha Stratoliner), and the second was a standard/naked (Kawasaki ZRX) bike.
I received the jacket in late August, which is not ideal for testing a summer jacket. However, I lucked out with some above-average late summer temperatures, so it all worked out.
The warm weather gave me plenty of opportunities to test the Airstorm WP jacket independently and in combination with the Richa Softshell Mesh WP pants.
About Richa
Richa dates back to 1952 when company founder Charles Rigaux launched his first pair of leather motorcycle gloves. His goal was quality, which remained a priority throughout later RICHA collections.
Richa grew, creating leather motorcycle clothing, including motorcycle jackets, pants, and accessories with high-tech coatings and advanced D3O® protection. Since 2011, Richa gloves have been GORE-TEX® certified. In 2015, Richa also received a GORE-TEX® license for their motorcycle clothing.
Today, Richa is a trusted motorcycle apparel brand sold in over 40 countries worldwide. They offer a full range of products for any budget, staying true to the Richa motto: 'Feel safe, feel good.'
I would like to thank Ann-Sophie from Richa for providing the opportunity to review the Richa Airstorm WP Jacket.
Richa Airstorm WP Jacket Features
The Richa Airstorm WP Jacket comes loaded with features for both weather and abrasion protection.
Key features include:
Textile 600D Cordura outer layer
3M Reflective inserts
D3O shoulder and elbow protection
Removable waterproof Aquashell liner
Large mesh panels
Velcro straps on the waist and tabs at the wrists and cuffs
For a complete list of features, visit Richa's product page.
First Impressions of the Richa Airstorm WP Jacket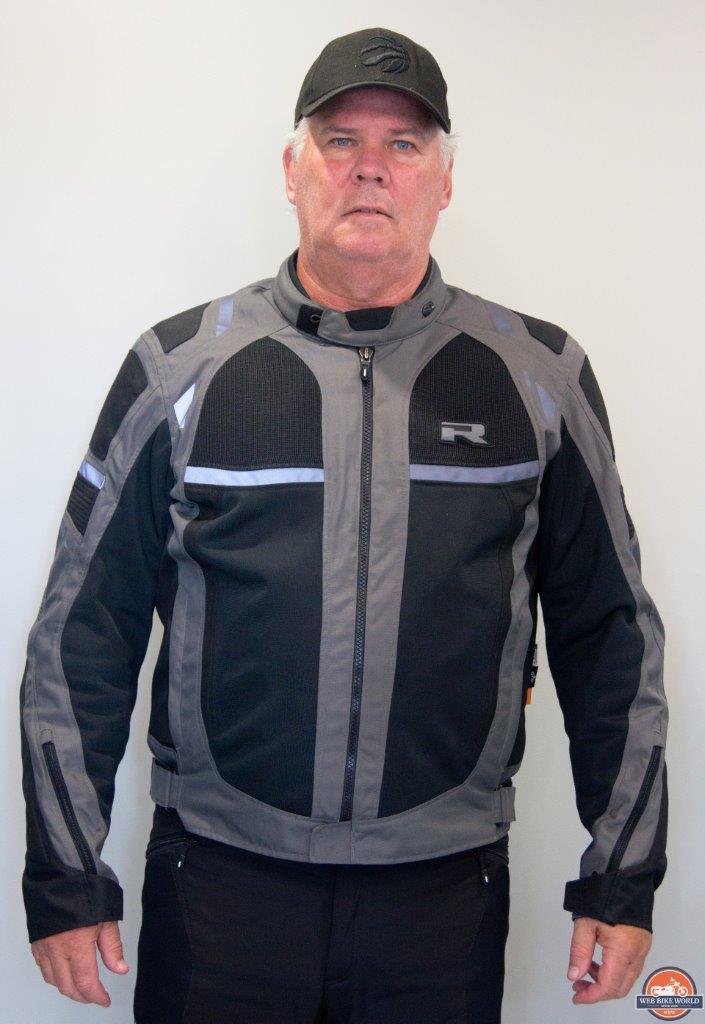 Earlier this summer, I did a three-day ride that included some hot and humid weather. The jacket I was wearing had good ventilation but was not a full mesh jacket. While some in the group were shedding their jackets, I sweated it out. For this reason, I was looking forward to receiving the Richa Airstorm WP Jacket (and Richa Softshell WP Mesh pants).
My first impression was that the jacket appeared to be well-built. I liked the two-tone titanium and black styling and subtle branding. After slipping the jacket on, it had a nice slim fit (or so my wife said).
Richa Airstorm WP Jacket Construction
Outer Shell
600 Denier Ballistic Nylon is used in high-impact areas at the shoulders, elbows, and skeleton between the mesh panels. This construction allows for a light, well-vented jacket.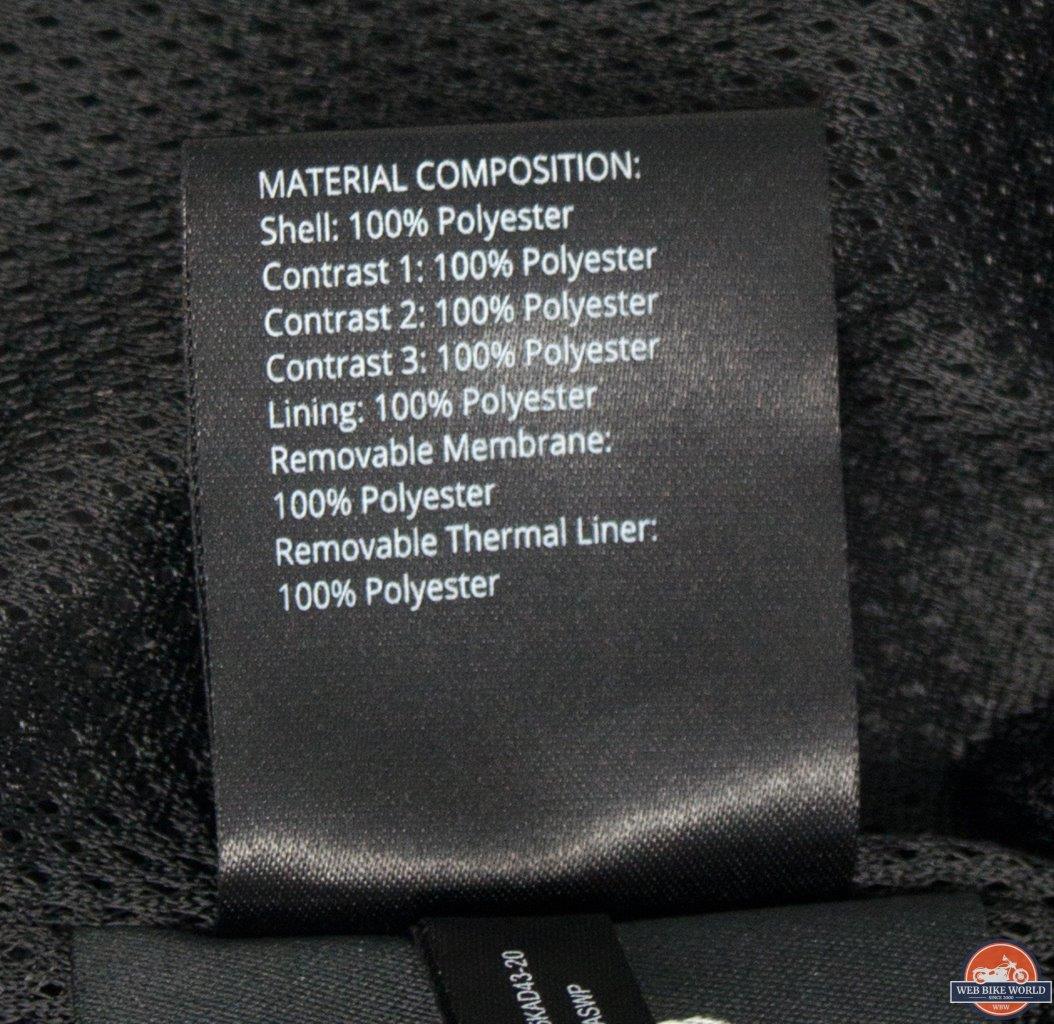 Outer Shell: 100% Polyester
Lining: 100% Polyester
 Interior
Nylon mesh lines the interior throughout for increased airflow and comfort.
Collar
The collar features a neoprene edge to minimize chafing and added comfort. In addition, the collar has a small velcro tab with a snap to attach to the opposite side for a secure fit. A small loop on the tab end, combined with a hook on the collar, allows the collar to be folded back.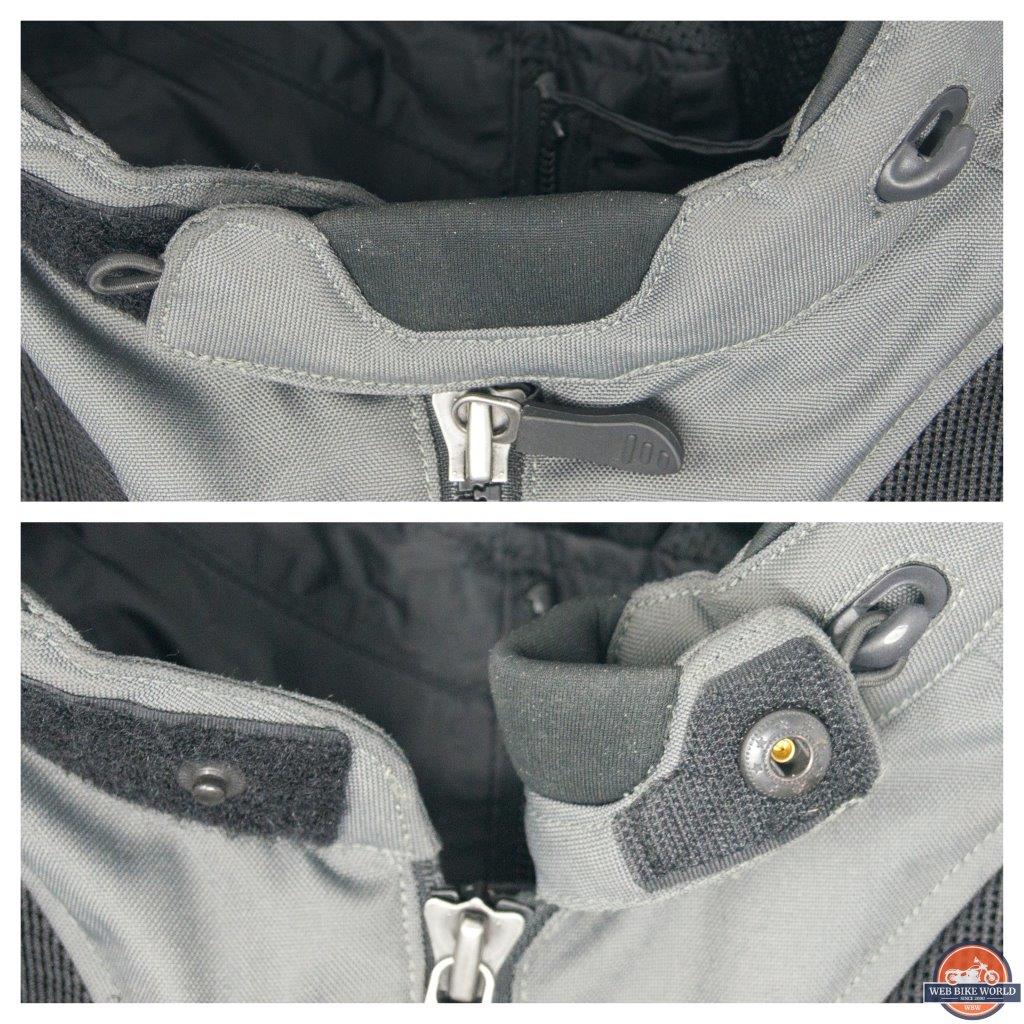 Pockets
There are five pockets in total:
Exterior: Two zippered slash pockets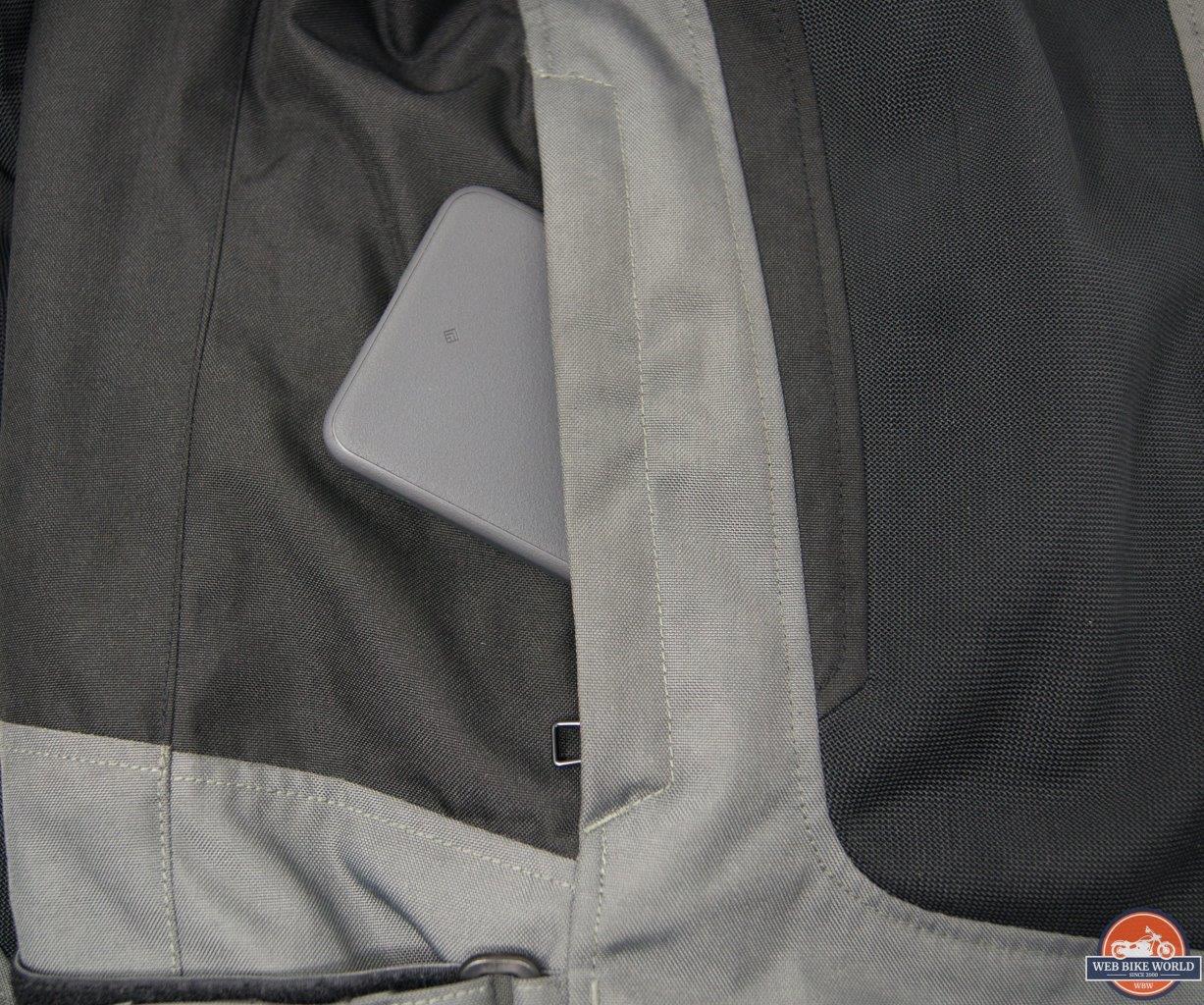 Interior: Two large pockets with velcro tab closures
Liner: One interior pocket with a velcro tab closure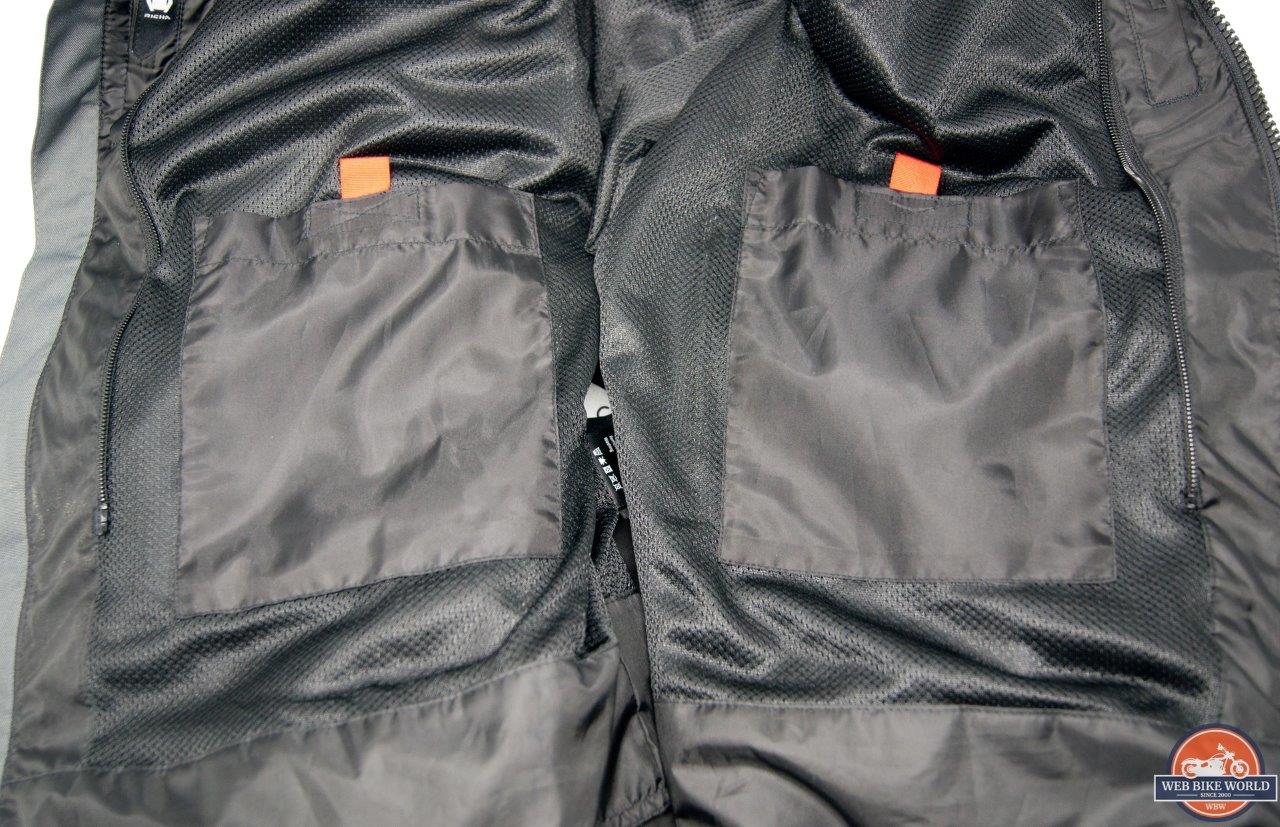 Hi-Viz
There are many areas on this jacket that provide reflectivity:
Two on the lower back
Three on the upper back
Four on the chest
One on each shoulder
Two on each arm
The reflective bands are very subtle in the daylight. Reflection areas use 3M reflective elements.
The Airstorm WP I tested is not a high visibility jacket during the day, but it certainly is for night riding. Also, hi-viz color options are available for daytime riding.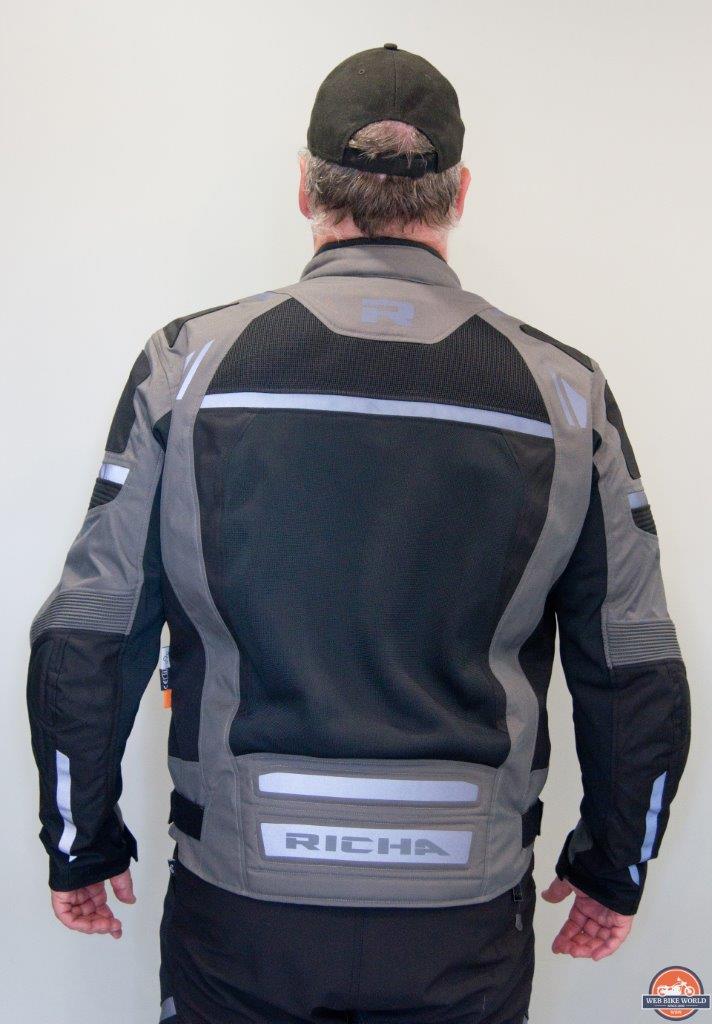 Branding
Branding is subtle, which I like. For example, the 'Richa' name is on each bicep and the lower back. Additionally, the Richa 'R' logo is on the left chest and upper back.
Zippers
The main zipper for the jacket is YKK, having a sizable and glove-friendly pull tab. Other zippers can be found on the:
Exterior pockets
Wrist closures/vents
Inner liner
Connection between the jacket and pants
All the zippers seemed to work smoothly. Tabs on the exterior pocket and wrist area would be helpful when using a gloved hand.
Colorways
The Richa Airstorm WP Jacket is available in six colors: Titanium, Black, Green (not available at Revzilla), Grey/Flo Yellow, Grey, and Yellow.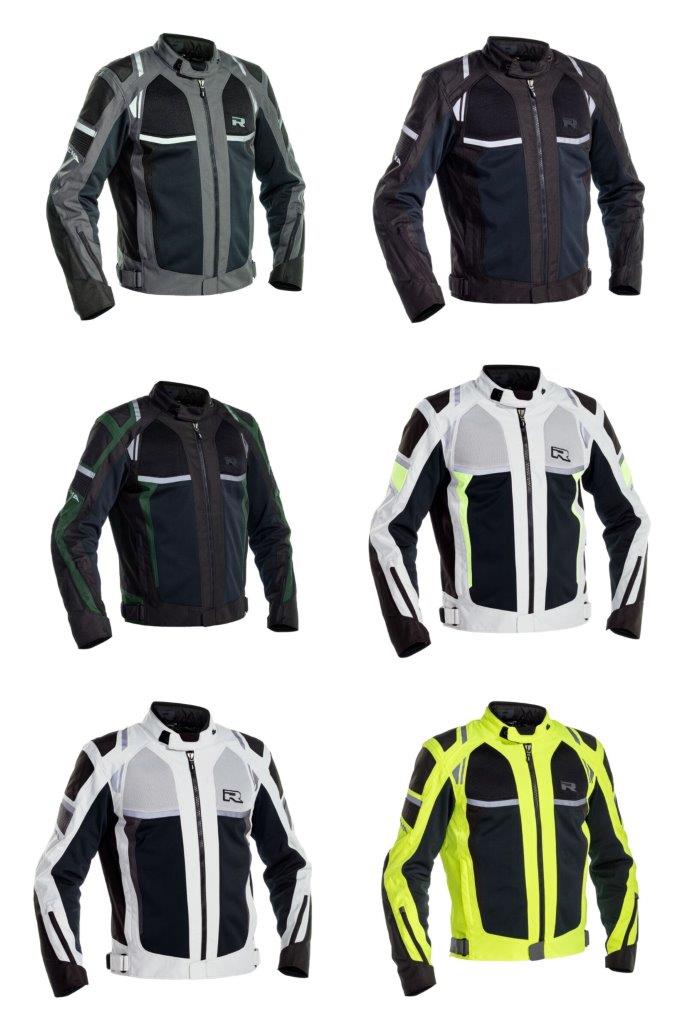 Waterproof Inner Liner
The Richa Airstorm WP uses a zipper in an AquaShell waterproof inner liner. The liner attaches with a single zipper that runs up one side, around the collar, and down the other side. The liner also fastens at the bottom of the arms with color-coded snaps and loops.
The liner has a separate zippered closure with an internal flap to protect from rain and wind. However, I did find that occasionally the zipper would catch on the flap.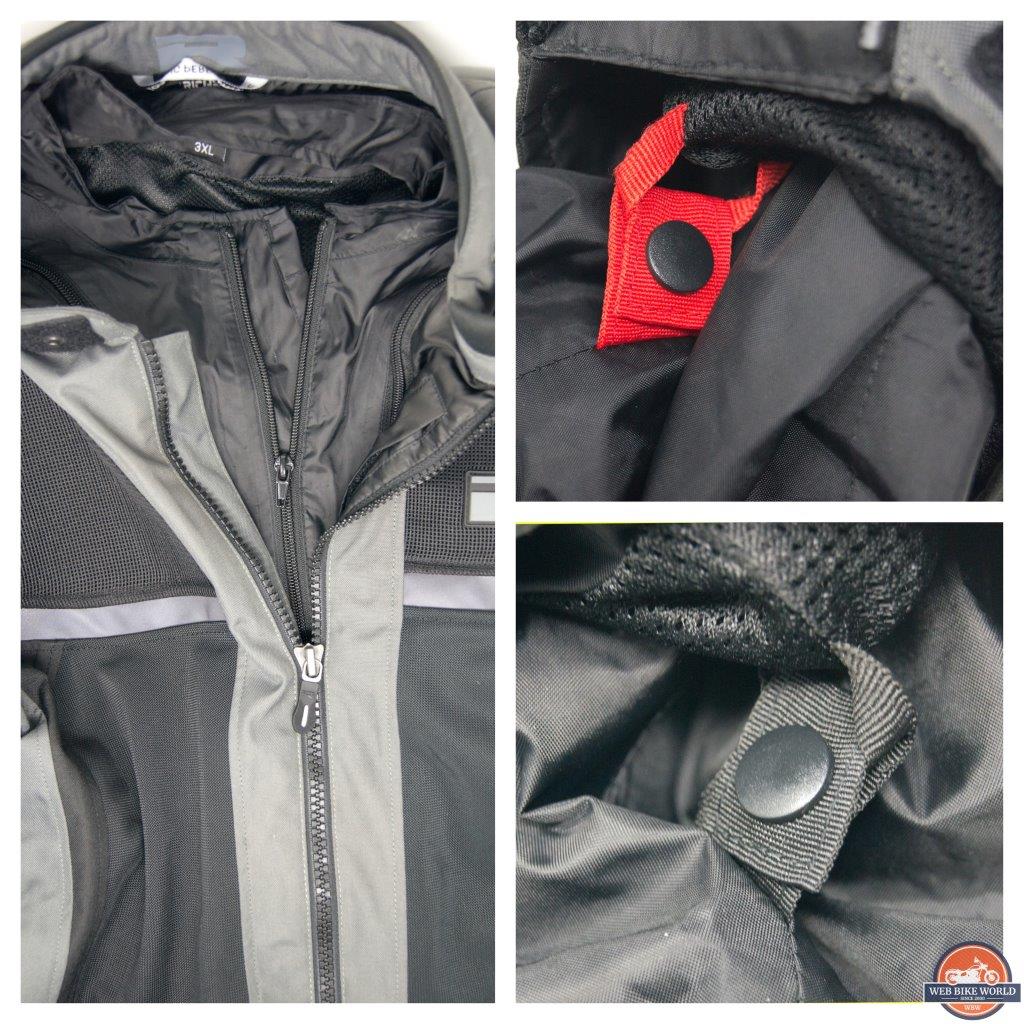 Richa Airstorm WP Jacket Overall Build Quality
Sizing
The Richa Airstorm WP jacket sizes vary depending on where you live.
Richa.eu lists nine sizes; S, M, L, XL, 2XL, 3XL, 4XL, 5XL, 6XL
Revzilla also lists nine sizes; XS, S, M, L, XL, 2XL, 3XL, 4XL, 5XL
Be sure to use the Richa sizing chart (below) and Revzilla's sizing information when ordering. I wear an XL for most jackets. At the time of the order, I was 6'3" tall with a 47" chest. The Richa and Revzilla websites both put me in the 3XL size.
No matter where you live, the size and color selections for this jacket are extensive.
RICHA Men's Jacket Sizing
| | | | |
| --- | --- | --- | --- |
| SIZE | CHEST (IN) | WAIST (IN) | HIP (IN) |
| XS | 33.9-35 | 28.3-29.5 | 34.3-35.4 |
| SM | 35.4-37 | 29.9-32.7 | 35.8-37 |
| MD | 37.4-39.4 | 33.1-35 | 37.4-40.2 |
| LG | 39.8-41.7 | 35.4-37.4 | 40.6-41.7 |
| XL | 42.1-44.1 | 37.8-39.4 | 42.1-44.9 |
| 2XL | 44.5-46.5 | 39.8-41.3 | 45.3-46.9 |
| 3XL | 46.9-49.2 | 41.7-43.3 | 47.2-49.2 |
| 4XL | 49.6-51.2 | 44.1-45.7 | 49.6-51.6 |
| 5XL | 51.6-53.5 | 46.1-48 | 52-53.5 |
| | | | |
| --- | --- | --- | --- |
| SIZE | CHEST (CM) | WAIST (CM) | HIP (CM) |
| XS | 86-89 | 72-75 | 87-90 |
| SM | 90-94 | 76-83 | 91-94 |
| MD | 95-100 | 84-89 | 95-102 |
| LG | 101-106 | 90-95 | 103-106 |
| XL | 107-112 | 96-100 | 107-114 |
| 2XL | 113-118 | 101-105 | 115-119 |
| 3XL | 119-125 | 106-110 | 120-125 |
| 4XL | 126-130 | 112-116 | 126-131 |
| 5XL | 131-136 | 117-122 | 132-136 |
Comfort
I found the jacket to be very easy to wear. In addition, I found it to be very light and comfortable during mid-season use. Adding the liner not only provides waterproofing but also expands the usable temperature range by cutting wind. The neoprene-edged collar also allowed for neck comfort.
The Richa Airstorm WP Jacket has a few features to help adjust its fit:
Adjustable straps on each side near the waist
Zippers at the cuff
Adjustable velcro cuff at the wrists
Velcro on collar
There is no adjustment at the chest or arms, but even so, you can still adjust the fit for comfort. The integrated mesh panels naturally reduce wind turbulence. The cuff adjustment allows for an easy fit into a glove with gauntlets and opens wide enough to put the top of your gloves inside if desired. I found that I typically wore short gloves in warm weather while riding with the Airstorm.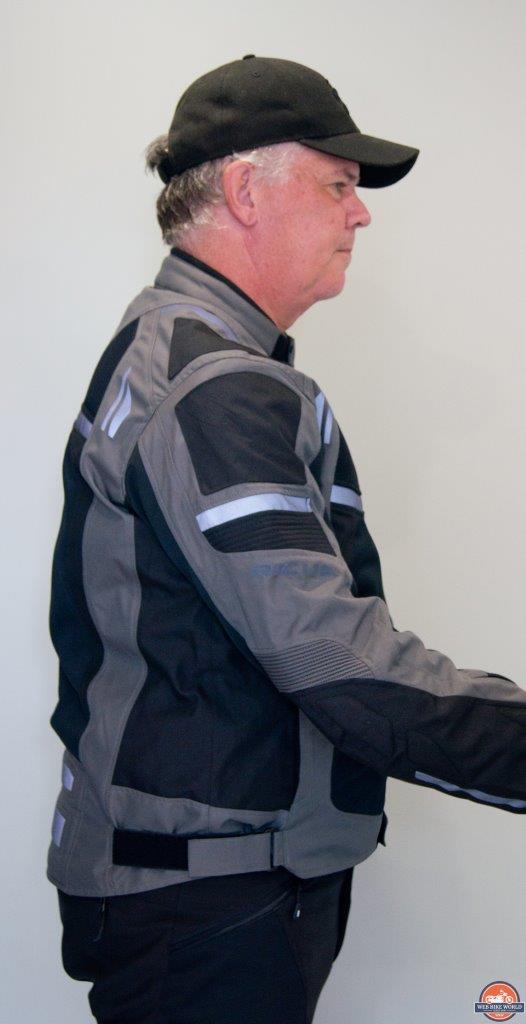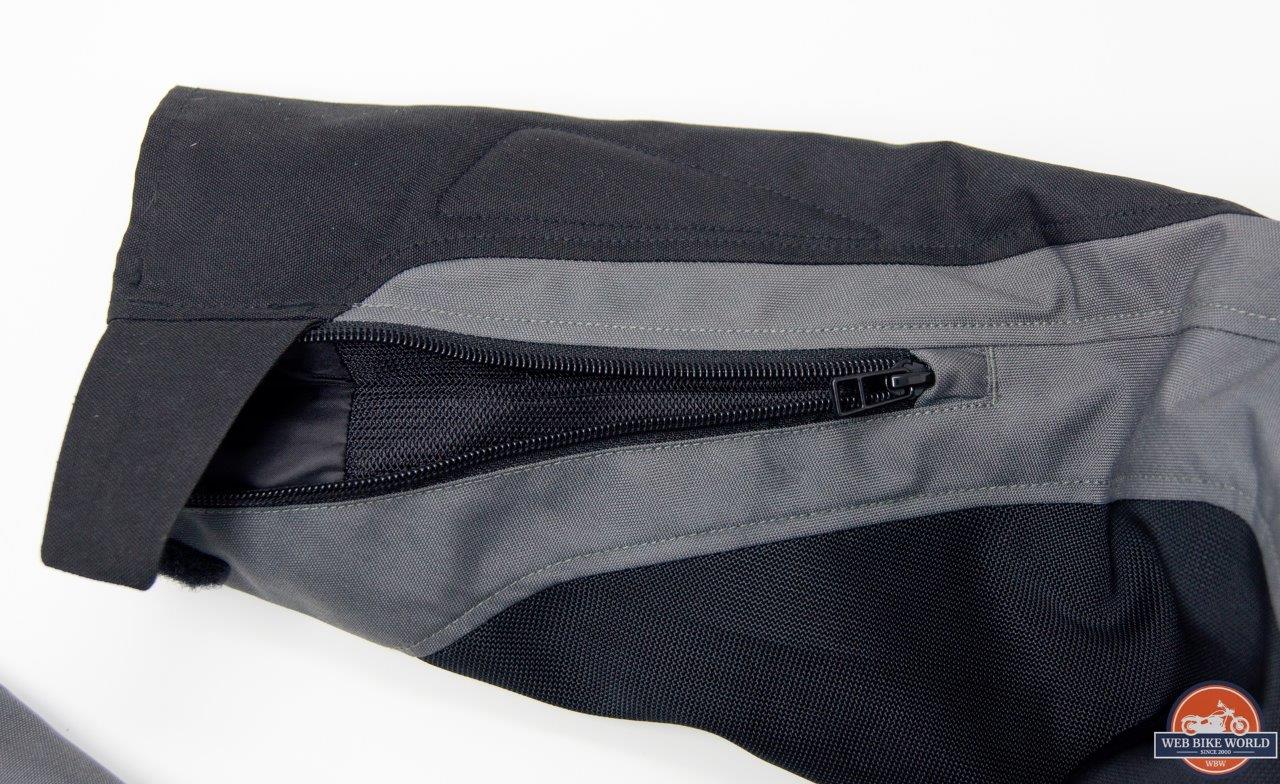 Richa Airstorm WP Jacket Functionality
Waterproof
The Richa Airstorm WP uses an Aquashell branded zip-in liner.
If possible, I try to do a rain test on any so-called waterproof motorcycle gear. This test could be done by either riding in the rain (preferred) or spraying myself with a hose. In this case, with heavy rain in the forecast, I headed out on a 50 km ride.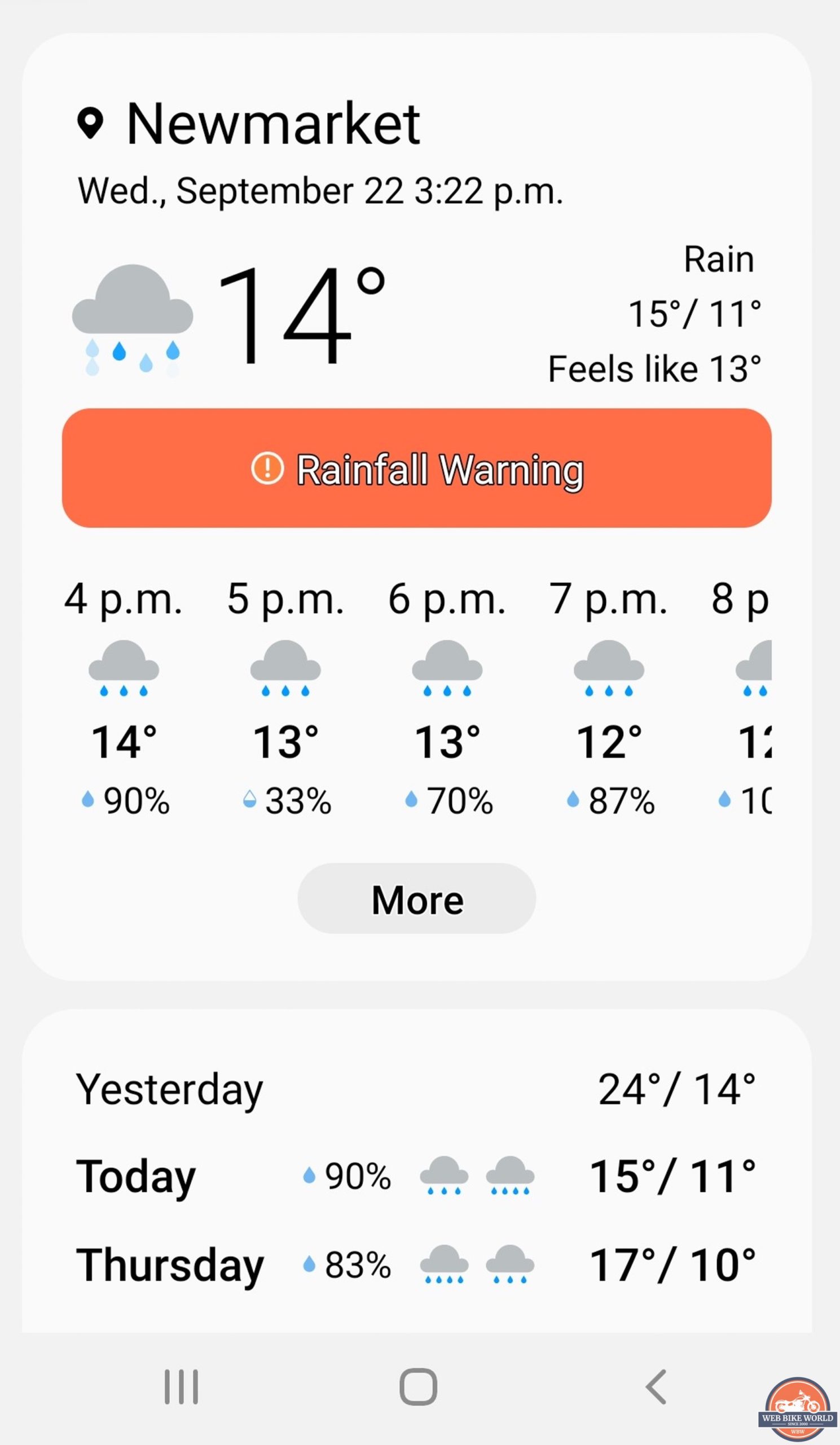 Perfect riding weather? Certainly NOT! Perfect rain testing weather? You Betcha!
Perhaps 14 Celsius is not ideal for a summer jacket—but I managed, and so did the Richa Airstorm WP. In steady rain with intermittent heavy rain, I stayed dry.
Suppose you plan to carry something you do not want to get wet—just use the interior pocket inside the liner. But trust me, do not put your wallet in the outside pocket! To be fair, I had no expectations that the outer pockets would remain dry. I simply forgot my wallet was in there.
The outer shell did absorb a lot of water. So I hung it in the garage after the ride. The following morning it was mostly dry. I would have no problem putting it on the next day with or without the waterproof liner.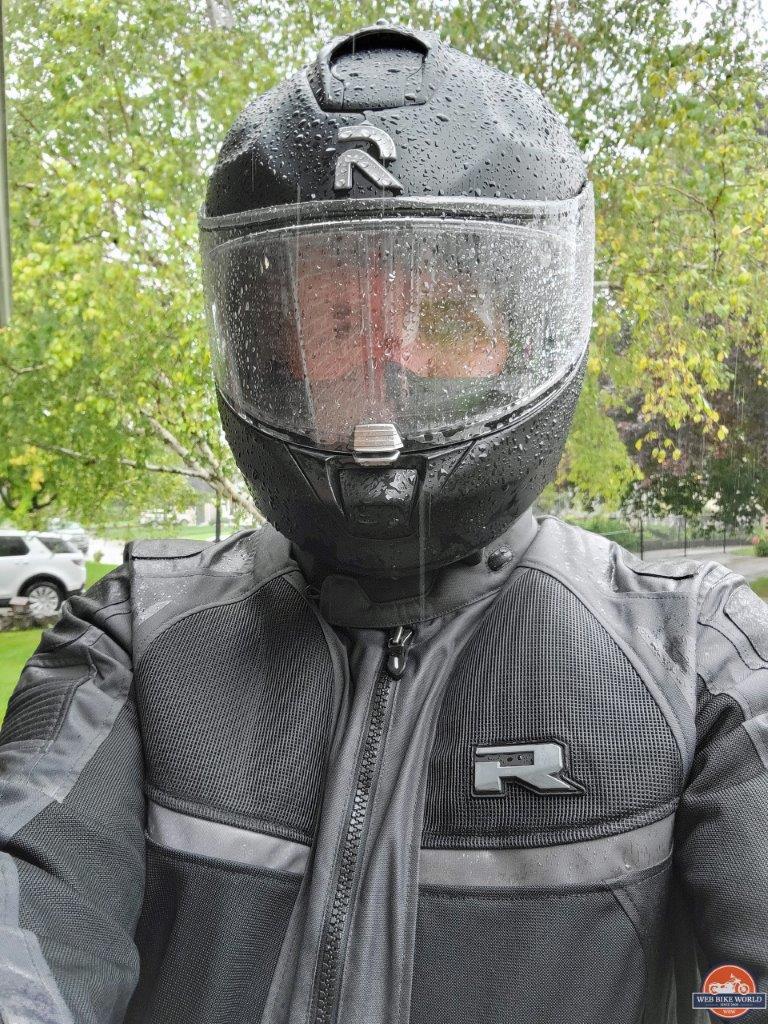 I would conclude that the Richa Airstorm WP will keep dry and cool for warm weather commuting or touring.
Breathability
The Airstorm WP Jacket has built-in mesh panels in the arms, chest, and back.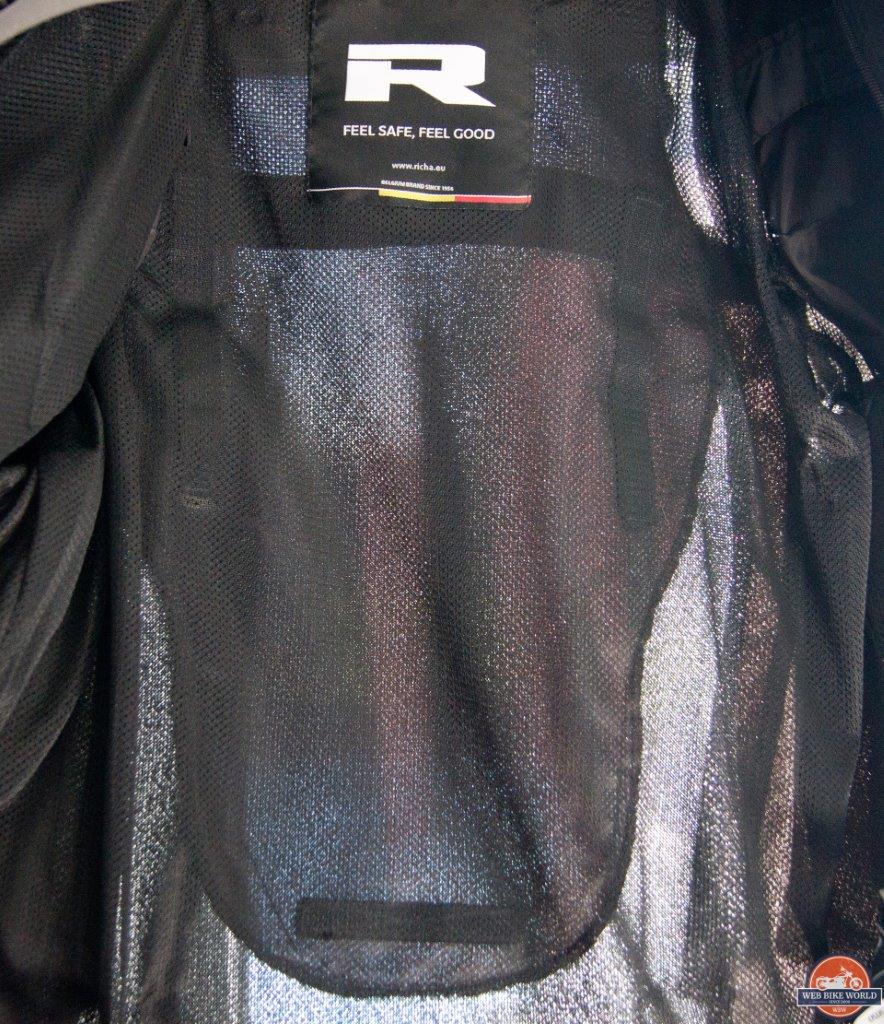 I was able to use the Airstorm WP Jacket in many weather conditions, from below 15 C (60 F) (in combination with the liner and a sweater) to heavy rain in 30 C (86 F). Unfortunately, the jacket arrived in late summer, which prevented testing in hot and humid conditions. But, I can say with confidence that the jacket flows air very well.
I always wear a jacket while riding, plus I tend to run hot naturally. I can overheat while wearing a mesh jacket, but I didn't feel like that would happen here. I can safely say the Airstorm WP will be one of my go-to jackets for warm-weather riding.
Protection
The Airstorm WP Jacket offers several layers of protection:
Outer shell made of 600 Denier Ballistic Nylon
D3O CE Level 1 protection in shoulders and elbows
Protection is one area that the Airstorm WP Jacket is lacking. I have tested jackets in this price range that use the higher CE Level 2 armor and include back protection.
However, this jacket does give you the option to add back and chest protection and upgrade the chest, elbow, and shoulder protection.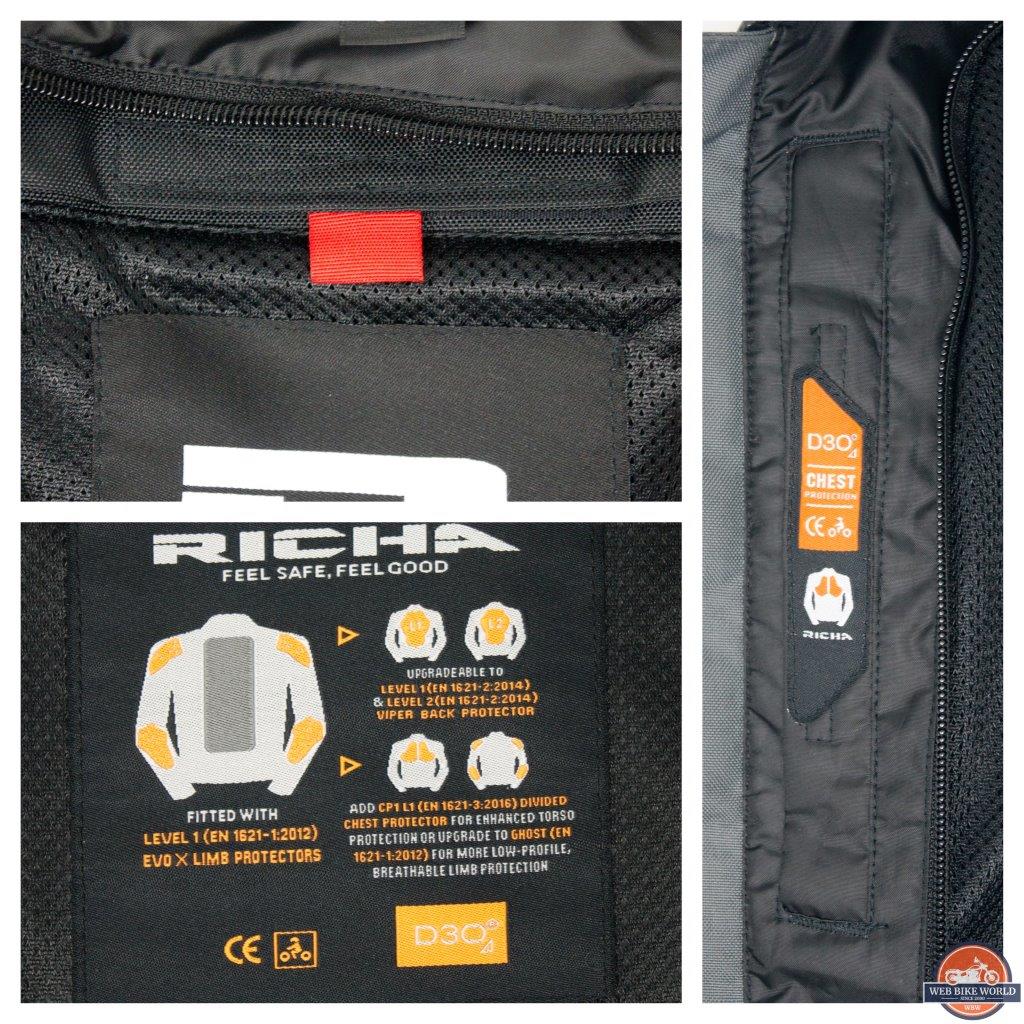 EN17092-4:2020 is a standards document specifying general requirements for CE certification.  The standard includes but is not limited to impaction, abrasion resistance, tear strength, seam strength, and dimensional stability.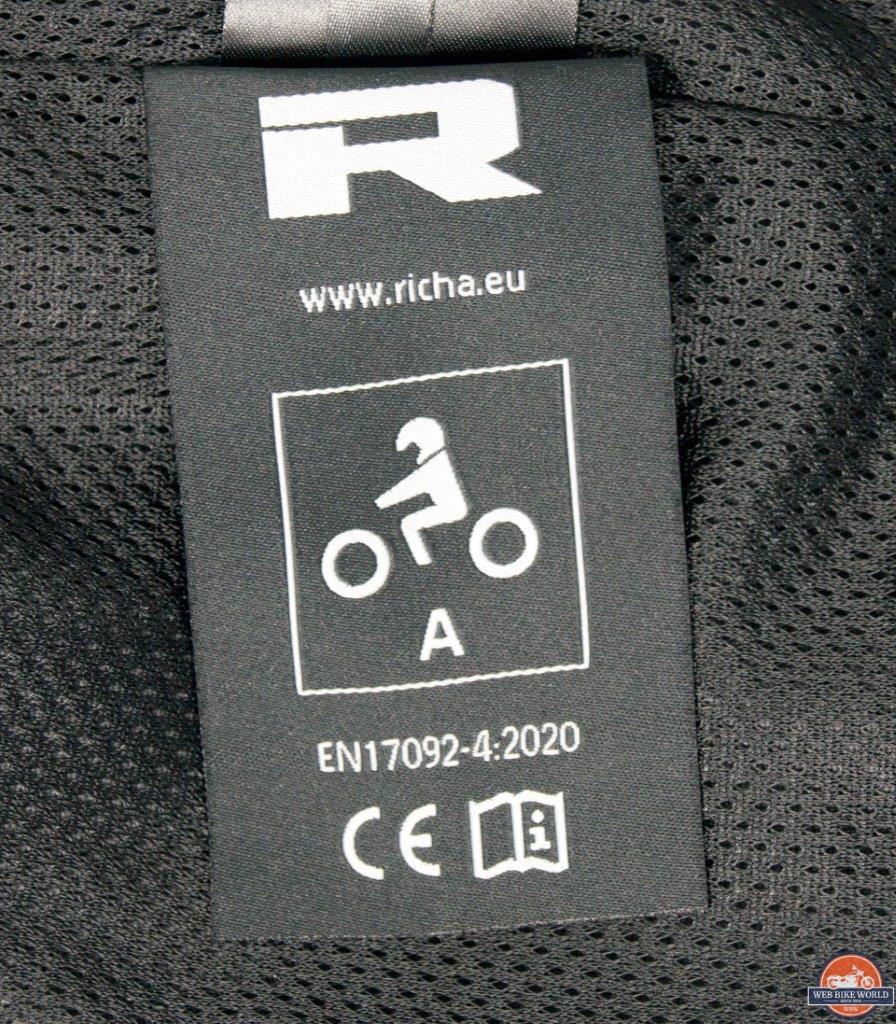 Classification AAA: The highest level
Classification AA: More suited to touring gear
Classification A: Deemed suitable for urban riding
Classification B is similar to A, but impact protectors are not required
Classification C covers garments such as the mesh under-suits that have impact protection for off-road riding
The types of armor used in this jacket are:
Shoulder Certified (EN 1621-1:2012; S TYPE A; Protection level: 1 )
Elbow Certified (EN 1621-1:2012; E TYPE A; Protection level: 1 )
EN1621-1 is a Certification Standard for Shoulders, Elbows, and Knees. Protector Style S = Shoulder, E = Elbow, K = Knee, FB = Full Back. Type A has smaller dimensions, and Protection Level 1 offers lower protection compared to Level 2).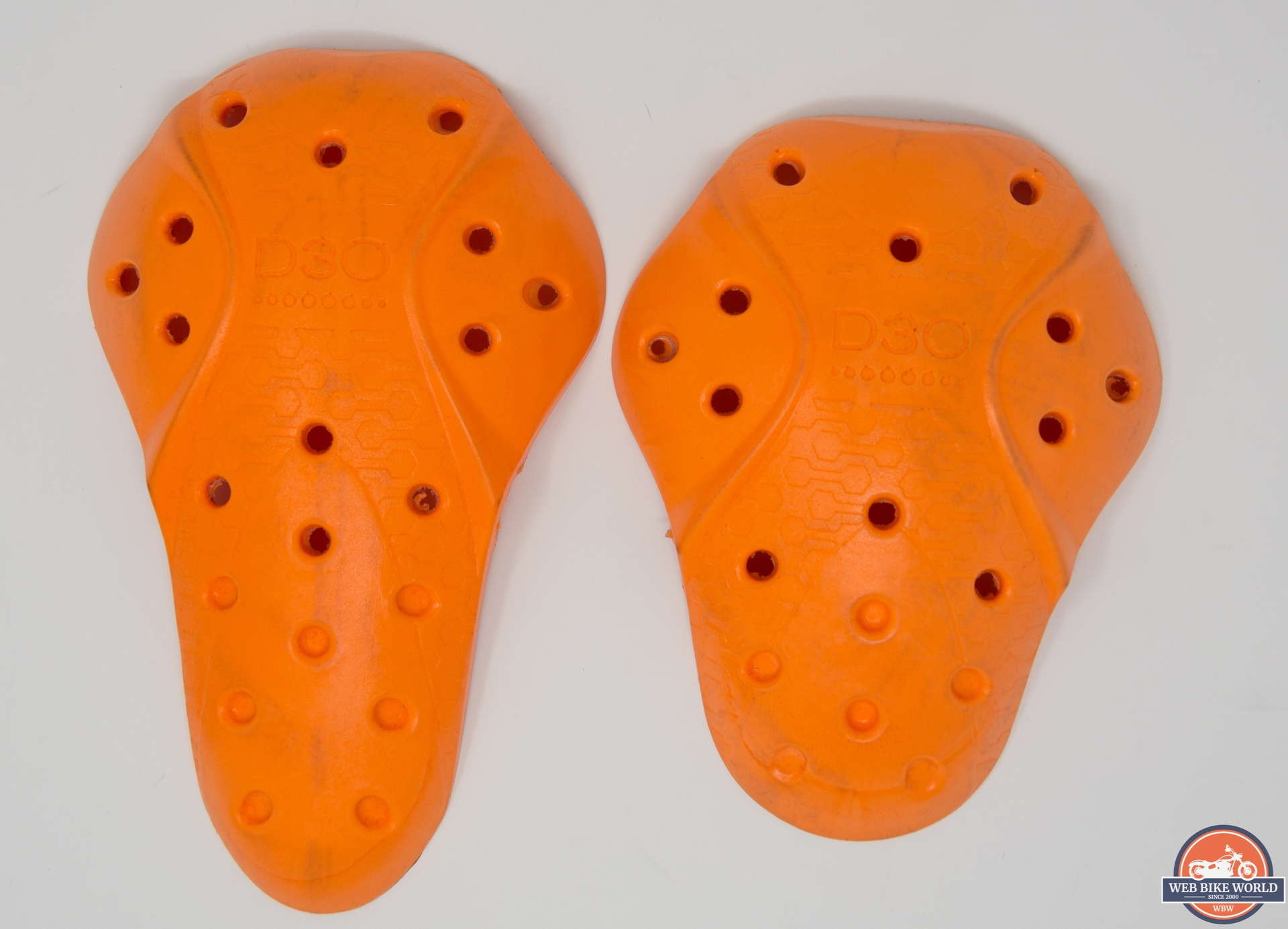 Care Instructions
I found the best way to keep the jacket looking good was to wipe it down with a damp cloth. If the jacket gets very dirty, machine wash it on a gentle cycle and hang it to dry. If you get caught in the rain, let it drip dry.
Here are the attached instructions on the jacket: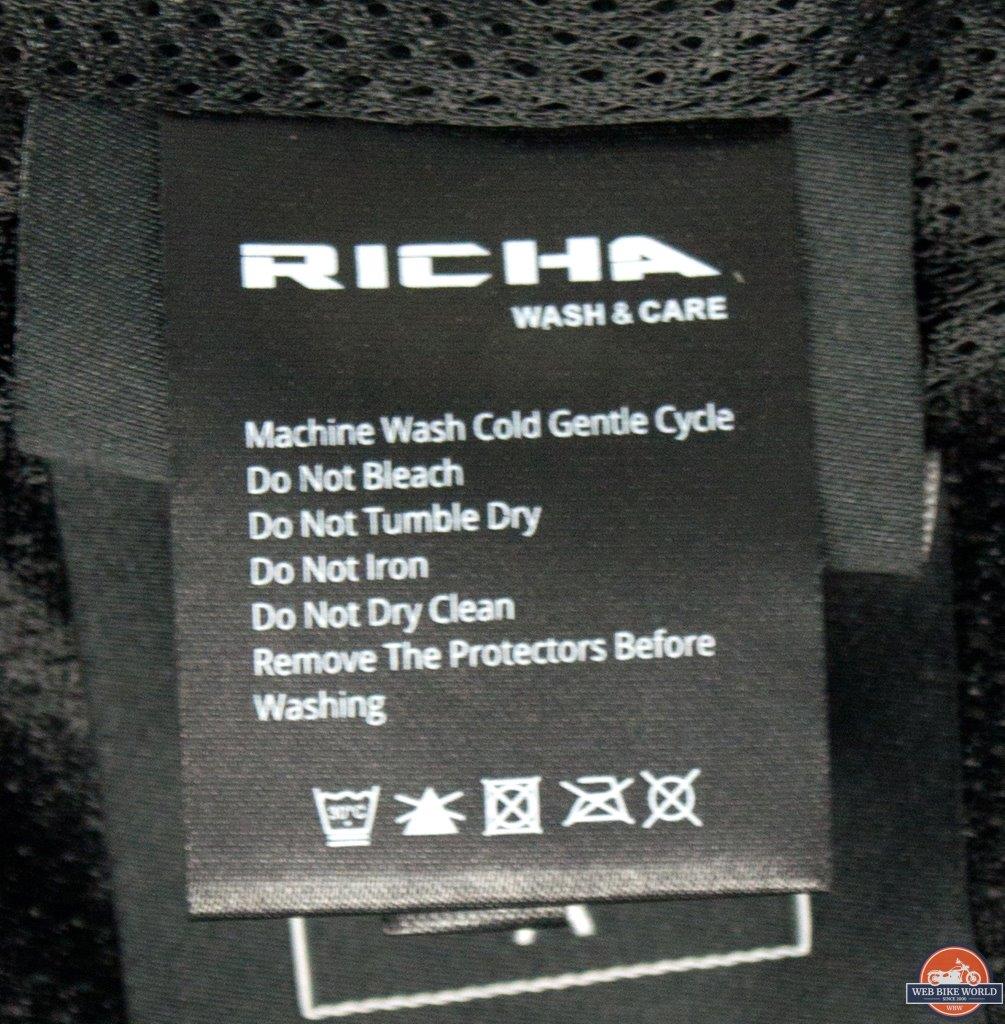 For details, please visit Richa Washing Instructions.
Warranty
The Richa Airstorm WP Jacket carries a two-year guarantee on materials and workmanship. The customer must inform Richa of any possible non-conformity as soon as they notice it, and in any case within two months of receipt. The warranty does not cover wear or abnormal use of the product.
For details, please visit Richa Warranty.
Final Thoughts on the Richa Airstorm WP Jacket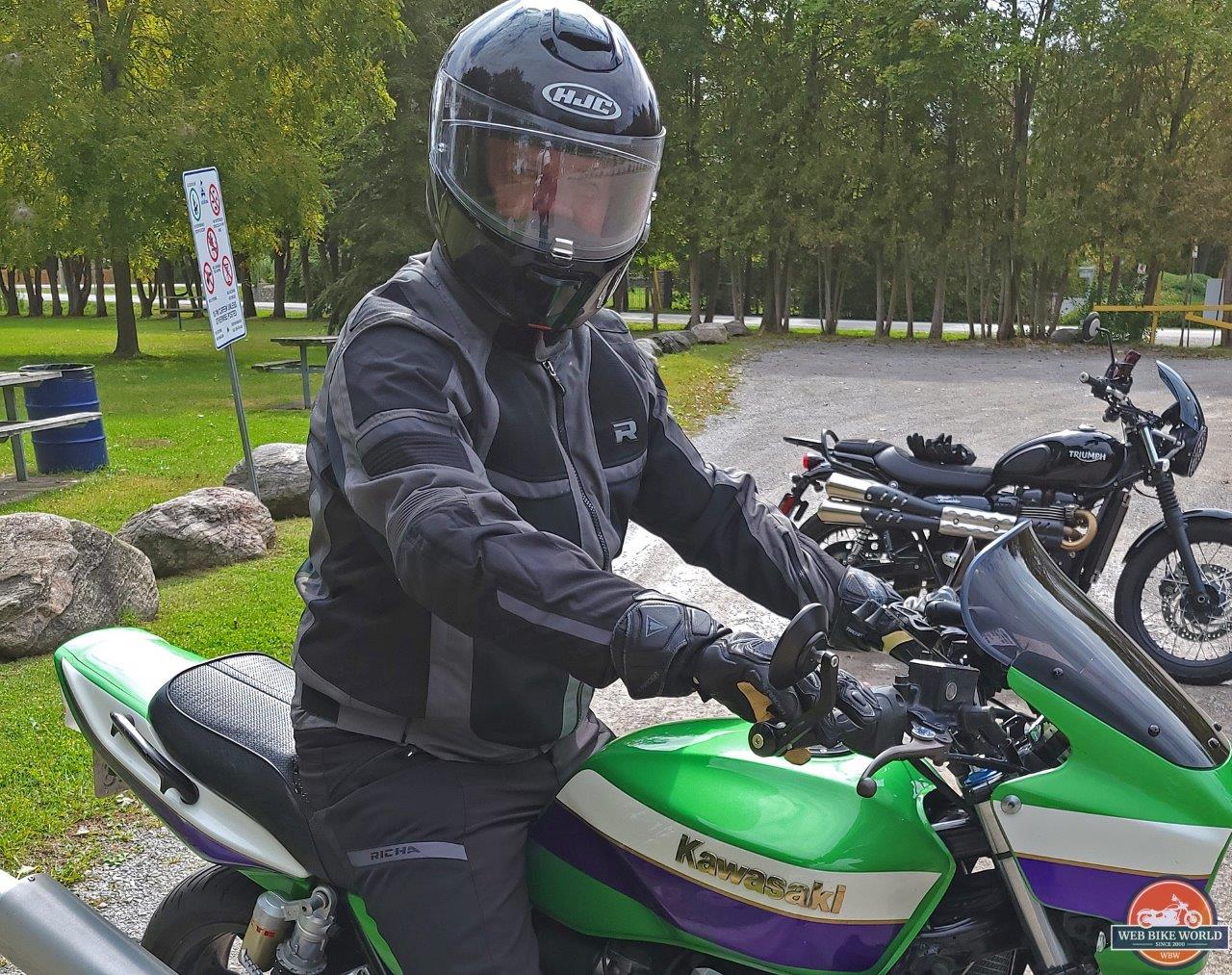 I received the Richa Airstorm WP Jacket in mid-August, it is now early October, and I have used it on many warm late summer/early fall rides.
If it is cold, this is not the jacket to use. If the temperature is moderate, I add the liner to act as a windbreak. And that same liner works wonders at keeping you dry on warm rainy days. In warm conditions, the Richa Airstorm WP Jacket does the job.
It doesn't have the latest Gore-Tex laminated technology, but it does offer subtle styling, comfort, wet weather protection, and D3O CE Level 1 protection—all for about $270. It would be nice to see Level 2 armor, but overall I think this is good value.
Overall, the Richa Airstorm WP Jacket is an excellent piece of gear at a reasonable price. As the warm weather riding season has ended, I look forward to pulling it out from the closet for warm weather riding again in the spring. In hot and humid weather, the best jacket is the one you will wear. The Airstorm WP Jacket meets that need.
Pros
Excellent Ventilation
Numerous Color Options
Numerous Size Options
D3O CE Level 1 Armor on Shoulders and Elbows
Pockets for Back and Chest Protection
Highly Waterproof
Value Pricing
Cons
Only Level 1 Armor
Back Protector not included
Liner zipper catches