Review Summary
The REV'IT! Tornado 3 Over-Pants are well-ventilated with three-quarters mesh and are made with the highest quality materials that REV'IT! can source for airflow pants with plenty of room for waist and calf adjustments. The SeeSoft and SeeSmart armor provide sufficient protection but larger riders will find that the sizing only goes up to 3XL.
Materials & Build Quality
Pros
So much mesh!
Able to connect to compatible jackets via a 9-inch zip on the tail pad
Zippers are high quality and can take a lot of strain
Two deep, tightly woven mesh front pockets
Adjustments can be made at the beltline and around the calves with easy-to-use slider straps
Cons
Sizing is not accurate to the size chart from REV'IT!
Not intended for those with larger legs and hips
Thighs do not get as much airflow as the lower legs do
REV'IT! Tornado 3 Mesh Over-Pants Photo Gallery
Since riding a while wearing my Alpinestars Bionic Knee Pads under my jeans through the first part of summer, I soon learned through the month of July that even just regular old jeans with armor on underneath was not passing enough air through to my legs, and certain parts of me below the beltline would be very, very warm when I got home from rides. It was just through sheer timing, then, that REV'IT! asked webBikeWorld if there was anything out of their recent releases that we would like to review, and I submitted my request for a pair of hot weather mesh pants and a hot weather mesh jacket.
A couple of weeks later, the package containing the jacket and pants arrived on my doorstep – kind of like Christmas. I was anticipating the arrival of the hot weather gear so I could get out and do some serious riding during the Western Canada and NorthWestern USA heatwave of 2021.
Throughout August, however, forest fires in British Columbia had smoke carried over the mountains by the jetstream and ocean winds, leading to less riding days than I would prefer. On the heavily hazy days, it was not worth risking my health and breathing, hence why this review took a little longer than usual to perform.
About REV'IT!
REV'IT! was started in 1995 by founder Ivan Vos in the Netherlands. The idea came to him when he was working as a manager at a motorcycle gear importing company and was seeing only two types of gear come through, the first being badly engineered and designed gear that met only the minimum safety specifications, and gear designed and engineered to be world-class, but also carried a high price tag.
Thus, REV'IT! was born to be one of the now many companies that fill in the well-designed-and-well-engineered-but-affordable motorcycle gear market. Through innovations such as the "Engineered Skin" concept of moving stitching from impact and abrasion zones to lower risk areas, and the development of the SeeSoft and SeeFlex non-Newtonian foam armor, REV'IT quickly emerged through the 2000s as a market leader.
In 2008, REV'IT! stepped up to participate in MotoGP and World SBK level racing, providing gear for multiple riders and reaping the rewards of the significant research and development needed to gain FIM approval for racing riders to wear those pieces of gear. This is passed down to the common rider through new materials, new designs, and newly engineered protective equipment.
Whether you're looking for a pair of motorcycle gloves, jacket, or pants, REV'IT! is one of the main brands providing top-level powersport protective equipment and is pushing to continually develop gear to be comfortable, protective, and affordable.
About webBikeWorld's Review Policy
REV'IT! kindly provided us this set of pants for review. Note that we do not allow brands to influence review scores or content. Please see our review policies for more information.
We here at webBikeWorld believe that you can't just try something out once and give an honest opinion of it. Any product we test is actually used by our testers, and for the last week of July and most of August 2021, during probably the hottest summer we've had in a decade or two, these were my riding pants.
REV'IT Tornado 3 Mesh Pants Features
Described as a three-season capable set of over-pants, as it comes with a thermal liner and a hydratex waterproof liner, the biggest and most important feature of the Tornado 3 is that it is the third iteration of the super-high-airflow Tornado gear series. In fact, with the exception of a few areas of the pants, pretty much the entire thing is one gigantic piece of mesh.
The Tornado 3 Mesh Pants are, at a safe guess, about 75% REV'IT!'s own PWRShell Mesh – a tight weave of highly abrasion-resistant polyester around a solid core, which is most often nylon (Even more so than its equivalent, the Tornado 3 Mesh Jacket). The rest of the pants are made up of PWRShell 750D polyester, which comprises only the outseam, inseam, perineal area, and around the hips and posterior.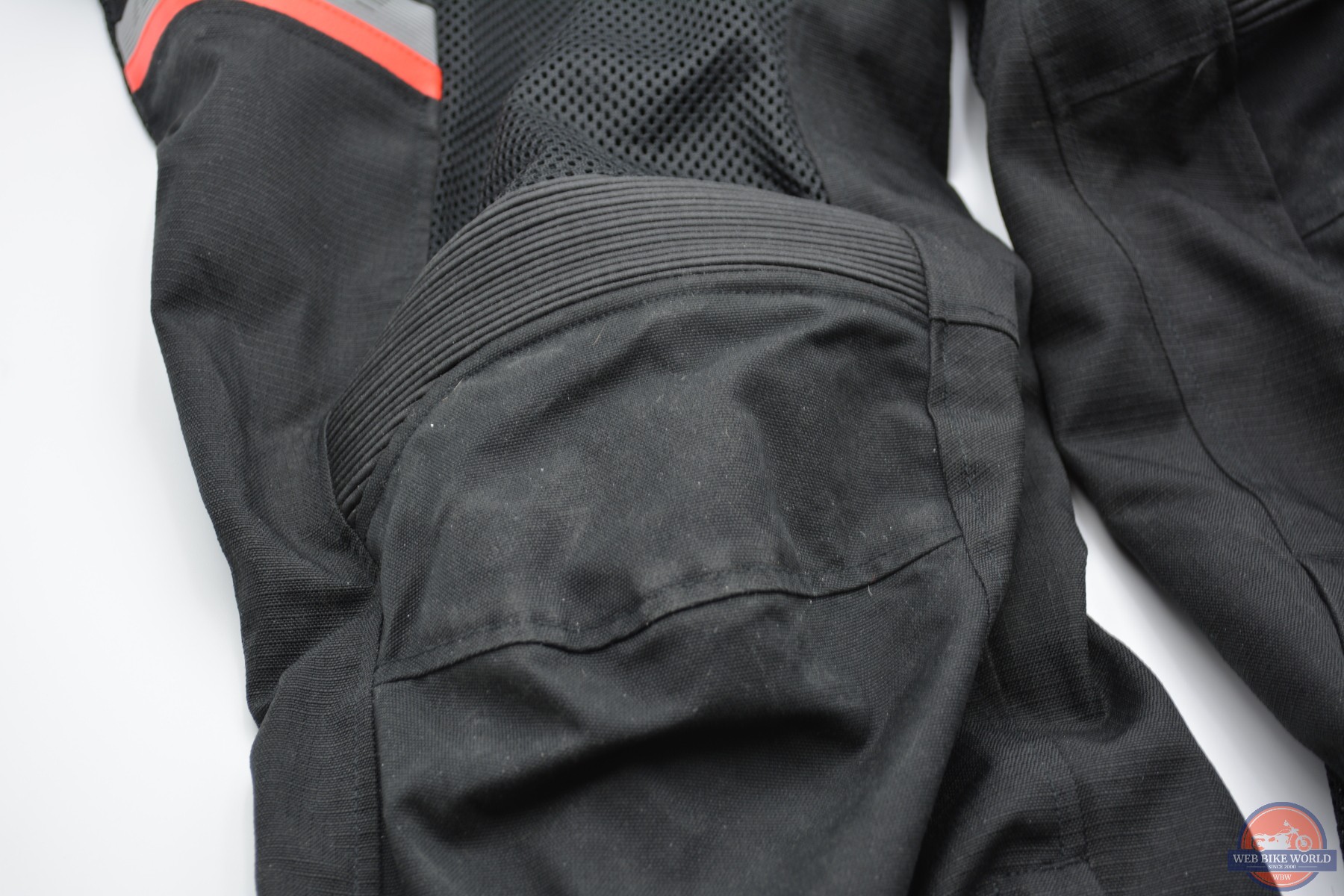 Everything else is mesh, except the knee protector area which is double layered with that strong PWRShell 750D. That knee protector is SeeFlex CE level 2 non-Newtonian foam armor, so it is super lightweight and will not add any undue strain to your legs. The hips are protected by SeeSmart CE level 1 foam.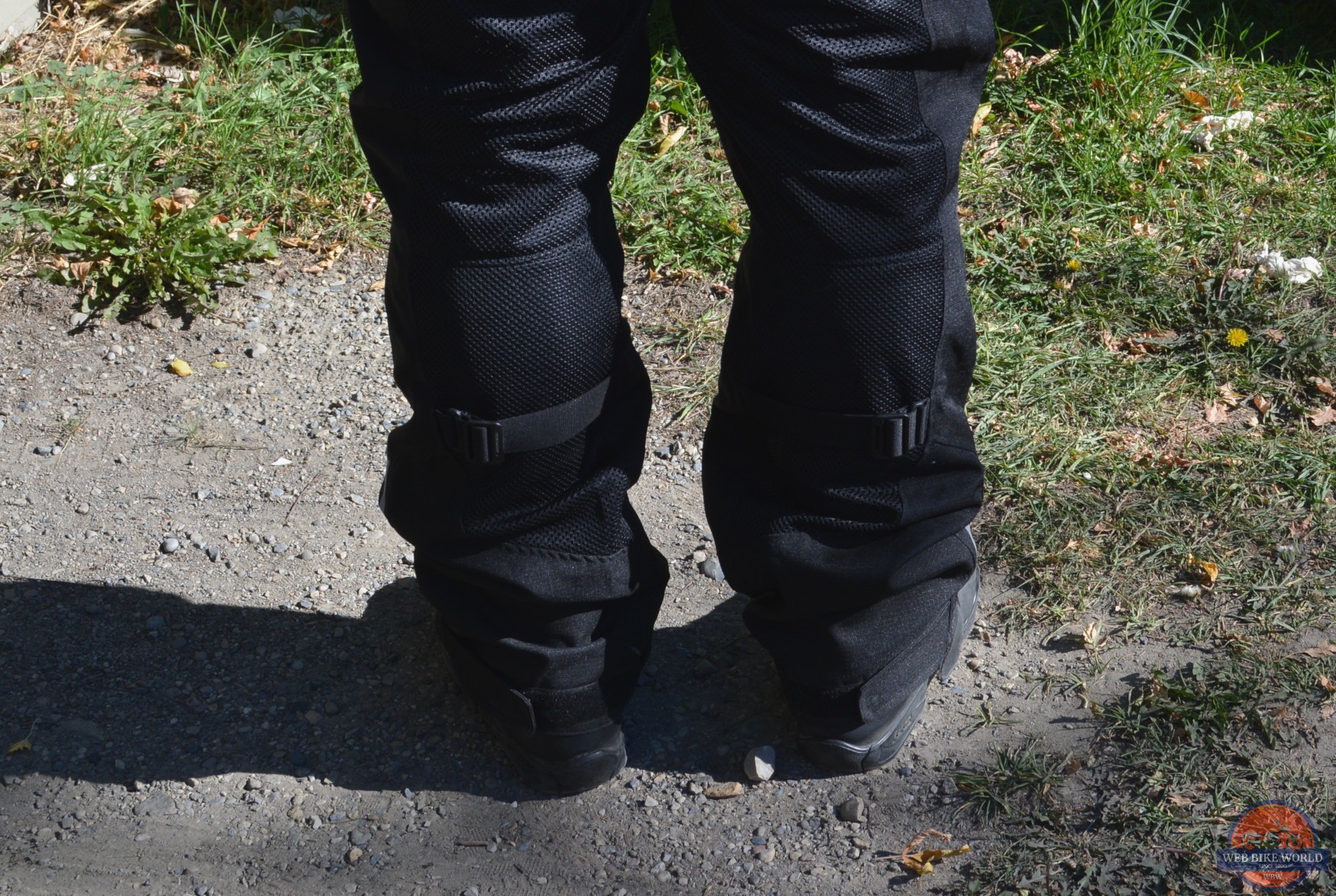 Adjustments are available at the beltline with two sliding straps, around the back of the calves with two more straps, and the knee pad can be moved up or down in three distinct positions, held in place by velcro pockets.
REV'IT Tornado 3 Mesh Pants Fit & Comfort
Let's face facts here, I'm a big guy. My jeans waist size varies between 40 and 42, although I often go up to 44 just for a little extra comfort. My hips (measuring around the bone at the thickest part of the posterior) are a good 50 inches in circumference, mostly from having very strong legs from a history of rugby playing and martial arts. My thighs, at their thickest, measure 25 inches in circumference, and I have a 32-inch inseam.
I mention these measurements because I'm about as un-European of a body type as can possibly be imagined. The Tornado 3 Pants do fit very well around the calves, and even though they are tight around the thighs, they are comfortable there. The issue I find is that apparently, in the Netherlands, having a large posterior is not something that is thought about. Because of this, getting the pants up and over the hips is, frankly, a challenge, but once they're over, they are comfortable to a point.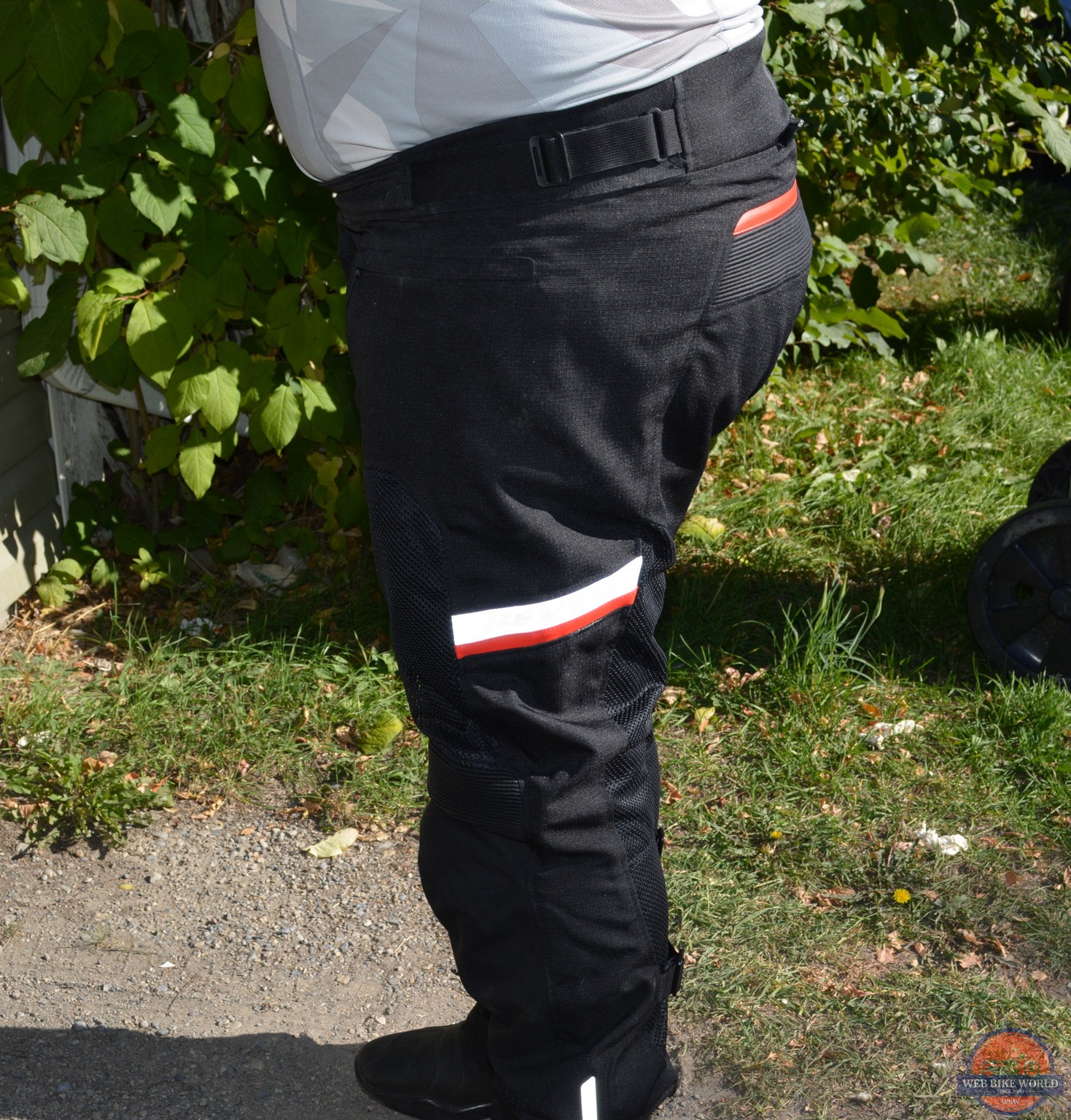 The issue that becomes more prominent is that for some reason, the pants are sewn in a way that does not give any leeway in the perineal area of the pelvic floor. While this is manageable in most situations, the situation becomes critical when these pants are joined with a compatible jacket via the 9-inch connector zip in the middle of the tail padding. I will cover this in more detail during the "In The Real World" review portion, but suffice it to say, even an extra inch of perineal room would make these pants much more comfortable.
REV'IT Tornado 3 Mesh Pants Ventilation
With most of the pants being made up of mesh, the ventilation is meant to be almost as if you are not wearing pants at all. The front of the pants is only broken up by the knee pad area, and even then, only the actual knee pad coverage area is full 750D polyester. The back of the legs, from the top of the thighs to the bottom of the calves, is just one huge swath of mesh.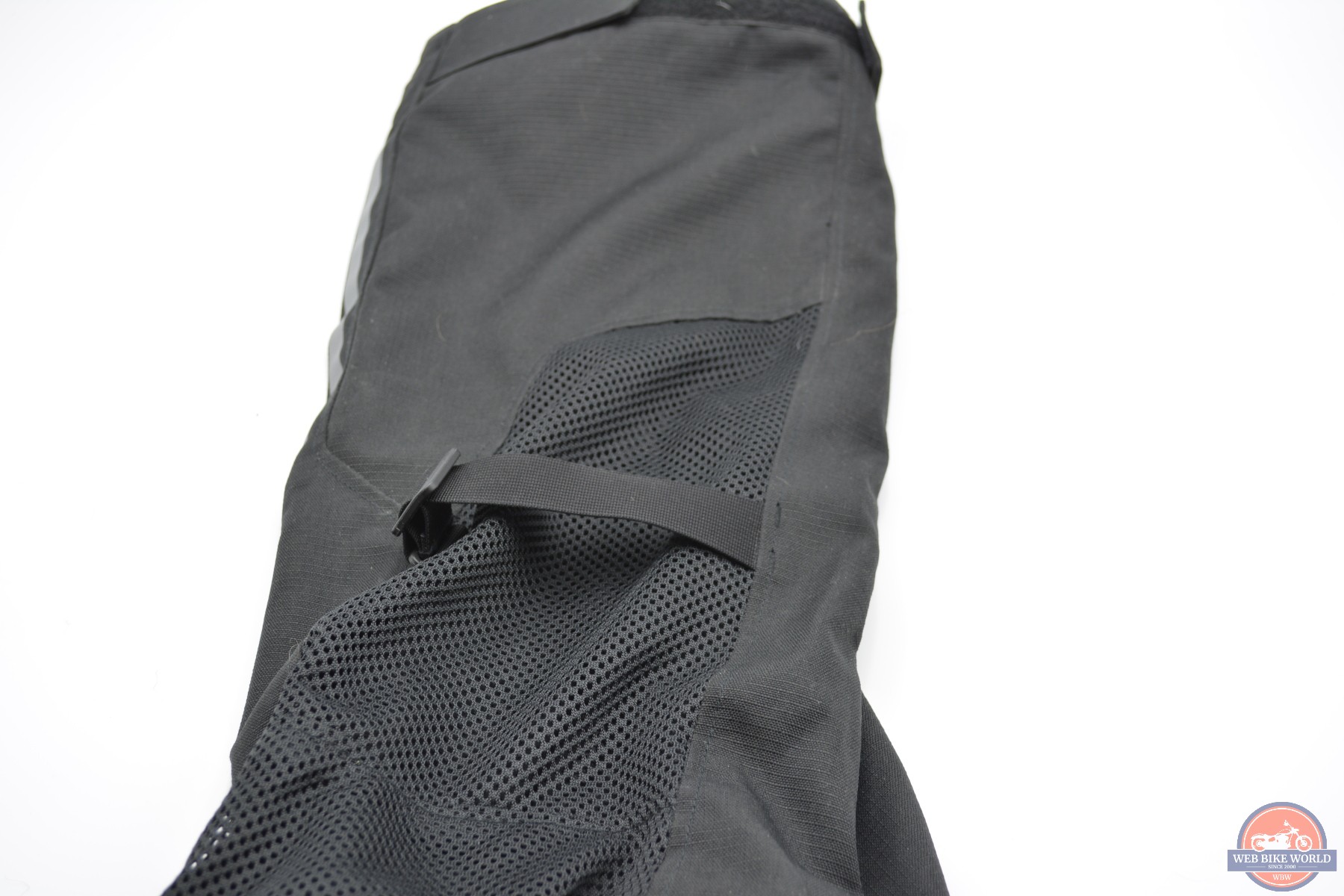 This allows for quite immense amounts of air to flow through the pants and combined with my KLIM Tactical Armored Base Layer, which has some cooling properties with Klimatek fabrics, the heat wicking was so strong that it did honestly feel like there was nothing on my legs from my knee down to my riding boots.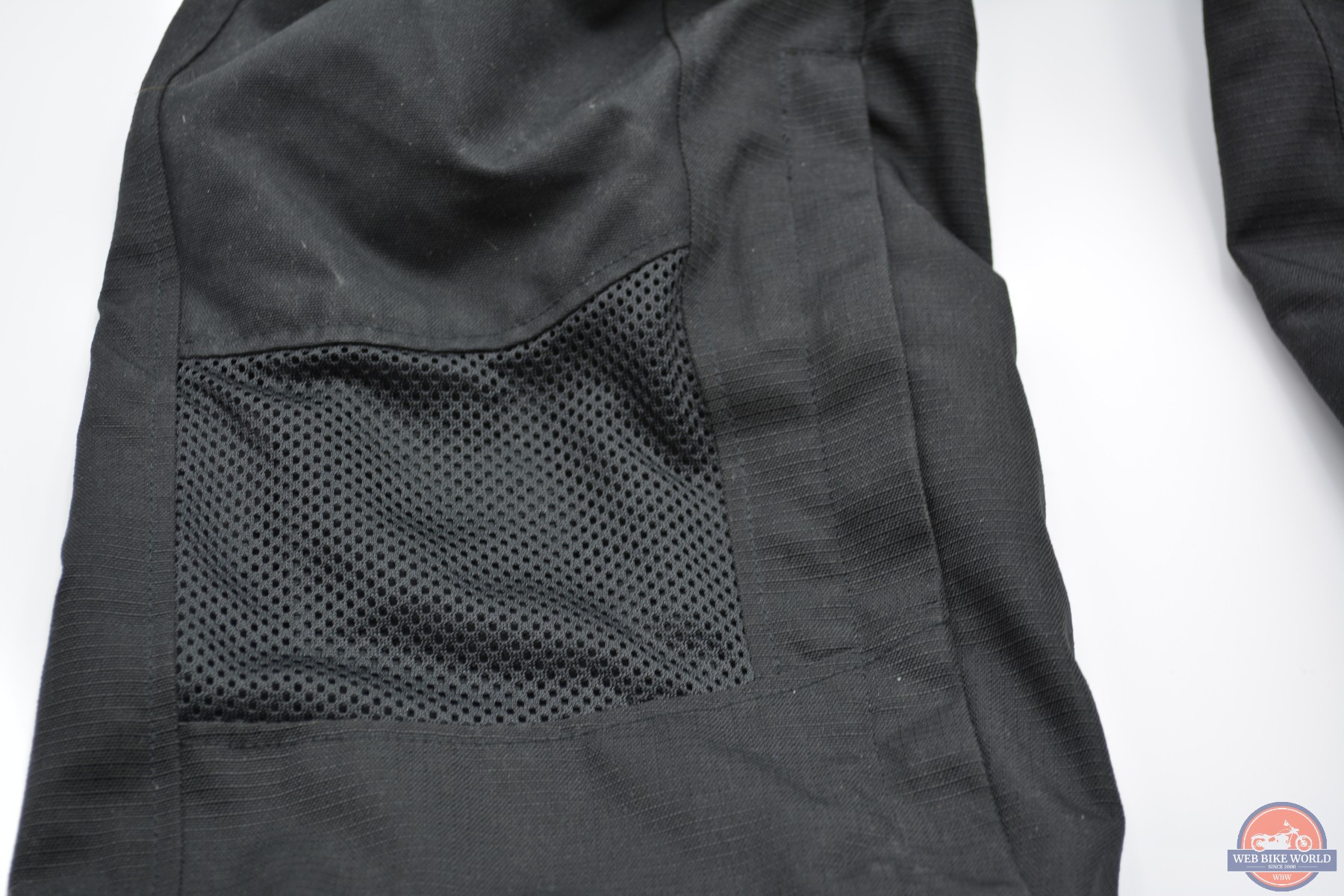 Because the thigh is more horizontal and, as mentioned in the fit section above, really tight, not much air gets in there, but even so, it does allow for heat to escape.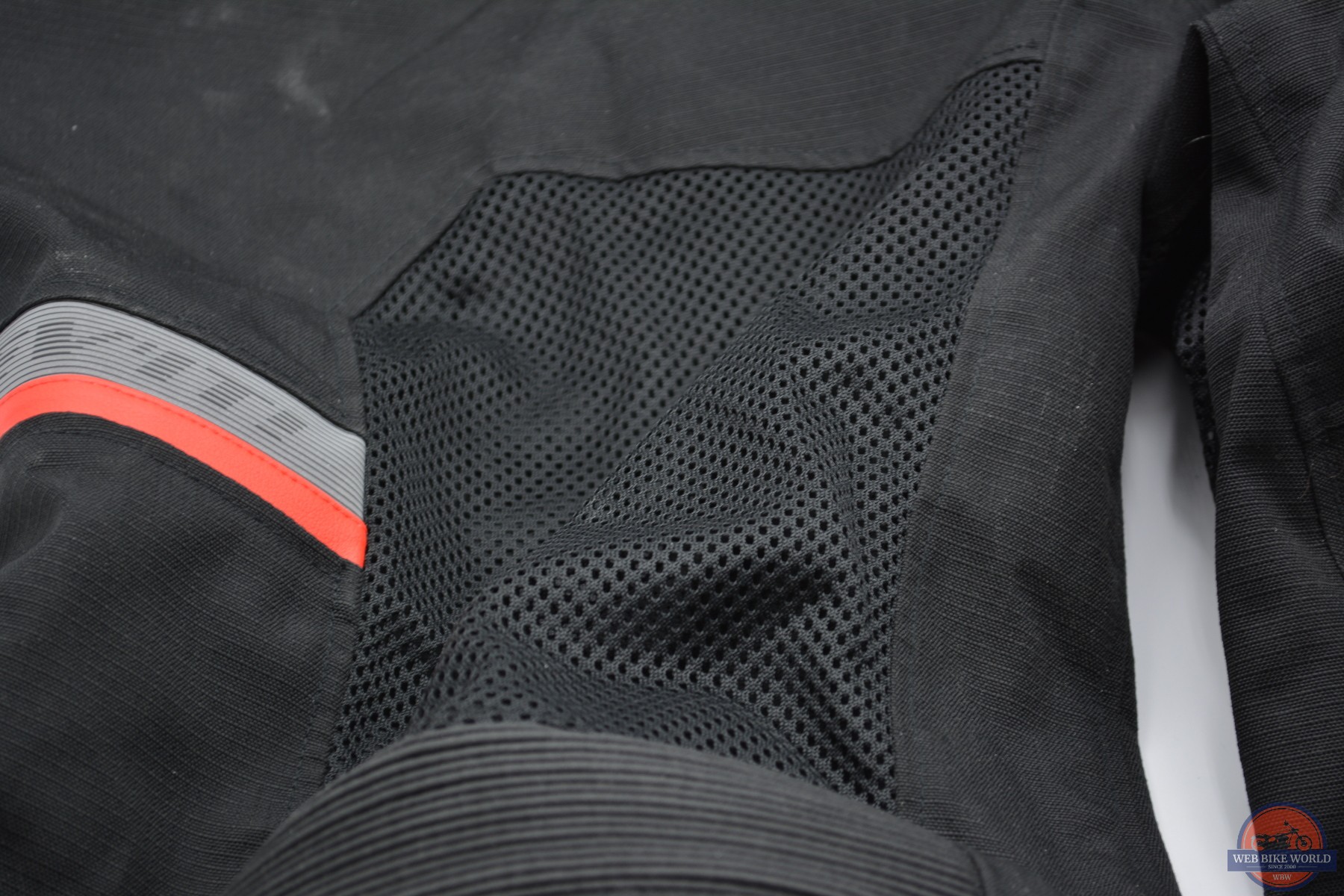 As these are technically sport fit pants, I would assume that REV'IT! is expecting an aggressive position on the bike to flow more air into those mesh panels, but as I ride a sport-tourer, the fairings deflect most of the air that would otherwise travel into the top of the thigh area.
REV'IT Tornado 3 Mesh Pants Visibility
In the past, I have criticized REV'IT! for not having the brightest safety and visibility material. They fixed that with their most recent series of gear lineups, with white and orange reflectors, often in combinations of both vertical and/or horizontal straight lines to provide the best opportunity to be seen.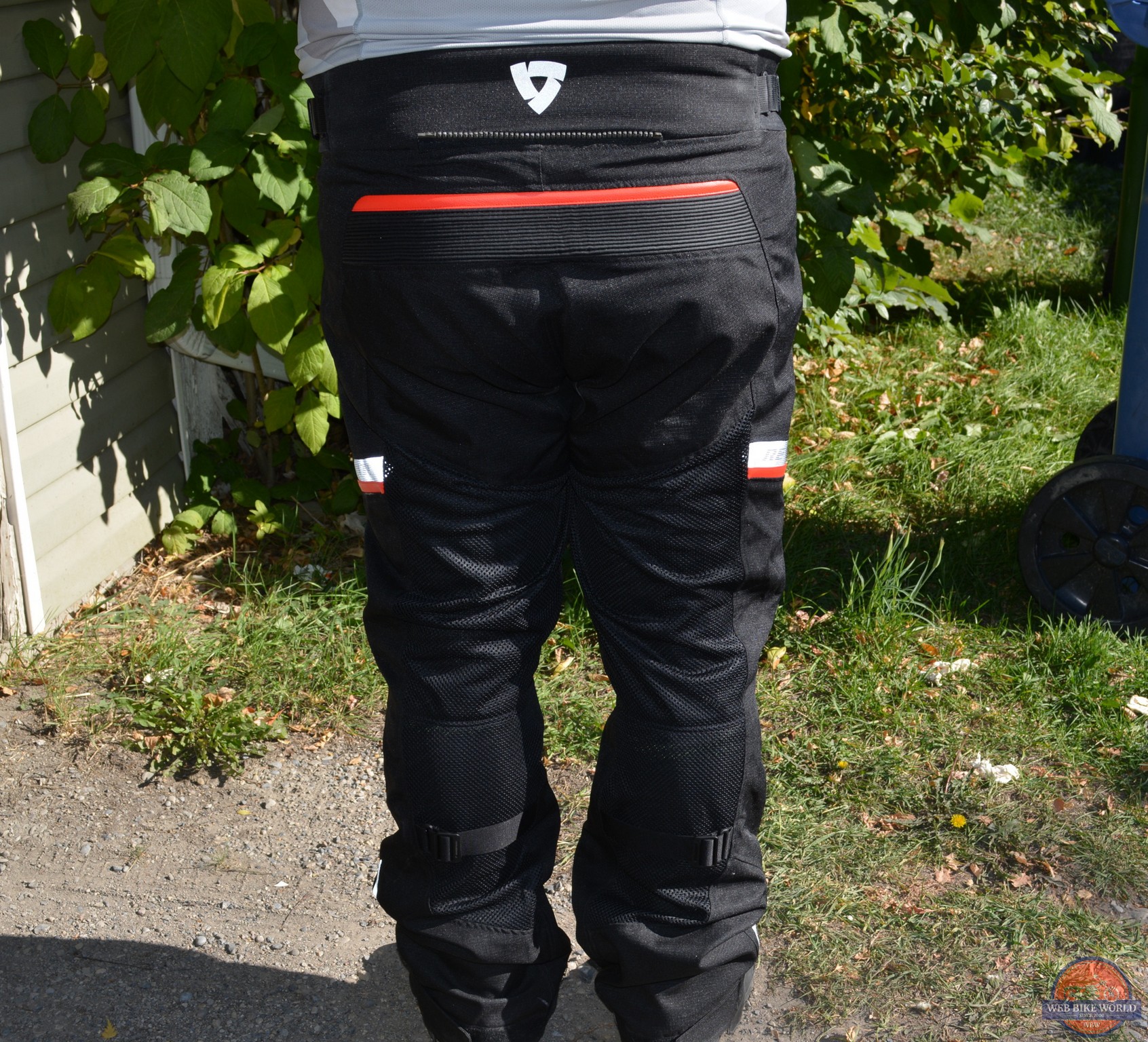 Vertical reflectors cover the calf zips, angular white and orange reflectors cover the outer thighs, and a big, long horizontal orange reflector sits at the beltline, if not just below it. In testing out how visible these reflectors are, in a dark room after the sun has gone down, I passed a flashlight over them and it was blindingly bright. REV'IT! has stepped up their visibility game, and I am here to praise them for it!
REV'IT Tornado 3 Mesh Pants In The Real World
PLEASE NOTE: When REV'IT! sent me the Tornado 3 Mesh Jacket and Over-Pants, they also passed along a request to test them both together as a combined suit, and individually as separate items. Because of that request, both this review and the Tornado 3 Mesh Jacket review will have the same "In The Real World" writeup.
When I opened the package from REV'IT! with the Tornado 3 gear, I was about ready to hop on my bike right then and ride, I was so happy to have hot weather gear for an extremely hot day. The first test fit went okay, with the jacket coming up a little short on my torso at the bottom, and the over-pants a little tight across the hips.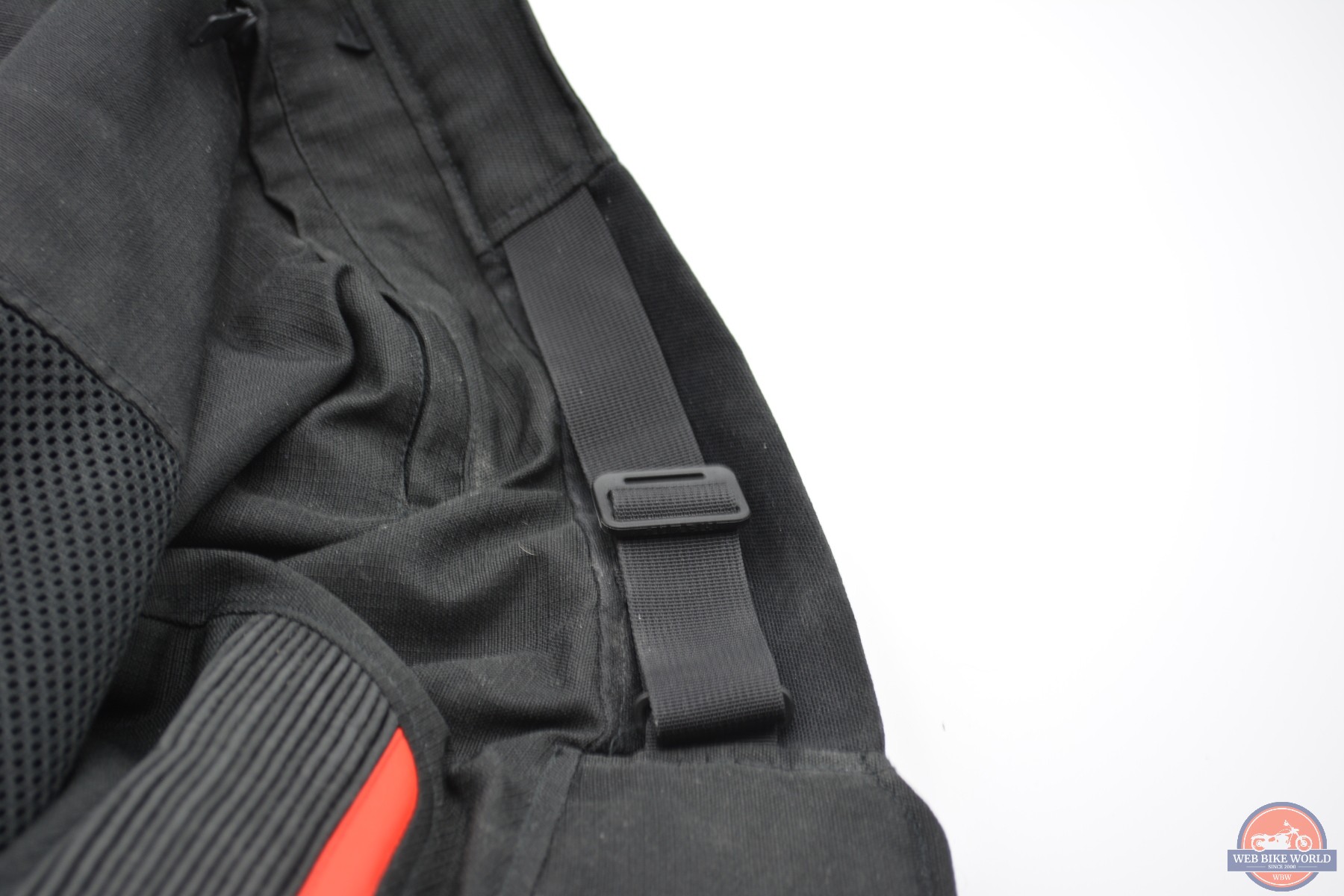 What I discovered, however, is that when connected together using the 9-inch zip that is in the middle of the back pad of the pants and under the tail of the jacket, I was about a full inch and a half too tall for riding with it as a connected suit. To say that I had the world's most wicked wedgie is not understating the fact, and I was honestly fearing that if I tried to mount my bike with the zipper connected, I would tear a seam.
However, dutiful as I am to test out all aspects of the gear I am reviewing, I quite literally hiked the pants up, swung a leg over the bike, and got out there on the road. Once in a standard riding position, it wasn't all that bad and was actually quite enjoyable to ride with. The issue, however, came with whenever I even had a potential thought about leaning forwards.
Whenever those thoughts entered my head, the zipper connection would naturally pull upwards as my torso went forwards, and after about a second, I would be singing two octaves higher and risking never having kids, ever. So if you ever wanted to see an absolutely perfect standard riding position, me with the Tornado 3 suit connected on that first day could have been put into a textbook.
In polite language, the perineal pressure that the Tornado 3 Over-Pants put on me was of concern, and since I had a set of cold-weather Tourmaster Over-Pants, I decided to compare them side by side. I can only assume that European pants and North American pants are sewn together slightly differently, as there was a noticeable width about the perineal area of the pelvic floor on the Tourmasters, and the REV'IT!s had no give in that area whatsoever.
When used together without being zipped together, the Tornado 3 gear worked very well and was comfortable to ride in. I had no issues with using the pants with my Alpinestars Andes V3 touring jacket, nor the jacket accompanying my Tourmaster over-pants or even my jeans with knee pads and the KLIM Tactical Armored base layer underneath.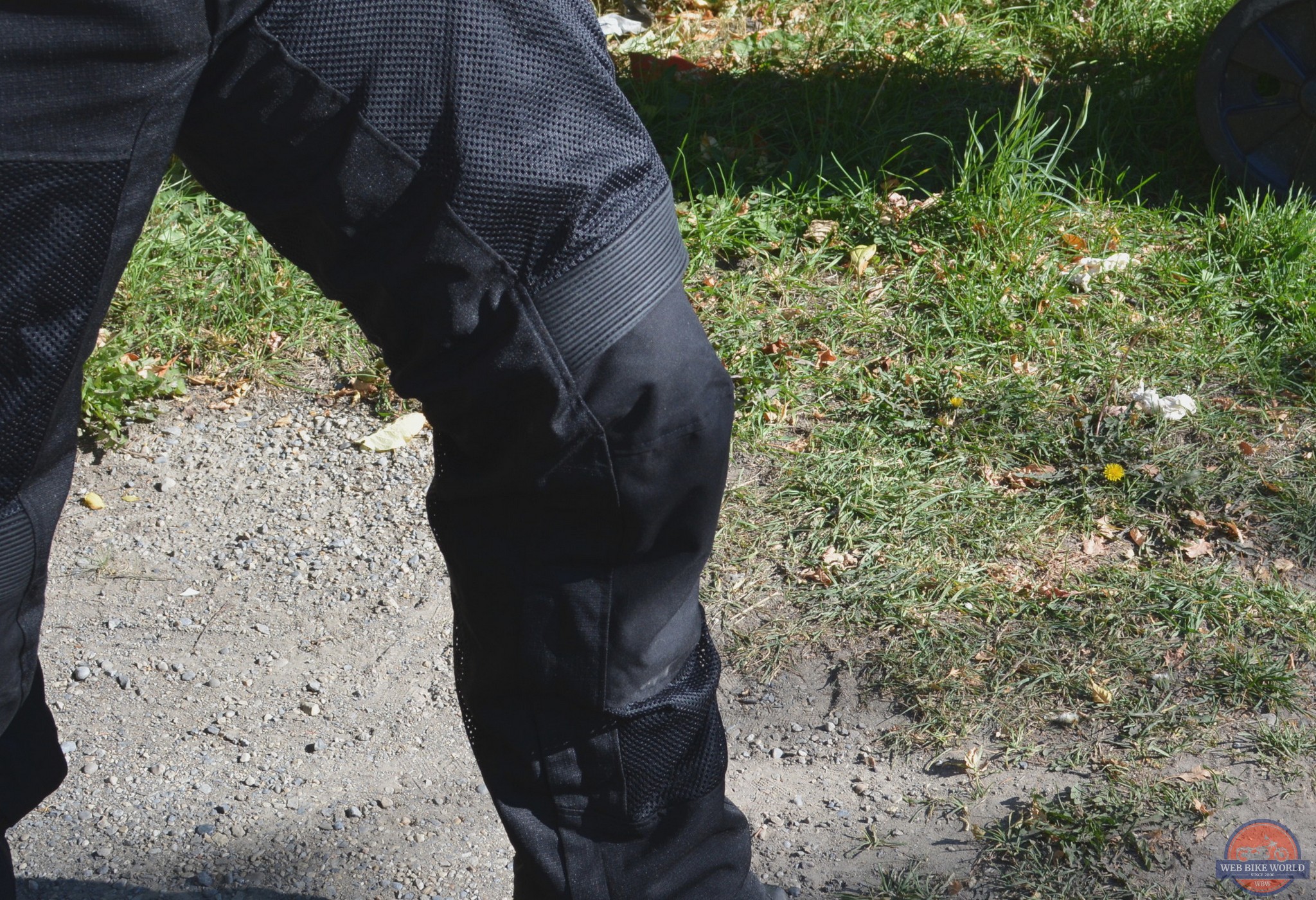 When used together without being zipped into a suit, the Tornado 3 gear survived the hottest days at the end of July and the start of August. Temperatures would be easily into the high 80s and mid-90s on these days, which is the exact type of weather I was hoping to test in.
Combined with my KLIM Aggressor cooling shirt, the jacket provided excellent airflow and cooling, although once at a stop sign or red light, because there was no air moving through the jacket, it would start to get hot pretty fast. This only made taking off from a stop all the sweeter, as the cooling shirt would gather all the sweat and heat, and toss it overboard the instant there was any airflow, so first and second gear almost always felt like riding into a refrigerator for a few seconds.
In terms of the pants, with the large mesh shin panels, my Forma Trace Touring boots were finally getting enough airflow to actually start wicking heat out the top, which is one of the things they were advertised as being able to do. While it wasn't a huge amount of heat, it was enough to increase comfort by just enough.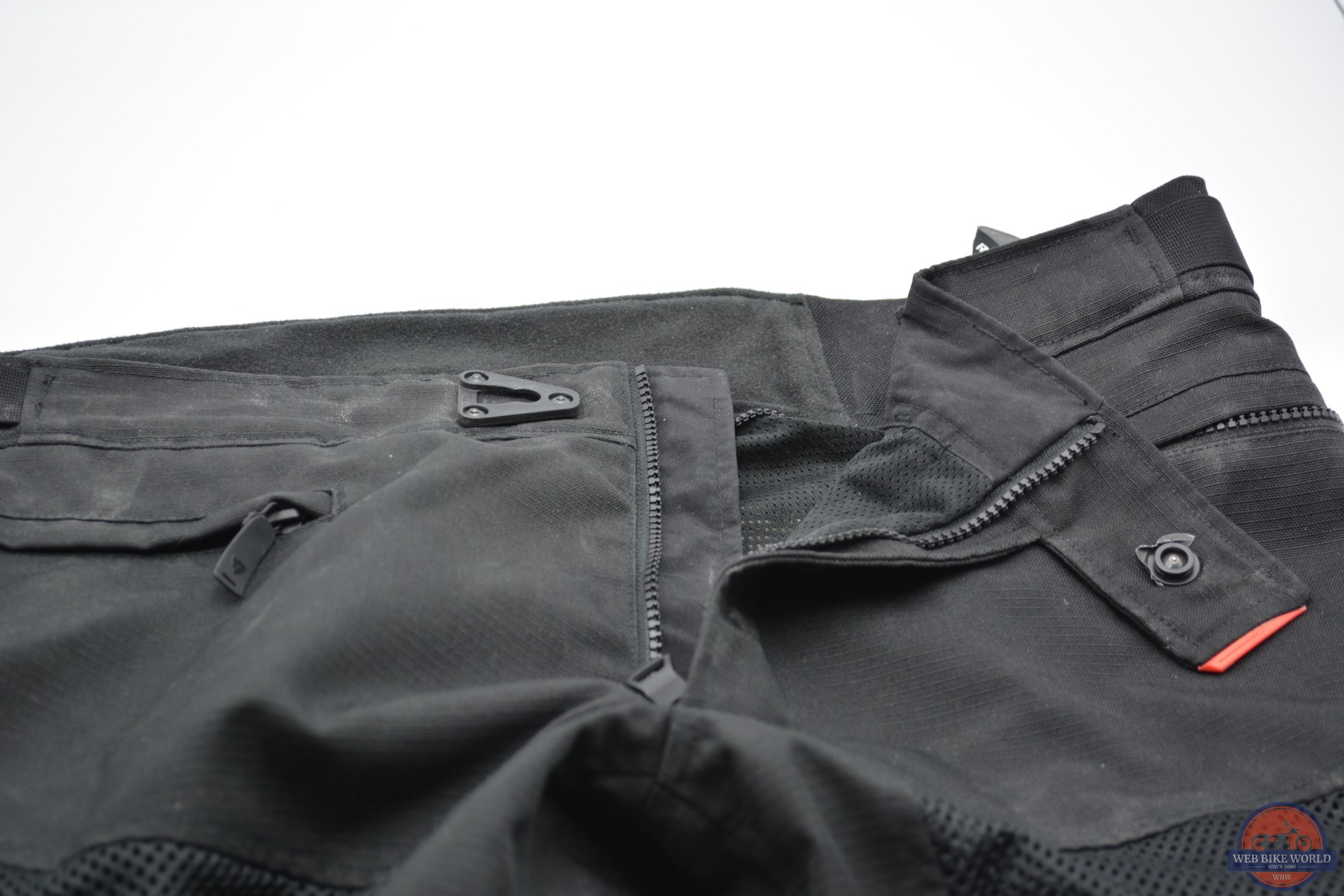 However, my history of playing rugby and participating in martial arts prevented my thighs from getting the maximum promised airflow. With a 25 inch circumference, and the pants fitting with just about half an inch of wiggle room around my hips and thighs, there simply was not enough of void space to let air get in and circulate. This isn't in any way a fault of the pants, which do flow air quite happily through the thigh mesh, it's just that I have thick, strong legs.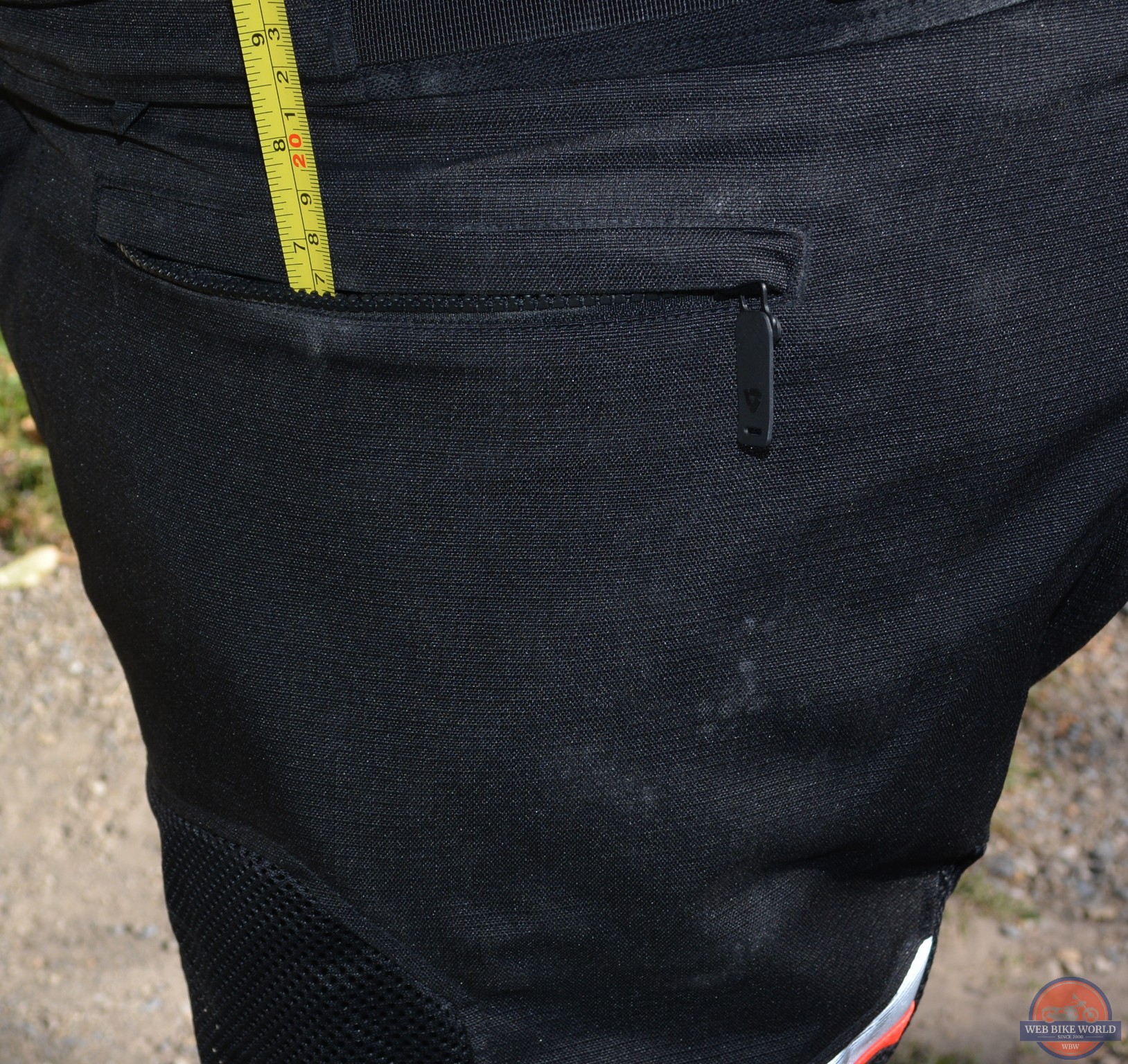 The only really major concern that arose from both pieces of gear is sizing. The jacket doesn't list its length, but it was a good inch short of my beltline, and the pants, despite promising to be able to fit 50 to 52-inch hips, almost had to be shoehorned on, even with the adjustment straps as loose as possible. It is safe to say that if you are looking at the Tornado 3 jacket or pants, take your measurements and then order one size up.
Unfortunately, REV'IT! does not make a 4XL version of the Tornado 3 set, so if you're like me and are, in the language of the youngsters these days on the internet, "a chonk," your best bet is to still look at American based companies. The only thing that confuses me about why the jacket would be an inch short is that the Dutch have the tallest average height in Europe, for both men and women…
Final Thoughts: Great Pants… If You're Not Too Big For Them
The REV'IT! Tornado 3 Over-Pants are, in my objective viewpoint, very good. Issues arise around sizing, and in that area, I would recommend that you go a size up from what your measurements compare to on their size charts.
The best thing about the Tornado 3 Pants is that they are literally three-quarters mesh. Older, more experienced veteran riders might wince a bit at that, but the PWRShell Mesh material is not the older pure nylon material that would melt if you looked at it sideways. This material, at minimum, reaches a 500D rating, meaning you can slide out of a lowside at freeway speeds and still have 99% of your skin on your legs, without the polyester or nylon melting.
I do have to mention that, when compared to my American-made Tourmaster Overpants, there is a definite disconnect between "American" sizing and "European" sizing when it comes to the hips and perineal area of the body. Someone much slimmer than myself at the same fitness level would probably find the pants to be eminently comfortable.
In terms of design, the Tornado 3 Pants are amazing, and they are made with the highest quality materials that REV'IT! can source for airflow pants. The sizing is a definite issue, and while the included SeeSoft and SeeSmart armor is appreciated, I would have preferred to see the hip armor also come in at CE level 2.
Similar to the sizing issues that I experienced with the Tornado 3 jacket, I have to account for my above-average build and the fact that 3XL is the largest size these pants come in which meant no opportunity to test if 4XL pants would have alleviated some of the sizing concerns and smushing of the crown jewels. With the 3XL pants, I could probably join a choir as an alto soprano if I wear the pants zipped to the jacket but am cognizant that the size limitations do create some bias.
Pros
So much mesh!
Able to connect to compatible jackets via a 9 inch zip on the tail pad
Zipper are high quality and can take a lot of strain
Two deep, tightly woven mesh front pockets
Adjustments can be made at the beltline and around the calves with easy-to-use slider straps
Cons
Sizing is not accurate to size chart from REV'IT!
Not intended for those with larger legs and hips
Thighs do not get as much airflow as the lower legs do
Fit over sport boots okay, probably a bit tight over trail or dual-sport boots
Perineal area is very much affected by the fit of the pants, to the point of mild discomfort
REV'IT Tornado 3 Mesh Pants Photo Gallery