REV'IT! Offtrack Adventure Jacket Review Summary
Review Summary
The all-new REV'IT! Offtrack Jacket is one good looking piece of gear targeted at active adventure riders. Touted for its warmer weather capabilities, it performs extremely well in a two-to-three season role (depending on the climate of course). Its attractive exterior shell, very functional removable waterproof, and thermal liners make it a broad-spectrum solution. 9.0
Pros
Visually appealing
Finely detailed
Quality Construction
Excellent protection
Outstanding ventilation
Multiple useful pockets
Cons
Sizing an issue for some bodies
Liners not stand-alone pieces
Optional inserts should be standard
Offtrack Adventure Jacket Image Gallery
Introduction
wBW has been doing REV'IT! product reviews, collection, and new product line roundups and long-term evaluations of their products for years, and for all the right reasons – they have a diverse product line featuring innovative and versatile riding gear.
Past Gear Limitations & Current Option Diversity
For most of my decades-long riding career, the fitment of the proper protective riding gear, including jackets, has been a challenge in fitting my 189.2cm (6ft 2.5in), long arm and 34in inseam frame.
Going 'oversize' to get sleeves that don't end two to three inches short of the wrist and have enough length often resulted in looking like I'm wearing the whole nine yards instead of just six; most frustrating.
However, with time, consumer demand and market focus, manufacturers and suppliers are getting the messaging in producing more diverse products, many with very good size and fit ranges, especially in the adventure-touring market segment.
The result is that, for the most part, I can pick from a decent range of gear from various brands that fit and function comfortably with only a few sizing concessions and less material yardage…
The REV'IT! Experience
In being a long-term admirer of REV'IT! products, my overall experience with the brand has been limited to more of an admiring bystander than functionary, although one older lightweight mesh jacket did fit me perfectly, which seemed to be an anomaly at the time…
Zooming in to the present, one product that gives me positive thoughts regarding fitment, along with comfort, warmth, and dryness (these are good things), is the new REV'IT! Offtrack Adventure Touring gear.
Since (very) early spring, the Offtrack jacket and matching pants (the subject of a separate review soon to be linked here) have been keeping me quite warm and very dry even during use in weather that felt like late winter rather than spring. Now headed into warmer days, and humidity, the liners are out and the vents are being opened; versatility to the fore here.
Offtrack Jacket – First Impressions
First impressions count – as do details – which can indeed make or break a product early on. But true to form like most REV'IT! gear, the Offtrack pieces are feature rich, well detailed and superbly finished.
Acquiring the Best Size & Color
With the opportunity to review the new Offtrack jacket and pants laid out, it now came down to the critical discussion regarding sizing and to a lesser extent, color selection. My concerns expressed earlier regarding fitment was offset by the fact that our local reseller, Ottawa Goodtime Centre, had early stock of the Offtrack pieces in a variety of sizes to try on.
Accordingly, an XZL (4XL) jacket got identified as the best fit, with some compromise – the 3XL is a close runner-up as the sleeve lengths are virtually identical between the two sizes, but other factors came into play – more on these later. The Silver-Green color scheme was chosen.
With the jacket and pant sizing confirmed along with colors (Black/Silver for the pants), an email was sent off and a week later, the jacket and pants were delivered into my waiting arms by the reseller with coordination and efficiency. It's all good.
In-Person Assessment
All Offtrack color combinations are visually attractive including the mottled Sand/Black but the Silver-Green combination, with its multiple-hued panels and stylized high-viz and reflective inserts, gets a lot of (very) positive comments.
I know, I know, the Offtrack pieces are advertised as a ventilated mid-weight adventure touring combination but as stated above, both pieces, especially the jacket, have been surprisingly good from cold environments up into its intended environmental use range.
And while not a total fan of multiple insert purposed layers, I must also acknowledge that the Offtrack waterproof and thermal inserts or liners work extremely well.
So Far So Good
So in still leaning towards Gore-Tex based outer liners, with extra wearable layering underneath, it hasn't taken a big leap to get comfortable with configuring the Offtrack pieces as desired. Adjust before heading off or alternatively, be prepared to adjust dynamically (e.g. remove or add inserts once on the road). Note: Planning and preparation.
The Offtrack Combination
As noted above, my usual gear solutions are diverse in often having to mix-n-match pieces, often between brands, for the desired fit and functionality. This is not a totally negative situation, but just reality and one familiar to lots of other riders.
So, having a jacket and pants that form a great looking, very functional combination is rather refreshing. And in having an early look at one of the Offtrack jackets, my 'worth a close look' radar activated so when given the opportunity to review both jacket and pants, there was no hesitation.
Breaking Down the Offtrack Jacket
Construction
Offered as a three-layer garment comprising an outer shell and separate removable layered waterproof and thermal liners (inserts), the Offtrack jacket feels a bit bulky initially and admittedly is heavy. Although, for the right reasons – design features, full cut construct and (critical) protective pieces.
The outer shell is a tough conforming comfortable mix of synthetics with Polyester (dull) 450D for the main panels and 600D inserts in the expanding lower arm areas.
3D air mesh is used for the upper front torso inserts along with Power Mesh inserts behind the zippered front VCS (ventilation control system) panels.
Stylized and strategically placed high-viz inserts and reflective striping add a modicum of conspicuity day and night while also adding to the overall visually attractive styling of the Offtrack jacket.
Ventilation
The distinctive black 3D air mesh panel runs from the upper chest area on either side of the front zipper, over the collarbone/neck areas to the upper back, forming a large ventilated section over what is (often) a critical cooling area.
Vertically zippered VCS panels on the chest allow managed air flow through the inside Power Mesh layer. The panels, once unzipped and released from two small top hidden snaps, can be folded back diagonally and secured in place for even greater ventilation.
A large easy to use (even with heavy gloves) bright yellow wrist to elbow zipper provides easy entry into the jacket sleeve for glove layering, access to the liner insert tabs, or for extra ventilation when needed – all without compromising protection.
Adjustability
The jacket hem features left and right drawable (elastic) adjusters so the bottom of the jacket can be adjusted in to keep the elements out and lower garment profile or loosened off to increase airflow on or off the motorcycle.
A large mandarin-style collar with soft padded liner (seen below) is easily adjusted thanks to the REV'IT! flexsnap slider-style mechanism that is a standardized and valued fixture on jackets. Collar shape and adjustability facilitates the use of a layered weather-hood as well.
On the left side of the collar, a small catch allows the collar tab to be hooked back in place when increased air flow without the flapping collar effect is desired.
Long and short lower back connection zippers – the long one is hip to hip length for connecting compatible REV'IT! Pants for a more enclosed combination. The shorter double zippers are available for use with the outer pants or the weatherproof liner.
An optional Challenger cooling vest insert is also available – it zips directly into the outer shell using the short (liner) side zippers.
Armor Pockets & Adjusters
Armor pockets, lots of them, is something appreciated in any jacket or jacket and pant combination worn, but especially valued for adventure touring gear; the following section has the lowdown.
Mesh pockets for SEEFLEX CE-level 2 protective inserts at the shoulders and elbows allow some positional adjustment of the inserts to best protect body parts.
A full back insert pouch awaits fitment of an optional SEESOFT CE-level 2 Type RV back insert (now fitted)
Accommodation for the SEESOFT CE-level 1 chest protector pieces is present as well
An upper arm snap adjuster and lower arm sliding adjuster allow fit customization to accommodate layering, movement, and ventilation needs.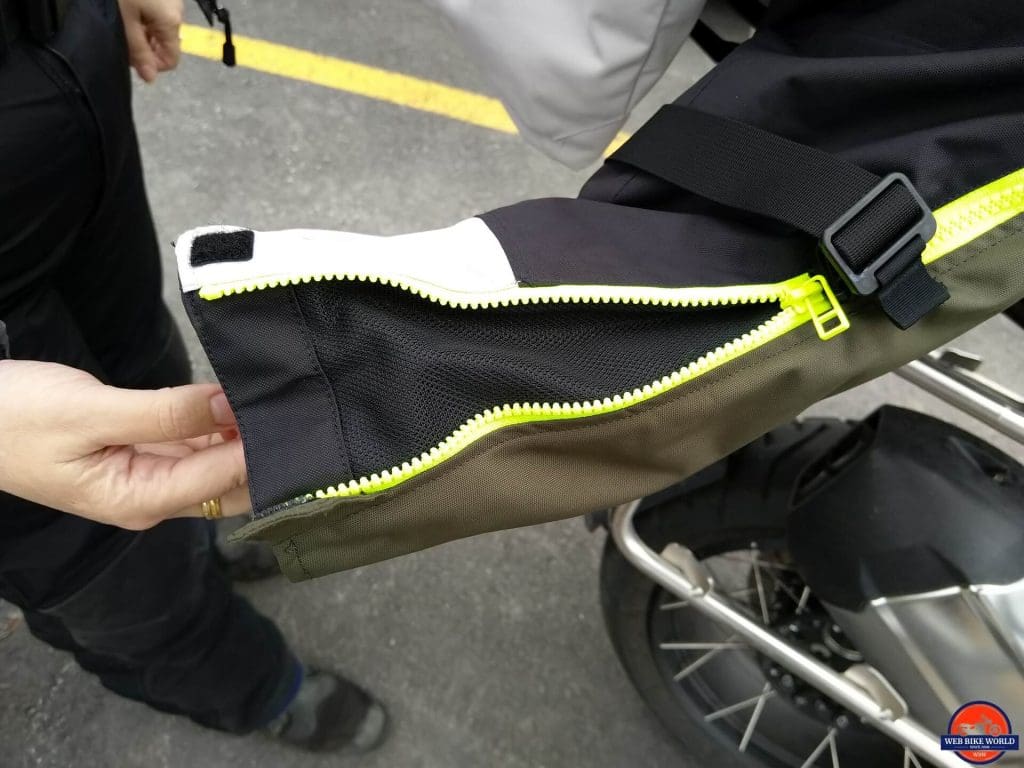 Protection
Proper sizing and fitment of any protective insert are important. In this regard the REV'IT! SEESOFT, SEEFLEX, and SEESMART products are hard to beat – they are available for a wide range of products and fitment applications and all certified to the highest CE standards.
In the Offtrack Jacket, SEEFLEX Level 2 CE protection inserts are provided at the shoulders and elbows. The new standard used provides consistent impact protection under a wide range of temperatures without sacrificing user comfort.
Two SEESOFT inserts are also provided: one being for a SEESOFT CE-level 2 back protector insert (Type RV) that is a recommended upgrade, now done – it was the first thing added before leaving the store with the jacket and pant combination.
This specifically-sized back protector for my Offtrack jacket is Type RV – Size 06 (49-52cm) and other size options are available and listed by garment size so that the proper (best fitting, best coverage) insert is used.
But in adding the protector into the jacket, we noted that the jacket became considerably less 'loose' when it was put on again – this is not an unknown and it's one reason for the upsizing.
Whether back protection is a must or a consideration it is best to try on the garment with the back pad or other applicable protection pieces installed.
This SEESOFT protector is formed of four dynamic layers, so it is somewhat thick, and it does take up space; excellent from protection and safety perspectives but it can impact sizing and thus comfort.
The second optional insert (not yet procured), is for the Divided Chest Protector SEESOFT CE-level 1, comprised of left and right protector inserts that fit into the inner left and right mesh pockets of the shell, identified by the red tabs.
Fit & Comfort Zone
The Offtrack gear is intended to be and is indeed built for comfort. Even when trying on smaller Offtrack jackets where the arm and body length remain issues, they typically fit well in other areas…testament to REV'IT!'s 'rider comfort' approach for the Offtrack gear.
I typically utilize my gear while riding different motorcycles, in varying climate and weather conditions and a mix of terrain, sometimes in the course of one day, so freedom of movement along with multi-use, multi-purpose functionality is key, which the Offtrack pieces deliver.
The jacket provides outstanding comfort and mobility particularly in the upper arm and shoulder area and waist area. With moving up one size, room for an additional layer (heated or otherwise) is available. Arm, side and hem adjusters provided take-up adjustability.
The jacket is admittedly larger in the shoulders than ideal, meaning the shoulder protective insert positioning is not optimal, but this is an acceptable tradeoff for me to get the ideal arm length and have the elbow protective inserts positioned perfectly.
Climate Zone
As identified earlier, the Offtrack jacket is a versatile garment, usable over a wider range of temperatures than originally envisioned – thanks in large part to the moisture-managed mesh lined areas, very functional liners, and room to add an additional layer when needed.
But the construct and features of the pieces are indeed oriented towards warmer weather riding and with heat and (humidity) seemingly here, opportunities to explore the Offtrack's ventilation features are being offered and so far, so good.
Most noticeable is the 3D Mesh insert panel that starts at the top of the chest area and flows up to and around the neck to the upper back; this whole area is a key ventilation zone and the material used and layout enhances air flow to and over the covered areas.
Large non-removable Ventilation Control System (VCS) covers provide the most direct means to literally open up the chest area of the jacket to air flow. Secured in place with two top snaps and vertical zippers, the panels can be merely unzipped for increased air flow or with the snaps undone, folded back and secured in place to form direct intake areas.
An (optional) Challenger Cooling Vest Insert connects to the short left and right insert zippers at the front. I hope to get one of these to try this summer on a planned trip.
Other Pockets & Storage
The matter of pockets and/or storage space on riding gear, especially adventure touring stuff, is often a sore point; in that there aren't any or very few. I know there is a need to appreciate a cleanish design, space, feature costs and of course weight and safety concerns, but still…
Thankfully the design, placement, and, number of pockets (small and large) provided with the Offtrack jacket is most welcoming and very much appreciated. In other words, well used.
Some of the pockets are lined for some weather resistance, for the higher valued items perhaps, while others are basic stash style holders. All can be used and accessed without major issue… just do it when stopped safely of course.
Locations
Large front left and right: Weather resistant (lined) horizontal pockets with large over-flaps and tactile strips
Left upper chest under main zipper: Napolean style for devices/wallet/glasses, mesh style with short zipper (this pocket is not stitched in, so the mesh edging can and does catch on the zipper)
Lower left and right front mesh pouches with red tabs: These are the 'prepared for REV'IT! divided chest protector' insert pouches, but if the protection pieces are not installed, the pouches are good for small soft item storage.
Large rectangular storage pocket on lower back with mesh outer layer: Ideal for soft pieces like the liners, or a piece of damp gear.
Liners
Two removable and separately usable liners are provided – one the waterproof layer and one the thermal layer – how they are used is up to you. Neither are designed as stand-alone dismounted wearable garments, which is unfortunate.
Waterproof liner: Lower left stash pocket with red horizontal stripe (below) and Velcro tab.
Thermal liner: Lower right deep stash pocket with black Velcro tab.
Waterproof Liner
Detachable, of course, and formed of Hydratex mesh G-liner that is surprisingly stretchy while seemingly impermeable to moisture (see water test below) and, doesn't make me feel like I'm wearing a plastic bag.
The jacket liner zips in with short zippers on the front sides, lower side loop snaps, a back of neck snap and outer/inner lower sleeve loop snaps. It also has its own front zipper with top to boom sealing over-flap.
Moisture Testing
Both static and dynamic (riding) tests revealed that the waterproof layer is indeed waterproof. Flexing/stretching the Hydratex liner material does not allow water to pass through.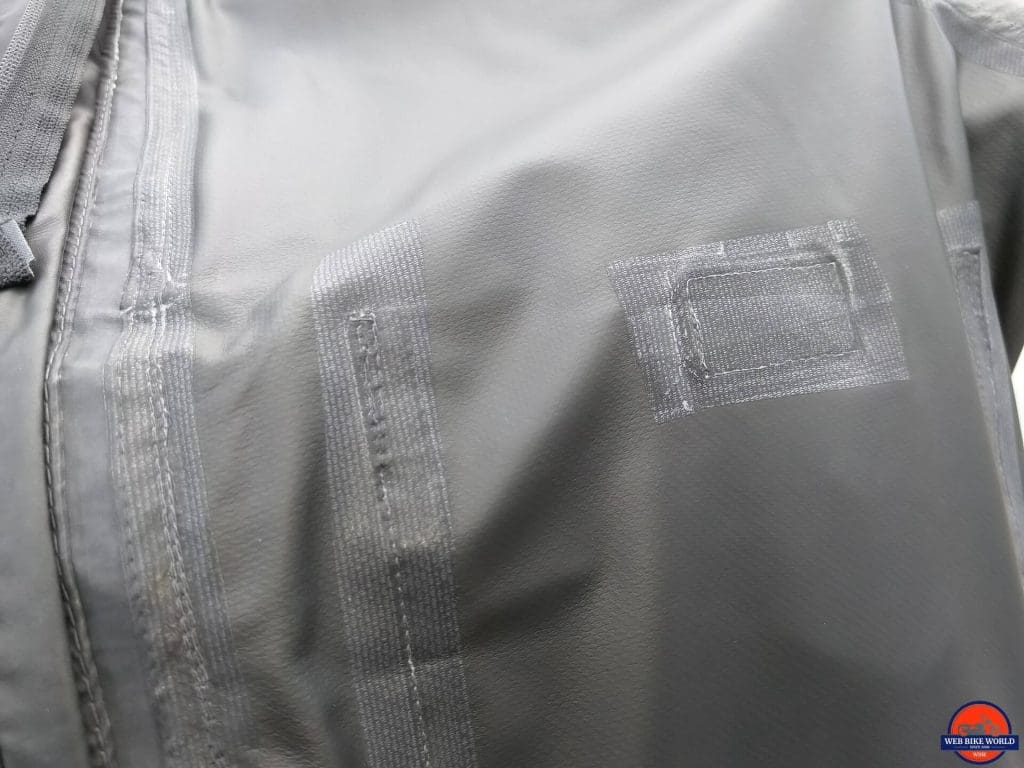 Back of moisture liner reveals sealing details
Outside in the wet stuff, with the waterproof layer in place, the lightweight outer shell is quick to soak through, as expected, with the outer side of the Hydratex liner being the wet line of defense and defend it does; no moisture gets through the liner, period.
Thermal Liner
Basic unzippered insert that secures to the shell or rain liner via short upper side zippers and lower side and back of neck snap loops.
Function & Performance
The Offtrack jacket, with and without liners, is proving extremely competitive vis-à-vis other favorite adventure-touring riding gear, some of which has been in use for years.
Environmental conditions when using the Offtrack jacket or full combination varied from just below 0C (32F) to 21C (~70F) and of course, the cooler temperatures introduce significant windchill as well.
For coverage consideration, the motorcycles ridden are the 2019 BMW F850GS Adventure, the newest arrival, a 2019 BMW G310GS, and the venerable 1975 Honda CB400F that provides a fully-open-to-the-elements environment.
And don't forget the human factors – all of us have varying tolerances regarding the elements, so the assessments provided may not be the same as yours and are meant to be general in nature.
Adjusting Layers From Cold to Hot Temps
No matter the motorcycle, with both liners installed, the Offtrack Jacket proved very adaptable, remaining most comfortable in the 5C to 15C (41 to 59F) range and with another layer added, temperatures around or a bit below the freezing point was tolerable.
Although as usual when riding in cooling temperatures, frequent stops for circulation exercises and some form of warming does wonders to promote comfort and safety.
As temperatures climb and windchill lessens, the thermal layer is usually the first to go, leaving the waterproof liner to do its usual effective job in blocking or minimizing chilling air flow; something many riders never appreciate regarding their rain gear or layers.
In the 15 to 20C (59-68F) range, depending on frontal coverage (and the weather forecast) removing the waterproof liner and just using the thermal insert or a third-party liner provided a comfortable environment… layering is key.
The two wrist tabs – one short, to secure the wrist end of the arm zipper and a long gathering strap around the outer perimeter provide lots of adjustment regarding inside or outside glove fitment, ventilation and sleeve, and jacket integrity in case of an incident.
And in (finally) using the Offtrack jacket in what is likely its intended temperature range, it is proving very effective, something I can't say about some of my other multi-purpose multi-season garments.
The Offtrack jacket rates special mention here: between the 3D Air Mesh neck insert, the chest VCS venting (zippers open or covering secured back), sleeve to elbow VCS zippering, and neck and lower hem adjustments – this garment flows a lot of air to and around all locations.
Conclusion
The Offtrack Jacket (and pants) are new from REV'IT! and marketed as warm weather adventure touring products. However, somewhat surprisingly, both the jacket and pants are proving very effective and should easily cope with two to three season use. Offtrack pieces would seem to be a bit of a sleeper offering…
There is little to question or nitpick regarding overall design, features, build, and performance, other than I wish more of the identified protector inserts were included rather than as options and that one or both of the inserts were designed for dismounted use as wearable separates.
And to summarize one of my threads throughout this review – fit is indeed subjective. I can (readily) live with some over-sizing of the jacket in order to get what are important requirements for me; the fact that REV'IT! offers extra sizing for the pieces seals the deal.
At $439.99 USD or $599.99 CAD for the jacket, the price might seem steep. But one needs to appreciate that the Offtrack jacket looks, feels, functions, and performs like a premium product.
And it is obviously capable of multi-season functionality be it for adventure touring activities or otherwise. It is a combination that proves its worth with every ride.
Pros
Visually appealing
Finely detailed
Quality Construction/Excellent protection
Outstanding ventilation/Multiple useful pockets
Cons
Arm and Inseam length an issue for some torsos
Liners not standalone pieces
Optional inserts should be standard
Specs
Manufacturer: REV'IT!

Price (when tested): Jacket – $439.99 USD | Pants – $329.99 USD

Alternative models & colors:


Jacket – Silver/Green, Silver/Blue, Silver/Red, Sand

Pants – Black, Black/Silver

Sizes: Jacket, Regular, SM, MD, LG, XL, 2XL, 3XL, and 4XL
Fitment: Race or Regular
Original Review Date: May 2019