Many features, including double flaps over seams, extra material over knees and seat.
Well made and high quality. Can be hot when worn over street pants at temperatures over about 70 degrees F.
Best suited for cooler-weather riding.
If you've got some time to kill with friends while tipping a few on some rainy night, drop this question on them: "If you could only afford just a single set of motorcycle riding jacket and pants, what would would you have?"
Chances are, you'll hear answers that include everything from leathers to an Aerostich Roadcrafter outfit. But I know half the answer to this question already, as my response would certainly include the Tourmaster Cortech pants as part of my "one and only" outfit.
I have a theory about why you see so many motorcyclists riding in jeans and a T-shirt.
After spending several thousand bucks on a new ride, buying insurance and a new helmet, most people have a really hard time spending another thousand or so on all of the various items of clothing that they would need to cover them over the four seasons.
Let's see — leather pants and jacket for track days; hot weather perforated pants and jacket for hot days; Cordura-based clothing for rainy and cold days; boots; jacket liners; cool weather gloves and hot weather gloves….
For anything but the hard core, it's too much of a commitment. So my theory is that most people end up with a decent helmet and a pair of Red Wing boots and that's about it.
The sad fact is that "protective clothing" is, for many motorcyclists, jeans and maybe a jacket. If they're smart, at least the jacket will offer half-way decent protection. But protective riding pants seem to be about the most frequently missing piece of riding apparel.
Once they're committed though, motorcyclists eventually start piecing together a collection of riding gear that can cover any given weather scenario.
After all, you never know when you'll be caught out after dark on the one rainy night in Death Valley!
I once had fantasies of doing cross-country touring, so I bought an Aerostich Darien jacket (and I'll write up a long-term report on it one of these days) and I was looking for a matching pair of pants.
But there was no way I was going to pay the 300 bucks that they get for the matching Darien Pants. You can probably make a case for the Darien jacket having enough unique features to (almost) justify the cost, but having seen the Darien pants, my opinion is that they just don't offer enough extra for the price.
I've also moved away from the "expensive is better" philosophy to thinking more about finding value. Sometimes you canspend less and get equivalent quality.
Tourmaster Cortech Overpants
I think that's the case with these Tourmaster Cortech pants. For the type of riding I do, and the weather I ride in (mostly nice!), I really don't see any difference between these pants and other brands of Cordura-based pants that are more expensive. The Tourmasters have lots of features for the money, they're high quality and they're made with obvious care and attention to detail.
These pants are made from 500-Denier DuPont Cordura Plus, with 1000-Denier DuPont Cordura Plus used in the critical areas in the seat, hips, knees and shins. They also have "dual-density" armor in the knees/shin area and in the hips.
I've found that the Tourmasters are very easy to get on and off, even over jeans or street pants, which makes them good for commuting trips back and forth to work. They have a smooth "silky" feeling nylon lining, so they slide on and off nicely.
There's a two-way zipper on the outside of each leg that goes all the way up to the hips. Attached to the seam on the opposite side of the zipper is an extra flap of Cordura. Once you zip up the legs, you fold over the flap of material and then the entire outside portion of the leg is closed and secured with "hook and loop" material (see photo 4, below). This makes for a very secure closure.
Zippers, Flaps and Closures
There are two Cordura flaps at the ankle with "hook and loop" attachments; once the pants are on, you fold the flaps around the back of your ankle and secure them around the back (see photo 3, below).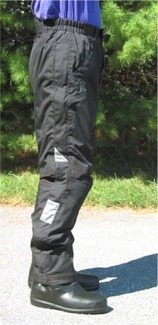 This feature was added as a revision — I had an original pair of the Tourmaster Cortech pants that didn't have these flaps. It's a nice feature to have, because it firmly secures the bottom of the pant leg around your boots.
All of the seams on the pants are backed with waterproof polyurethane. The one drawback  is that the pants can be pretty hot if worn over jeans when it's above 70 degrees Fahrenheit or so.
I think this is due to a combination of the polyurethane backing and the nylon lining; it just doesn't let any air through, although the lining sure comes in handy to keep out the water when it's raining!
The pants also have two side pockets with "hook and loop" closure. There's also a cargo type pocket on the front of the left leg.
I haven't used this pocket, as I think it's dangerous to carry anything in the pockets of jackets or pants. If you fall with a cell phone, for example, you're more likely to get a serious bruise or fracture if you land on that spot.
Believe it or not, I've worn the Tourmasters you see in this photo on and off for over 2 years, and they still look great and show no discernible wear.
I usually only wear them in the winter or when it's cool, because they do a great job of blocking the wind. I guess I can be classified as a fair weather rider, so I haven't really tested them in a heavy downpour.
But I've been caught in a rainstorm or two and I don't have any complaints. I can't say how they'd perform on a long trek in a downpour, but I assume they'll meet the manufacturer's claims for water resistance.

Conclusion
The Tourmaster overpants can be found on sale for around $149.00, and although that's still probably a bit more than some non-committed riders may want to spend, I think they're well worth the money, especially when compared to some other brands that cost more but really don't have any added features.
I am very pleased with the quality of the workmanship and I don't feel like I've given up anything at all because of their lower price.
w

BW

Motorcycle Clothing Review: Tourmaster Cortech Motorcycle Pants
Available From:  Tourmaster
List Price:  $199.99
Colors:  Black
Made In:  China
Review Date: 2002?
Note:
 For informational use only. All material and photographs are Copyright © webWorld International, LLC since 2000. All rights reserved. See the webBikeWorld® 
Site Info page
. Product specifications, features and details may change or differ from our descriptions. Always check before purchasing. Read the
Terms and Conditions
!
Owner Comments and Feedback
---
From "T.B." (Unrelated to T.B. below):  "Regarding the review of the Tourmaster pants on your site, I was shocked to read of the disappointments on the part of some of your readers.
I own a set of Tourmaster Cortech Pants, and the 3/4 Jacket as well, and have found them to be one of the best pieces of gear in my closet. I also (as one of your other readers pointed out) treat them with Camp Dry after every washing, (usually about twice a season) and have done a bit of seam sealing on the pants, and have never had them fail in the manner mentioned by some of the other reviewers.
Rode from Virginia to Florida in torrential rain all the way and was completely comfortable and dry, and did a trip to Boston from Virginia in rain and sleet with the same results. I have close to 30,000 miles on them, and they are holding up just great! If I could find a good deal on one of the older model Sport Jackets (W/out all of the Speed Racer Graphics!) I would buy it in a heartbeat!"
---
From"M.D.":  I send a note to remind us that there may be a reason for the price difference between the Aerostich and Tourmaster products. Last month (I) decided to purchase the Aerostich Roadcrafter two piece suite. At the same time, I also ordered the Aerostich Darien jacket and Darien Light pants.
I took each set for a ride around the block in my hot, humid Florida weather. For me, I preferred the Roadcrafter fit, function, and color choices over the Darien. So I returned the Darien set for a prompt refund.
Although you can buy Chinese pants for less money than Minnesota pants, you failed to mention that Aerostich uses Gore-Tex fabric in their clothing. Gore-Tex is infinitely better than polyurethane! Polyurethane would be torture in Florida. Two other points: the Aerostich system permits top quality modular armor choices; and Aerostich provides great service."
Rick's Reply:  I should have noted this information about the Aerostich products. Having lived in Orlando for several years not too long ago, I certainly understand your concerns about hot weather riding!  It gets pretty toasty down there no matter what type of riding gear one wears. I found the sun beating down on my helmet to be torture!
But I would like to respond by saying I personally haven't found Gore-Tex to stand up to it's claim of "breathability". The problem with these man-made fabric based pants and clothing is that there's no free lunch — if you want something that's waterproof, you'll probably get very little breathability; if you get something with a lot of breathability, they probably won't be all that waterproof.
The Tourmaster armor can be replaced with other armor that will fit its pockets, although I believe the Tourmaster armor is adequate. And I've heard that Aerostich gives great service, but I've never had the opportunity to experience service from either Aerostich or Tourmaster, so I don't really know how they compare.
Note also that the review summary table and the review itself notes that we recommend these pants only for temperatures under about 70 degrees — these are not by any stretch of the imagination hot-weather pants (nor are the Aerostich Darien or Roadcrafter, in my opinion).
One more thing — the Aerostich Darien pants cost about $300.00, while the Tourmaster pants can be found for about half that price. So there's not really a direct comparison; I'm sorry if I misled anyone into thinking that I was directly comparing these pants to the Aerostich product. My feeling is that for the money, the Tourmaster pants are a great product.
---
From "G.W.":  "Cortech Pants. My wife bought me a nice Cortech jacket with a removable liner when I began riding this summer. As the New England weather cooled down to morning lows in the 50s, I found that the wind was whistling through my jeans.
I picked up the matching pants and have to say they are really nice and comfortable, too. I'm not sure if this is true, but the dealer said that the model that you mentioned–the one with the zippers on the full length of the legs, was being replaced by ones that you have to climb into with rubber gaiter-like deals. I bought the zippered kind because I found that putting on the newer type was a colossal pain."
UPDATE:  Michael MacGregor, from the Products Department at Helmet House, Inc. (the distributor of Tourmaster products), has assured us that the zippered legs will continue to be a feature of the Tourmaster Cortech pants. Michael wrote "…I wanted to assure you, and your site visitors that the Cortech Pant will continue to have the side zipper system for easy entry.
The confusion on this issue could stem from our release of the Cortech GX and GX Air pant / jacket line. The GX garments are additional products (not replacements) that have a performance fit similar to a leather road racing suit, the side entry zipper system can not and should not apply to this style of pant."  Thanks for clearing this up, Michael!
---
From "C.F.M.":  "I got a pair of the Tourmaster Cortech pants and I love them – they will let a little water in the crotch/fly area but only after riding all day in the rain. They survived a 40 mph lowside with barely a scratch ( jacket too ).
I bought Tourmaster on the same merits as you described protection/features AND value! The pant I can wear year round as in summer I just wear riding shorts underneath. You can layer and stay toasty warm even riding in temps as low as 35F.
Compared side by side to the Aerostich the Cortech material is right there with a quality ( read protection from road rash ), feel and the armor ( supplied ) is more than adequate should it be needed ( it was and it worked).
I also use the Tourmaster Cortech pants and jacket for dual purpose riding in the winter  – they work that well. I've had mine for 2 years now and they still look great.
However I do treat them with "campdry" waterproofing after each washing. I highly recommend them to anyone as IMO you can't get better even for more money."
---
From "RM":  "…The pants fit reasonably well but the only way to get wetter in a rainstorm is to ride in a pair of jeans. Careful closure of all seams and double-checking the Velcro flaps yields a thorough soaking of your pant legs and crotch in pretty short order. It is simply unacceptable for a product to be this misleading.
They clearly say "waterproof" and they are anything but. I leave them lying on my bike at every stop in the hope that someone will steal them. So far, they have not. Maybe the thieves know what a lousy garment they are."
---
From "Steve":  "Pro's – Comfortable Easy to get on and off; front pockets; great hip, knee protection. Con's – Not "Waterproof". Although these pants are advertised as "waterproof", they are not! (take my word for it). The Tourmaster pants leak in the (rear), Bigtime!
I've had my new $200.00 Tourmaster pants for about 3 weeks now. After wearing the pants on a 30 min. ride in the rain, I notice a wet feeling were there shouldn't have been. Yep, right in the (rear)!  After my ride, I checked out where the water got in. Right at the seams in the (rear) area.
No recommendation for wearing these pants in weather for me. In all fairness, outside the leaking issue, these are comfortable, protective pants (with good night illumination stripes)."
---
From "L.N.":  "Purchased pants to go with Cortex II 3/4 Jacket that I really like. The pants are closed at the top and require a bit of uncomfortable maneuvering to get on an off, even though the legs are zippered – which is a pain – but not fatal.
The NEW stretch material on the back of the knee DOES NOT STOP THE COLD AIR ( in spite of what the literature says) and there is a real cold spot at that point. Feels like there is a hole in the pants. For some reason the left leg is worse than the right. I assume that if it does not stop the cold air – it will not stop the rain."
---
From "N.M.":  "On 2 day long rides in the rain, the TourMaster Cortech pants leaked through the seams in the butt and thoroughly soaked my jeans. It seems that if you sit in a wide saddle, as my GL1800 Goldwing is, the 'puddled' water will seep into the pants, because the seams are not seam sealed. Color me very disappointed and very wet!  My riding buddy was wearing a brand that was seam sealed and he did not get wet. I did get a full refund from my local dealer."
---
From "P.W.":  "I purchased the Tourmaster Cortech Pants two seasons ago. I've ridden in some rain, but not downpours. The pants seemed to work well in cooler weather and a small amount of water did reach my hind-end eventually. They are easy to get on/off. I'm now looking for a textile jacket.
The Tourmaster Cortech 3/4 jacket may be the choice. As I've read your responses from the reviews and remembering the fact that the pants weren't 100% waterproof, as claimed by Tourmaster, I'll research a bit further before making a purchase."
Thanks everyone for writing!  I'm a "fair weather"  and short-distance rider, and in the couple of years that I've owned them, I really haven't used my Cortech pants in anything other than occasional sprinkles. I still think the pants are great for all-around use, but it looks like it you're into some serious touring, you may want to consider the implications of these comments.
To be honest, I haven't found any textile coats or pants that are waterproof, despite the marketing hype by the manufacturers. I carry a truly waterproof rainsuit just in case I do get caught out in a downpour, which I put over leathers or textiles if/when the skies open up.