Review Summary
Racer's new for 2021 Hi-Per glove is a culmination of the best features from their current and past gloves. Safety and fit are what Racer's gloves are known for and the Hi-Per gloves are an excellent example of their efforts. The gloves feel broken-in right out of the package and include all the safety and protective features one expects in a race level glove.
Pros
Very good fit
Feels broken-in right out of the package
Excellent protection
Cons
Very minor build quality nitpicks
Racer USA Hi-Per Gloves Image Gallery
It has been a while since I last reviewed a pair of gloves from Racer with those being the Grip gloves back in 2015. At that time I found myself "luke-warm" about those gloves. They offered good protection for street riding but the fit and comfort wasn't convincing to me. If not for the company's trademarked tagline "THE BEST FITTING GLOVES YOU CAN BUY", I wouldn't have felt as let down by those gloves.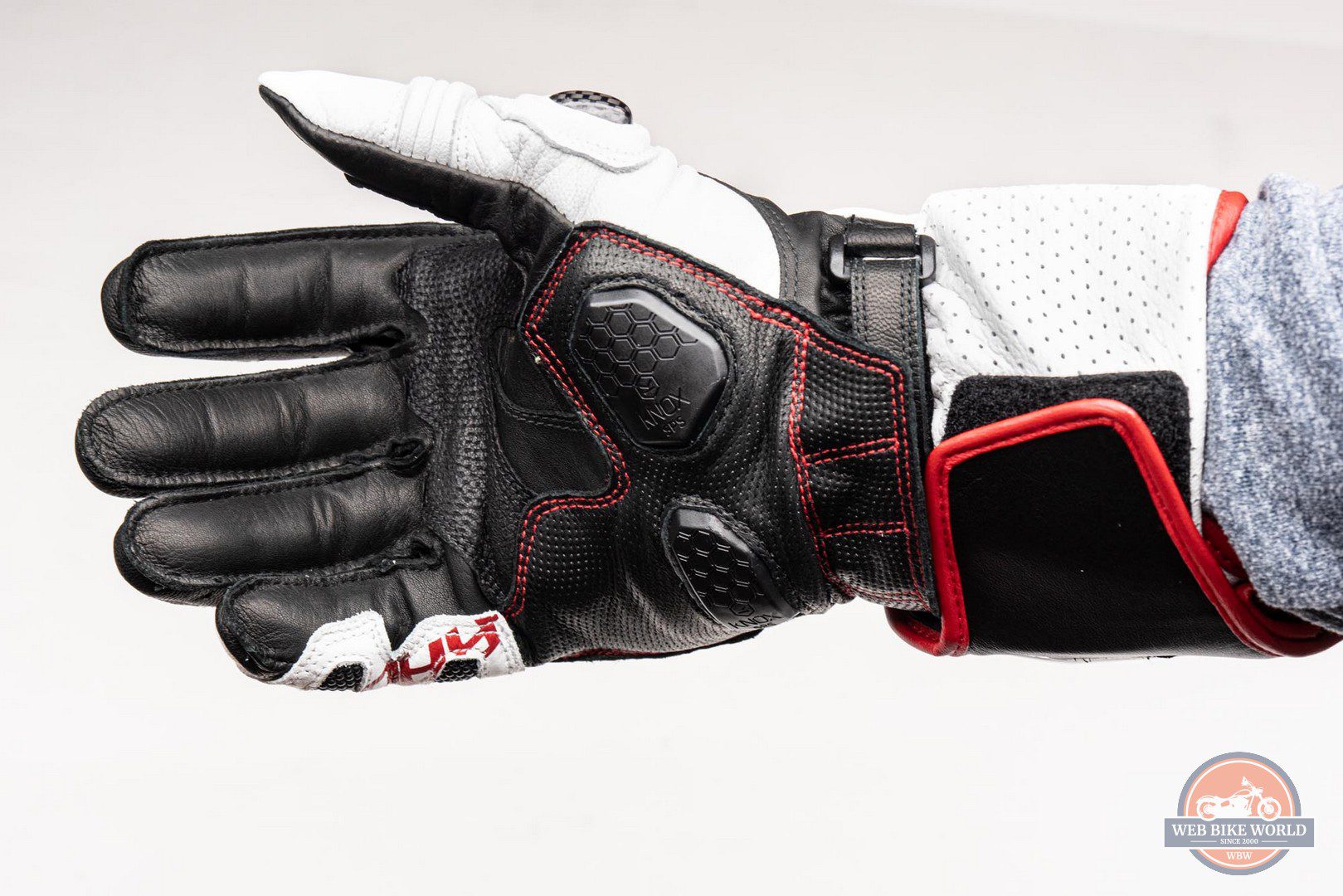 Of course that was six years ago and I was only sampling one of the many models of gloves that Racer offered at the time. Recently webBikeworld received some of Racer's latest for review including the new Pitlane and Multitop 2 gloves reviewed by my colleague Alan Buller. He found both gloves offered good protective features, but the star of the show was the comfort.
Recently, I was sent a pair of Racer's Hi-Per race-level gloves for review. Considering my previous experience with their gloves, I went into this review being a bit dubious of the fit. Sure, they had all the protection one expects in a glove designed for the track, but how was the comfort going to be?
In a minute we'll find out, but first…
Who is Racer Gloves USA?
If you're not familiar with Racer Gloves USA, they are the importer here in the USA for Racer Outdoor GmBH based out of Austria. Racer Austria offers a wide range of motorcycle apparel including gloves, jackets, boots and more and has been around since the early 1990's.
Racer Gloves USA is based in Bend, Oregon and imports select gloves from Racer Outdoor's collection. Here in the USA we get a selection of seventeen gloves for men and seven for women while Racer Outdoor has a vast lineup of ninety one men's and twenty seven women's gloves available in Europe.
Click the following links more info about Racer Gloves USA and Racer Outdoor
Now, on with the show!
The Racer Hi-Per Gloves
The Hi-Per gloves are a racing glove and they certainly look the part. Much like the Hi Racer, these are leather gloves with a large gauntlet and they are festooned with eleven hard plastic protectors including the SPS parts. There is a leather wrist strap on the underside of the wrist with its own cover that fastens with hook and loop and the gauntlet has a large leather flap with the same type of hook and loop to keep it closed
Racer offers the Hi-Per in three colorways; black, white, and a white/black/red, the latter of which is what I received. I'm glad they sent this particular one as it's the one I would have chosen as it offers good visibility and I believe is quite smart looking.

Branding is visible on the back of the gauntlet as well as the large carbon fiber protector also located on the gauntlet. There is also another Racer logo present on the little finger but it is interrupted by the small semi-rigid protectors there.  All in all the branding isn't too "loud" and overall the styling is right in line for a road racing glove.
For overall design, these get 5 out of 5 stars as they just get it right here.
Racer Hi Per Glove Construction
The majority of the shell of the Hi-Per glove is cowhide leather with the palm area and presumably on the underside of the fingers made from Kangaroo leather. The kangaroo leather is a real plus as it offers great feel at the controls and is very durable for its thickness compared to cowhide and other leathers. In addition to the kangaroo leather, the palm area is reinforced with pittards leather for extra abrasion resistance.
The leather on the back of the hand under the knuckle protector has some perforations and these are also present on much of the gauntlet. While some airflow can happen in these spaces, the gauntlet is typically sitting over a jacket sleeve so I'm not certain why Racer, and indeed many other manufacturers, use perforated leather in this portion of the glove. As often as I see this there must be some reason that I'm simply not aware of.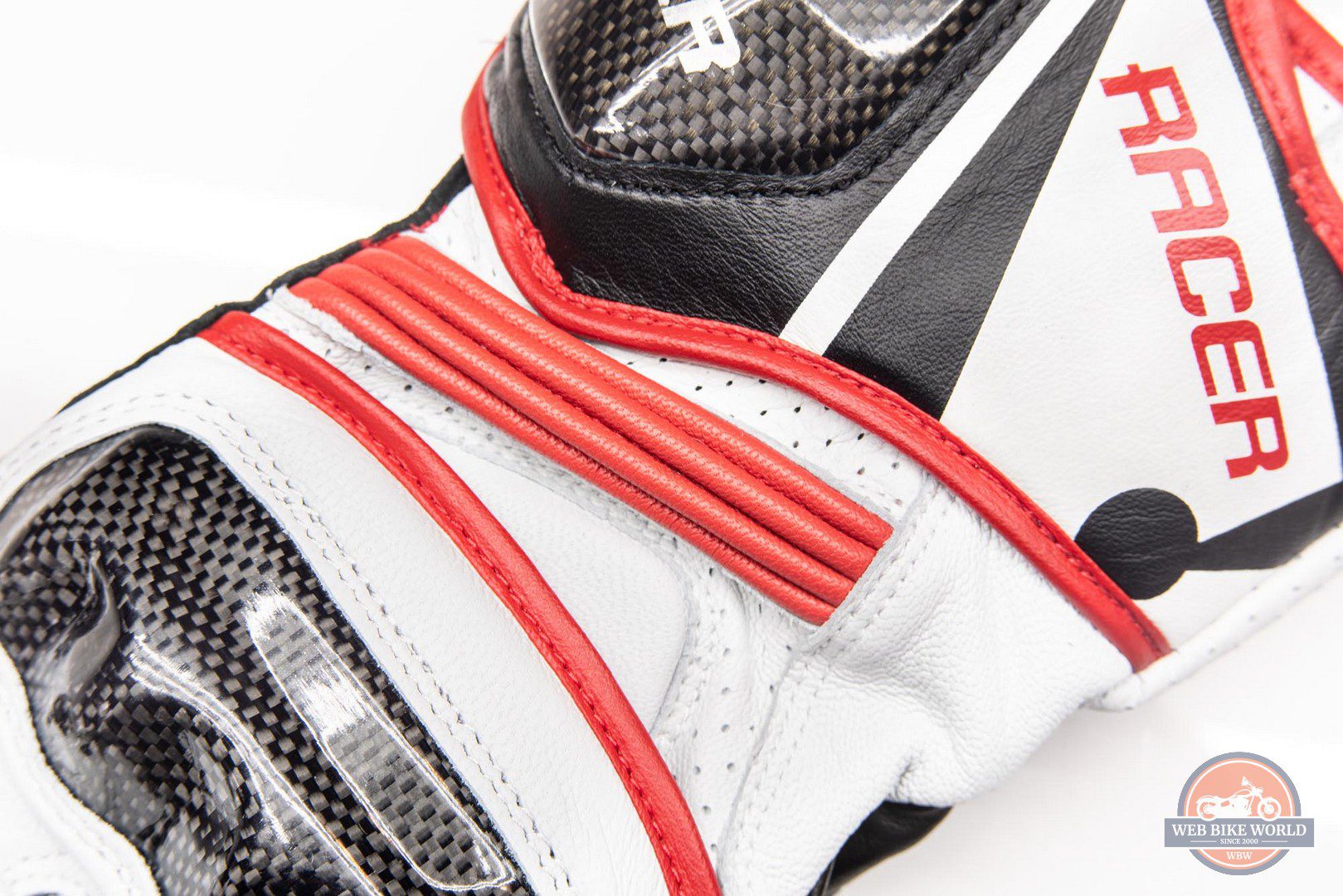 Accordion style sections of leather are located on the thumb as well the index and middle fingers. There is also a wide section of this over the back of the wrist all of which allow the glove to stretch where needed without bunching up when relaxed.
Liberal use of double-stitching is used throughout the construction of the gloves with almost all of it tight and neat. The only place I found some loose/untrimmed thread ends was along the edge of the bridge used between the ring and little fingers. This could be a little neater but I doubt it has any real bearing on the quality and durability of the Hi-Per gloves.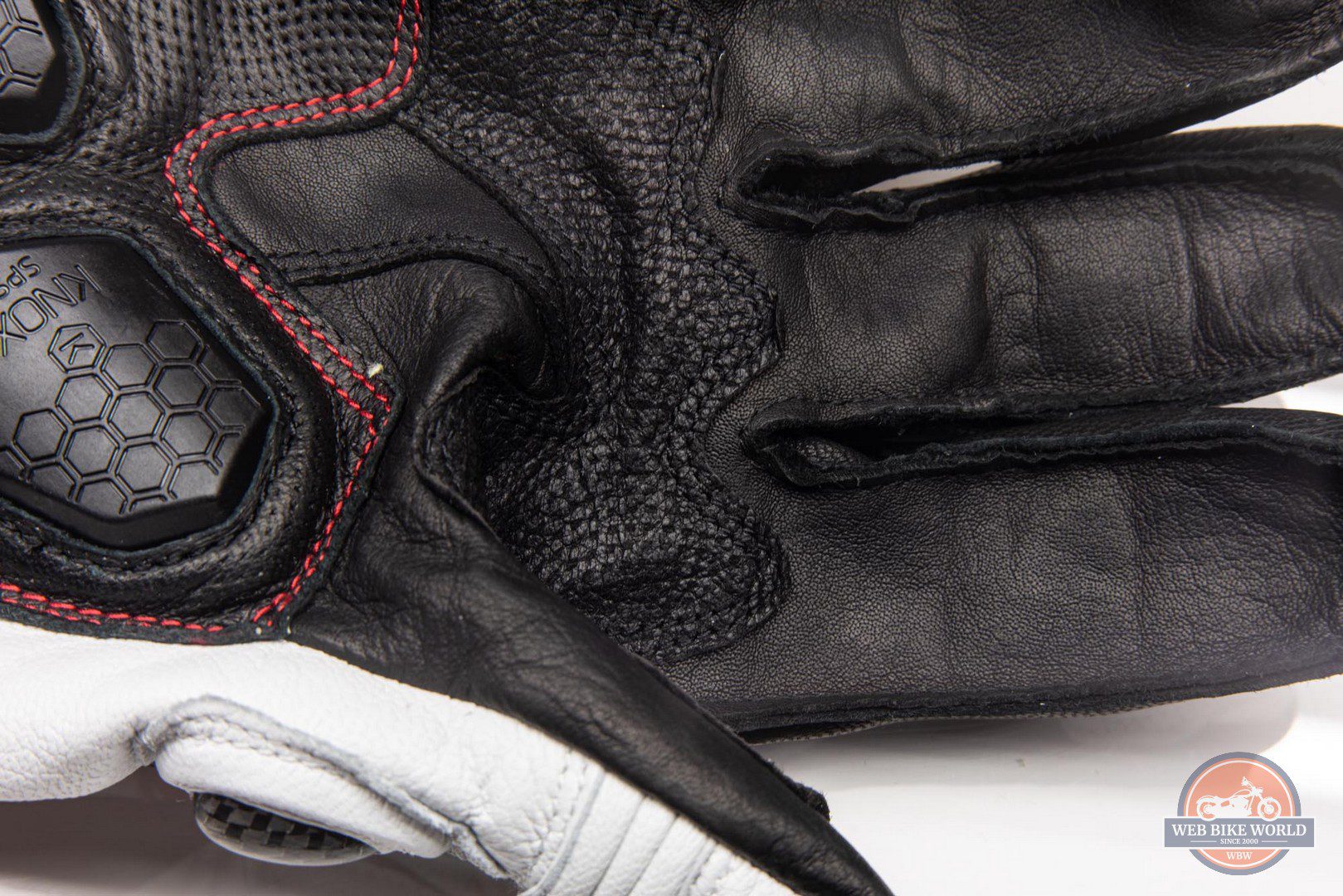 Interior Lining
Inside one will find polyester lining throughout most of the interior. On the inside of the gauntlet area there is a thin and very breathable fabric to allow air to flow through the perforations in the leather. Moving further inside, the black, breathable fabric changes over to a yellowish fabric that lines the back of the hand and seems to run up along the top sides of the fingers, as best as I can tell.
This yellowish fabric looks and feels very much like the Kevlar® fabric I've seen used in other motorcycle apparel but Racer makes no mention of Kevlar® in the literature or tags. I'm going to assume it is just a yellowish colored polyester for now but I have posed this question to Racer to confirm.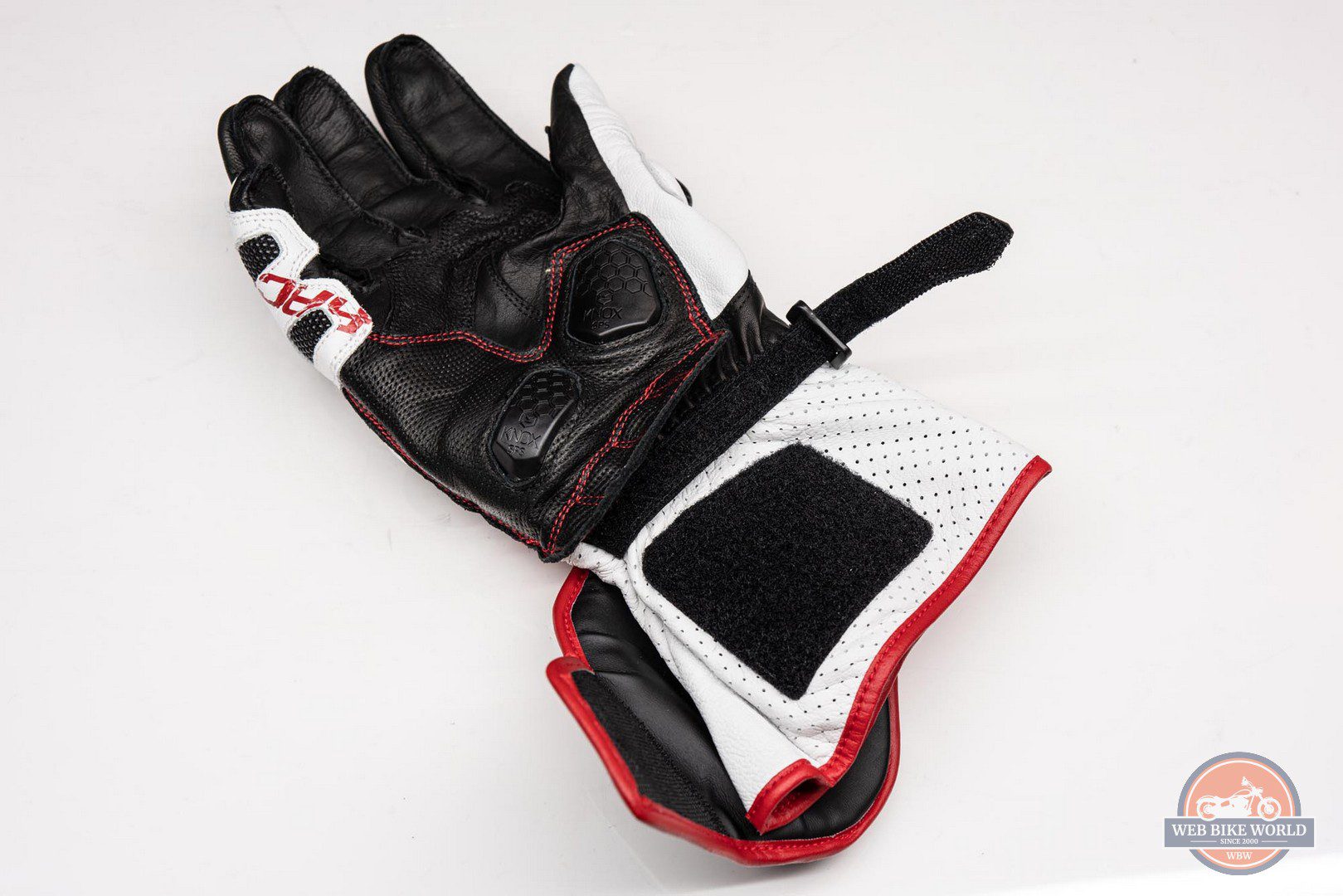 Along the palm and underside of the fingers the leather remains unlined. This typically makes for a very good feel and connection to the grips and controls and it definitely works here in the Hi-Per gloves.
Weight and Overall Quality
I found the first time I picked up the Hi-Per gloves that they seemed very light for a pair of racing gloves. This pair of size large weighed in at 10.7oz (304g) which is indeed pretty light. I don't often weigh gloves in reviews but I grabbed my Knox Nexos gloves for a quick comparison and found they tipped the scales at 11.6oz (329g).
The Nexos gloves are a sport riding glove and not designed for track/racing use so the fact the Hi-Per gloves weigh less does say something for what Racer has managed here. The Kangaroo leather no doubt helps reduce weight as does the absence of the BOA fastening system present on the Knox gloves. While not quite an apples to apples test, it does confirm these gloves are lightweight for their class.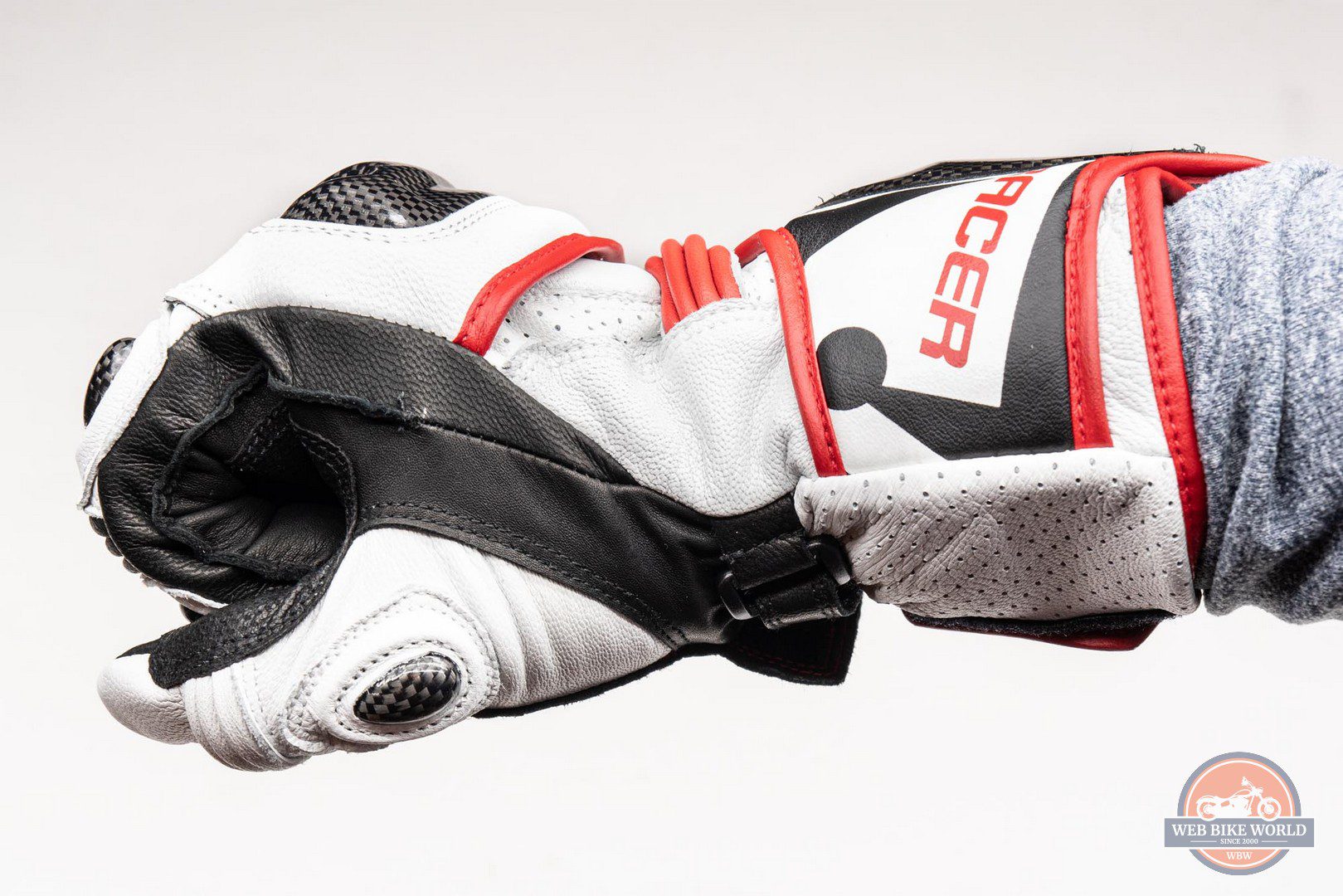 This lightweight feel can create the perception of cheap build quality but I don't get that feeling here. In fact, besides the little untrimmed bits of threads on the ring/little finger bridge, the overall construction quality, fit, and finish are all excellent. My only concern is that lighter materials typically will survive less crashes than thicker ones. I think one has to weigh the greater comfort and flexibility of these gloves versus the increased stiffness of a glove employing thicker leather.
For the quality of construction and the excellent way these gloves are put together, I'm giving them another 4.5 out of 5 stars.
It definitely feels and looks like a 5 star product and the only reason we are conservative in our 4.5 star rating is due to our lack of crash testing and timeframe to judge its long-term durability.
Racer Hi Per Glove Protective Features
Designed for the track, the Hi-Per gloves are loaded up with all the usual protective features one would expect. Starting at the full-sized gauntlet there is a large carbon fiber protector over the wrist bones. Underneath there is a generous amount of foam padding that extends around the perimeter of the carbon fiber. I appreciate the extra foam here as carbon fiber can shatter if hit hard enough resulting in some sharp shards. That extra foam should be a good barrier between this and the skin just in case it is hit that hard.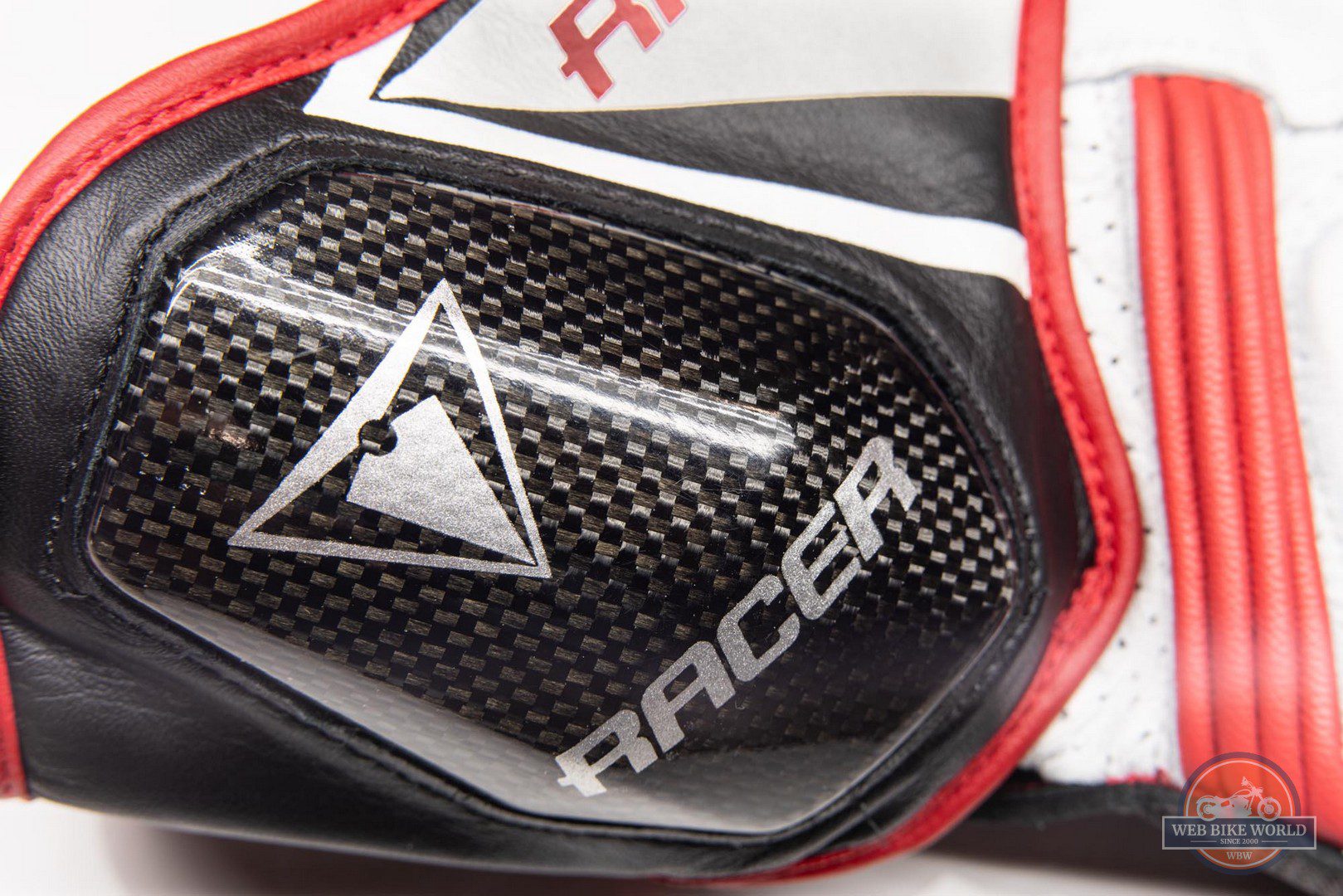 I've brought up the fact before that carbon fiber can shatter under a really strong impact but I should make it clear that this is a very rare occurrence. Also, the protectors in use here do have a reasonable amount of flex making it even that much less likely this would occur.
Moving up the back of the hand we find another piece of shaped carbon fiber protecting the knuckles using a floating design. This prevents the top of the glove from bunching up when going from an open hand to making a fist. As with the gauntlet protector, there is foam padding underneath the "hard" protector.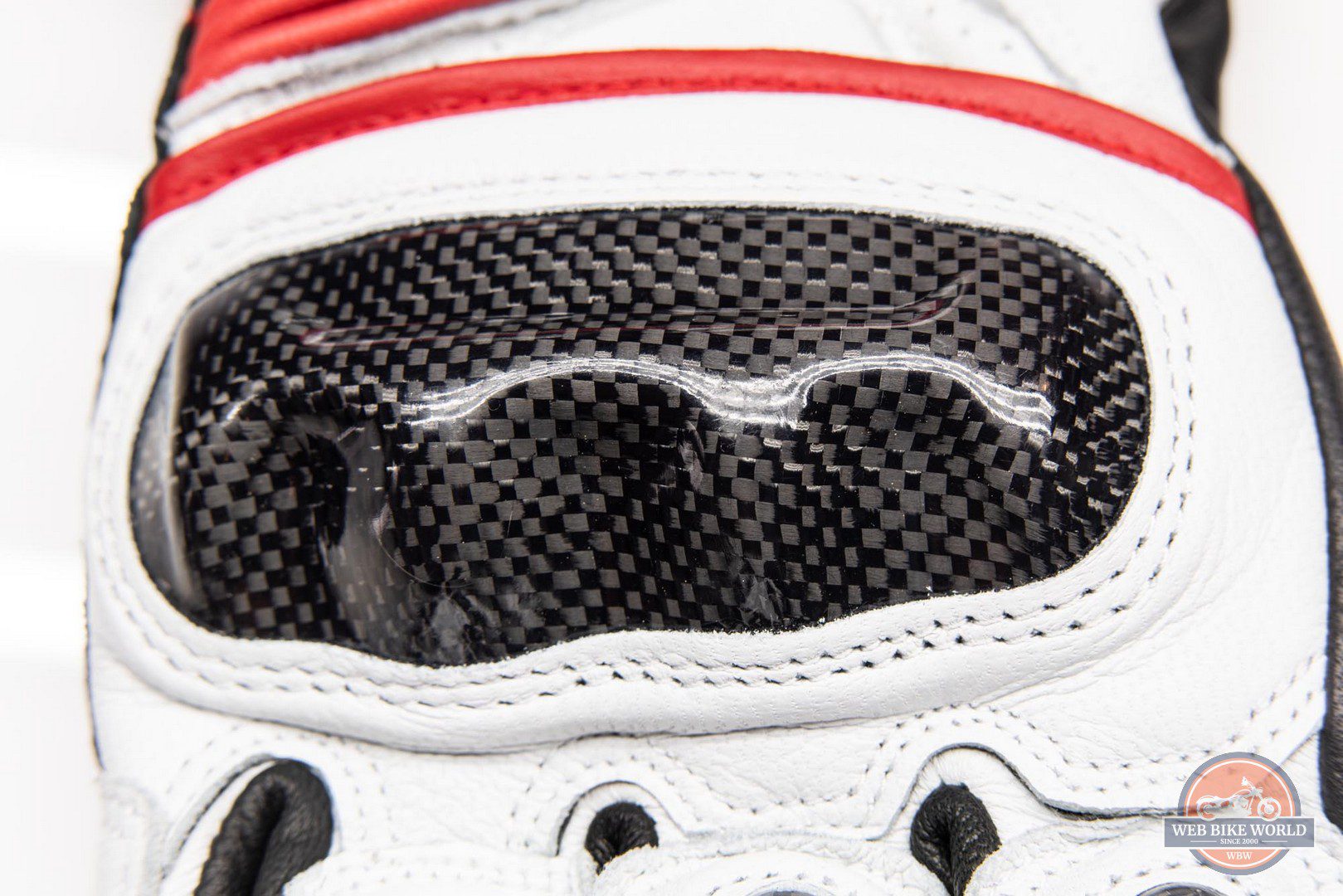 The largest three fingers each have two carbon fiber "buttons" attached with an additional layer of leather (with foam backing) while the thumb gets by with just one of these. The little finger also gets some durable protectors but they are not carbon fiber. They have the appearance of Superfabric® as they are composed of hard, little beads in a flexible material. Racer doesn't identify the material but it does look and feel the same.
The palm area gets an extra layer of strategically placed Pittards® leather pieces for extra abrasion resistance along with one of my favorite protective features, palm sliders. The sliders in question here are part of the Knox SPS or Scaphoid Protection System system.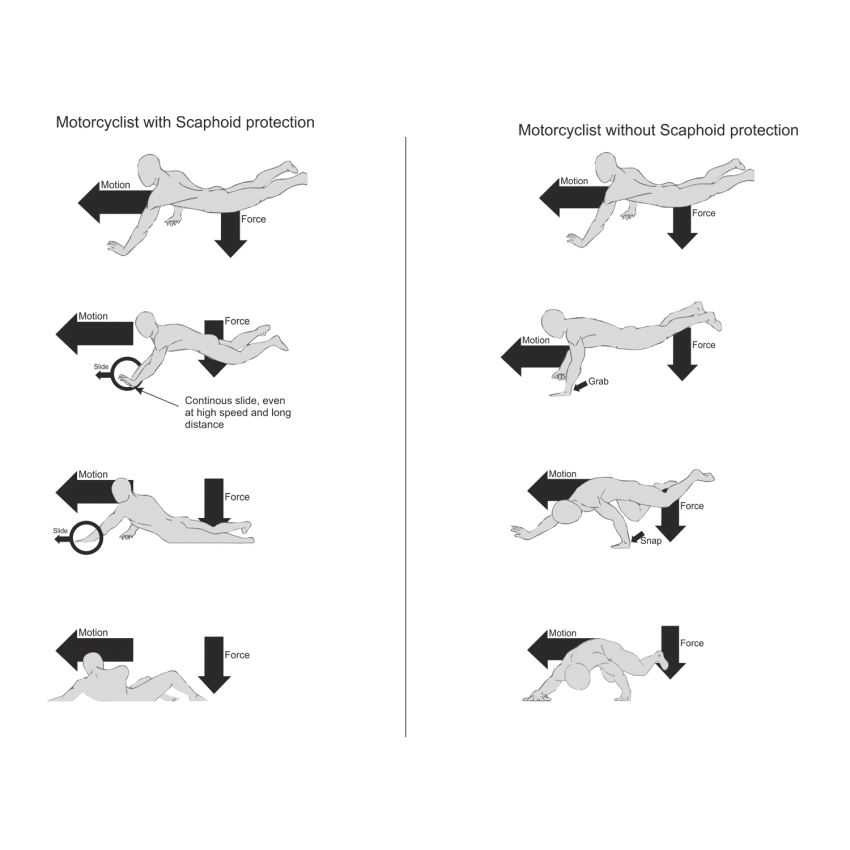 These pieces are designed to let the palm slide on the ground rather than "catch" the road surface and transfer the directional energy into the wrist. This can reduce / prevent serious injury to the bones of the wrist.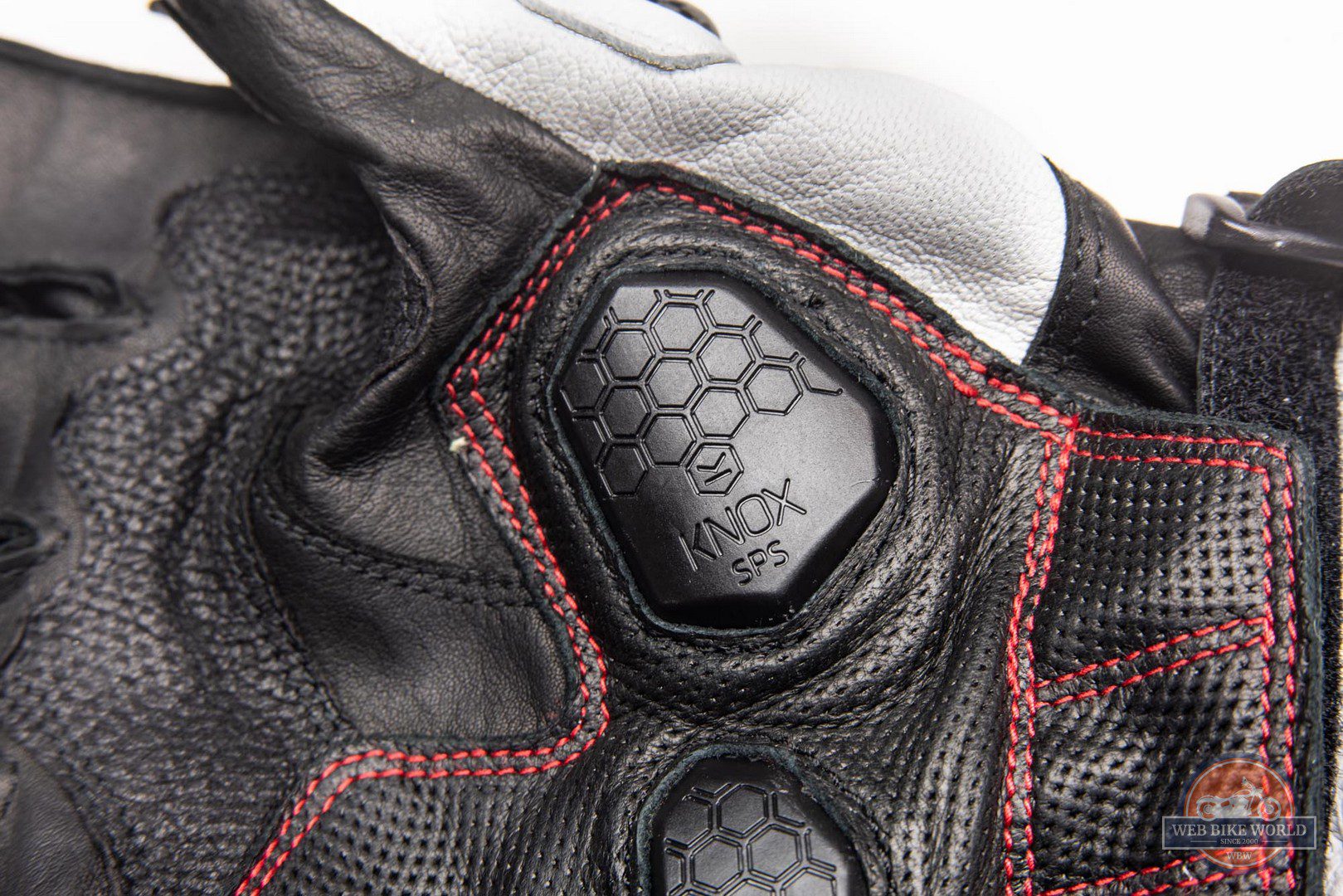 Another safety feature is the "bridge" between the ring and little finger. This is something seen on a lot of race designed gloves and it keeps the little finger from getting "rolled" and hyper-extended during a crash. The bridge itself is a leather and elastic accordion stretch panel which allows for freedom of movement for the little finger while preventing it from moving too far out of an acceptable range.
Finally, the Hi-Per gloves are CE rated EN 13594-2015 level 1 so while that is an older spec, they are still impressive in that they reach that level while remaining so light and comfortable.
Protection is getting yet another high rating here as they tick every box one would want to see in a race/track glove and at the same time they look and feel good doing it.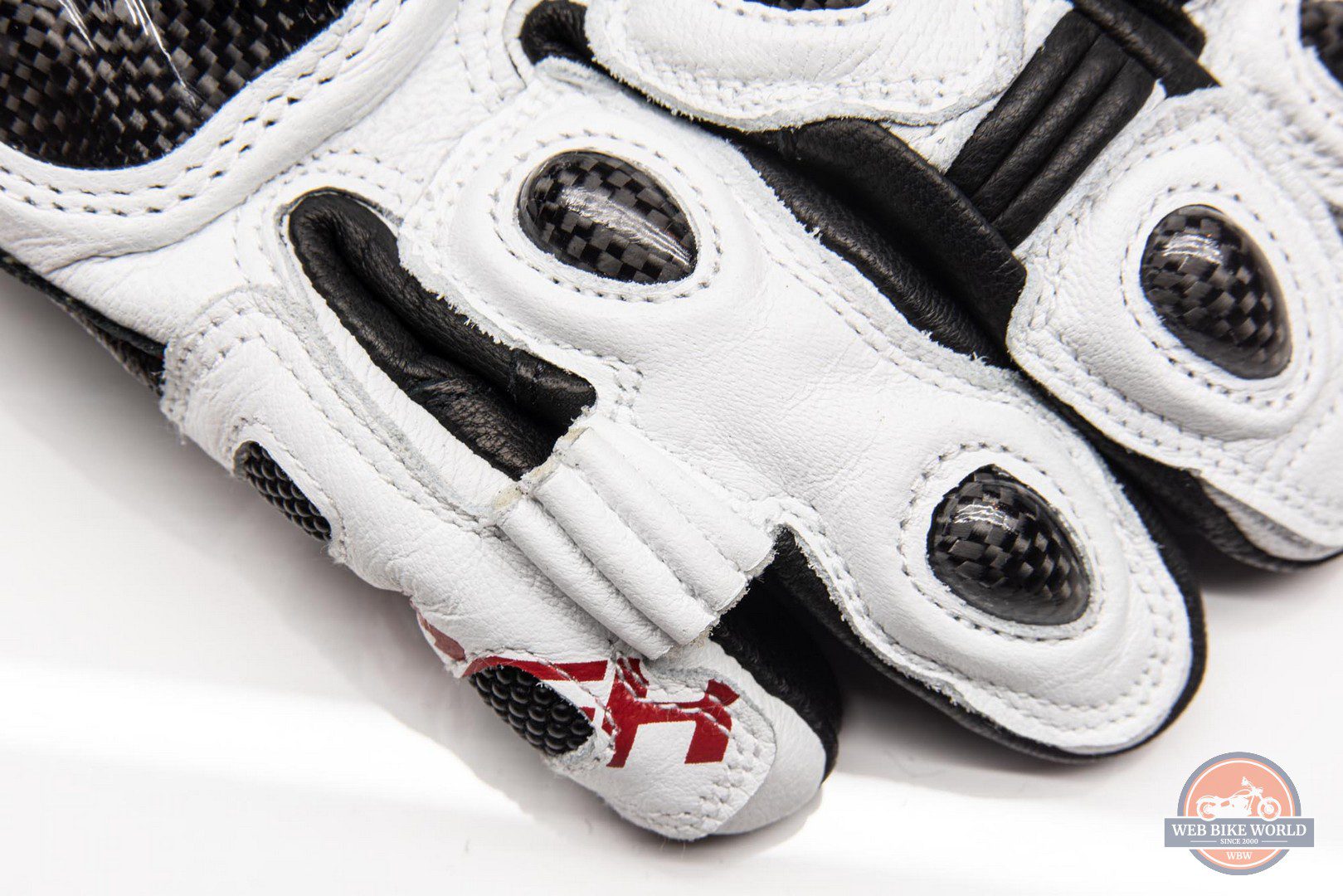 Racer Hi Per Glove Fit, Comfort, and Ventilation
I was interested to see how the Hi-Per gloves would fare when it got to the fit and comfort portion of the review and unlike my previous experience I have nothing but praise. The size large fit very well and exactly as expected based on their sizing chart. These size large gloves  are equivalent to a size 9 and this is reflected on the inside tag.
Unlike some other race designed gloves I've tested, the Hi-Per gloves don't require a strong pull to don them. Getting them on and off is relatively easy and once the wrist strap is fastened they aren't coming off. This is especially helpful on hot days where some leather gloves can be difficult to put on or remove once sweat is present.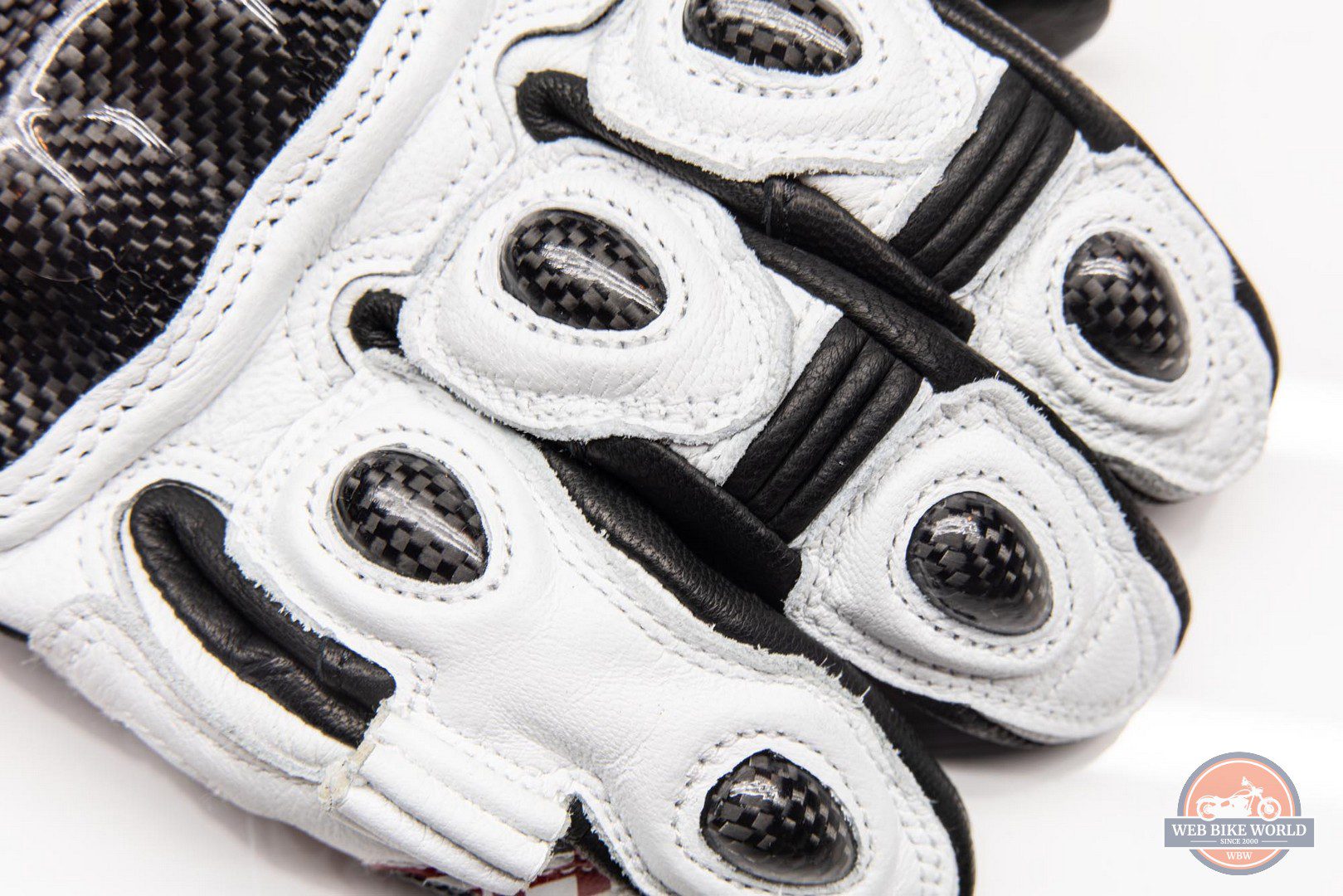 Comfort
Once they are on they have a very good feel and are very flexible. Break-in time is quite literally none. They feel very soft right out of the package and feel like one has been wearing them for months. They can easily be bunched up and stored in a tank bag or similar small space when needed.
I recently spent about three hours wearing the Hi-Per gloves on a ride and found that I didn't give them much thought. There is a little pressure at the end of the fingers where the padding under the hard protector can be felt but it isn't tight or uncomfortable. The gloves also allow a good range of movement for the thumb which is great. This is something I've encountered with some other gloves and found it annoying.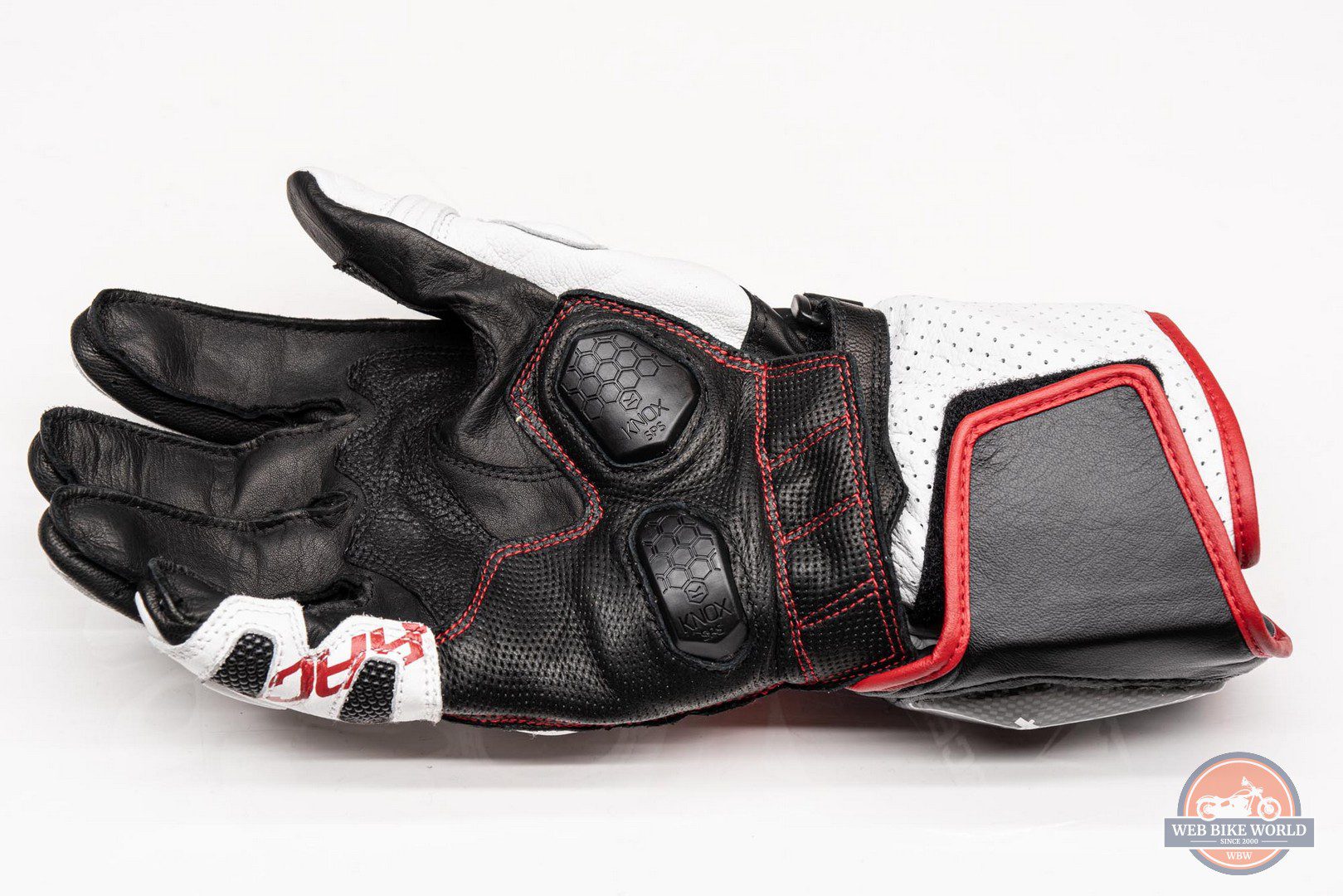 Ventilation
Ventilation is what I would characterize as adequate for the design. There are a few small perforations on the sides of the finger boxes which will flow some air when one splays out their fingers. It's enough for warmer days and the gloves aren't stifling in any way.
However, these are not specifically designed for hot weather so when the temperatures really climb they might be too much for some riders. I've ridden with them in temperatures reaching the low 90's (F) and didn't really find them uncomfortable.  So these aren't mesh or highly vented gloves for those who need them in hotter climates but they do well in most cases.
Once again the Hi-Per gloves are coming up 5 stars with excellent fit and they are more flexible and comfortable than most gloves in this class than would be expected. 5 out of 5 stars.
Conclusion
To say I'm impressed with the Hi-Per gloves is understating it. They are really an excellent pair of gloves for the track but I feel they are equally useful for sport, sport-touring, and even commuting duties. They might look like overkill for use on the daily ride to work but they don't feel like it during the ride.
The track level protection doesn't do much, if anything, to take away from comfort of these gloves for long rides. They are easy to don and doff and their flexibility makes them easy to stuff into smaller spaces like tankbags and similar without much trouble at all.
Racer has a real winner on their hands (see what I did there?) with the Hi-Per gloves. At $259.00 they are in "very good" value territory when compared to many other race / track gloves. Yes there are plenty of street/sport gauntlet gloves that can be had for less but I think one is getting what they pay for here and then some.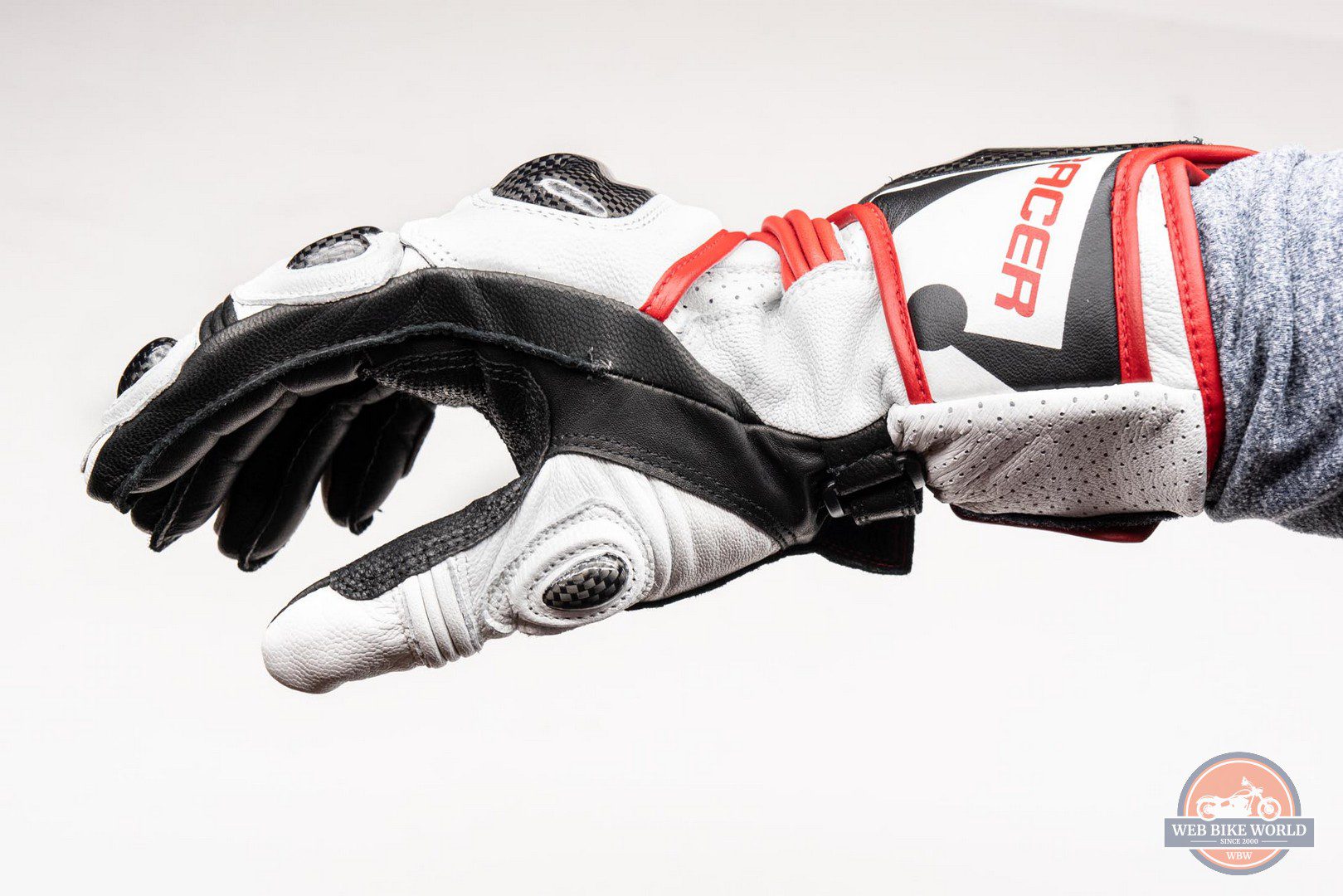 I feel that they are that good that I'm giving what might be my first (mostly) five star review in a long time, if ever. If your mitts coincide well with their sizing and you want something that protects said mitts well and want all day comfort, this might be your glove.
Pros
Very good fit
Feels broken-in right out of the package
Excellent protection
Cons
Very minor build quality nitpicks
Specs
Manufacturer: Racer
Price (When Tested): $259.99 (USD) / £179.90 (Euro)
Made In: China
Alternative models & colors: Black | White on Black | Black/White/Red (tested)
Sizes: S to 3XL
Review Date: September, 2021
Important Links