SW-Motech Pro GS Tank Bag Review Summary
Review Summary
The SW-MOTECH PRO Tank Ring is new for 2021 as is the PRO series of Tank Bags that only work with the PRO tank ring. The PRO GS Tank Bag is the largest in this new series and it is one well-designed and superbly built functional piece of kit that clearly represents a high-point in the history and (continuing) evolution of SW-MOTECH luggage. You want a big solid uniquely shaped uncompromising tank bag adjustable fore/aft? You have it in the PRO GS Tank Bag. It is one of the best hard-core dedicated use luggage pieces seen for motorcyclists especially those who need lots of usable storage and are (likely) going the long way around. The PRO tank ring components are low profile and extremely strong, while the FIDLOCK™ magnetic solution along with the spring-loaded release strap provides one-handed guided mounting and release of the tank bag from the tank ring; it's all very slick. The interior is huge, with the large deep well created by the bag's unique form adding a lot of additional soft piece storage. Large external zippered side pockets and top-of-lid MOLLE insert adds more capacity and versatility. There is nothing weak or wimpy about the new PRO GS Tank Bag mounted securely on the new PRO Tank Ring and it is specifically well suited for ADV-oriented motorcycles like the R1250GS or F850GSA machines. It is a significant investment, but this large solid very functional tank bag is well suited to provide lots of functionality over the long term.
Build Materials & Quality
Pros
New low profile and (very) strong PRO Tank Ring
FIDLOCK™ magnetic guide/engagement feature
PRO Tank Ring provides stable and secure mounting for PRO series tank-ring fitted pieces
Unique shaping provides excellent accommodation for high-rise
high profile tanks
Base and top of lid features EVA material for strength and durability
Heavy duty materials used, excellent cut, layout and build
Water resistant interior coating and external rain cover
16-20L +storage capacity with main compartment including deep back area
More storage provided with zippered rear side pockets
Lightweight smooth-running zippers / Two-way main zipper for quick side or back access
Expandable upper section
MOLLE insert on top of lid
Outstanding tank bag for the roads to be travelled - great return for the investment.
Cons
Some slight movement on tank ring with this large tank bag (but far less than observed with other variants)
PRO GS tank bag may be a bit large (height & width) for some motorcycles
Caution needed regarding sensitive electronics vis-à-vis small magnets used on tank ring components
PRO Tank Bags should be bundled with a PRO Tank Ring
A significant investment.
SW-Motech Pro GS Tank Bag Image Gallery
Introduction
As long time advocate of and for tank bags, well before 'tank bags' were typically available or marketed as such (yes, that long ago) some form of small usable container, preferably soft or semi-rigid that could be securely and even safely strapped to or around the tank was used; some of my earlier experiments now have me shaking my head…
Given the history identified above I have also used literally every form of defined tank bag over the years – hard, semi-rigid, soft-sided; strap, magnetic or suction-cup mounted; waterproof (or not); and, durable (or not).
Thankfully, once having been an avid cyclist, some of the best (durable and waterproof) cycle luggage available from cycling shops and outdoor outfitters was adapted for moto-use. And large amounts of money for Gore-Tex cycle gear were also expended; all before it became a much-touted and much-promoted product for the motorcycling market segment.
I digress…in coming back to tank bags, there are indeed lots of them residing in the home fleet garage – fitted for use, on the shelf in standby mode or as show-n-tell pieces for interested visitors or packed away. But none are forgotten. And in getting a new tank bag, the related folder in the memory always gets opened in preparation for the inevitable comparison.
Admittedly I have not always been the biggest fan of large formed semi-rigid tank bags, no matter how they are mounted nor their shape or size. A preference for smaller collapsible or dry-bag style solutions, especially those quickly removed and usable as day or overnight luggage pieces has prevailed, particularly for ADV-related or off-road travel.
But the passage of time, continued evolution of motorcycles, this rider and riding preferences has brought about a less personal resistance to using a well-formed with shape tank bag, like the expandable semi-rigid SHAD SB-23 products that were used on home fleet motorcycles for years as they used the preferred harness-based or strap-on solutions for mounting.
Pieces like the favoured Kriega Universal Mount Tank Pad with a 5 or 10L Kriega Drypackattached, the strap-mounted semi-rigid Wolfman Blackhawk Tank Bag (with or without side-wall stiffeners) or the Touratech Waterproof Moto Bag, all of which are or can be low profile pieces typically see more use than anything else…
However, since late January, a persuasive influence has been at work in the form of the new SW-MOTECH PRO GS Tank Bag and the PRO Tank Ring combination provided for this review by SW-MOTECH US.
The PRO Tank Ring is a new 2021 product listing and while having seen lots of tank ring fitted tank bags in use and in having installed a few of the SW-MOTECH EVO quick release kits for fellow riders this is my first direct experience with this approach to mounting a hard or semi-rigid tank bag.
The product is new, it's a new riding season and, it's spring; c'mon along for the ride as we use and review the SW-MOTECH PRO Tank Ring and PRO GS Tank Bag combination. But first, a story.
The SW Motech Story
For those who may be new to the motorcycling lifestyle, which among other things, typically involves spending money – first for the motorcycle or motorcycles, then for the essential and critical PPE and related gear and then, other 'stuff' – often identified (and justified) as accessories or perhaps bling.
And when it comes to 'gear' and 'accessories', the name SW-Motech is likely to be identified for rightly so – for many motorcyclists around the world it is well known and for good reason.
With an early start in 1994 involving the design and construction of some metal luggage pieces for personal adventure touring use, the company was formally founded in 1999 in an old barn in Bracht (Germany) by three motorcycling enthusiasts, with the goal of producing premium (metal) motorcycle accessories.
In 2000, the commercial launch of the first removable carrier for side-case luggage came about, using an early form of the Quick-Lock mounting solution. The original product listing grew quickly from three to 25 products, all produced in-house. In 2001 a separate production plant opened in Vojkovice (Czech Republic).
Relatedly, in 2003, BAGS CONNECTION is founded in Frankenberg – its specialty is soft luggage and in 2004 SW-MOTECH moves into its current head office in Rauschenberg (Germany). A year later in 2005, the patented QUICK-LOCK tank ring is introduced as a revolutionary new product.
During this timeframe, contacts with OEM partners come to fruition, with the production of the first tank bags, tail bags and backpacks for Suzuki. The future is being defined and a year later in 2006, SW-MOTECH and BAGS-CONNECTION began sharing a head office and production.
The first common and now familiar logo reflecting both companies came into use in 2011 with the formal merger of the two companies as SW-MOTECH GmbH &Coi. KG occurring in 2014.
Since its inception in 1999, SW-MOTECH has seen constant growth and expansion of their product lines, expansion or addition of production facilities and the founding of new branches; the most recent being the US branch, SW-MOTECH US, in Portland Oregon. The company has changed, but the passion for motorcycling has not.
With the establishment of SW-MOTECH US out west and the continuing presence of Twisted Throttle LLC, an SW-MOTECH partner since 2002, motorcyclists in the US (and elsewhere) have more shopping choice regarding SW-MOTECH and related brand products.
The SW-Motech PRO Tank Ring and PRO GS Tank Bag
Introduced late last year, the new-for-2021 PRO series tank bags are primarily designed for use with the also new PRO Tank Ring that has motorcycle model specific variants, although some of the PRO tank bags utilize other mounting solutions so that they can be used on many more motorcycles. There is even a dedicated PRO Tank Bag site.
Based on previous variants like the EVO and related products, the PRO line with the exclusive PRO Tank Ring is easier to use thanks to the magnetic guide system engineered by FIDLOCK. There are (currently) eight PRO tank bags listed for use with the PRO Tank Ring – the GS, Trial, Sport, City, Engage, Yukon WP, Daypack and Micro products.
For this review, the SW-Motech PRO GS Tank Bag and a BMW compatible PRO Tank Ring were provided by SW-Motech US (thanks Sarah). Unpacking the tank bag (no video, sorry) housed in its spiffy outer packing bag from the shipping box was the first visual clue as to the size of this largest of the series tank bag; can we say, "able to carry a hockey-sock full of stuff"!
First Impressions
And it is indeed the top-of-the-line item in the new PRO tank bag series – both visually and functionally, with a nominal 16 litres of storage in the main compartment and the ability to be expanded up to 20 litres+ using the adjustable zipper.
As well, two individually zippered semi-rigid side pockets located externally on the back of each side wall and thus close to the rider for easy access provide another 2 to 4L (estimated) of storage – the included separate large rain cover fits into one and a lightweight two-piece rain suit can be rolled and carried in the other.
The PRO GS Tank Bag is not (fully) waterproof by itself but does feature a water-resistant interior coating that works well (proven) when dealing with shorter term wet stuff and the previously mentioned elastic-draw adjustable rain cover provides encompassing protection (moisture and UV related) when needed for the more intense prolonged wet weather.
Likewise, the two-way split main zipper isn't self-sealing or waterproof, but it is very well-stitched and extremely smooth in operation. Getting into the main compartment is a one-handed effort thanks to its easy pull operation – you can open one side and slip something in and out or open the lid to the left, right or both ways for full access – preferably when stopped.
Keeping the new PRO series tank bags solidly in place on the motorcycle is the job of the new PRO Series tank rink, which only works with specific PRO series tank bags as listed earlier. As also identified earlier this tank ring features a new design using a magnetic guide system engineered by FIDLOCK™; the system works really (really) well.
With the brand or motorcycle model specific PRO Tank Ring installed (there is a PRO Tank Ring for BMW/KTM/Ducati and one specific for BMW models) installed, bringing the underside of any of the PRO bags with the PRO tank ring component within two to three inches of the tank ring has the magnetic guidance system and the spring-loaded locking system doing the rest.
Features & Specifications (Compilation)
Specifically shaped for steeply sloped ADV/GS style fuel tanks
Expandable capacity from 16 to 20 litres (expansion zipper)
Two outer side zippered pockets
Made from durable highly UV-resistant 1680D ballistic nylon
Top and bottom made of laminated and dimensionally stable EVA material
Lid of tank bag features MOLLE attachment insert made of Hypalon material
Reflective inserts for visibility
Interior features water resistant coating
Stretch-top mesh compartments on each side of the interior
Separate large heavy duty rain cover included
Heavy duty tote handle
Pass-throughs on front and rear walls
Tank bag can be used with a cable lock or other ant-theft protection
PRO Tank Ring (specific fitment component) provides secure fitment and low profile**
PRO Tank Rings made of fibreglass-reinforced plastic for strength and non-conductivity
Pre-Assembled guide rail base and adjustable plate assembly on tankbag for fore/aft adjustment
FIDLOCK™ Magnetic guides (tank bag&tank ring) facilitate alignment mounting
Single handed spring-loaded quick-disconnect for removal of PRO tank bag in one motion
Dimensions: 42.0 x 34.0 x 30.0cm or 16.5 x 13.4 x 11.8in
Product Weight: 1.5kg or 3.4lbs
**The SW-Motech PRO series tank bags are not compatible with EVO or ION-series tank rings.
PRO GS Tank Bag Exterior
There is no denying the intended platform for the PRO GS tank bag – motorcycles with steep sloping and long or short front & back sections, so typical on ADV (on or off-road) machines; laying the tank bag out on the F 850 GS or R 1250 GS reveals just how well suite and how well fitting the PRO GS tank bag is for these motorcycles – like a glove…
The PRO GS tank bag, like all the new PRO line products use durable materials and advanced proven design features. 1680D ballistic nylon is used for most of the tank bag providing a tough durable and easy to clean outer layer. The top of the lid is laminated EVA, as is the lower section or base of the tank bag, providing shape, strength, and durability.
All exterior and interior joins and seam lines are single or double stitched and precisely done; everything is smoothly laid out without excess gathering or bunching of material anywhere except at expansion points.
The lid uses a split two-way zipper providing great flexibility in securing the lid while providing quick access without having to open the lid completely. The main zipper, like those used on the large side pockets, is lighter weight than many found on other tank bags, but they are proving to be durable, and no matter whether if wet, dry, cold, or warm they run smoothly and easily.
Exterior left and right side pockets are nicely shaped to flow and complement the overall shape and lines of the PRO GS tank bag; and they are very functional as well. From shape and depth perspectives they likely provide another 3-4L each to the overall storage tally for the tank bag.
A lightweight two-piece (emergency) rain or wind suit is easily shared between the two pockets, although it's more likely that one of the emergency FA kits is housed in one pocket while the other hosts two space-aged emergency blankets, disposable face masks, skin sanitizer, etc. The large encompassing rain cover fits nicely into one of these pockets as well.
The front pass-through is overlaid to keep the undesirable things out while allowing the quick release strap to be fed through and any other connections – electrical, audio cable or perhaps even a drink tube, although the similarly shaped and protected back pass-through found along the bottom edge is better suited for the 'output' (rider-support) needs.
A MOLLE attachment insert is stitched into the top of the lid providing an easy means to securely attach a compatible map, tablet, or phone case. SW-Motech has MOLLE-based accessories for the tank bags including a Tablet Drybag (BC.TRS.00.151.30000,) and a Smart Phone Drybag (BC.TRS.00.152.30000).
Other pieces include an Anti-Theft protection component that has a security pin and luggage cable lock and is compatible with the PRO and EVO tank bags (PN TRT.00.640.20001; a generic tank bag shoulder strap (PN BC.ZUB.00.005.30000), and a replacement pull strap for the PRO top ring (PN BC.ZUB.00.127.30000).
PRO GS Tank Bag Interior
Given that a significant chunk of the base or floor is the raised housing for the bottom side adjustment base plate (attached from the inside with four screws), one realizes that the PRO GS tank bag does indeed have lots of capacity…as I have found out.
The interior is not plush, but it is comfortably appointed and totally functional. There are small stretch-top mesh pockets on each side wall, handy for holding the things needing to be found in a hurry (like other keys, pens, etc.), while vertical elastic straps add the ability to fold or roll other items and have them secured to the interior walls out of the way – neat.
Given the shaping of the PRO GS tank bag, the back interior well is deep and spacious and a super big plus in packing. Some lighter weight small tool bags, along with the air compressor kit can all be tucked down into this sturdy heavy wall area with little risk of contents moving around and minimal risk to the rider if some unexpected event occurs.
Other contents carried constantly are the emergency bags (larger FA/trauma kit) and these can sit as the top layer over the well, leaving most of the upper part of the interior open for use. For overnight or perhaps even warm weather weekending (when we can again), most of everything needed would fit into this tank bag.
Magnets & Sensitivities
As is the case for other luggage products that use magnetic-based guides or fasteners, anything electronically 'sensitive', particularly some phone, memory storage devices, etc., should NOT be stored in the main compartment, but rather in the net compartment on the underside of the lid.
And this is where the full length zippered net compartment on the underside of the lid comes into play. It is an excellent (and appropriate) place to store sensitive devices or other items needing some securing while maintaining quick access, with the strong EVA-topped lid providing shape, strength, and protection to everything packed in the main compartment.
PRO Tank Ring and PRO GS Tank Bag Installation
Installing the SW-Motech PRO Tank Ring Kit (BMW/KTM/Ducati specific model PN TRT.00.787.30600/B) and then prepping the PRO GS Tank Bag (BC.TRS.00.103.30000) does not take a lot of effort or much time.
The usual simple two-page double-sided Mounting Instructions in German and English are textually and visually simple while providing the technical information and basic diagrams and textual descriptions of the process. The steps and observations provided below are based on the F 850 GSA installation.
Tools & Material Used:
Medium thread-locking compound (not included)
T25 key or socket (not included)
4mm Allen key (included in kit)
Note – identification and installation of all components is based on both the OE hardware removed and the Tank Ring Kit pieces installed and oriented as if seated on the motorcycle.
PRO Tank Ring Installation
In identifying that the initial host motorcycle would be the 2020 BMW F 850 GS Adventure (Rallye Style), SW-MOTECH US sent along the Pro Tank Ring listed for BMW/KTM/Ducati models that use the standard six screw assembly for the fuel cell ring(there is a specific BMW Tank Ring PN now listed.
Included in the SW-Motech PRO Tank Ring kit is the dimensional Tank Ring with the Fidlock magnet layout, the flat Mounting Ring, sets of M5 x 40 and 35mm countersunk screws, two 9mm spacers, sets of M5 x 35/40/45mm socket head screws, two small black sleeve nuts and the two-page double-sided instructions.
PRO Tank Ring Installation Process with Notes:
OE hardware removal – remove four (of six) screws from the OE fuel filler ring that are positioned at the 1, 3, 9 and 11 o'clock positions – the remaining two OE screws at the (bottom) or 5 and 7 o'clock positions are not touched for this installation.
Kit hardware validation –the OE screws removed are M5 x 33mm screws (with 28mm of thread); and, based on length and thread insertion requirements the 40mm countersunk and 50mm socket head screws are used from the kit hardware selection for this moto.
Thread preparation – as identified in the instructions (and as is the norm) threads are treated to medium thread locking compound prior to use.
Layout overview – two rings are overlaid to form the mounting assembly. A thin Mounting Ring is laid out first, followed by the upper dimensional Tank Ring that has the embedded magnets. Note – although the two rings are overlaid there is a specific hardware installation sequence, detailed below and in the SW-MOTECH instructions.
Spacer Insertion – set the four 9mm (height) spacers into the recesses vacated with removal of the four OE screws. Note – for those motorcycles fitted with the 'Keyless Ride' feature, the front two screws also provide the pressure fitted electronic tank-release sensor – it should not (need) to be disturbed during installation of the tank ring components.
Mounting Ring (Bottom) – lay this thin ring in position over the four spacers, now insert and start the threads of the M5 x 40mm countersunk screws at the 3 and 9 o'clock positions and while keeping the ring aligned, tighten these two screws up fully. Note – this ring has two vertical pins that fit into guide sleeve holes on the Tank Ring piece for alignment& strength.
Tank Ring (Top) – lay this dimensional piece over the bottom tank ring and install the two M5 x 50mm socket head screws through both rings at the 1 and 11 o'clock positions – just thread them in so they are finger tight for now.
Guide Sleeves – take the two small black sleeve nuts (Allen head up) and thread them down onto the vertical guide pins (positioned in the upper ring cutouts at the 2:30 and 9:30 positions) – leave them finger tight for now.
Alignment and hardware tightening – make sure the bottom and upper rings pieces are aligned and that there is no stress on any of the hardware, now tighten up the front and side screws in a diagonal manner using the (recommended) values identified in the instructions (listed by grade hardware)
QC – for key-based fuel filler cap: check that the cap opens freely and does not conflict with any part of the newly installed tank-ring assembly; and for keyless-ride systems, turn the ignition On and then Off (as needed) to reset and activate the release mechanism of the fuel filler cap to make sure it is working and without any conflicts with the tank ring.
Accessory Note – given size and dimension of the SW-MOTECH PRO Tank Ring assembly, it may need to be removed in whole or in part, in order, to remove any of the OE fuel cell filler ring and/or any OE cover panels, etc.
PRO GS Tank Bag Installation
Included in the SW-Motech PRO GS kit is the PRO GS Tank Bag with integrated bottom mounted adjustment base and the PRO Tank Bag Upper ring or adjustment plate – loosely pre-fitted to the adjustment base. The rain cover, mounting instructions and small bag of mounting hardware, along with the Pull & Release strap should be packed inside the tank bag itself.
Upper Ring (removable) – a ring in name only, the piece is really an adjustment plate in the form of housing with two-fold purposing – it houses the lock/release mechanism and has a ridged top that engages with the ridged bottom of the (fixed) adjustment base on the tank bag.
Pull/Release Strap – before doing any physical fitment and placement activity the Red nylon quick release pull strap found in the tank bag needs to be installed to the eyelet located on the front of the (upper) ring assembly.
Routing of this strap is simple but physically removing the upper ring or adjustment plate piece and laying it out with the tank bag and then routing and connecting the strap provided to be an expedient step, validating the diagrams in the mounting instructions (references if needed).
Forward/Backward Adjustability – a key feature of the new PRO tank ring/tank bag combinations is the ability to get optimal positioning regarding the motorcycle and rider for effectiveness and of course safety.
Clearance between tank bag and handlebars and free range of motion of the handlebars is needed, as is provision for continued access to switch controls when the bars are angled and, mitigation of risks through accidental switch activation from tank bag pressure.
With the strap connected and routed and the adjustment plate fitted in place (mid-point is good), install the screws but leave the assembly loose; now fit the tank bag onto the tank ring. With the adjustment plate free to move back and forth against the ridged surfaces, the tank bag is easily positioned (forward or backwards) with the two ridged surfaces engaged.
Release the tank bag from the tank ring (a timely check of the lock/release strap) and tighten up the adapter plate mounting screws. Subsequent fore and aft adjustments are quickly done by loosening the screws, adjusting placement, and retightening the screws – do not overtighten.
Like similar systems, a realized bonus here is the quick-release, quick-relocation versatility in using one tank bag between multiple motorcycles – add a PRO Tank Ring, loosen the mounting screws off slightly on the adjustment plate, adjust as needed and retighten the screws – done.
Three of the machines here have PRO Tank Rings installed for use with the PRO GS tank bag or (eventually) any other tank bag in the PRO Series. The low profile of the PRO Tank Ring doesn't inhibit the ability to host strap-mounted or harness-based tank bags either as desired; all good.
All the required pre-use activities are well covered in the included mounting instructions. Read and use them while prepping the tank bag to get more familiar and comfortable with the new product.
Height &Clearances –the PRO Tank Ring and PRO GS Tank Bag combination is low profile and very secure regarding placement on top of the fuel cell (or whatever resides underneath), but this close integrated look fitment might have the front, sides or back of the tank bag touching surfaces, especially over the rough stuff – including our city roads…
On the BMW F 850 GS Adventure only the back portion of the tank bag lightly touches down against the plastic – the sides and front are OK. The bottom EVA material helps keep scratching down, but a lightweight foam tank pad (always installed to minimize scratches from riding gear) eliminates this issue, as would some clear protective film.
But if not wanting to install anything over top of the OE plastic or metal, an optional height increase kit is available. This kit has a 6mm thick spacer plate fitted between the fixed adjustment plate and the removable adjustment plate of the tank bag assembly. The PN for this kit is TRT.00.787.10100/B, for $8.95 USD + shipping).
Recommendation – a small layer of foam or better yet a pad of natural or synthetic leather with a foam cushion layer added onto or into the bottom EVA material at the (likely) front and back contact points could be a good thing…
On the Road, Again, Sort of…
Between some early March warm breaks and some continued cool but (relatively) dry weather as we head through spring, some decent individual and distanced, although limiting, riding time has been possible; all good for getting the needed seat time for evaluating products and, as important, clearing the winter/COVID-19 cobwebs out.
And since day one of this season's riding, the SW-MOTECH PRO GS Tank Bag, securely engaged on its PRO Tank Ring perch has been along for the riding; and until such time as some more serious off-roading is possible, the big ADV-travel sized tank bag will stay just where it is, although it will also be ported over to the R1250GS when needed.
On the large frame and wide F 850 GS Adventure tanker, the PRO GS tank bag is a great visual and functional fit although it appears to be a bit wide and perhaps a bit large on the R1250GS but is just as functional.
And in having reached a happy medium regarding bars, tank bag and rider between the two motorcycles it is now a five to ten second effort to switch it between machines with the lock/release strap and magnetically guided approach procedure making light and positive work of removing and remounting the tank bag.
Its precise shaping and semi-rigid form and finish make for a near-perfect fit on the F 850 GSA and only slightly less so on the R 1250 GS; separation visuals between the OE plastic and tank bag surface are minimal for a clean well-fitted look to the motorcycle-tank bag combination.
Is it secure and stable? Yes. Smooth roads, rough roads or no roads, the PRO GS Tank Bag sits with minimal movement (keeping it packed helps). It may get replaced with a small drybag piece for off-roading activities to remove some top weight and provide 'on the pegs and over the tank' space, but otherwise, the PRO GS piece is already a trusted valued piece of gear that is obviously designed and built to go the distance.
Does it hold a lot of stuff? Yes. It's way too easy to overload this cavernous tank bag with pretty much everything needed for the (planned/anticipated) day or overnight trips and when travel is again afforded to degrees it could likely pull a weekender as well, although the fully loaded state is reserved for the on-road or stable back-road ADV activities, not for banging around.
Accoutrement-wise, both the Tablet Drybag and Smart Phone Drybag pieces are on the to-order list but for now, the tried and true Mosko Moto Navigator Cell Phone Pocket is fitted to the MOLLE insert on the lid to keep the oft-carried encased memory stick or portable OTG drive and the always carried Samsung X-Cover Pro smartphone secure and dry.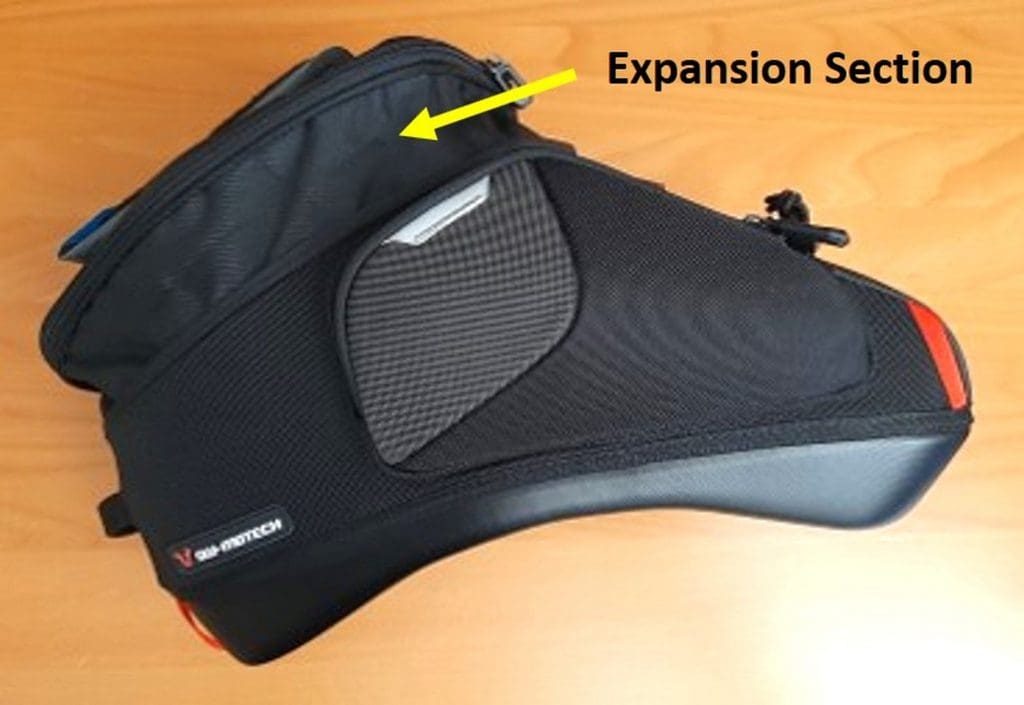 End Notes
Has my reluctance to try and to utilize this type of tank bag mounting solution been eased in having the SW-MOTECH PRO Tank Ring and PRO GS Tank Bag combination fitted? Yes, yes it has; and it's probably taken a solution as good as the PRO kits to let me reach this state.
In never doubting that the SW-MOTECH tank bags are well designed, well built and very functional the preference for or inclination to utilize a tank harness or strap-mounted solution for many riding activities is still there; but on the other hand, keeping the luggage-sized carry-on known as the PRO GS Tank Bag will be just the ticket for both near and far travels.
And who knows, one of the smaller PRO bags, like the newest, the PRO Yukon WP, is likely to make a good smaller, lighter-weight piece for fitment and use when travelling over the rough stuff but in still needing some quick access storage. One of the PRO tail bag pieces is likely to be very functional as well.
The Bottom Line
Using a tank-ring mounting solution is a new experience for this long-time rider and the new SW-MOTECH PRO Tank Ring and PRO GS Tank Bag combination has clearly won me over regarding this fitment option; not perfect, but then neither are harness or strap-based solutions. But as an ADV-oriented piece of gear and in acknowledging the size and volume of the PRO GS tank bag it is one of the best solutions ever used and trust me, when travel restrictions ease, the F850GSA, PRO GS Tank Bag and I will be hitting the road. The SW-MOTECH PRO Tank Ring and PRO GS Tank Bag combination is one serious piece of kit worth the investment.
Pros
New low profile and (very) strong PRO Tank Ring
FIDLOCK™ magnetic guide/engagement feature
PRO Tank Ring provides stable and secure mounting for PRO series tank bags
Unique shaping provides excellent accommodation for high-rise/high profile tanks
Base and top of lid features EVA material for strength and durability
Heavy duty materials used, excellent cut, layout and build
Water resistant interior coating and external rain cover
16-20L + storage capacity with main compartment including deep back area
More storage provided with zippered rear side pockets
Lightweight smooth-running zippers
Two-way main zipper for quick side or back access
Expandable upper section
MOLLE insert on top of lid
Outstanding tank bag for the roads to be travelled – great return for the investment.
Cons
Some very slight movement on tank ring (but far less than other variants)
PRO GS tank bag may be a bit large (height, width, payload) for some motorcycles
Storage placement regarding sensitive electronics vis-à-vis small magnets used on tank ring components needs to be considered
PRO Tank Ring and PRO Tank Bags could also be sold as a complete kit
A significant investment
wBW Specifications:
Manufacturer: SW Motech
Where to buy PRO GS Tank: Amazon / RevZilla / SW Motech US
Where to buy PRO Tank Ring: Amazon / RevZilla / SW Motech US
Price when tested:$306.95 USD for the PRO GS Tank Bag and $35.95 for the PRO Tank Ring
Designed: Germany
Built: Vietnam
Warranty: 5-years if purchased directly from SW-MOTECH, 2-years from authorized dealers
Review Period: February to April 2021