Review Summary
The Racer Gloves USA MultiTop Short Gloves are a short cuff version of the company's Multitop 2 Gloves, offering top-quality construction and an appealing design. These gloves provide a good three-season option at a reasonable price for safety-conscious riders who don't want to break the bank.
Pros
Feels like a premium product
Attractive design
Made from high-quality materials
Kangaroo palms with Kevlar under-weave provide excellent skid protection
Accurate sizing ensures an excellent fit Comfortable for hours
Waterproof
Carbon Fiber knuckle and finger protectors offer CE Level 1 Protection
Cons
Hot in warmer weather
Short cuff design
Only two color options
No touchscreen compatibility
Racer Gloves USA Multi Short Gloves Image Gallery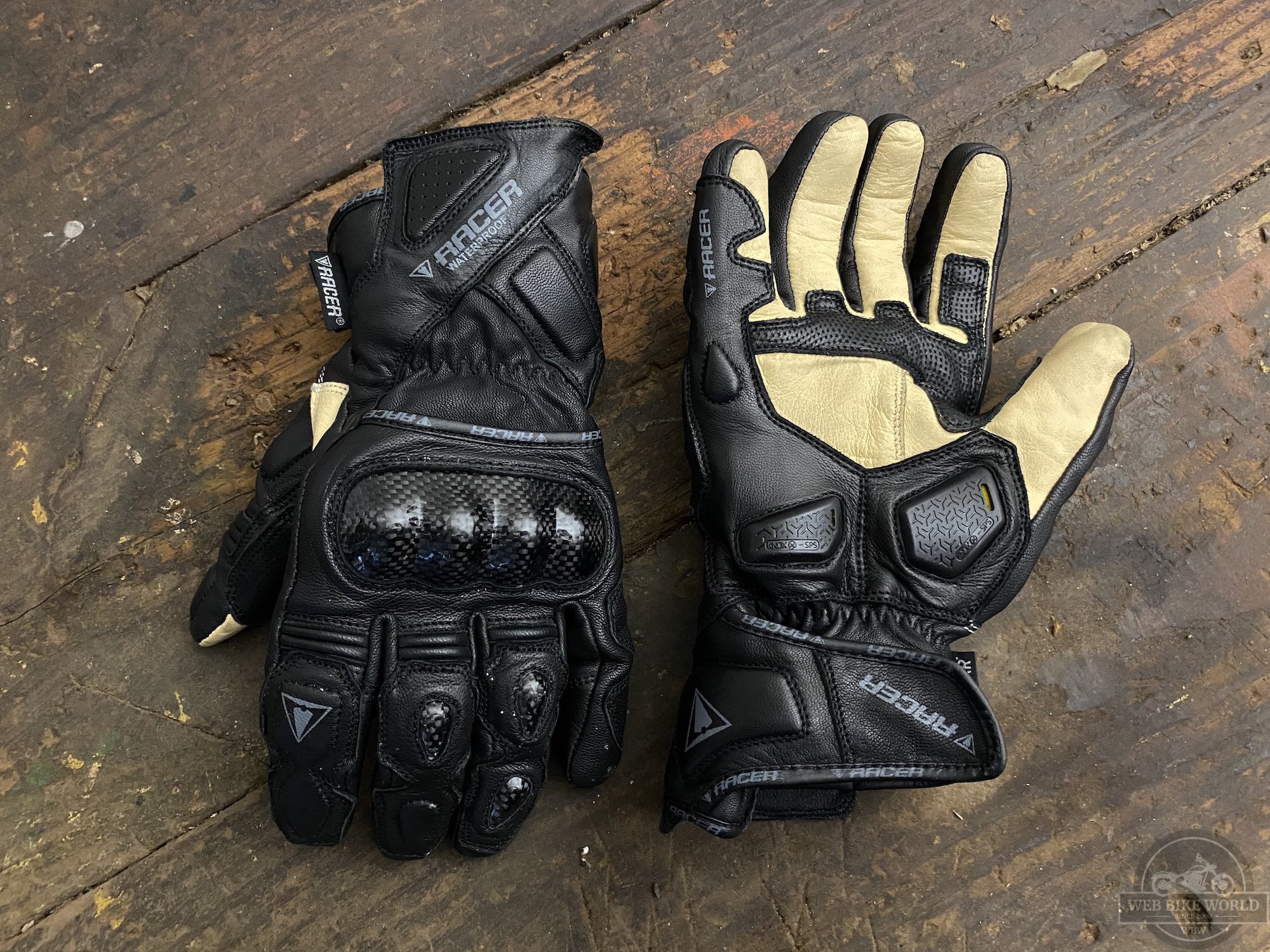 Racer Gloves USA MultiTop Short Gloves First Impressions
Take one look at the Racer Gloves USA MultiTop Short Gloves, and one thing is for sure. They offer some good protection for short cuff gloves. There are knuckle guards, finger guards, palm sliders, wrist protection, and more. There are gloves out there that do it better, but few pull it off with such style. And even fewer do it in this short cuff design. These things are handsome and functional.
From a features standpoint you get the following, according to Racer Gloves USA's website:
Waterproof breathable liner
Kangaroo palm with a Pittards® leather palm patch
Knox SPS® palm sliders
Carbon Fiber hard knuckle and finger protectors
Velcro wrist closure for a secure fit
Available in Black and Black/Orange/White
Sizes S-3XL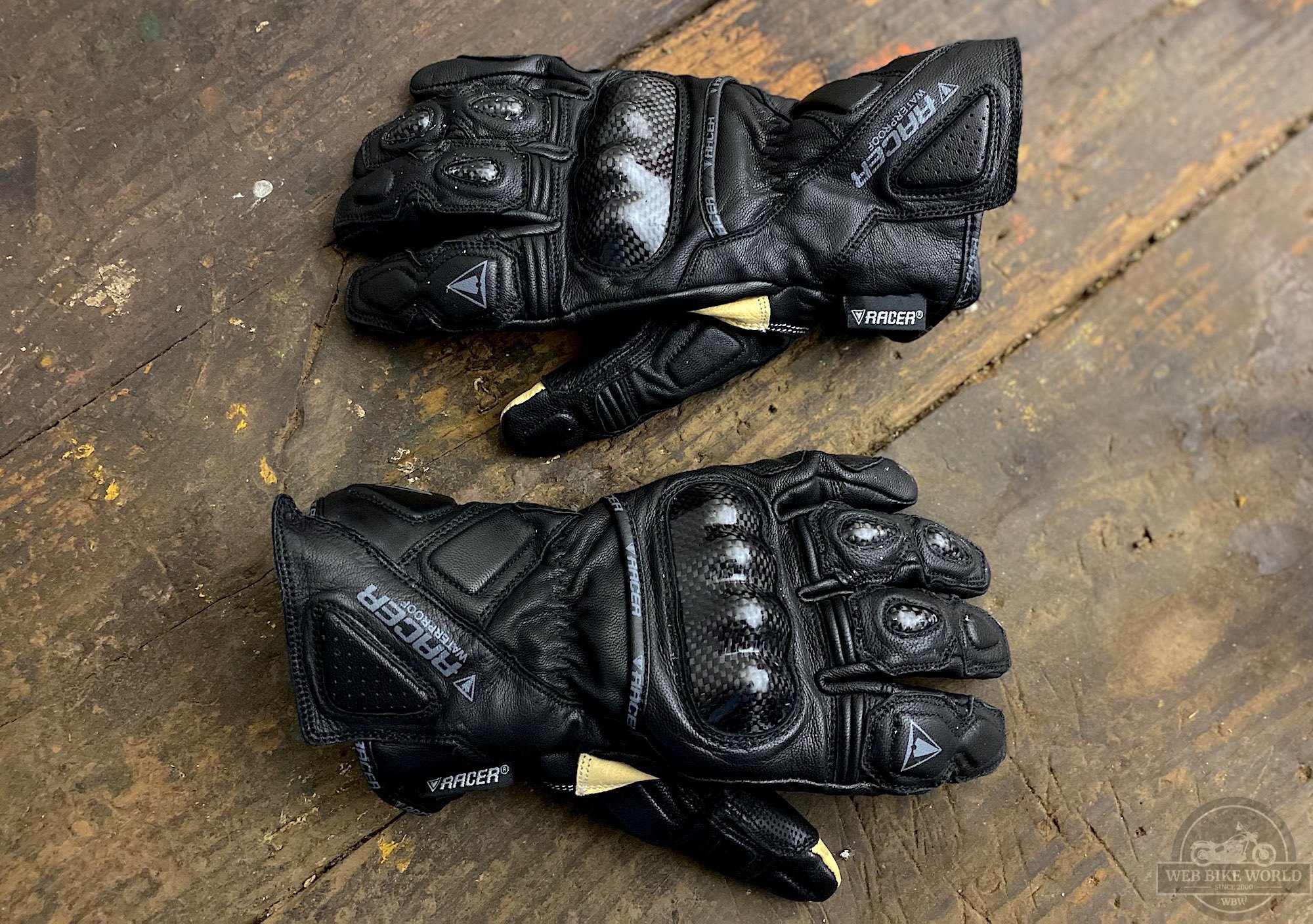 All of this stuff is good to have on the features list, but it's the way the company brings it together that makes all the difference. These gloves feel like a premium product. The outer shell is made of cowhide leather, and the palms of the gloves get kangaroo leather that's a different color.
The various protectors are double stitched and aren't going to move around on you if you take a slide. Because the fit seems to be perfect (at least for me), I have a lot of confidence that these gloves would protect your hands well if you went down. Luckily I didn't, but I did log quite a few miles wearing them—and my hands have rarely felt safer.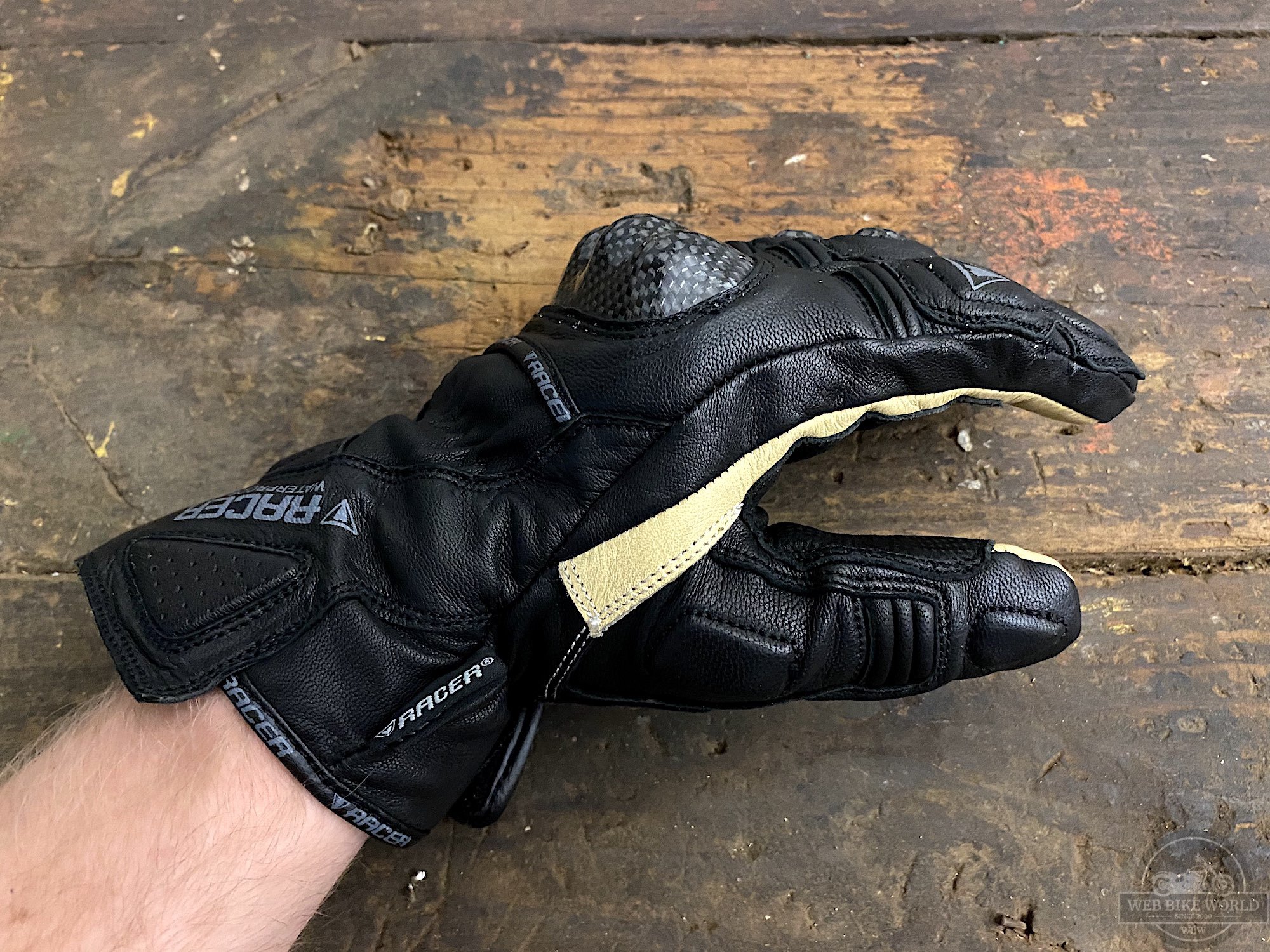 Racer Gloves USA MultiTop Short Gloves Build Quality
Before I get into how these gloves fit and the comfort level they provide, I really have to speak to their build quality. These gloves do a fantastic job at providing a mix of leather layers, carbon fiber sliders, hard plastic sliders, and additional carbon-backed padding. Each of these materials has a premium feel, giving the impression that this should be a much more expensive product.
The leather feels especially thick and well layered. In fact, there's not one spot on the gloves that I could find where Race Gloves USA seemed to cut corners on the leather, stitching, or other materials. The gloves are simply well-made.
Racer Gloves USA MultiTop Short Gloves Protection
From racing gloves to touring and adventure gloves, many motorcycle gloves feature carbon fiber or hard knuckle protection with finger protection on the back of the hand. These gloves have all that, but what impressed me most was the hard sliders on the palm, the additional protectors down on the wrist, and the small protector on the inside of the hand near the base of the pinky. All of these little additions to the gloves help take your protection and safety up a notch.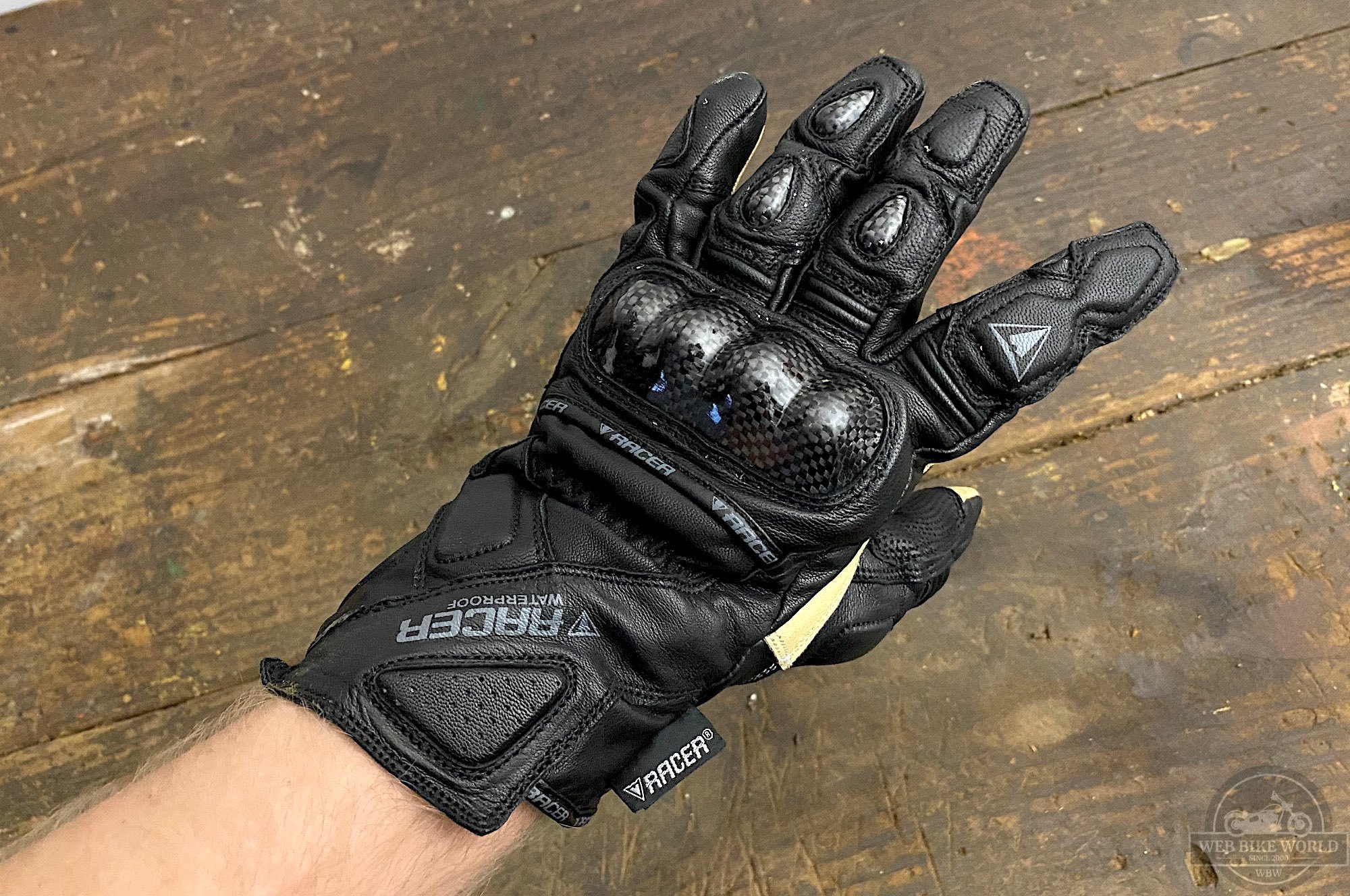 While there are plenty of full gauntlet gloves out there that would blow these out of the water, they do a fantastic job for a short cuff pair of gloves. Every touchpoint of the gloves features either a double layer of leather or some kind of hard protector.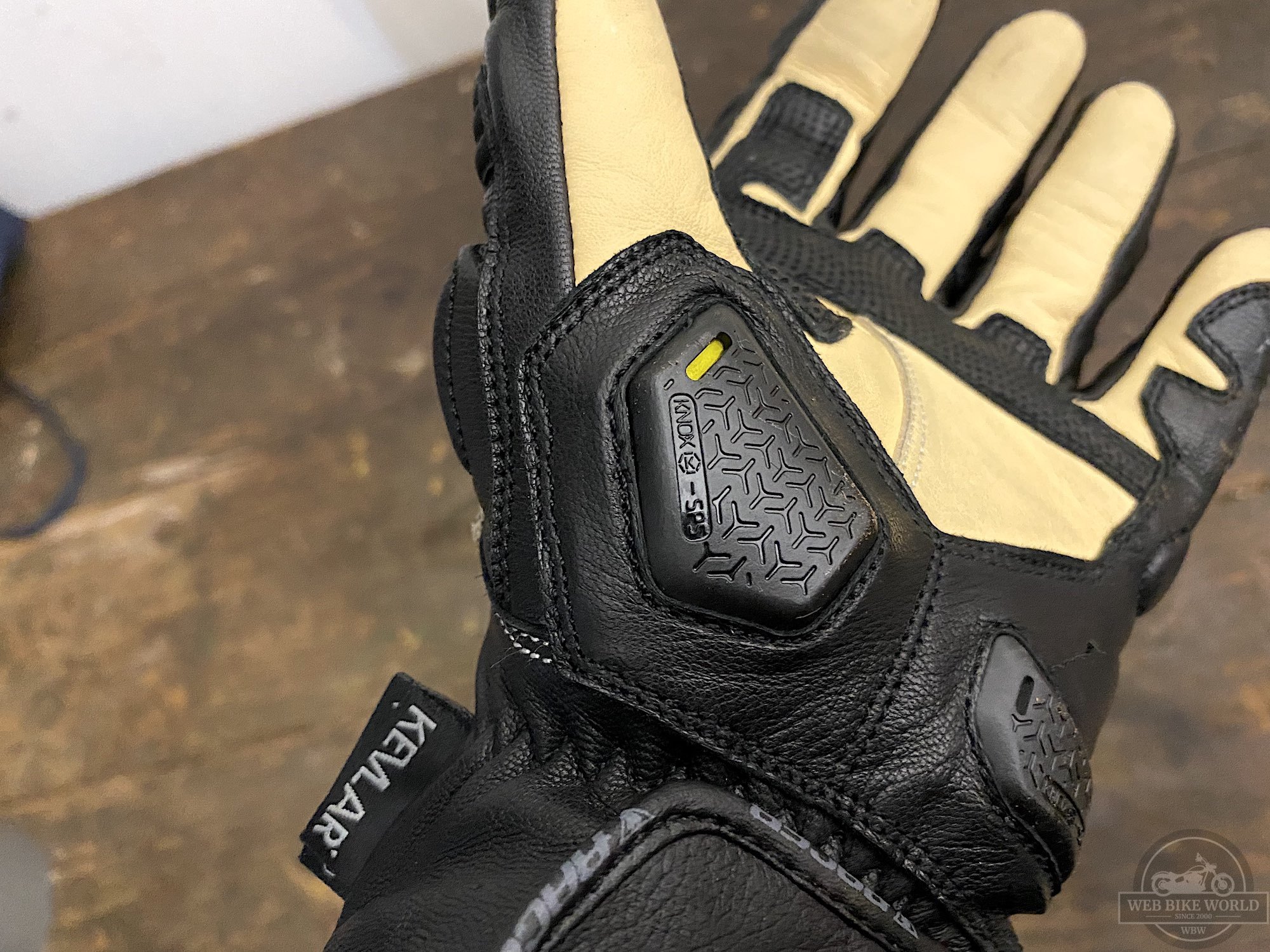 Racer Gloves USA MultiTop Short Gloves Aesthetics
First of all, I love the shape of these gloves. They're sleek and streamlined, which makes me feel super aerodynamic while I'm riding.
When it comes to the way these gloves look, color selection is one of my only gripes. These gloves come in only two color options. There's a black, which is really black with a kind of yellowish palm, and a black/orange/white. If you don't like the standard black, you only have one other option.
I also found it odd that Racer Gloves USA wouldn't provide a completely blacked-out version. That is personally the version I would choose if it existed. The black they have now is fine, but you can see the color of the palm even when you're making a fist with the glove.
Racer Gloves USA MultiTop Short Gloves Comfort
As for comfort, Racer Gloves USA has worked some magic here. These gloves fit perfectly as soon as I got them. I had a size M pair to test out, and I was thrilled to find that they fit very well.
Getting the right fit should always be as easy as following the sizing chart. I measured my hand and picked the appropriate size based on the company's chart, and I am very happy with what I got.
I will note, judging by what I'm reading around the web, that it might be worth sizing down if you're between sizes. I've noticed one or two reviewers saying that they sized down and were happy with that choice.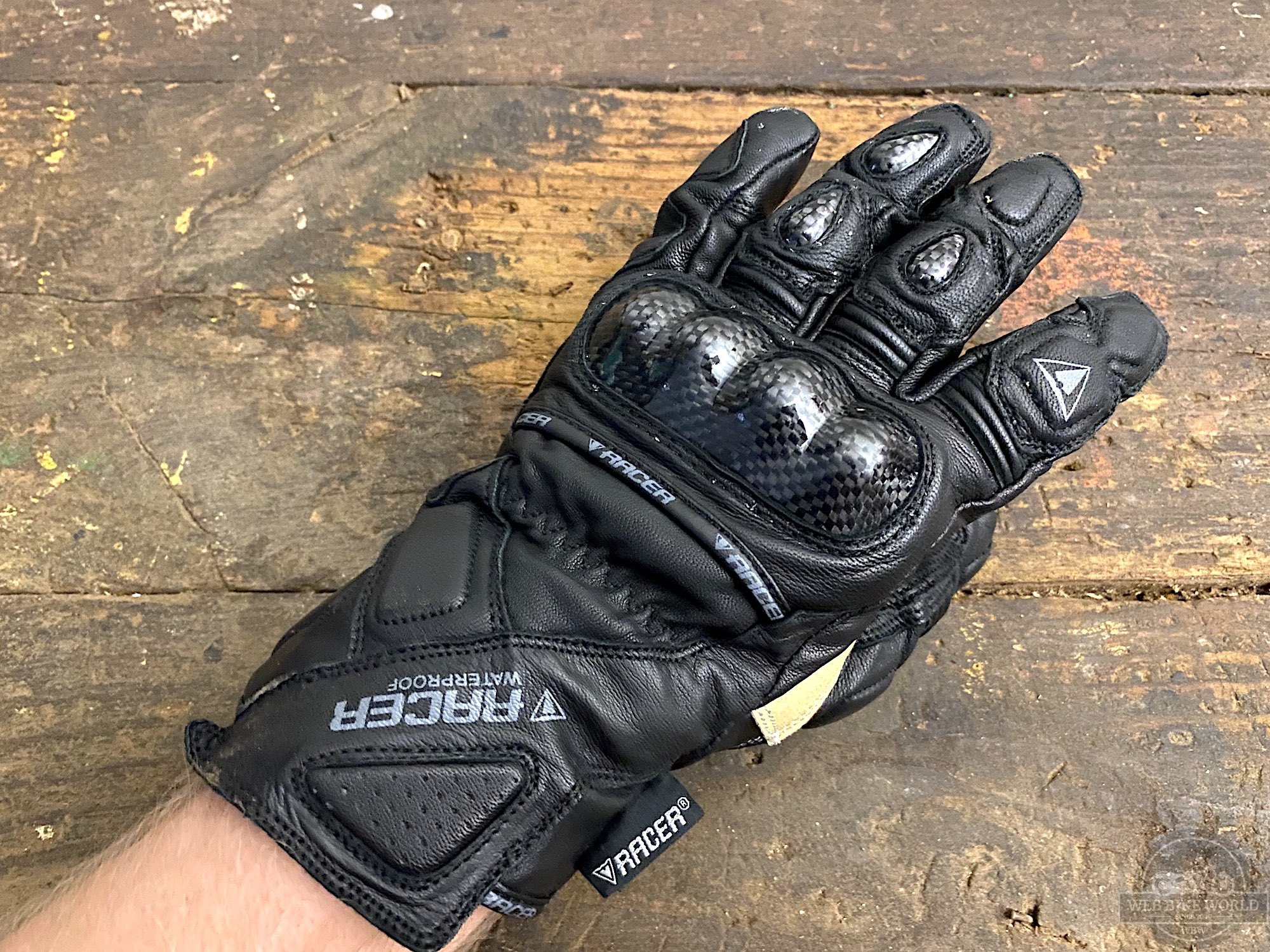 Also, it's worth noting that these gloves are leather and should stretch just a little as you wear them over time. Mine fit perfectly, so I'm hoping they keep their shape, but in my experience, leather gloves tend to change shape just a little bit over time as they break-in.
Sizing aside, Racer Gloves USA crafts these gloves with a polyester and P.U. liner that is quite comfortable. I rode these gloves during a 4 hour trip on a 68-70 °F sunny day and didn't feel like my hands were sweaty at all.
I will say that airflow isn't great in these things, so in truly hot weather, your hands are going to sweat. On the flip side, though, I could see these gloves being comfortable into downright chilly temperatures. Racer Gloves USA has a note that says they are recommended for temperatures between 45 and 55 °F. I believe it, and I wouldn't want to wear them in colder weather, but in moderate temperatures you'll be very comfortable.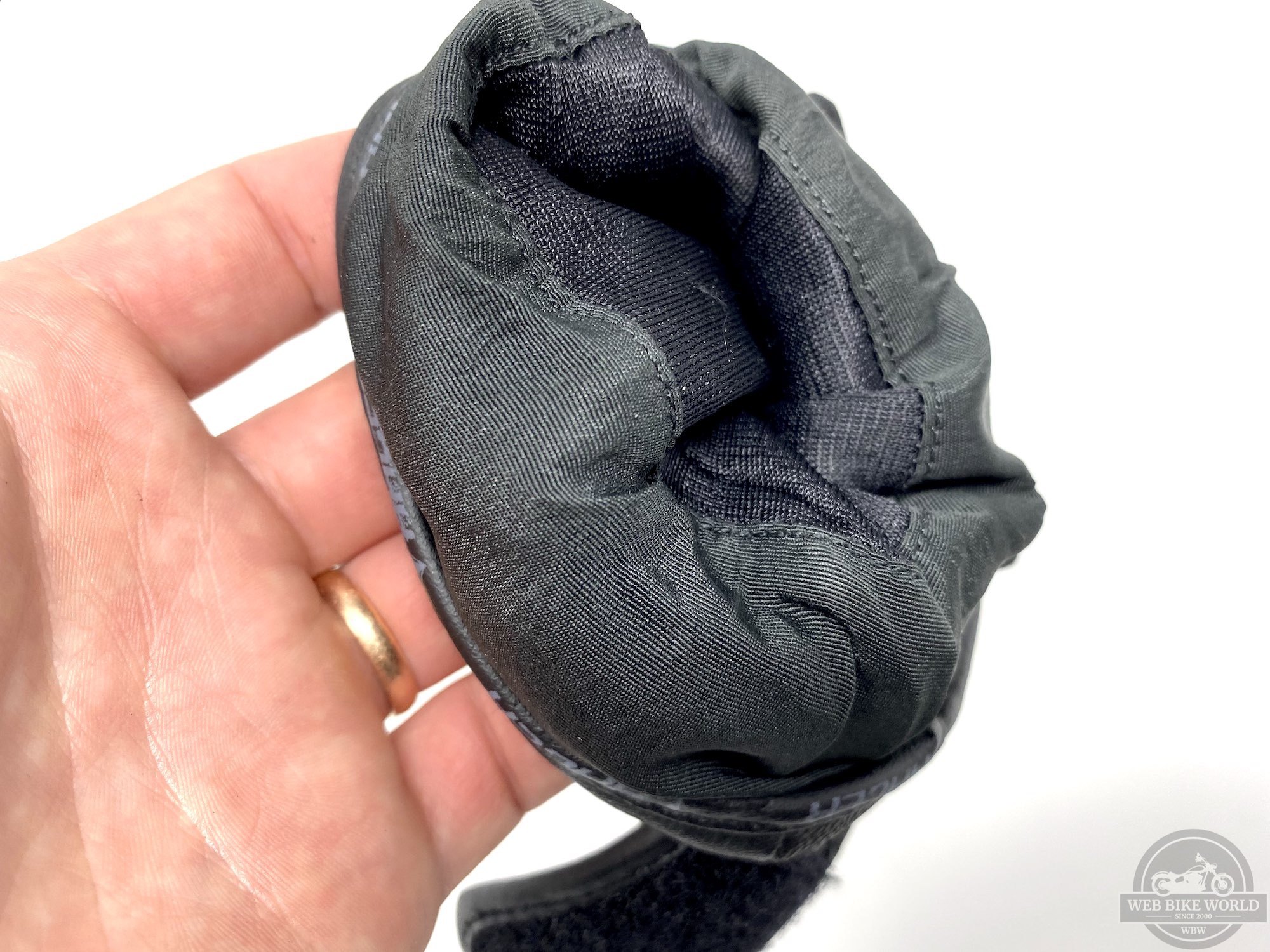 Also, These gloves come with a waterproof membrane. This is obviously great if you get caught in the rain—but only if it really works. I had little rain during my review period, but the rain I did experience didn't get my hands wet. The gloves did their job. I also tried swishing my hands around in the sink and didn't get wet fingers there either. So these gloves pass the waterproofing test.
I would make a note that if you wear these short cuff gloves with the cuffs outside of your jacket, then water will run down your arms in a rainstorm. That water would make its way into the gloves, so make sure to tuck those cuffs in the sleeves over your jacket if you're caught in the rain.
Racer Gloves USA MultiTop Short Gloves Value
Given what they set out to do, Racer Gloves USA has a pair of pretty fantastic gloves on its hands here. For a short cuff design, these offer excellent protection—and for an MSRP of $150, you're getting a lot from a pretty sleek pair of gloves featuring premium materials.
Racer Gloves USA MultiTop Short Gloves Shortcomings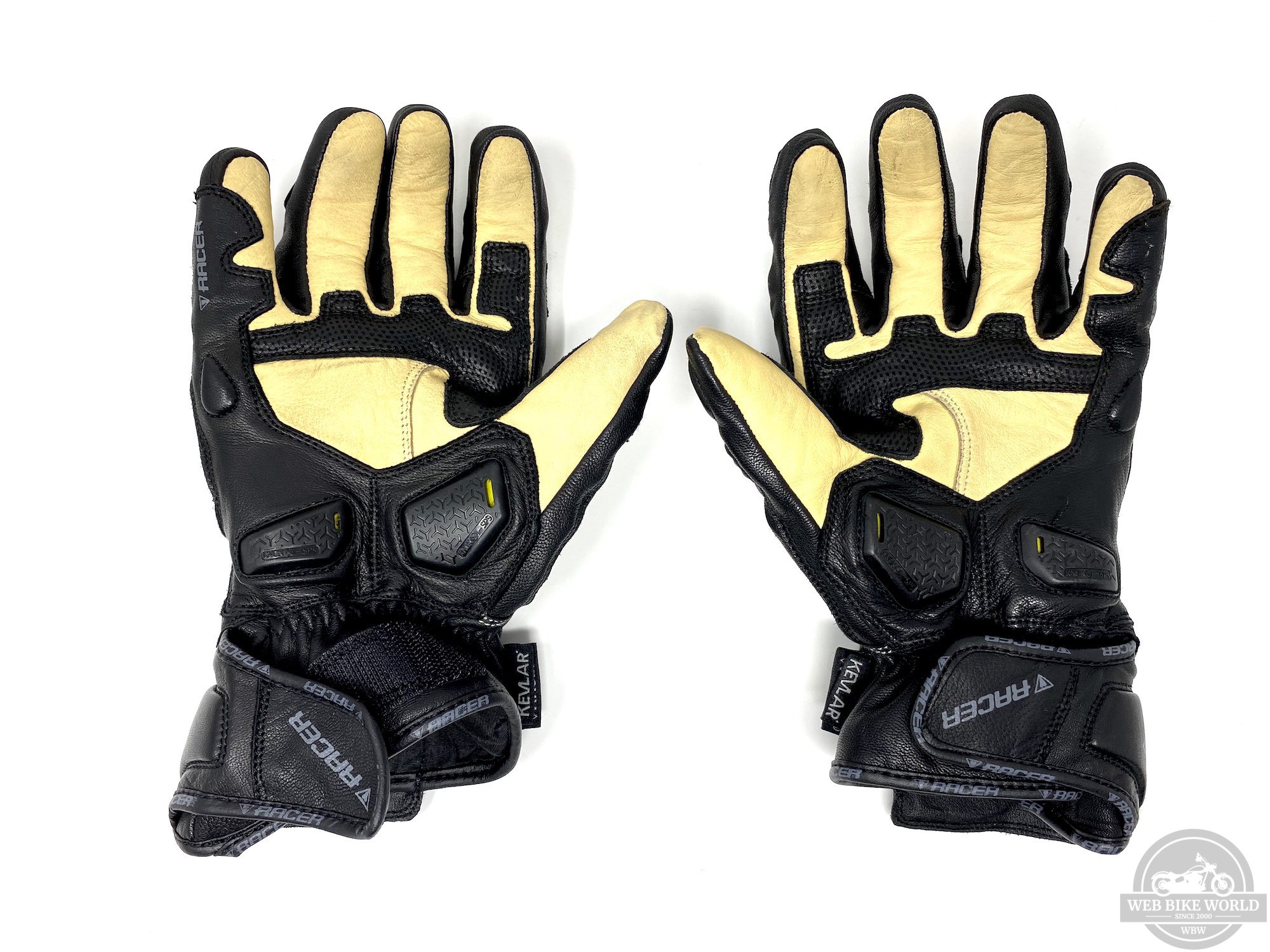 At this point, you're probably wondering if there's anything I don't like about these gloves. I did notice a few shortcomings.
First up, I mentioned that these are not hot-weather gloves. Here's how I know: I rode on an 80-degree day, and my hands were sweaty and gross. These are good fall, spring, and winter gloves, depending on where you live. But if you're riding in the middle of summer, I hope you have another pair of gloves.
The next shortcoming is the simple fact that these are short cuff gloves. While not really a fault within this category, you can spend the same amount of money for a pair of gauntlet gloves that will provide even more protection.
If you simply must have a short cuff design, these are excellent—but if you're after full-on protection, gauntlets are likely a better choice. That said, Racer Gloves USA has a MultiTop 2 which is the gauntlet version of this glove being reviewed.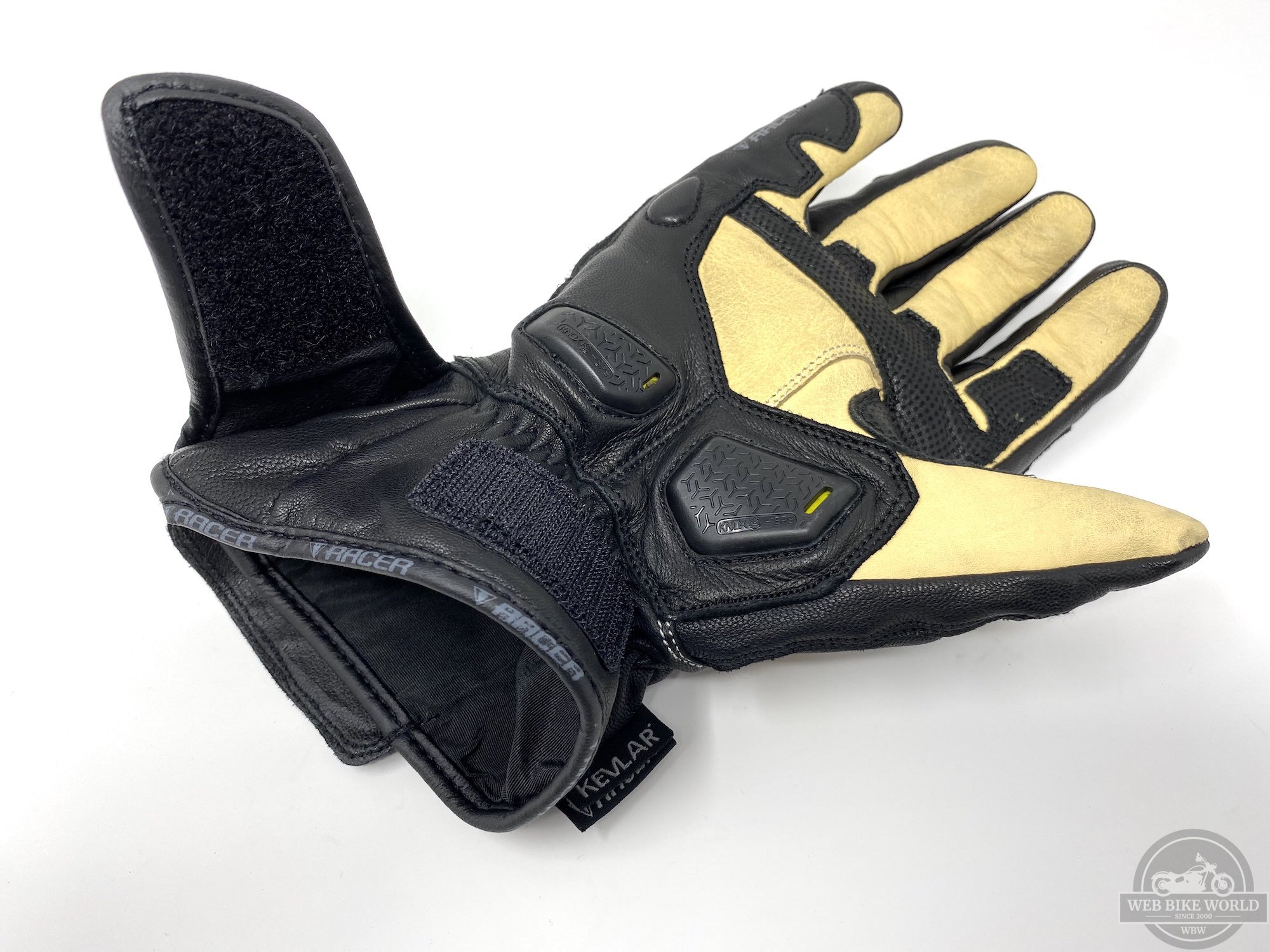 Another minor shortcoming—but a notable gripe for me—is that there are only two color options. Give us more colors, Racer Gloves USA!
Finally, if you have a touchscreen display or a phone mount on your bike, you can't operate it while wearing these gloves. They aren't touchscreen compatible. This doesn't bother me too much because I use time on the bike as time away from my devices, but it's something that could be added to these gloves, and many other high-quality motorcycle gloves have them.
Should You Buy the Racer Gloves USA MultiTop Short Gloves?
First, the good—and it's mostly good, as far as these gloves are concerned. Racer Gloves USA has put together a relatively affordable product that offers excellent protection for a short cuff pair of gloves and works well in most reasonable riding conditions.
While not a true all-weather option, these gloves will be comfortable in the busiest riding months of the year. If you want to wear motorcycle racing gloves during the coldest days of the year or the middle of summer, you'll likely need something else—but otherwise, these will do the job and do it well.
Despite the temperature concerns, I'd say that these are some of the most comfortable gloves I've ever had the pleasure to wear. The waterproofing helps ensure your hands stay comfortable, too. Add all that up, and you have some gloves that are hard not to put near the top of the list for best short cuff options.
If you're deciding if Racer USA gloves are for you, check out our other reviews on their Hi Per and Pitlane gloves.
Pros:
Feels like a premium product
Attractive design
Made from high-quality materials
Kangaroo palms with Kevlar under-weave provide excellent skid protection
Accurate sizing ensures an excellent fit
Comfortable for hours
Waterproof
Carbon Fiber knuckle and finger protectors offer CE Level 1 Protection
Cons:
Hot in warmer weather
Short cuff design
Only two color options
No touchscreen compatibility
Specs:
Manufacturer: Cafe Gloves USA
Price: $149.99 USD
Made In: Pakistan
Colors: Black or Black/Orange/White
Sizes Available: S-3XL
Review Period: August – September 2021
Important Links / Where to Buy: