Noise Canceling Helmet Review Summary
Noise Canceling Helmet Image Gallery
Alvin Halfaker, the founder of Quiet Ride Helmets, is a man on a mission, a man obsessed by noise, specifically the harmful noise that riders all over the world experience every single time they get on a bike.
It's the wind, the sound of the tires on the pavement, the engine, and the engines and tires of the other vehicles on the road. Not to mention all of the other road noises that come with traffic and day-to-day life.
My colleague Jim Pruner introduced Al to me via email. After chatting with him on the phone about the helmet he invented, Al drove all the way from Minnesota to Indianapolis, IN—about a 750-mile drive from his house—so that I could test the prototype of the helmet he made. It's a helmet that he believes will change the helmet industry and allow many motorcyclists to keep riding long after tinnitus has them wondering if they can keep going.
Before I tell you the story of meeting Al and testing out his helmet, I should really tell you how Al became obsessed with road and wind noise and why he's devoted so much time and effort into inventing a system that dramatically reduces the noise levels you experience on a bike.
Al's story starts not on motorcycles but on snowmobiles—the snow-going cousin of the motorcycle. Al, now into his 80s but not looking or acting like it, told me he used to do these long snowmobile rides. After several hours in the saddle, he'd just about go crazy from the ever-persistent wind noise whipping around his helmet.
Earplugs can help a rider block out a lot of noise, but many people don't like wearing earplugs for extended periods of time. Also, if you want to use a Bluetooth communicator, you can't wear earplugs because they'll block out what you want to hear, like music, phone calls, or conversations with other riders.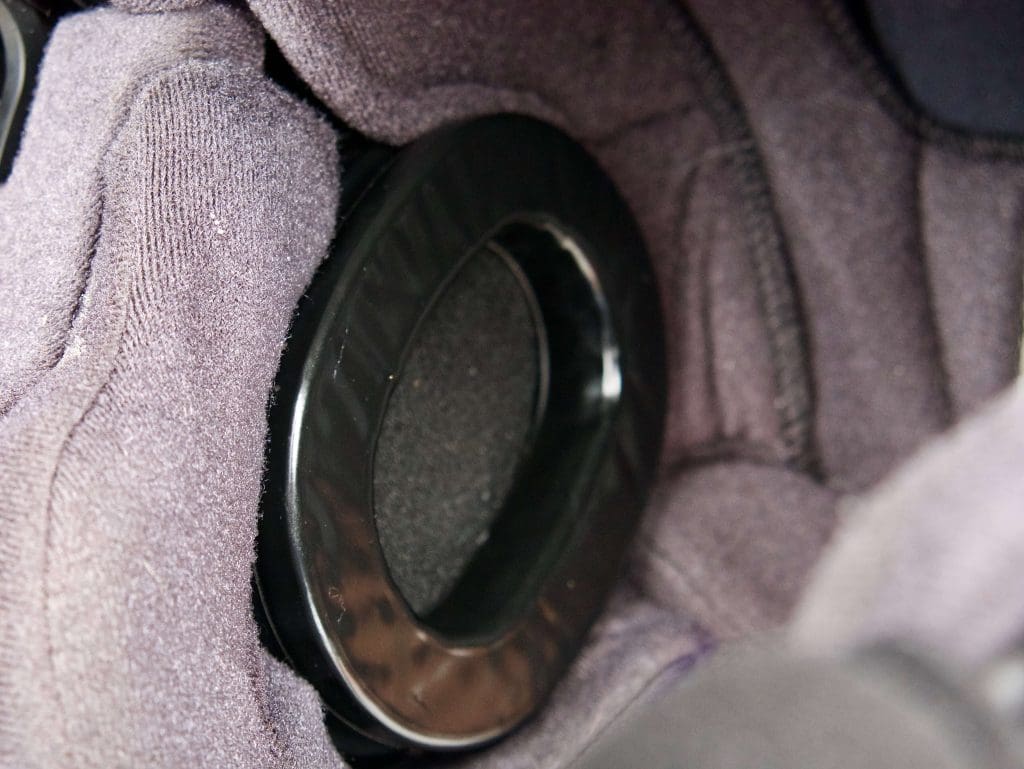 According to the National Institute for Occupational Safety & Health (NIOSH), anything over 85 decibels is too loud for extended periods of time. OSHA says anything over 90 decibels is too loud for workers working eight hours. OSHA says to limit noise levels of 100 decibels or more to just two hours.
When you're riding without earplugs, you can experience noise levels at 65 mph or faster at or above 100 decibels. To put it plainly, riding without hearing protection is damaging to your hearing especially at highway speeds.
Al knew this. He set out to craft a product that solves the problem of excessive noise while still allowing you to use a Bluetooth comm system if you want.
The Creation of a Product
Long story short, in 2012, he started experimenting with earmuffs and started thinking about how he could integrate that kind of hearing protection into a helmet.
By 2013, he had his first U.S. patent for embedded suppression ear cups. In 2014, Al flew to China to work out a deal where a factory there would produce a full-face and motocross helmet with his patented ear cups integrated into the helmet.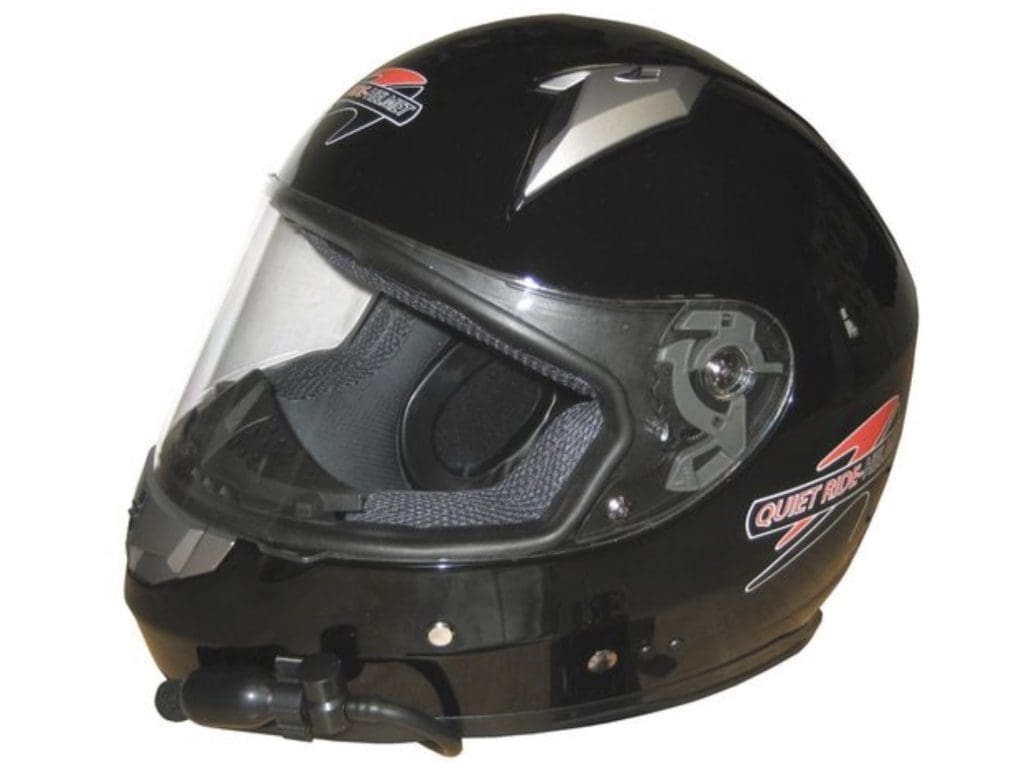 The first-generation Quiet Ride helmet features a unique, patented ear cup design. The ear cups are integrated into the helmet. They are made up of a cup and around that cup is a foam and gel pad. This pad is what sits around the ear against your head.
There's also an integrated air bladder that's used to apply slight pressure to the cup which presses against the sides of your head around your ears. This is what helps it seal out exterior noises. This cup is what makes Al's Quiet Ride helmets unique. Al calls it the 'passive noise canceling system'.
Al sells these helmets currently. There are fiberglass helmets and carbon fiber helmets. Al will also sell a kit that you can install on your own helmet with a little work. Integrate that with a Bluetooth comm system and you have a helmet that achieves what Al originally set out to do.
Noise reduction on the helmets that Al currently sells is dramatic. According to his own testing, the Quiet Ride helmet can reduce noise levels down to 88 decibels at 65 mph. It's important to note that a 10-decibel decrease in sound is often perceived by the ear as a 50 percent drop in sound levels.
Al shared much of his research with me ahead of making the trip down to Indy. It showed that even his first Quiet Ride Helmets just with the passive noise canceling construction will lower noise levels below what OSHA and NIOSH say is damaging to your hearing.
The Addition of Active Noise Cancelling Technology
Jim originally reached out to Al to test a Quiet Ride helmet. Al told him that he was working on adding noise-canceling technology to the current Quiet Ride helmet. He suggested we wait until he had that system working inside the helmet.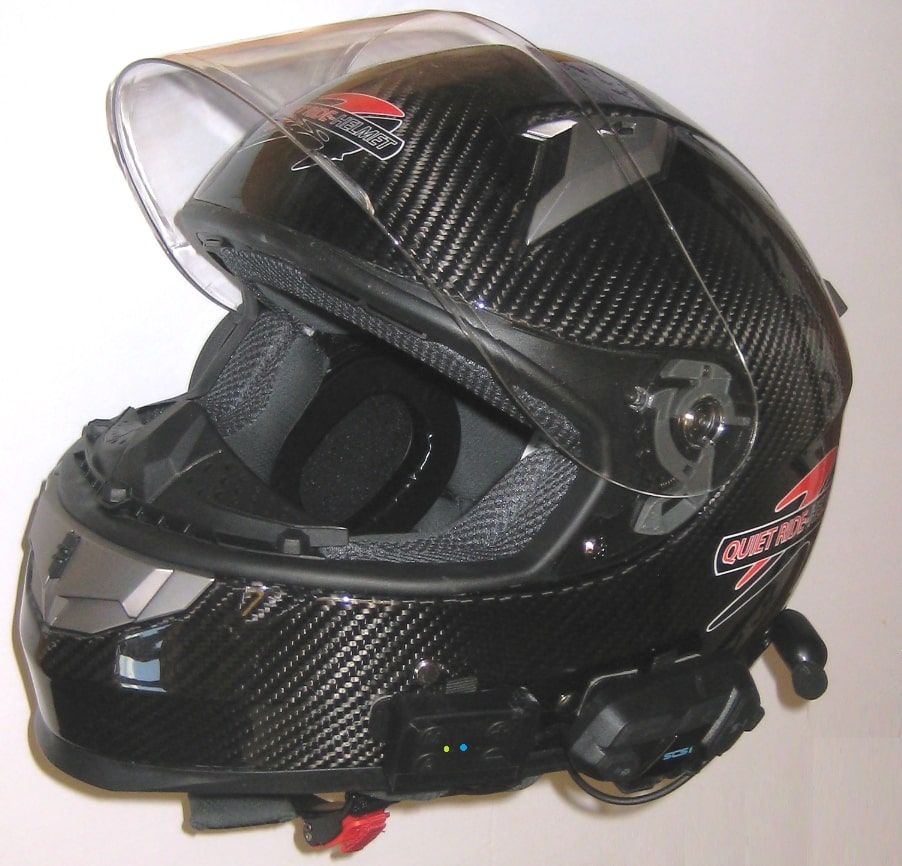 Al worked with a company in China to develop the active noise canceling system included in the new Quiet Ride helmet. The helmet includes the passive noise canceling system (the cup and air bladder) and adds to that Al's new active noise canceling technology.
This technology helps bring down noise levels even further. Before Al made the trek down to Indy, he told me that with the active noise canceling technology, his new Quiet Ride helmet would reduce noise levels all the way down between 76 to 78 decibels at 65 mph. I was a little skeptical, but I wanted to find out for sure. So, Al and I set a date for him to come down.
Before I get into my day with Al and how the helmet performed I feel I should give you a quick rundown of the helmet's construction and how the systems fit into the helmet.
The Quiet Ride Helmet & Quiet Ride Earmuff Configuration
So, the Quiet Ride helmet with active noise canceling includes the passive noise canceling system discussed above as well as the new active noise canceling technology.
The active noise canceling system's control unit sits on the outside of the helmet like an aftermarket Bluetooth comm unit. There are four buttons on the unit. There's the A-button, which is the active noise canceling feature; the M-button, which activates a small microphone fitted into the neckroll of the helmet so you can easily hear things that are happening around you; and an up and down button for volume.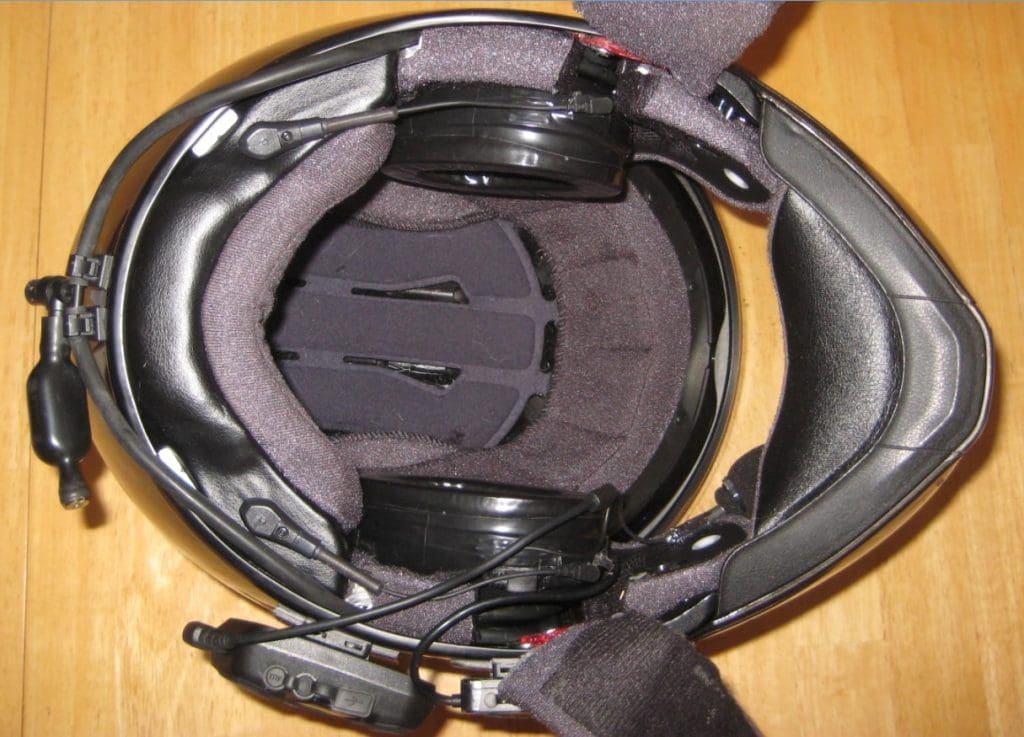 You shouldn't try to turn on the M-button while riding. It doesn't make sense to do so. The M-button is there for you so you can hear things that are going on around you. It comes in handy if you need to talk to someone with your helmet on.
For example: if you pull up to a gas station with your helmet on, you can press the M-button and turn on the exterior microphone so that you can hear and talk to other people you're riding with.
You can also use a Bluetooth comm unit in conjunction with the active noise canceling unit so you have access to music, phone calls, rider communication, and turn-by-turn navigation instructions. Altogether, the Quiet Ride helmet is designed to give you the hearing protection you need with no real downsides.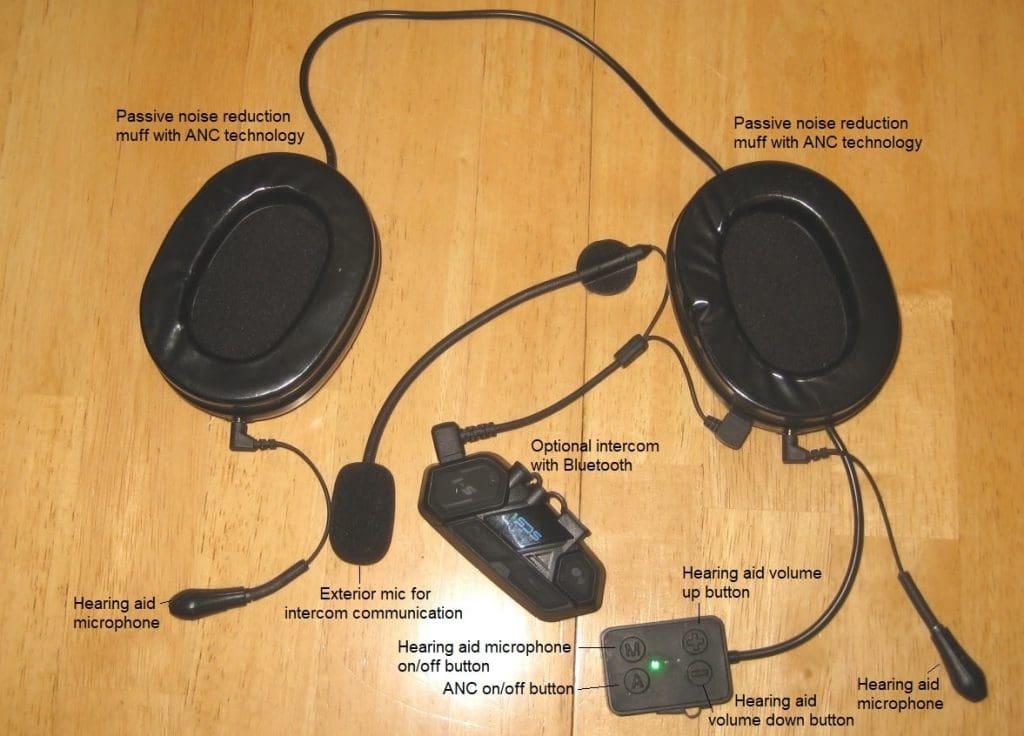 Al currently sells the original Quiet Ride system as a kit, but he will add the active noise canceling to the kit in the future. In the kit is everything you need to turn your current DOT and ECE approved helmet into a Quiet Ride Helmet. Adding the Quiet Ride system to your helmet does not void the DOT or ECE approval status.
My Experience Testing the Quiet Ride Helmet System
So, all that brings us to Al meeting me at a Harley Dealership just north of Indianapolis where I rented an Iron 883 for the day to test Al's prototype (my only close-to-working motorcycle was in the shop for a repair I didn't want to do myself).
I was actually kind of nervous. What if the helmet didn't work? What if Al was just a crazy old man? He drove a long way.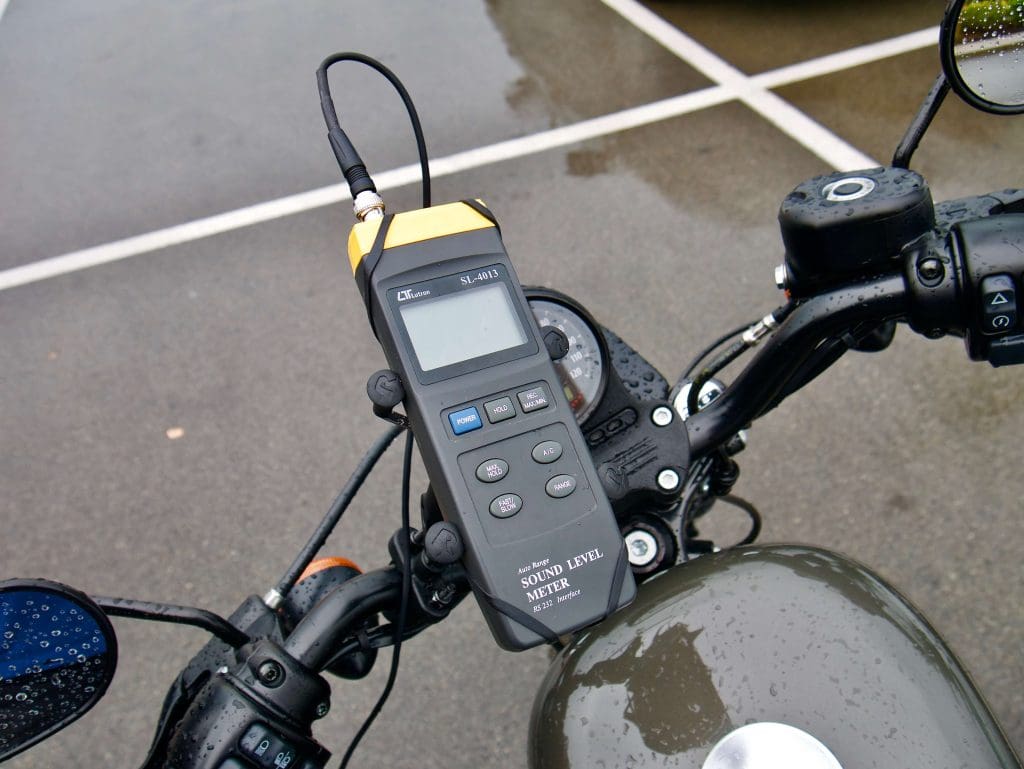 We met relatively early in the morning just after the Harley dealership opened up. After chatting for a bit about the drive down, he and I set up his sound meter on the Iron 883. Al brought a Lutraon SL-4013 sound meter with him (pictured above). In place of the standard microphone, he'd spliced in a lapel microphone so we could fit it inside the earmuff of the helmet to accurately measure noise right at the ear.
The helmet we used for the day was the Shoei NeoTec with the Quiet Ride kit installed on it because it was the helmet Al had that fit my head.
Then Al did a quick run-through of how the helmet works. I'd already seen a lot of information from his website and research he'd shared with me, so I had an idea. Basically, it's like this, you put the helmet on make sure your ears are in the cups and then use the little bladder pump on the outside of the helmet to apply pressure to the earmuffs.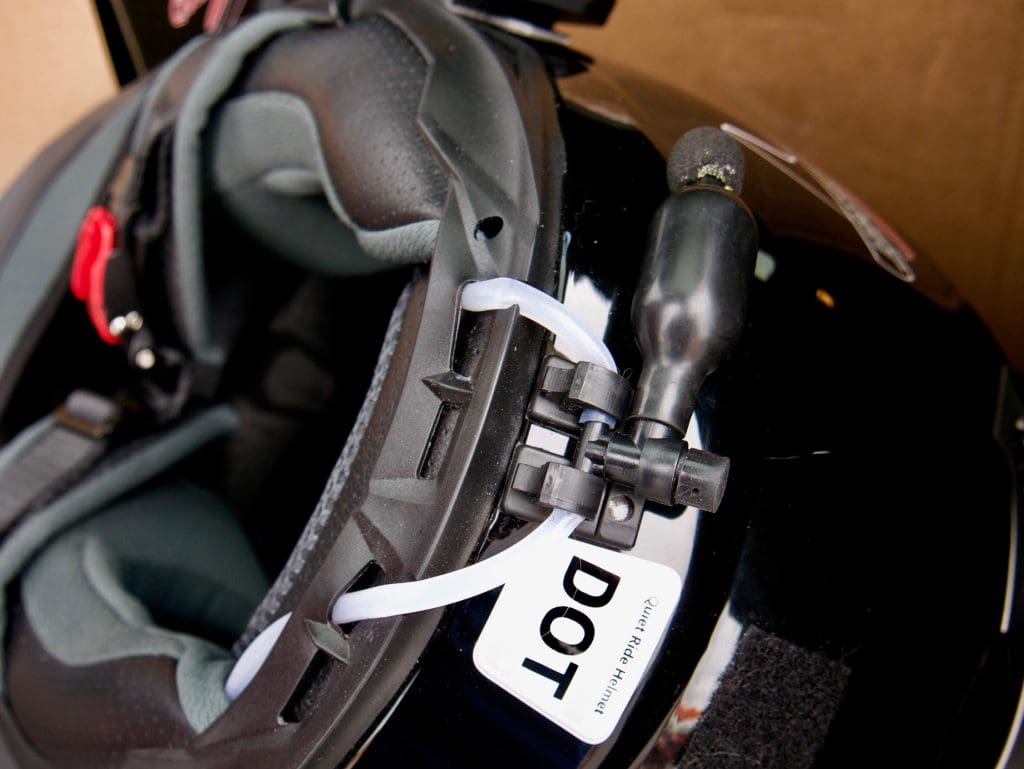 I asked Al how much to pump up the air bladders and he said to do it until it's fully sealed around your ear. If you pump too much, you'll just put extra pressure on your head and not get any additional noise reduction benefit. I played with the air bladder a bit until I had it at a comfortable level that was blocking out sound but not too tight against my head.
Then we went over the active noise canceling unit. I've discussed the buttons on the active noise canceling system above. Al also had an SCS S-1 Bluetooth intercom installed on the helmet.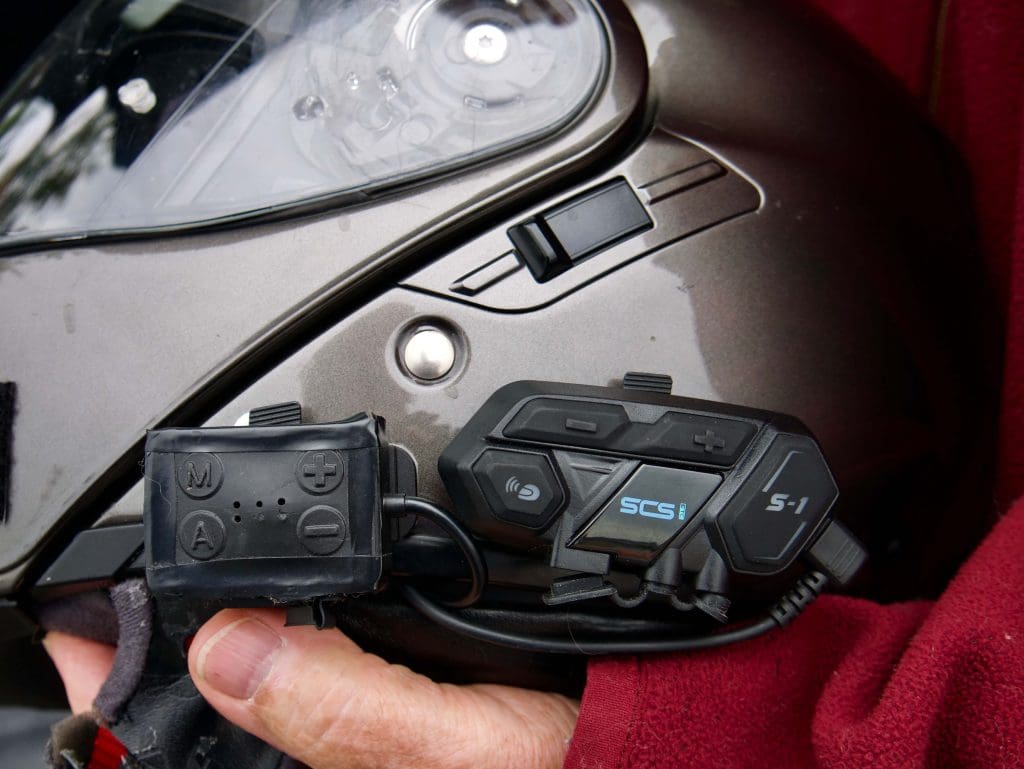 Before setting out, I played with the music and audio settings of the Bluetooth intercom with the active noise canceling turned on. The music is clear and the speakers used in the helmet were fantastic with no buzzing or distortion even at high volume.
After getting a feel for how things worked, I set off with the sound meter on, the lapel microphone tucked in the ear cup, and the active noise canceling turned on.
Initial Thoughts & Results
My first thought was that I could hardly hear anything and that actually worried me because you need to be able to listen as well as keep an eye out for potential issues.
However, as I rode, I realized that isn't actually the case. You can still hear things. They're just muted, extremely muted. It takes some getting used to. We're all so used to tons of wind noise while we ride that its absence is almost eerie.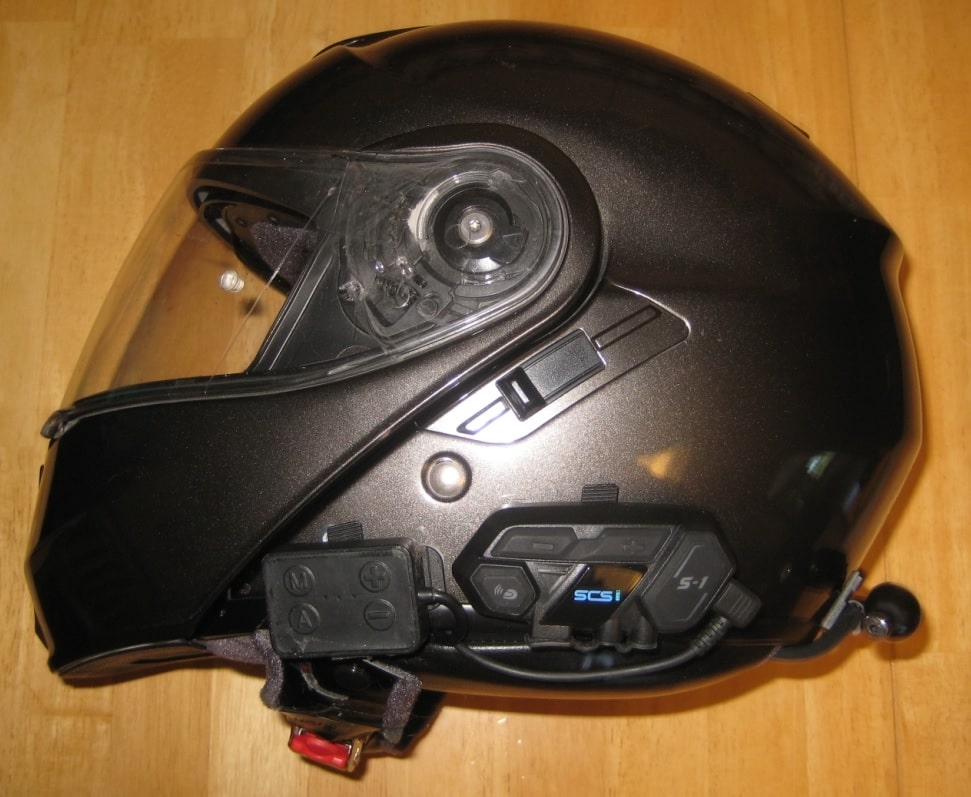 After riding around for a few minutes and starting to get used to the fact that everything was so muted I started watching the sound meter attached to the handlebars. At about 35 mph, the meter registered about 68 decibels. At 45 it registered 73 decibels. And at 65 mph the sound meter was still just registered 79 decibels. 
That's below the number of decibels that OSHA and NIOSH say is damaging to your hearing, which means with the Quiet Ride earmuff system you can ride for hours on end without damaging your hearing at all. You'll notice the numbers I saw are not exactly identical to Al's numbers he told me before he came down, but it's only a decibel or two off, so I have to say his testing was accurate. 
To get a comparison, I also spent time riding the Harley with my HJC IS-MAX II. I hooked up the sound meter in the same manner and placed the lapel microphone in the helmet next to my ear. At 35 mph, the helmet was registering about 87 decibels. At 45 mph the helmet registered about 95 decibels. At 65 mph it registered 103 decibels. 
It's clear that the Quiet Ride system Al created works. The system was able to drop the amount of noise I experienced at 65 mph considerably. That's huge. I was impressed with how well the system worked.
Also, the fact that you don't have to buy Al's helmet and can add this system to any helmet you own is a huge plus. People want helmets from Arai, Shoei, Simpson, HJC, and other manufacturers. You can have the helmet you want and then add this system to your helmet. 
Thoughts After the Ride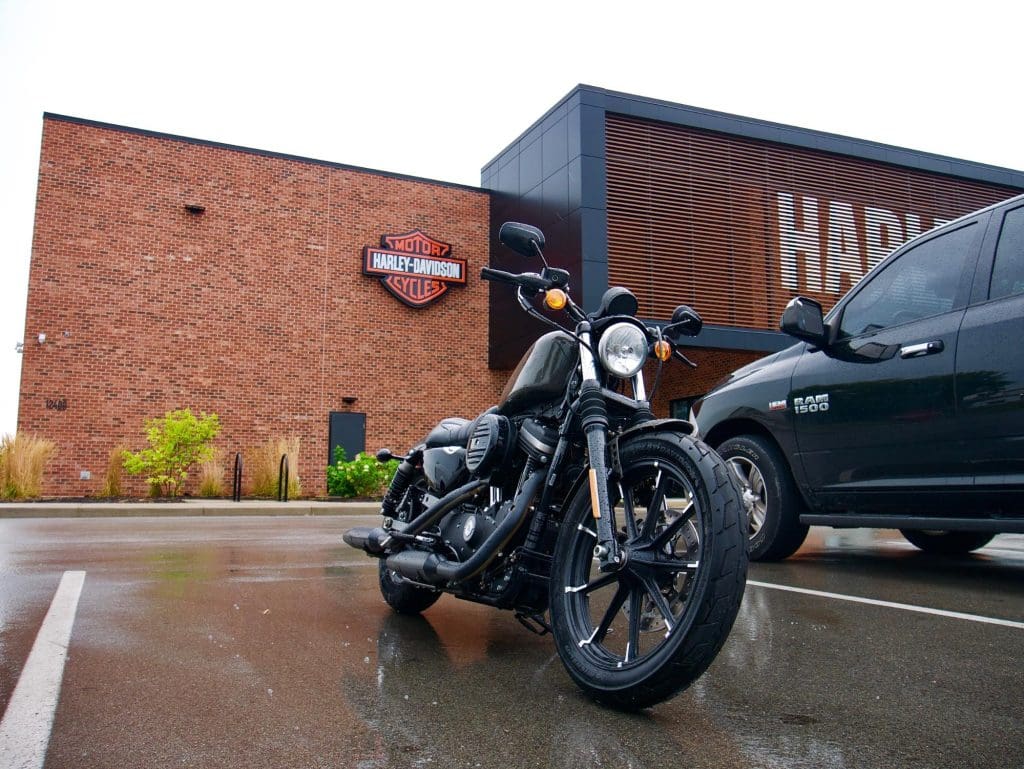 Eventually, we were forced to stop testing due to a rainstorm that rolled in. Al didn't want his sound meter to get too wet and after one more short ride in the rain, we decided to call it a day. I rode the Iron 883 the rest of the day in scattered showers.
During the miles I covered, I felt hyper-aware of the noise levels I subjected my ears to. I've never been one to give much thought to hearing protection on a bike. I know some guys wear earplugs, but I never have and can't really fit them anyway due to my cauliflower ears from 10-plus years of wrestling. If I want to protect my hearing, I basically have to find a solution like Al's that can be integrated into the helmet. 
After testing the helmet, I began to wonder if the cups around my ears would become uncomfortable over time. The air bladder does apply pressure to either side of your head, but it's only slight and the padding is ample.
They felt fine while riding, but at AIMExpo with Cameron and Jim, the question was brought up. I reached out to Al, and he said he's never had any complaints from customers about headaches or discomfort from the ear cups.
The Quiet Ride 2.0 Is Coming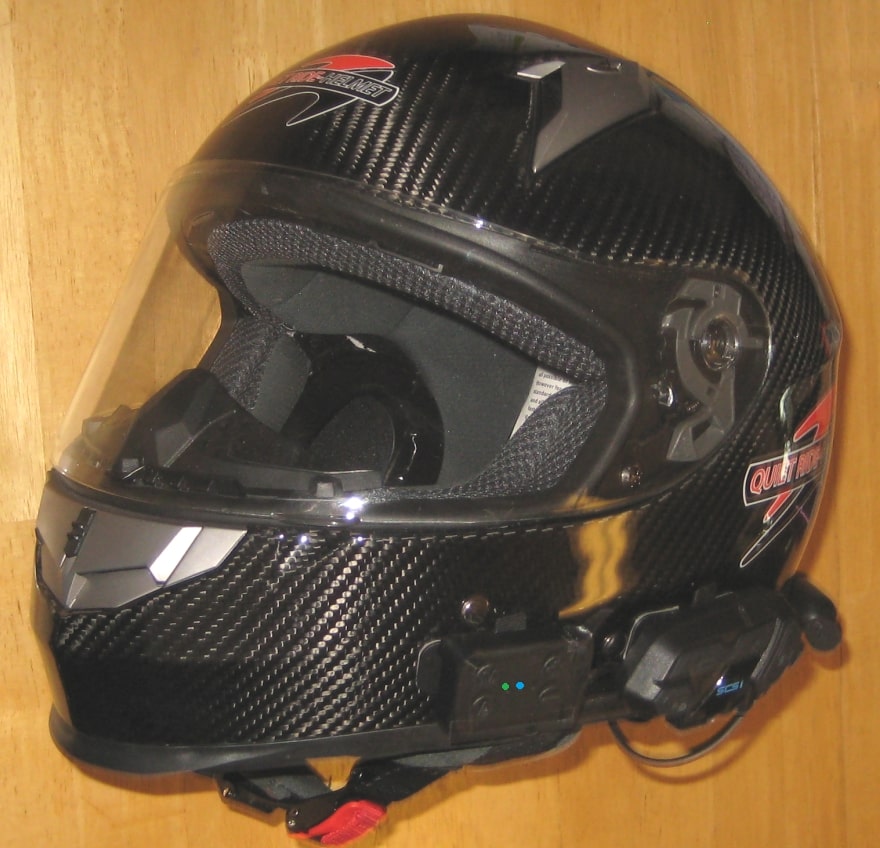 The model with the active noise canceling I tested was a prototype. Al has continued to innovate since I met him in Indianapolis, and the next generation Quiet Ride helmet will be even quieter than the helmet that I tested.
He's reworking the thickness of the earmuff so that it is even quieter—according to his testing it should be about five decibels quieter. He's also improving things like the hoses used for the air bladder to make sure they last longer and aren't as impacted by UV rays and weather.
With these changes, the helmet will be even better at its mission. Al has a very interesting product on his hands and a solution to an issue that many other helmet companies haven't come up with. It just goes to show that sometimes the big names in the motorcycle helmet and gear world don't have all the answers. 
Sometimes it takes someone with a novel idea who's outside the industry to come up with a solution to a universal problem. I highly suggest checking out the Quiet Ride helmet, especially if you have issues with Tinnitus or worry about hearing loss.
You can check out the full lineup from Al's Quiet Ride Helmets here. If you want to add the system to your own helmet then snag the Quiet Ride Earmuff kits here.