The Breakdown
The Shoei Neotec is a paradox, in that it's a conservative design that doesn't try to re-invent the flip-up motorcycle helmet concept. Yet, Shoei has redesigned every feature one would expect in this type of helmet and perfected it. The combination of the solid feel, superior build quality, outstanding ventilation (how much would you pay for a helmet that actually has good ventilation?), excellent internal sun visor design and relatively low noise levels, along with outstanding comfort, make this the flip-up to beat. But, there's no getting around the breathtaking price. It is an expensive helmet that not many can afford.
Pros
Excellent build quality. Outstanding ventilation. Internal sun visor works well and isn't distracting. Excellent comfort. Smooth paint and graphics.
Cons
Price. Could lose a few grams.
Shoei Neotec Helmet Review
The Shoei Neotec is new for 2012 and it's a careful evolution of a long history of Shoei flip-up helmets. The Neotec features include outstanding build quality, superior ventilation and plush comfort and more. It would be difficult to find a fault with the Neotec, although there's no getting around the list price, which is pretty steep.
Is it worth it? Only you can decide. But if you want it all, this is your flip-up. The new Shoei Neotec was somewhat of a surprise. That's probably because the helmet was introduced without the typical big intro and product launch. It just sort of appeared on the scene, first in rumors, followed quickly by a product description on the Shoei website.
Shoei will feature the helmet at the upcoming 2012 Powersports Dealer Expo in Indianapolis, Indiana, but the formal product launch schedule was interrupted due to the terrible earthquake and tsunami in Japan last year. Shoei was kind enough to send us one of the first Neotec helmets off the production line and we pushed it to the head of the queue to bring you this review as soon as possible, knowing that there's a lot of buzz about this helmet.
The Neotec will not replace the Shoei Multitec (review), according to Shoei, so the long-running Multitec will still be available for sale, apparently holding its position at a lower price point than the top-of-the-line Neotec.
We think this may be a bit of a hedge against the Neotec's ambitious list price, but the Multitec is still a hugely popular helmet, so keeping it around is probably a good business strategy.
See Also: Shoei Neotec EPS cutaway photos. Helmet Buyers Guide, Helmet Review Home and all Shoei Helmet Reviews
Introducing the Shoei Neotec
The Neotec is the very definition of the word "paradox". That's because it's not a radical redesign of the flip-up motorcycle helmet concept — yet, at the same time, it's completely different. The Neotec is also a big leap forward from the Multitec and just about every other flip-up helmet we can think of
Each tiny detail has been perfected and the Neotec proves that you don't have to get radical and "re-invent the wheel" to make a great helmet. Stick to the basics — but take the time to do it right and obsess over every detail — and you'll be golden. Sounds easy, right? Apparently, it isn't. Why and how so many motorcycle helmet manufacturers get it wrong is very puzzling.
Take ventilation, for example. How hard can it be to design a venting system that works? Yet flip-up helmets especially are notorious for poor ventilation (Example: the new HJC Sy-Max III (review)).
The Neotec proves beyond a shadow of a doubt that a basic chin vent and top vent — when designed properly — can provide outstanding ventilation and air flow with low noise levels.
And the internally rotating sun visor — how many companies get that wrong? Again, look at the Neotec for inspiration.
It's simple, it does not have a complex on/off only spring-loaded system, it rotates down out of the rider's line of sight (should be a no-brainer, right?) and it doesn't have any complex curves along the bottom edge to distract the rider. That's hard to figure out? I don't know why — we've been harping on it for years now. We're getting way ahead of ourselves here, so let's dive in and take a closer look…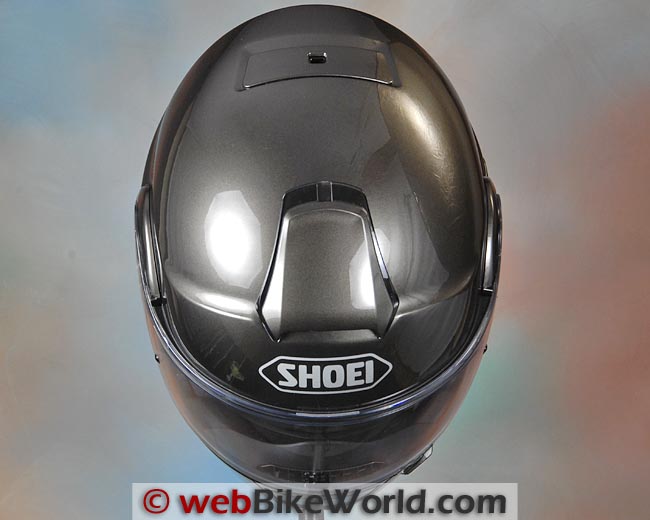 Shopping Now? We Recommend
webBikeWorld has worked closely with RevZilla over the years to provide our testers with products to review. In addition to being a great site to shop from, they're also a great partner. Both Amazon and Revzilla have a big selection of helmets from the great helmet manufacturers.
RevZilla

Free shipping on orders over $40
30-day no-nonsense return policy
Excellent selection of all major brands
Awesome pricing
Amazon

Free shipping (with Amazon Prime)
30-day return policy
Excellent selection
Competitive pricing
The Shoei Neotec: Paint, Graphics and Overall Quality
For some reason, helmet manufacturers usually give their flip-up helmets a very limited color palette, with white, black and silver the most common.
Shoei didn't dip into van Gogh's palette for the Neotec by any means, but at least they got a little creative and the helmet has been giving a wider range of color choices.
Besides the standard white, silver and black, the Neotec is available in the very rich-looking "Anthracite Metallic" shown here plus "Wine Red" and Shoei's "Brilliant Yellow".
The Anthracite Metallic on our helmet is an unusual color (and unusually difficult to photograph), with a sort of deep bronze flecked with shades of brown in an overall gunmetal metallic.
The paint is covered by a thick clear coat that's polished to a very high sheen (also making life difficult for the photographer!).
The overall build quality of the Neotec is superb and you can tell something is different about the helmet as soon as you lift it from the box. It feels solid, as do all of the moving parts, everything working with precision.
This is the "Mercedes" of helmets (or perhaps Shoei would rather us compare it to a Lexus). And like a Mercedes Benz, if you want that vault-like feel, you'll pay for it.
The quality of the Neotec is quite unlike the majority of flip-up helmets we've reviewed…although we have noticed that just over just the last year or so that the bar is being raised with each successive flip-up announcement.
A "make it or break it" feature of a flip-up helmet is, of course, the flip-up visor. The rotating flip-up visor on the Neotec has a different feel from the rotating visor on the HJC Sy-Max III (review)we recently reviewed.
The HJC has a very clean, spring-loaded feeling — like it's on ball bearings.
The Neotec doesn't have the spring-loaded feel but it's precise in its own way and notable for its very quiet operation.
In fact, the rotating flip-up visor is so quiet that it's difficult to hear it "click" locked when its shut if the rider is wearing ear plugs.
This subdued ambience is enhanced by the sound deadening provided by the very thick padding and plush liner material, which is installed in the helmet with no less care than is taken for the Shoei RF-1100 (review) or Shoei X-12 (review) full-face helmets.
And it's most noticeable once the helmet is on and the rotating visor is secured, because you'd never know you're wearing a flip-up — it's that secure. Very few flip-up helmets have that legendary "full-face feel".
The Neotec's chin vent and top vent look simple enough — and they are. Simpler is better in this case and the beauty is in the way they operate.
It proves that you don't need to re-invent a feature that should have been perfected in motorcycle helmets long, long ago.
The vents work marvelously, providing more air flow than any other flip-up helmet we can think of — and better ventilation than just about any full-face helmet besides.
But we're getting ahead of ourselves again…
Score: No reservations here — we give the Shoei Neotec an "Outstanding" rating for paint and build quality levels. See the Summary Table at the bottom of the page for a description of our rating system.
Shoei Neotec Helmet Fit, Internal Shape and Liner
When asked about the internal shape of the Neotec, Shoei told us that "We don't really label our helmets with regard to how round or oval they are.
But both the Shoei Qwest (review) and Neotec helmets are designed to be more 'roomy' than the RF-1100 or X-Twelve helmets.
This is primarily because the touring riders these helmets are designed for tend to appreciate a more comfortable fit than the more sporty riders (who generally want a narrower and firmer hold)."
We'll buy that. If our collective memory is serving us correctly, the Neotec fits much like the Shoei Qwest (review).
It has an internal shape that is probably fits the word "Neutral" to a "T" and it should work for a majority of rider head shapes.
Part of the high cost of producing the Neotec is the extended shell size range that Shoei designed for the helmet, which helps provide that bespoke fit.
Many flip-ups have only one shell size to span the range while you're lucky to have two shell sizes with others.
Shoei designed three distinct shell sizes for the Neotec: the XS, S, and M head sizes fit in the smaller shell, while the size large helmet has its very own shell and the size XL and XXL Neotec helmets use the largest shell size.
This means that the padding can be made more proportional to your head size
And it also helps avoid the "space helmet" effect, where a large shell size has to be deeply padded and use a thicker EPS (expanded polystyrene) liner to make up the difference on the smaller head sizes in that range.
The size large Neotec is listed as fitting a 59-60 cm head and we think that's correct; the helmet fits as expected.
The "Neutral" (our terminology) shape fits Rick's round head with just a very slight firmness on the upper sides, snug at the lower part of the jaw and with a tiny bit of room in the front — much like the Arai Signet Q (review) actually.
It fits Burn's "Neutral" and slightly narrower head just about perfectly and the internal profile should fit many different head shapes.
The padding is very plush and "Shoei-like" and the liner material is very soft and comfortable — more comfortable than your average flip-up by far.
Looking into the helmet, one can see that the quality of the materials and the way the liner is assembled is definitely first-rate compared to many other helmets or flip-ups.
We think the front-to-back distance inside may be just a touch shorter than expected, but since the large shell is only for the large head size, this may not matter unless you have a size large head with an extra-large jaw.
The chin curtain also touches the bottom of the chin, but that's probably what makes it effective.
See Also: Shoei Neotec EPS cutaway photos.

More information on helmet fit can be found in the webBikeWorld Motorcycle Helmet FAQ page, along with the chart that lists the helmet weights of webBikeWorld reviewed helmets and also by shape on the webBikeWorld Motorcycle Helmet Shapes page.
Score:  We'll give the Shoei Neotec an "Outstanding" rating for fit, superior comfort, internal shape and the availability of three shell sizes to span the head size range.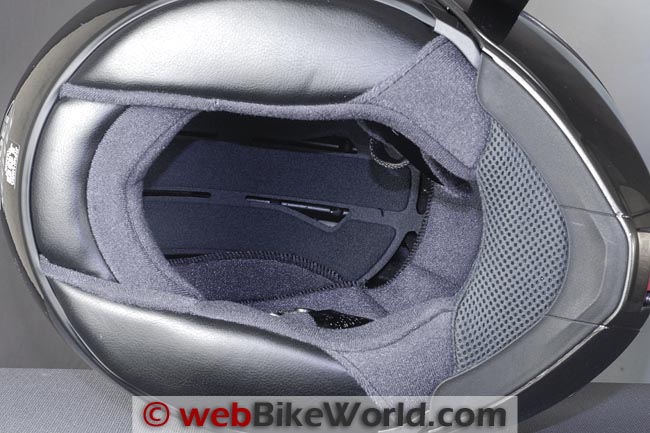 Shoei Neotec Face Shield, Eye Port and Visibility
Shoei designed a new face shield for the Neotec, the CNS-1, which is claimed to be wider and taller than the CX-1V.
That visor we think was previously used on the Shoei X-11 (review), the Shoei RF-1000 (review), the Shoei TZ-R (review) and the Multitec.
It's a little difficult to tell for sure, but the Neotec does seem to have better outward visibility than average, most noted in the horizontal plane.
The vertical plane is perhaps slightly better than average and when the head is tilted slightly forward, it has slightly better visibility out the top of the face shield.
It doesn't match the outward visibility new Nolan N-104 that's also currently in the webBikeWorld evaluation queue and which has a much wider and taller than average eye port and face shield design.
But then again, the two helmets have a completely different internal shape, so it's a bit of an apples-to-oranges comparison.
However, we do think the Neotec provides better outward visibility than the RF-1000, X-Eleven or TZ-R that used the older style face shield design.
The CNS-1 is also claimed to have UV protection and the face shield provides excellent optical quality. It is marked as "Made in Japan" and as exceeding the VESC-8 and Z87.1 standard.
It measures 2.27 mm thick on our helmet and Shoei said it is UV coated to protect against 99% of UV rays.
Shoei installs a Pinlock anti-fog insert (review) on the face shield that comes with the Neotec.
This is interesting because one might think a company like Shoei would use its own anti-fog coating, but as we've been reporting for years, anti-fog coatings just don't seem to work as expected.
The Pinlock system has its pros and cons; it will surely prevent fogging but it takes some extra caution during installation and cleaning.
We wondered if Shoei has considered the RIA permanent anti-fog coating (review)? Someday, some helmet manufacturer will start to use a coating like that and become a market leader in fog prevention…one can only hope.
The clear face shield seals absolutely complete along the top of the eye port gasket on our helmet.
The gasket is specially designed to provide a total seal across the top, so no water leaks in along the eye port when the rider is moving.
In some extreme cases, if the face shield is closed and there is no air movement across the front of the helmet, water can drain down along the outside the eye port on either side.
This is where the face shield rotating mechanism is located. The gasket seals so completely that the water gets trapped and starts to back up along the bottom of the eye port, but still outside the gasket.
In all fairness, the only way we noticed this was when running the "water leak-down test" on the face shield, which involves pouring water along the top of the closed face shield indoors.
The "problem" — if you want to call it that — is that the eye port gasket seals so tightly, and the face shield fit has such tight tolerances, that the water can't drain out the bottom.
Shoei could resolve this by adding a tiny indent along the bottom of the face shield that would act as a water drain.
Again, it's difficult to believe this is actually a problem, but since we run the leak-down test on every helmet face shield, we thought we should mention it here.
The face shield uses the Shoei QR-N base plate system, which has some "give" to maintain a tight fit of the face shield to the eye port gasket.
Removing and installing the face shield is easy, with three tabs that must be lined up making it slightly more difficult than, for example, the HJC Sy-Max III system.
The system provides the face shield with strong and crisp detents through 6 "clicks" as it opens or closes. It does not have a small first position for defogging; instead, the first "click" opens the face shield about 23 mm.
The face shield does have a small friction tab attached along the bottom of the chin bar, designed to keep the face shield tight when its closed.
If you're careful, you can just pop the face shield open and let it rest above the friction tab to allow a small amount of air in without having to open the face shield to the first detent.
The lift tab is on the lower left-hand side and it's large enough to find when wearing gloves.
The detents are strong enough that on the last "click", just before the face shield closes, a single press will pop it against the eye port gasket, so you don't have to open and then slam the face shield home to get it to close and seal.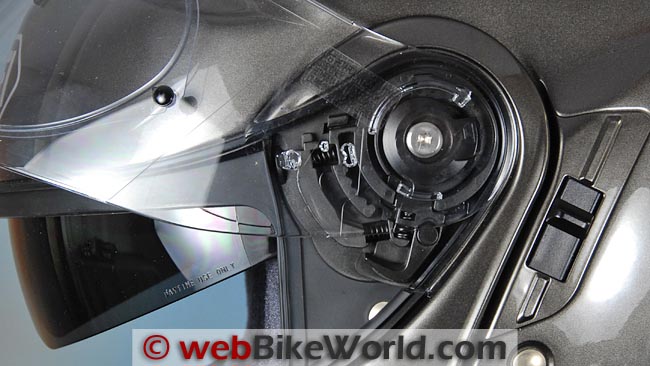 The Neotec has an internally rotating sun visor, operated by a slider on the left-hand side of the helmet, just to the rear of the face shield rotating mechanism.
The sun visor can be stopped in an intermediate position, which is a real bonus, because the sun visor can be lowered just slightly to dim the overhead sun if you don't want to lower the shade all the way.
The sun visor rotates down below the rider's sight far enough to remain out of the line of vision, another plus. And finally, it has a very shallow curve along the bottom, with a minimal indent for the nose.
This makes it very unobtrusive and non-distracting, unlike too many other internal sun visors.
The only quirk is that the sliding lever moves up to rotate the sun visor down, and down to move the sun visor up. This seems counterintuitive, but it isn't an issue once you get used to it.
Overall, the operation and functionality of the sun visor is about as good as it gets and again, it just proves that you don't have to re-invent the wheel to develop a system that works and works well.
Rotating Flip-up Visor
As mentioned above, the flip-up visor operates very quietly, with absolutely none of the "creaking and groaning" noises commonly heard in lesser flip-up helmets.
Combined with the thick padding, which helps deaden the sound, there is no loud "click" when the visor is shut.
Shoei designed a "Vortex Generator" lip that runs along each side of the rotating flip-up visor, which is designed to manage air flow and reduce noise. It's another subtle feature, but it seems to work

Score:  We'll give the Shoei Neotec another "Outstanding" rating in this category for overall excellence in the face shield, eye port and internal sun visor.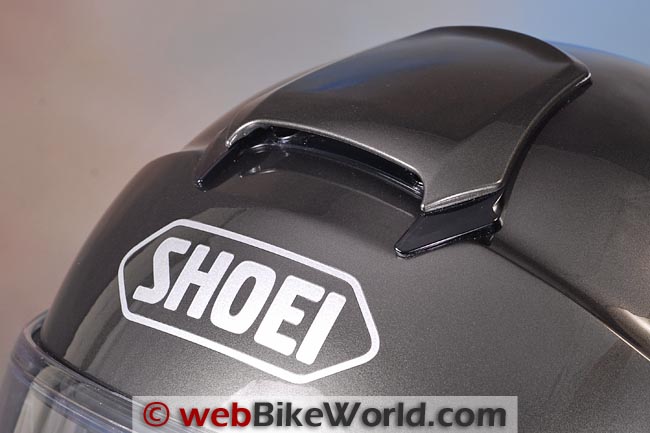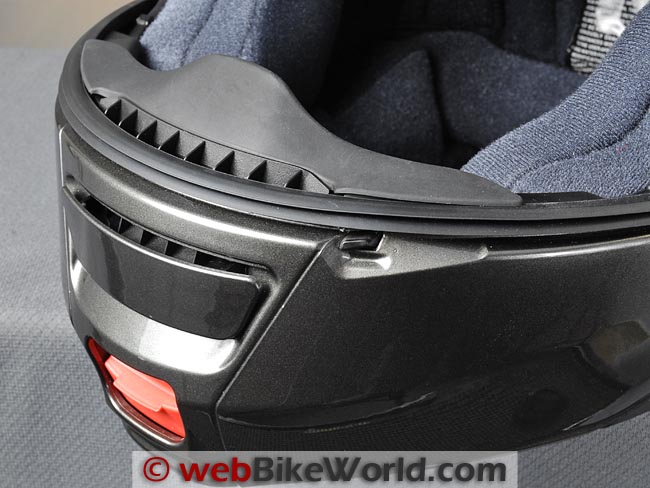 Shoei Neotec Ventilation and Air Flow
Another example of how simpler is better is the ventilation system on the Shoei Neotec. There's nothing exotic about it; just a chin vent and a top vent.
The chin vent operates with a wide flap across the front. Press the bottom of the flap and it rotates forward at the top. Press the top to snap it closed.
There are no direct air vents through the chin bar, which normally would be a disadvantage.
But on the road, once the chin vent is opened, air comes streaming through the nicely-designed and very large vent molded into the top of the chin bar.
The vent also has a positive action: press it closed and the air flow stops.
Press it open and the air flow starts. It works — and it works well.
This shouldn't be a surprise but it is — a sad commentary on current motorcycle helmet ventilation designs.
The beauty of the Neotec design is that it's so simple, yet works so well.
Ditto for the top vent. Forget the two (or more) button systems that require too much time and effort to finagle the vents open.
And too many upper ventilation systems are so poorly designed they don't provide much air flow anyway.
The top vent on the Neotec is a simple slider. Push it back, through one or two clicks, and it opens.
Fresh air pours through the helmet — what can only be called a "curtain" of air flows through over the top of the head.
No need for multiple switches, buttons and exotic spoilers, assemblies and plastic gimcracks. Just make the darn thing flow some air, and this one does!
Maybe it takes big bucks to design a system that actually works? Doubtful. Instead, it's more likely that a smart designer who actually rides a motorcycle can figure this out.
Apparently Shoei has one, because the Neotec has what has to be the best ventilation in a flip-up helmet you'll find (let's hope we find one that's better!) and it beats, oh, maybe 98% of the full-face designs also.
The Neotec includes a nice, big chin curtain  has a chin curtain underneath the chin bar and a good aerodynamics package and generous chin curtain usually help make a chin vent and overall ventilation system work better anyway.
It probably helps maintain internal pressure inside the helmet, which is then relieved by being "sucked" out the exhaust vents, pulling air through the helmet.
Again, it doesn't seem like it should be rocket science, just good applied common sense. If we have to pay extra to get the ventilation system we deserve, then so be it!

Score: The Shoei Neotec ventilation system gets an "Outstanding" rating.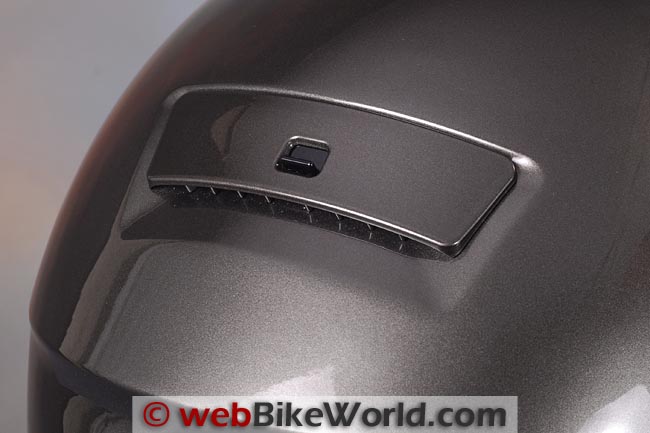 Where to find the Shoei Neotec
webBikeWorld has worked closely with RevZilla over the years to provide our testers with products to review. In addition to being a great site to shop from, they're also a great partner. Both Amazon and Revzilla have a big selection of helmets from the great helmet manufacturers.
RevZilla

Free shipping on orders over $40
30-day no-nonsense return policy
Excellent selection of all major brands
Awesome pricing
Amazon

Free shipping (with Amazon Prime)
30-day return policy
Excellent selection
Competitive pricing
Shoei Neotec Sound Levels
The thick padding and the helmet's aerodynamics work to provide a fairly quiet riding environment.
That large top vent can produce some wind noise volume that can vary, depending upon the rider's seating position.
The noise levels at the sides of the helmet are well controlled, however, and the thick neck roll along the bottom of the helmet works with the large chin curtain to control lower-frequency "booming" noises in that area.
So overall the Neotec is quieter than most flip-up helmets and probably quieter than many full-face designs.
The ear pockets are generous and nicely padded, with additional liner covering the EPS. Although the Neotec does not appear designed for a Bluetooth intercom, the EPS in the ear pockets is cut out for speakers.

Note that our helmet evaluations are a combined effort of several riders over time on different types of motorcycles with and without windscreens.
Evaluators wear correctly fitted, high quality ear plugs (even when evaluating motorcycle intercom systems).
Always protect your hearing when riding a motorcycle. See the wBW Earplug Reviews for more information on choosing and wearing earplugs.
Note also that perceived noise levels will vary, depending on the individual.
Noise can be caused by many factors, including helmet fit, the type of motorcycle and windscreen, wind speed and direction and even the rider's clothing.
For more information on helmet noise, visit the wBW Motorcycle Helmet Noise page.
Score:  We'll give the Shoei Neotec an "Excellent" rating for lower than average overall noise levels.
wBW Video: Shoei Neotec Helmet
Helmet Weight
This Shoei Neotec in size large weighs 1812 grams (3 lbs., 15-7/8 oz.).
This puts it just about in the middle of the range of the 56 flip-up helmets we've reviewed to date on the wBW Motorcycle Helmet Weights page.
Some helmets feel lighter than they actually are, while others feel heavier. The Neotec does feel slightly heavy when handling it but the comfortable fit wears well and the weight isn't that noticeable when riding.
By way of comparison, the Bell Revolver (review) in size L weighs in at 1808 grams and the Nolan N102 (review) in XL weighs 1850 grams.
The SCHUBERTH C3 DOT (review) in size L is 1603 grams and the SCHUBERTH C3 With SRC (review) in size XL weighed 1851 grams.
Note also that all of the helmets reviewed on webBikeWorld have been weighed and the weights are available on the wBW Motorcycle Helmet Weights page.
Also, see the chart that lists the helmets by weight and shape on the wBW Motorcycle Helmet Shapes page.
Score:  The Shoei Neotec gets a "Neutral" rating for slightly heavy weight with good balance.
Miscellaneous
The Neotec has our preferred double D-ring chin strap attachment system.
This type of retainer is elegantly simple, has no moving parts, adds a minimal amount of weight, is infinitely adjustable and takes up little room. And it has been proven to work for many, many years!
The chin strap padding on the Neotec is adequate but it could be longer and thicker. The strap has a plastic snap to secure the extra length of chin strap.
The helmet meets the U.S. DOT safety standard. Shell sizes: Medium shell fits XS, S, and M. Large shell fits size L. XL shell fits size XL and XXL.
Warranty
The Shoei Neotec has a five-year warranty, which effectively covers the helmet for its usable life.
Conclusion
The Shoei Neotec is a paradox, in that it's a conservative design that doesn't try to re-invent the flip-up motorcycle helmet concept. Yet, Shoei has redesigned every feature one would expect in this type of helmet and perfected it.
The combination of the solid feel, superior build quality, outstanding ventilation (how much would you pay for a helmet that actually has good ventilation?), excellent internal sun visor design and relatively low noise levels, along with outstanding comfort, make this the flip-up to beat.
But, there's no getting around the breathtaking price.
I guess you can't have it all — if you want a helmet made in Japan, with this level of quality and with features that actually work as expected, you'll have to pay. In the end, you'll probably end up with a helmet that you'll be very happy with during its full five-year life span. Or, you could buy two or three cheaper helmets over that time period, be less satisfied and still end up spending the same amount of money. The choice is yours.
w

BW

 Review: Shoei Neotec Helmet:
List Price (2012): $648.99-$662.99
Colors: Solids and graphics.
Sizes: XS to XXL Shell Sizes: 3
Review Date: February 2012
Buy the Shoei Neotec
webBikeWorld has worked closely with RevZilla over the years to provide our testers with products to review. In addition to being a great site to shop from, they're also a great partner. Both Amazon and Revzilla have a big selection of helmets from the great helmet manufacturers.
RevZilla

Free shipping on orders over $40
30-day no-nonsense return policy
Excellent selection of all major brands
Awesome pricing
Amazon

Free shipping (with Amazon Prime)
30-day return policy
Excellent selection
Competitive pricing
Owner Comments and Feedback
---
From "R.S." (November 2015): "Bought the helmet in March, 2015. I've always used open face helmets so this was my first full face flip up.
I was surprised at the comfort, fit and low noise level even after wearing the helmet all day.
I've now worn it for a full riding season — our first winter snow was this A.M. — and find it to be superior in comfort and convenience.
I particularly like that on cold mornings — 34-38F — I can pop the shield up just a bit and eliminate any fogging.
The flip up/down sunshield conveniently eliminates the need for sunglasses while riding.
I was a bit amazed, at first, at the price but now after 3500+ miles I've found that true quality, workmanship and effective operations and performance far outweigh initial price.
If I had to, I would definitely purchase this helmet again."
---
From "A.B." (August 2015): "Just bought my second Neotec. This one also leaks wind and water from the top seal. There's no way of tightening the visor against the seal, the construction is flawed.
They have improved the chin vent which doesn't spit water in your eyes any more, but the leaking is just sad. I'll send mine in for a repair and if they don't fix it I'm not sure what to do."
---
From "L.M." (May 2015): (Update to L.M.'s comments below from 2012) "I have owned this helmet for about 3 years. It is the best fitting helmet I have ever owned.
I learned the shield removal routine and no broken tabs. In fact I bought another one a month ago with the fluorescent green flashes on the black background and it is stunning.
I have run into a problem with both helmets. These helmets ventilate very well. Almost too well. I had a small bee come in and sting me a couple of times in the forehead !! Got over to the side of the road quickly and took off the helmet and crushed the bee. That was not fun.
So what I did was get some plastic window screen and put some over the 2 front holes in the Styrofoam liner. I'll see how it works out. Be safe out there !!"
---
From "B.P." (June 2014): "Yesterday I had the opportunity to test ride a Neotec at the Americade rally.
Yep, test ride a helmet. Shoei has a little tent in the area of most of the demo rides, and lets you test out a helmet; they don't sell them there, but some of the vendors in the sales area have them.
I don't know about their lesser helmets, but in the case of the Neotec I was required to leave a charge card with them, lest I ride off into the sunset with a new helmet.
Shoei is to be strongly commended for providing this service.
In the case of the Neotec, however, I think they might have lost a sale.
Or maybe not. I did two demo rides of about 40 minutes each, first on a Honda CTX700 (I wanted to check out their dual-clutch auto transmission, but that's another story), and next on a Kawasaki Z100.
The Honda has a small screen, and the Kawi is a true hooligan bike, with no screen and a lot of get-up-and-go.
The Neotec impressed me with its fit and finish, good optics (clear and sunshade), comfort, and quietness. However, its ventilation, which is what I was really interested in, was just ho-hum… in a head-up position.
That is, I did a lot of head movement experiments, especially on the unfaired Kawi. With my head and XL Neotec, anyway, the ventilation was excellent in a racer's tuck, neck craned, and so forth.
Put your head up — the way I ride my cruising tourer Victory Cross Country Tour — and the ventilation was no better than my non-current Nolan N90 (review).
I also discovered that head checks (at speed) on the Kawi resulted in a lot of unwanted wind pressure.
I admit that I don't go around riding much without a look-over windshield, so I don't have a good basis for comparison. Still, the sideways air resistance seemed excessive.
And, as someone already said, that first detent is pretty high up. I like to ride most of the time with one click up in my helmets, just for fresh air.
I'm very conversant with flip-ups, having owned the first such model Nolan came out with.
Then, it was a Jarow Mono X2 (review) (AKA Caberg Justissimo, and pretty good), then a Vega Summit 3.0 (review) (junk), and now the N90 (fine now, after getting several sunshade replacements, and finally a replacement helmet).
The Neotec was easily the most impressive of that lot in terms of quality.
The sit-up-and-beg ventilation was what I was looking for, though, and the Neotec's lack of stellar performance in that area saved me $700.
When my N90 needs replacing someday, then maybe I'll revisit the issue. I wonder if Shoei's target audience for the Neotec is more sportbike rider than tourer?"
---
From "H.F." (October 2013): "Love the reviews…you guys save me a lot of money…and well, cost me a lot too…but I appreciate being an informed consumer.
I recently purchased a Shoei Neotec and inquired with Shoei about the optional/updated top vent piece, as I didn't want the reported draft when all the venting was closed.
Below is the response I received from Shoei and thought it would be nice to update the review of the NeoTec.
'All the new production models already have this new vent installed. This was a problem when the helmet was introduced in early 2012.'"
---
From "J.C." (October 2013): "I currently own a Scorpion EXO-900 Transformer helmet (review) and after five years of use decided to spend big bucks and get the new Shoei Neotec Borealis and what a beauty! WOW the price really!
After taking that inner liner of Scorpion out to remove my intercom system and putting it in the new Shoei helmet I was not entirely impressed with what the reviews said about Shoei's plush and better upgraded material for their inner liner.
I think the Scorpion EXO 900 transformer is not only good, if not better then the Shoei.
But the Shoei is a little quieter and the face shield is smoother to operate. The ventilation is definitely superb."
---
From "O.R." (June 2013): "After one year living with the Neotec, I thought I'd comment on a couple of flaws that are really irritating, if not downright unacceptable for a helmet in this price range:
The little red cord that helps open out the D-ring has broken away. Not major, but irritating enough.
When you pull the chin protector down, you really have to slam it hard down and make sure it snapped locked, otherwise it'll remain unlocked, and if you're not aware of it, an accident could be very bad.
There is no way you can leave the visor open just a fraction to prevent mist. The first notch is already too much, which means your eyes get all the drafts. Not mentioning cold.
Forget about the Pinlock. Pinlocks are a PIA, they are so full of distortions and reflections. At night, this can even be dangerous. And they don't prevent eyeglasses from misting up.
The visor is another PIA to put back in place. Right up there with Arai for inconvenience. It's a shame because this helmet is otherwise very good.
Would I buy another one now? Not sure."
---
From "K.H." (April 2013): "One again, great review of a great product!
First-rate quality, fit and finish. Premium quality and commensurate premium pricing.
Not as light and quiet as the SCHUBERTH C3/C3Pro (review), but bereft of an even more astronomical price, the Star Wars Storm Trooper/Euro-styling and the extremely claustrophobic feeling.
Yes, this is a relatively close-fitting helmet. One must bend the chin curtain to get it around your chin when closing the chin bar, just like the Schuberth.
That chin curtain and close fit are important parts of what makes both helmets quiet.
Biggest peeves: relatively high price (you do get what you pay for) & cheapo std. helmet bag (dust cover?). Just how much do you have to spend on a Shoei to get a real protective helmet bag? Apparently, $650-$750 isn't enough. Maybe you don't get what you pay for after all? Keep up the great work, wBW!"
---
From "M.H." (November 2012): "I have to ride in all weathers — this varies from about 300 to 1000 miles each week.
I have a Shoei X1000, a Multitec and have recently acquired a Neotec — imported from the USA as I wanted a yellow one (difficult to find in the UK) so it has a standard double D ring fastening rather than the micro-ratchet.
I have been using the Neotec for about two months, and it is about to go to bed for the winter. There is nothing , much, wrong with the Neotec.
It is extremely comfortable, the ventilation is superb, there is less wind noise than the Multitec, visibility is good and the internal tinted visor works very well. I think it is very good value for money.
However, in some respects the ventilation is too good. In light rain, mist and drizzle I need to open the chin vent to avoid misting problems – even with the Pinlock insert and breath guard fitted.
The vent, however, draws in water – cold water – and whilst I can see well enough, having a wet nose gets uncomfortable after a while.
In heavy rain I managed to leave the top vent open which resulted in the helmet flooding.
That is OK whilst moving, but after stopping the water drains down the inner visor space resulting in the rain continuing inside the helmet – this is inconvenient.
I will be using my X1000 this winter (unless I need the headset fitted to my Multitec). It is lighter, quieter, warmer and relatively waterproof, and with a pair of sunglasses for those low sun, bright mornings I should be OK.
The Neotec will be my helmet of choice on dry days."
---
From "T.B." (September 2012): "I just purchased a Shoei Neotec helmet. As this is the first time I spent more than $300.00 on a helmet, I figured I would treat myself to a nice high end helmet.
I had high expectation for the Shoei, however I was disappointed and I am returning the helmet. I ride a 2007 Triumph Tiger, with almost 90,000 miles on it. I live in Santa Cruz and ride to my office in San Jose almost everyday, summer and winter, I ride + or 500 miles a week.
While the build and fit of the Shoei was very nice, on a cool (not cold) fall morning my guess 60ish, the lens would fog up right away at low speed.
This requires the shield to remain part open, no problem.
However, once at highway speed, in order to keep the lens from fogging you have to keep the "chin vent" open, which has so much flow that my eyes would water, the top vent open or close was way to much.
On a cold winter day, your head would freeze and you eyes would water.
For warm and hot weather, this just might be the helmet, but for everyday, not for me.
The included Pinlock insert should have been a clue that Shoei knows they have a problem with fogging, and I not interested in using the Pinlock insert."
---
From "D.G." (August 2012): "Just some comments on sizing. I previously owned and was very happy with a Nolan N102 (review) size medium. Tried a Nolan N104 (review) in medium, felt like my head was in a vice.
Instead of waiting for the next size up I tried the Neotec (always wanted a Shoei, this was just the excuse I have been waiting for) also in medium as it supposedly had a neutral to round fit and about right for my 58 cm round head.
The pain was unbearable after an hour. However the large in the Neotec was prefect even after 2 hours on the bike."
Editor's Note: Sounds like you're a size L, not M!
---
From "M.M." (June 2012): "I purchased a Neotec based on many of the comments I have read about how quiet it is, unfortunately It is the noisiest helmet I have worn to date.
I have owned a Schubert C1, C3, Nolan N104, and a Vega Summit 3.0. I ride a sport naked with a minimal windscreen, but the other helmets have not created the wind noise the Neotec does.
If I scrunch my neck down and or cover the rear of the pivots the wind noise decreases. I have well over 1000 miles on this helmet and cannot wait to get rid of it.
The build quality was more than impressive and convinced me not to wait for the correct sized Nolan to come in.
But instead, I exchanged the Nolan N104 for the Shoei Neotec (along with its reputation as being quiet), but I cannot see how, barring my helmet being grossly defective, that it garners such praise as being quiet.
I'm currently trying to find a way to record the noise produced by this helmet. Windscreen up whistles annoyingly also.
On a side note mine also lacks the airflow from the ventilation, I would put it slightly better than the Vega in that respect, and that is not saying much. All vents open only makes it louder.
Lowering the sunshade also increases wind noise. In the mornings and in rain the visor fogs horribly."
Editor's Note: On a follow-up, M.M. noted he does not wear ear plugs.
---
From "I.K."(May 2012): "Thanks for great review of Shoei Neotec Helmet. I am new owner of Neotec (two weeks) and I already made apporox.1.500 km with it.
My impression overall is very positive with Neotec. It is light, robust, quiet and much better in venting comparing to Multitec and fit perfectly to my head.
Also mounting of Scala Rider intercom was very easy.
Only issue what I have is with no possibility to close completely top air vent – very uncomfortable (and can be even dangerous) in cold weather.
When contacting Shoei Europe through their Help formula on internet page there is no feedback.
When asked in shop they mentioned that I should bring helmet to the shop and they will send it to Shoei for investigation and possible repair.
But this will takes a weeks and now I want to drive – not to wait for delivery.
In Comments and Feedback session under your review there are two comments that this issue is already known by Shoei and they are able to solve it by easy replacing of some parts.
Are there some more details available (part Nr. or something) what I can use for communication with Shoei Europe as reference?
Sending small piece to me will be much more simple than to ship Helmet (with already installed intercom) across Europe (I am from Slovakia and Shoei dealer is located in Germany).
Thank you for any kind of information or advice with this issue."
Editor's Reply: I sent an email to my Shoei contact to see if there is a part number (May 20, 2012) and they could not confirm a part number for this.
Update from "I.K." (July 2012): "I just wanted to give you an update about the topic Shoei Neotec air leakage issue.
After a reminder from (me), Shoei Europe reacted very quickly now with apologies that in May their email system did not work. They confirmed today by e-mail shipment of new flap."
---
From "R.W." (May 2012): "I purchased the Neotec about 3 weeks ago and have ridden about 1200 miles with it.
I use it mostly on an R1200GS with a mid-height windscreen and on a K1200LT with an adjustable windscreen, thus my comments may not pertain to those who ride with their head in direct, unperturbed air stream.
Touring riders, however, quite often sit behind wind protection and are not exposed to full blast of air.
In terms of fit and finish, the Neotec is excelling. The shell and liner are well made, everything, down to liner snaps, has quality feel.
Even though I apparently have an oval head, the Shoei's neutral shape did fit me.
However, after very long days in the saddle my earlobes were in excruciating pain.
I discovered that the earset speaker wells had a sharp edge that was bothering me. I pounded the Styrofoam in that area down for a more rounded shape – so far, it seems to work better.
By the way, beyond the sharp edges, the speaker wells are very convenient. My Sena intercom installed without any difficulty.
As a small quibble: the liner is covered with a soft fabric that feels great on the skin, but get invariably caught and ripped by the velcro-like fasteners on the collars of my jackets.
Having a leather-like surface on the bottom edges of the liner would help a lot.
Now, in terms of negatives: do agree with another commentator here that it is quite difficult to snap a removed visor back in.
A lot of flexing and forcing is required and I always worry that the small protrusions on the shield will break off.
My biggest complaint is about venting, where I have to disagree with your assessment. The top vent works great, I can really feel the airflow.
Unfortunately, I can also feel it when not desired: even though closed, there is a small stream of cold air hitting the top of my head.
When I first started with the Neotec, the lowest temperatures were in high 40's F and the bite of cold air was just getting to be painful.
I am worried about colder temperatures in the winter season – I guess that I will have to plug the venting holes then.
I did see the sidebar note about the issue – I'll see what Shoei considers an "annoyance".
The real problem is with frontal-area ventilation. I found that the helmet is fogging up to an simply astounding degree. Absolutely amazing.
In temperatures in the 50's, it was simply unusable with the shield closed, even if I tried to give it time to equalize. I actually do not recall a helmet that would be so bad. The included Pinlock insert helps a lot, but brings along its own problems.
I also found that the liner seals so well around the face that there is no fresh air for breathing. With the visor down, I can feel the whole frontal area fill with my own hot breath.
Hot and smelly… hmmm. The small "crack", that the visor can be opened to, is of no use at all; there is no discernible improvement in ventilation – even at highway speeds.
The next "click" is too high, on the other hand. Then the visor leaves too much of an opening, allowing a steady dusty and pollen-laden stream of air to hit eyes and permitting insects and debris to get in.
Again, these comments are from my experience behind a windscreen – your mileage may vary."
Editor's Note: Shoei has recognized the "always open" top vent and is taking steps to correct the problem, as noted in the sidebar in the review.
---
From "J.V." (May 2012): "I just purchased the Neotec to replace my Arai RX7 as my daily commuter and love the helmet.
The size M fit me where I normally take a L with Arai. The noise level is much less than expected and the airflow much better.
There is one issue, however, the clear coat appears to be very thin and the helmet scratches almost by looking at it.
On the first ride I opened the front vent with my gloved finger and now have a rub mark that won't polish out!
I have used the same gloves on my Arai without a trace, a very poor quality coating for such an otherwise high quality helmet (expensive too).
This issue aside I love the helmet, it makes commuting in San Antonio, Texas much more enjoyable. Thanks for your review, it was a large factor in my choice!"
---
From "E.B." (May 2012): "I'm not a helmet designer, but I have studied Chemical Engineering and a little aerodynamics.
To achieve good airflow without inducing drag, a.k.a noise, laminar flow must be maintained throughout the system. This includes the intake, flow channels and the exhaust.
The vent must be located such that the air entering it is already laminar, so that makes placement and helmet shape and obstruction ahead of the vent critical.
If the flow is turbulent entering the vent then noise and drag, which translates to reduced airflow, is created and no matter how you try to improve the flow past this point will have any significant impact.
The design of the flow channels, size and shape, play a significant role in maintaining laminar flow through the system.
If the channels are to small then they won't be able to handle the volume of air entering the vent.
This will lead to stagnation and increase back pressure, which ultimately leads to turbulent flow at the vent since air pressure will build-up at the vent.
So, to achieve maximum efficiency the flow channel and the vent, must be sufficiently large to handle the maximum expected airflow, which is related to the speed at which the helmet travels through the air.
If the flow channels are too large then the air will flow too quickly, which can cause noise as well.
Or a low pressure, which may the suck air from the high pressure zone below the flow channels.
This may be acceptable when the air temperature is warm but may be a little too breezy for the cool and cold fall and winter months, respectively.
The material, or it smoothness, through which the flow channel are created also plays a role, since turbulence is created by the increase in shear forces caused by a rough surface.
The air closest to the walls of the tube will travel slower since friction caused by the walls reduces the flow. This difference in flow velocities will induce turbulence in the flow.
The radius of any curves in the flow tubes also play a role in the overall efficiency of the system.
Tight curves reduce the flow which cause stagnation if the isn't enough pressure, or head, in the system.
The size and shape of the exhaust also play a significant role. Too small and the result is stagnation. In a pressure zone, stagnation if the pressure differential is in the wrong direction.
Ideally, it should be located in a low pressure zone since this will help with ensuring proper flow.
Ask any airplane designed and they will tell you that aerodynamics is a juggling act where an improvement in one area can have the opposite effect in another.
It's like the Three Little Bears… it has to be just right. Love the web site, keep up the excellent job your doing."
---
From "D.C." (April 2012):  "I took a pretty long ride yesterday. It was mostly sunny, temp getting close to 80 in Cincinnati yesterday afternoon/early evening. I wore the Neotec.
Its definitely quieter than the HJC IS-Max (review), but, that was expected. It seems to fit tighter too. I found myself raising the face shield a LOT, especially when at rest.
I guess its a combination of tighter fit, presence of chin curtain and maybe more space between face (nose/mouth) and the face shield.
I think I had the vents open correctly as I did feel airflow, but, my head did get "warm" at times. I may not have had the vent at the rear open though and that may have affected overall airflow.
My neck did not seem "tired" after 3 or 4+ hours of riding versus the HJC. I'm guessing better aerodynamics (and maybe overall weight?) had a lot to do with it. Overall, very happy with Neotec."
---
From "K.H." (March 2012):  (Note: Some European Neotec owners report that some air will continue to flow through the top vent when the vent is closed. This can also cause the top vent to leak).
"From Shoei: The Shoei Neotec System helmet has been developed and produced in conjunction with information gathered from Shoei's global markets.
Whilst the ventilation system was being developed, Shoei designers factored in a calculated percentage of air flow to be continuously distributed throughout the helmet even with all the vents in the closed position.
This has been achieved through the use of a pre-cut channel to the rear of the to vent.
There is however a free of charge modification available to customers in the northern hemisphere that will prevent air passing into the helmet when the vent is closed.
We are currently awaiting stock of the replacement top vent base to arrive at Feridax. The new part can be fitted by your local Shoei service centre and will only take a matter of minutes."
---
From "A.B." (March 2012):  "I'm glad I got the burgundy , the finish is amazing. It's more like candy apple red. The visor ventilation isn't good enough.
It created a palm wide mist free spot which is too slim, not even wide enough for both eyes to see forward through the fog free patch. The included Pinlock visor will solve that.
Noise-wise it's noticeably quieter than my Arai chaser. Except for the fact that i can't fit a foggy mask in it, I'm super happy."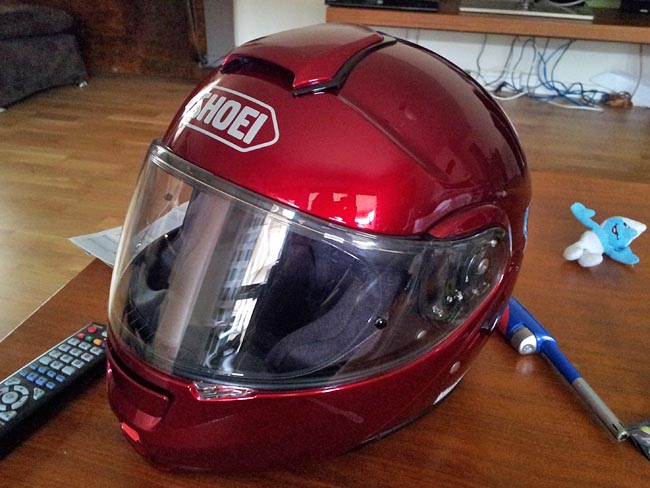 ---
From "C.C." (March 2012):  "I bought a Neotec size L and the label for the weight is 1650 grams! I checked also the weight of the helmet with my own scale and I read the same weight!
Also, I am from Greece, it is the European version."
---
From "L.M." (March 2012):  " I would like to tell everybody about the face shield removal and replacement on the new Shoei Neotec modular helmet.
I just received my brand new helmet and was looking it over carefully.
I read the instructions and I was able to remove the face shield easily. But trying to install it again was a nightmare. It is a stiff mechanism to operate.
On my third attempt to install the shield I heard something go "snap" and the tab that is attached to hook you pull on broke. The hook and associated parts are made from a cheap plastic that breaks easily.
This is a six-hundred dollar helmet! Come on! Beware!
I was able to exchange the helmet for another one (they said the one I got might have been defective) and I will see how that one is. If it breaks again I think I will try the Nolan N104. Thanks for letting me vent."
Editor's Note: I ran into this problem with another helmet brand a long time ago, I don't remember which.
So ever since then, I'm really careful about those little plastic tabs that many manufacturers use, realizing that it's all too easy to break one.
I don't know why some manufacturers can make a face shield change so easy — like Bell or HJC — and others keep trying to reinvent the wheel…
---
From "N.C." (February 2012):  "I have read your review of the Neotec helmet. One thing that does stand out for me is the "hefty" weight.
As for the ratchet vs. double D ring, I for one prefer the micro ratchet, I have one on my Shark Vision R and had one on my X-Lite 601 and found them comfortable so long as there is enough padding to prevent the micro case digging into the neck.
Nice helmet all the same. It's a pity Shoei couldn't put the sun visor in a full face helmet too, not just the flip-up lid."
---
From "A.B." (February 2012):  "I've tried the Neotec at the latest motorcycle fair in Sweden, and I agree on most things said in the review, except for visibility and size.
On a sport bike where your head is tilted forward, the Neotec cuts off most of the vertical field of view, so you feel like all you see is the horizon.
A bit different from my Arai Chaser and Condor, but I'm sure I'll get used to it eventually.
The Neotec works great with eyeglasses, it has eyeglass channels just like the Arai's, only "roomier" if you could say so. Also the integrated sun visor has good clearance to my glasses.
The L size is larger than Arai Chaser or Condor L. Also the difference between M, L, and XL is huge. It just feels like L is too big, and I'm afraid it will start moving on my head at higher speeds.
The European model seems to have the buckle system instead of the double D-ring, which is a shame.
Something I feel is important with a flip-up helmet is that it's easy to put on without removing my glasses.
The Neotec, much like the Multitec, is flexible, so you can pull it open by the chin straps, and it slips on the head without folding down the ears and dragging the glasses along,
The same goes when taking it off. Easy on/off is actually why I'm going to buy one.
Thank you webBikeWorld for the many reviews I've wasted countless hours on, excellent stuff!"
---
From "S.H." (February 2012): "In reading your review of the Shoei Neotec, I noticed that you gave the weight for the large size, I am sure it is because this was the size you were provided.
I take the next size up which is a larger shell size with larger dimensions and weights for the components other than the shell like the shield, would you know the weight of the XL?
Second question with respect to the first.
As you are very precise on the weights being a large factor in helmet comfort and your chart is ordered on weights (Helmet Weights chart), what is the reasoning behind this logic?
Generally, the larger shell/helmet sizes weigh differently and you do not compare them in a similar manner?
It may be a little nitpicky but I also happen to like the quick release over the "D" ring setup for ease of use. The Shoei website shows the quick release but you were provided with a "D" ring setup, will the helmet for the USA be the "D" ring type?"
Rick's Reply: I don't know the weight for the other sizes, but in the past, we've noticed a difference of around 30-50 grams for each size up.
Although since the Neotec XL uses a different shell size, it may be heavier, I don't know.
We list the weights on the Helmet Weights page in order from lowest to highest, just as a reference for all of the helmets we reviewed.
The chart can be used as a guide to roughly compare weights of the various helmets for comparison shopping and other purposes. We don't have a sample of each size helmet to weigh unfortunately.
I don't see a photo of the Neotec chin strap on the U.S. Shoei website. The "microlock" chin strap retainer is more commonly used in Europe.
As far as I know, the Neotec uses the D-ring system in the U.S.A., I'll check with my Shoei contact to confirm.
We've used many different chin strap retainer systems in the various helmets we've reviewed over the years and prefer the D-ring.
That's because it's incredibly simple, it has no moving parts, it lies flatter against the neck and it is very light weight.
It is also infinitely adjustable and it eliminates the bulk and complexity of the microlock systems which can sometimes cause discomfort, especially as helmet weight increases.
This far outweighs any benefit of being able to quickly release the chin strap in my opinion — which, when you think about it, isn't something you really want to happen anyway if you're in a crash.
The chin strap retainer is one of the most important safety devices on a helmet, and as far as I know, all of the motorcycle racers use the D-ring system, which is good enough proof for me…
UPDATE (February 2012): The Neotecs sold in Europe are equipped with the micro-ratchet, while the U.S. Neotec helmets get the double D-ring.
Other WebBikeWorld Helmet Posts