SCS S-1 Intercom Image Gallery
The SCS ETC S-1 Helmet Bluetooth Intercom is a Bluetooth v4.1 based system.
It features fast device pairing, excellent audio switching and very good audio fidelity.
It also has an external auxiliary input that supports any non-Bluetooth device using a 3.5 mm interface.
Audio from the wired interface is not interrupted by Bluetooth audio, even the highest-priority phone call.
Volume Up and Down buttons can be a bit difficult to feel when wearing gloves.
This means you'll need some practice before making adjustments, although the larger Intercom and Function buttons are easy to use.
Two distinctive LEDs leave no doubt as to what mode the headset is in.
Most noticeable is the lack of overall audio output for the S-1. At higher speeds and/or noisy helmet and cockpit environments, output is washed out or overcome, making it hard to communicate or listen to other media.
But at lower speeds or in a quieter cockpit environment, the S-1 systems work well providing very good headset audio with crisp clear intercom communications and better-than-expected music audio.
As the base system offered by Chinese manufacturer SCS ETC (Success ETC Technology Co., LTD, it doesn't have all the "bells-and-whistles" that we expect of mid- to upper-tier helmet systems.
But considering its entry-level pricing, the S-1 intercom has some unique features and performs quite well.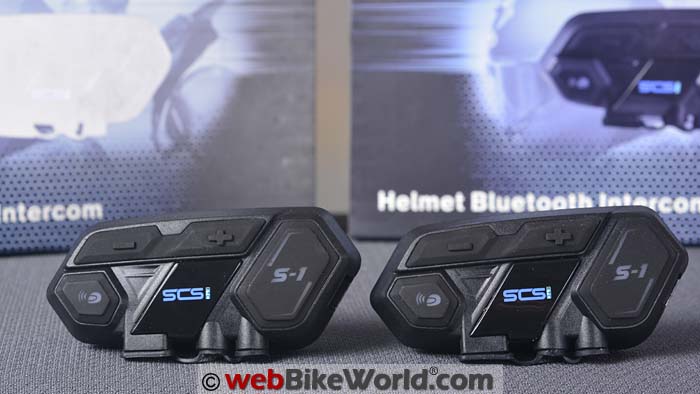 Introduction
Over the course of a decade or so, we have gone from a point where motorcycle Bluetooth intercom systems were a novelty to "the future", where for many motorcyclists, a Bluetooth communications system is essential.
To say there has and is a proliferation of motorcycle Bluetooth helmet communication systems on the market is an understatement.
But in considering all things, that isn't a bad thing.
Since the first Bluetooth intercoms appeared on the market, webBikeWorld has continued to review and evaluate many, many different Bluetooth systems from various manufacturers.
And except for those that disappeared from the landscape rather quickly, due to poor performance or poor marketing, most brands have continued to evolve and expand their product lines.
This is thanks in large part to technology, mass production, mass marketing and of course, demand.
Large or small, integrated, modular or stand-alone, in virtually any price range, there is a motorcycle Bluetooth intercom system of some sort for almost any application.
That includes anything from single rider systems all the way up to systems for large groups looking for a single common communication capability.
Into this market comes Success ETC (SCS ETC) Technology Co. Ltd., headquartered in Shenzhen, China.
Founded in 2010, SCS ETC is a "high-tech business entity focusing on research and development of personalized Information Technology (IT) accessories, including Bluetooth headsets."
SCS ETC offers four Bluetooth motorcycle helmet systems.
There's the extended-range S-3 with a Jog Wheel and FM radio and the S-2 that also features FM radio.
Then there's a B-1 "Half Face" helmet system and the baseline SCS ETC S-1, launched in May of 2016, which is the subject of this wBW review.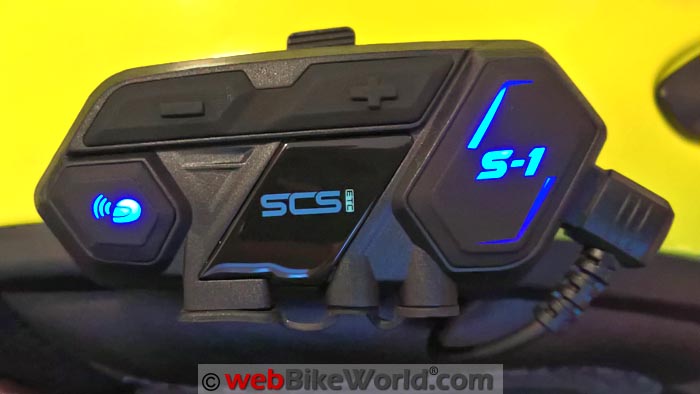 SCS ETC S-1 Overview
The SCS ETC S-1 is based on the CSR chipset and uses Bluetooth v4.1 low energy (BLE).
This provides the S-1 system with low power consumption along with fast and easy secured pairing to compatible devices for phone, music and navigation audio.
Like other typical motorcycle Bluetooth helmet intercom systems, the SCS ETC S-1 supports the headset (HSP) profile.
Also supported are the hands-free (HFP) profile, the A2DP (Advanced Audio Distribution Profile), AVRCP (Audio/Video Remote Control) and the SPP (Serial Port Profile).
The system uses "Clear Voice Capture" (CVC 6.0) noise cancellation technology that reduces background noise (think cockpit and surrounding environments) to provide clear communications and audio.
S-1 Specifications and Features
Key features of the SCS ETC S-1 motorcycle Bluetooth intercom system include:
Up to four users (a group intercom mode of four to six users is identified).
Support for three paired devices: headset, mobile phone, navigation device or (GPS) Velometer and other compatible devices by Bluetooth pairings or the auxiliary input port.
Priority audio switching.
Play Music Function via the AVRCP profile and user control inputs.
Voice Prompt Function for power, pairing status and other information.
Nominal range of 500 meters in open terrain.
HD audio and Advanced Noise Reduction (CVC 6.0 technology).
Mini-USB helmet headset interface.
Micro-USB charge/data interface and a 2.5 mm auxiliary stereo input jack.
Water resistance to IPX5.
600 mAh battery, up to 10 hours of continuous use and 14 days of standby time.
Speakers are 4.9 mm thick and 30 mm in diameter.
Dimensions: 86 mm x 40 mm x 27mm (4.8 x 1.9 x 5.2 inches).
System is CAPA Certified and DOT certified.
Firmware downloading and updating using USB connection to PC .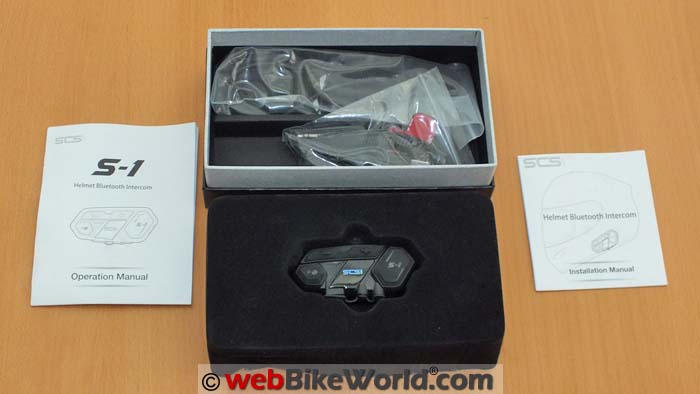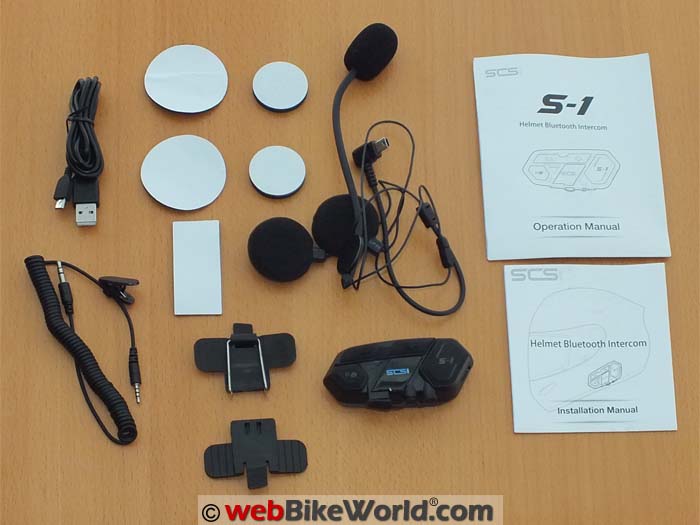 S-1 Kit Contents
The SCS ETC S-1 intercom kit is fairly basic, but it provides everything you need to install the headset into the helmet and the Bluetooth module onto the helmet.
Each kit includes one S-1 module, a digital noise cancellation boom microphone (18 cm or 7 inches long) and a stereo headset with right-side modular connector.
Also included are a micro-USB power/data connection cable and a 2.5-to-3.5 mm stereo accessory cable.
Small foldable installation and operation manuals are also included.
Also provided for helmet mounting are one clip and one 3M adhesive pieces and two large round hook-and-loop pads.
Two round EVA rubber spacer pieces, a rectangular hook-and-loop section for microphone mounting and three small 3M Dual-Lock sections are also included in the kit.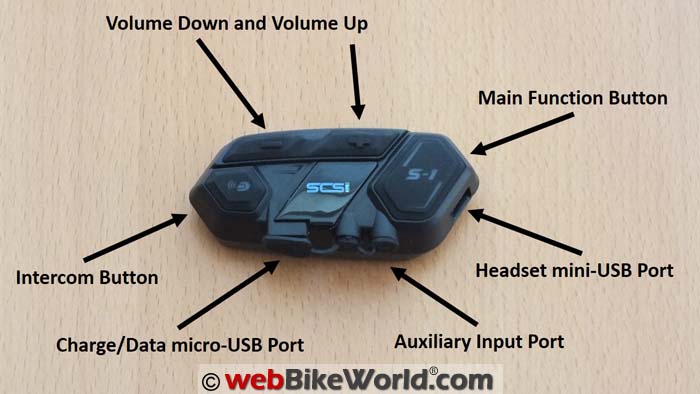 S-1 Controls
The S-1 intercom features four control or interaction buttons that blend in nicely to the shape and styling of the Bluetooth control module for a low-profile, clean look.
In viewing the Bluetooth module as it would be mounted on a helmet, the forward control is the Intercom button while the larger styled button towards the rear is the main Function button.
On the top are the Volume Down button to the front and the Volume Up button to the rear.
This is the reverse of most current Bluetooth helmet systems, so this layout needs to be remembered and mastered.
With the SCS ETC S-1 installed on a motorcycle helmet, all four controls can be found but the tactile differentiation can be difficult with anything other than lightweight gloves.
That's especially the case when it comes to finding and using the reversed Volume Down and Up controls.
Two of the three input/output (I/O) ports on the Bluetooth module are positioned on the lower edge: the micro-USB and the 2.5 mm auxiliary jack interfaces.
Both these ports have soft silicone plug caps tethered to a common point fixed to the module and the caps and tethers are appreciated features.
A well-recessed port for the mini-USB headset connector is located on the angled back edge of the module.
The actual headset connector fits and seats cleanly into the port with a firm seal and it should be kept in place unless the module is removed from the mount.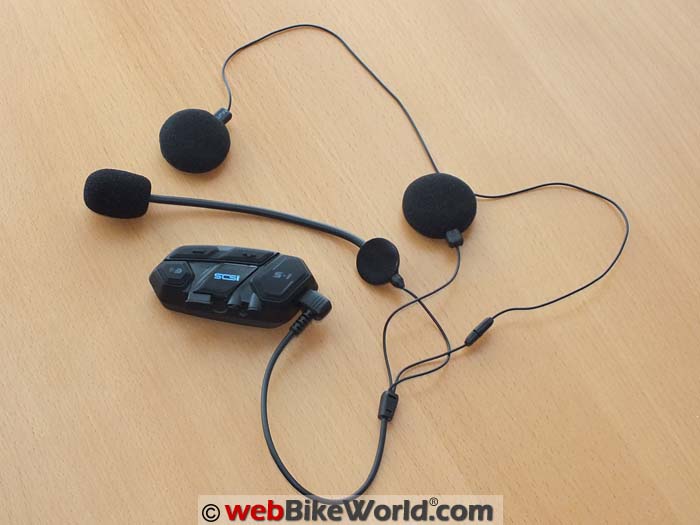 Installing the S-1 Intercom System
The SCS ETC S-1 utilizes simple but typically effective approaches to mounting the Bluetooth module on a motorcycle helmet.
Two options are provided: a mounting plate with a small clip for edge or slip-in attachment in the helmet shell and a second mounting plate with 3M adhesive to mount the intercom module on the helmet shell.
I tried both options, using an Arai XD4 (review) for this review to evaluate the helmet installation procedures.
The clip mounting piece for the S-1 intercom slides easy between the XD4's shell and liner, but the plastic plate slides around too much. It won't stay in place, with or without the module.
I then tried a small non-slip pad that I sourced from another brand's Bluetooth intercom kit.
I slipped it between the plate and the helmet shell. This works, while also serving to prevent scratches on the helmet.
A small shaped section of 3M double-sided adhesive would also work to hold the intercom module on the clip…but then it would be just as easy to use the adhesive option to stick the intercom module on the outside of the helmet shell.
In fact, the latter solution ended up being the most secure option for all the helmet installations, full-face or flip-up.
Just don't forget to consider the placement of the intercom module and possible interference with a sun visor activator.
Many intercom owners are reluctant to use the adhesive plate solution even when other options are limited.
But through the years I've found that most of these plates will come off cleanly after a bit of warming (natural or otherwise).
In lieu of natural heat, a hair dryer or heat gun on LOW, streaming warm air over the mounting plate surface (not touching it) for 15 to 30 seconds allows the plate or adhesive to lift and peel off with minimal residue.
SCS ETC uses thin 3M adhesive on their mounting plates.
In moving the S-1 intercoms between helmets, simple warming as described above allowed me to easily pull the plate away from the adhesive, which was then rolled off the helmet shell, with zero residue; no muss, no fuss.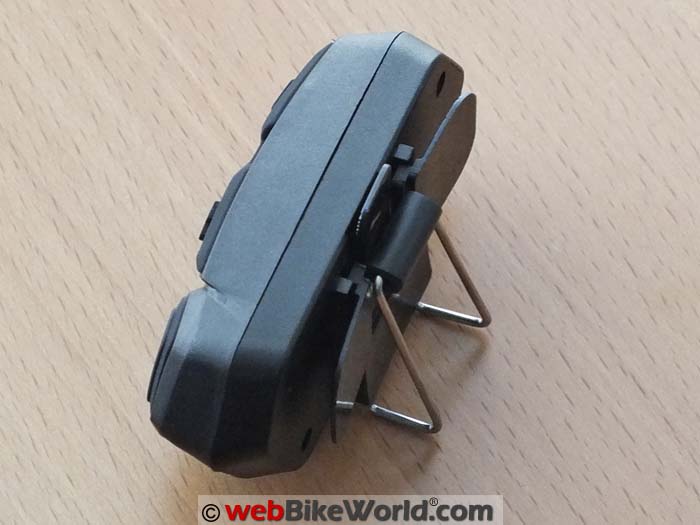 Installing the S-1 Headset in the Helmet
Fitting the headset itself is a straightforward activity.
The right speaker and wire lead is on a modular connector, so it can be detached as desired or required, given restrictions in some parts of the world.
At 30 mm in diameter and about 5 mm thick, the speakers and their removable foam covers are about average for Bluetooth helmet headsets and they can be fitted easily in a helmet headset recess or onto removable helmet liner padding.
The EVA spacers included in the S-1 kit work to bring the speakers closer to the ear as needed.
I used them for the XD4 installation, which helped to provide noticeably better audio even with ear plugs installed.
With no thin wired microphone provided, the only option is the boom microphone assembly that measures 18 cm or just over 7 in long.
The S-1 installation instructions state that the microphone needs to be less than 1 cm from the rider's lips, so placement of the boom needs to be carefully considered.
The fixture end of the boom has a small round hook-and-loop "hook" plate.
It can either be affixed to the brushed surface of the helmet liner or one of the rectangular hook-and-loop "loop" pieces from the kit can be adhered to the helmet liner first.
With the Arai XD4, I cut one of the rectangular loop sections in half and I used one piece for the mic boom hook plate and one further forward on the lower left side of the chin guard.
I also used a securing over-flap strip of hook material (again from another Bluetooth kit).
Make sure the tiny hole on the microphone is facing your lips.
A small hole for the microphone on the face side of the microphone is the only orientation marking, but it is covered by the wind sock.
I added a small paint mark on the face side of the boom near the microphone to identify proper orientation.
There are workarounds to getting a boom microphone mounted in a helmet where ideally a thin wired mic should be used instead.
One tip is to use small strips or sections of adhesive tape, which can hold well and withstand flexing (although they can leave some residue behind once removed).
I usually stick with single- or double-sided 3M tape as it can be easily rolled off, leaving little residue and it doesn't damage surfaces.
After multiple helmet installations during this SCS ETC S-1 review, it is obvious that a modular connector thin wire microphone should be included in the kit.
And at least two sets of rectangular hook-and-loop sections should be provided as well.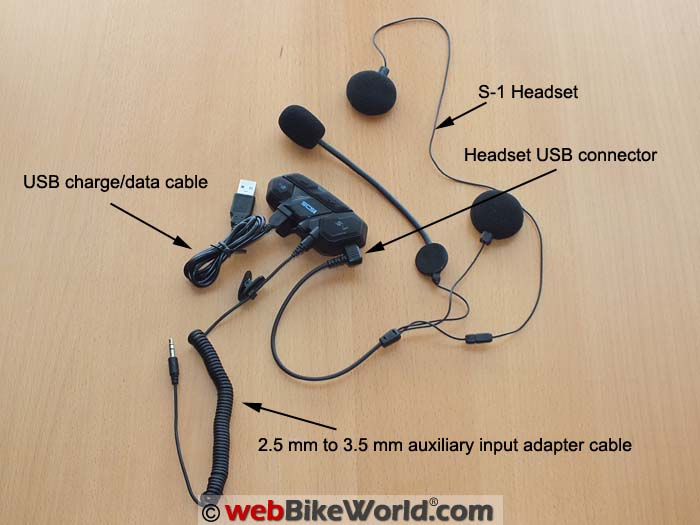 S-1 Device Pairing and Functions
Crucial to keeping the functionality sorted in your mind with the SCS ETC S-1 is knowing that the larger styled main Function Control at the rear of the intercom module is used for Pairing Mode; i.e., for connecting to other devices.
The smaller front Intercom Control is used for Search Mode; i.e., pairing with other compatible headsets (S-1) and it is also used for daisy-chain type pairing with multiple headsets as well.
Power On/Off: The S-1 is turned on by a three-second simultaneous push of the Function and Intercom control buttons.
Once it's powered on, the stylized LED output around the Function Control flashes blue, followed by an audio welcome message.
To turn the system off, press the two controls for three seconds again.
The LED will flash red, while the voice will announce the current power status as "Power over 50%", "Power lower 50%" or "Power lower than 10%, please recharge immediately" and then power off.
Device Pairing: Pairing with other devices is simple and quick. With the S-1 on and in standby mode (slow blue flashing), press the Function button for 5-6 seconds to initiate the familiar red/blue flashing indicating pairing mode.
Put the device to be paired in Bluetooth pairing mode, and the headset will be identified as the "SCS S-1".
Device Switching: The S-1 utilizes a basic Bluetooth configuration, so audio multi-tasking with foreground/background streams isn't supported.
That means an active audio stream will be interrupted by higher priority audio, e.g., an incoming mobile phone call will interrupt an intercom session.
Detection of and switching between the prioritized audio is (thankfully) good, with the previous lower priority audio resuming automatically when allowed.
Phone Interaction: To answer an incoming call, press the Function button once. A quick press on the Function button will also disconnect call.
To refuse a call, press the Function button for two seconds. Redialing is done by pressing the Function button twice.
Volume control when phone audio is active is accomplished by either pressing the Volume Up (+) button in the rear or the Volume Down (—) button in the front while talking or listening.
If the smart device has the feature, the S-1 supports voice control activation, (e.g. Siri), by pressing the Function button once.
Note that a single press of the Function button can sometimes have the system trying to answer a call that may or may not be there and/or activate the device's voice control feature.
This is a potential conflict and a control input change is needed to resolve this potential issue.
Audio Priority: An incoming phone call will interrupt an ongoing intercom session or Bluetooth music streaming, but not audio from the wired connection.
Previous Bluetooth audio will automatically resume once the call is ended.
Music Streaming: To start music streaming, with the system in standby and no active intercom session, press the Volume Up (+) button twice; repeat this action to pause playback.
To move forward in selections, press Volume Down (—) for two seconds; to move backwards to previous selections, press the Volume Up (+) button for two seconds.
Output volume control is initiated as per the other audio channels.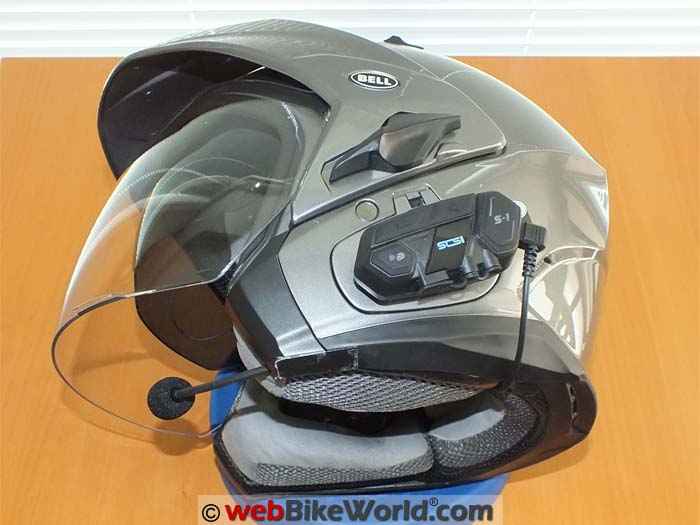 S-1 Headset Pairing and Functions
Headset pairing with the S-1, like device pairing, is easy enough, although the S-1 uses a slightly different procedure.
Both the Intercom and Function buttons are used for pairing, unlike many other Bluetooth systems that use a single button for pairing.
Intercom Use: With the systems in standby, press the Intercom button on one of the paired sets.
After one to two seconds, a slight click or some white noise may be heard and the intercom will be active.
With the systems in intercom mode, both the rear function LED and the helmet connection LED on the front button will flash, which is visually distinctive and unique.
Volume control is done by single step presses of the Up or Down button.
To close an intercom session, press the Intercom button again; the S-1 intercom modules will then resume standby mode and/or previous audio streaming.
One-to-Two Headset Pairing: With both systems on, press the Intercom button on the first S-1 for five seconds to initiate pairing mode.
The stylized LED output is then displayed with an alternating red and blue sequence every 0.5 seconds, cycled at one second intervals — a distinctive pattern.
Press the second S-1 function button for five seconds to put it into pairing mode.
Once the two S-1 intercom modules are paired, the flashing stops and intercom mode will be active.
This is where the rationale for different flash patterns between headset and device pairing modes is better understood, because it provides a distinctive visual to help when multiple sets are being paired.
Multiple Headset Pairing: This uses the basic one-to-one sequential serial-based approach, where set A pairs to set B, then B to C and finally C to D.
Note that the initiating intercom module uses search mode pairing (intercom button) and the receiving set uses the pairing mode (function button).
As these multiple pairings take up multiple audio channels, only set A will be able to connect to two other Bluetooth devices; sets B, C and D will only be able to connect to one device each.
Before initiating a multi-party (four-way) intercom session, all four paired sets and all connected Bluetooth devices should be turned off to provide a clean boot and pairing environment.
The standard last-In or last-paired approach is used to get things set up; in essence, the daisy-chain pairing process is reversed:
Turn on sets C and D, press the Intercom button on C to connect to D.
Switch on set B and press its Intercom button to connect to C and D.
Switch on set A and press its Intercom button to connect to sets B, C and D, and
Once all four are connected, other connected Bluetooth devices can be turned on.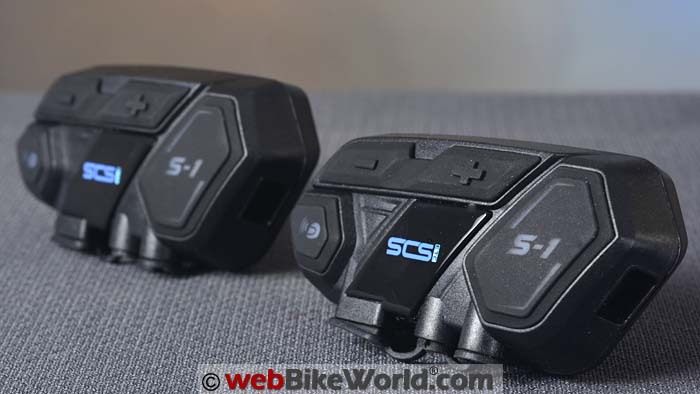 Intercom Range and Sound Quality
Nominal intercom range for the SCS S-1 is 450 meters to 500 meters (~0.3 miles).
Note, however, that in actual use we discovered that an active link is quite heavily impacted by traffic and even slight terrain changes, with elevated noise levels reducing the clarity of incoming audio.
At shorter ranges or in less dense environments, the S-1 intercom audio is very good.
But overall, the S-1 intercom doesn't seem to have the same stamina or reliability of most of the other intercom systems in the low to mid-price range that we have reviewed.
Wired Connectivity and Function
The 2.5 mm stereo socket on the bottom of the S-1 intercom module provides the means to connect non-Bluetooth equipped devices (despite what you may have read, not everyone or everything has gone wireless!).
To utilize the wired connection feature, connect the wired device to the S-1 headset using the 3.5 mm-to-2.5 mm cable.
Then press the volume up and volume down buttons simultaneously for three seconds to activate the connection.
Once activated, audio from the connected device will be heard in the headset.
As the input from a wired device is connected directly to the S-1 system, it will not be interrupted by Bluetooth audio — even an incoming phone call.
This feature can provide some audio advantages described in the next section.
The only way to cancel the wired connection is to switch off the S-1.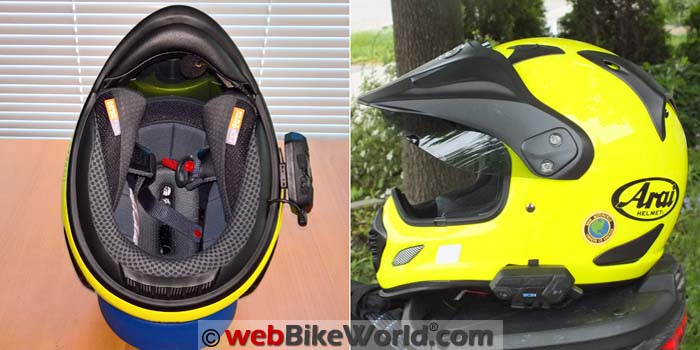 Audio Integration or Sharing
The SCS ETC S-1 does not provide discrete audio multi-tasking.
However, with the intercom active, mono or single channel audio (such as navigation instructions from a GPS paired to one of the headsets) can be configured for sharing.
The diagrams and translated text for the S-1 instructions lack clarity regarding some functions.
But we spent some time working through multiple configurations with the S-1 systems, which validated this understated feature of the S-1 (although it still has some limitations).
For example, if the S-1 set A has a smartphone and navigation device paired using Bluetooth and set B has its own smartphone paired using Bluetooth, each user can listen to their respective music streams.
But when an intercom session is initiated, the individual A2DP music streams will be stopped.
Mono or single channel audio (such as navigation instructions from the device paired to Set A) can be shared over an active intercom link with Set B and vice-versa, depending on device configuration and pairings.
Once the intercom session is ended — which will also end any audio sharing — individual system music streaming will resume on the respective S-1 headsets.
An audio advantage of sorts can be gained by using the wired connection feature.
The wired audio input (mono or stereo) is always heard in the connected headset and is not interrupted by any of wireless Bluetooth audio.
If you want to listen to your music while still using the intercom and other sources, this is the solution, although input volume levels may need to be adjusted at the device for listening balance.
Using Accessory Speakers?
The decision to use the mini-USB interface for the S-1 speakers pretty much eliminates the possibility of using an accessory speaker system.
Also, only the right speaker is detachable. And the S-1 auxiliary port doesn't provide an alternative (we tried it).
Thus, swapping out the speakers might be possible only by serious surgery (i.e., rewiring).
Or perhaps by trying another headset, although the UClear headset won't work, as it uses the mini-A USB connector while the S-1 module port is mini-B. Oh well…!
Other S-1 Functions
A (hot) reset to clear all the memory banks is accomplished by pressing and holding the volume up and function button for five seconds, after which all pairings are deleted.
S-1 battery charge levels can be heard via the spoken announcement feature.
To hear the current battery level, press the Volume Down (—) and Volume Up (+) buttons simultaneously to have one of the following announcements made:
"Power is over 90%"
"Power is over 50%"
"Power is lower than 50%"
"Power is lower than 10%, recharge immediately".
Firmware Updates
The ability to update the S-1 by downloading firmware releases is possible and there is a downloadable compressed file available.
Note that some anti-virus or anti-malware software on computers running Windows 10 may flag the firmware download file.
You'll also need to have some software that can unpack the RAR file format.
Current S-1 firmware as of the date of this review is labeled as Version 1.1, dated October 21, 2016. Here is a YouTube video on how to apply the firmware update to the S-1.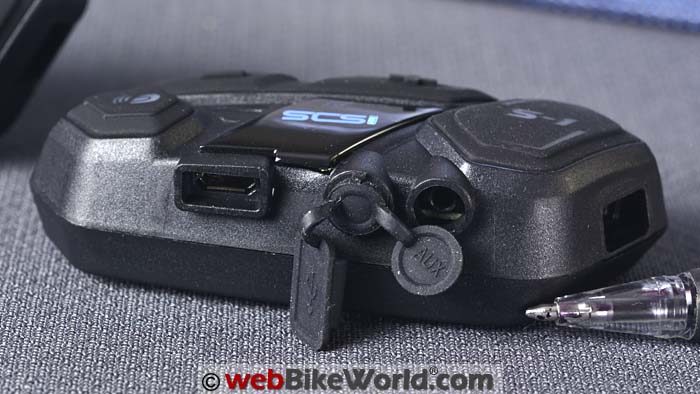 S-1 Micro USB Port Notes
The micro-USB port on the S-1 intercom module is relatively small, making it somewhat difficult to fit the end of the charge/data cable; it takes a bit of effort to get the two together.
This small size of the port also has an impact if you lose one of the cables or leave it at home — you could be out of luck in finding a replacement micro-USB cable with a connector that is small enough to fit into the S-1 port.
S-1 Charging Issues
Note that one of our S-1 intercom modules won't keep a charge, although this has been noted also by other owners and SCS ETC is working on a fix.
The problematic S-1 module can be charged over the nominal 2 to 2.5 hour period identified in the owner's manual and the red LED goes out as well, indicating a full charge.
But once the problem S-1 is turned on and put into use, it only works for an hour (or less) before the "low power" announcement is (sometimes) made and the red LED starts flashing.
Then the system shuts down within a minute or so.
Thus, short-term test sessions have therefore been the norm for us and as the S-1 systems cannot be used while connected for recharging (like all Sena intercoms allow), longer-term use is pretty much out of the question.
And without a "Universal Intercom" capability, our other S-1 intercom that does hold a charge for a full day of riding then becomes somewhat orphaned, because the other S-1 is out of power.
Speaker and Audio Quality
On a more positive note, the S-1 speakers provide excellent fidelity when streaming music and intercom audio.
The speakers don't provide the same overall sound quality you might get from the UClear or Sena intercom systems, but they are better than anticipated and better than one or two higher-priced systems we can think of.
A most evident weakness of the speakers is output; the systems don't cope well overall.
Around town and at lower back road speeds, the S-1 audio remains good even with a noisy cockpit. But at elevated speeds (freeway +), ambient noise levels tend to overcome the sound output from the S-1.
I also tried installing the S-1 intercoms into a couple of SCHUBERTH flip-up helmets, which improved things dramatically over the Arai XD4 helmets.
But even in this quieter helmet environment, the S-1 intercom sound quality can still be overcome by cockpit and ambient noise.
Conclusion
The SCS ETC S-1 is an interesting motorcycle intercom communications system.
It uses a high-end chipset and is based on Bluetooth v4.1, which provides well-defined advantages (or should) regarding system functionality and overall performance.
Pairing, audio switching, speaker fidelity and the limited audio sharing features are solid.
But if the overall audio output can't cope with the day-in, day-out mixed environment use typically found when riding a motorcycle, then the whole package takes a hit.
And this is unfortunate, as the S-1 — despite the fact that this is the SCS ETC "base" system — has some unique features that indicate more potential than it currently reveals.
Or perhaps, to use a well-worn phrase, "it is what it is" — a well-priced (bargain priced in some markets), easy-to-use entry-level helmet Bluetooth intercom system and in the right environment it provides very good performance.
w

BW

 Review: SCS ETC S-1 Intercom
Manufacturer: SCS ETC Ltd.
List Price: $199.99 (single)
Colors: Black
Street Price: $109.99 Here
Sizes: Single and dual kits. Open face and full face.
Made In: China
Review Date: June 2017
NOTE: The webBikeWorld evaluators wear properly fitted ear plugs for intercom evaluations. This is reflected in the opinions on sound quality and speaker volume. Your experience may differ. Always protect your hearing when riding a motorcycle (more).
Note:
 For informational use only. All material and photographs are Copyright © webWorld International, LLC since 2000. All rights reserved. See the webBikeWorld® 
Site Info page
. Product specifications, features and details may change or differ from our descriptions. Always check before purchasing. Read the
Terms and Conditions
!
Owner Comments and Feedback