Textile Adventure Jacket Review Summary
Review Summary
The Motonation Apparel Pursang Tourventure Textile Jacket is a great piece of adventure-oriented gear with excellent design features, very good build, and attention to detail overall. Less my usual inseam and arm length issues, the jacket is a great comfortable fit with far more features and versatility than expected for the price point. Some would consider it an absolute steal and they would be absolutely right.
Airflow / Heat Management
Pros
Lots of functional design features
Great overall functionality
Fuller cut and sizing for Tourventure gear
Body
torso sizing good
Great layout, seamless finishing
Excellent ventilation features
Number, placement and function of pockets
Feature-rich
Cons
Inseam & arm length needs considering (body dependant)
Marginal protective inserts
Textile Adventure Jacket Image Gallery
Introduction
I'm not seeing much, if anything, in the way of Motonation riding gear being worn or being sold here in Canada. It has been difficult to get a feel for the products… until now.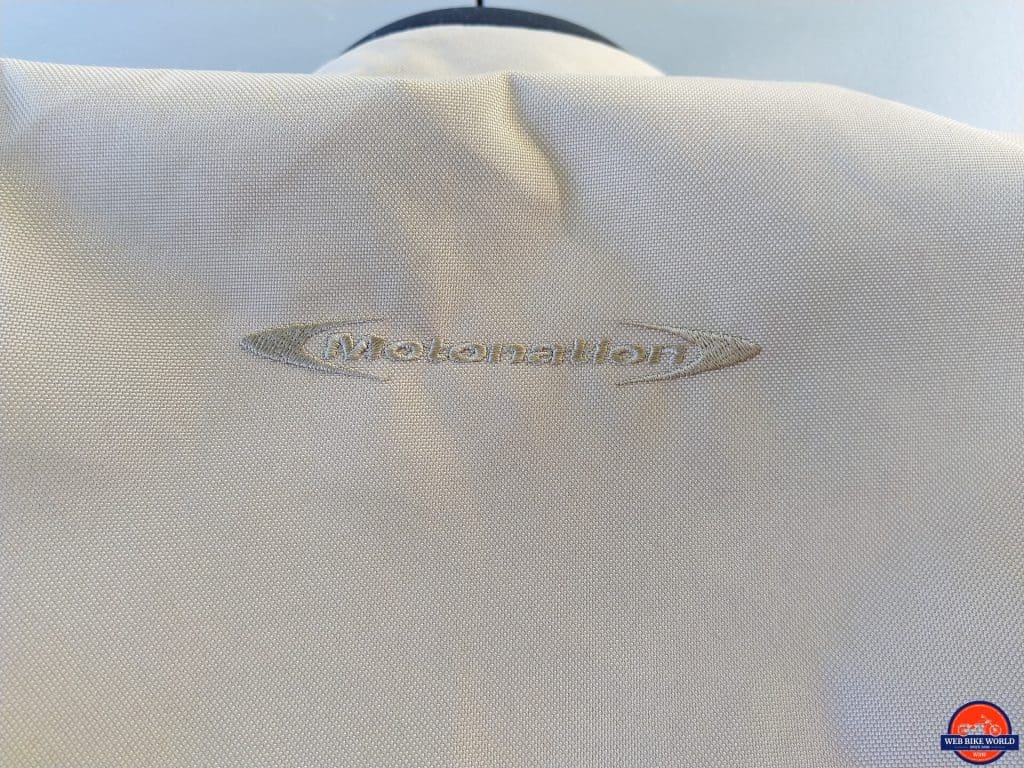 A well-known source for premier riding gear, Motonation is a long time importer with significant design and marketing experience which lead to the introduction of their own brand of products – Motonation Apparel. They are also the exclusive North American importer for Forcefield, Trilobite, Sidi, SDS, and Vemar brands.
My limited exposure to the Motonation Apparel line during trips south definitely got my interest, as did reading many reviews, including two by Kathy Koewler on the Motonation Metralla Ladies Vented Textile Jacket and Cappra Vented Textile Pants.
So, when the opportunity came via email, I was more than game for it. But as usual in taking on gear reviews, the question of the product's fitment, especially ones not available for trying on first invokes a major concern. My 6ft 2in frame with a near 34in inseam and long arms can be a challenge to fit.
Once the list of products to be provided was finalized:
Pursang Tourventure Textile Jacket
Phantom Tourventure Textile pants
Cappra Vented Textile pants (refresh review)
After that, some direct coordination with Jason at Motonation to assess requirements got things addressed. After being assured that the Tourventure textile gear was (purposefully) cut larger/fuller, we agreed that going for the larger/largest sizes available would be a start.
Indeed, going oversize proved to be the right choice. There are still sleeve and inseam observations to be made, but these observations can and have been made for other brands and product lines…
So, without further delay, it's time to get started on the first of three wBW reviews of the Motonation Apparel Textile Gear products – the Motonation Pursang Jacket in Sand, sized 2XL.
(Note: Motonation provided the product for this review)
Motonation Pursang Jacket Breakdown
(Feature List from Motonation Data Sheet)
4 zippered chest and shoulder vents, 2 zippered vents in the upper arms combine with 2-way sleeve zippers for maximum airflow
2 large rear zip open lateral vents
100% polyester anti-bacterial mesh lining
Features a removable and washable thermal liner
Removable Reissa waterproof liner zips in between the outer shell and thermal liner
Multiple stitched seams are featured in all impact areas for maximum tear resistance
Removable high impact CE approved dual-density protective armor on elbows and shoulders
8mm thick memory foam back pad
Neoprene is used in the collar for maximum rider comfort with button closure
Hook and loop collar tie back for riding comfortably with the collar open
Reflective striping is used on the arms as well as across the back of the jacket for increased visibility
YKK zippers with long zipper pulls used throughout
2-way, heavy duty YKK entry zipper
Hook and loop and snap secured wind and water flap over the main two-way entry zipper
Dual sleeve gather snaps are used on each arm for maximum comfort
Adjustable hook and loop waist straps
Pre-curved arms for a more natural fit and maximum riding comfort
Two upper and two lower front horizontal entry outer pockets, two fleece-lined hand warmer pockets and a large rear pocket that can hold the thermal liner once removed
Three interior pockets including a waterproof wallet pocket on the shell and a mobile phone pocket plus 1 interior pocket incorporated into the thermal liner
8" YKK zipper for jacket-to-pant attachment
Neoprene cuffs secured with a two-way zipper and hook and loop for a perfect fit
Aesthetics & First Impressions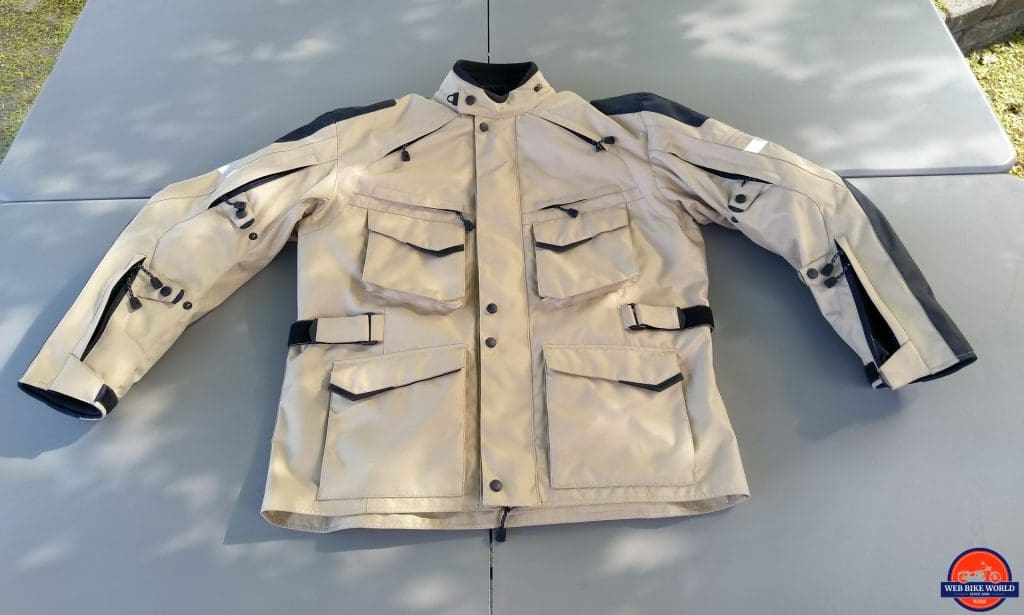 After opening the big box and removing the plastic from the carefully wrapped pieces and hanging them up, it became one of those 'first impressions count' moments. The first look. The first going over of the material and appreciating all the features – all good, very good.
Of the available color options (at the time) and in eschewing dark tones if possible, the Sand variant caught my eye then and it really catches the eyes when viewed directly. The color, along with the black reinforced inserts, panels, and other smaller pieces is very appealing.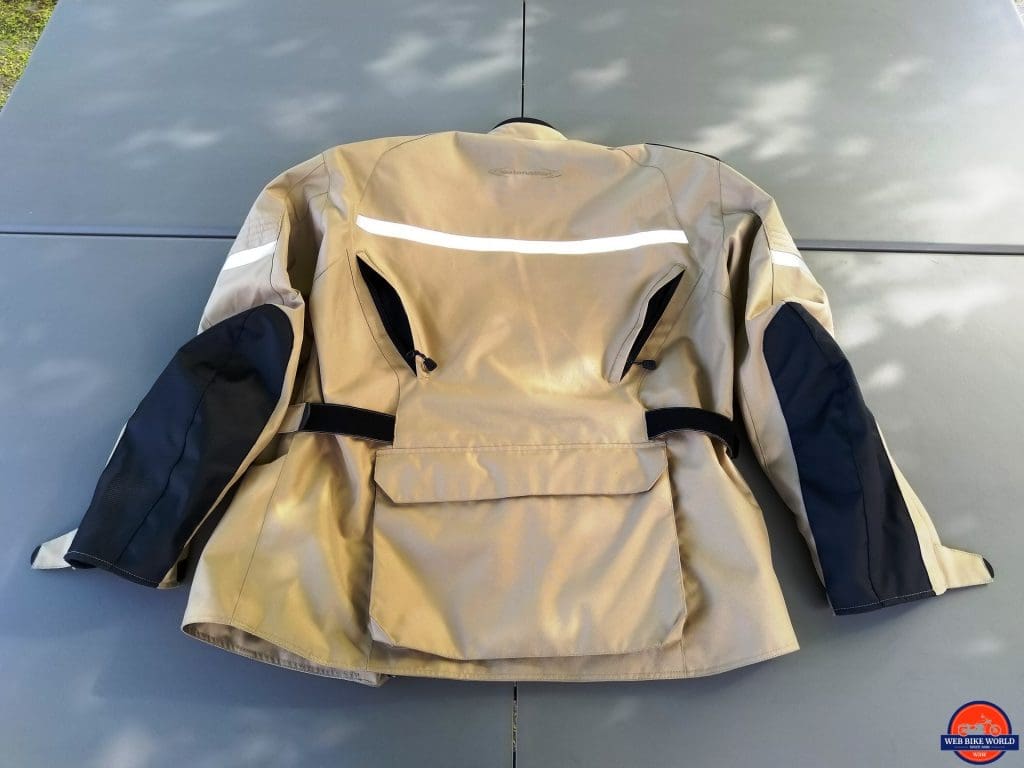 From a coloration perspective, it's not hi-viz (which is now an option) but still very distinguished looking and very distinguishable. I was very happy with the color choice and look and its obviously a favorite with others judging by the attention it gets and positive comments received, on all the Sand colored pieces.
As not always being 'coordinated', shall we say, having both the Pursang jacket and two of the three pairs of pants provided in the Sand color makes it easy to look good and feel good in very functional gear.
Build Quality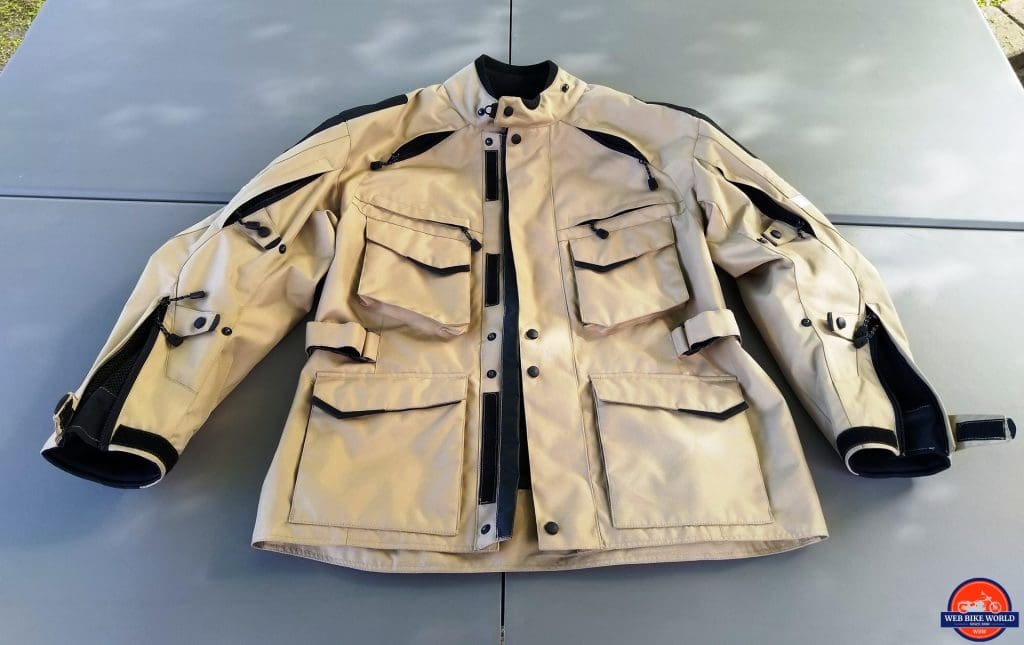 It seems that we, or many of us, continue to make a direct correlation between quality and cost; been there, done that. But over the last few years there has been a shift shall we say, and as others realize, that correlation isn't always correct. Good things can and do indeed come in low and modestly priced packages.
This then is my lead-in to identifying just how well thought out and well made the Pursang Tourventure three-quarter length textile jacket is. Being brutally honest, I see fewer design positives and poorer builds on lots of touted gear going for double or triple the price.
Collar
Starting from the top… the just-right height mandarin-style collar is very comfortable with its padded neoprene and soft brushed material liner.
The non-adjustable collar uses a single large snap for closure with an accompanying loop tab to use with the hook on the left side of the collar to keep it open when desired.
Shell
The outer shell is comprised of tough feeling 600D dense weave polyester. Extra heavy overlaid material with multiple stitched seams is load over the main shell functioning as reinforcement panels at the elbow to wrist and shoulder areas – often primary impact zones.
Zippers
Smooth running reliable YKK zippers are used exclusively – all have long zipper pulls making it easy to access and use any specific zipper. The zippers seemed overly stiff when new but are bedding in nicely; treating the shorter vent zippers to a bit of silicone really helps.
A heavy-duty two-way YKK zipper, along with a double-fold wind and water flap with fastener material and snaps keeps the front of the jacket absolutely sealed when desired or opened up from the top or bottom for comfort, especially when in the saddle.
Cuffs
The two-way cuff to forearm zippers makes tucking in gloves or glove liners easy while also providing for providing lower arm air intake.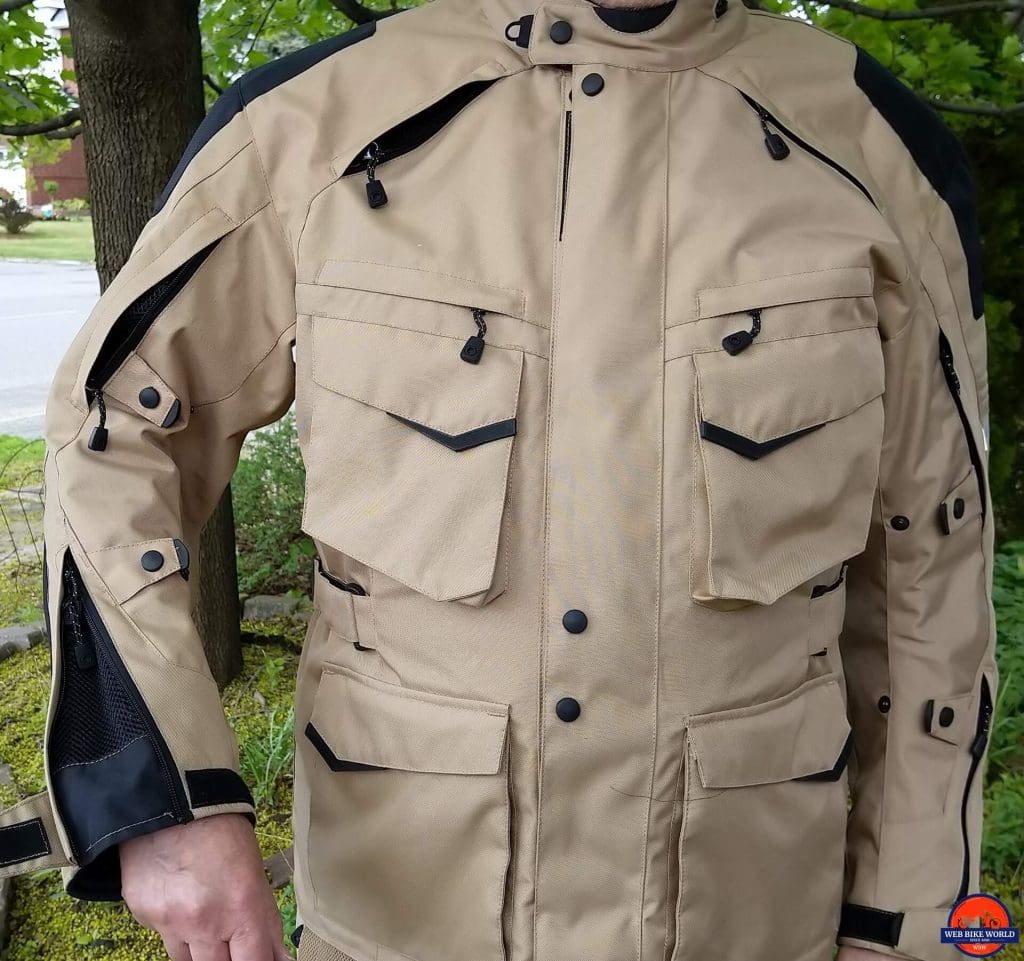 The hook-n-loop cuff flap provides wrist adjustment and security of things when the zippers are open for ventilation. Like the collar, the inside of the cuffs has neoprene brushed liners for comfort.
In Short?
At first inspection, everything is well cut and well finished. With the exception of one hard plastic pull tab from the left upper sleeve vent that pulled off on first use – nothing else has failed to work or broken so far. Of course, time and use will tell the tale – something for a longer-term follow-up.
Fit & Comfort
OK, now we'll get down to something more personal. While I can state that the overall sizing of the Pursang jacket, like the other Motonation products provided, is quite good; my longish arms aren't as totally well served as desired – an issue common with lots of other gear as well.
Upper arm and shoulder flexibility are good – sitting or standing. When standing on the pegs with the arms extended the shortfall in sleeve length is noticeable, although with the liners installed the outer shell does not pull up so easily – observable but tolerable.
Body-wise, the Pursang jacket is near perfect. Even the collar fits, unusual on a 2XL jacket that typically results in a loose collar that then requires a good adjuster of some sort. Torso fit is great, with or without the thin lightweight but very functional liners and the side waist adjusters facilitating required 'tailoring'.
Sleeves
Where the jacket falls short (literally) is in the sleeves. With both liners in they are about one inch short of my (desired) minimum length for an outer garment sleeve, viewed important so as to facilitate the use of long or short cuff gloves and provide fuller wrist protection no matter the type of motorcycle ridden.
Removing the liners provides a bit more play, but things are still a bit short by my standards. But is this enough to keep me from using the Pursang jacket as a go-to garment? Nope.
I can live with a slightly short sleeve… at least half my outer garments have the same shortfall. Some mitigation is provided in that long to medium cuffed protective gloves are worn most of the time and I can wear them in or out depending on riding conditions and the motorcycle being ridden.
Only when wearing a short or minimal cuff off-road style protective glove does the sleeve length become obvious, but again, it is an acceptable situation given the other attributes of the jacket.
Regarding desired sleeve length, I'm thinking 1.0 to 1.5 inches for the XL and 2XL sizes would be just about right and while at it, how about a lower hem draw or lower hem side snaps (as other 'half to three-quarter jackets' now feature).
Climate Zone
To say this jacket has an abundance of well placed fully functional air intakes and outlets for great climate control is an understatement. 
All vents, intake, and exhaust are zippered and tucked under outer shell material. When closed, nothing gets through and when open, well, you'll know they are open. Modulating intake is easy with the smooth-running zippers.
Chest, Back, & Upper Shoulders
With two flap-protected zippered vents above each upper chest pocket and two more protected lateral vents on the front shoulder areas, there is lots of adjustable intake flow for the upper chest and shoulders, over to the back where the long zippered lateral exhaust vents do their job.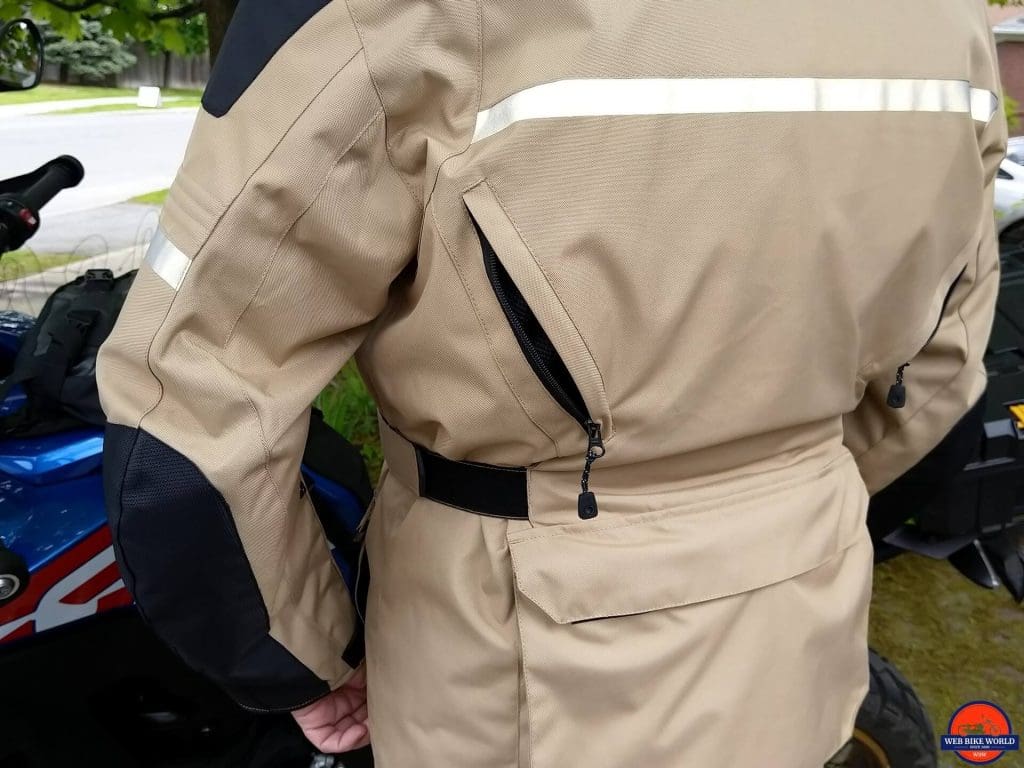 Arms & Lower Shoulders
Lower, upper arm and the shoulders are also well served with a zippered vent on each upper arm area – when unzipped and the arm inside these vents catch just enough air to keep them open as direct air intakes – cool (pun intended).
And if more airflow is needed, without totally sacrificing lower arm/wrist protection, the two-way lower arm zippers can be opened or adjusted for the desired flow while keeping the sleeve cuff adjuster done up for security.
Climate Test
In using the Pursang jacket since late winter and through most of our cold, hot, cold, wet spring – the piece is proving its versatility and adaptability for two-to-three seasons (or more) use depending on where you live.
When closed up, with liners installed, the Pursang provides comfortable riding in close to freezing temperatures and as the weather changes, selective use (or not) of the liners provides a tailorable environment up to 25C (77F) – our maximum reached so far.
The Pursang isn't struggling to keep needed airflow going in at 25C temperatures, so I suspect it will cope well with higher temps and humidity, although continued use into and through the summer will tell the tale.
Protection
If there is a perceived shortfall in the Pursang Jacket, other than a bit of sleeve and leg length, it regards protection. It's minimal and minimalist.
Removable high impact (CE) approved dual-density protective inserts are used for the elbow and shoulders, along with a smallish 8mm thick memory foam back pad.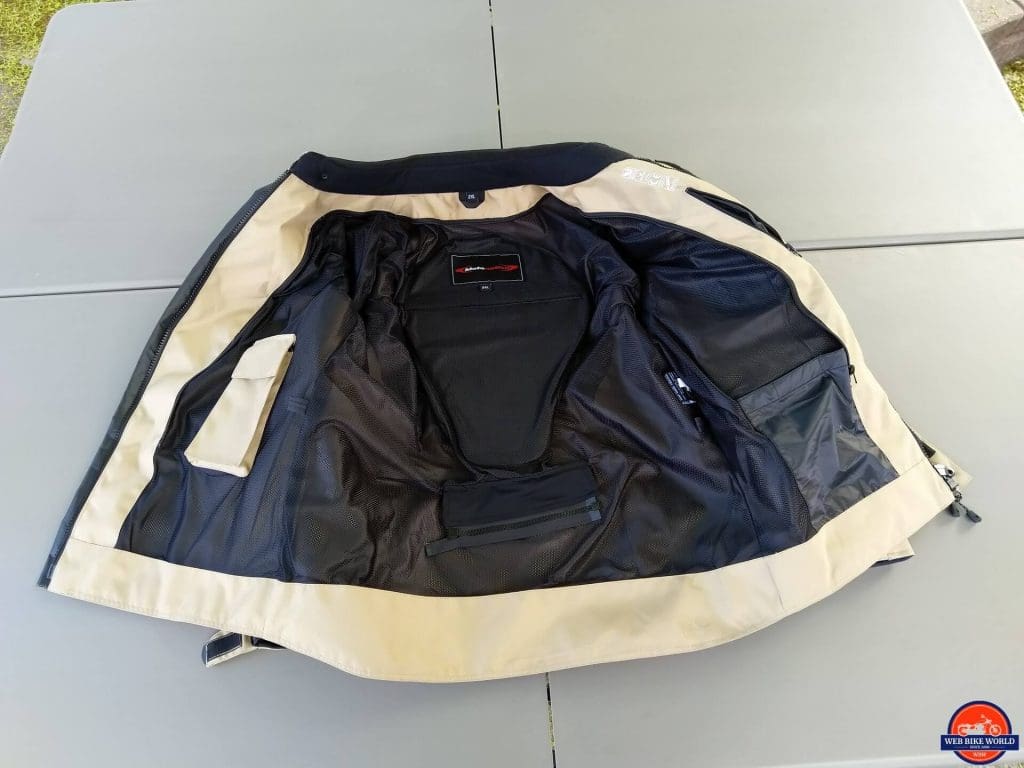 To be upfront on this, one needs to appreciate that there is a 'build to cost' factor, with every attempt made to meet or exceed basic standards, including with protective insert pieces, some of which can get a bit expensive, driving the bottom line up.
My assessment is that Motonation does a (good) job of managing this requirement and given everything else about the jacket it sure wouldn't stop me from purchasing the Pursang. But owners would be wise to consider upgrading pieces to the safest extent possible – this is on my short-term list.
Related to protection, the shoulder pockets seem to be stitched down a bit too far off the shoulder. Also, there is excessive mesh liner material between the inner liner zipper and the protective insert pocket resulting in the protective insert sitting further down off the should then it should.
Pockets & Storage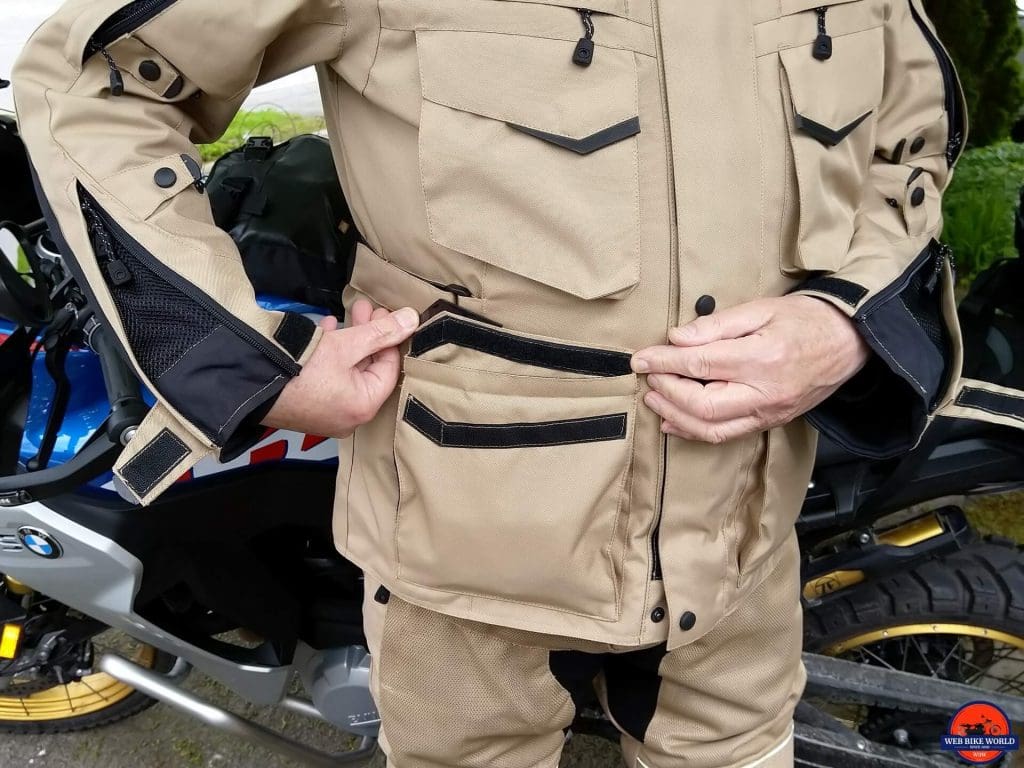 The storage capability of the Pursang jacket is no less impressive than the air flow capability provided by the numerous vents. So, let's take a look at the pockets – you can count them up…
As way of feature commonality, all the exterior pockets feature strong fastener strips, but thankfully they all feature large over-flaps with tactile silicone pull strips – overall very secure and very easy to use.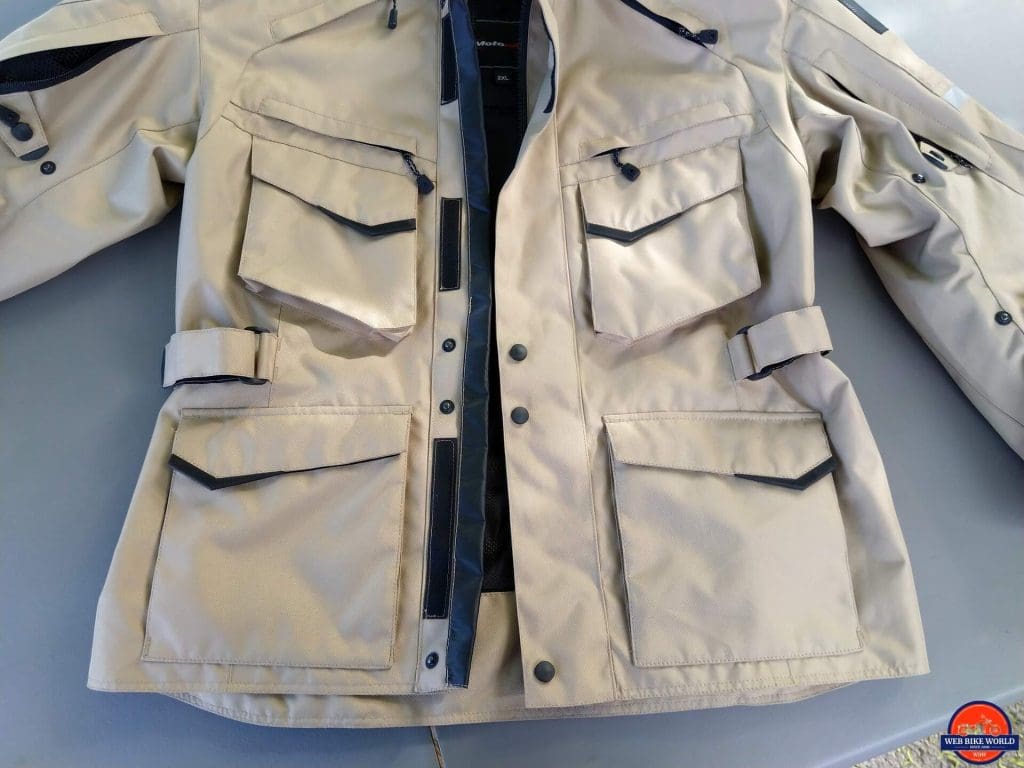 The two upper (bloused) cargo pockets are front face lined for better wet-stuff resistance, while the two lower flat styled larger cargo pockets with horizontal entry over-flaps are fully lined.
And in admitting my oversight, the always appreciated (but not always found on jackets) quick use fleece-lined slash cut hand-warmer pockets reside on the outer edges of the lower pockets. Me bad.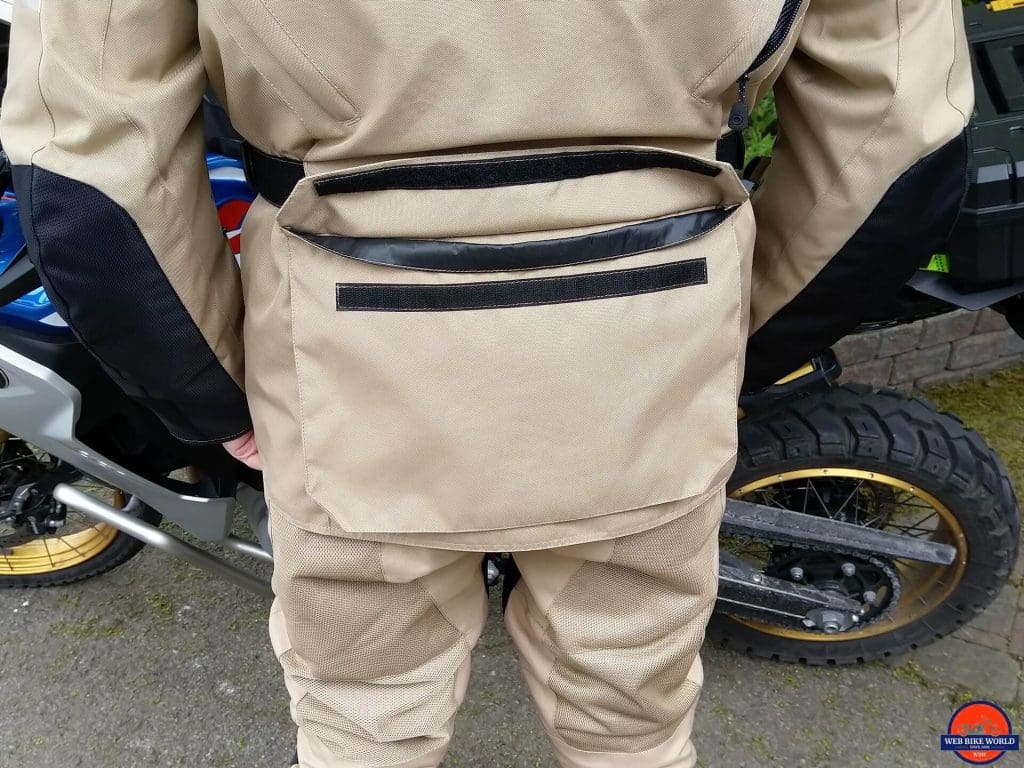 But I didn't miss the large back cargo pocket with its large over-flap and inside lining on the outer wall for increased protection from the elements.
Back cargo pocket shown empty & filled to capacity
This cargo pocket holds one or both of the liners and I use it for something on every ride, although not the 10 lb tool roll…
Interior wallet pocket on left side
The shell also has three interior pockets. On the upper left side is waterproof wallet pocket The front right side features a mobile phone pocket that easily holds a 6in screen phone/device.
Interior mobile phone pocket open & closed
Lastly, one front lined interior pocket is incorporated into the fixed mesh lining of the shell.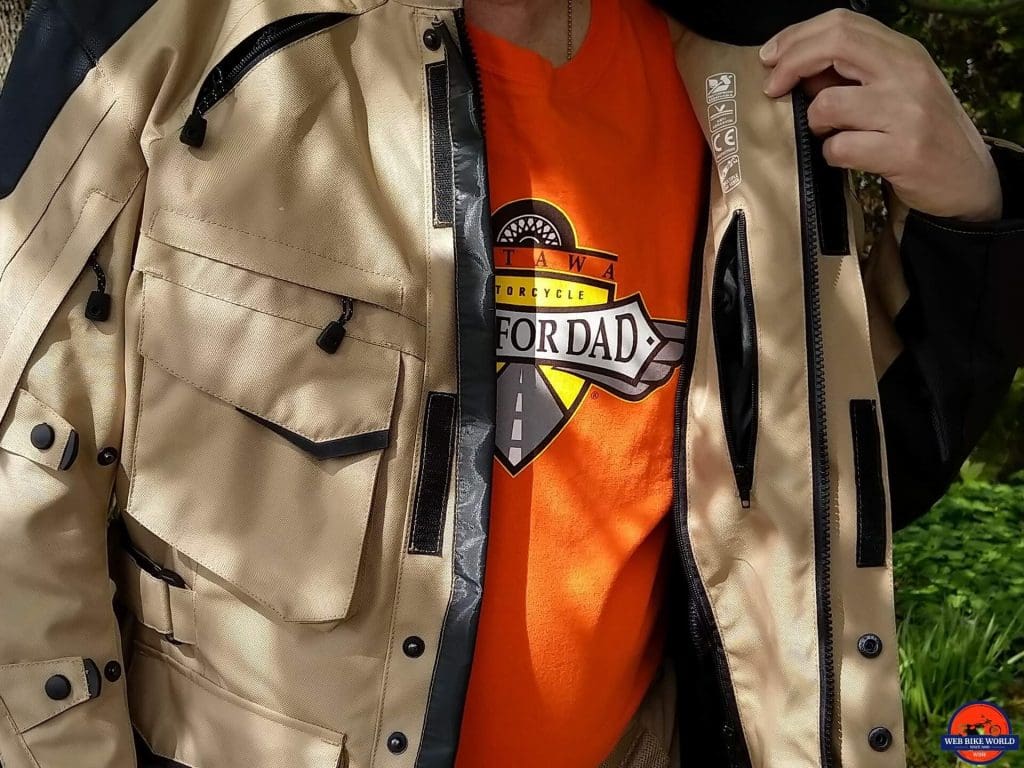 Interior zippered pocket on upper left
The thermal liner has another two pockets – a mobile phone pocket on the inner right front like the one in the shell and a weatherproof (Reissa material faced) pocket incorporated into the lower front right.
Thermal liner pockets
Liners
The Pursang comes with two liners fitted. One a basic thermal insert, washable of course and the other a windproof and waterproof insert.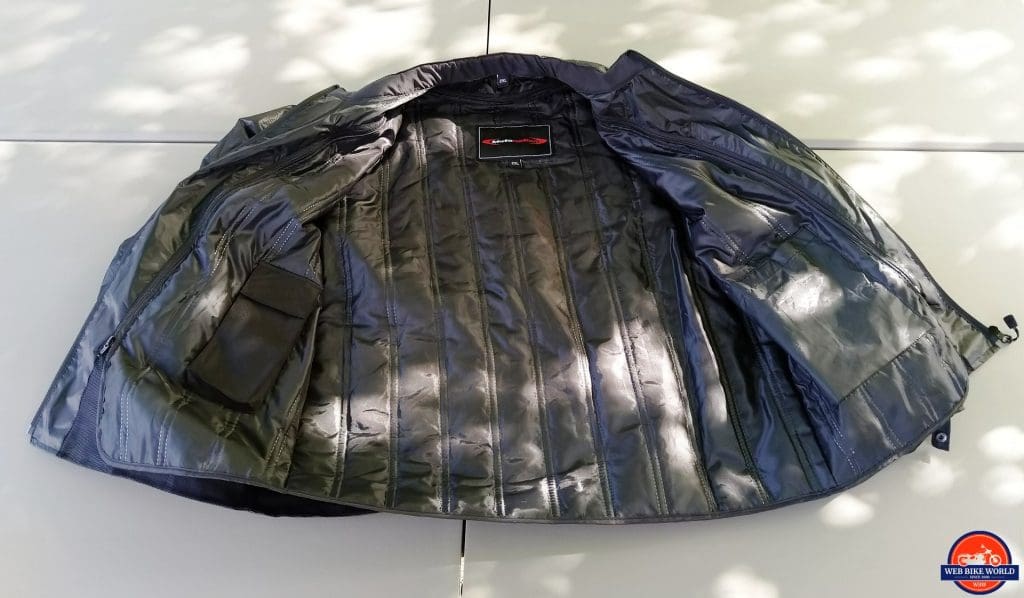 Thermal liner shown inside wind/rain liner
The thermal liner is not meant to be used as a stand-alone wearable garment. Whereas the wind/rain liner does have a front zipper and can be used by itself or with the thermal layer installed inside, forming a warm waterproof garment.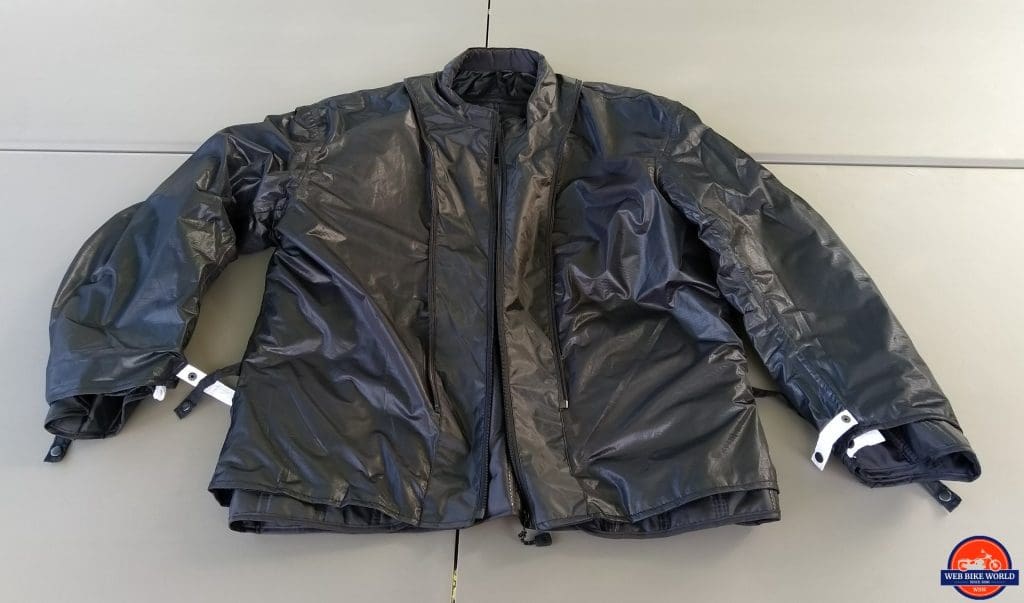 Wind/rain liner with thermal layer installed inside
And unlike many other liners that are cut short, these liners are just a bit shorter than the shell. Sleeve and body cut between the waterproof and thermal liners varies slightly, making for a tapered combo when both are in use and eliminating bunching up, for a more comfortable fit when everything is done up.
Both liners have full perimeter zippers running from the inner lower left side up around the upper back (totally non-obtrusive) and down to the lower right side for use with the companion zipper stitched into the jacket shell.
Full layering has the wind/waterproof layer zipped directly into the jacket shell and the thermal layer then zipped in next to the rider. In actuality, the liners can be used in any desired combination to meet needs.
In addition to the full perimeter zippers, each liner has side snap-loops that are used with the tabs stitched in at waist height on the shell.
Both liners have lower arm snap-loops – the front one is white and the back one is black for visual reference to avoid twisting the liners – does this sound familiar?
Light and warm, the thermal liner is quickly added or removed – it can be folded up into a small soft bundle for stuffing into a pocket or storing in the large rear cargo pocket of the jacket shell.
The wind/water liner is made of breathable Reissa, an advanced textile with a specific polyurethane membrane that creates a very thin waterproofing lightweight comfort layer with good durability. As noted earlier it has its own comfortable padded collar and front zipper.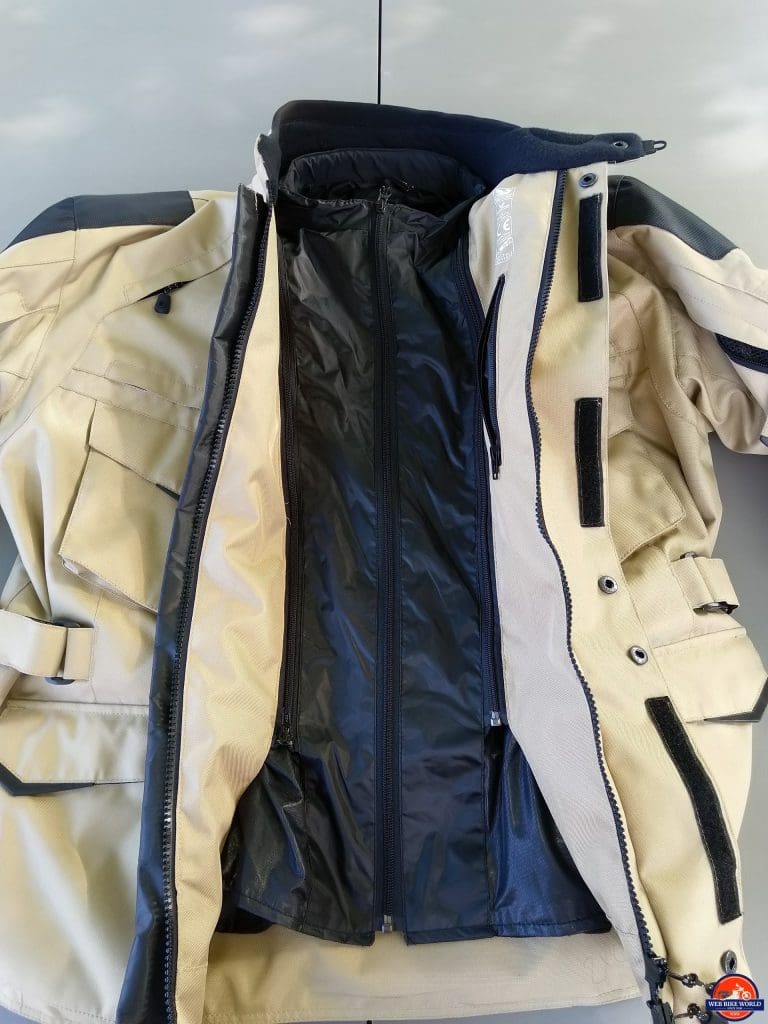 Installed wind/rain liner with padded collar & front zipper
From personal experience, including this spring, the Reissa-based liner tends to be or can be a bit 'sticky' or warm, much more so than Hydratex or Gore-TEX based garments. Although the liner does have a mesh layer to provide some wicking and ease of use.
Reissa does work to keep one protected from the wet stuff but it can also be more uncomfortable. I've found that when using the Reissa layer it's important to try and keep air flowing over or through the garment and layers to moderate heat build-up to some extent.
Both liners are easy to remove or install thanks in large part to the smooth running YKK zippers and color-coded loops and snaps – it doesn't get much easier…
Just remember to take the liners with you if the way ahead weather-wise is uncertain – you can't wear what you don't have packed…
Durability
So far, so good, although it is indeed early days with only late winter/spring use so far. But everything is holding up well.
The only observation so far is some pulling or stretching of the inner mesh material around the arm/shoulder areas and relatedly, some zipper snags due to said inner mesh material – although the zippers are quite easy to clean as needed.
Broken or missing pieces – one, the nylon tab on the left upper vent zipper pull came off with first use – not viewed as user repairable, pull still functional.
Function & Performance Observations
This is going to sound repetitive and it is – and it's a good thing. As found with the recently completed REV'IT! Offtrack Jacket (and Pants) reviews, the Motonation Pursang Textile Jacket with or without the wind/rain or thermal liners is proving to be the real thing.
In the same basic riding conditions as the REV'IT! Offtrack gear, the Pursang jacket (and companion pants) more than held their own against two heavier-duty lined jacket and pant combinations, in coping with near zero (F) temps and wind chill with only the two liners installed.
And as temperatures rise towards what could be classed as 'warm' (we aren't at hot yet), the Pursang, despite a heavier weaved and less-flow-through shell continues to keep pace with other more expensive garments of lighter build. Although it's no match for the Offtrack jacket…
This versatility is largely due to the Pursang's ability to handle a wide range of temperatures. When dynamic weather beckons, it's easy to close up or open up. As with other layered clothing solutions, selective use of the two liners adds another dimension.
So less the short sleeves syndrome, the impact of which is largely mitigated in wearing longer cuffed gloves or wearing the gloves inside, function and performance of the Motonation Pursang Textile Jacket is good; no, better than good – excellent.
Conclusion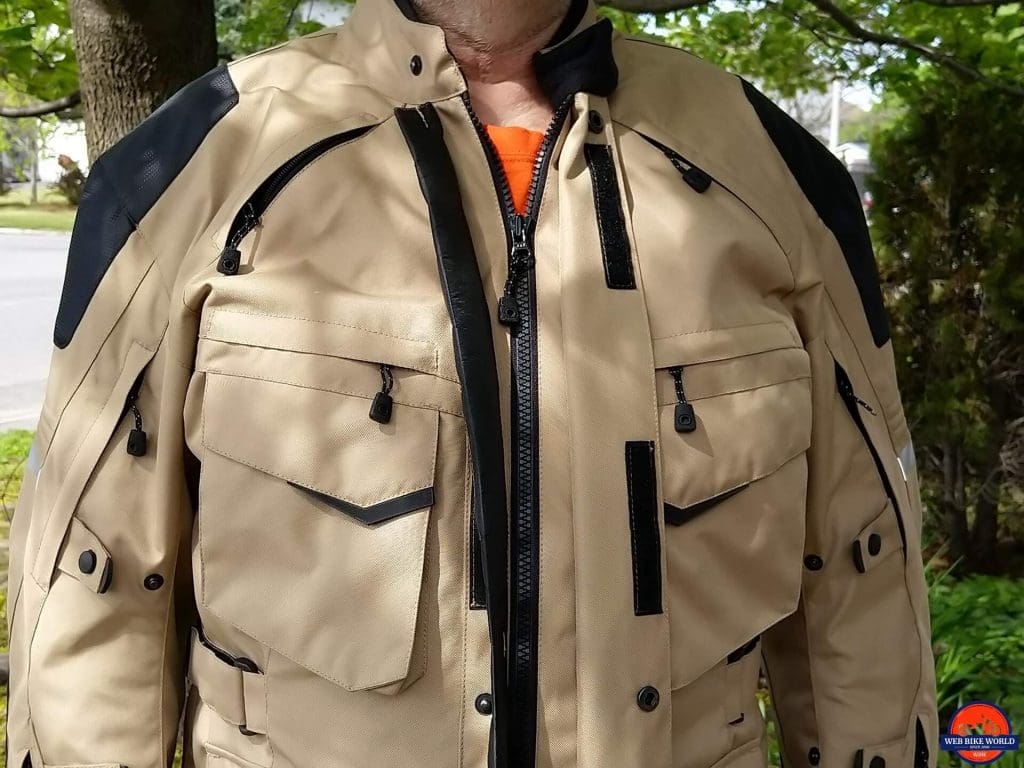 Less the arm length observation applicable for the XL+ sizes, weak protective insert pieces, and one not-attached-well pull tab – nothing else negative has cropped up yet. The positives win.
There is no denying that the Pursang is a feature-rich jacket. The more the jacket is used, the more it is appreciated for all the little details and all its functional features. It has, in a short period of time, become a primary go-to jacket.
Bottom line – at $179.00 USD, some would consider it an absolute steal, and they would be absolutely right.
Want a great functional combination? Stay tuned for the next Motonation Apparel reviews – a refresh of the Cappra Vented Textile pants in Sand (cooler than black) and the Phantom Tourventure Textile pants, also in Sand.
Pros
Lots of functional design features
Great overall functionality
Fuller cut and sizing for Tourventure gear
Body/torso sizing good
Great layout and seamless finishing
Excellent ventilation
Number, placement, and functionality of pockets
Feature rich, bargain priced
Cons
Arm/sleeve length a bit short for XL-XXL
Marginal protective inserts
Possibly overlooked due to pricing?
Specs
Manufacturer: Motonation Apparel
Price (when tested): Jacket; $179.00 USD
Colours: Black, Black/Hi-Viz Yellow, Sand
Sizes: Small, Medium, Large, XL, 2XL and 3XL
Fitment: Regular
Original Review Date: May 2019