Scorpion EXO-R710 Helmet Review Summary
Review Summary
This affordable SNELL and DOT-certified helmet is a real gem, and proof that you can get a great helmet for under $200. Currently found on sale for $199.95 at both 2Wheel & RevZilla, this is a great pick that comes with few compromises. It punches above its weight and is a genuine value. I love everything about that combination.
Pros
Light
Easy-fit interior
Comfortable
Flows air freely
Looks badass
SNELL rated
Great optics
Ease of use
Affordability
Cons
Acceptably noisy, but still noisy
No pinlock
Replacement visors are worth 25% of a new helmet
Scorpion EXO-R710 Image Gallery
Quick Specs
Under $200 / Intermediate Oval / 3.55lbs / 1,610g
A $200 SNELL/DOT-Certified Bargain, & My New Full Face Value Pick
The Scorpion website proclaims the EXO-R710 to be the best fiberglass helmet you can buy for its $200 price point, and I have to say that I can get on board with that claim. The fact is that I haven't worn, tested, or ridden in every $200 fiberglass helmet out there (though I've got a couple other affordable ones in my garage), but for one to be better than this one, it'll have to be really damn good.
Because this Scorpion is really damn good.
The spec sheet alone indicates a bit of what you've got in store: SNELL M2015 certified; a fiberglass/aramid matrix shell; dual-density EPS liner; KwickWick II moisture-wicking material; 3 shell sizes; a snazzy rear spoiler; and, my favorite, a double-d ring buckle. There are other nice-to-haves in here, too, but the list above covers the bulk of what you're looking for.
In addition to the above, I found that the R710 enjoys excellent ventilation, decent noise levels, and is lightweight and comfortable to wear for long rides. After my first ride, where I spent a good four hours touring all the local hotspots, I knew that this Scorpion was going to be one of my favorites. It only got better the more noggin-time I gave it.
Brandon recently reviewed the Scorpion ST1400 Carbon, which he said may well be the best value in the carbon fiber full-face segment. Those are big words coming from one of wBW's most storied and experienced reviewers. Echoing his assessment of the ST1400 Carbon, the EXO-R710 may well be one of the best values in its segment.
Features
From ScorpionUSA.com:
Fiberglass / Tri-Matrix Shell
Advanced Dual-Density EPS
DOT / SNELL Certified
Ellip-Tec ™ Ratchet System
EverClear® No-Fog Faceshield
KwikWick® II washable Anti-Microbial comfort
Aero-Tuned Ventilation
Quick Release Cheek Pad System
3 Shell Sizes
Communication System Speaker Pockets
Double D-Ring Chin Strap
Faceshield vent/lock lever
The Exterior: Aesthetics & Build Quality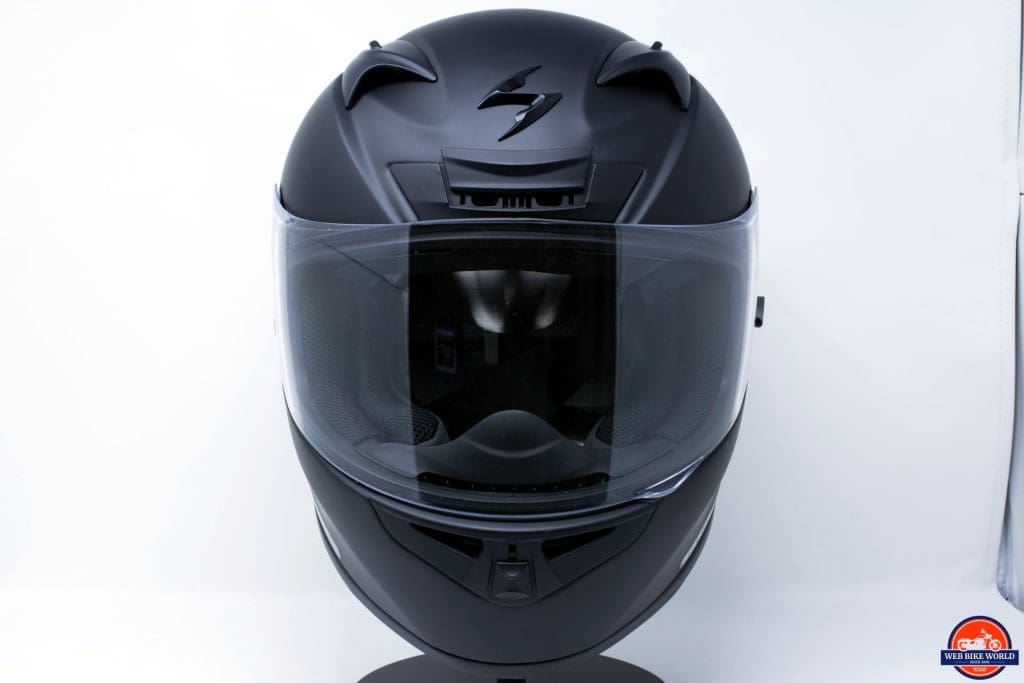 If you don't find some joy in how awesome your gear looks, then now is a great time to start. I eschew complicated graphics and gimmicky paint jobs and prefer clean, minimal aesthetics that let the shape and form of the object do the talking. I've never littered my cars or bikes with graphics, and the same is true of my riding gear.
I really enjoy the exterior of the R710 on that basis. The lines are clean, free-flowing, and the helmet relies on its prominent forehead logo and dual intake cowls to give it personality and some aesthetic bite.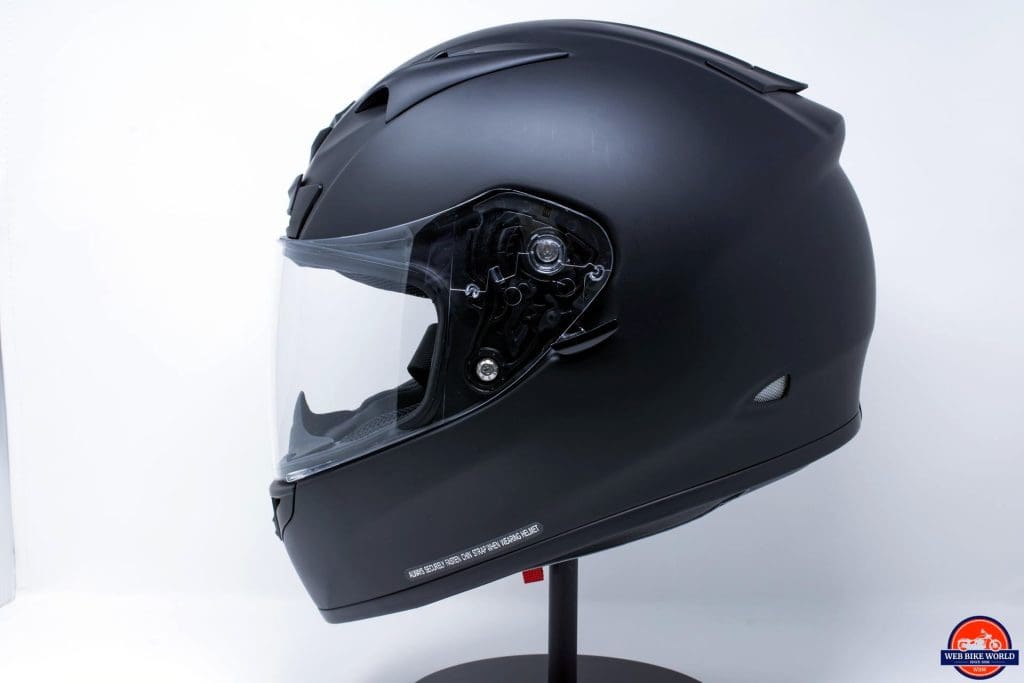 The profile is fairly straightforward, save for the crown of the helmet where you can't help but notice the prominent air ducting both front and back. These ducts aren't just for show, either- they move a lot of air (I'll touch on that more below).
Take note of the visor hinge and quick release system which, as Jim so astutely pointed out when he and I spent 30 minutes talking helmets the other day, is among the best out there. More on that below as well.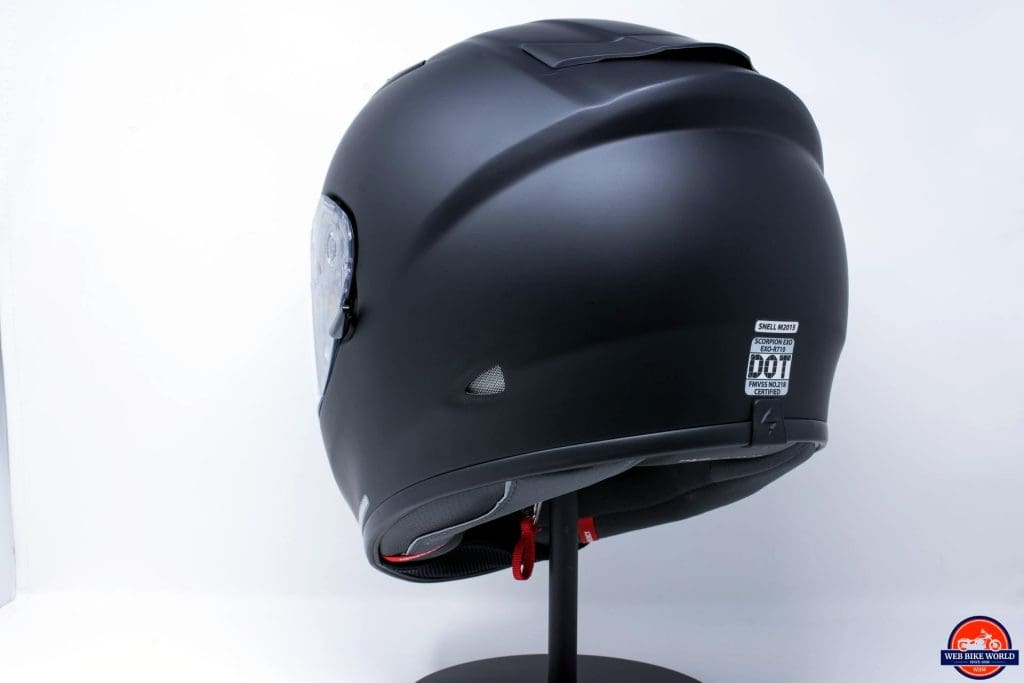 From the rear, you can't miss the prominent spoiler that masks the exhaust venting near the crown, nor the small triangular exhaust vents near the bottom of both sides of the helmet. You'll also find a small Scorpion-branded tab dead center, below the DOT/SNELL stickers.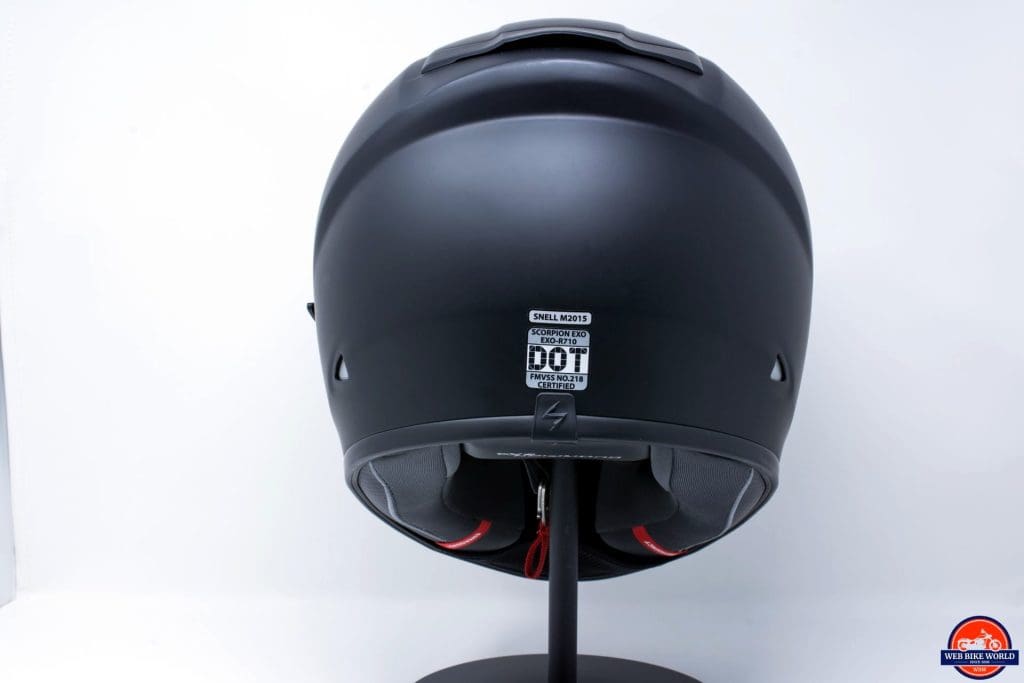 I know looks are subjective, but this helmet definitely does it for me.
Colorways
I've got the solid matte black version here, but you can also grab the EXO-R710 in three other solid colors (hypersilver, black (shiny version), white) and four graphic options (Golden State, Fuji, Transect, and Focus). I'm a fan of keeping it simple, and for me, the matte black version is the pick of the litter.
In total, there are 13 different colorways and graphic options that you can choose from. If I wasn't Mr. Minimal, I'd probably go for the silver "Focus" option.
Paint Finish
Last year I reviewed both a matte silver Shoei Neotec II and a matte black SCHUBERTH C4, both of which I thought benefitted from the matte finish aesthetically but that the paint was susceptible to easy wear. After nearly 900 km in the EXO-R710, I've yet to find a rock chip or blemish that shows similar levels of noticeable discoloration.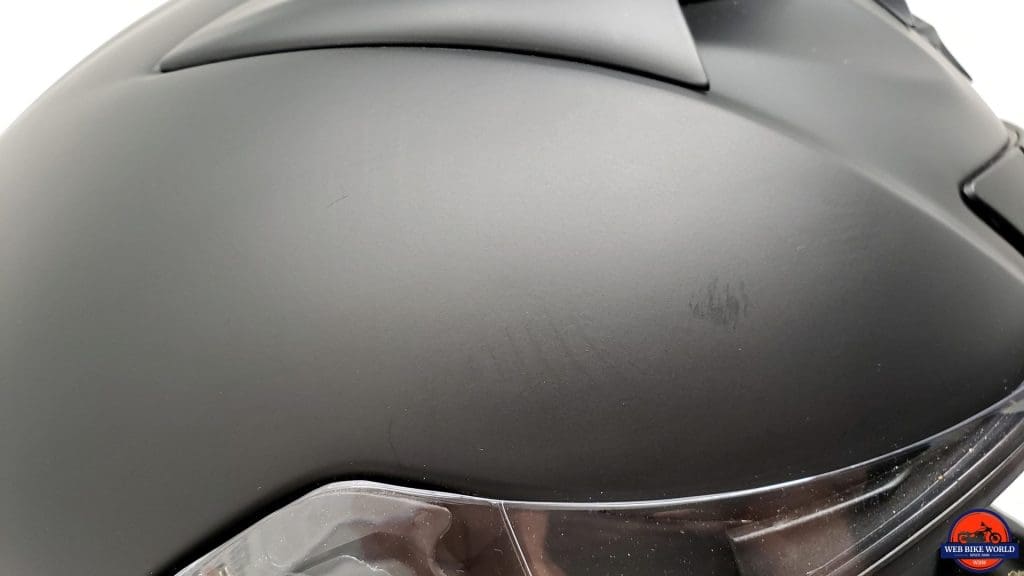 There are indeed blemishes that are present when you inspect it, but these present themselves as sections of finish that are less-matte than the rest. They aren't white or grey spots of primer (as they appeared on both the Neotec II and C4), just less polished. This is part of the deal you accept when you buy a matte-finish helmet and then choose to ride in and enjoy it.
Build Quality
Overall, I feel that the R710 is built quite well considering its entry-level price. Tolerances between all sections are good, everything is secure, and the biggest "complaint" I could come up with is that the DOT/SNELL stickers are slightly off-angle. Such a pedantic observation speaks to how well put together the helmet is.
The fiberglass shell has minimal flex when taking on/off, and even when loading the helmet via manual compression, it doesn't give much. I'm impressed.
Comfort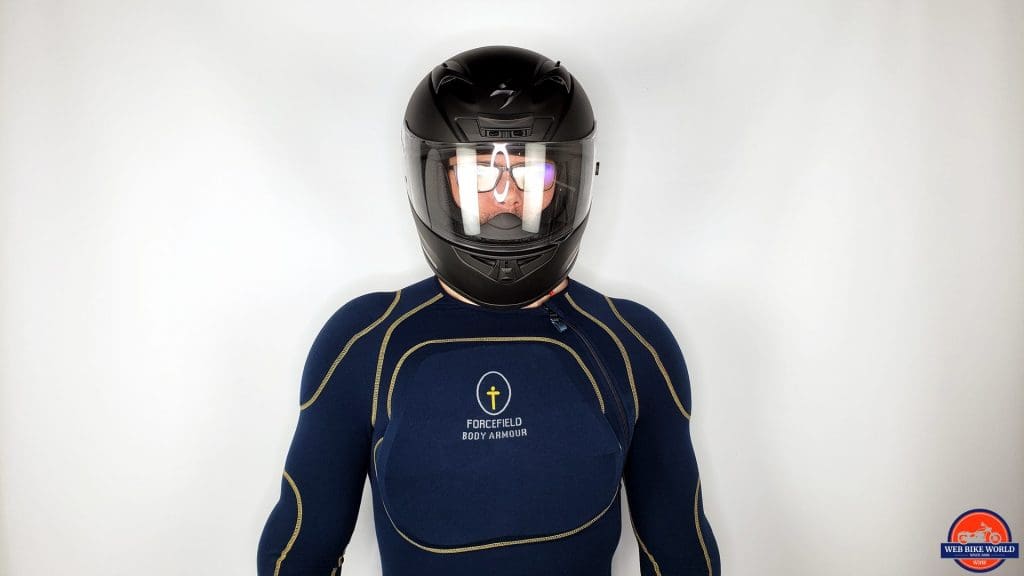 I weighed the helmet at 1,610 grams, or approximately 3.55lbs for my non-metric friends. Per our 272 helmet comparison list (being updated later this fall, by the way), that puts it near the front third of the pack. That's pretty good, and nearly identical to the EXO-T510 Brandon reviewed in 2016 which sells for $30 more.
This helmet is an intermediate oval head shape, and it fits my intermediate noggin just fine. In fact, compared to the Neotec II, C4, C4 Pro (review coming soon), and the recently-released NEXX X.VILITUR (review coming soon), it's easily the most comfortable- and not just because it's lighter.
I feel a reassuring grip on my jawline. Comfortable and secure, it doesn't transcend to the point of being a "pressure point" but does provide me confidence in its fit. There are no pressure points along the top or rear of my head, save for a gentle grip that again reaffirms the fit. I'm wearing a size large, and there is minimal movement when I shake my head side to side or up and down.
Airflow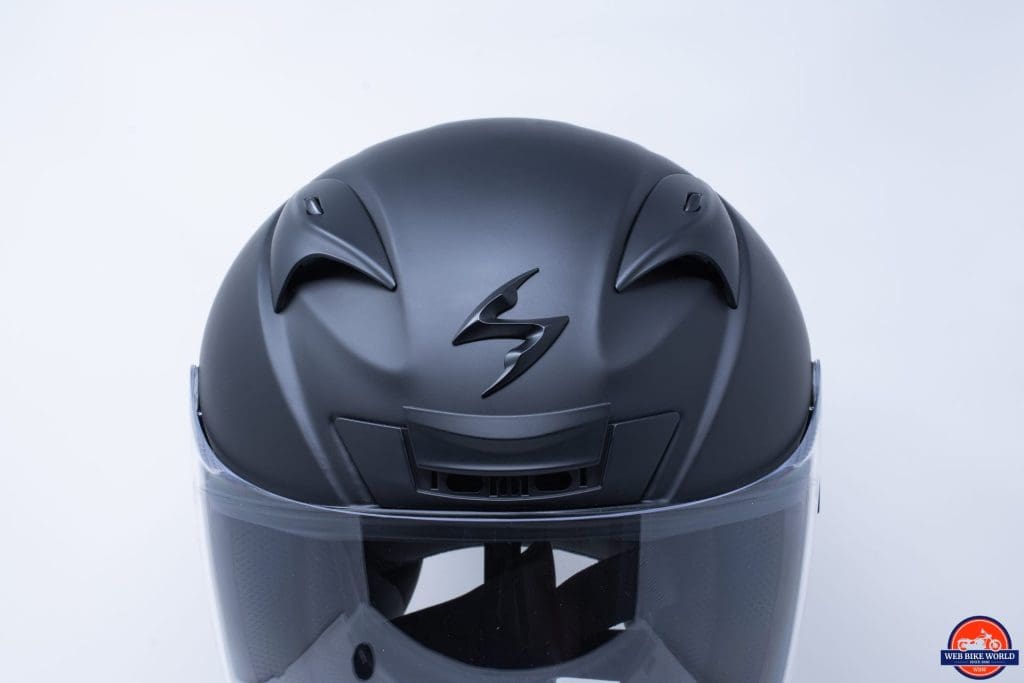 A big reason for this comfort is due to how good of a job this helmet does in flowing air. This isn't surprising given the four front-facing air intakes and three rear exhausts. There is a chin vent, a forehead vent, and a cowl on each side of the crown that open/close independently of each other.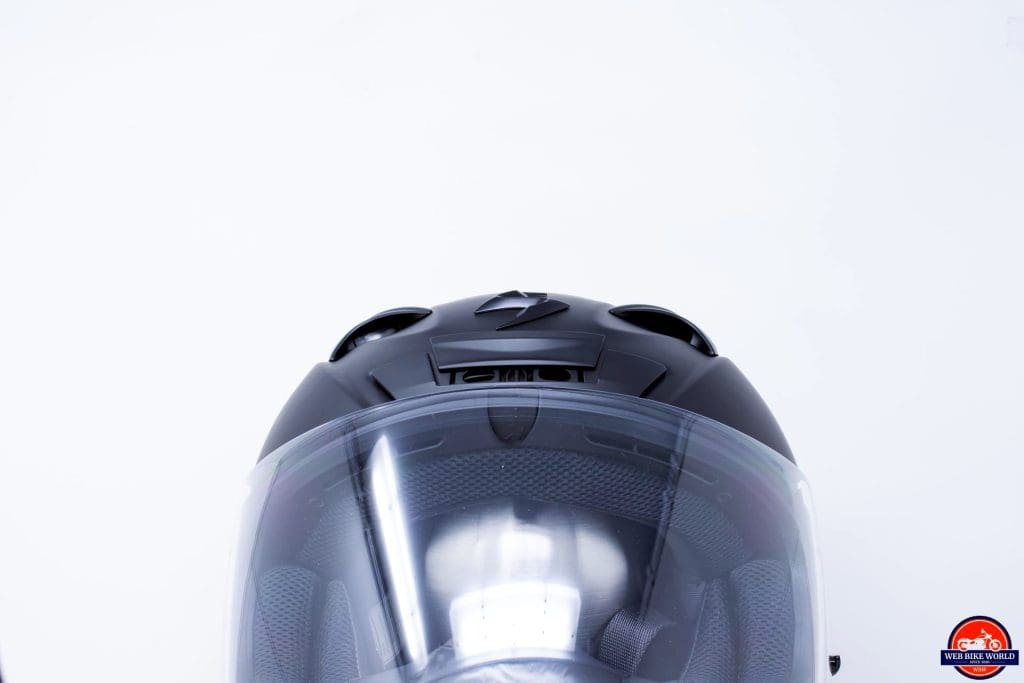 The photo above shows the right vent closed and the left vent open (the forehead vent is also open). At speed, the chin vent moves plenty of air up across the visor but away from your eyes. Pleasantly, you'll also feel air across the top and rear of your head as well. It keeps the entire environment cool and comfortable.
All switches operate with a very satisfying click and solid tactile feedback. They feel great and very much provide a high-quality impression. For the most part, all the switches are easy enough to use- though I wish the cowl switches were swept forward versus the swept-back shape they have now. It'd make them that much easier to use at speed while wearing gloves.
Interior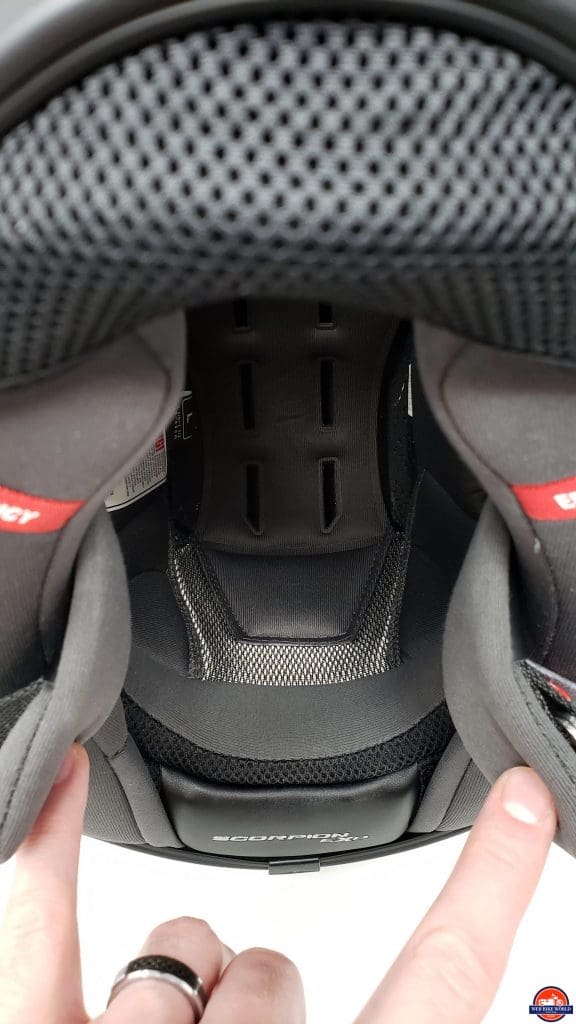 The interior liner is Scorpion's KwickWick II, which is good quality stuff. It's sleek and compliant when putting on, but also plush and soft to the touch. It's a step above what you'll commonly find at this price point, and leagues above what I feel inside the ZOX Primo C Track that Gerry reviewed last year (and subsequently left in my basement), which is pretty representative of what you'll find in an entry-level lid.
Also, take note of the shiny stuff in the rear. This is air permeable (tested via the wBW patented "blow on it" test) and is a big part of what keeps the rear of your head cool. Air flows directly to this section from the top vents via channels integrated into the EPS protective layer and pass through this section of liner with relative ease.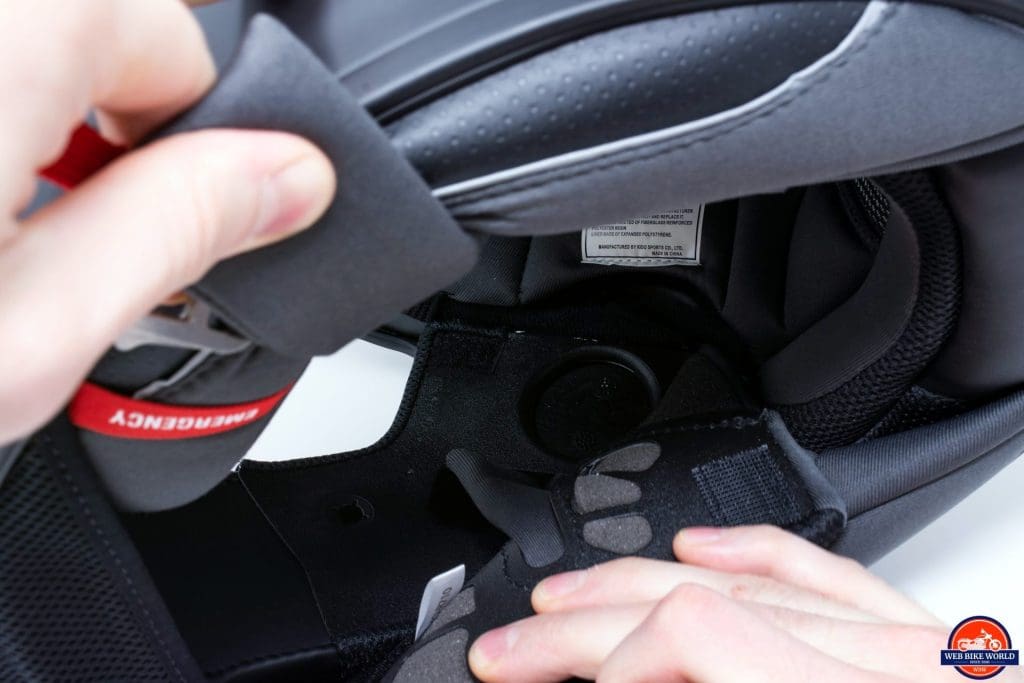 The liner pops in/out easily via plastic tabs, making it both easy to wash and manipulate to, say, install an intercom system. I intend to install the SENA SF4 in early July and give it a go. I'll link to that review here and update this section accordingly.
Ultimately, the interior is better than expected given the entry-level price.
Visor
As it so happens, my "day job" involves working with dozens of eye care practices across North America (I'm in marketing, not medical, so let's be clear: I'm not a doctor or even at all qualified to so much as imply medical advice), and I've learned a fair bit about what good optics are all about.
The EverClear visor will give you little to complain about. There is minimal distortion, it's easy to operate, and simple to remove. Unfortunately, I did experience a small amount of fogging when riding just after a mid-May rain. I did need to pop open the visor to vent air while stopped at a long light, but this disappeared once I was moving at even minimal speeds.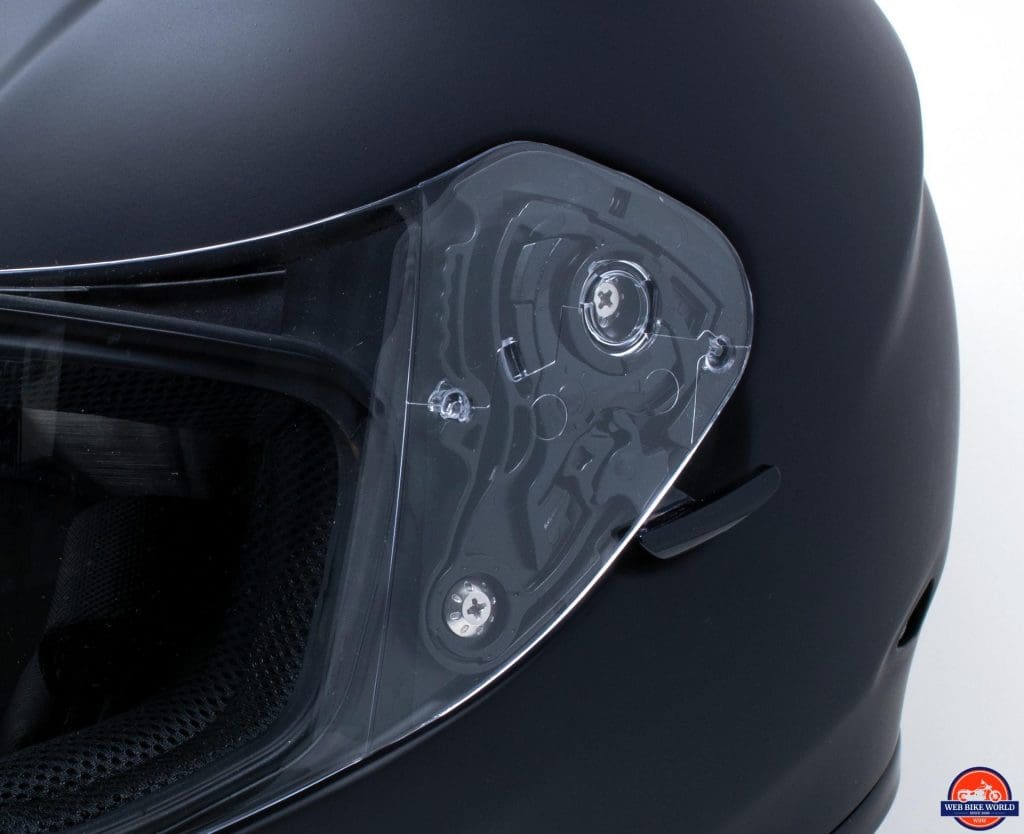 Removal of the visor is extremely easy: with the visor open, simply press the lever on either side of the eyeport down and pop, the visor will fall right off. This lever is the tab closest to the bottom screw. To put it back on, simply realign the plastic tabs on either end (again, in the "up" position) and pop the visor back in.
Also note the visor lock, which will keep the visor securely closed. Ideal for racing or enthusiastic street riding.
I was pleased to see that the visor will remain cracked open at the first "lock" position (about 1 inch or so of gap) and stay in that position at speeds well north of 100 km/hr. It did not pop open or closed. The EllipTec system has earned my favor.
Road Noise
This is where the affordability of the EXO-R710 becomes apparent. While not uncomfortably loud, there is noticable road noise at basically all speeds. There is no buffeting or booming inside the helmet, but between the vents and lightweight shell, you're going to hear the road.
Thankfully, there is no whistling from the vents. Road noise, yes, shriekingly annoying whistles, no.
The levels are acceptable given the segment and not unreasonable, but worth mentioning since you may want to ride with earplugs.
Conclusion
I am quite impressed with this affordable Scorpion. It's not the only SNELL-rated helmet you can buy for under $200, but I think it's one of the better ones and the quality in and outside of the helmet demonstrates that. Riders will appreciate its fit and comfort, excellent ventilation, and the small quality of life touches – such as notches in the interior padding for your eyeglasses – that add up to a heightened riding experience.
Its only drawbacks are subjective: the matte paint is prone to blemishes, as all matte finishes are, and it's a bit noisy under the hood. It also doesn't come with a Pinlock visor, though I suspect that the stock EverClear visor is good enough for most people. The fog issue I described is minimal (but also my job to document).
All said and done, I'm very impressed with the value offered by this affordable and good quality helmet. If this one's on your list, you'll be happy with it on your head.
Pros
Lightweight
Comfortable fit
SNELL rated
Good optics
Cons
Acceptably noisy, but still noisy
No pinlock
Replacement visors are worth 25% of a new helmet
Specs
Manufacturer: Scorpion Sports

Price (When Tested): $199 (solid) / $209 (graphics)
Made In: China
Colors:  13 colorways
Sizes: XS – 3XL (3 shell sizes)
Review Date: May 2019