Nexx X60 Helmet Review Summary
Nexx X60 Helmet Image Gallery
One more pair of beautifully executed "retro" helmets with modern features and styling.
This is Part 3 of our three-part series on "retro" motorcycle helmets.
The Nexx X60 is yet another type definition of the word "retro".
This helmet represents the most modern styling interpretation of the trio.
The Nexx X60 also is successful at melding the styling cues of more recent "Jet" styled motorcycle helmets to the authentic designs that are near-reproductions of classics.
Those include helmets like the Davida Classic Jet reviewed in Part 1 of this series.
We first described Nexx helmets in our review of the very modern Nexx X30 (review), a flip-up helmet with a visor that snaps into a unique wraparound chin bar.
Nexx is a Portuguese company that have recently started distribution in North America, and the X60 is proving to be very popular with motorcyclists here.
The X60 has its design roots in the classic short helmets of the past.
Also, Nexx offers a wide variety of colors and graphics in the X60, which should satisfy owners looking for anything from vintage to very modern looks.
For example, the X60 "Vintage", shown here with its nice tan and dark brown leather is retro in appearance, while the white X60 "Ice", with its raised "NEXX" lettering, is the modern interpretation of the same design.
Whichever you choose, the Nexx X60 helmets show excellent quality and execution.
In fact, one of the most outstanding characteristics of the three different helmets in this series is the attention to quality and detail that we've seen.
We can easily say that these helmets seem to have more attention paid to details and quality than most of the full-face and other helmet types we've reviewed on webBikeWorld.
Noting, of course, that our opinion is based solely on this admittedly small sample size of four.
The higher levels of quality and detail that is evident may be because the retro-themed helmets are almost works of art compared to your average full-face helmet.
It could also be due to the somewhat premium price for these types of helmets.
But one thing's for sure — each one of these is really a joy to behold, with details and finishes that appear to be far above the average full-face or flip-up.
The Nexx X60 helmets meet both DOT and ECE 22.05 approval, apparently using the single shell type for both.
Technically, the EC doesn't allow helmets sold outside of EC countries to be labeled with an ECE 22.05 standard decal, and Nexx complied.
Both of the X60's shown here have a removable DOT sticker, but my guess is that new owners will remove it because it's a slightly crude interim label. Perhaps Nexx is waiting to see what happens with the newly proposed DOT helmet labeling requirements for the U.S.A.
The Nexx X60 helmet shell is made from what Nexx calls an "Advanced Thermo Resin", but it's not clear whether or not the shell comes in two sizes to span the fitment range.
I'd guess that it does, because the sizes run from XS to XXL and it would be difficult to span that range with only one shell size.
I'm not sure what type of resin is used in the shell, but it feels very stiff and stout. The X60 Ice in size XL weighs 1212 grams (2 lbs., 10-3/4 oz.), while the Vintage in XL weighs in at 1221 grams (2 lbs., 11-1/8 oz.).
See the wBW Motorcycle Helmet Weights page for a complete listing of weights and shapes of the helmets reviewed on webBikeWorld.
The X60 is currently available in at least 15 different colors and graphic patterns, including versions for women and children. There may be more — I didn't count — because some helmets, like the "Ice", are available in several color choices within each style.
The prices run from a very reasonable $99.00 for an admittedly plain version of the X60, all the way up to a still-reasonable $279.00 list price for the top-of-the-line Ice and Vintage versions shown here.
The tilt towards modern is also demonstrated by the European "quick click" chin strap attachment, which actually works well in this iteration and seems like a perfect complement to this style helmet actually.
And surprise — the X60 liner is also removable! The lining material is claimed to absorb moisture and it's also treated with an anti-bacterial. The other retro-styled helmets reviewed in our series do not have a removable liner.
Speaking of liners, the X60's is not quite as plush as the Cromwell Spitfire, but it does have thicker padding than the Davida Classic Jet.
The padding on the sides does seem a bit thinner than I'd like though and this, combined with the slightly narrower internal shape, means a fairly snug fit on the sides.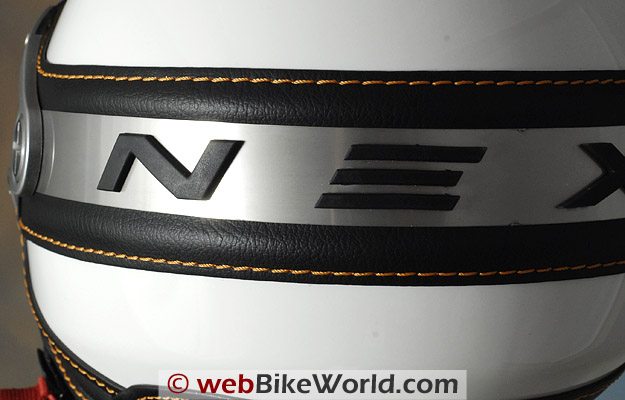 Nexx X60 Ice – Rear View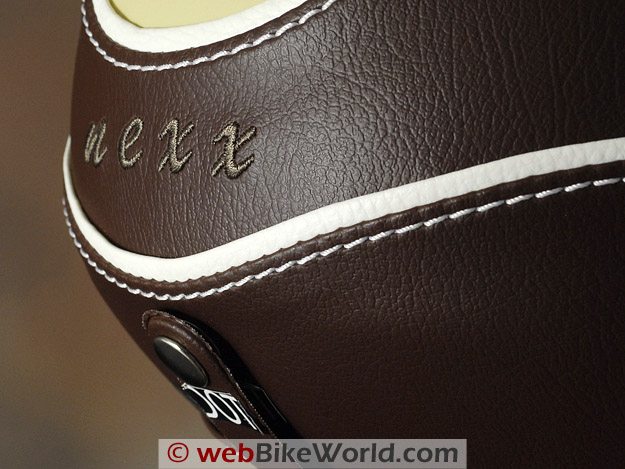 Fit and Internal Shape
The Nexx X60 internal shape deftly splits the difference between the "long oval" shape of the Davida Classic Jet and the round internal shape of the Cromwell Spitfire.
I'd say the X60 is the most neutral of the three and it should fit a majority of head shapes.
The X60 sizing may run a bit small though; both the Ice and Vintage X60 helmets shown here are size XL, which, according to the Nexx size charts should fit a 61-62 cm head. But they feel about one size small to me, and I think a 59.5 to 60.5 is more like it for these XL's.
The stiff shell may not flex as much as other open-face helmets, so sizing is important here.
The internal shape feels round up on the top, but the sides of the helmet are narrower.
This shape is problematic for "earth" shaped heads, such as the one owned by our Editor. He could not fit either of the X60's over his bean, thus the evaluation duties fell to me.
The tight sides help keep noise levels relatively low for this type of helmet. The X60 also has minimal ear pockets, so it may be possible to fit a pair of thin speakers inside.
See the wBW Motorcycle Helmet Weights page for a complete listing of weights and shapes of the helmets reviewed on webBikeWorld.
The X60 has a rotating Lexan visor with a slight tint (60% claimed); optional visors are available with darker or lighter tints. The visor rotates way up above the brow of the helmet shell, a nice feature.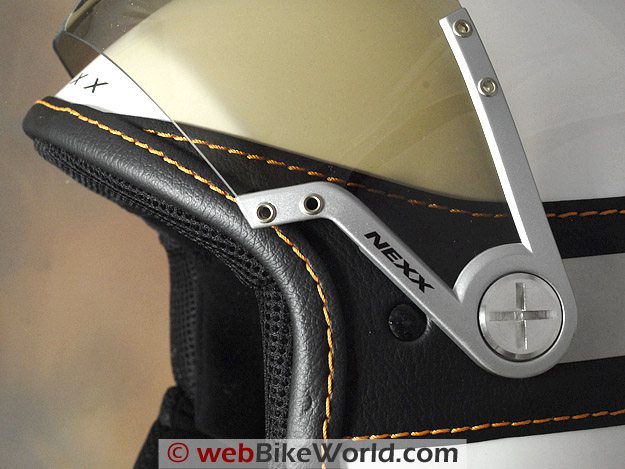 Nexx X60 Ice Visor, in fully raised position.
Nexx X60 Vintage visor, in fully raised position.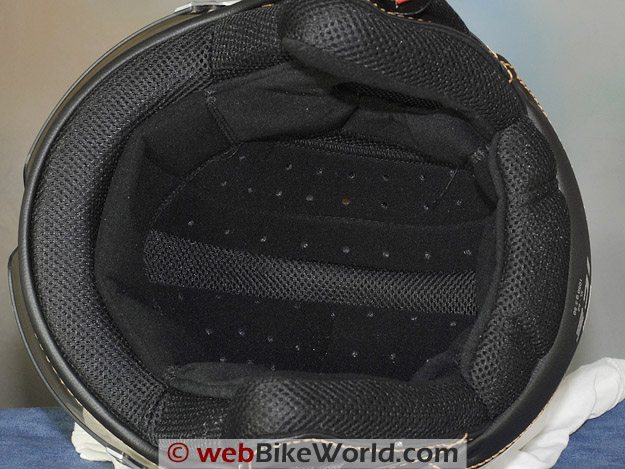 Nexx X60 Ice liner.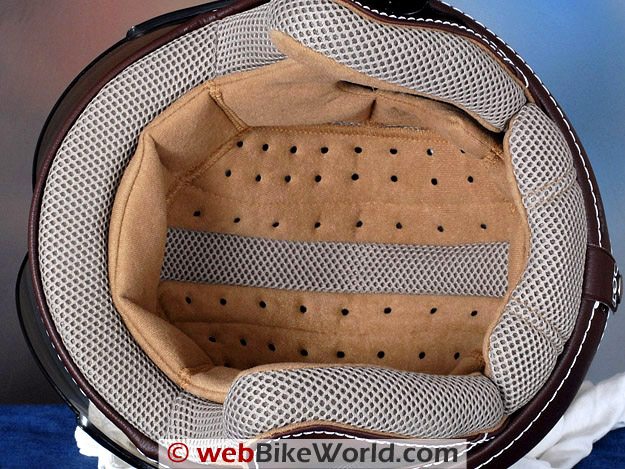 Nexx X60 Vintage liner.
Nexx X60 "Ice"
I'm not sure why the X60 is called the "Ice"; at first, we thought it was the combination of the metal (aluminum?) strip wrapping around the circumference and the beautiful white metalflake finish.
It has very tiny fine flakes that don't show up in the photos — trust me!
But the Ice version also comes in gray, black and matte green. So let's say it's the metal band that gives this helmet its "Ice" moniker.
The band proudly displays big, raised block "NEXX" lettering around the back, which I personally think looks pretty cool. The raised letters feel like they're made from some type of firm rubber.
The Nexx promotional materials do not say whether the material surrounding the metal strip is real leather.
This material is also used at the bottom of the helmet, as you can see in the stitching. But it feels like real leather, so even if it isn't, it's a very good substitute.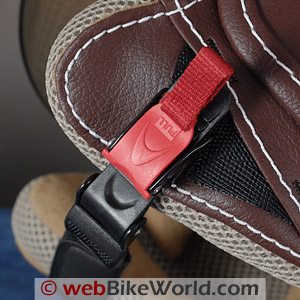 Nexx X60 "Vintage"
The Nexx X60 Vintage uses the same shell, but it has what appears to be genuine leather covering the bottom half of the surface. The words "Vintage" and "nexx" are embroidered on the leather, which may or may not satisfy all tastes.
The paint on this Vintage is a sort of dark eggshell color with a matte surface that feels slightly rubberized. The paint is flawless on both helmets, and the numerous choices of colors and graphics should please just about anyone.
Otherwise, the helmets seem identical in all other regards.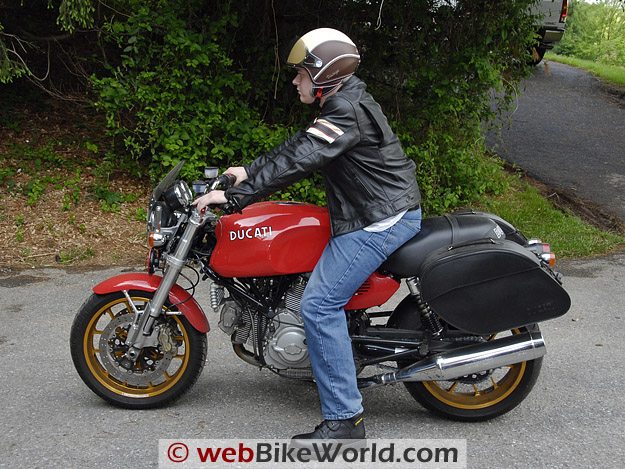 Nexx X60 Vintage on the motorcycle.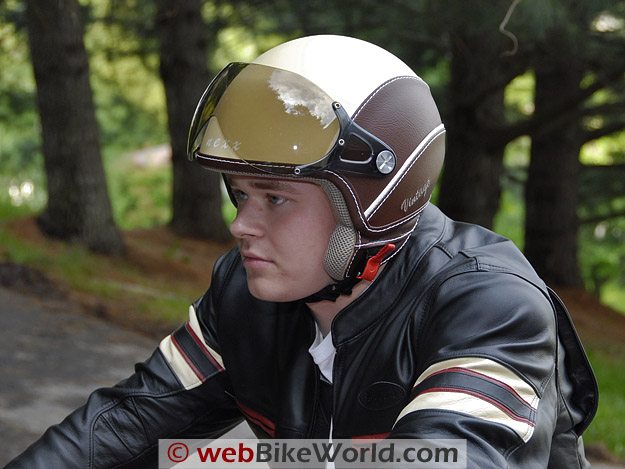 Conclusion
Nexx is off to a roaring start in North America with the X30 and X60 helmets.
They seem to be focusing on the X60 "Jet" styled helmets that are the focus of this review, which feature many more color choices and styles than any other similarly styled helmet I can think of.
Excellent quality, modern materials and design and a fairly large worldwide distribution network should satisfy anyone interested in this style helmet.
wBW Review: Nexx X60 Helmet
Manufacturer: Nexx Helmets
List Price: $99.00 to $279.00.
Colors: Wide variety of colors and styles.
Made In: Europe
Sizes: XS-2XL Shell Sizes: Unknown
Review Date: May 2009

Rating Scale is subjective: Unacceptable, Poor, Neutral, Very Good, Excellent, Outstanding.
Note: Item provided by a retailer, distributor or manufacturer with these Terms and Conditions.
Note: For informational use only. All material and photographs are Copyright © webWorld International, LLC since 2000. All rights reserved. See the webBikeWorld® 
Site Info page
. Product specifications, features and details may change or differ from our descriptions. Always check before purchasing. Read the
Terms and Conditions
!
Owner Comments and Feedback
---
From "A.C." (October 2014): "This year's X60 has a larger visor that offers more protection from flying objects.
And it must block more wind than the previous one with the nose cutout, and it has a built in sun visor that is easily flipped up and down with a lever you can easily find with gloves.
The quick connect and disconnect strap is a must for eliminating that fuss with a d-ring retention system. The fit and weight are impressive.
It's a quiet helmet that has excellent peripheral vision. For the detailed construction, looks and fit, the price is easily justified, and reasonable. I am thoroughly enjoying the ride with my new helmet.
Thanks for bringing this helmet line State-side!"
---
From "R.D." (May 2012): "Just wanted to send my comments on the Nexx Vintage X60 helmet. I own two, the black/orange and black/brown Vintage helmets. I love the helmets as does my wife who wears the Queen helmet.
The helmets are very well made, comfortable, and I love the look. I have never seen another one on the road. If you are between sizes, size up.
Many of the cooler helmets are only available in Europe, but you can order from Companies like Urban Rider.
I have actually found the helmets to also be cheaper when buying overseas. The helmets are a bit pricey, but you get what you pay for."
---
From "D.M." (04/11):  "I just wanted to follow up and leave a comment if I could, regarding the NEXX X60 and sizing. I picked up my XXL X60 ICE helmet this past Sunday, and I love it.
The styling is excellent and the quality is the best I have seen in a motorcycle helmet.
As your review states, if you do not have an "earth" shaped head, albeit a large one, you may want to bump a size. I also wear an Arai XD, size XL with 20mm cheek pads, but the X60 XL was way to tight on my dome, but the XXL fit very well. Thanks for the great review."
---
From "D.G." (01/11):  "I purchased a Nexx X60 Air for use in Florida as a summer helmet. The Air has a pattern of mesh screen that is always open to keep your head cool.
There isn't a Nexx dealer within 300 miles of my home and I was unsure of the fit. My current helmet is an HJC Cl-SP size small. My head is kind of round and I read that the X60 is a little more narrow, so I ordered a size up.
The medium fits really well. I love the strap with the quick release. No need to take off my gloves to fool with D rings."
---
From "M.S." (8/09):  "I saw the Nexx Vintage helmet on your web site and (purchased one). The first helmet I got was too small and I sent it back for an exchange.
The second helmet I got wasn't made very well. The foam liner was glued in crooked so that the helmet set on my head turned slightly to the right.
I got the third helmet last week (8/19/09). It wasn't as crooked, but I don't have the heart to send for a fourth one. Not to mention it is $13 for shipping every time I send it back.
I love the way the strap has a ratchet instead of the old fashioned and cumbersome "D" ring. But most of all I like the way it looks. Because as everybody knows, if you look good, you feel good and with this helmet you will look marvelous!"
---
From "L.M." (6/09):  "I just wanted to drop you a line and let you know my experience with my Nexx X-60. I have owned it for 6 months and it is easily my favorite helmet (my other is a full face Shark RSI). It keeps the road noise down even though it is a 3/4 — the style, decoration, and lining is perfect.
I have received many compliments on this helmet and would buy another one if I didn't think that 2 identical helmets (with exception of decoration) was excessive.
If you are thinking of a 3/4 helmet you won't go wrong with the Nexx X-60."
---
From "W.W." (6/09):  "Really enjoy your website…I check it every day just to see what's new and always if there's something I thinking about getting.
I've been looking for a good "Tulsa" Hot weather helmet and decided after reading your recent review of the Nexx helmets that their X60 Air would surely do the job. I ordered from Nexx USA website and got it in 4 days !!!
It's light and really well made but the way the air flows thru it is what I'm really happy about !!!
I normally wear a Shoei RF1000 ,which is an excellent helmet, but in the 98 degree Oklahoma weather my head is wet time I get to work, not so with the X60 Air. It's almost like not wearing a helmet…really nice!!!
The only thing I can pick about is the ear holes are a little small and are touching the top of my ears but not really enough to be uncomfortable. Keep up the good work !!!!!!  Thanks"