Australian MV Agusta importer, Urban Moto Imports, is once again hosting customer test days around the country, but this time offering an incentive if you buy on the day.
Last year, they took their demo fleet around four states and attracted hundreds of riders to throw a leg over the Italian stallions in their "Riding Experience" events.
This time, MV Agusta will hold its first National Demo Event on February 20, 2016, at MV Agusta dealerships across Australia.
Riders will be able to test the current MV Agusta line-up and get a free t-shirt.
They are also being offered an incentive of $500 in-store credit on official MV Agusta accessories or apparel if they buy any new MV Agusta motorcycle on the day.
To participate, riders should register their interest online at mvagusta.com.au. Bookings are limited.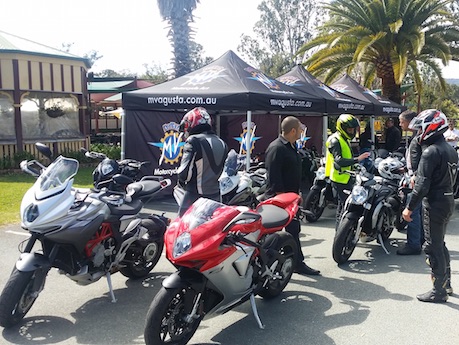 In an age where test bikes are few and far between, it is great to see an importer and dealers promoting demo rides.
Harley-Davidson is another brand that actively promotes test rides and even has a static bike display called the Jump Start where people without a licence can let the clutch out and at least get the feel of the engine and gear changes.
Victory Motorcycles also has an ongoing demo offer were they provide a free tank of juice and accommodation for a potential buyers to take the bike away for a whole weekend. Now that's a test ride!
In 2014, an American study of customer satisfaction found that dealers who offered demo rides sold more motorcycles.
Why then, do too many dealers make it so difficult for customers to take a test ride?
Have you ever been denied a test ride by a dealer? Leave your comments in the box below!