My Experience With the Motorcycle Safety Foundation Basic RiderCourse
The Motorcycle Safety Foundation (MSF) is known for promoting safety, education, and training for riders.
The MSF offers two motorcycle training workshops, the Basic RiderCourse and the Experienced RiderCourse (review).
The Basic RiderCourse is very popular; it is offered through various local training affiliates in most states in the U.S. and it provides valuable training for both new and experienced riders.
By successfully completing the Basic RiderCourse, even a newbie who has never been on a motorcycle can gain enough skills to hit the streets.
However, getting up the courage to ride a motorcycle among all the crazies in those cars is something not taught in the class!
Safety First
Motorcycle riding obviously involves higher risks than many other forms of transportation, so it is vital to understand those risks and how to minimize them.
The Motorcycle Safety Foundation's Basic RiderCourse teaches fundamentals that every rider should know – from proper riding gear, to basic motorcycle control, to searching for and avoiding potentially dangerous situations.
Once I decided to get a motorcycle endorsement on my driver's license, MSF training was my next step; I was under no illusions that the handful of hours I spent on a dirt bike had prepared me for riding on the streets.
The best place to learn technique – and I mean proper technique – is from the pros.
Friends can always be counted on to loan a bike and teach you to ride, but sometimes what they teach is not the best or safest method. For instance, I can't tell you how many motorcyclists have told me they never use their rear brake.
It's my life on the line, and taking that into consideration, I plan to constantly soak up all the knowledge and skills that I possibly can.
And at such an affordable price (locally it was $150, but will vary by region) there is no reason not to take the MSF Basic RiderCourse as a start.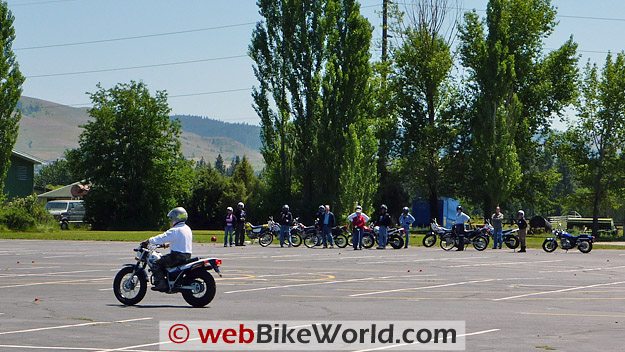 Preparing for the RiderCourse
The Basic RiderCourse consists of approximately 15 hours of total training, both in the classroom and on the bike. It's usually spread out over a few days or a weekend.
Note that the majority of the time is spent actually riding the motorcycles, with only a handful of hours of classroom time.
The training can be intensive, therefore it is important to be well-rested before the course begins. It is surprising how tiring it can be to ride around in a parking lot for five hours!
Motorcycles are provided for the Basic RiderCourse by the local training affiliate. Helmets are also usually provided, but be sure to check with local instructors to confirm.
Participants are expected to wear long pants, shoes that cover the ankle, full-fingered gloves, a long sleeved shirt or jacket, and eye wear (sunglasses are okay). Students without proper attire are not allowed to ride, and thus will not be able to complete the training.
Depending on the time of year, consider layering your clothes for flexibility. I took the class in the end of April in Montana and needed long johns and a ski jacket! It was freezing! Check the weather and bring rain gear if necessary, because classes are usually not cancelled due to rain.
Also, remember to bring sunscreen and lip balm – two full days in the sun can do a number on your face and lips!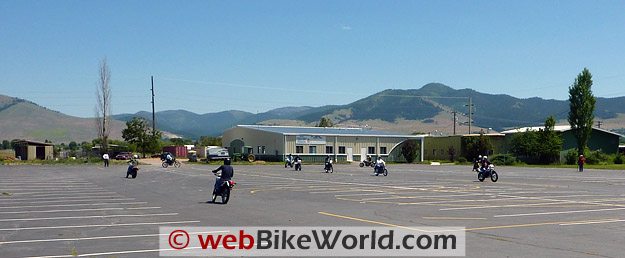 What to Expect
Typically, the work starts in the classroom with a couple of hours of discussion and some short videos; then the group goes outside and puts what they learned into action.
Training manuals are provided for the students to keep and at the end of the first day, students are expected to go home and study.
Breaks and a lunch are scheduled throughout the day and it is crucial to return back to class on time. Students who are late are not allowed back into the class and will not get a completion card.
Take that into consideration when deciding whether to bring a lunch or to leave the training area to eat.
Each student picks a motorcycle to ride – our location had a selection of standards, cruisers, and dual-sports in 200cc to 300cc capacities.
If the student has never ridden a motorcycle before, no worries; instruction starts with getting comfortable with the bike with a combination exercise involving "power walking" and learning clutch control (using the friction zone).
The student straddles the bike and is taught to slowly release the clutch until the "friction zone" can be felt. The friction zone is the feeling given by the clutch as the power starts to reach the rear wheel.
It's important to understand how this works and to master it to become a successful rider.
Each riding drill is first demonstrated by an instructor. Participants then repeatedly practice essential riding skills such as clutch and throttle control, maximum braking, swerving, cornering, slow maneuvers, and riding over obstacles.
The hands-on training has already proven valuable to me as a new rider. For example, the maximum braking drill came in extremely handy last week when I almost hit a deer (whew, deep breaths).
Taking corners too quickly is the main cause of single rider accidents, and knowing how to approach and proceed through corners and understanding countersteering (i.e. press left, go left) has already saved my skin.
When corners were sharper than I anticipated, I used my knowledge of countersteering to press into the turn; without the course, I may have tried to turn the handle bars in the direction of the turn which could have resulted in a high-side.
The Basic RiderCourse isn't only for new riders. There were a few seasoned riders in my class; some had been riding for twenty years, and all said they learned new skills and the course was very helpful.
Our class was half women, half men, and ages ranged from fifteen to sixty.
By the way, men — my apologies for generalizing, but taking the Basic RiderCourse in no way makes you a wimp.  It's always smart to learn and practice skills that will not only make the ride more enjoyable but could one day save your life.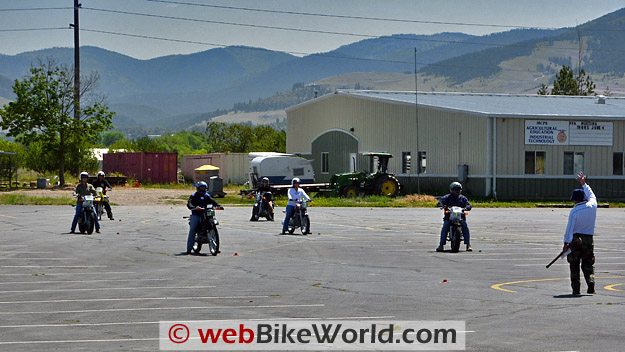 Passing the RiderCourse
At the end of the second day, students take both a riding test and a written test. The written test is multiple choice and covers exactly what is in the manual.
According to the instructors, if a student participates in class and studies the manual, the written test shouldn't be a problem. I agree.
The riding test involves several of the skills learned during the Basic RiderCourse training. We were tested on cornering, maximum braking, slow maneuvers, and swerving.
I'll admit, when I heard about the dreaded U-turn drill (slow maneuvers) that was part of our test, I panicked. I had successfully completed every single skill that day except for the double U-turn and was sure I'd fail the riding test.
The instructors assured us we could butcher one of the skills and still pass the course.
There are only two ways to fail the riding test: 1) if a student drops their bike – automatic failure; and 2) If too many cumulative points are missed throughout the riding test, the student will not pass.
Our instructors told us that it is rare for someone to fail the class, but it does happen on occasion. Everyone in our class graduated, and several of the students who passed were previously only experienced as passengers on other people's bikes.
Most of the organizations who teach the RiderCourse will issue a completion card upon passing the class.
Many states will waive the formal riding test and/or written test for a motorcycle endorsement for anyone who has successfully passed the MSF Basic RiderCourse. So in effect, if you pass the RiderCourse, you'll have a license to ride a motorcycle.
And there's an even better bonus — many insurance companies give discounts on motorcycle insurance to those who have passed the RiderCourse. That's money saved to put into accessories!
Speaking of motorcycle licensing, some states require that the new rider first pass the standardized ALT-MOST test, which was previously described on webBikeWorld.
w

BW

 Video: MSF Basic Rider Course
Use It or Lose It
As good as the Motorcycle Safety Foundation's Basic RiderCourse is, practice is still necessary.
Instructors urge students to practice, practice, and practice the skills. The local motorcycle police still practice every morning in a parking lot nearby for a half an hour to keep their skills sharp.
Conclusion
All riders, new or seasoned, could benefit from the MSF Basic RiderCourse. Everyone I've ever talked to who has taken the training has thought it was extremely valuable.
As a new rider, I can't even imagine challenging the streets without having first taken the RiderCourse.
The technique and knowledge a rider will gain is worth much more than the time and money invested in the training – in fact, when you're talking about lives and safety, it's priceless.
Here's more information about the Motorcycle Safety Foundation Basic and Experienced RiderCourse, including training locations and schedules.
Also, don't forget to read the webBikeWorld reviews of motorcycle riding skills books and thevideos to learn more about riding skills.
More Motorcycle Skills Training Reviews on webBikeWorld:  MSF Experienced RiderCourse  | Total Control Advanced Riding Clinic  |  ALT-MOST test
Review Date: July 2009
Master Listing of All wBW Motorcycle Product Reviews
Note:
 For informational use only. All material and photographs are Copyright © webWorld International, LLC since 2000. All rights reserved. See the webBikeWorld® 
Site Info page
. Product specifications, features and details may change or differ from our descriptions. Always check before purchasing. Read the
Terms and Conditions
!
Owner Comments and Feedback
---
From "D.B." (April 2012):  "I had a bike since I was 9 years old, my first vehicle was a bike a Sportster 1000 cc.
Well I got married and had to let it go and get a car. I got lucky and was able to get a bike again — well not a bike a scooter (looks like a Ninja bike but only has 150 cc).
I took the written test and made 100 on it. I went to take the driving test and did terrible. I didn't realize there is a lot of difference between a motorcycle and a scooter.
First of all the scooter doesn't have a cluck or gears, second I could not see the front tire, it's hard to explain but when you turn left or right the tire moves but the front end doesn't. It just points forward.
Just pulling up to the starting place was a problem; I had to lean over to see if I was there.
It did not help that the instructor was very hard to understand. He asked me to initial a line saying I understand every instruction when I told him I did not he said he would explain every instruction when we got to that part.
Well he never did explain anything.
I studied the book so I did know most of it but the problem was the markings on the test track. It had red, white, yellow, blue going each and every where. I took the test two separate times and failed.
I have trophies racing flat tracks, dirt tracks never had a wreck on the street but to save my life I couldn't get a street drivers license and for a scooter.
Man that's funny. I'm going to practice more on my scooter and then go to a different testing site. I Live to ride and ride to live. I will get a license. I would of never thought getting a license riding a scooter would be so hard.
HA,HA Get on a scooter and you'll see what I mean. Thank you for your time and good luck on your test."
---
From "J.L." (7/09):  "As I'm sure any of us who have taken the BRC (Basic RiderCourse) can attest, that's a very accurate write-up.
To put in a plug for a potential next step, I recently took the (Experienced RiderCourse) ERC "skills practice" course (see the wBW ERC review), and really found it useful.
If it's available where you live, I highly recommend checking it out if the BRC was your first exposure to riding (as it was for me).
They have them in both bring-your-own-bike, and use-their-training-bike flavors. I took it about a year after I took the BRC, with about 6 months of riding on my own bike (I wanted to take it much earlier, but where I live, it's not offered a lot due to low demand).
The one "problem" with the BRC for me was that it felt at times rushed due to the huge amount of items covered. Plus, there's the ticking clock anxiety of the test that you know is coming.
I frequently found myself wishing I could practice a given exercise a couple more times, just to make sure I really got it…but no chance; the class goes on to the next segment.
The ERC skills practice course gives you that chance. It's basically an afternoon of doing most of the riding exercises you do in the BRC…but with no test and basic familiarity with everything, you really get a chance to concentrate on your skills, under expert supervision.
And there's a lot less yelling, as it's unlikely in this class that someone's going to ride their bike into the storage container or put a death-grip on the front brake in a turn.
Additionally, there is some new material covered. Practicing riding with one hand was useful, and a great proof of the effectiveness of countersteering.
I've since noticed a big improvement in my low-speed maneuvering skills and my clutch work. And it's funny to me how the dreaded "box" exercise of the BRC morphed into something fairly easy and straightforward in the ERC.
Obviously not for riders with years of experience, or those that totally aced the BRC…but for those of us still new to the sport, it's worth the time I think…at the very least, it's cheap insurance."
---
From "C" (7/09):  "As an Instructor here in the Mid-Atlantic area I was pleased to see such a positive review of the Basic Rider Course on webBikeWorld.
Whereas I'm not a "dyed in the wool" MSF supporter I DO support rider training and education and is why I made the personal investment to become an Instructor.
I would like to point out to your readers that along with the Basic Rider Course (BRC) and the Experienced Rider Course (ERC) there is another course that is offered in most locations, but doesn't get as much attention as those two do.
That would be the Basic Rider Course 2 (BRC II). This class is geared towards those riders that already have knowledge and experience with the 6 primary controls.
Thus allowing them to bypass the first few exercises that are so important with new riders such as learning to use the friction zone, starting and stopping smoothly along with the basics of shifting.
This is a compressed class that is run in one day here in our state all of which is spent on the range. It might be done differently elsewhere.
What is covered in the classroom during the BRC is also compressed and discussed between exercises while on the range.
If you have riding experience (such as in the dirt/off road), but need to get your motorcycle permit, then this might be a practical alternative to the BRC.
Regardless of which you choose, you will walk away with some new-found skills or polished the tarnish off of those old ones.
I have yet to date had any student state the class was a waste of their time — even from the young and cocky ones.
Just remember, the learning never ends and no matter how long you're been riding you can ALWAYS be a better rider."
Other WebBikeWorld Motorcycle Safety Posts
wBW Motorcycle Safety Info