A Rundown of Motorcycle Intercom and Communication Options with In-Depth, Hands On Reviews from Our Experts
Nothing is better than a long, quiet and solitary ride with just your thoughts and a wide open road in front of you. It doesn't get any better than that. In the real world things are nuanced and complicated however. From a passenger sitting behind you who has a question, to communicating with other bikes nearby, to Spotify playlists and a wife at home who calls to tell you about something the kids did – there are lot of good reasons to be connected while riding.
Motorcycle intercom and bluetooth communications systems allow you to stay connected. Technology has moved very rapidly and today's communication systems are affordably priced and work very well. There are so many to choose from in such a wide price range. It's hard to decide which one to choose. One thing you'll find about Bluetooth intercoms is that they come with a whole lot of features packed into a tiny housing. In addition to intercom capability between driver to rider, or other bikers, they let you connect to cell phones, GPS devices, and phones.
When reviewing these devices we look at factors like sound quality, voice prompts, comfort and fit, design, effectiveness and lot of other things too. Sound quality is by far the important factor and we look for features that improve sound like noise cancellation to dampen any interfering noises from traffic, rain, wind and other environmental factors. Digital signal processing to help reduce the noise really matters the faster you ride or if you ride in high ambient noise areas like cities.
Riding a bike takes concentration and two hands so voice prompt technology is hugely important too and is getting better every day. You want to operate the headset hands-free so it can be awesome when you find units that are a pleasure to use via voice controls or frustrating when others can be absolutely horrible and unusable with voice controls. Comfort and fit matters so we look at materials and how the units feels while being worn for extended periods.
Cell phone connectivity is the other major performance factor because the whole point of these units is to be able to have connectivity when paired. Some systems mount on your helmet, while others have capability to mount on your belt clip or bike. If the system is big and bulky, you may want the ability to mount it on your bike. You can integrate some intercoms with cell phones so you can talk while you ride. They require special cables or you can get motorcycle intercoms that have Bluetooth capability so they connect to your Bluetooth-enabled phone wirelessly.
If you want music, look for a system that has a built-in FM stereo radio tuner or an auxiliary stereo input for your phone. While most units are universal working with any helmet with clamps or adhesive, some motorcycle helmets come with provisions for Bluetooth kits to reside completely inside the helmet.
Disclosure: We make money (and keep the site running) through ads and affiliate links. That means that when you click a link to sites like RevZilla or Amazon you are supporting us because we may get a commission if you purchase. We have developed a policy that you can find here but the gist is that our reviews are 100% unbiased and we don't take payments or allow potential commissions to dictate what we say about products. 
Intercom & Bluetooth Brands
Most riders don't realize just how many new manufacturers are out there making bluetooth communications devices for motorcycles. There are also a lot of established brands from the big electronics makers like Motorola and Sony to the specialists like Sena who have taken the world by storm in the last decade. Below, we have listed all the communications brands we have tested, you can simply click on the link to see all the reviews we have conducted for each brand.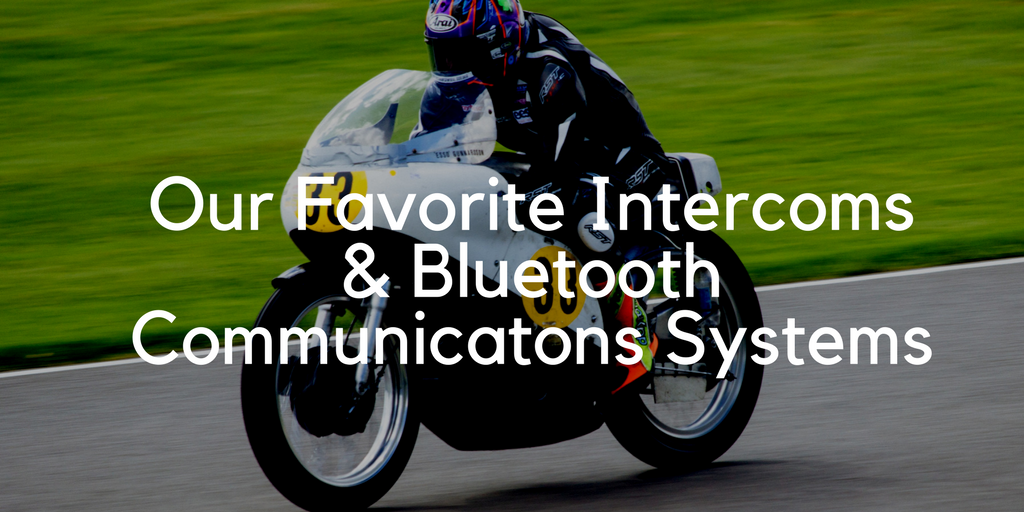 Our Favorite Intercoms & Bluetooth Systems
Some motorcycle riders love reading our in-depth reviews while others want to skip the details and get straight to the best. We created our top 10 lists with the goal of helping you quickly find great intercoms we highly recommend. These are the best of the best intercoms and bluetooth communications systems according to the editorial team here at wbw. Remember, every rider and use case is different so don't take these lists as gospel. If you're not sure, dive into the detailed reviews.
Best Intercoms
Best Bluetooth Intercom
Best Bluetooth Helmet
Best Wired Intercom
Best Earbuds & Speakers
Best GPS
Best Radios
Shopping Now? We Recommend:
webBikeWorld has worked closely with RevZilla over the years to provide our testers with products to review. In addition to being a great site to shop from, they're also a great partner. Both Amazon and Revzilla have a big selection of intercom manufacturers.
RevZilla

Free shipping on orders over $40
30-day no-nonsense return policy
Excellent selection of all major brands
Awesome pricing
Amazon

Free shipping (with Amazon Prime)
30-day return policy
Excellent selection
Competitive pricing
Popular Motorcycle Bluetooth & Communications Brands
We have reviewed a lot of motorcycle intercoms over the year at WBW so we know a thing or two about which ones our editors love. We also see the analytics on the site so we know which brands get the more views and attention from our readers. Between consumer interest, our editor's opinions and generally who we think is really innovating in the intercom and bluetooth communication space, here are the most popular brands at the moment.
Sena

SENA has become the defacto bluetooth communication company these days.
Sena's motorcycle bluetooth communication devices and video imaging systems are designed to inspire riders and boy do these guys know what they're doing.
Sena Adaptive Mesh-Networking technology is about to change the way you communicate on your ride. Group intercom connections are made simple with Sena's new technology, when one of the group's riders goes out of range the Adaptive Mesh-Networking intelligently keeps the rest of the group in seamless communication.
Helpful Links: Read Our Sena Product Reviews.
Cardo Systems

Cardo Systems is a leading manufacturer of Bluetooth communication systems for motorcycle helmets. Cardo Systems offers premium motorcycle intercom system set to revolutionize group riding.
Cardo has developed solutions for and in cooperation with a select group of leading manufacturers in the field of motorcycles and accessories, such as SHOEI, Schuberth, Ducati, Bell and HJC.
Cardo has literally pioneered a new product category that was non-existent until then. As our product line gradually expanded, we added many "firsts" in terms of features and functions. Today, the scala rider line includes the most advanced devices in the category from solid entry level products to the most feature rich communication and entertainment system available. scala rider products can be found in motorcycle accessory stores in over 80 countries.
Helpful Links: Read Our Cardo Reviews.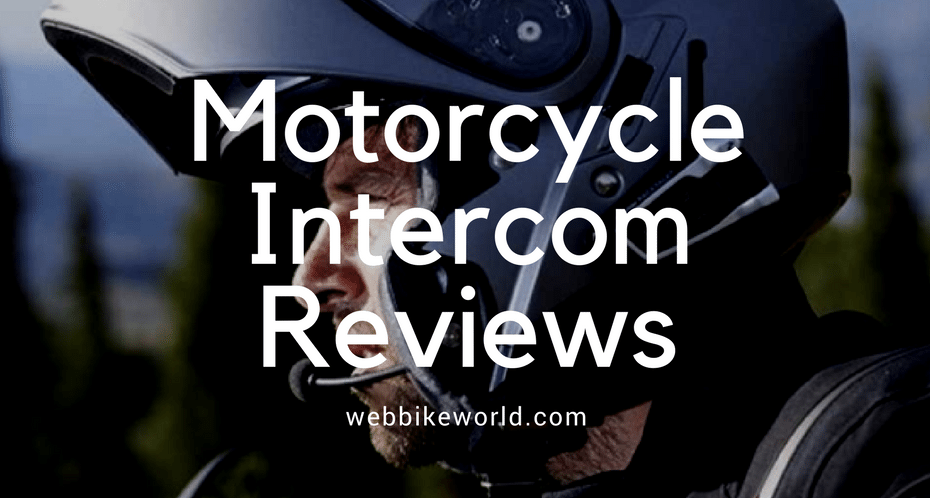 Recent Reviews
Don't forget to see all our recent intercom reviews.
Reviews By Category
Bluetooth Intercom Reviews
Bluetooth Adapters and Intercom Accessory Reviews
Wired Motorcycle Intercom Reviews
Earbud, Speakers, Noise-Cancelling Earbud Reviews
USB and Power Distribution
Bluetooth Intercom News and Reports
2016 Interphone Intercoms Previewed
Sena 10C Quick Look First Review!
Sena 10U and 3S Intercom Preview
Sena 10C Intercom Action Camera Preview
Sena SMH10B 5.0 Update: Universal Intercom Support!
Cardo SmartSet App for the G9 Review
Sena Universal Intercom Compatibility Update
Sena HJC H-Talk Intercom System Announced
Sena Nexx Intercom Systems Preview
Cardo SHO-1 Shoei Intercom System Preview
Sena SMH10B 4.3 Firmware Update Report
Cardo Scala Rider Q1 and Q3 Preview
Motorcycle Bluetooth Intercom Compatibility
Nolan Multi2 and B1 Basic Intercoms Previewed
Sena SMH10 as a Rider-to-Passenger Intercom
Sena SMH10 & Trans-America Trail Owner's Report
Sena SMH10 4.0 Firmware Update
UClear HBC200 Intercom Preview
UClear WT300 Bluetooth Adapter Preview
Sena SMH-5 Intercom Preview
Sena SM10 Bluetooth Stereo Adapter Preview
Cardo Systems R&D Office Tour
The Future of Motorcycle Bluetooth
5,000 Miles With the Sena SMH10: Owner's Report
Dispatch 1 Power Distribution System Review
Motorcycle Bluetooth Intercom Update and Comparison
2010 Motorcycle Bluetooth Intercom Comparison
Related Pages
NOTE: The webBikeWorld evaluators wear properly fitted ear plugs for intercom evaluations. This is reflected in the opinions on sound quality and speaker volume. Your experience may differ. Always protect your hearing when riding a motorcycle (more).
Motorcycle Bluetooth Intercoms: Now on the Motorcycle Bluetooth Intercoms page!
GPS General Information: Buying a GPS?  First check out Joe Mahaffey's GPS site; it has tons of info on GPS receiver information; software; hardware; reviews of Garmin, Lowrance, and Magellan. More information on GPS and using GPS is available at the GPS Store. Find GPS coordinates and map information for any address by entering the address.
Mounting GPS on Motorcycles: Make your own Garmin GPS motorcycle handlebar mount!  How to mount a GPS on your motorcycle? Here's a GPS mounting photo gallery. Cycoactive carries many different styles of GPS mounts for motorcycles. Adventure Motorcycling (U.K.) has lots of information on using GPS in the U.K.