HuRob HSB-S100B Intercom Review Summary
HuRob HSB-S100B Intercom Image Gallery
HuRob HSB-S100B Intercom Review
It is relatively safe to say that most of us have one or more devices for communicating when riding our motorcycles.
The predominant medium for those communications is wireless, with Bluetooth providing a rapidly evolving capability.
As Bluetooth has evolved so have the platforms and systems that utilize this wireless medium for communication purposes.
Most of us are familiar with the standard Bluetooth helmet communications systems that are typically fitted on one or two helmets and left in place on a more-or-less permanent basis.
Enter the HuRob HSB-S100B Outdoor Bluetooth Helmet System.
This system uses a small form-factor module which is designed for fitment on virtually any style of helmet, for motorcycle, ATV, snowmobile or bicycle riding.
It can be used whereever portability and mobility are key requirements.
The HuRob system is different in many ways, yet it is fully functional as expected for a motorcycle intercom communications system — with one limitation.
Used for single rider or rider-with-passenger configurations in a quiet cockpit environment at lower speeds, the HuRob holds up well against other well- known similar products.
Its limitation and my ensuing assessment that it is not quite ready for "prime-time" motorcycle-use is due to two issues:  fitment limitations that arise to accommodate the module's integrated microphone; and accessibility of the controls, a factor made crucial due to the same integrated microphone.
To their credit, mitigation of the issues have been addressed by HuRob.
The newer HSB-R100B is voice control enabled, allowing initiation of intercom and phone services by speaking, thus eliminating the need to physically access a hard to access system.
This safety concern is also the reason that an original tail-to-tail feature allowing pairing of three devices was dropped by HuRob as having to access the necessary control to switch between paired systems was deemed too problematic while riding a motorcycle.
Saving the day, at least for me, is the single ear-bud headset with in-line microphone component that makes the HuRob system an attractive option for many reasons and many uses.
With the earbud connected, the integrated microphone is muted, allowing the system to be put through its paces.
Using the HuRob devices as personal communications systems for a variety of activities really brings out the true value of these very small, very portable, very functional and very reliable devices.
All I need now is the stereo ear-bud with in-line microphone component listed as part of the HuRob HSB-X100 kit, or a micro-USB to 3.5 mm stereo adapter so that other personal ear-bud headsets can be used.
Let's take a closer look at this interesting design…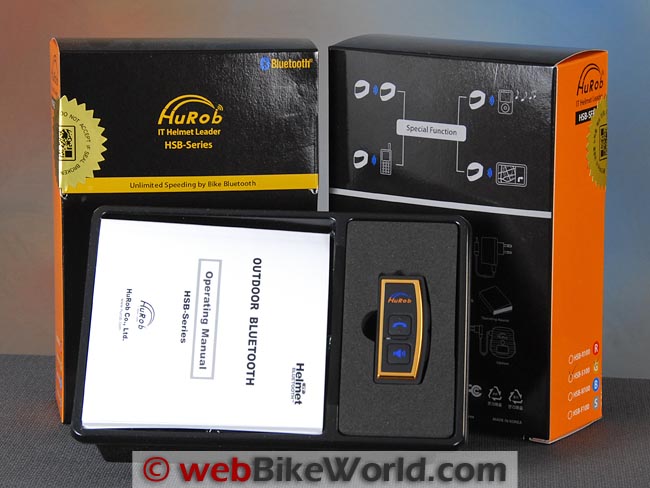 The HuRob HSB-S100B Intercom
webBikeWorld visitors are used to reading just about everything related to motorcycling and for the most part, many of the products that are evaluated and the activities which are described by the Editor and the webBikeWorld contributors from around the world are familiar — but I'll bet this one isn't.
Let's start from the beginning… The Editor had sent me a link to the HuRob website and asked for some input regarding a possible evaluation of the products.
Asking me if I want to evaluate another Bluetooth system is pretty much a rhetorical question; thus, a few weeks later, two of the HuRob HSB-S100B kits were in hand.
The product is actually identified as an "Outdoor Bluetooth" system and to a (very) large degree when appreciating form, fit and function, the HSB-Series of HuRob Bluetooth systems do have applications that go far beyond standard use by riders and passengers using motorized vehicles with two wheels or more.
Product diversification is a fast-moving segment of the Bluetooth industry — something recognized for some time. A quick look at many of the leading product listings reveals how valid this multi-discipline approach is — being able to adapt a common Bluetooth chassis for many applications has efficiencies and marketing opportunities that cannot be ignored.
HuRob Co., Ltd is a small Korean company that has developed products and technologies in the wireless communications market, with a specific focus on providing products to "non-powered" activity and lifestyle sectors that admittedly have been, at least until recently, largely ignored by major manufacturers…but that is changing, quickly.
Application diversity by design rather than by evolutionary adaptions is HuRob's approach; one that I appreciate.
While spending as much time as possible riding motorcycles, an active lifestyle involves other activities, many of which can and are enhanced by using a portable Bluetooth system for peripheral connectivity and to communicate privately with another person.
Real-time communications also address coordination, situational awareness and safety issues, especially where two or more riders are involved. It is very easy to visualize a small-form-factor device, like one of the HuRob HSB Bluetooth systems, being used for a wide range of activities, powered and non-powered, on a daily basis and from my perspective, more of this type of design thinking is needed.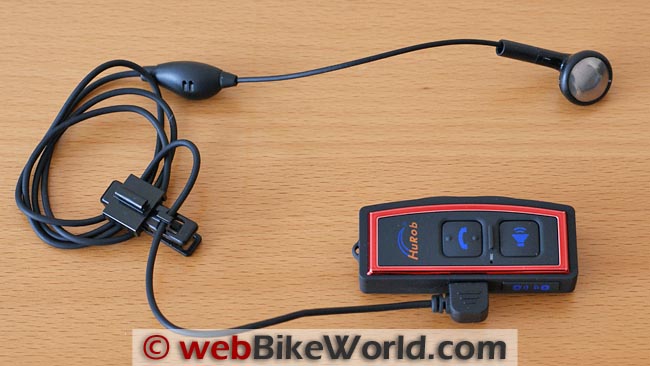 HuRob HSB-S100B System Overview
The HuRob HSB family of products provides three Bluetooth systems and a Bluetooth Adapter or dongle:
The HSB-S100 A/B: A 100 meter range intercom with a maximum 2mW output (the model evaluated for this review)
HSB-R100: A 200 meter intercom with a maximum 7mW output, now with Voice Control.
HSB-X100 (new listing): A 100 meter intercom with 2mW output, additional accessories including stereo ear-bud component.
HSB-F100 (Dongle): A 30 meter range with paired devices, maximum 2mW output, mono audio support only, PTT capability for two-way radio use.
The very small intercom devices are tightly integrated with compact controls, while still providing the essential pairing and audio streaming features found in Bluetooth communications systems for mobile phone, music, navigation and of course, intercom functionality.
Contents of each kit:
HSB-S100B Bluetooth module (the "B" denoting the 2nd version).
Stereo speaker set with thin-wire leads and micro-USB connector.
110-240V AC to DC Adapter with USB port and USB-Micro cable.
Supplemental 110V North American plug adapter with additional charging cable.
L-shape mounting stand and "tunnel" component for module adaptation and mounting.
Adhesive cloth tape strips for securing installed leads.
Adhesive Velcro patches for alternate mounting.
Operating manual.
Two optional single speaker ear-bud sets were provided as well, which was good as they became the workaround "solution" and ended up being used as much as the helmet headset…but more on that later.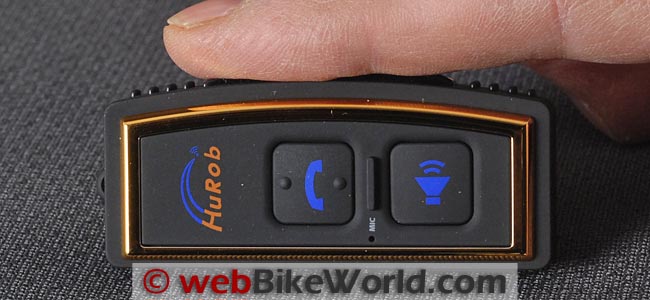 HuRob HSB-S100B Basic Specifications
Basic Specifications of the HuRob HSB-S100B intercom module include:
Module Dimensions: 60 mm (length) x 25 mm (width) x 10 mm (thick) or (2.4 in. x 1.0 in. x 0.4 in.).
Speaker Housings: 70 mm x 60 mm x 7 mm (2.8 in. x 2.4 in. x 0.3 in.).
Speakers: Round, 5 mm thick, diameter of 35 mm.
Ear-bud (single) component, with in-line microphone and clip: 84 cm (33.1 in.) long.
Bluetooth Specification: Bluetooth 2.1 and mobile phone HSP 1.5 supported Bluetooth Profiles – HSP/HFP, A2DP and AVRCP.
Bluetooth pairing with compatible peripherals (Class 3, nominal 10 m range).
Bluetooth intercom range of up to 100 meters (2mW power).
Micro-beam microphone incorporates anti-noise and anti-wind features.
Scroll Volume Control/Auto Answer/Privacy Mode Full DSP Noise Cancellation/Echo Cancellation.
Main unit detachable from helmet mounting clip designed for mounting on virtually any type of helmet.
Up to eight hours talk time on cell phone and up to eight hours talk time on intercom.
Up to 180 hours standby.
1 year replacement warranty, six months for battery.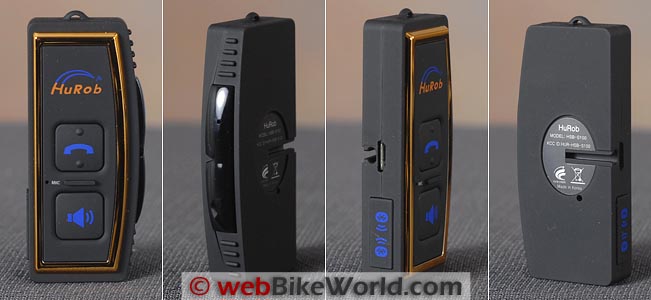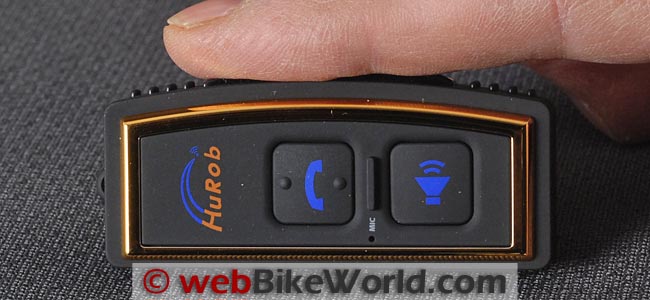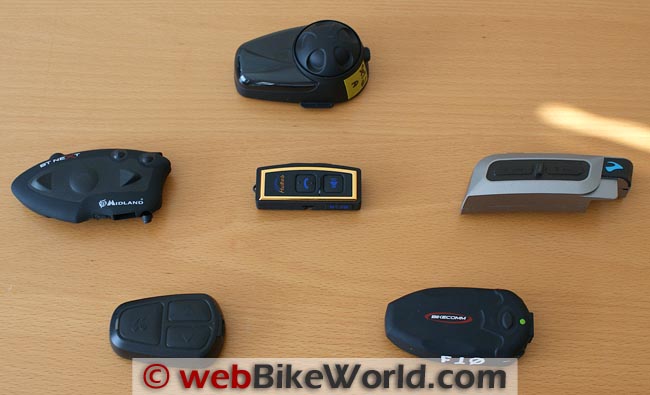 HuRob HSB-100SB Intercom Module Form Factor
"Outside the box" thinking is one possible phrase that comes to mind when first viewing and playing with the tiny HSB-S100B system.
Controls and functions are familiar — although laid out differently — than virtually any other motorcycle Bluetooth helmet system we have reviewed.
What really serves to set this system apart, other than its size, is the ability to be used for almost any situation where a small portable wireless Bluetooth-based system is needed.
The HuRob HSB-S100B is "ultra-light" and "ultra-slim", weighing less than 30 grams and it is about the size of my thumb but definitely shorter.
When displayed with other current Bluetooth helmet modules, the difference is truly graphic; visually serving to illustrate another approach to the way ahead.
The two modules in the intercom pair are identical, although one has a gold band and the other a red band on the top of the unit — presumably for telling the systems apart if being used for rider with passenger or rider-to-rider configurations with custom pairings. This is a small but useful standardization point now being used on other intercom brands as well.
Unique HuRob HSB-100 Microphone and Speakers
Like the UClear HBC100 (review) system, the HuRob HSB-S100 does not have a separate boom or thin-wire microphone. But, unlike the UClear solution with its integrated microphone-in-the-speaker design, the HSB-S100 has its microphone integrated into the face of the module itself — barely discernible by the audio pick-up hole and small "MIC" lettering.
From small we go to excessively large — the pliable speaker housings provided with the HuRob HSB-S100B kit are huge in comparison to the speakers and the Bluetooth module. Size-wise, the speakers are about mid-pack compared to other systems, but heavier than most. Audio output is excellent and in the right helmet environment they provide an exceptional listening environment.
Slipping the speakers out of the housings and putting a Velcro roundel directly on to the back of the modules makes more sense for most motorcycle applications. The housings would be just fine inside larger shell helmets that can accommodate a flat mounting or with lightweight outdoor activity helmets that have less side constriction (part of their design intent anyway).
I almost missed the tiny loop molded into the top of the case, useful for adding a small safety lead (like those supplied with the Contour products) or used with a lanyard for carrying the HuRob module around the neck when the personal ear-bud component is used.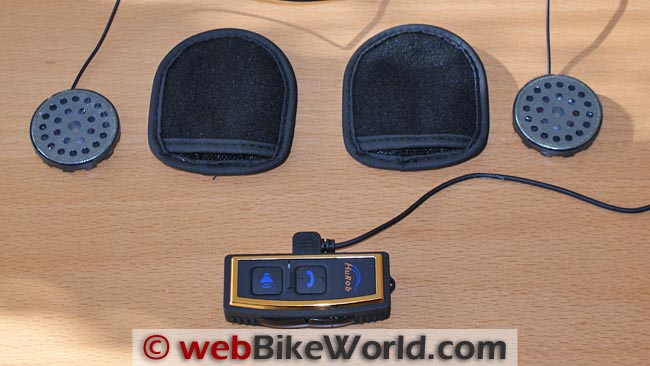 Controls
With minimal surface area controls are compact and closely spaced on the face and both sides. The back is reserved for the tunnel type holder (mounting clip) and the tiny reset switch that can only be accessed with a very thin wire.
Two square flush-mounted pressure buttons dominate two-thirds of the face. The top button (with the classic telephone handset icon) is Power On/Off and Call Conversation control, with the following functions: two second press to turn on/off; Short press to Call/Receive or Stop (AVRCP); and a four-second press to enter Registration (pairing) mode.
A multi-tasking role also applies to the lower button: volume control is a short press to increase and double press to decrease and for AVRCP controls to operated a paired music player unit, a two-second press for music play/stop, and four second press for speaker/earphone mode.
The Intercom button resides on the lower left side, identified by a Bluetooth/volume icon. This control has the following functions: A short press to connect or release the intercom; Double press to connect or release a second paired intercom; Four-second press for Auto Answer on/off functionality; and eight-second press to switch between Internal or External (ear-bud) microphone modes.
Also on the left side is the micro-USB port for the audio input/output. Either the stereo helmet headset or the optional single speaker ear-bud component with its in-line microphone and small adjustable sliding clothing clip can be used.
On the right side is a tinted insert housing the information display LEDs. The bottom of the housing has an access port for the small coaxial power connector.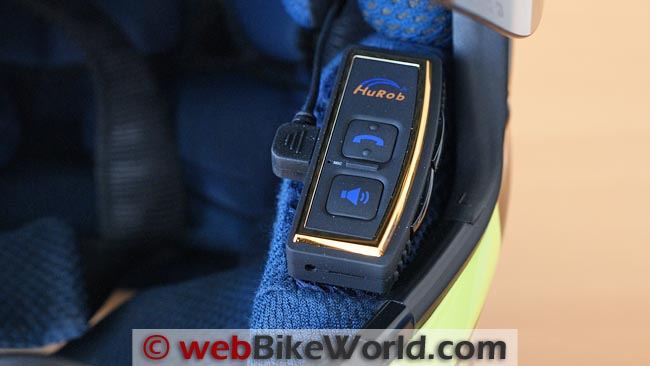 Fitting the HuRob HSB-S100B on a Motorcycle Helmet
With regards to size, the small HuRob module is installable almost anywhere on or inside a helmet with the headset installed in the usual manner.
But the design of the intercom module means that it must be located in a way that will accommodate the internal microphone, which immediately limits installation options for many motorcycle helmets and raises the obvious issue: control access.
The HuRob approach for mounting the module is based on three types of installations:
Using the module with the tunnel-type holder and L-type bracket.
Mounting with the adhesive Velcro pad.
A larger clip (not supplied) fitted with the tunnel-type holder for securing the complete module somewhere on the individual or riding gear.
Generally speaking, these mounting options might work with open-face and shorty-style helmets or inside the chin-piece of a full-face helmet to keep the microphone located for effective voice pickup (not a problem actually). But any of these fitment options highlight the audio, control access and safety/control accessiblity concerns.
With a very sensitive microphone integrated into the face of the module, mounting said module externally with the microphone exposed is not a viable option unless speeds are (very) low and the cockpit environment (very) quiet.
Utilizing the earbud component is a viable workaround but an audio compromise (mono versus stereo), albeit a tolerable one.
For my Arai XD3 (review) and Arai Corsair helmet (review) installations, the speaker housings were removed and the speakers mounted directly to the locating pads positioned in the cut-outs of the cheek-piece moldings. The module itself was secured to the left inside curve of the chin piece putting the microphone close to the edge of the mouth. With the SCHUBERTH C3 (review), the ear-bud component was used instead of the headset.
The module got mounted to the lower left side of the helmet and also clipped to an outer pocket. The earbud is hard plastic and a bit large but it can be tolerated when fit loosely. The in-line microphone sits between the ear and the mouth aligned by pressure between the check and liner.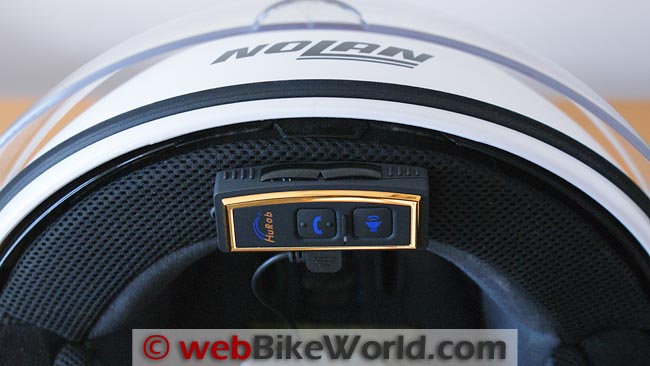 HuRob HSB-S100B System Initialization
Pressing the Main button (telephone headset icon) button for two to three seconds results in the Blue LED flashing rapidly accompanied by a long tone generated in the headset. Another two- to three-second push lights up the Red LED; it flashes once or twice and the modules shuts down, accompanied by a prolonged double-tone.
Note that turning on the module for the very first time may result in the Blue LED staying lite, indicating initial pairing (registration mode). This is apparently a default mode but I didn't encounter it until after doing a soft and hard initialization as part of the testing. With the exceptions noted for any specific pairing, the start state for the module is Power On.
Using the Intercom
With both modules powered up, pushing the left side Intercom button on both modules initiates the familiar Red/Blue flashing pairing mode sequence from the LEDs. A quick push of the Intercom button on one of the modules triggers the actual pairing process.
If successful, a rising-scale tone set is heard in the initializing module's headset and shortly afterwards the Blue LEDs on both modules flash at six second intervals and the intercom opens, with every sound in the room being picked up and transmitted to the other headset with absolute clarity.
To manually initiate the intercom just push the side-mounted Intercom button. The rising-scale tone set sounds followed by a single beep heard in both headsets as the link opens. To close a session press the Intercom button again; both systems generate a low double-tone and the link is then dropped. When two modules are paired for intercom use and one module is subsequently turned off, the second module gets a single tone as an audio advisory message.
Device Pairing & Function
Holding the Phone (power) button for four to five seconds powers up the unit indicated by one or two flashes from the Blue LED, which then goes steady, indicating registration (pairing) mode. If the devices find each other, the screen of the peripheral device shows "HuRob-S100B" and if the pairing isn't done automatically, entering the default PIN 0000 completes the pairing. I only had to do this for the Garmin zumo 665.
Phone Pairings
Smart phone and legacy mobile phones all work well with the HuRob, either paired directly with the headset or indirectly while hosted by the zumo 665 or 660.
With Voice Control configured on the iPhone, pressing the Home button on the phone for three seconds results in other headset audio being muted and the voice link established.
When connected via the zumo, receiving or placing a call brings up the phone icon and its call screen would be displayed while a call was in progress.
Vocal input via the HuRob to the iPhone works well; speaking a phone number or the name of an entered contact typically results in the input string being interpreted correctly by the phone. With some "smarter" phones, various audio features can be selected or deselected so that only the HST/HFP profile is active for mobile phone use which leaves the A2DP/AVRCP profile available for use with a Bluetooth MP3 player.
As usual, however, the iPhone just takes and holds all compatible profiles.
The HuRob devices work as a headset for other audio applications available on smart phones, as long as the A2DP feature is enabled (so that all necessary protocols are available). Note however that these applications must be operated from the phone.
And this capability once again raises the omnipresent safety issue — accepting or making phone calls or performing extended operations required to manipulate a paired device is never recommended while in motion, two wheels or otherwise.
Pairing other Bluetooth devices is done in the same basic manner as identified above and everything put in front of the HuRob paired up and functioned as expected, including all the Bluetooth Adapters (dongles) on hand.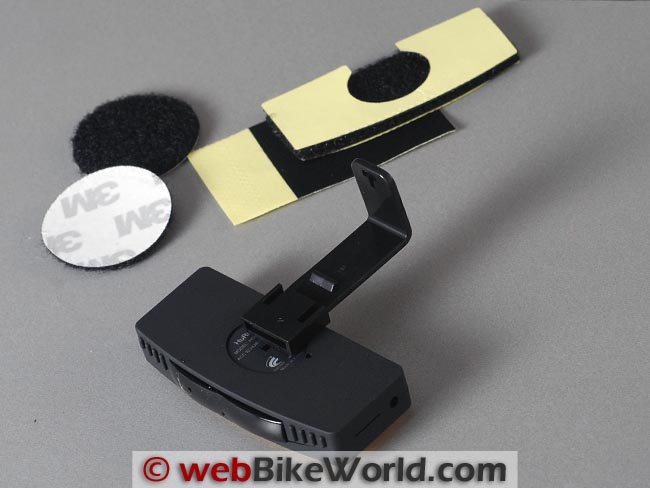 Audio Management
Appreciating the small controls and the multiple roles each of them have, audio control with the HuRob is still simple when the module is freely accessible. But when mounted inside a helmet, it is another matter…
Volume
A single push on the Volume button increases volume while a double push lowers the volume. Once maximum or minimum settings are reached, two tones are generated in the headset. The volume level of each audio input is adjusted while active with the settings being remembered.
Intercom
One press of the intercom button initiates that link, with another press ending it. A double tap activates a link to another paired headset and another double tap terminates the session.
Phone
If automatic receiving is enabled a call is answered typically after the second ring or three to four seconds from when the first tone is generated in the headset; pressing the Phone button also answers the call. Once a call is ended any other audio muted automatically resumes. Automatic receiving (auto-answer) is activated by pressing the Intercom button for four to five seconds until the Blue LED goes steady. Releasing the button results in the Blue LED flashing and a melody heard in the headset, indicating that the mode is set.
To place a call, press the Phone button to (typically) bring up the calling screen on the phone; another push results in the last call number being dialed. I had mixed results with this. The iPhone 4S worked fine but most other phones (smart or not) didn't.
Voice Support Functionality
This is identified in the manual but unfortunately only supported on the newer R100 series models. Users of the S100 series must make do with manual control of calls and intercom sessions, less the (phone) automatic receiving feature.
AVRCP Control (Limited)
With compatible devices, pressing the Volume button for two seconds generates a single beep and brings up the device's music player. Another two second press stops the music and a further two second press will end the streaming.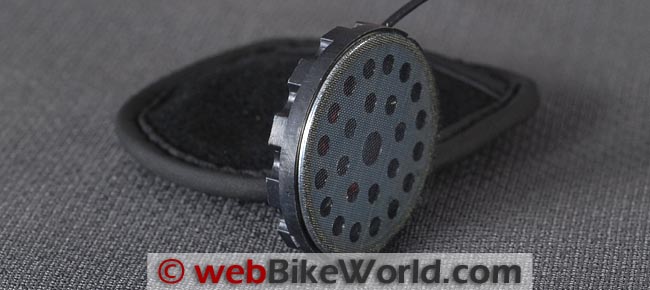 On the Road
Initialization, followed by first use indoors and then outside on a walking excursion all served to demonstrate the portability and functionality of the systems early on. But with the modules and headsets fitted inside the helmets and the wheels put in motion, it was another experience altogether.
Before setting off a quick push of the Intercom button on either module results in the rising-tone sequence followed by a single tone and a very quiet link being opened. Moving off and picking up speed brings about resultant increases in ambient noise levels resulting in high noise levels in the headsets.
At speeds of 20 to 35 km/h (12 to 22 mph) and link ranges under 50 meters, the intercom remains quite useable, but beyond these very basic parameters noise levels increase rapidly and once speeds of 50 to 80 km/h (~30 to 50 mph) are reached audio is virtually unintelligible, no matter which helmet was hosting the systems.
Mounting the module inside a very quiet helmet and wearing it while riding a full-on touring motorcycle could provide better system performance, but the F800GS machines, fitted with optional BMW touring windscreens are pretty quiet overall; machine noise can at times be as intrusive as wind noise.
At low speed around town — basically stoplight-to-stoplight riding — link ranges approaching the nominal 100 meter range are viable and for the most part audio remains clear albeit with some escalation in noise levels as distance and speed increase.
On the open road, however, the HuRob's integrated microphone design and placement limitations work against it in a big way. Even closing all vents, the face shield and using my neck shield to reduce air flow from entering the helmet from the bottom didn't help to any degree.
This is where the earbud component becomes the less than ideal but totally functional solution and although providing mono versus stereo audio system performance becomes on par or close to that observed from systems that use a standard boom or thin-wire microphone.
Higher speeds can still bring about increased noise levels on the audio link, but in general speech remains intelligible, with the SCHUBERTH C3 in use audio was just about perfect. More use of this workaround with various helmets will be undertaken soon as winter seems to be retreating early.
Observations
The small HuRob Operating Manual covers the basics needed and more, but it can be hard to follow at times as translation into English was poorly done; a fact not limited to Bluetooth helmet systems. But the small illustrative diagrams help.
Using the HuRob system at low speeds and/or in a quiet cockpit environment is viable, but once speed and noise levels increase; the latter being faithfully picked up, amplified and transmitted by the integrated microphone, not much use can be made of the system, unless the ear-bud component is used.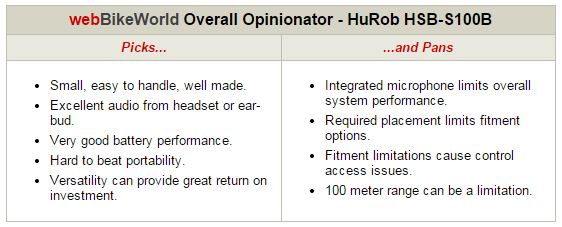 Conclusion
I have very mixed feelings about the HuRob HSB-S100B system. It has all the basic functions expected and when used dismounted as a personal communications device — indoors at large events or outdoors, it provides outstanding service. And when walking, or used while riding at very low speeds the built-in microphone works extremely well.
But, as speed and noise increase, the same built-in microphone defeats the whole system, making the earbud configuration the only viable configuration for continued use.
Solution? Offering an optional light-weight boom or thin-wire microphone with modular connectors would support internal or external installation in virtually any type of helmet. Even the stereo earbud available with other models would be a solution for many potential users.
I really like what the HuRob brings to the design table and for what it represents as a cross-market Bluetooth system that encourages a culture of safety through real-time communications. But it needs a couple of very basic changes to achieve its potential.
w

BW

 Review: HuRob HSB-S100B
List Price (2012): $119.00 USD
Colors: Matte black, black, white or silver.
Note:
 For informational use only. All material and photographs are Copyright © webWorld International, LLC since 2000. All rights reserved. See the webBikeWorld® 
Site Info page
. Product specifications, features and details may change or differ from our descriptions. Always check before purchasing. Read the
Terms and Conditions
!
Owne Comments and Feedback
---
From "N.S." (July 2012): "I got mine (and it the exact same color) a few weeks before you guys got it. Aside from its rather (to me, anyway) attractive price, I also had in mind reviewing it for wBW.
I've never had the chance to try it out for its "true" purpose (i.e., as an intercom system) since I always normally ride alone, and intercoms aren't exactly in vogue with the group I ride with.
It has found use as a means for me to listen to music while commuting, as well as a hands-free device for the occasional calls I have to make/take. On that regard, it has performed admirably: the people I've spoken to through it have yet to complain about excessive (or, indeed, any) noise, even when riding at around 100 km/h on an unfaired bike.
However, my main problem is the severe lack of mounting options. I've a Caberg Ultralight Ego helmet (review), and the only halfway tolerable spot I can place (the intercom module) is on top of the left cheek pad, with its plastic stem wedged between the padding. Aside from rather severely cutting my peripheral vision, with the intercom installed there, I can no longer pull the Ego's visor all the way down, lest it apply pressure on one or both buttons (I've had the intercom "die" on me twice before I figured out what was happening).
When I first got it, I thought it fit perfectly on the lower left side of the helmet, around the neck roll. However, the person from HuRob I've talked with have told me that the HSB-S100B is NOT weatherproof, so that mounting location would likely end with me having to shop around for another intercom unit the first time I got it heavy-ish downpour.
I *have* managed to get it somewhat wet, the few times I've insisted on making (important!) calls or setting the volume up or down. But I'm not willing to take chances with it when the rain is actively pouring.
Also, there is NO way I'm getting 8 hours from it. At most, I probably get 5. Commuting takes me around two hours a day, and I usually end up having to recharge the unit mid-week. Listening to music is the only thing I constantly do with it; I very rarely take or make calls while riding.
I still like it quite a bit, though; it fits the bill for the most part, especially for my limited needs. But I might "upgrade" to something that doesn't shy away from a little (or a lot) of inclement weather.
Some day, when I feel I have enough gear (except you and I both know (along with, likely, a lot of other wBW readers) that one can never really have *enough* gear.
By the way, from the article it seems as though you've missed the fact that HuRob actually *does* sell a boom mic. I told myself I'd get a set if it proved needful, but since it's never going to be mounted anywhere other than inside my helmet, and that I've never had trouble talking with people even at speed, I never did."
Other WebBikeWorld Intercom Posts