A motorcycle dash cam may be an unfamiliar concept to many motorcyclists, but it's one that you should know about if you spend considerable time on one.
Dash cams are relatively recent, although they are not new. Riders have been able to buy a decent one online since at least 2010. Among the many benefits of dash cams, perhaps the most important one is the additional evidence and insurance it provides in a collision or dispute.
As the famous saying goes, "There are two types of riders; those who have crashed and those who will." In the unfortunate scenario that you do end up in an accident, having dash cam footage of the incident will make it easier to claim insurance or settle a dispute in court. At the moment, there are multiple ways you can use a dash cam on your motorcycle, and this article aims to inform you about just that.
What Is a Dash Cam?
Dash cams get their name from the automotive world, where they are typically mounted on the dashboard of a car to continuously record what's happening outside the vehicle. While most owners attach one just to the front of their vehicle, having one at the rear is a good idea.
A dash cam can come with various features depending on how much you spend on it. For instance, some will also record metrics like g-force, speed, and location.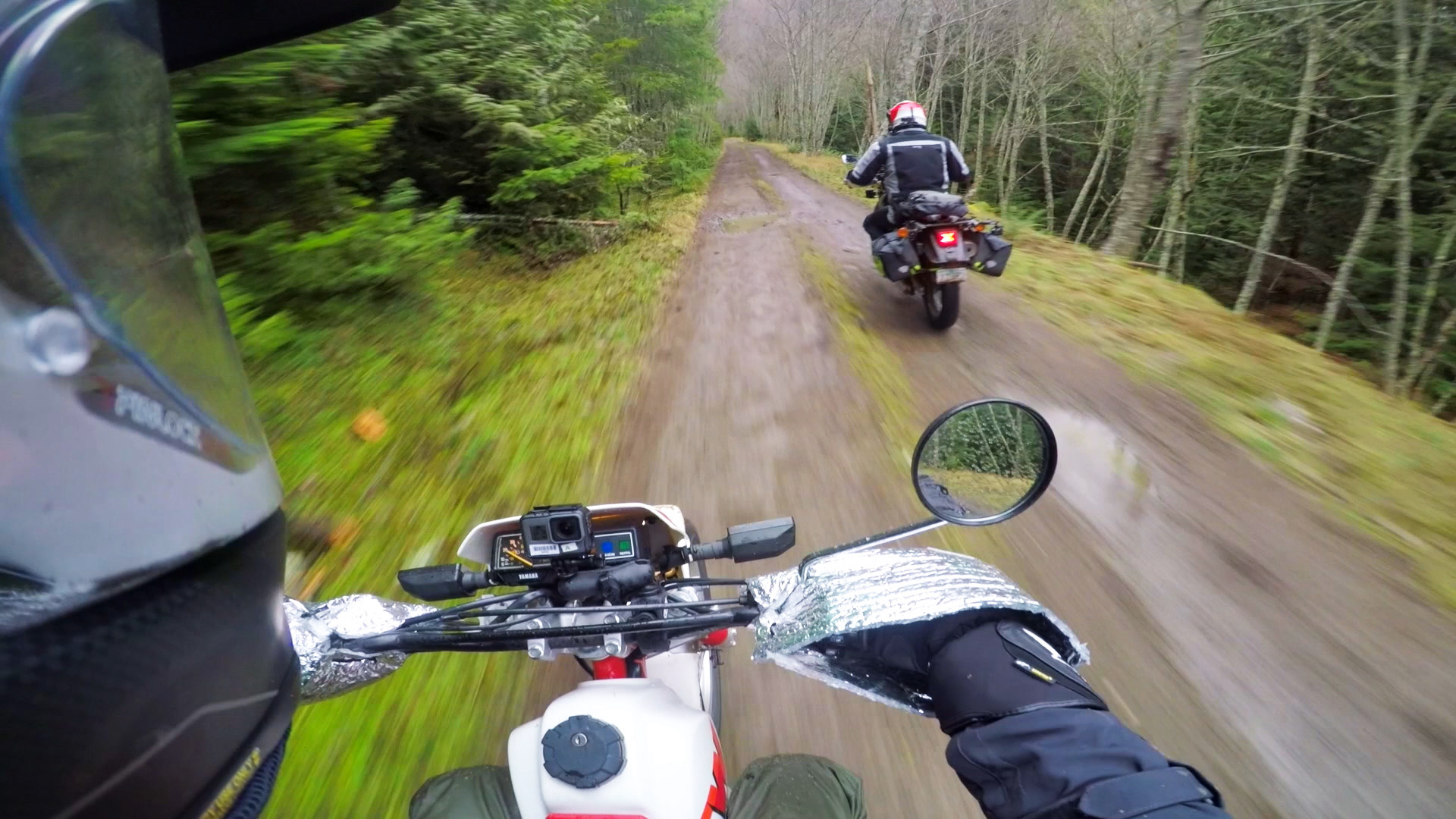 How Can a Dash Cam Protect You and Your Bike?
We're well aware of the fact that motorcycling can be a dangerous hobby. With the many thrills it returns, there's an undeniable element of risk that accompanies it. A study in 2020 by the National Highway Traffic Safety Administration (NHTSA) found that motorcyclists were nearly 28 times more likely to die and 4 times more likely to be injured in an accident than someone in a passenger vehicle.
Unfortunately, these accidents can be from no fault of your own. And without solid evidence, you could find yourself in a lengthy legal battle over whose fault it was, costing you time, money, and other resources. This is where a dash cam comes in.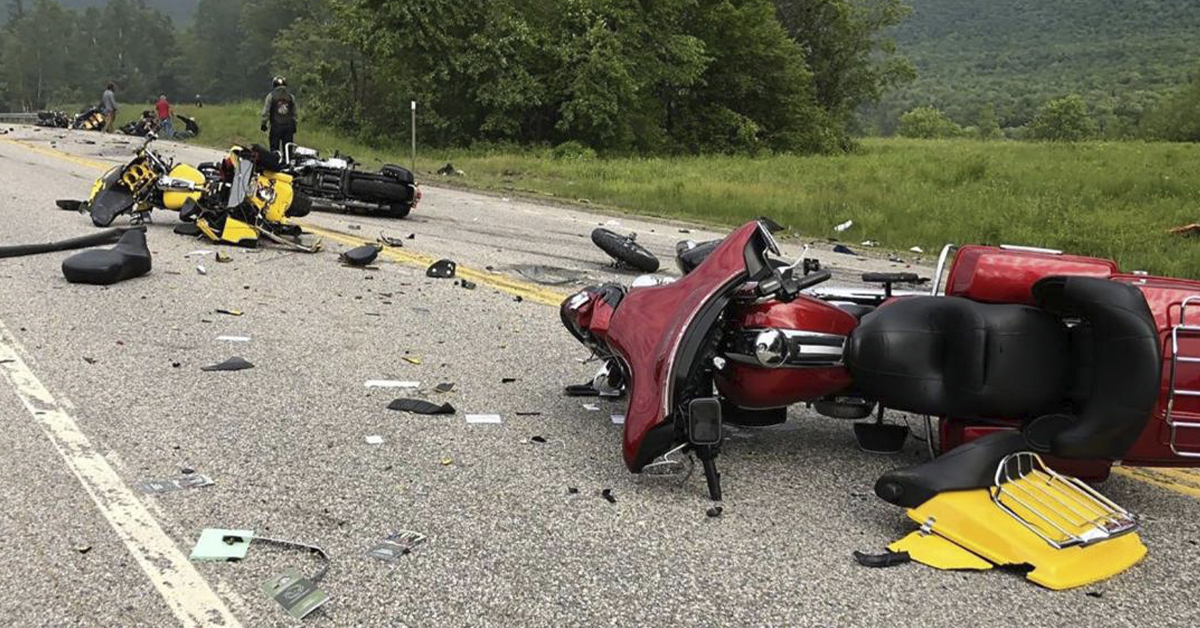 Most modern-day dash cams are capable of continuously recording hours of footage. If the onboard memory does fill up, it will proceed to rewrite footage, ensuring that the latest activities are always captured. This way, in the event of an accident that may not be your fault, you can turn in the recorded footage as video evidence and legally protect yourself.
Recording footage of your ride may come in handy in less severe instances as well, such as avoiding a parking violation or a speeding ticket — given that you didn't, in fact, break the rules.
What Are the Different Types of Dash Cams?
Generally speaking, there are two ways in which you can record footage of your rides. You can either mount the camera onto your helmet, so your footage is from your POV, or you can mount it somewhere on the motorcycle. Both these choices have advantages and disadvantages, so if you have to choose between them, it'll come down to what you're willing to compromise.
Helmet-Mounted Dash Cam
A helmet-mounted dash cam is the more popular choice among riders. One of the advantages of having a helmet-mounted setup is that you can record exactly what you're looking at. So, if an incident occurs on your side, you can change the frame of recording by simply looking in that direction. This isn't possible with a motorcycle-mounted dash cam that is usually set up to point in just one direction.
Helmet-mounted cameras, like GoPros, also benefit from being battery-powered and are easier to set up. You simply have to mount the camera onto the helmet and hit record.
The downside to using a helmet camera is that very few options are capable of recording both the front and rear. Plus, a camera like that will have to be mounted on top of your helmet, and this can cause wind resistance and be quite bothersome when you start picking up speed.
Remember that while there are no legal restrictions against mounting a camera to your helmet, it isn't always the most advisable method. Adding a protruding object to your helmet may cause injury in an accident. In fact, certain countries outside the United States are cracking down on helmet cameras and making them illegal.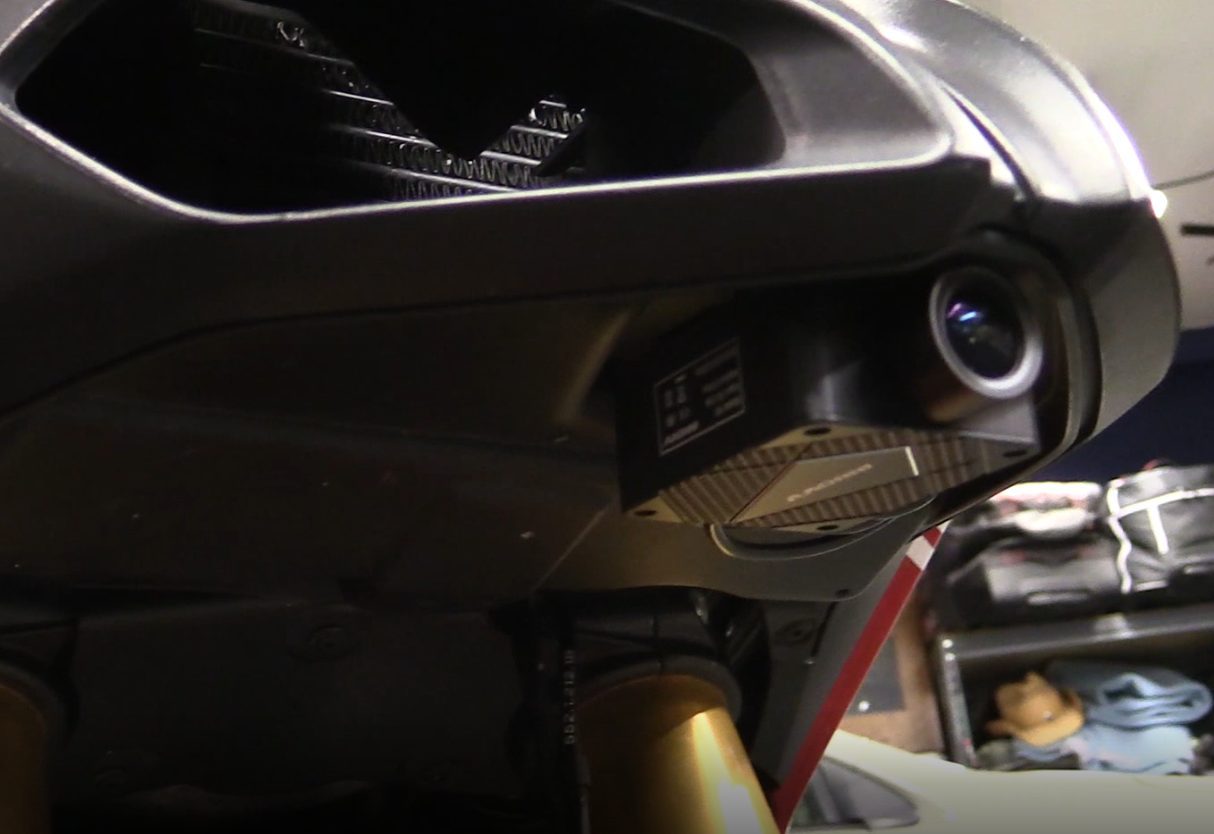 Motorcycle-Mounted Dash Cam
If you want to avoid the risk of injury, you should consider mounting your camera on the motorcycle. With a wide-angle unit at either end, you should be able to record as much as your surroundings at all times. Still, this will leave some blind spots, especially if something happens right next to you.
A motorcycle-mounted system will also require wiring that must be attached to the battery and tucked away under the seat. While this is usually a straightforward process, it isn't as plug-and-play as a helmet-mounted camera. On the plus side, this continuous supply of power from the motorcycle means you won't have to worry about changing batteries.
What Should You Consider While Buying a Dash Cam?
Video quality is one of the most important factors to consider when getting a dash cam. There are several low-cost options out there, but most of them record substandard videos. Think about it — there's no point in the footage if it's so grainy you can't identify another vehicle's license plate. Ultimately, you'll have to spend a little money if you want a dash cam that does what it's supposed to. But keep in mind that this is an investment worth making and could potentially save you thousands of dollars in the future.
If you decide to go down the helmet-mounted route, cameras like the insta360 ONE X2 feature two 180-degree lenses on opposing sides of the same body, recording everything that happens around you.
On the other hand, if you're looking for a dedicated motorcycle camera, the INNOVV K3 is an excellent option explicitly designed for powersport applications. The unit has two cameras that can record a 120-degree field of view in full HD. It's fully waterproof, features an external mic, and automatically starts and stops recording along with the motorcycle's ignition. This way, you can focus on what matters most — riding.