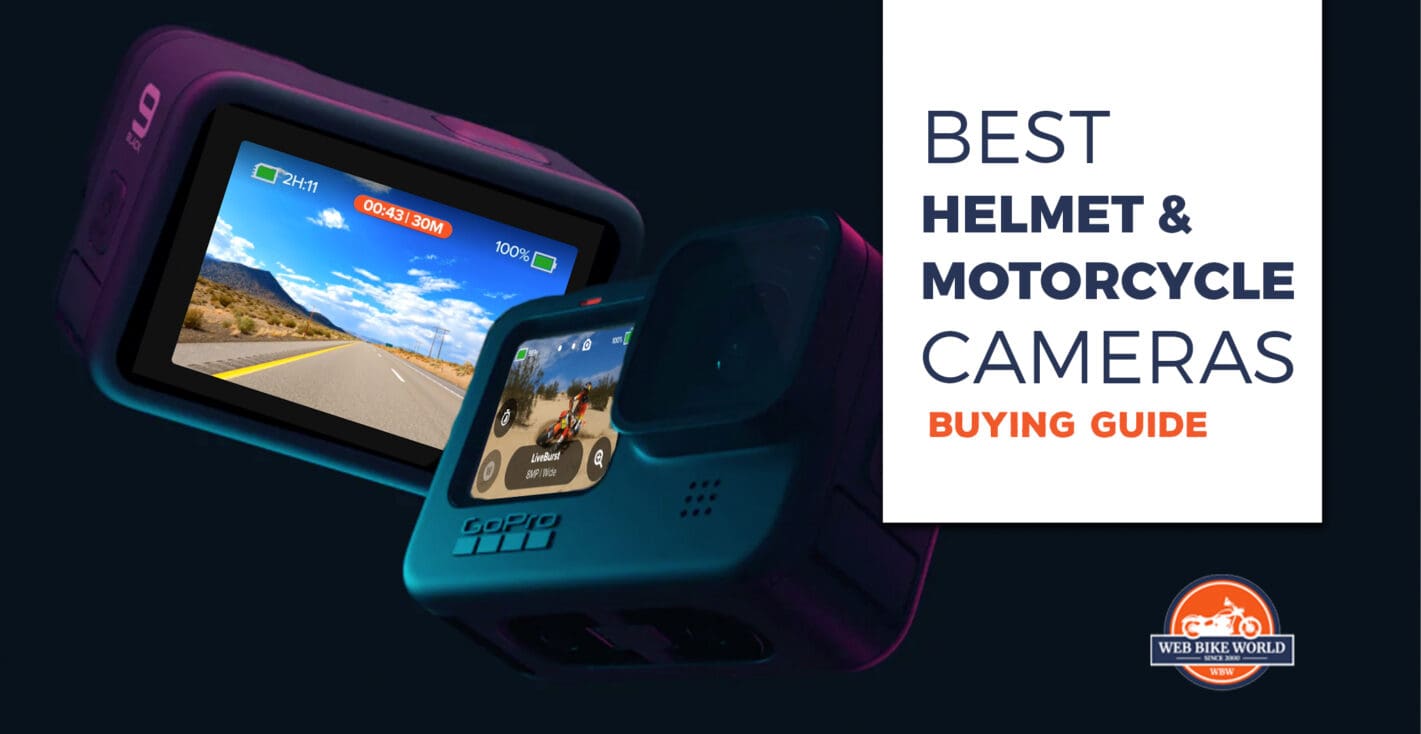 Helmet vs. Motorcycle-Mounted Cameras
Whether you want to venture into motovlogging or have video to back up potential insurance claims, helmet and motorcycle-mounted cameras are becoming increasingly popular. There are solutions out there that will fit almost any helmet or bike, and almost all of them will capture video in at least 1080p resolution.
One thing that is important to note is that helmet cameras and bike-mounted cameras are two entirely different beasts:
Helmet cams are almost exclusively powered by lithium-ion batteries built into them, and can be quickly mounted and dismounted.

Bike-mounted cameras, on the other hand, are either action cameras with batteries that can be changed out, or hardwired solutions that pull power directly from the bike itself to operate.
The other major distinction between the two is that helmet cameras will capture where you look, while a bike-mounted camera, with the exception of a 360-degree spherical capture camera, will only capture where it is pointed. This is relevant because in many insurance cases involving sideswipes or being rear-ended while in motion, proof that you performed a shoulder check and signaled before changing lanes could be the determining factor in your case.
About Our Recommendations
Founded in 2000, our team at wBW has collectively tested more than 150 motorcycle cameras and intercoms, alongside more than 2,500 helmets, jackets, boots, gloves, and accessories. We do not fluff reviews. A riders safety is heavily dictated by how they ride and what they wear while doing so. Our goal is to help riders make informed decisions about the gear they invest in to protect themselves.
While there are a lot of solutions out there, we've put together this list of the current best options for both helmet-mounted cameras and bike-mounted cameras as of August 2022. We are not setting a budget cap for this list — sometimes, to get the best, you have to shell out a little more. With that in mind, and in no particular order, these are the cameras we recommend!
wBW is funded by our audience. Our recommendations and reviews may contain affiliate links that earn us a small comission if you make a purchase after clicking them. This is the primary way we fund our website and pay our review team (and comes at no additional cost to you). We disclose our relationship with brands or manufacturers for transparency. For more information about our extensive review process, see our review policies.
Motorcyle Action Cameras
Can be both helmet or motorcycle mounted.
GoPro Hero7 (or Newer)
Price: $290+

Where to buy: Amazon
Why?
Long the favorite of motovloggers due to support from the Hero7 onwards for 4K 60FPS capture, GoPro is one of those cameras that it is safe to say is often imitated, but never duplicated.
Long battery life, compatibility to do on-device noise canceling from a microphone mounted in your helmet, electronic stabilization, and a fairly universal mounting kit all just add to the value of using a GoPro on your helmet.
One thing you do have to watch out for, however, is that some states do not allow for "modification of the helmet with devices not used for safety," meaning that if you mount the camera on the side, top, or even chin area of your helmet, you might get ticketed for it. Check with your state's motorcycle helmet laws before using a GoPro helmet mount or something like a RideTechMoto chin mount kit.
DJI Osmo Action 2 Power Combo
Price: $420

Where to buy: Amazon
Why?
Besides the GoPro, the only other action camera that we would recommend using is the DJI Osmo Action 2 Power Combo, which has 4K capture at 120FPS and comes with an extended power pack (although it does not adhere to the GoPro mounting system).
The reason we recommend this camera is that it features the RockSteady 2.0 electronic stabilization system, which is the same electronic stabilization used in DJI's famous Mavic and Air series of camera drones.
More Osmo Action 2 Details
While the camera may look massive in the picture above, it folds in half—so you end up with an action camera that is only 39x39x22 millimeters, with a 155-degree field of view. Like the Hero10 from GoPro, the Action 2 can also accept up to 256 GB MicroSD cards, is BlueTooth 5 enabled, and is up to 802.11 ac wireless compatible.
For mounting, the Action 2 uses a strong magnetic mount system, which is widely considered to be comparable to a solid GoPro mounting system. Average operating time is 70 minutes with all the goodies turned on, but with the power pack kit we recommend here, you can get upwards of 105 minutes of recording time.
Also, just like with the GoPro, there are a variety of mounts available—from a handlebar mount to a curved base mount to stick to your helmet. At an extremely light 54g, it's very unlikely that any wind will be able to overcome the magnetic mounting system, which is one of the other reasons we recommend either this DJI cam or the GoPro.
Helmet-Mounted Cameras
These attach to the side of your helmet.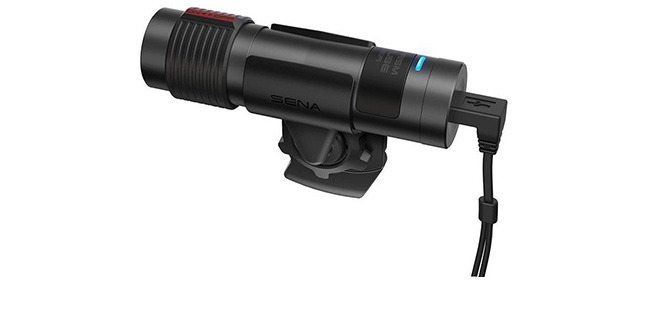 SENA PT10 Prism Tube Wifi
Why?
There's an adage as old as certain postwar Harley Davidsons that says, "if it ain't broke, don't fix it." For at least 5 years now, the SENA PT10 has been the absolute mainstay of our recommendations when anyone asks us what's a good entry-level helmet cam.
If all you need is a functional helmet camera with a 125-degree wide field of view, a simple-as-scissors mounting system, a decent battery, recording capabilities for both an in-helmet mic and external sound, and the ability to record in 1080p onto a MicroSD card, this is your solution.
As evidenced in the name, the camera can connect via WiFi to your smartphone (Android and iOS) to play back recordings, start and stop recording, or help you get the camera angled just right before you set off. All of this is done via the SENA App—a decently useful app that is quite basic, just like this camera.
One thing the PT10 is quite famous for is its "One Touch Recording" button, something all SENA cameras have included since the Prism's first release. A button on the top of the tube—textured and easy to find with a gloved finger—is all you need to press to start recording at 1080P 60FPS or 1440P 30FPS (aka 2K).
With a rechargeable, built-in battery, and when using it just in the recording mode with WiFi off, you can realistically expect 60 to 90 minutes of recording time—more than enough for a fairly decent ride to and/or from your destination. As well, at 100g (including the mounting mechanism), you will barely even notice that it's there on your helmet.
SENA 10C Pro/Evo
Why?
SENA is, along with Cardo, one of the two "Big Boys" of motorcycle Bluetooth communication units. While Cardo focuses entirely on the comms side of things, SENA has paired their 10S comms unit into a pair of helmet cameras that give you the best of both worlds.
We are including both the Pro and Evo versions of the 10C—the Pro is at the end of its life, although still widely available, while the Evo, its replacement, is only a couple of years old at this point.
The 10C units can be operated both by gloved fingers or, if you set it up in the SENA app, voice command. The biggest difference between the Pro and Evo units is that the Pro will record at 1080P 60FPS or 1440P 30FPS, while the Evo adds 4K 30FPS as the top option.
The other major difference is that the Pro only has the ability to pair to one Bluetooth device that is not another SENA—most commonly a smartphone—while the Evo can pair to two other Bluetooth devices.
As part of either version, you get a full microphone and headset kit to install into your helmet. The 10C has active noise canceling on the microphone input, and the helmet-installed speakers are loud enough to be heard through earplugs, allowing for you to either start motovlogging for fun or hold a conversation with your riding group.
Fully functional and with approximately 60 to 90 minutes of recording time (or several hours if used solely as a comms unit), this really is a device that does it all.
Motorcycle-Mounted Cameras
Mounted on, and sometimes powered by, your motorcycle.
ThinkWare M1 Motorcycle Dash Camera Kit
Why?
When it comes to motorcycle dash cameras, there are a whole slew of options that are, quite frankly, tossed together using things leftover from the car dash camera bin with a control box or display unit that is made as cheaply as possible.
Then there is the ThinkWare M1 Motorcycle Dash Camera, a 100% dedicated-to-bikes-only kit that features a powerful control unit capable of wireless connectivity, two high-quality camera units using Sony STARVIS sensors for both day and night capture, a control toggle that lets you manually save moments from your ride, and a power cable you tie in to your motorcycle's accessory power so it's only on and recording when your bike is running.
It is not a cheap kit. The plastics and metals used are high quality and durable, both camera units are fully IP66 certified waterproof, and ThinkWare themselves advertise the camera on an ATV going full-send through a deep puddle. The usage of Sony's lenses and sensors also mean their excellent image stabilization system is included, which reduces vibrations and shudders so that the capture is nearly glass smooth.
It also comes with built-in GPS for speed and travel logging, has two 140-degrees fields of capture (front and back) so all that is missing is side to side (which can be covered with a helmet cam and turning your head), and takes only about two hours to install if you're wanting a nice early afternoon project for your bike.
The only downfall of the kit—and it really doesn't make that much difference for a dedicated dashcam unit—is that it only records at 1080P 30FPS. But keep in mind it's also recording from two cameras, performing image stabilization on both feeds, and writing it to a MicroSD card, while tracking GPS data and using only 12V of power (and maybe half an amp of current).
At WBW, "Best" Actually Means Something
Remember when you could open up a review of something, and when the publication—magazine, car show, whatever—said "best" they stood behind it? Yea, we remember, and we're bringing it back.
Why You Can Trust Our Recommendations
We disclose our affiliate relationships—We make money via advertising and affiliate relationships on our website. It's how we pay our team and invest in things like sending Jim to Italy. And Japan. And France… wait… why do we always send Jim places?

We obsessively hands-on test—We wear and ride with gear before reviewing it, and we update reviews down the line if our opinions change. We look at real-world situations because that's the world we live in.

We're objective—Good gear is good gear, regardless of who made it.

We're value-focused—Why pay $500 if something for $250 is just as good? Our review scores and recommendations reflect best value. Brand only goes so far—the gear has to stand on its own.