As predicted in July, Mercedes-AMG has bought into MV Agusta after chasing a motorcycle brand to complete its act like Audi with Ducati and, of course, BMW with its motorcycle branch.
Mercedes-AMG has confirmed it is buying 25% of MV Agusta motorcycles, but don't expect MV cars or AMG bikes. Instead, AMG is saying they will co-operate in marketing and sales and Mercedes will have a member on the MV Agusta board of directors.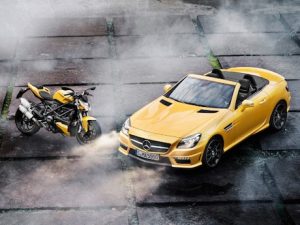 Remember, AMG had a similar marketing link with Ducati in 2010 which didn't last long and resulted in only a couple of AMG-stickered Ducatis. The relationship fell apart and Ducati was bought in 2012 by Mercedes rivals Audi.
Mercedes-AMG boss Tobias Moers now says the two companies are connected "not only by a long and successful racing history, but also by shared values and goals for the future – allowing the experience of utmost perfection, optimal performance and motorsport technology for the road".
That doesn't necessarily mean joint products or joint research into motorsport, but a marketing opportunity.
"The co-operation with MV Agusta also underscores the importance of AMG as the sports-car and high-performance brand of Mercedes-Benz Cars. The partnership provides us with an entry into a world of additional high-performance enthusiasts," he says.
However, the injection of funds into MV Agusta can't be a bad thing. Unlike the Audi purchase of Ducati, MV Agusta is not an ailing company, although it does have limited growth potential without major investment. MV Agusta is going strong and has substantial new product and strong sales in an otherwise poor Euro market.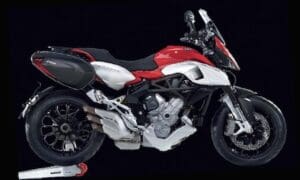 It has recently announced RR versions of the Dragster and Brutale and now the 800 Stradale adventure-touring-hypermotard hybrid which will be unveiled this week at EICMA in Milan. The Stradale (Italian for street) is powered by a three-cylinder engine with 85kW of power and 115Nm of toque and dry weight of 181kg. It will have a 16-litre tank and luggage capacity, giving it touring capabilities.
The German-Italian union also comes at a good time with MV Agusta returning to World Superbike and World Supersport racing.
UPDATE: MV Agusta has sent 100 workers home and temporarily closed down production at their factory on the shore of Lake Varese because of heavy flooding.