X-Grip Combo Review Summary
Review Summary
Inexpensive, sturdy, fairly easy to use and good enough for most any rider's needs when it comes to music, phone calls and GPS directions piped into your helmet. The speaker sound quality is slightly more "treble-istic" than other devices with little bass to be found. The microphone is quite poor when it comes to picking up voice sound clearly too. The advertised range of 1.2 miles (1.9kms) is in reality about half that from my testing. The RAM® Mounts X-Grip system is in a word: perfect! It does what it's supposed to and does it in such a pleasing and reassuring way. It's so versatile and flexible as a system I can't praise it enough. Lexin was wise indeed to team up with them in this excellent combo kit.
Pros
Strong & durable build
Water-resistant IP67 (or better?)
Inexpensive compared to competition
Lightweight
Fairly user friendly
Easy firmware updates
Easy installation
Great combo kit with RAM X-Grip Moun
Long battery life & fast recharging
2-year warranty
Cons
Disappointing microphone & speakers
Range isn't as advertised
No voice command
Very garbled voice announcer is hard to understand
Accidental button actuation
X-Grip Combo Image Gallery
My favorite part of doing these reviews is helping someone make a wise purchase. None of us wants to spend our hard-earned money on something we won't like over the long run or that is poor quality.
My friend Steve Crawshaw asked me about a month ago if I knew anything about Lexin Bluetooth helmet communication devices. He was in the market to buy a couple for him and his wife to use on the bike but didn't want to spend $600 on a Sena or Cardo kit if there was a viable, less expensive alternative.
He had come across the Lexin website which advertised a kit containing two FT4 devices priced at only $269.95. It seemed too good to be true so he approached me about doing a review.
I'd love to!
Thank You Lexin & RAM Mounts!
I have actually been planning to review a Lexin communicator since I first spoke to some of their representatives at AimExpo in October 2018. Their booth at the show featured a completely submerged FT4 communicator in a pot of water to demonstrate the IP67 rated water-resistance.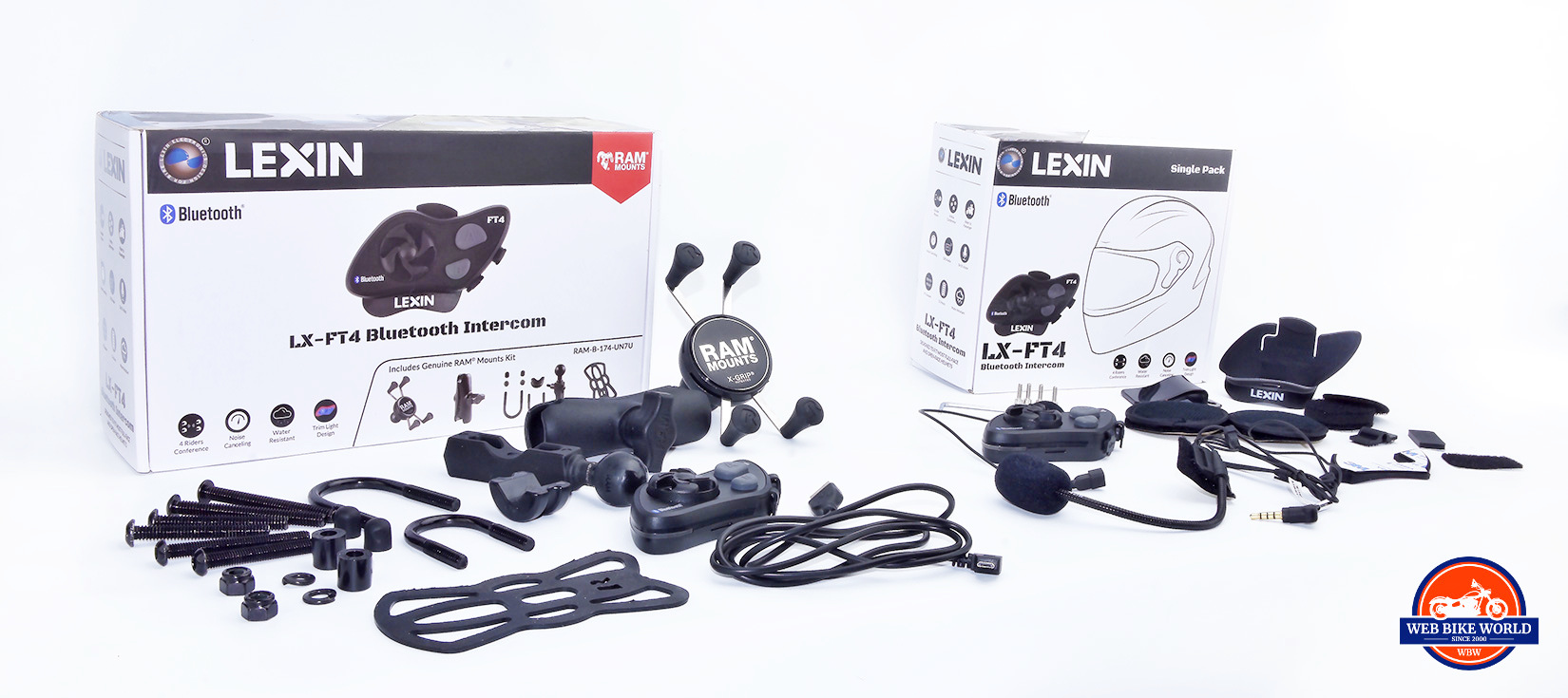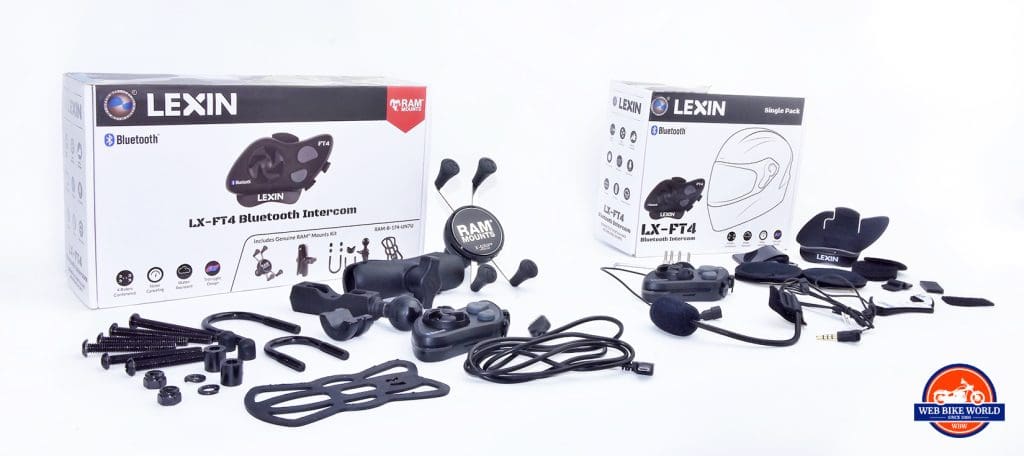 I reached out to Lexin and heard back immediately from their Public Relations team about doing a wBW review. They were so enthusiastic about the opportunity that they sent me two FT4 units at no charge. One of which came as a kit including a RAM Mounts X-Grip system.
About Lexin
Lexin is based in Costa Mesa, California. They're relatively new to the motorcycle products scene. They formed in 2006 as a manufacturer of OEM Car audio systems, then delved into home automation before entering into the moto-electronics market in 2010. Presently, they produce and sell speaker systems and carrying cases for motorcycles in addition to these Bluetooth communicators.
First Things First: Firmware Updates
Every Bluetooth manufacturer will harp about updating to the latest firmware before even installing these in your helmet, so that's what I did. I went immediately to their website after unboxing and painlessly updated both FT4s in about 15 minutes. Nicely done, Lexin!
Here is where you go to upgrade your firmware on the Lexin site.
Contents Of The Boxes
These units come with everything needed (and even some extras bits) to install it in any type of helmet. That includes two different styles of microphones suitable for modular or open-faced helmets.
Just like SENA communicators come with an Allen key for the clamp mounting bolts so does the Lexin FT4, which makes me happy. There's little more frustrating than not having the right sized Allen key for a crucial fastener.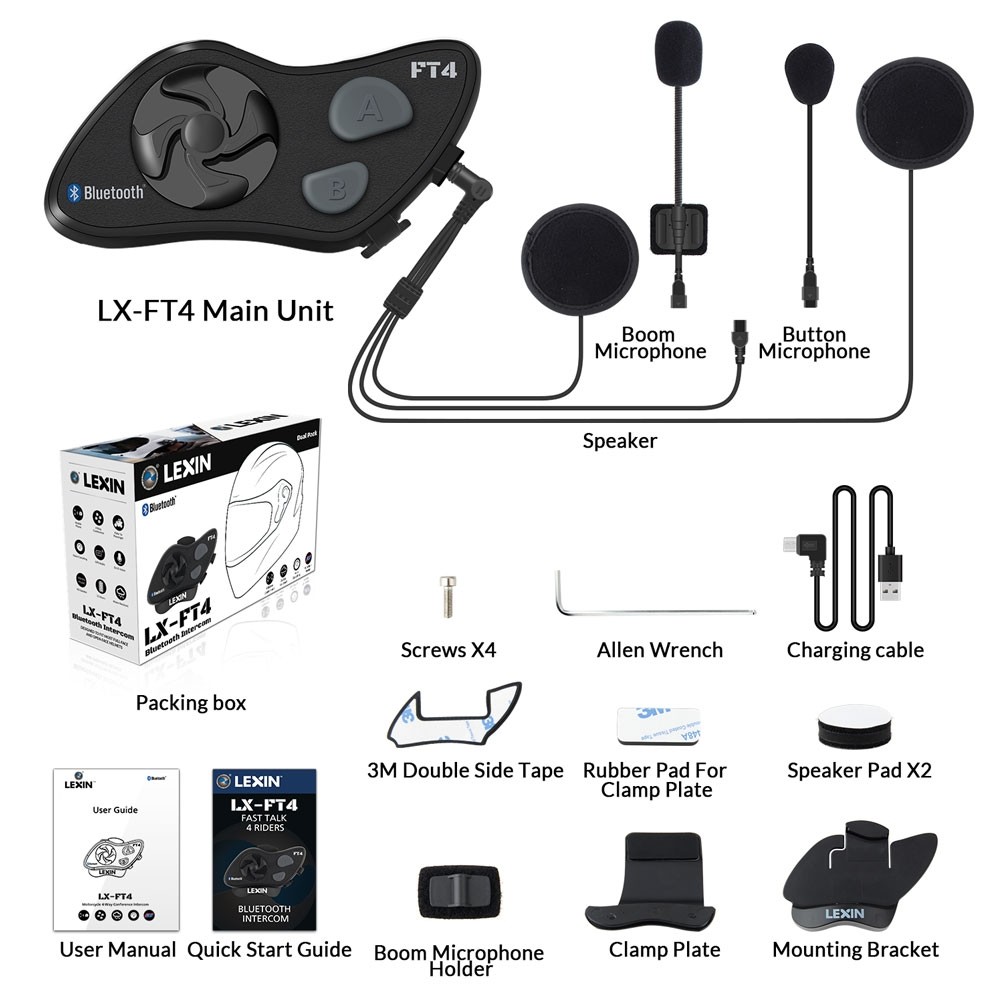 Photo from Lexin
I also appreciated the inclusion of two velcro speaker pads that are sometimes needed to move the speakers out from the shell and closer to the wearer's ears in the helmet. Lexin did a great job of including it all in the kit.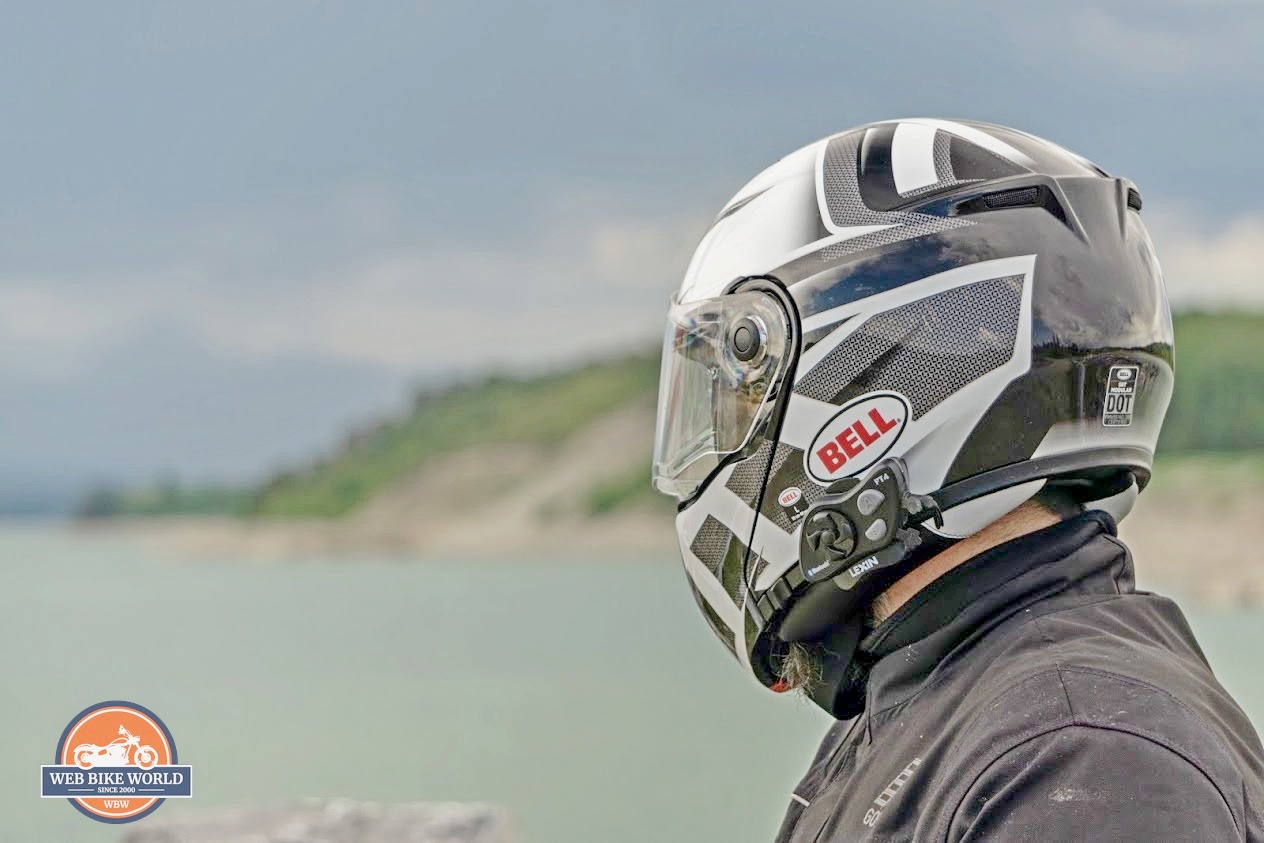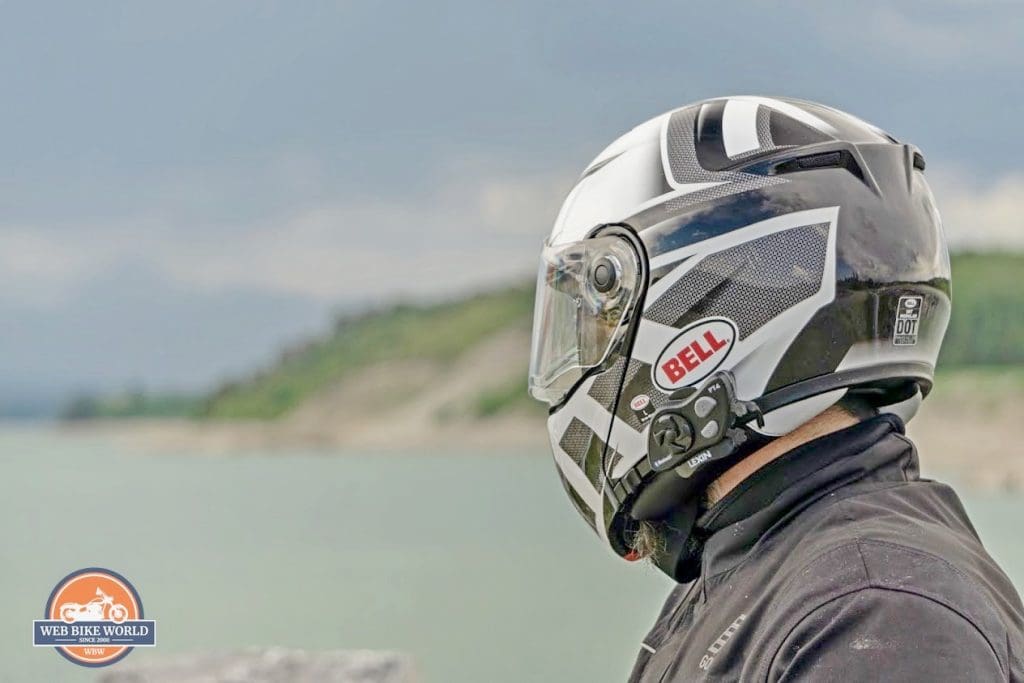 Bell Helmet Installation
I used some of the sticky velcro strips provided to install one FT4 in my Bell SRT Modular helmet with no struggle at all. The clamp for the unit was easy to make tight to the point it doesn't budge at all even after several hundreds of miles spent testing it in all kinds of weather. All wiring was an adequate length and overall I was completely satisfied with the ease of installation.
Of particular note were the speaker pockets that came in the kit. They're two pieces of fabric held together with velcro that hold the speakers exactly where you want them once you choose a good spot in the shell. I was even able to remove them without damaging the Bell SRT Modular EPS foam and install them in a different helmet without any issue.
Voss Helmet Installation
I installed the second FT4 in Steve's Voss 989 Moto V full-face helmet.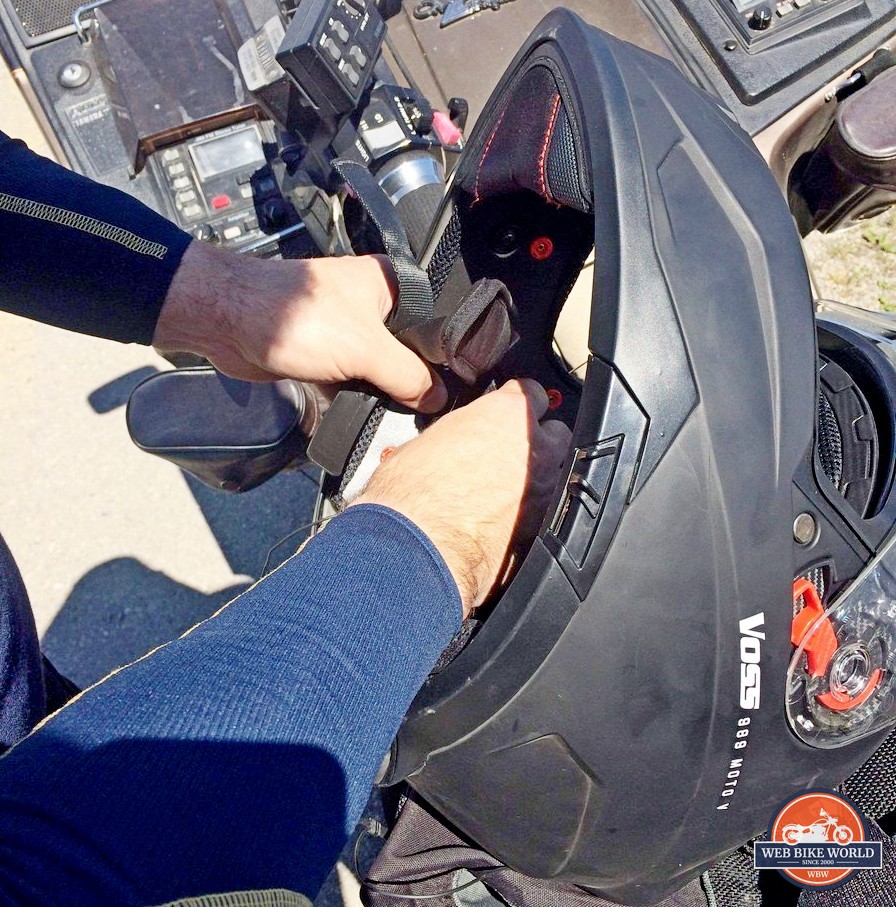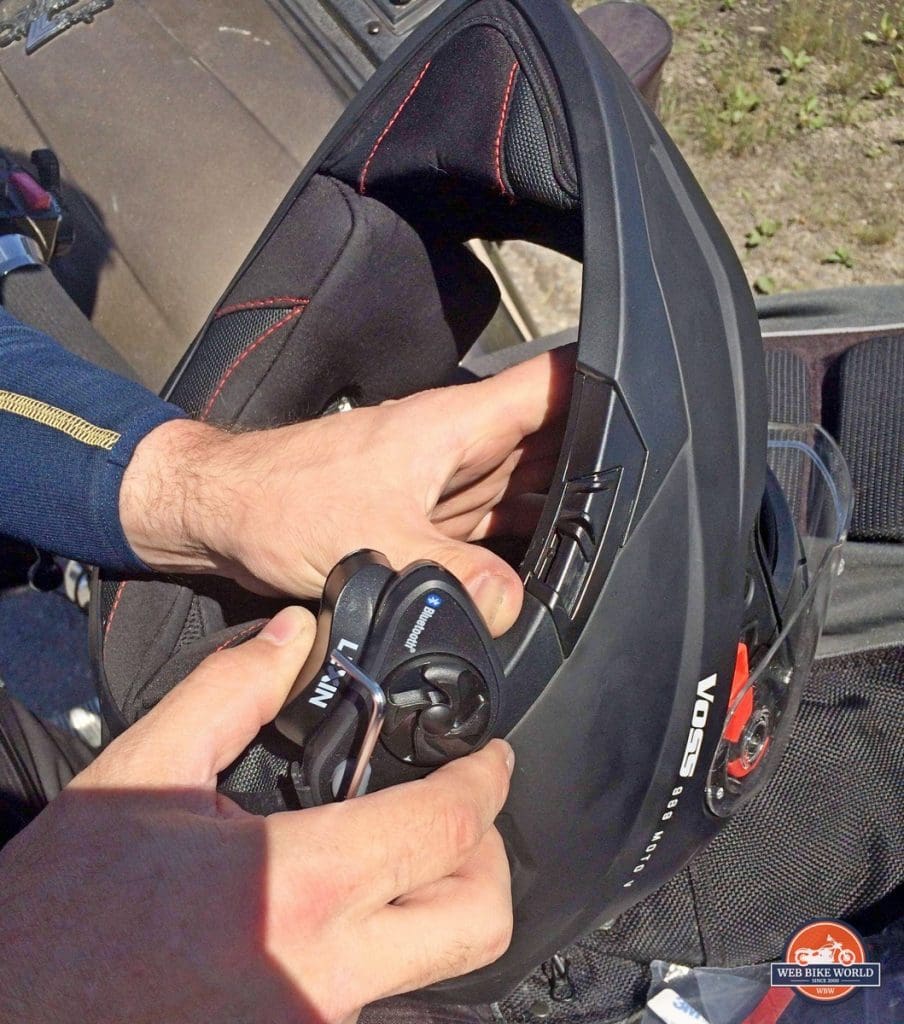 It was almost as painless except that I needed to carve a small notch in the plastic on one side of the Voss helmet's left cheek pad in order to run wires out to the communicator. Not a big deal if you have Swiss Army knife handy. It only added about 5 extra minutes to this 15-minute task.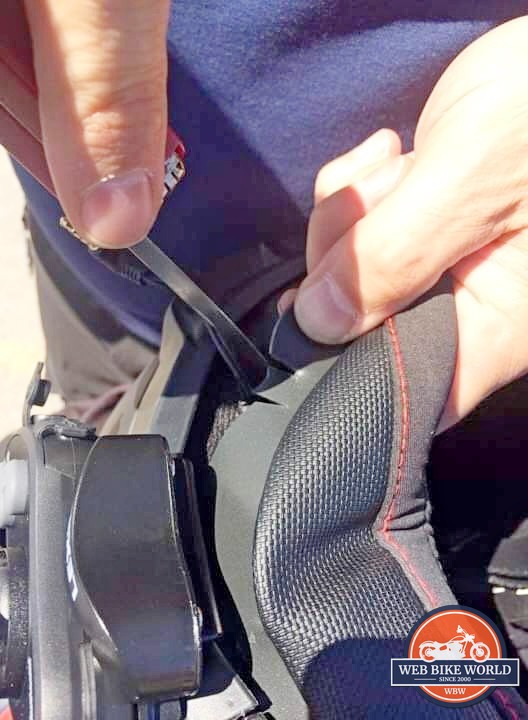 You can watch the video below from YouTube to see the exact procedure.
Installation & Sound Quality Video from YouTuber Just Dave
Features & Stats
What do you get in the Lexin FT4 for features that stand out?
Bluetooth 4.0 technology-driven communicator system
Connects to your smartphone to play music, take and make phone calls and access Siri or Google Assistant to control cell phone apps
Connects to GPS units to pipe directions into your helmet
FM radio receiver
Intercom connection to passenger, or up to 3 other riders (using Lexin FT4 units only), with a 1.2 mile (1.9km) range
Universal intercom connection to one passenger or other rider using non-Lexin communicator (ie. SENA or Cardo).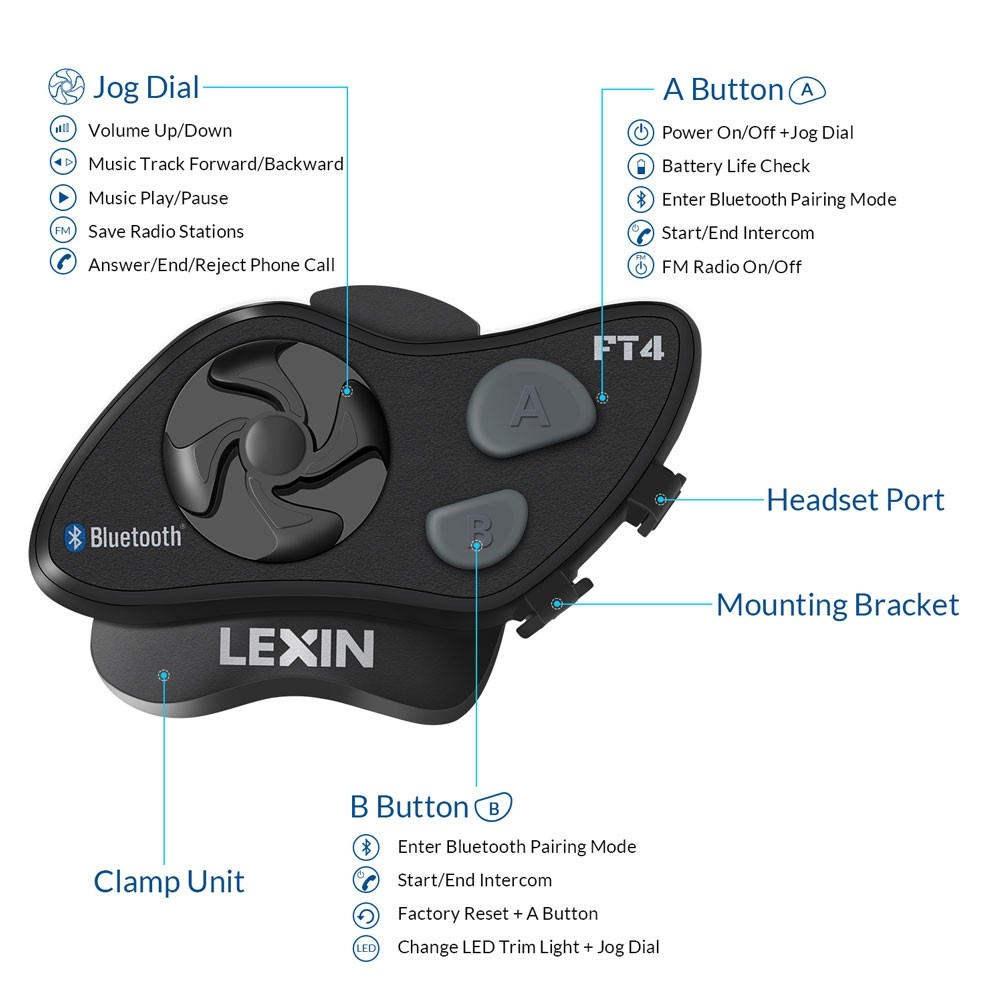 Photo from Lexin
Double the Testing
Steve and I tested these headsets together and separately over a 5 week period in all kinds of weather conditions over hundreds of miles. I'm confident our findings are accurate and honest. So here is what we both found in the time spent with the FT4 units.
Connectivity Testing
Connecting to my iPhone X and the dash on my KTM 790 Adventure was very simple and accomplished easily using the provided instructions. It's fairly intuitive even without reading the instructions since there are only three buttons to choose from.
Being that I've tested more than a few other Bluetooth units I knew holding down one of the buttons for a prolonged period would prompt the device to pair via Bluetooth… and so it did.
Pairing With Other Lexin FT4 Units
This is where it got a bit weird with the FT4. Right after installing it in Steve's helmet in a Casino parking lot (don't ask me why we met there) Steve and I attempted a Lexin to Lexin pairing using Bluetooth intercom according to the user manual instructions. We followed them exactly but just couldn't get it to work after about 10 to 15 attempts. 
The photos below show a portion of this intercom melodrama playing out. Don't judge us on our choice of snacks… we needed lots of energy to endure this initially frustrating task.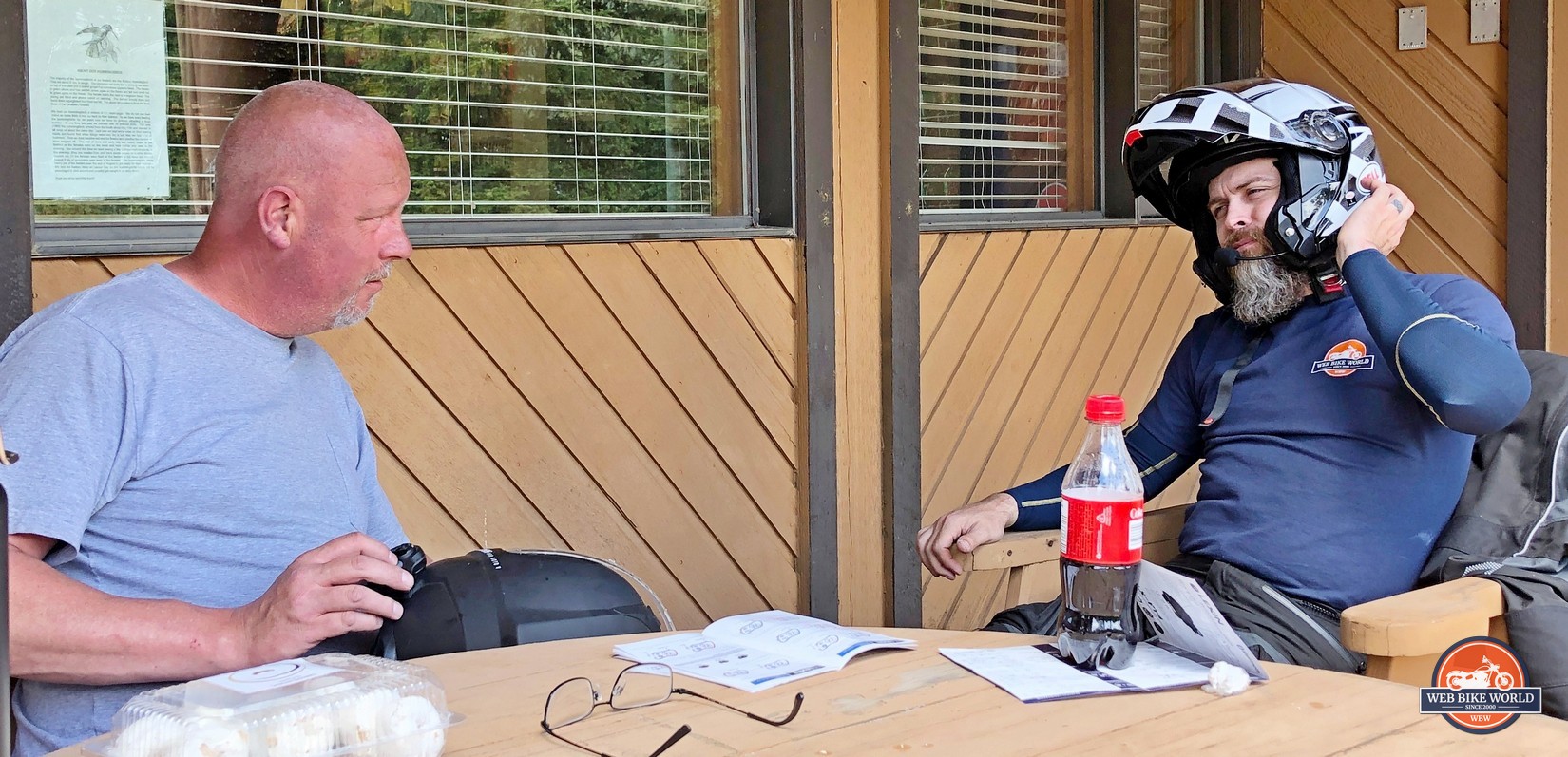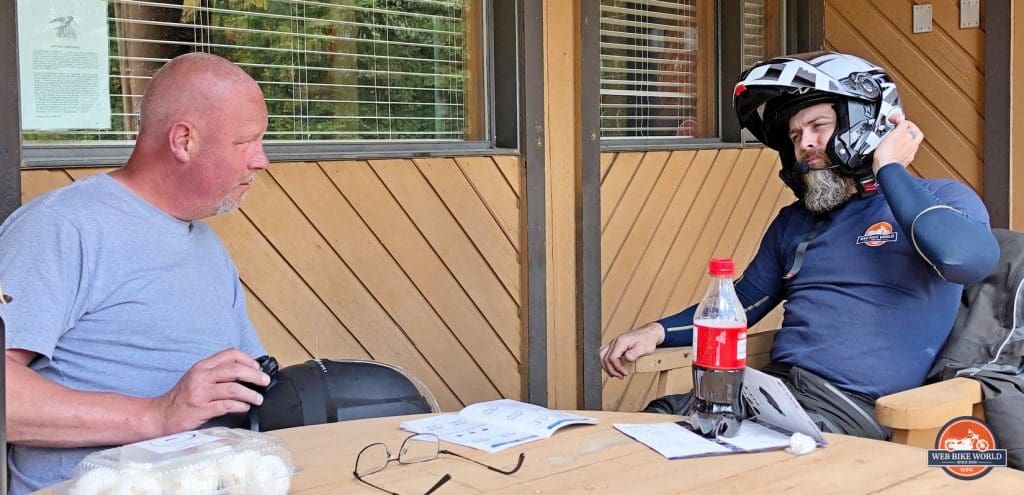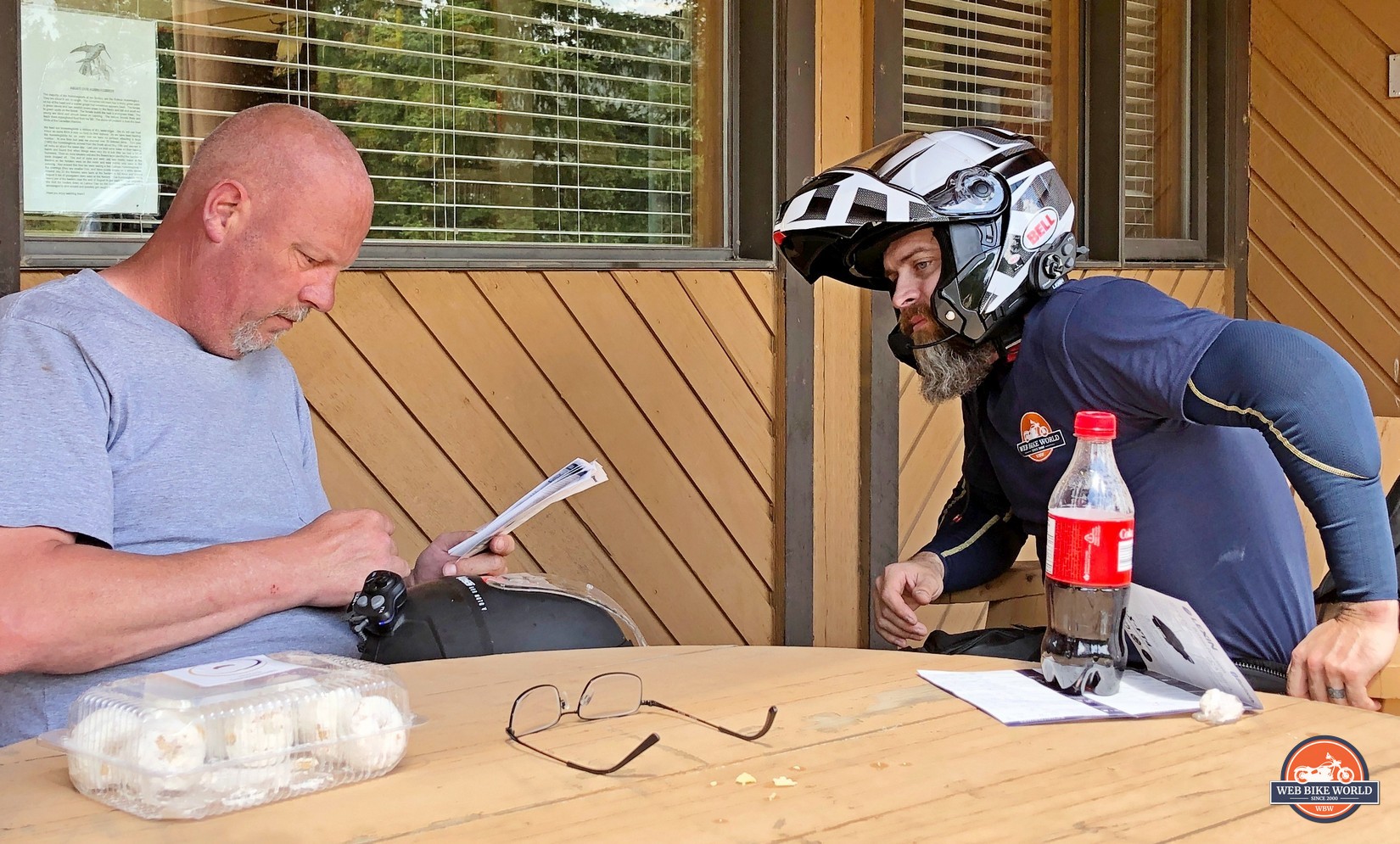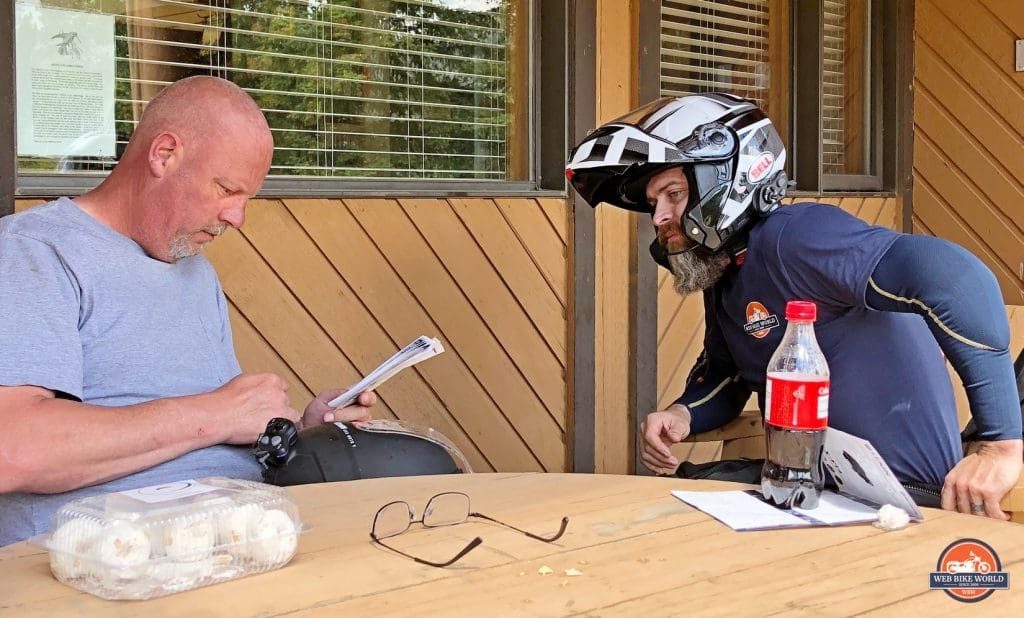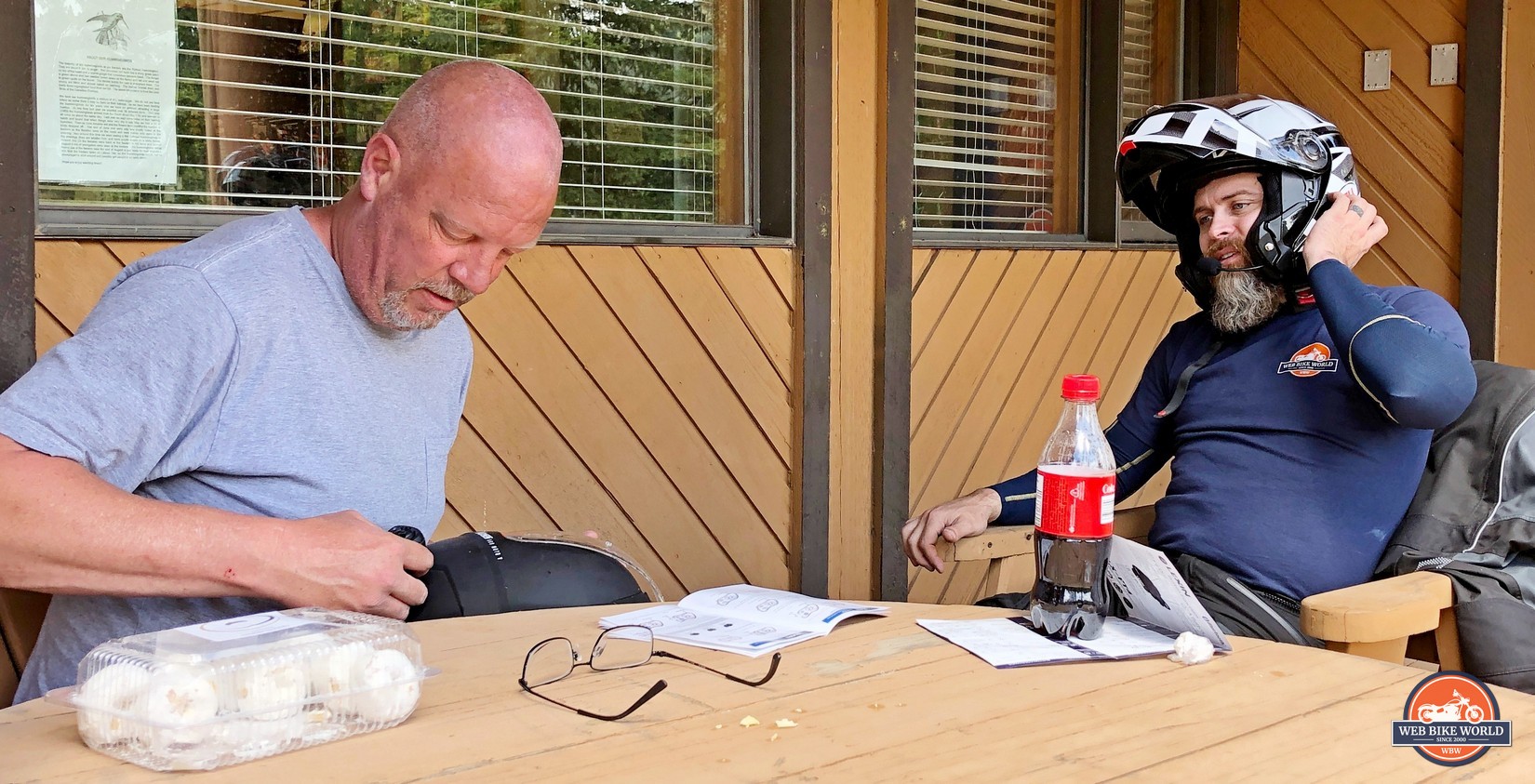 Steve and I playing a frustrating game of "Can you hear me now?"
I know many people struggle to connect headsets like these together and often never bother trying again after the first or second session ends in futility. Steve and I even gave up in frustration that first time and decided to divide and conquer for a few weeks before trying again.
During this break, I successfully paired my FT4 with a Sena 30K, Sena SF4, and Nolan N-Com B901L quite easily – much to my surprise. This left me a bit anxious and unable to reason how the Lexin wouldn't connect with "one of its own" but opened wide its intercom door to seemingly anything else passing by.
Success At Last!
After 4 weeks of field testing, I met back up with Steve and for whatever reason the two FT4 devices connected on the first attempt following the user manual directions as before. I don't know whether this couple just needed some time apart to want to be together again or what. I only know it was a completely different result this time.
Absence makes the heart grow fonder among human couples and apparently also may apply to a Bluetooth device intercom relationship.
Motorcycle Accessory
Microphone & Speaker Quality
This is a tough area to win when it comes to an in-helmet environment. Wind noise above 70-75mph nearly drowns out most headset speakers in my experience, depending a lot on how quiet your helmet is of course. That, unfortunately, is the case with the FT4 as well.
Speakers
These speakers definitely aren't Bose quality, nor do they appear to have any sort of ambient noise-canceling technology in them to counteract standard helmet vs wind noise levels. The net result here is that these speakers sound quite tinny with little bass content when it comes to music or voice conversation from other riders coming through them.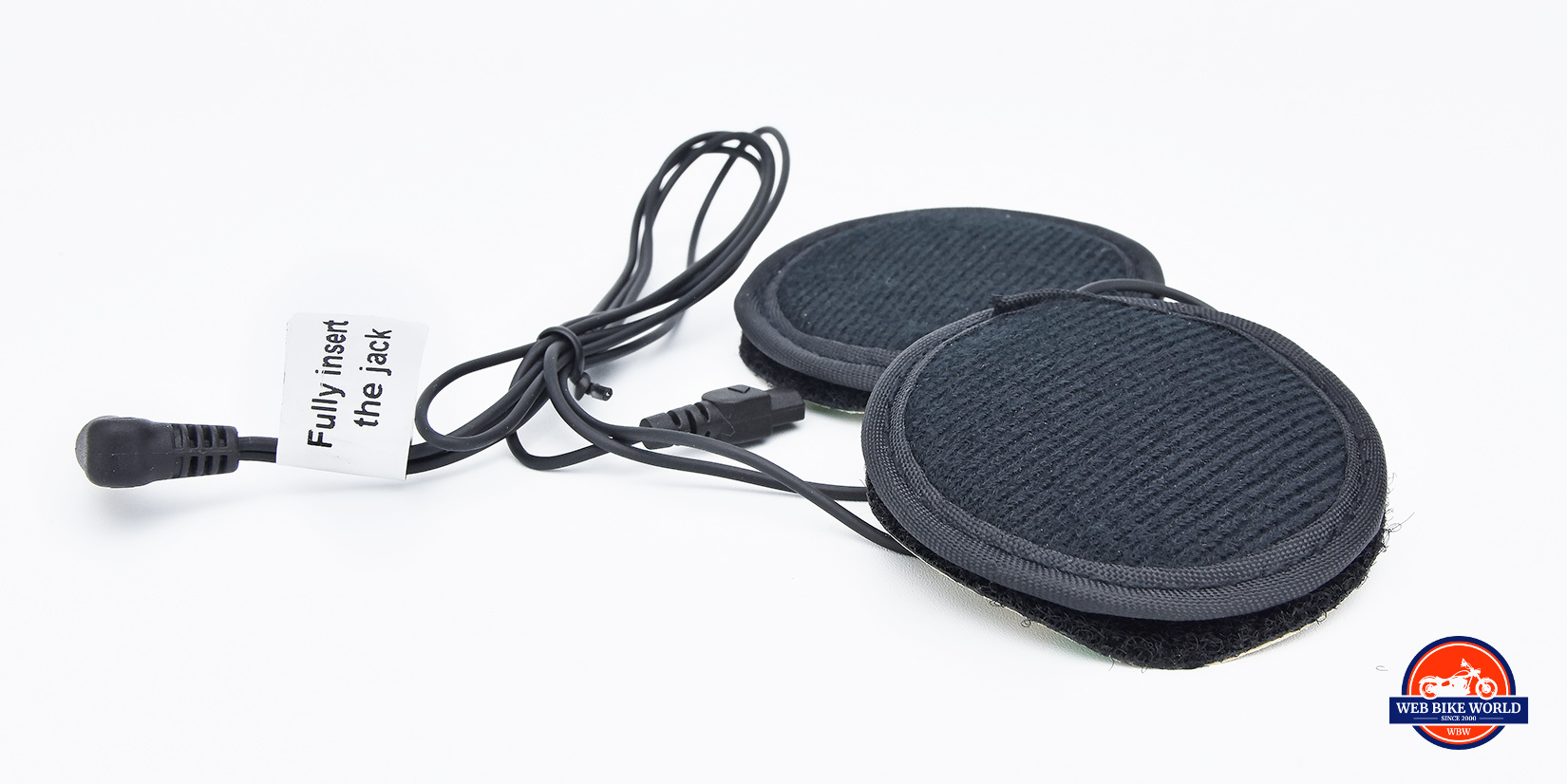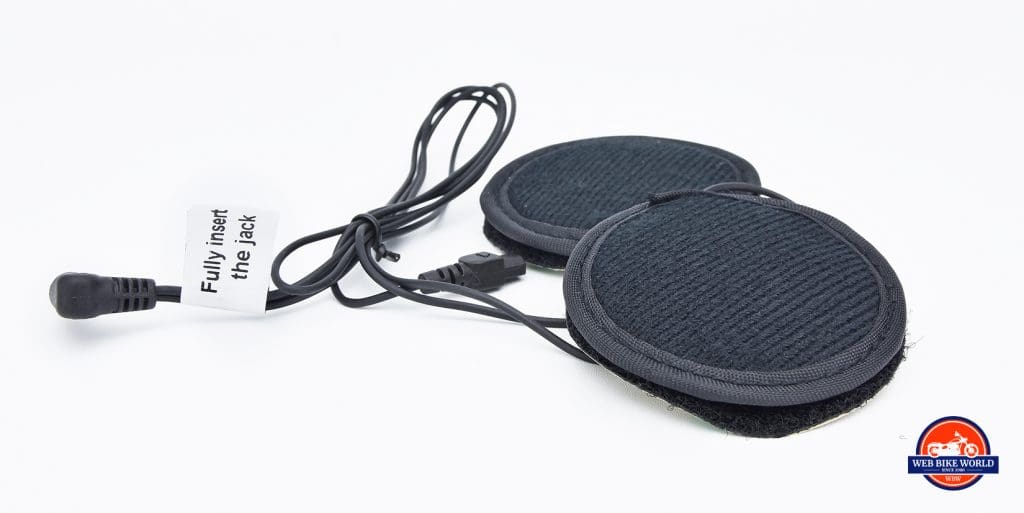 That's the bad news for Lexin, but there's a silver lining in this dark cloud: It's still close to being at the same level of audio quality I've noticed in Sena 30K, SRL2, SRL, and 20S systems. I would rate it better than the Sena SF4, but not as clear and rich as the Nolan N-Com B901L or the Cardo JBL speakers in the latest Freecom and Packtalk systems.
Consider for a moment that the FT4 costs almost HALF what most of those other systems do and we can cut it some slack. I'll be repeating this throughout the rest of the review.
Garbled Announcer Voice
Cardo, Sena, and even Nolan all have what sounds like the same female voice assistant (or maybe her twin sister) built into their devices to verbally convey what's happening with your system. She's got a pleasant mid-level pitched voice I find soft and comforting even when she has to tell me the battery is depleted and the system is shutting down now.
She seems to have a very slight Asian accent but is pretty easy to understand and communicate with on models where you have a voice command option.
I Call Him Aquaman
The FT4 voice assistant is the complete opposite.
Lexin went with a male, low-pitched voice featuring a heavy Asian accent instead. I think they did this to stand out from the crowd of other Bluetooth device assistants of the two X chromosomes persuasion. While Lexin definitely overachieved on being original, I would have rather they hadn't.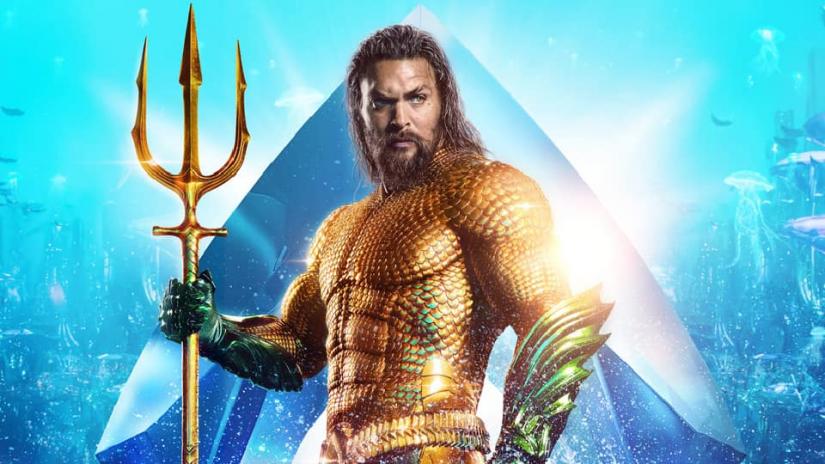 Photo from Den of Geek
The FT4 voice doesn't have an official name, but I dubbed him Aquaman because the combination of his heavy accent with the Lexin speakers make him sound like he's underwater. Yes, I realize in the movie and comics Aquaman actually can speak clearly underwater technically.
After spending enough quality time with Arthur Joseph Curry, I was able to eventually understand what he was saying, so this odd character trait isn't a show stopper for me when it comes to the FT4. It's manageable.
You can't use voice commands to get him to tell you things as you can with the much more expensive Cardo and Sena units. Imbuing the FT4 with those superpowers would raise the price significantly and destroy the allure of this affordable communicator.
The Microphone
I installed the boom style mic in my Bell SRT modular helmet and the button style one in Steve's Voss.
The flexible arm on the boom mic was excellent to work with. I found it held position well when I put it "just so" and yet was supple and smooth to manipulate. I also like the way there's white labeling on the side of the boom the inlet is for the microphone. That kept me from talking into the wrong end or pointing it into the wind while riding with the chin bar raised.
Wind Noise And Pickup
Speaking of wind noise the microphone almost never picked up wind noise even at highway speed with the chin bar raised on the SRT Modular. Steve and I were very impressed with that in our testing.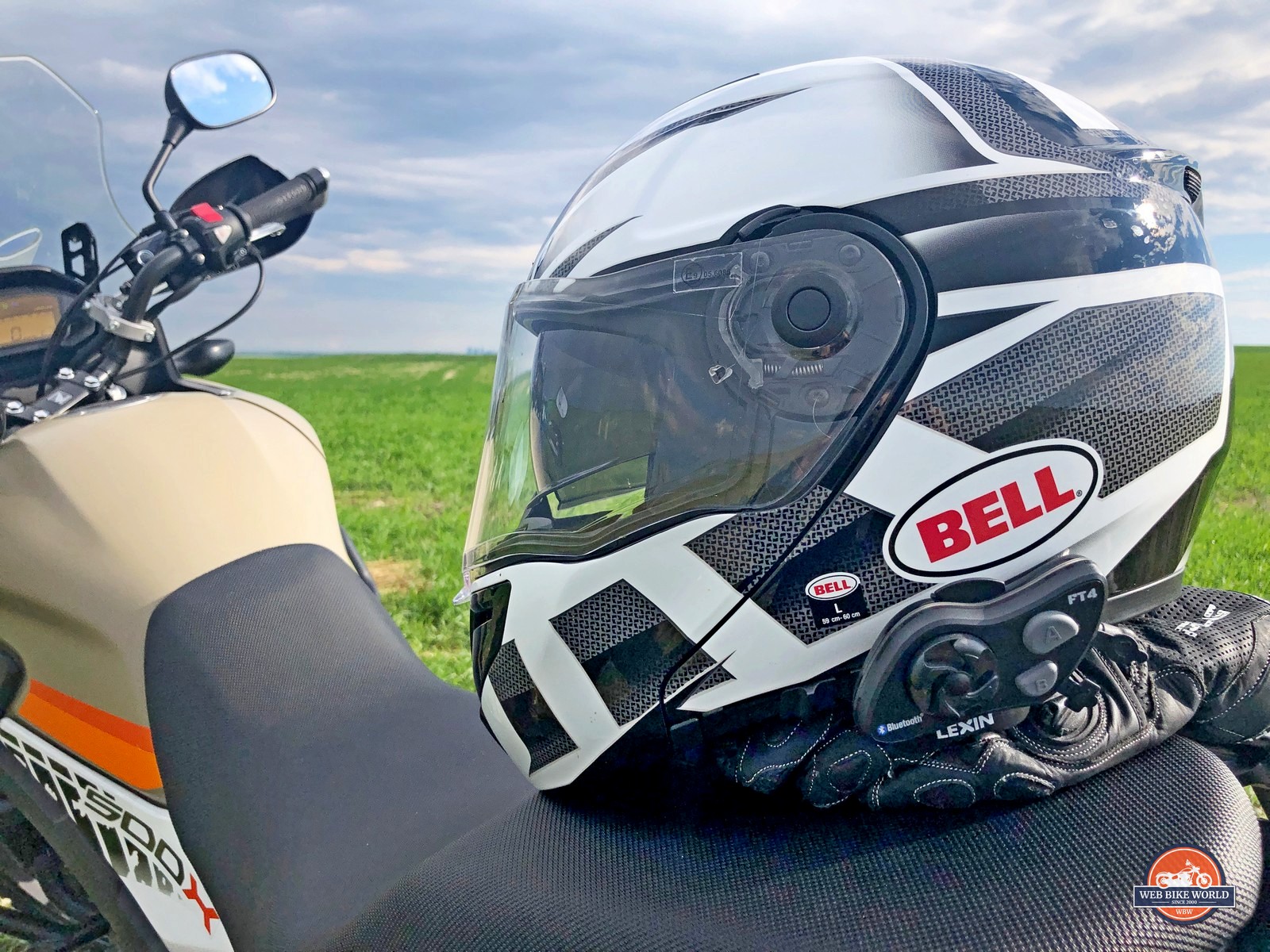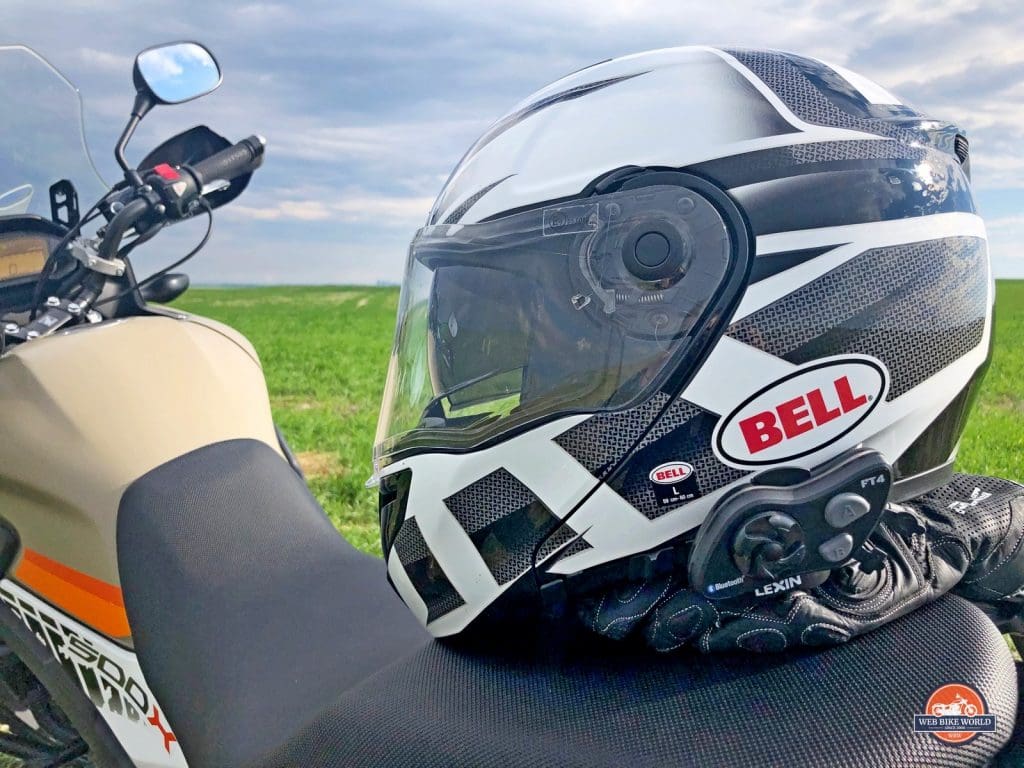 I had my wife use the FT4 extensively so I could better gauge how clear the mic was at picking up a voice other than mine and Steve's. We both are "quiet talkers" bordering on mumblers so we needed a different test subject. My wife tends to speak loudly and clearly when wearing a helmet because of the wind noise and I found her speech got distorted by the system on my end. Not to the point where I couldn't figure out what she was saying, but definitely not the clearest speech coming through compared to the Sena 30K and 10CPro units we usually use on the bike.
Again… bear in mind the vastly different price tag between those units and the Lexin still has great appeal.
Range
Lexin claims a range of 1.2 miles or just under 2kms for the FT4. I wasn't able to get anything near that in my testing, unfortunately.
The best performance came when pairing Lexin to Lexin with a clear line of sight between the two devices. Things were clear out to about 1km or 3279 feet but past that we got quite a bit of interference happening.
I can't explain why my numbers are so much lower than Lexin's claims, but I can't deny what I found.
Inside that range, Steve and I could still hear each other if a car or truck came in the line of sight although it was distorted. If we went right around a corner with a building in the way I found Steve started sounding like "Mr. Roboto" or I lost contact altogether right away. Having a clear line of sight between devices is paramount when using the FT4.
With Other Brands
Range with the other brands was about the same as with the other FT4 which isn't any surprise. In reality, even a 1 km range just using Bluetooth is going to work just fine for the majority of users out on the road.
It works perfectly when connected to a passenger on the same bike with you. My wife was happier than normal to be able to warn me about all the dangers, obstacles, and careless drivers she spotted on the road without having to pound on my shoulders with her fists while screaming through her helmet to get my attention.
Controls
There are only three buttons on the FT4 which is nice and yet frustrating too.
Fewer buttons mean that the user has to hold them down together, separate, or simultaneously for certain durations to activate different features. It can get hard to remember what does what at times this way depending on the operator's memory strength and technical savvy.
The Lexin is pretty good when it comes to user-friendliness. They included a pocket-sized, quick reference pamphlet in the box, or their website has the manual on it too. I save links to all the Bluetooth websites on the homepage of my iPhone for quick reference while out on the road.
Feel
The A and B buttons have a crisp feel to them when actuated and work reliably, but the round "jog dial" is too easy to bump accidentally and so pause your music or double-tap by accident and drop an incoming phone call for my liking.
I prefer the Sena jog dial where only the center portion is an actual button instead of the whole disc surface as on the FT4. That helps prevent accidental button pushes more effectively.
I also found that sometimes the thick shoulder armor in my jacket would trigger the jog dial if I shrugged my shoulders or tilted my head to the left too aggressively.
Siri Or Google
Without the voice command option on the FT4, it was important to me to be able to access Siri easily to get GPS directions or make phone calls.
I found it simple and easy to get Siri to wake up and do my bidding using the FT4 just by holding down the jog dial until a tone indicated she was listening. This is a nice workaround to get voice control of a sort without having to increase the price of the FT4 by including the voice command technology needed to facilitate it.
Lightweight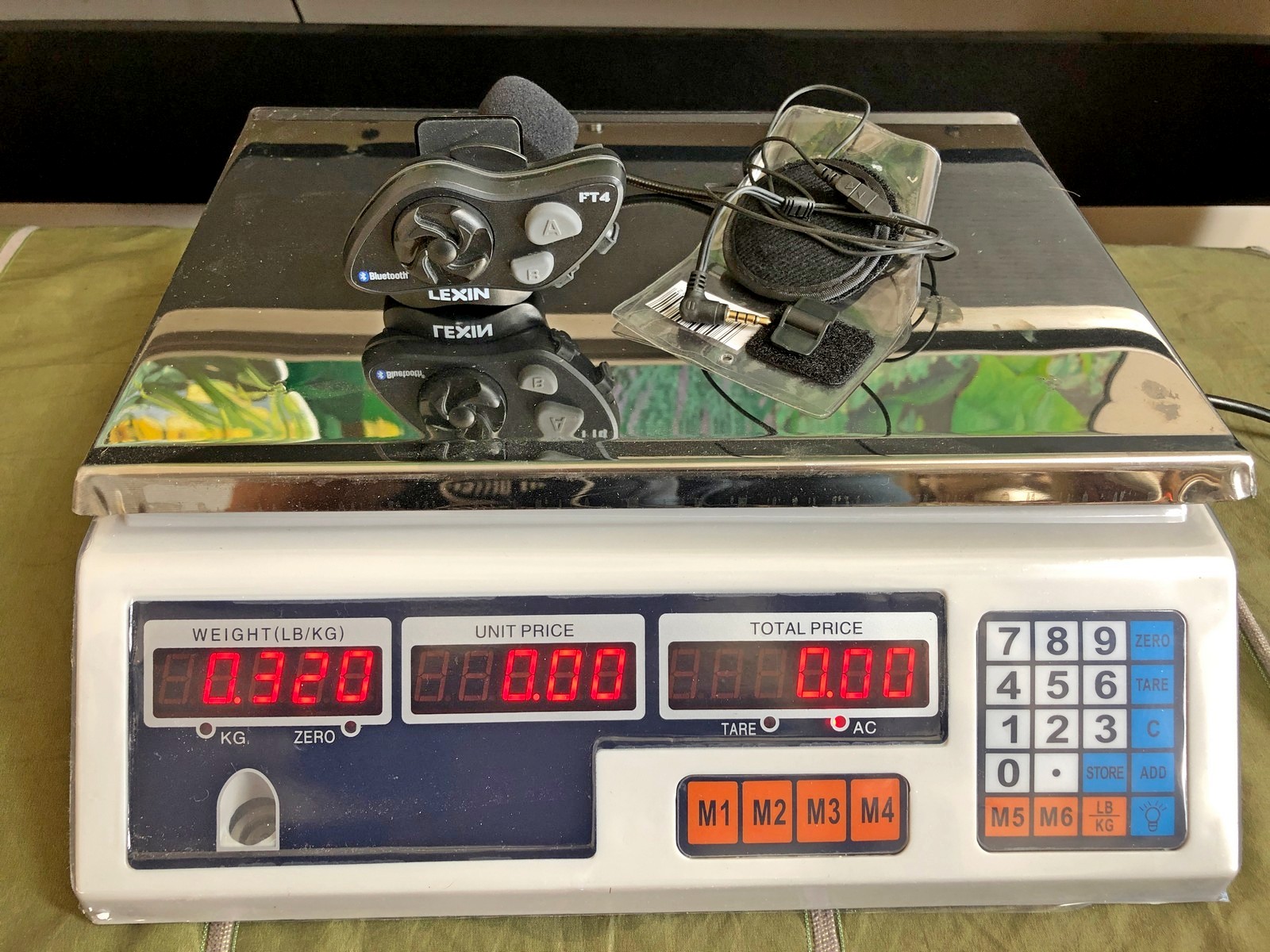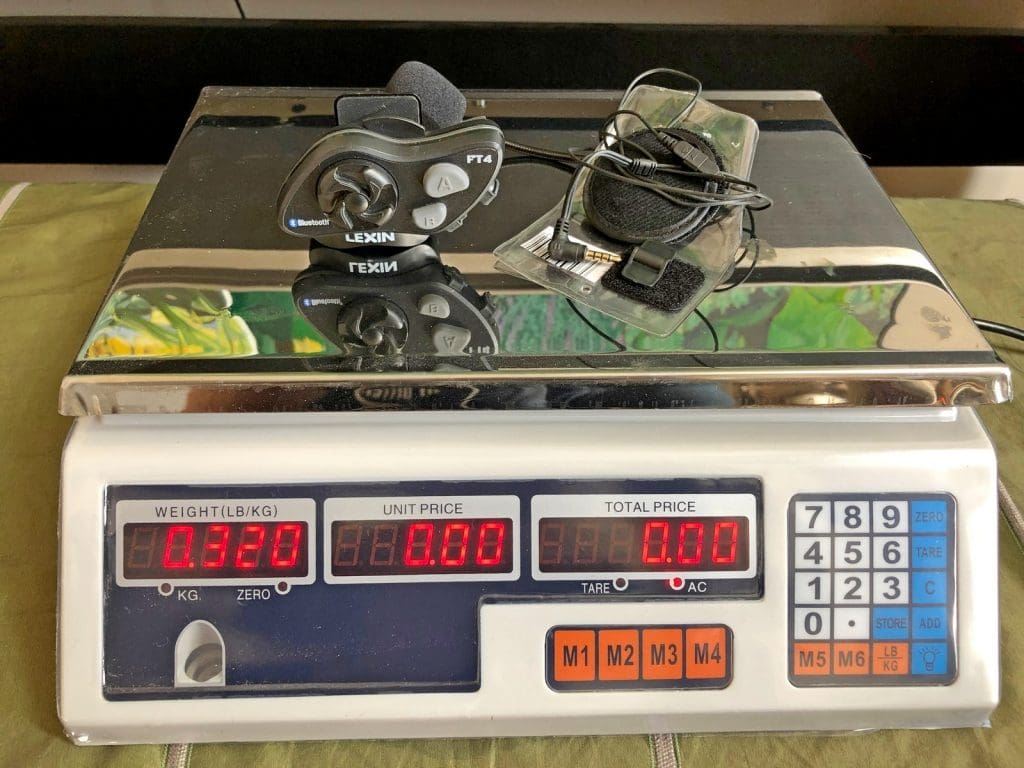 I recently acquired a supermarket-style digital scale for weighing all the gear that I review on the site. The Lexin FT4 system weighs 5 oz (0.32lbs) which is basically unnoticeable when clamped onto a helmet.
Since I've started using Bluetooth units I've come to realize how worth the trouble they are for convenience and personal happiness while out on the bike… but only when they work well.
Robust
Lexin specifically says in the manual to avoid dropping the FT4 because it can damage the internal electronics. I believe that is important advice to heed and yet, I still managed to unintentionally drop the unit once from about chest height onto the concrete garage floor during testing.
Happily, the FT4 shook that off and took no external damage from what I can tell.
Waterproof
The FT4 is IP67 water-resistant which is the same high standard any other unit on the market meets. Here is an explanation of the IP67 rating system.
That designation means the unit can be dropped into a body of fresh water up to a meter deep for half an hour and is resistant to dust intrusion.
As I mentioned earlier when I visited the Lexin booth at AimExpo they had an FT4 unit completely submerged in a small container of water running throughout the entire 4-day show so I would say in reality it exceeds IP67. It's important to realize things might be different if you drop it in saltwater or some other kind of fluid like engine oil. I don't recommend doing either.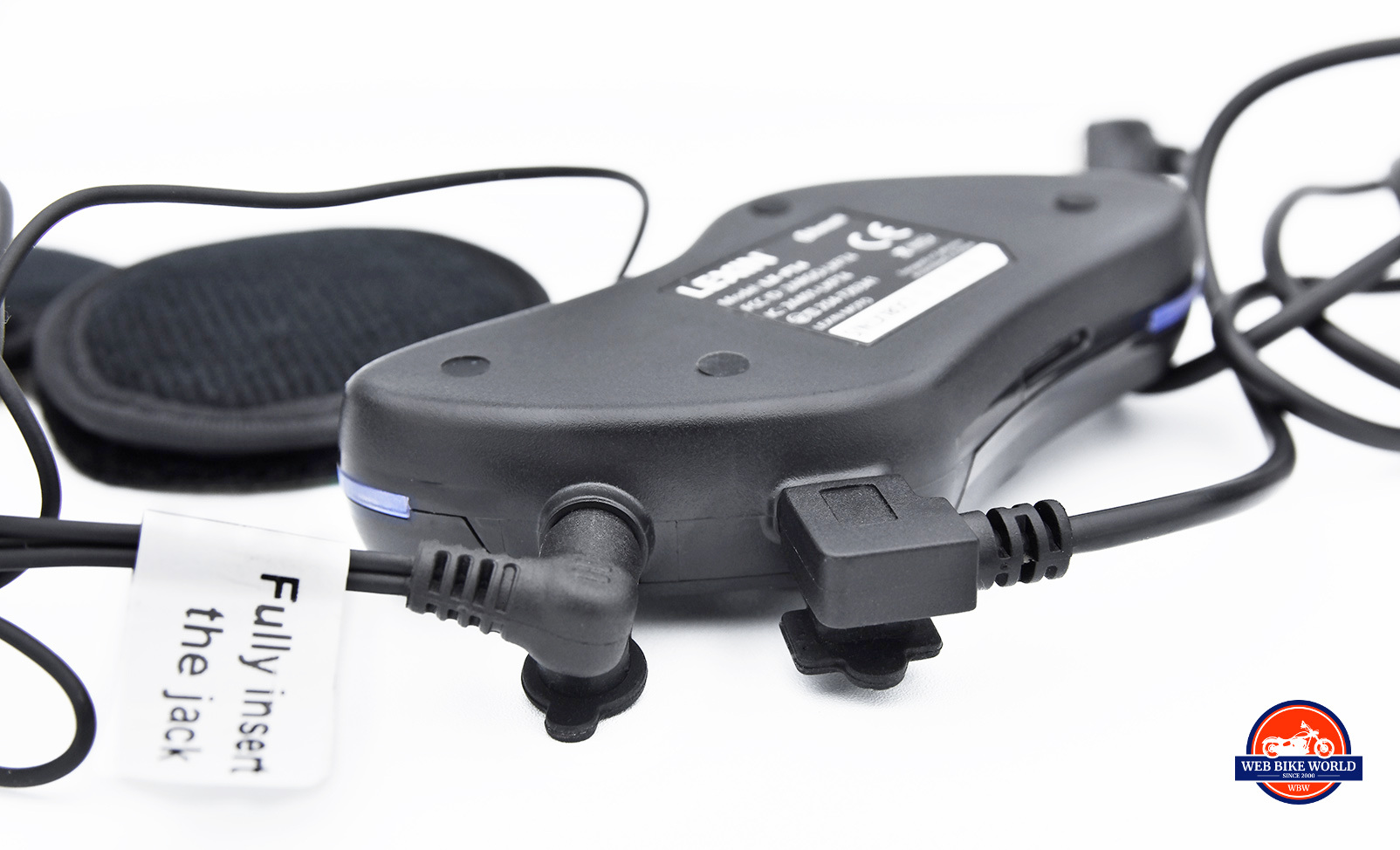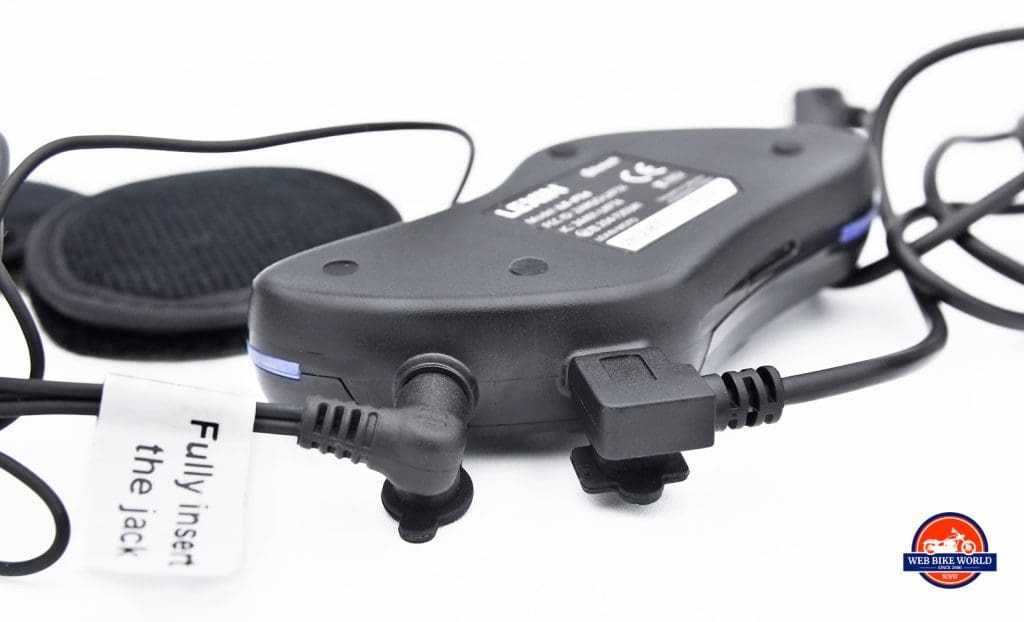 My own testing in rain was unremarkable and the FT4 system didn't seem to mind any change in temperature or humidity either. I wondered whether water might sneak past the TRRS cable plugged into the side of the housing for the microphone and speakers or the rubber plug that covers the Micro USB port to keep it clean when the unit isn't being charged.
This review spanned temperatures from a low of 5 Celsius (41F) to 28 Celsius (82 F).
Battery Life & Charging
I ran the FT4 hard for a full 10 hr day combined with several other 6 to 8 hr days and never managed to kill the battery while testing.
By running hard, I mean that I kept the music playing while intermittently making phone calls and running the intercom to talk to my wife while riding. I really put it through the paces and it shined in this category. Well done, Lexin!
Charging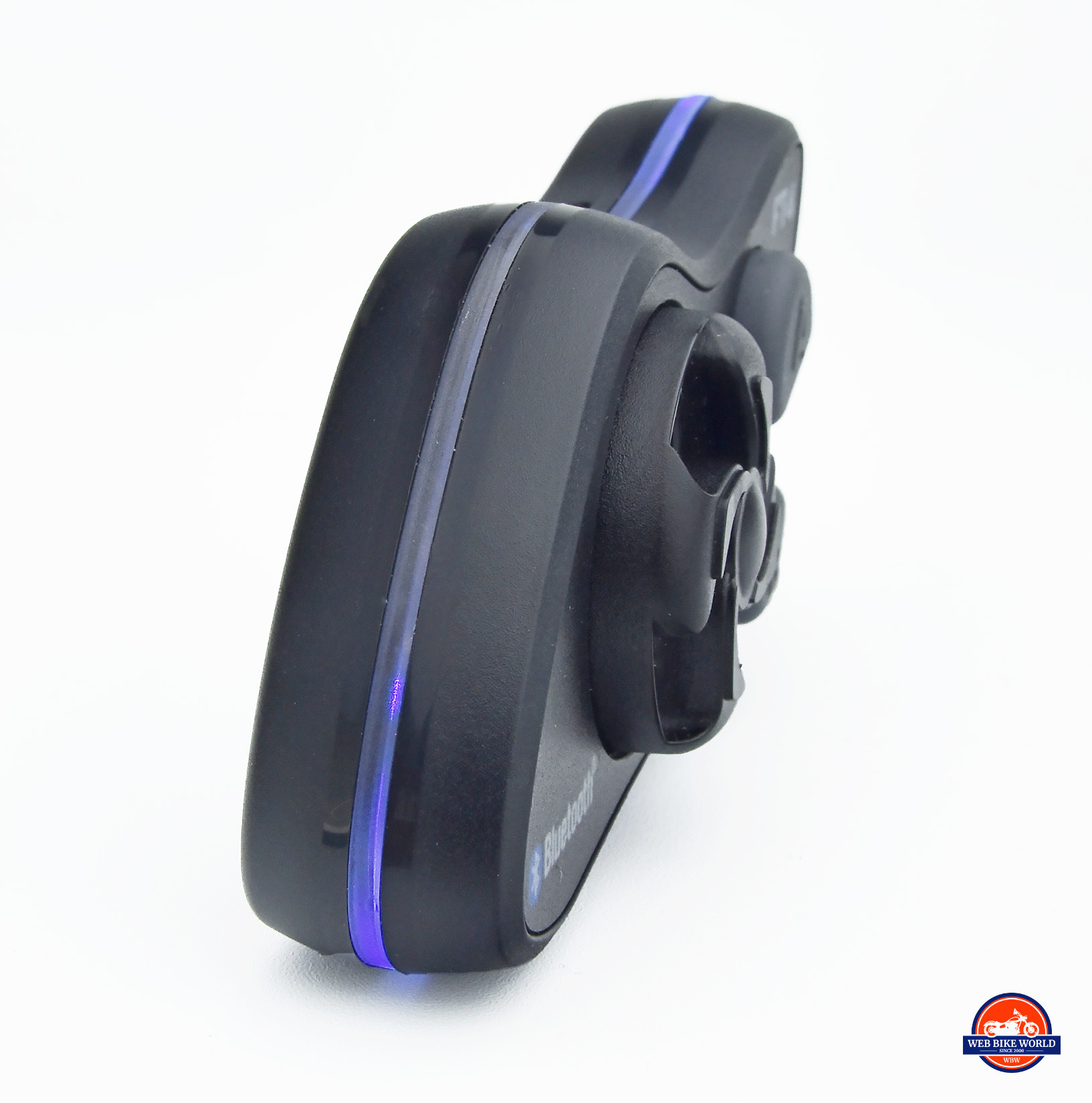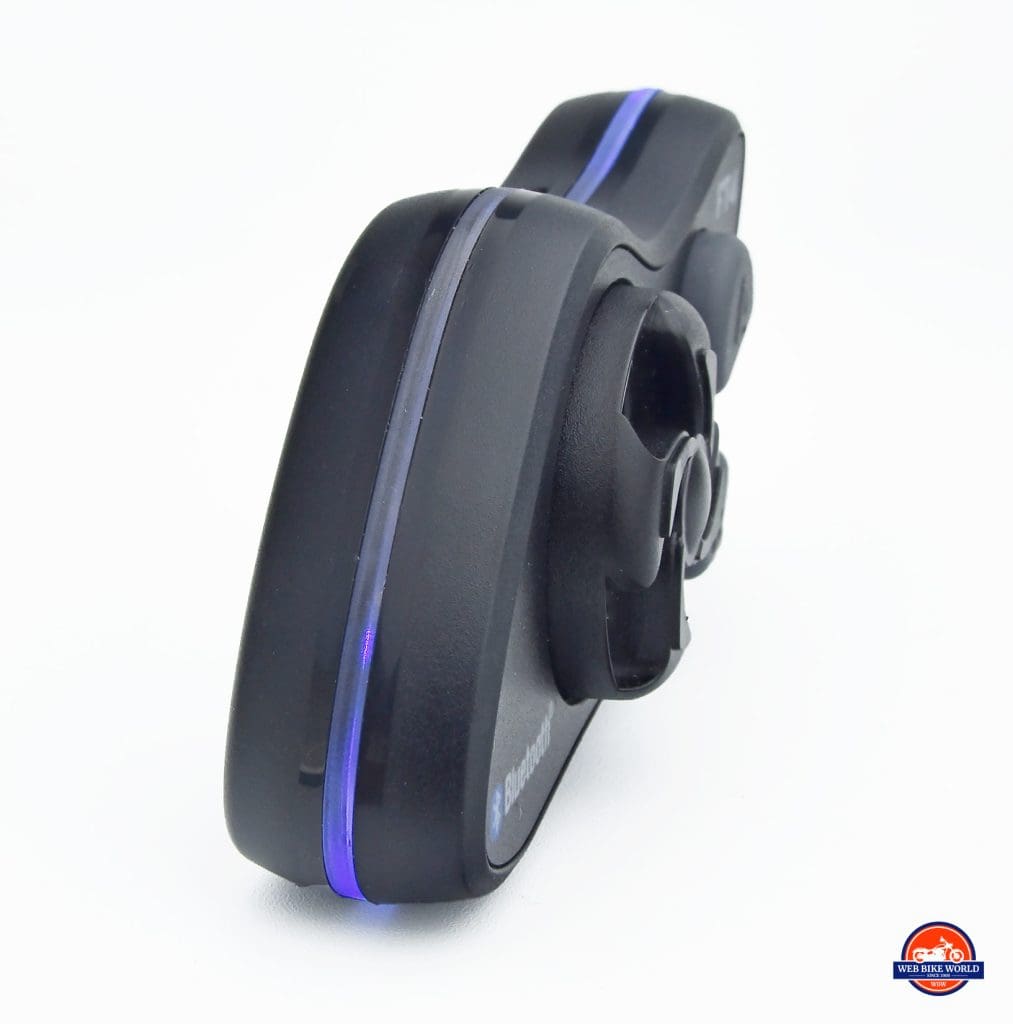 Plug the provided USB cable into the Micro USB port and the LED strip running around the seam of the FT4 turns red while charging. It will turn solid blue when fully charged about 2.5 hours later.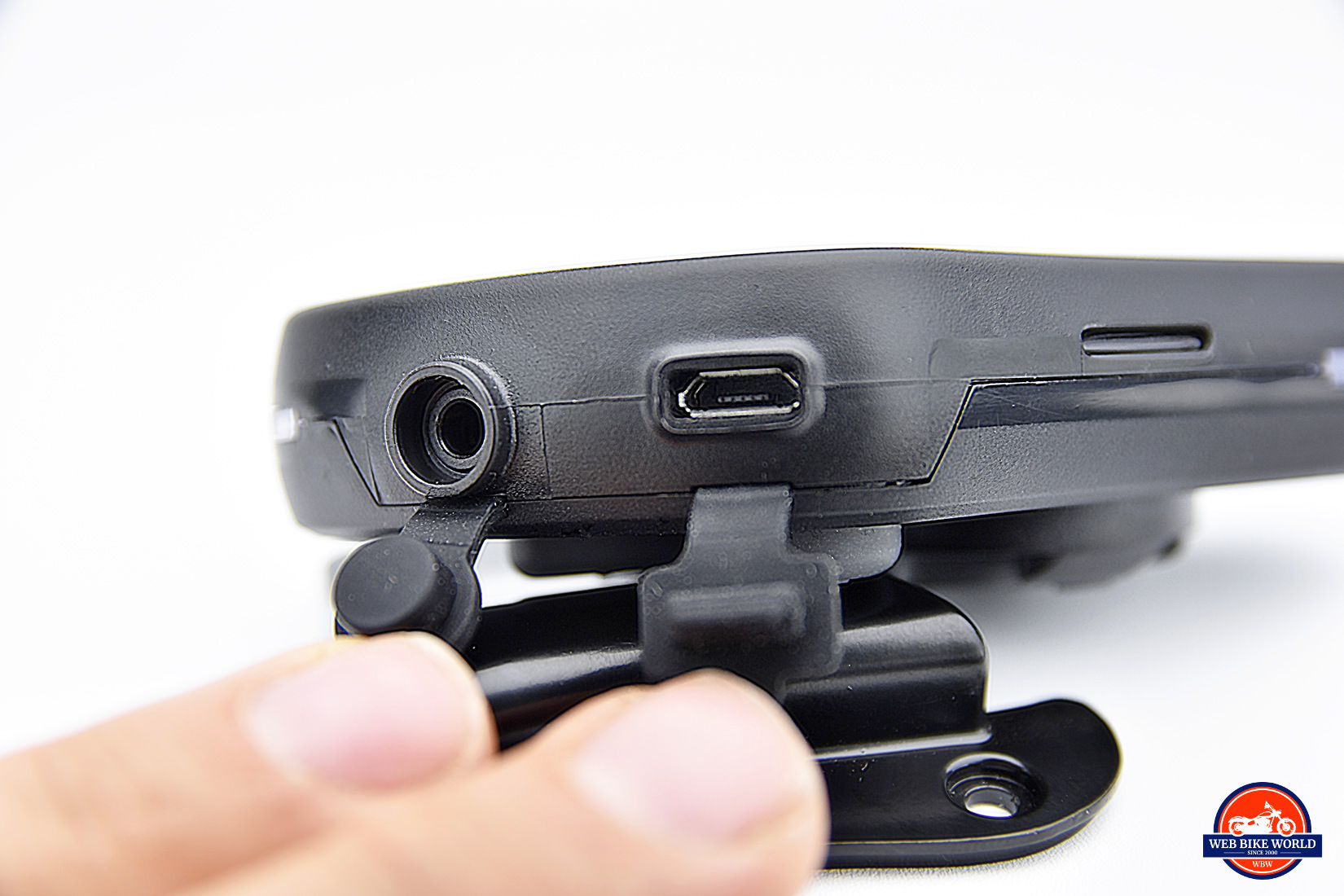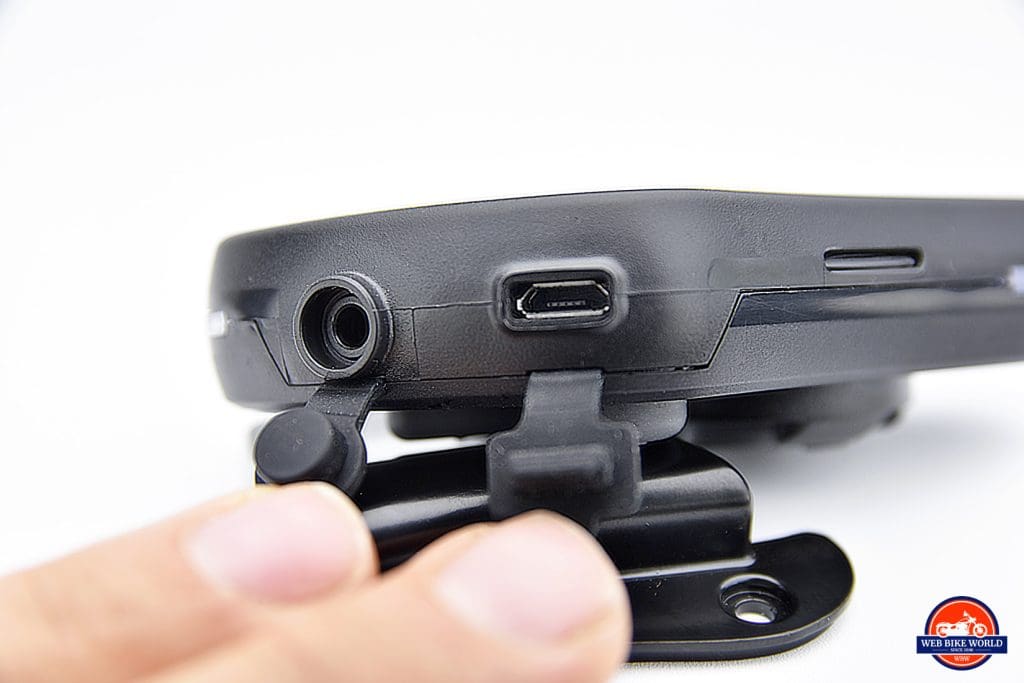 Low Battery Alert
If somehow you manage to drop the battery power below 20%, Lexin says you'll have about 1 – 1.5 hours of use remaining and a beep tone will sound every 5 minutes to warn you it's time to charge it. That never happened to me.
LED Lighting
Lexin did a great job building in a large LED indicator/accent on the FT4 that's very eye-catching. This provides added visibility at night to vehicles around you and allowed me to realize I'd accidentally left the device turned on a couple of times. I liked using it to see if pairing was successful or not with the intercom too.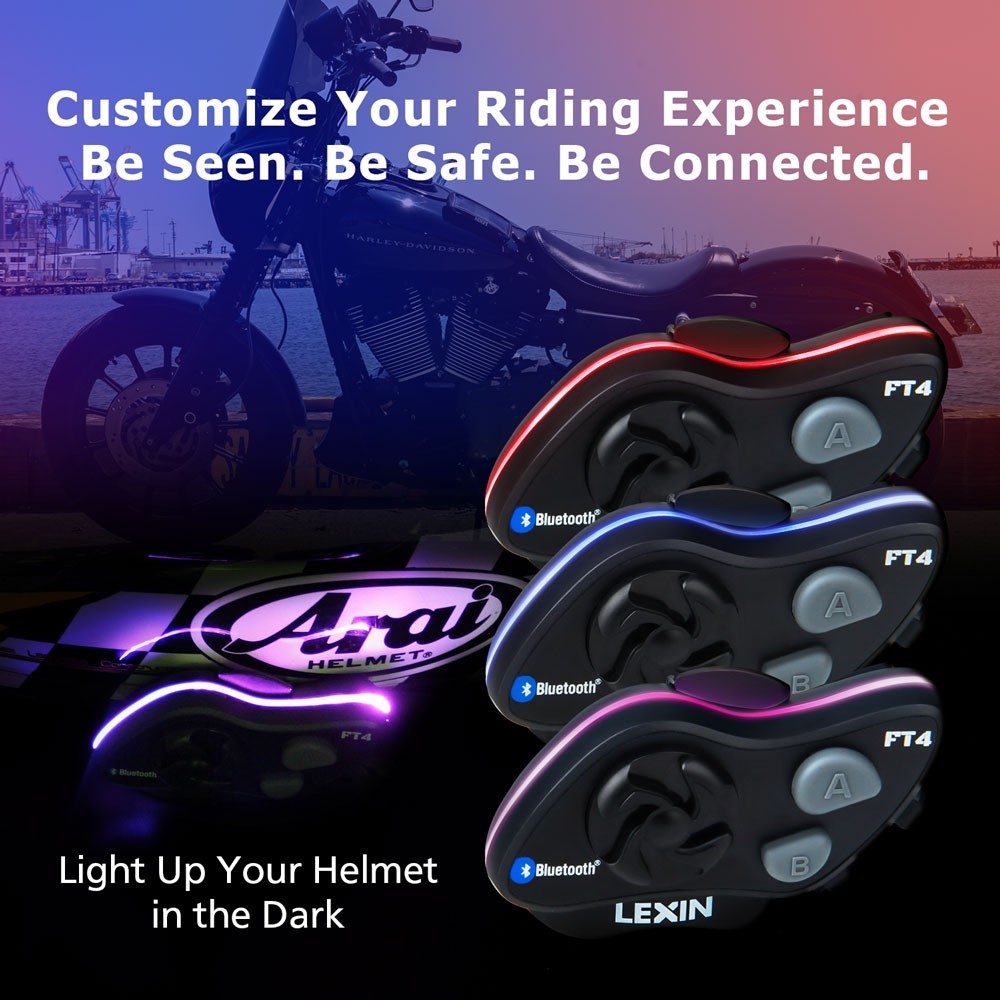 Photo from Lexin
You can choose one of three colors for the strip to illuminate as and whether it's on solid or flashing. Nice job here, Lexin!
The RAM Mount X-Grip Breakdown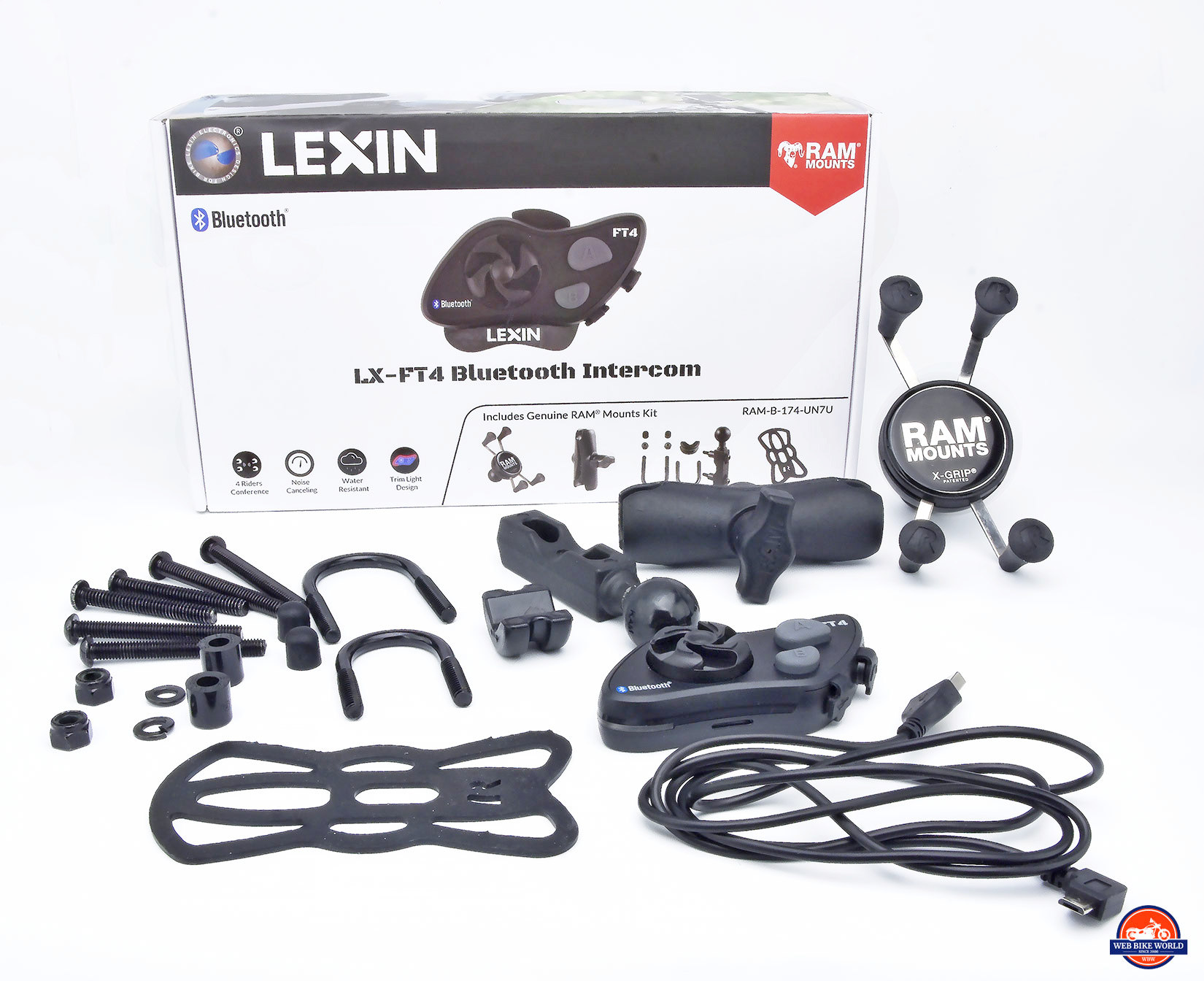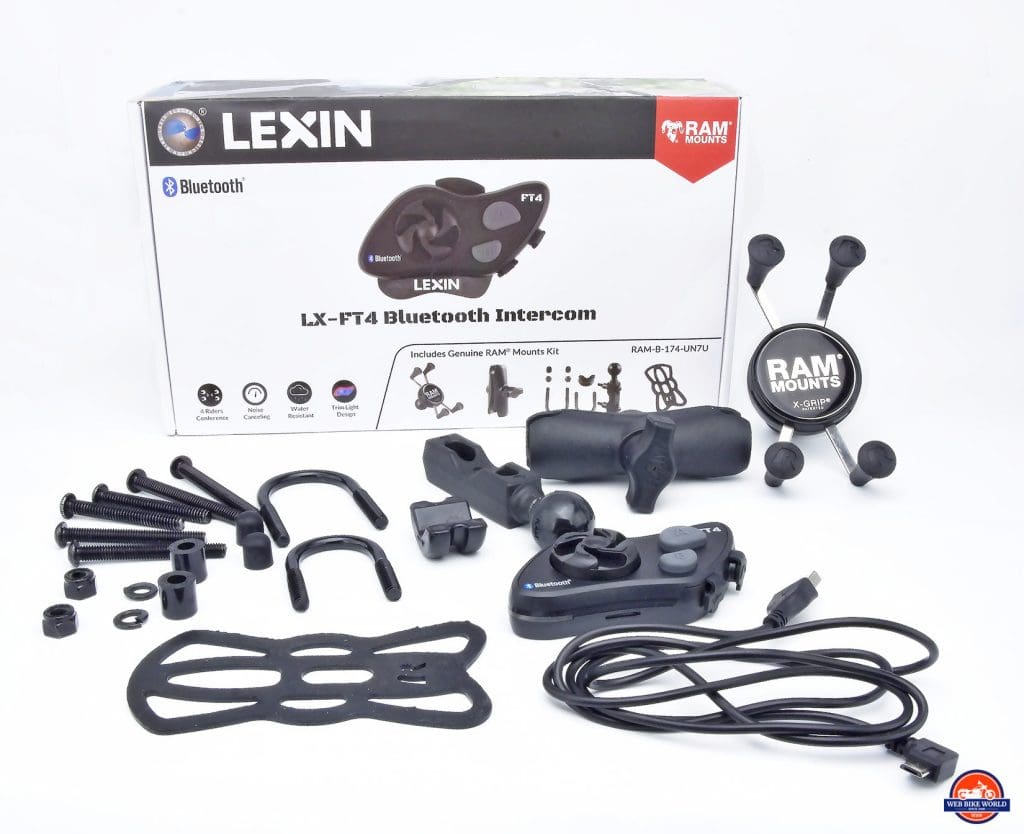 There really isn't much more important to say about the X-Grip other than I adore it. It's the first product I've ever reviewed that gets a perfect 5 out of 5 stars from me. I can't stress how significant that is from an obsessive scrutineer like me who can almost always find a flaw or mistake in any product.
Not this one. It really is brilliant!
Installation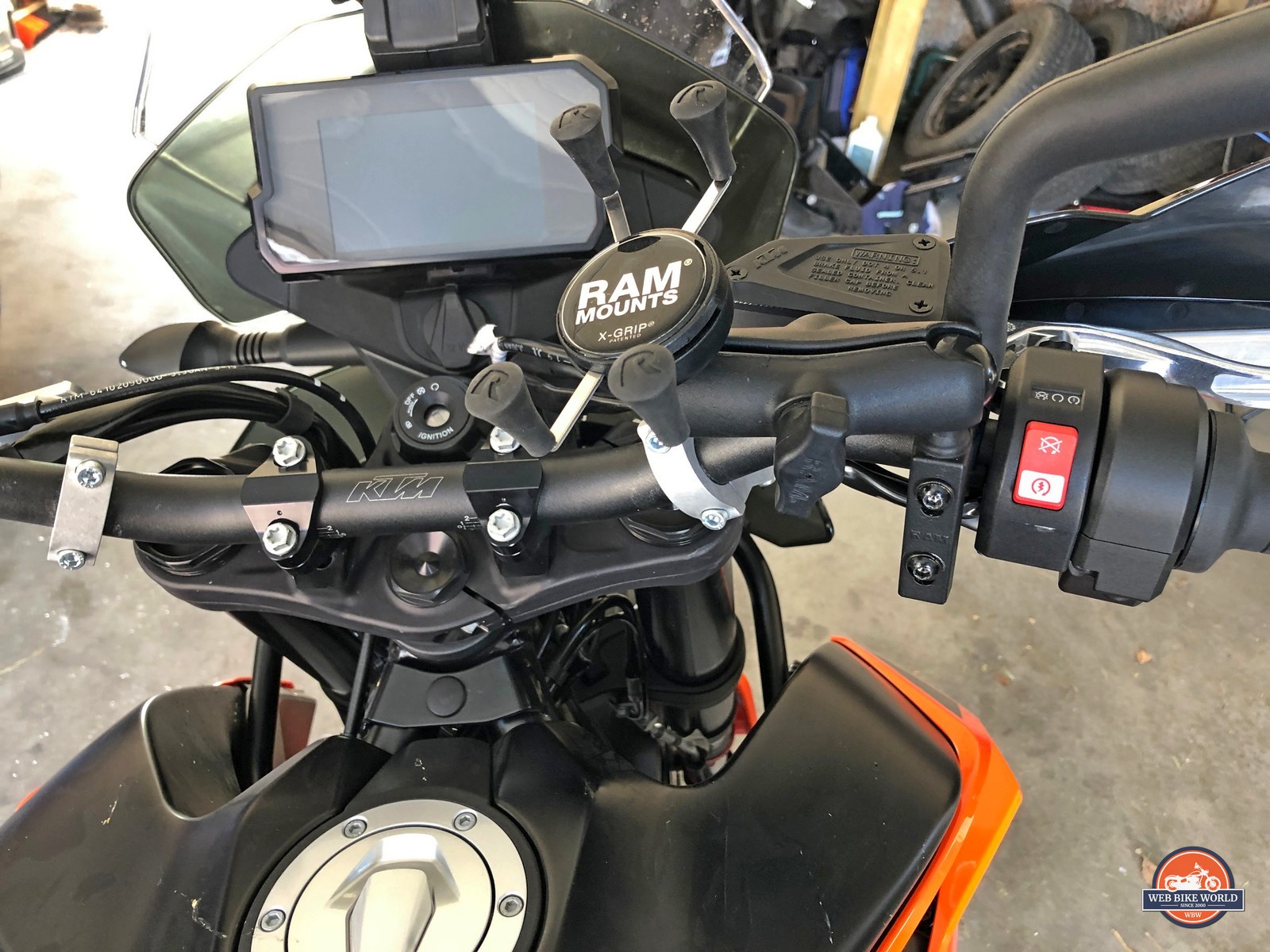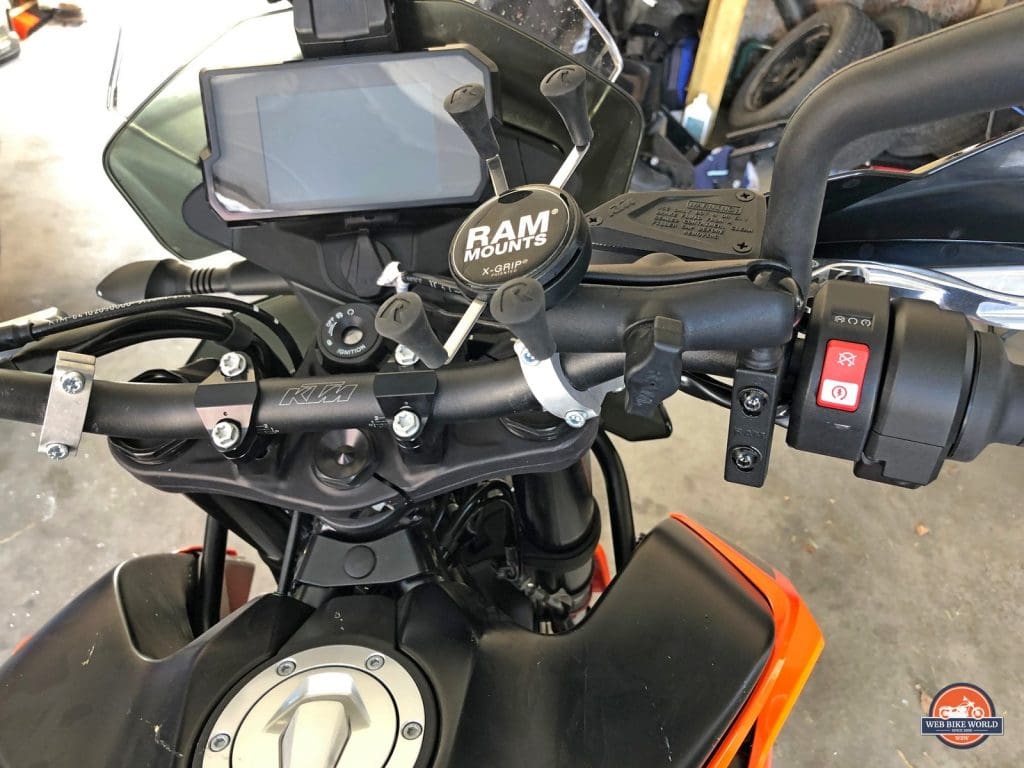 The mount weighs just about exactly 1 lb because it's made of steel for strength. Mounting the bracket with the rubberized ball on it that functions as the base for the arm and X-Grip is super simple.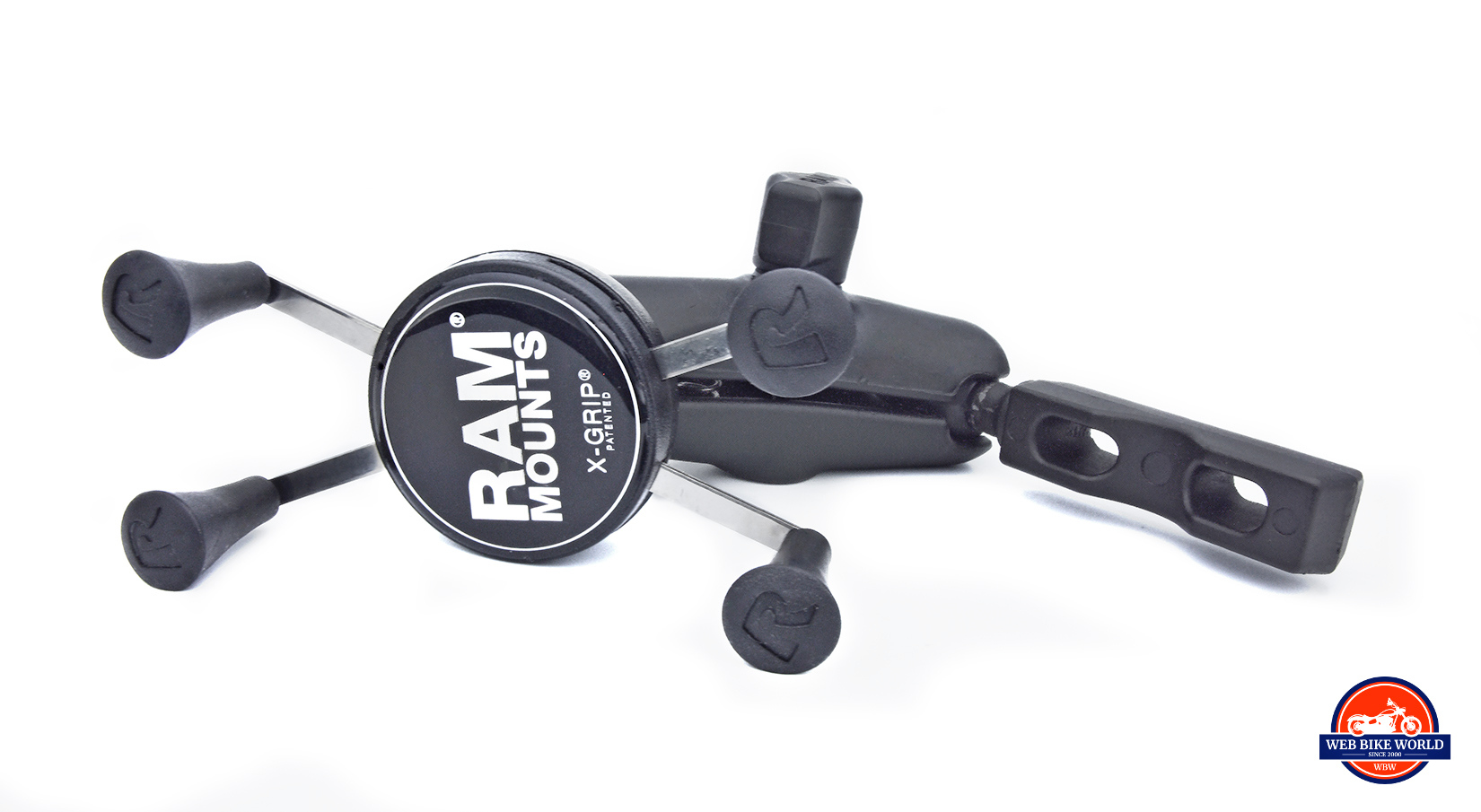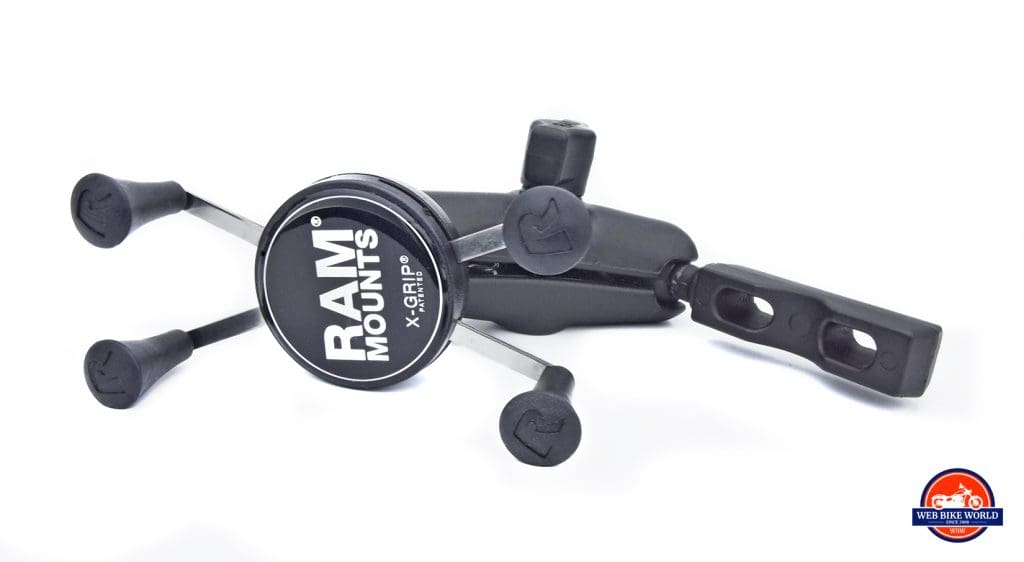 You can choose whether to use the U shaped muffler clamp on the handlebar tube anywhere you like or you can remove the two screws holding the front brake reservoir and install it there instead. I went with the brake reservoir location. You can see it in the photo below. I just love it there.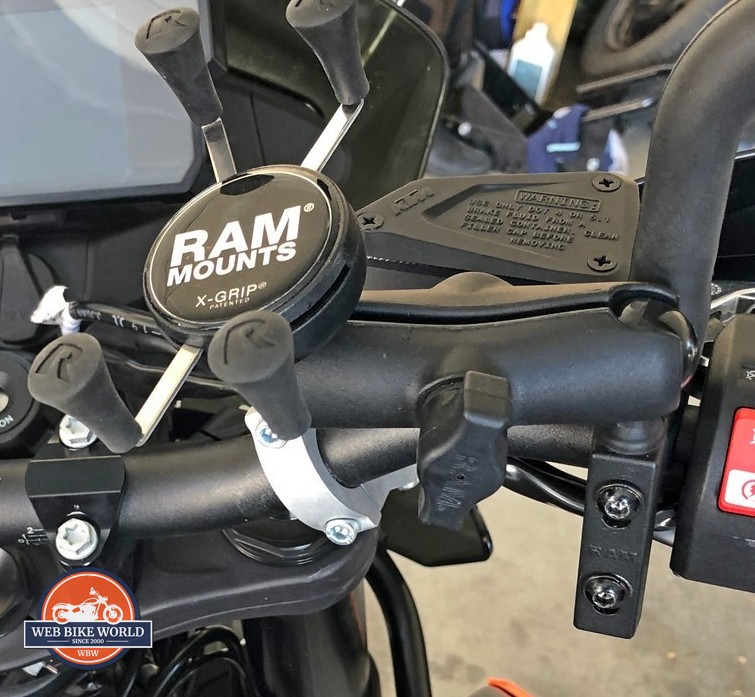 The kit includes both metric and standard thread screws to fit any motorcycle. You'll have to gauge where you want it to sit based on your handlebar swing arc to avoid contact with fairings, dash or windshields, but that's simple to do.
A Good Union
Lexin shrewdly partnered with RAM to include this mount in the FT4 kit even though it's completely unnecessary when using their communicator. It's just nice to have.
Price Savings?
What's kind of funny is that you don't save any money buying the combination FT4/X-Grip kit as you might assume. The X-Grip costs $50 to buy directly from RAM and it adds $50 to the cost of the FT4 kit to get it included. Still, I applaud Lexin for making it "one-stop shopping" for a buyer by including it with their FT4.
I didn't even realize I wanted one of these phone mounts until I tried it on my Kawasaki H2SX SE Ninja and KTM 790 Adventure bars. After having the phone in the X-Grip for a few rides I had to have it there every time thereafter. The convenience of seeing at a glance who's calling or where I am on the GPS is very convenient.
Solid Yet Flexible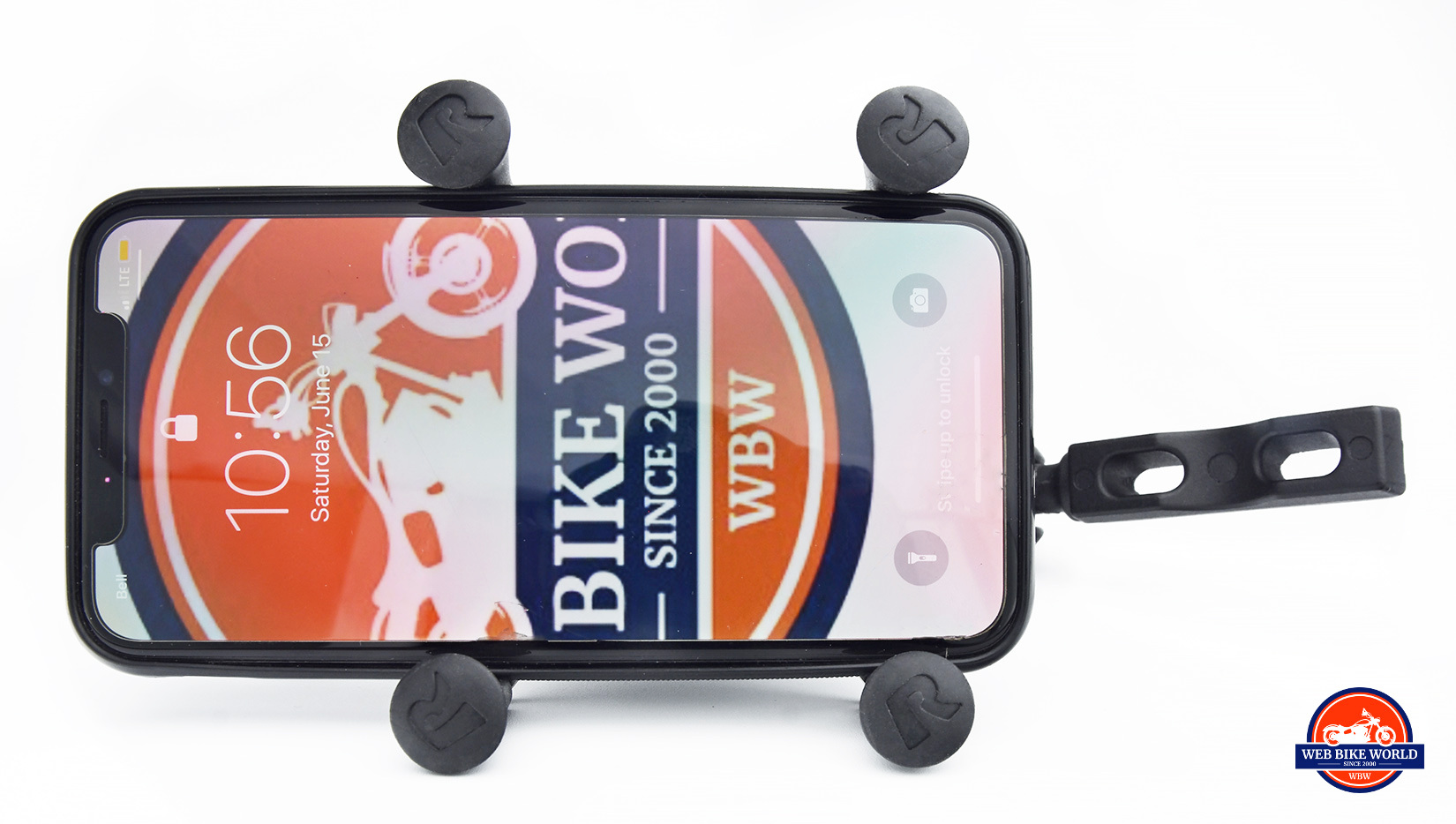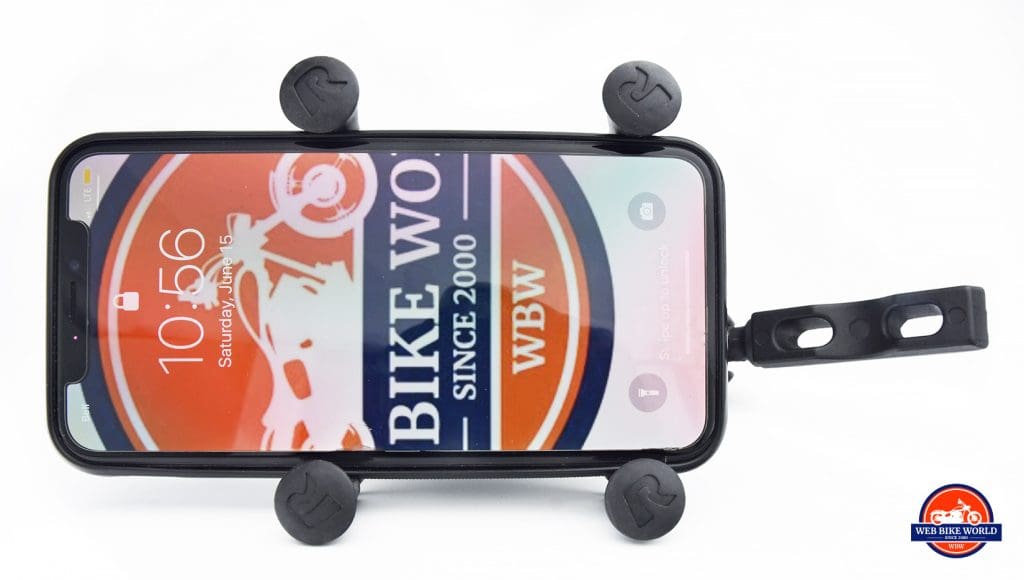 The mount grips my phone even when it's in a protective case like a vise. I tried waving it around in the air to see if the phone would fly out, but there's no way it will. That's outstanding! It took the anxiety out of using the mount when traveling over big bumps on the road.
I do find that I have to attach the phone in the mount further back as you see in the photo above or the rubber tabs will actuate the volume or power buttons on the sides of my iPhone X. Regardless of where the mount actually grips the phone, it's unmovable.
The grip will pivot about 30 degrees from the center if you want to spin it slightly but doesn't do it on its own.
Versatility
The RAM Mounts system uses a clamping arm with sockets at either end for gripping their 1" diameter rubber-coated ball mounts. It also has a quick tightening knob on it to tailor the positioning of the assembly and grip strength of the arm sockets depending on how heavy the object in the X-Grip is.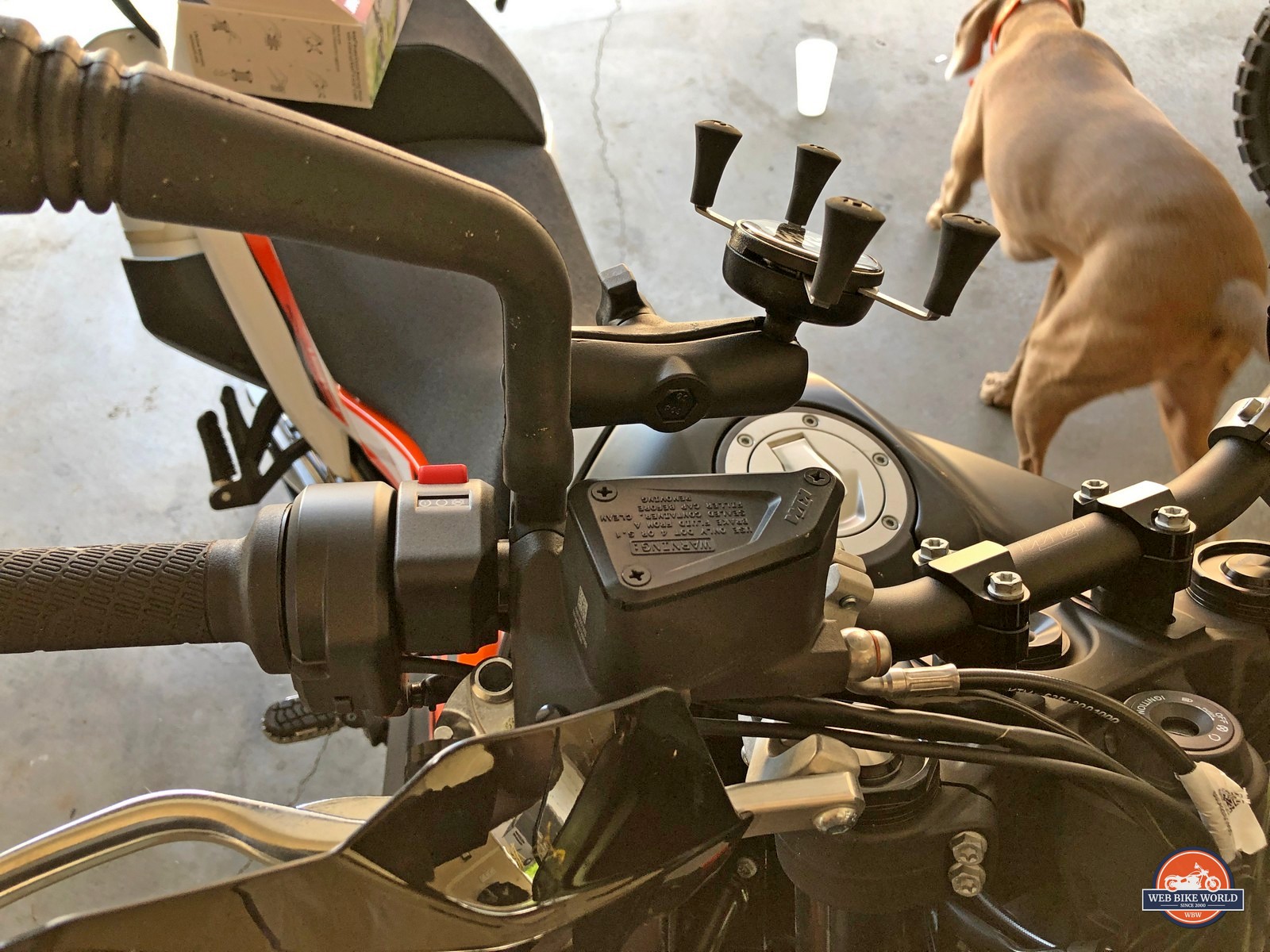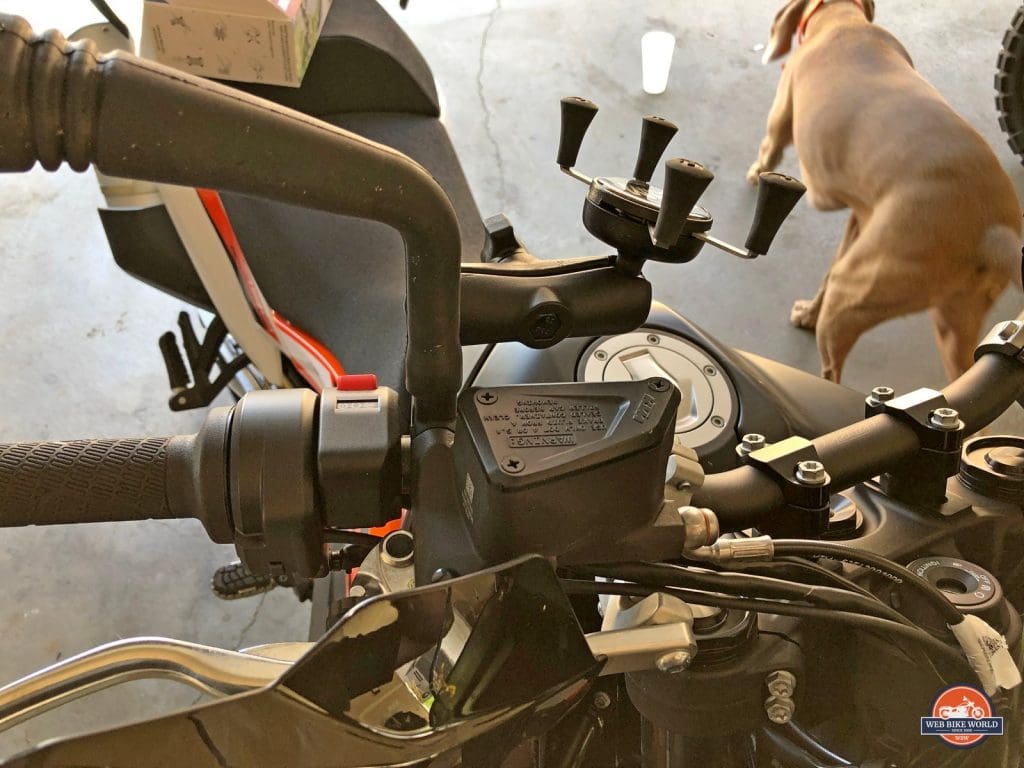 You can bend, twist, and turn how the arm and X-Grip are set in place using the adjuster knob with no trouble at all. Once you twist the knob tight it's immovable as near as I can tell thanks to the rubber coating on the ball mounts.
I'm just so impressed with the system effectiveness overall, but even better is the fact RAM sells many different types and sizes of attachments that can be used with the ball mounts in your car, boat, bicycle or wherever you want to have something quickly at hand. RAM Mounts website is a great resource for seeing possibilities.
Final Verdict?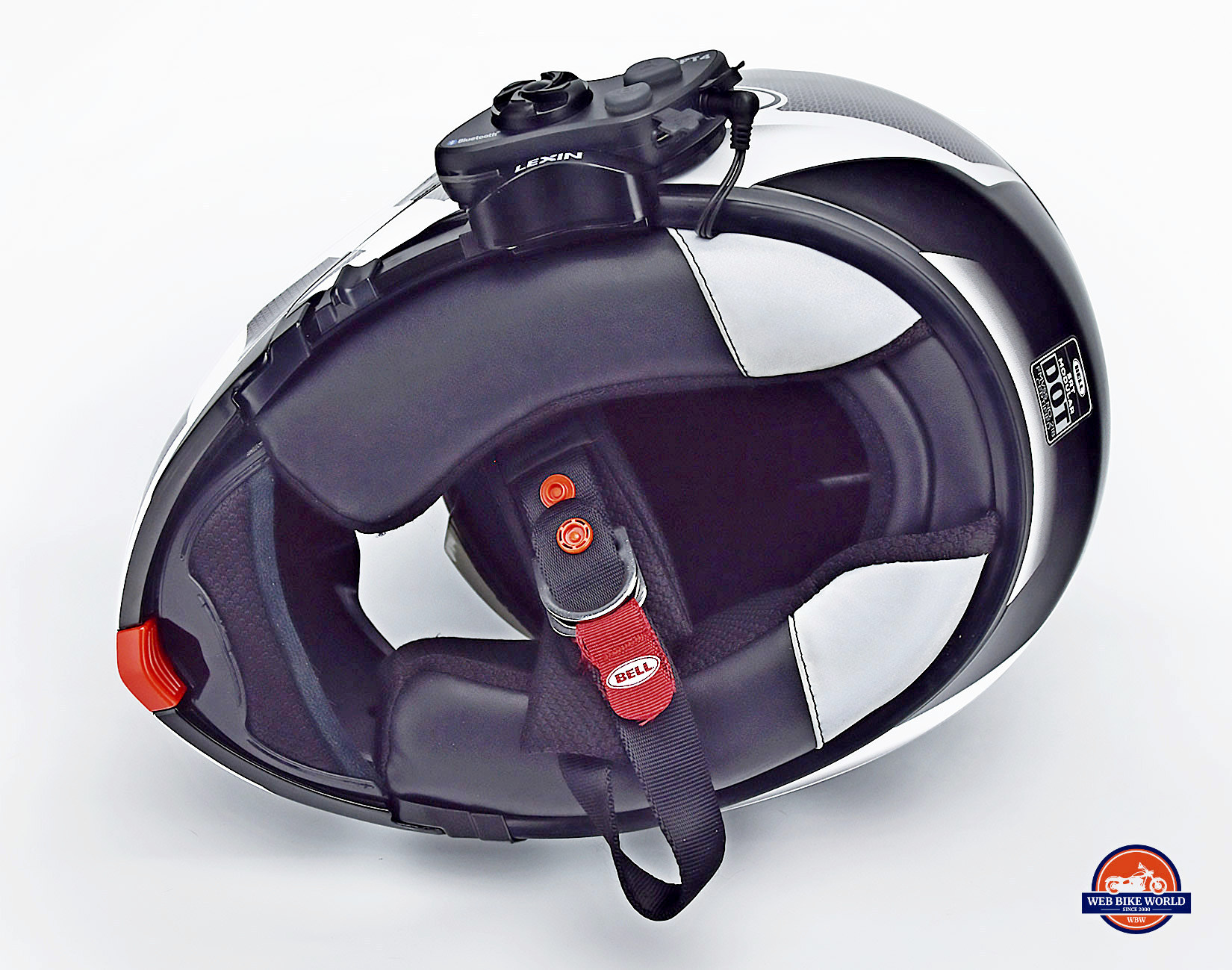 The Lexin LX FT4 Communicator is a winner. It's not the fanciest or flashiest Bluetooth device on the market but I would rate it the one most worth the price based on what it can do for $150 USD.
For $200 USD I'd definitely go with the RAM Mounts X-Grip combination package as well. It's a beauty!
Thanks to Steve for helping me do such a thorough review and testing of these devices and reminding me about it.
I'm interested to see whether in the next version of this device (the FT5 perhaps?) it'll be the voice of WonderWoman I'll find on the device.
Pros
Strong & durable build
Water-resistant IP67 (or better?)
Inexpensive compared to competition
Lightweight
Fairly user-friendly
Easy firmware updates
Easy installation
Great combo kit with RAM X-Grip Mount
Long battery life & fast recharging
2-year warranty
Cons
Disappointing microphone and speaker
Range isn't as advertised
No voice command
Very garbled voice announcer is hard to understand