Australian motorcycle riders love their road bikes.
Road bike sales rose marginally by 0.3% to 43,724, representing 39% of all the 113,289 new motorcycles, ATVs and scooters sold in 2013.
Around 34% bought an off-road bike with sales of 39,013 (3.1%), almost 19% bought an ATV (21,072, -10.6%) and around 8% bought a scooter (9478, -12.4%), according to official VFacts figures released by the Federal Chamber of Automotive Industries (FCAI).
While the whole market dropped slightly by 2.2% to 113,289, it appears more riders are joining the two-wheel brigade with many learner bikes among the top sellers.
The sales leader was the Kawasaki Ninja 300 learner bike, despite being voluntarily pulled from the market for a short time to fix ABS and ECU problems.
Even Honda's ubiquitous CT110 postie bike dropped to seventh behind mini bikes, small-capacity dirt bikes and Honda's CBR250R learner bike.
The bump in learner bikes was expected after Western Australia last year finally joined the rest of the country on the Learner Approved Motorcycles Scheme (LAMS), in which learners can choose from bikes up to 659cc with a power-to-weight ratio up to 150kW/tonne.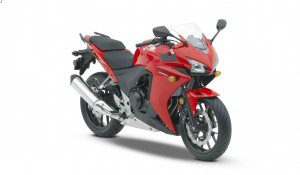 Consequently, learner bikes topped almost every category.
 Honda's new 500cc models, the CBR500R and CBR500FA, topped the sports and naked bike categories.
The Kawasaki KLR650 again topped the adventure bike category with Suzuki's DLR650A in third behind the BMW R 1200 GS.
Yamaha's XVS650 again topped the cruiser sector while the rest of the category was dominated by Harley-Davidson which was second in road bikes with sales up 5% to 8217, representing almost 19% of the road market.
In this climate of learner bike sales frenzy, Harley will be sweating on a possible early release for its new Street 500 learner bike from India or America. However, the official release is not until this time next year.
Leading road bike company was again Honda with 8998 sales (up 2.4% and 20% of the market). Kawasaki was third with about 6852 sales, up 8.4% and 16% of the road sector.
Releasing the 2013 motorcycle, ATV and scooter sales figures, Federal Chamber of Automotive Industries (FCAI) chief executive Tony Weber says the boom in learner bikes and cruisers augers well for the industry's future.
"Learners doing well and cruisers doing well indicates a bright future for our industry," he says.
"It shows a movement toward leisure and discretionary expenditure.
"People later in life have paid off the mortgage and decide they might buy themselves the dream machine. While they might not be able to buy afford a Ferrari, they can afford a fancy bike."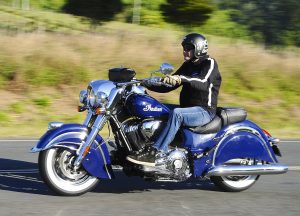 A good example of the cruiser craze was the return of the Indian Chief which sold out before it hit our shores.
Tony says the bikie crackdown in Queensland did not have any affect on bike sales.
"We did a bit of research on it and found no evidence that it has had any effect whatsoever," he says.
Tony pointed out that while road and off-road sales were positive, ATV and scooter sales have "come off the boil" in the past few years.
"Scooters were a bit more of a fashion item a few years ago and the novelty has come off and there a lot of seocnd-hand scooters sitting around," he says.
"ATVs were also down which may reflect tougher times in the farming communities and the downturn in mining."
Honda was again top manufacturer with around 22% of the market, selling 25,432 motorcycles, ATVs and scooters.
It was followed by Yamaha with almost 18% market share and 20,087 sales. Kawasaki was third with around 10% (11,683) and Suzuki fourth with 9.5% (10,818).
Yamaha led the market for off-road motorcycles, selling more than 29% (11,553) of the total 39,013 off-road bikes sold, up 3%. Honda had 26% (10,317) and KTM 16% (6211).
Top 10 manufacturers
Honda 25,432 (-2.3%)
Yamaha 20,087 (-0.5%)
Kawasaki 11,683 (7.1%)
Suzuki 10,818 (-13.2%)
Harley 8217 (5%)
KTM 7090 (19.7%)
Polaris 4450 (-16.4%)
Triumph 3029 (-0.9%)
CFMoto 2496 (11.1%)
BMW 2198 (3.4%)
Top 10 road manufacturers
Honda 8998 (2.4%)
Harley 8217 (5%0
Kawasaki 6852 (8.4%)
Yamaha 3988 (0.7%)
Suzuki 3756 (-14.8%)
Triumph 3029 (-0.9%)
BMW 2099 (-0.6%)
Ducati 1772 (-8.4%)
Hyosung 992 (-30.6%)
KTM 870 (145.1%)
TOP 10 (excludes ATVs) Jan-Dec, 2013 compared with Jan-Dec, 2012
Manufacturer
Model
YTD 2013
YTD 2012
% Chg
Kawasaki
Ninja 300
3560
1066
234.0%
Honda
CRF50F
2731
3030
-9.9%
Yamaha
TTR50
1808
1777
1.7%
Honda
CBR500R
1748
0
#DIV/0!
Yamaha
WR450F
1684
1516
11.1%
Honda
CBR250R
1580
2514
-37.2%
Honda
CRF110F
1492
348
328.7%
Honda
CT110X
1489
2145
-30.6%
Yamaha
PW50
1342
1649
-18.6%
Honda
CB125E
1218
1398
-12.9%
ATVs January – Dec, 2013 compared with Jan-Dec, 2012
Manufacturer
Model
YTD 2013
YTD 2012
% Chg
Honda
TRX250
1013
1320
-23.3%
Yamaha
YFM90
779
1037
-24.9%
Honda
TRX420TM
590
717
-17.7%
CF MOTO
Farm Spec X5
582
0
100.0%
Honda
TRX500FM
525
551
-4.7%
Polaris
Outlaw 50
509
747
-31.9%
Yamaha
YFM450FAP
484
531
-8.9%
Honda
TRX420FM
477
500
-4.6%
Polaris
Sportsman 550 XP
458
759
-39.7%
Yamaha
YFM550
449
357
25.8%
Road Bikes Jan-Dec, 2013 compared with Jan-Dec, 2012
Manufacturer
Model
YTD 2013
YTD 2012
% Chg
Kawasaki
Ninja 300
3560
1066
234.0%
Honda
CBR500R
1748
0
100.0%
Honda
CBR250R
1580
2514
-37.2%
Honda
CT110X
1489
2145
-30.6%
Honda
CB125E
1218
1398
-12.9%
Yamaha
XVS650
1029
981
4.9%
Harley Davidson
FXSB
748
0
100.0%
Kawasaki
Ninja 650RL
743
602
23.4%
Harley Davidson
FXDF
707
769
-8.1%
Harley Davidson
FXDWG
607
598
1.5%
 Cruisers Jan-Dec, 2013 compared with Jan-Dec, 2012
Manufacturer
Model
YTD 2013
YTD 2012
% Chg
Yamaha
XVS650
1029
981
4.9%
Harley Davidson
FXSB
748
0
100.0%
Harley Davidson
FXDF
707
769
-8.1%
Harley Davidson
FXDWG
607
598
1.5%
Harley Davidson
VRSCDX
597
571
4.6%
Harley Davidson
FXST
577
596
-3.2%
Harley Davidson
FXDB
559
294
90.1%
Harley Davidson
FLSTF
511
770
-33.6%
Harley Davidson
XL883N
493
496
-0.6%
Ducati
Diavel
363
373
-2.7%
Scooters Jan-Dec, 2013 compared with Jan-Dec, 2012
Manufacturer
Model
YTD 2013
YTD 2012
% Chg
Piaggio
Fly 150
516
600
-14.0%
MCI
Riviera 50
506
495
2.2%
Piaggio
ZIP 50
369
399
-7.5%
Honda
NVS502
356
366
-2.7%
Honda
NSC110
294
414
-29.0%
Honda
WW150
293
50
486.0%
Yamaha
YW125
259
193
34.2%
Vespa
LX 150
250
195
28.2%
Piaggio
Typhoon
233
294
-20.7%
Vespa
GTS 300 SUPER
225
226
-0.4%
Sports Touring Jan-Dec, 2013 compared Jan-Dec, 2012
Manufacturer
Model
YTD 2013
YTD 2012
% Chg
Kawasaki
Ninja 300
3560
1066
234.0%
Kawasaki
Ninja 650RL
743
602
23.4%
Yamaha
FZ6R
357
241
48.1%
Suzuki
GS500F
284
210
35.2%
Suzuki
GSX1300R
199
155
28.4%
Suzuki
GSX650F
152
175
-13.1%
Kawasaki
VERSYS
148
117
26.5%
Kawasaki
Ninja 1000
140
198
-29.3%
Honda
VFR800
134
189
-29.1%
Triumph
Sprint GT
95
144
-34.0%
Under 250cc Jan-Dec, 2013 compared with Jan-Dec, 2012
Manufacturer
Model
YTD 2013
YTD 2012
% Chg
Honda
CBR250R
1580
2514
-37.2%
Honda
CT110X
1489
2145
-30.6%
Honda
CB125E
1218
1398
-12.9%
Yamaha
YZF-R15
580
486
19.3%
CF MOTO
V-NIGHT
317
153
107.2%
KTM
200DUKE
263
89
195.5%
Suzuki
VL250
250
238
5.0%
Suzuki
GW250
244
73
234.2%
Suzuki
TU250X
212
215
-1.4%
Hyosung
GT250R
174
371
-53.1%
Adventure Touring Jan-Dec, 2013 compared with Jan-Dec, 2012
Manufacturer
Model
YTD 2013
YTD 2012
% Chg
Kawasaki
KLR650
399
446
-10.5%
BMW
R1200 GS
370
305
21.3%
Suzuki
DL650A
311
488
-36.3%
BMW
G650 GS
298
310
-3.9%
Honda
CB500XA
297
0
100.0%
Triumph
Tiger 800 XC
205
213
-3.8%
Ducati
MTS1200
198
202
-2.0%
BMW
F800 GS
172
202
-14.9%
BMW
R1200 GS Adventure
164
186
-11.8%
BMW
F 700 GS
158
46
243.5%
Naked Jan-Dec, 2013 compared with Jan-Dec, 2012
Manufacturer
Model
YTD 2013
YTD 2012
% Chg
Honda
CB500FA
475
0
100.0%
Triumph
STREET TRIPLE
439
273
60.8%
Ducati
M659
366
353
3.7%
Kawasaki
ER-6nL
297
294
1.0%
Suzuki
GS500
218
193
13.0%
Triumph
BONNE T100
203
236
-14.0%
Yamaha
XJ6-NL
197
75
162.7%
Honda
CB400
175
360
-51.4%
Kawasaki
W800
175
187
-6.4%
Triumph
SPEED TRIPLE
175
173
1.2%
Super Sport Jan-Dec, 2013 compared with Jan-Dec, 2012
Manufacturer
Model
YTD 2013
YTD 2012
% Chg
Honda
CBR500R
1748
0
100.0%
Honda
CBR1000RR
468
458
2.2%
Hyosung
GT650R
350
464
-24.6%
Ducati
1199 Panigale
291
364
-20.1%
Suzuki
GSX-R1000
277
372
-25.5%
Yamaha
YZF-R1
272
366
-25.7%
Triumph
DAYTONA 675
254
237
7.2%
BMW
S 1000 RR
252
311
-19.0%
Kawasaki
Ninja ZX-10R
231
284
-18.7%
Kawasaki
Ninja ZX14
210
298
-29.5%
Touring Jan-Dec, 2013 compared with Jan-Dec, 2012
Manufacturer
Model
YTD 2013
YTD 2012
% Chg
Harley Davidson
FLSTC
250
261
-4.2%
Harley Davidson
FLHX
149
164
-9.1%
CF MOTO
650TK
139
0
100.0%
Yamaha
FJR1300
131
92
42.4%
Honda
GL1800
123
122
0.8%
Harley Davidson
FLHR
122
250
-51.2%
BMW
R1200 RT
86
106
-18.9%
Kawasaki
1400GTR
82
86
-4.7%
Harley Davidson
FLHTCU
80
133
-39.8%
Harley Davidson
FLHTK
74
1
7300.0%
Super Motard Jan-Dec, 2013 compared with Jan-Dec, 2012
Manufacturer
Model
YTD 2013
YTD 2012
% Chg
Suzuki
DR-Z400SM
114
106
7.5%
KTM
990SMT
48
28
71.4%
Ducati
Hypermotard
31
0
100.0%
Husqvarna
SMR511
27
61
-55.7%
Aprilia
Dorsoduro 1200
22
21
4.8%
Ducati
HM1100
21
43
-51.2%
KTM
690SMC
21
3
600.0%
Kawasaki
KLX250SL
19
55
-65.5%
KTM
450SMR
16
3
433.3%
Aprilia
Dorsoduro 750
12
27
-55.6%
Off Road Jan-Dec, 2013 compared with Jan-Dec, 2012
Manufacturer
Model
YTD 2013
YTD 2012
% Chg
Honda
CRF50F
2731
3030
-9.9%
Yamaha
TTR50
1808
1777
1.7%
Yamaha
WR450F
1684
1516
11.1%
Honda
CRF110F
1492
348
328.7%
Yamaha
PW50
1342
1649
-18.6%
Yamaha
YZ450F
1137
910
24.9%
Honda
CRF450R
1066
737
44.6%
Yamaha
YZ250F
1015
890
14.0%
Suzuki
DR-Z400E
990
888
11.5%
Yamaha
TTR110
908
714
27.2%
Enduro Jan-Dec, 2013 compared with Jan-Dec, 2012
Manufacturer
Model
YTD 2013
YTD 2012
% Chg
Yamaha
WR450F
1684
1516
11.1%
Suzuki
DR-Z400E
990
888
11.5%
KTM
500EXC
725
621
16.7%
KTM
350EXCF
709
654
8.4%
KTM
300EXC
530
451
17.5%
KTM
450EXC
460
481
-4.4%
Yamaha
TT250
419
333
25.8%
Husqvarna
TE449
298
230
29.6%
Husqvarna
TE510
294
239
23.0%
Husqvarna
TE310
255
202
26.2%
Moto Cross Jan-Dec, 2013 compared with Jan-Dec, 2012
Manufacturer
Model
YTD 2013
YTD 2012
% Chg
Yamaha
YZ450F
1137
910
24.9%
Honda
CRF450R
1066
737
44.6%
Yamaha
YZ250F
1015
890
14.0%
Kawasaki
KX250F
837
908
-7.8%
Honda
CRF250R
811
691
17.4%
KTM
50SX
673
572
17.7%
Kawasaki
KX450F
631
724
-12.8%
Suzuki
RM-Z250
511
611
-16.4%
KTM
85SX
478
349
37.0%
Suzuki
RM-Z450
458
477
-4.0%
Fun Jan-Dec, 2013 compared with Jan-Dec, 2012
Manufacturer
Model
YTD 2013
YTD 2012
% Chg
Honda
CRF50F
2731
3030
-9.9%
Yamaha
TTR50
1808
1777
1.7%
Honda
CRF110F
1492
348
328.7%
Yamaha
PW50
1342
1649
-18.6%
Yamaha
TTR110
908
714
27.2%
Kawasaki
KLX110
882
606
45.5%
Kawasaki
KLX140
579
498
16.3%
Yamaha
TTR125
530
540
-1.9%
Suzuki
JR80
426
365
16.7%
Suzuki
DR-Z70
388
412
-5.8%
Farm Jan-Dec, 2013 compared with Jan-Dec, 2012
Manufacturer
Model
YTD 2013
YTD 2012
% Chg
Suzuki
DR200SE
632
651
-2.9%
Yamaha
AG200
546
314
73.9%
Honda
CTX200
475
666
-28.7%
Kawasaki
Stockman 250
146
169
-13.6%
Honda
XR125L
130
0
100.0%
Yamaha
AG100
80
97
-17.5%
Trail Jan-Dec, 2013 compared with Jan – Dec, 2012
Manufacturer
Model
YTD 2013
YTD 2012
% Chg
Honda
CRF230F
876
1186
-26.1%
Honda
CRF250L
840
539
55.8%
Suzuki
DR650SE
611
727
-16.0%
Yamaha
TTR230
521
401
29.9%
Husqvarna
TR 650 Terra
210
11
1809.1%
Yamaha
XT250
189
192
-1.6%
Yamaha
XT660
53
86
-38.4%
Suzuki
DR-Z400S
53
73
-27.4%
Honda
CRF230L
37
135
-72.6%
Honda
XR650L
1
3
-66.7%