Jay Leno, an electric Victory Motorcycle and sparkling new Indian Motorcycle colours have fired the first salvo against the might of Harley-Davidson at the 75th annual Sturgis Motorcycle Rally (August 3-9, 2015).
The rally, which now has Harley as the naming rights sponsor for the next 75 years, is tipped to attract a million people who will witness a showdown between America's big-gun motorcycle marques.
However, Victory and Indian are fighting back for the limelight, starting with Jay Leno surprising a bunch of military veterans who were picking up their Indians for the annual Veterans Charity Ride to Strgis. When the garage opened, they found themselves among Jay's personal collection of bikes and cars.
Then Victory gazumped Harley by launching its  Victory Empulse TT electric motorcycle while Harley is still in the prototype phase with its electric LiveWire. the bike will be on show at Sturgis and a highlight of their stunt team which also includes supercharged baggers.
The rally was started in 1938 by Indian Motorcycle dealer J.C. "Pappy" Hoel yet in recent years it's become a de facto Harley-Davidson event.
However, Indian stole it back with the major releases of the re-birthed Indian Chief in 2013 and the Indian Scout in 2014 as well as massive displays of Indian and Victory motorcycles.
Now Harley-Davidson has reclaimed the rally with the 75-year sponsorship deal that includes taking over the centre of town with a permanent plaza on Main Street that will be the hub of festivities and a year-round Mecca for Harley riders.
It includes a stage for rally concerts, as well as weddings and other non-rally events.
Victory boss Rod Krois believes Harley's sponsorship move was a direct response to the major presence by Indian and Victory at the past two rallies.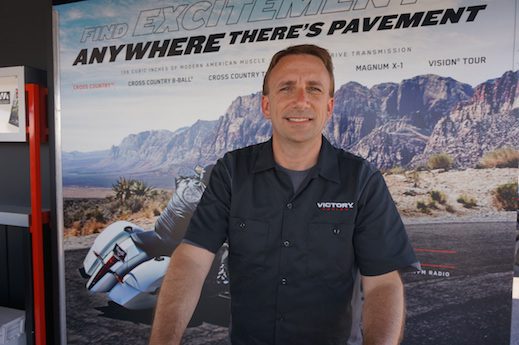 Indian and Victory are hitting back with their entire 2016 model line-up including their new Victory Empulse TT electric motorcycle and a range of bright new coloured Indians.
The Polaris brands will also show several custom race bikes, including their salt flat racer the Black Bullet Scout, their Isle of Man TT Zero Victory Empulse electric racer and their Roland Sands Design Victory Project 156 which tackled the recent Pikes Peak International Hillclimb.
During the rally, Indian will raffle off five limited edition 2016 Chief Classics.
Although the official Harley program says they will only have their 2015 model line-up on show, Harley must be keen to assert its leadership.
If so, then we suspect there could be some big news with possibly exclusive reveals of revamped Sportster and V-Rod models which are long overdue for a refresh.
The Sportster is due for a new engine and six-speed transmission, while the Street Rod may make a comeback after Harley recently re-registered the trademark.
Harley hasn't used Sturgis to reveal new models, waiting for the following month when it has its annual international dealer conference. However, they could be tempted with strong showings from the Polaris brands.
While the rally starts next Monday (August 3), the parties start this Friday at the Indian/Victory dealership in Lazelle St and on Saturday at the Harley plaza.
We attended the rally last year when only 400,000-odd patrons showed up, yet it was still a wild and crowded event. This year's rally should be the party to end all parties and it seems Harley, Indian and Victory are pulling out all stops to make it special.