Sponsorship deals don't usually make the news, but it does when Harley-Davidson signs a massive 75-year deal to be the official bike of the Sturgis Rally.
The annual event in South Dakota is the world's biggest motorcycle rally, attracting a record of 660,000 in 2000 and expecting to host one million riders for its 75th anniversary this August.
It's also significant because fellow American cruiser companies Victory and Indian have made Sturgis their choice for the launch of significant new models in the past couple of years.
In 2013, Sturgis was the venue for the world launch of the rebranded Indian Chief under the new ownership of Polaris which also owns Victory Motorcycles.
Last year, Indian launched the new Scout at Sturgis and has made no bones about using Sturgis as their annual platform for significant product launches.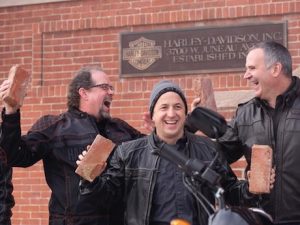 Harley had always considered it was the de facto official bike of the festival with Hogs dominating the streets, even though the rally is open to all makes.
Indian also has some claim to the historical significance of the event as it was an Indian store that started the rally 75 years ago.
However, the new, long-term agreement between the town of 6000 people and Harley-Davidson continues until 2090, preventing competitors from receiving similar lucrative deals.
As part of the agreement, the company will build a permanent plaza on Main Street that will be the hub of festivities and a year-round Mecca for Harley riders. It will include a stage for concerts, weddings and other non-rally events.
To mark the event's 75th anniversary, 75 bricks from the Harley-Davidson Museum, the Milwaukee headquarters and famous motorcycle-only parking area will be delivered to Sturgis and integrated into the plaza. A Harley Street 750 was used to pull the bricks from the buildings.