Victory Motorcycles today (July 29, 2015) releases the Empulse TT electric motorcycle which we road-tested last month in Colorado.
Earlier this year the company bought the Brammo electric motorcycle company and the new TT is basically the Brammo Empulse R with a bigger battery and slightly less power and more torque.
It will be available in the USA later this year at $US19,999 (about $26,700), and will be available around the world next year. It could be closer to $30,000 by the time it arrives in Australia.
Victory Motorcycles Australia and New Zealand Country Manager Peter Harvey is not sure when it will arrive, but says it will be at the Sydney Moto Expo in November to gauge public reaction.
"I'm in two minds about it," he admits. "There's no reason to bring them in at present, plus we can't bring it in until we are ready to service them. Maybe some time next year."
The Victory Emplulse TT gets its name from a combination of the Brammo Empulse and the Isle of Man TT electric prototype race bike that claimed a podium spot for Victory Motorcycles in the TT Zero race in June.
The Brammo name will disappear as an electric bike brand, but the company will continue to develop electric powertrain technology and shift from Oregon to the Polaris manufacturing hub at Spirit Lake, Iowa.
If you look at the technical specifications of the TT, the motor has slightly less power than the Brammo model (from 44.7kW to 40.2kW) marginally more torque (82Nm to 82.7Nm) and the battery capacity has increased (9.3kWh to 10.4kWh).
It also weighs 5kg more and costs an extra $US1000.
There are no official figures on range yet, but the Brammo had up to 130km and they say this is about 10% better, so that's about 143km.
It even looks the same, only with the TT moniker to reflect their third place in the Isle of Man TT electric race.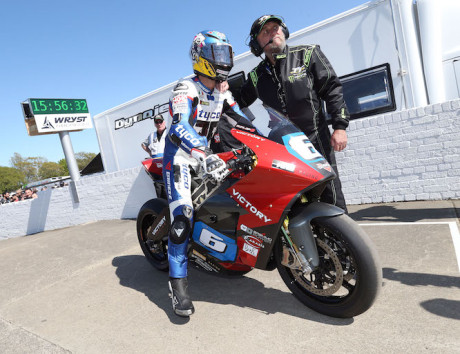 The TT also features the Brammo's chain drive and six-speed transmission while most other electric motorcycle manufacturers have gone with a single-speed direct-drive option which is lighter and has lower maintenance.
However, the Victory execs defend the more traditional motorcycle drive, saying that it makes the bike more familiar to current riders.
Reflecting that bike familiarity, there is a clutch lever and all the controls and instruments look very similar to a conventional motorcycle. There is even a tacho and the charger plugs in where you would expect to fill a fuel tank!
Apart from the lack of exhaust or engine noise when you switch it on, the only major difference from a conventional motorcycle is that neutral is strangely between second and third gears.
It also features inverted forks, an adjustable lay-down rear shock, the motor is bolted directly to the twin-spar frame because there are no vibration issues and the rear subframe is tube steel.
Empulse TT sits on 17-inch wheels with 120/70 ZR17 front and 160/60ZR17 rear Continental Conti Attack tyres.
The TT has MX-style bars, a small headlight cowl, analogue taco with digital LCD screen for speed, range, odometer, gear position, energy consumption, battery status and system status.
Victory Motorcycles flew a select group of 20 of the world's motorcycle media, including MotorBikeWriter to Denver, Colorado, to introduce us to the new Victory Empulse TT electric bike.
Our test ride was done in secret at the High plains Raceway in the middle of nowhere about an hour out of Denver.
The circuit is a little like Broadford and Brands Hatch with its rollercoaster feel, change in elevation, late-apex tightening corners and blind over-crest turns.
Victory PR guru Robert Pandya reminds us that the bikes we are about to ride are pre-production machines that are "about 98% ready".
However, they look pretty finished to me with a high build quality standard and lustrous, deep paintwork.
Close to the summer solstice the temperature is hot and the bikes go out in batches of about five at a time, then get rested up, placed on the charger and cooled down with big fans as heat is the enemy of batteries.
Riders whizz by down the straight and you can still hear the chatter of riders above the gentle whirring of the fans cooling the bikes.
This has got to be the quietest track day ever!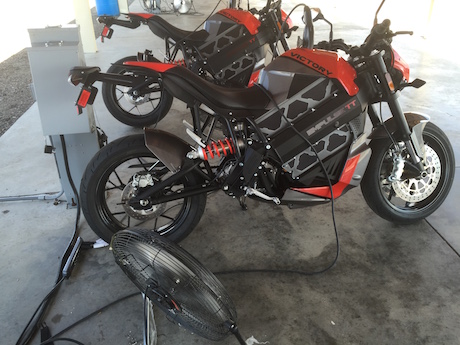 Even if there were neighbours out here in this remote area, they wouldn't complain.
Before we head out on to the circuit, the Victory technicians give us a quick familiarisation with the bike. There is little to learn. Hit the normal-looking ignition button and it comes to life. Press it again and it changes modes between "sport" and "normal". We select sport, of course.
Like all electric bikes, there is no aural indication the bike is running. No engine noise, no exhaust, just some lights on the instruments.
You use the clutch to engage first gear and you can then let the clutch out and it doesn't move until you start twisting the throttle.
All electric bikes have instant maximum torque from the get-go. This would be slightly dangerous, except they have attenuated the throttle, so it eases out of the pits with plenty of slow-speed control for easy feat-up u-turns and negotiating heavy traffic or roundabouts with ease.
The motor whirrs quietly beneath you and there is absolutely no vibe, but everything else feels relatively conventional and familiar.
I click up to second gear and it doesn't feel any different. I click up again and it grabs neutral before clicking through to third gear where we've been told we should leave it for the full circuit.
Now here's the strange thing; the gears almost seem useless. You can take off in third or any gear because of the instant torque and you can leave it in third right through to an indicated 73mph (117km/h) on the main straight.
I tried slipping up a gear or two and gearing down for corners and it made precious little difference, except on one scary occasion when I came into corner and grabbed second only to find I'd actually grabbed neutral.
If you use the gearbox, you'll find it has a light clutch pull and a bit of drive lash and some clunking on shifts. Maybe you can hear the clunking and meshing because there is no engine sound to disguise it.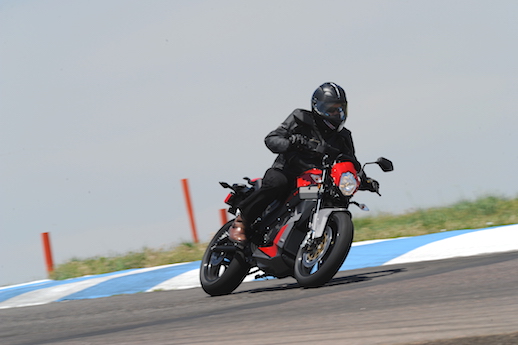 Victory has inherited the transmission from Brammo, but they admit they are considering the possibility of going to direct drive and one gear which would make the bike about 5kg lighter, negate the need for the hydraulic clutch and further reduce maintenance.
Victory Motorcycles PR boss Robert Pandya says they didn't feel the need to re-engineer the transmission at this time.
"There is something familiar about it," he says. "Once you start riding the bike you realise it only needs to be in third gear.
"But we'll consider the transmission. Part of it is do what the customer wants. As it is, it's an easy switch from a normal bike to this."
Interestingly, the TT race prototype has direct drive.
Eschewing gear changes gives me more time to think about cornering line, braking and acceleration around the challenging rollercoaster circuit.
Besides, you don't need to change down gears to get extra braking into corners as throttling off invokes the regenerative braking which slows the bike substantially like a high-compression conventional engine.
In fact, in normal traffic you may not even need to use the brakes as there is so much "engine braking", although not as much as the LiveWire.
Add to that the fact that the bike weighs only 213kg and is shod with twin 310mm Brembo floating disks with twin 4-piston radial-mount callipers up front and a single Brembo disk on the back and this becomes a stoppie stunt machine!
It's almost too much and you have to wonder if one disc up front would have been enough.
Despite the familiarity of the controls, the engine braking takes a little bit of getting used to. At first, you roll off the throttle as you reach what would be your normal braking marker, but find that you have slowed too much.
After a couple of laps you start extending your braking markers.
You can also carry a little bit of throttle through the corners and give it a fistful without the concern of spinning up the back wheel and going into a high-side.
There is plenty of acceleration, but the attenuated throttle means you tend to rip at the throttle and the linear character means there is no surge of power.
You can see you are going fast by the speedo, but without that surge feeling, or aural engine and exhaust roar, it actually seems a little lifeless.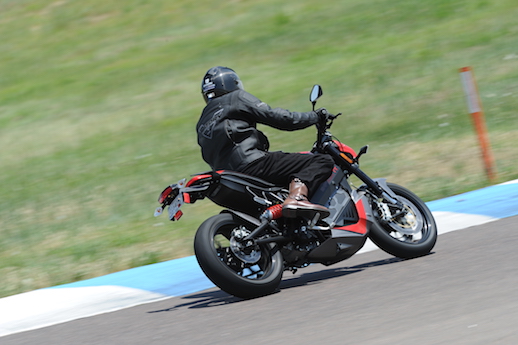 Instead of an aural or visceral feeling of speed, you just get wind rush and it's so quiet at low speeds you can hear the brakes working.
The motor and battery are held low in the bike, so it feels lighter than its 213kg, making it easy to flick around and change direction.
The bike is very narrow and even with an 800mm seat height, most riders will be able to get a fair amount of foot on the ground when they stop.
It also feels stiff in the chassis, thanks to the battery and motor being bolted together on the frame.
The front adjustable forks are a little soft, but there are thicker performance forks available as accessories. Other add-ons include frame sliders and short and tall windscreens.
We've been restricted to about 6-lap sessions so the battery doesn't dip below 30% which makes recharging much slower.
Most batteries charge quickly between 30-80% and this one will charge to 80% in two hours.
Using the standard onboard charger it will charge from flat to full in 7-8 hours, but today we've got the accessory 240-volt quick-charger plugged in where the fuel cap would normally be on a traditional motorcycle.
The quick charger reduces the full charge cycle to 3.5 hours and, together with the cooling fans, keeps the bikes running all day through some heavy sessions in hot conditions.
At the end of the day, we drive away in the bus into a summer thunderstorm, flash flooding and a tornado, convinced that electric bikes are about to cause a storm in our motorcycle markets.
They aren't just quirky looking commuter bikes. And they may not provide the vibe of a conventional bike, but they can still offer plenty of high-speed thrills.
Victory Empulse TT
Price: $US19,999 (about $A30,000)
Warranty: 5 years/unlimited km
Service: only when brake and hydraulic fluids are needed
Motor: Internal permanent magnet AC induction
Power: 40.2kW
Torque: 82.7Nm
Transmission: 6-speed gearbox with multi-plate, hydraulic activated wet clutch
Battery: 10.4 kW-hr Brammo Power Lithium Ion
Battery life: 15,000 cycles from nothing to full charge
Voltage: 103.6 volts / 117.6 volts (max)
Charge times: 2.0 hrs (Level I / 20 to 80% SOC); 3.5 hrs (Level II / 0 to 100% SOC); 8.0 hrs (Level I / 0 to 100% SOC)
Emissions: None
Brakes: Dual 310mm Brembo floating disks with twin 4-piston radial Brembo callipers (front); Brembo single disk with dual piston hydraulic Brembo brake calliper
Top speed: 161km/h-plus
Suspension: Adjustable 43mm inverted forks, Adjustable direct-acting rear shock
Dry weight: 213 kg
Clearance: 185.4mm
Length: 206.5cm
Rake/Trail: 24° / 3.8"
Seat: 800mm
Wheelbase: 1473mm
Tyres: Continental Sport Attack II 120-70 ZR17, 58W / 160/60ZR17 69W
Wheels: 17" x 3.5" / 17" x 4.5"