A recent fatal Sydney car crash has prompted Honda Australia Motorcycle to make an unprecedented third plea for Goldwing owners to check whether their bike is included in a safety recall over faulty airbags.
A 58-year-old man died on July 13 when his Honda CRV crashed and the driver was "struck in the neck by a small fragment" believed to be from a faulty Takata airbag.
The faulty drIver's side airbag inflator is linked to 18 deaths worldwide.
The Takata airbag recall is an international issue involving more than 60 million vehicles worldwide, including some 2.3 million vehicles in Australia. The recall process has been underway internationally since 2009.
The recalled airbag inflator used in the 2008, 2009, 2010 and 2012 Honda Goldwing GL1800 is basically a passenger side airbag, which is different to the driver's side airbag involved in the worldwide fatalities.
Our understanding is that; no Goldwing airbag has been involved in a similar fatality worldwide..
Honda Australia Motorcycle issued the recall again in February 2017, but says only 163 of the 522 bikes affected in Australia have so far been returned to dealers for repair and to fit new inflators.
They say the replacement inflators are a different desiccated type, compared with the original.
"Customers have been contacted up to three times, including 378 phone calls to owners who provided their phone numbers on purchase," an official company release says.
"Honda urges remaining customers who are yet to respond to these contacts to be in touch to ensure their unit is rectified.
"We understand some of these units may have been sold by the original owner and could be in the hands of second and third owners.
"Honda is working with relevant government authorities to obtain the most current contact details in efforts to also be in touch with these newer owners."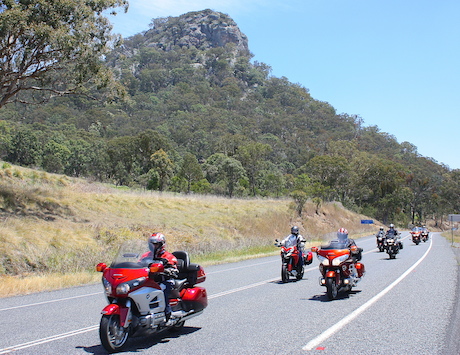 Plea to all motorists
The company also made the unprecedented plea to all motorists who see a 2008-2012 Goldwing on the road to "ask the owner if they have had their airbag changed".
Here is their press release plea:
Honda want to get the message out to all GL1800 Goldwing customers affected to be in touch to be sure all units are repaired.

This recall is ongoing and Honda has been committed to addressing the needs and concerns of our customers who are affected by this issue.

We stand behind the safety and quality of our products.

If you are unsure if your unit is affected, there are several ways you can check:

– Is your Goldwing a 2008 to 2012-year model?

– Check by finding your VIN stamped on the head stem

– Then check your VIN online at: http://motorcycles.honda.com.au/PUD

– Or call Honda Customer Service 1300 559 846

– Or visit your local Honda motorcycle dealer

Or if your Goldwing looks like any of those included in this release, please be in touch with Honda at your soonest convenience.

A full list of affected vehicles can be found on the FCAI website or via www.productsafety.gov.au

Honda Goldwing 40th anniversary model
Recall notices are issued by the manufacturer through a voluntary industry code under the ACCC.
Despite hundreds of recalls by various automotive manufacturers, only a handful have been mandatory. All others have been issued by the manufacturer.
While any recall is not good news for the manufacturer, it shows that they are largely diligent in fixing problems.
If you believe there is an endemic problem with your bike that should be recalled, contact the ACCC on 1300 302 502.
To check whether your motorcycle has been recalled, click on these sites:
• USA
• UK