One of four 1969 Honda CB750 prototypes has sold on eBay for a record $US148,100 ($163,844) after attracting 102 bids.
The rare bike is one of only four prototypes of the famous first superbike. The four pre-production prototypes were built in 1968 to unveil at their annual Las Vegas Motorcycle Dealer Show and star in ads and promos. Honda sent four candy-coloured, hand-made, pre-production bikes to the US in red, gold, dark green and the blue/green prototype.
MORE PHOTOS ON OUR PINTEREST PAGE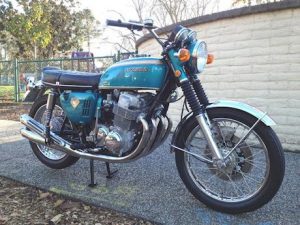 Sadly, only two remain. The red bike was taken to the crushers in Iowa back in the early 1990s, the gold bike went to Europe where it was pulled apart by its owner and still remains in pieces, the whereabouts of the dark green bike are unknown and the blue/green bike sold recently in the eBay auction.
The prototypes were an instant hit with the press and the fans. It was known as the first superbike and made quite an impression with its smooth and powerful transverse in-line cylinder 736cc engine, electric start and front disc brake. The first 7000 CB750 production bikes became known as the Sandcast CB750s because the engine casing was cast in sand. Original condition sandcast models now sell for as much as $75,000.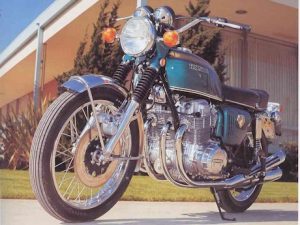 This prototype also features sand cast engine covers. Other quirky features of the prototype are unusual clutch and valve covers, wedge-shaped transmission cover, a billet crankshaft, hand hammered and welded exhaust pipes and no kill switch.
The seller, Vic World, of World Motorcycles, found the motorcycle through a friend some years ago. He says it did not need restoration, just a clean-up and reassembly. The original paint and overall condition was "quite nice".
The new owner is unknown, but so long as the European gold bike remains in piece, the blue/green prototype should appreciate in value.