Review Summary
The Himiway City Pedelec is an urban-focused eBike designed for smooth rides on paved surfaces and demanding inner-city commutes. Well-made, easy to put together, and fun to ride. It is offered as a European-only model.
Pros
Tough and sturdy frame that feels reliable and inspires confidence
A selection of impressive parts not often found on a bike of this price
Easy assembly with all tools included
Cons
The saddle is very uncomfortable
No obvious way to remove the speed restrictions
Headlight beam isn't so bright
The Himiway City Pedelec is an urban-focused eBike designed for smooth rides on paved surfaces and demanding inner-city commutes. I've had more than my fair share of experience with the Himiway brand and so far I have been incredibly impressed by what I've seen. Naturally, when Himiway asked me to test and review their European-only City Pedelec, I jumped at the chance.
As mentioned, the City Pedelec model is a European-exclusive. It's still mentioned as part of the 2021 Himiway line-up, but North American customers aren't going to be able to buy this model. Don't be disappointed though, because the problem with EU-only models is that they ship with EU-specific restrictions. And that's quite annoying, but we'll get to that later on.
I realize that this is an eBike designed for urban commuters and after the year that we've all had, "commute" can mean different things to different people. For me, my daily commute has devolved significantly from getting up in one room and moving to another, to waking up and just propping myself up to a different angle.
So, full disclaimer: I have not cycled into any office of any kind using this over the past few months. But we're getting ahead of ourselves, this is just the unboxing article.
After saying a big "yes" to our contact at Himiway, a big box showed up on my doorstep a few days later—accompanied by the most unhelpful delivery driver I've ever had the pleasure of meeting. So without further ado, let's see what was in the box.
Himiway provided us with the City Pedelec at no cost for the purposes of this (and future) reviews. We also have an affiliate relationship with Himiway and receive a small commission if you purchase an eBike via our links. Note that brands sending us gear for review must agree to our extensive review policies. Thank you for supporting us.
2021 Himiway City Pedelec Specs
Price: €1.499,00 (EU model only)
Buy: Himiway City Pedelec
Motor: 250w Brushless Gear Hub Motor / 45 Nm Torque
Est. Range: 75 mi / 120km (pedal assist)
Top Speed: Restricted to 25 mph / 40 kph
Pedal Sensor: Cadence, with 5 PAS levels
Battery: 36v 18.2AH Samsung Lithium Battery (655WH)
Transmission: Shimano 7-speed free-wheel
Overall Weight: 57 lbs / 26 kg
Payload Capacity: 264 lbs / 120 kg
You can find the full specs on the Himiway website.
Unboxing The 2021 Himiway City Pedelec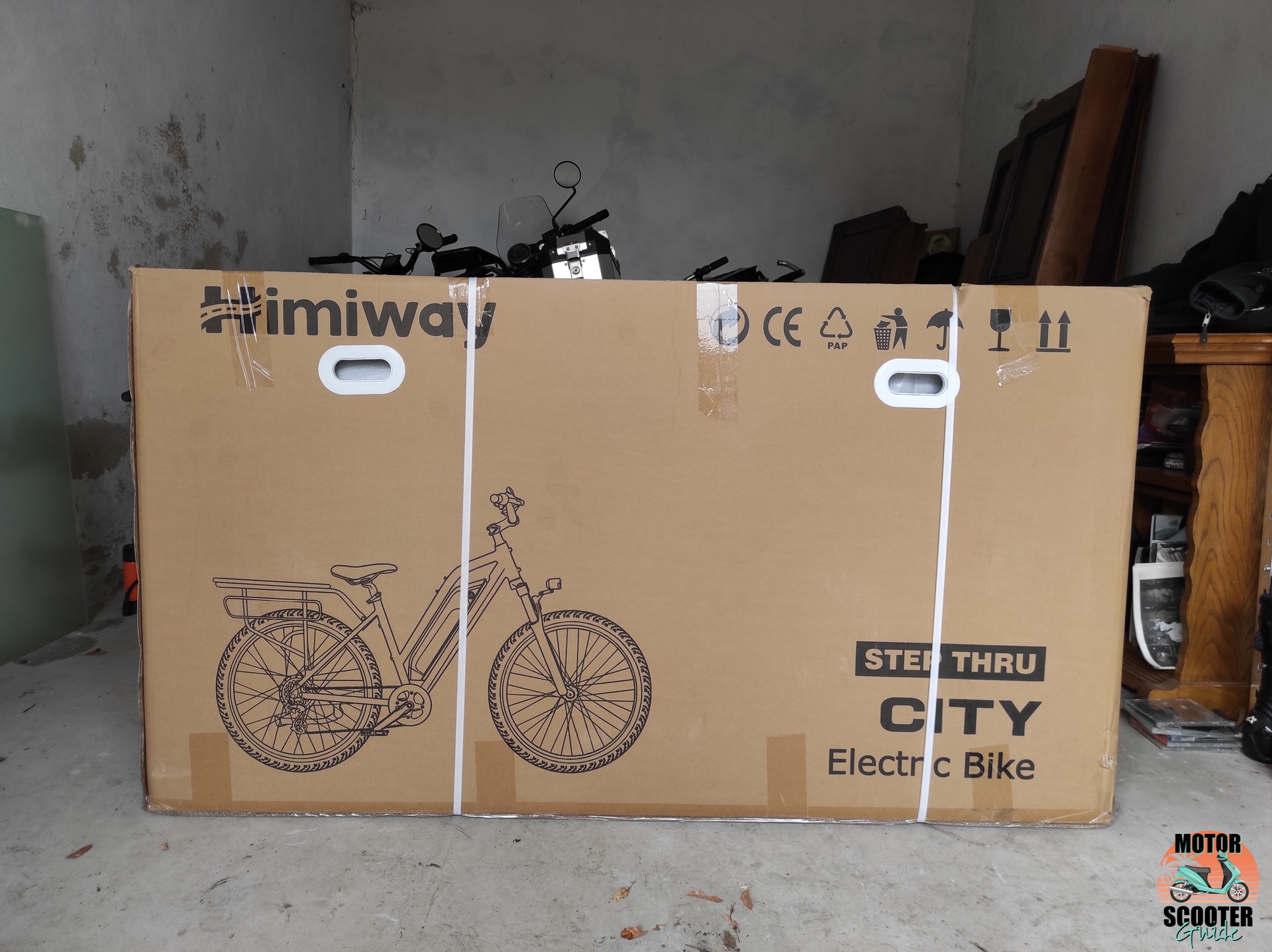 Very much like the Himiway Cruiser that I had the pleasure of unboxing before, the City Pedelec arrived in a sturdy cardboard box delivered directly to… the end of my driveway, I guess. When the Cruiser arrived last time, the delivery guy was only too pleased to bring it right up to my door.
This time, I didn't get the premium service, but that's ok. These boxes are very easy to carry. They're large, but they come with plastic carry-handles that make it easy to lift.
Unlike last time, I felt like the garage was a more appropriate place to unbox and assemble the new eBike rather than on the kitchen floor, so that's where the magic happened.
Unboxing anything and documenting it is something of an art, or rather, a huge test of self-control. I have none of the latter, so while I tried to document everything as best as I could, I couldn't help sticking parts together as I went. So, here's what I learned:
Packaging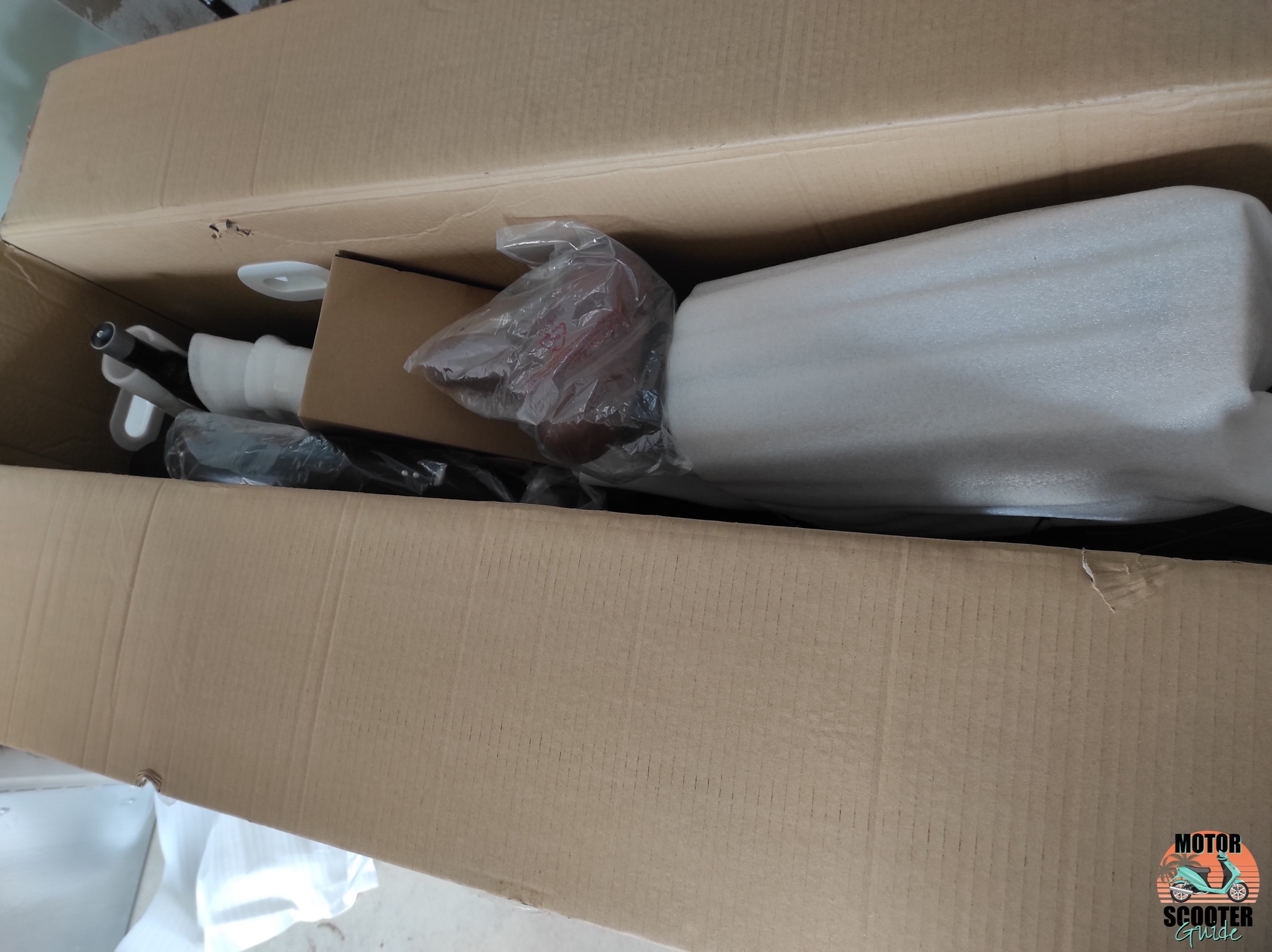 As expected, the City Pedelec was shipped in a tough and sturdy cardboard box, complete with soft packing materials, polystyrene protectors, bubble-wrap, and everything you'd expect for an item like this. What I would recommend is seeing my colleague Cameron's unboxing of the Himiway Cruiser to see a picture of how to open these kinds of boxes like a pro. Once again, I just went from the top and pulled out all of the goods.
Box Contents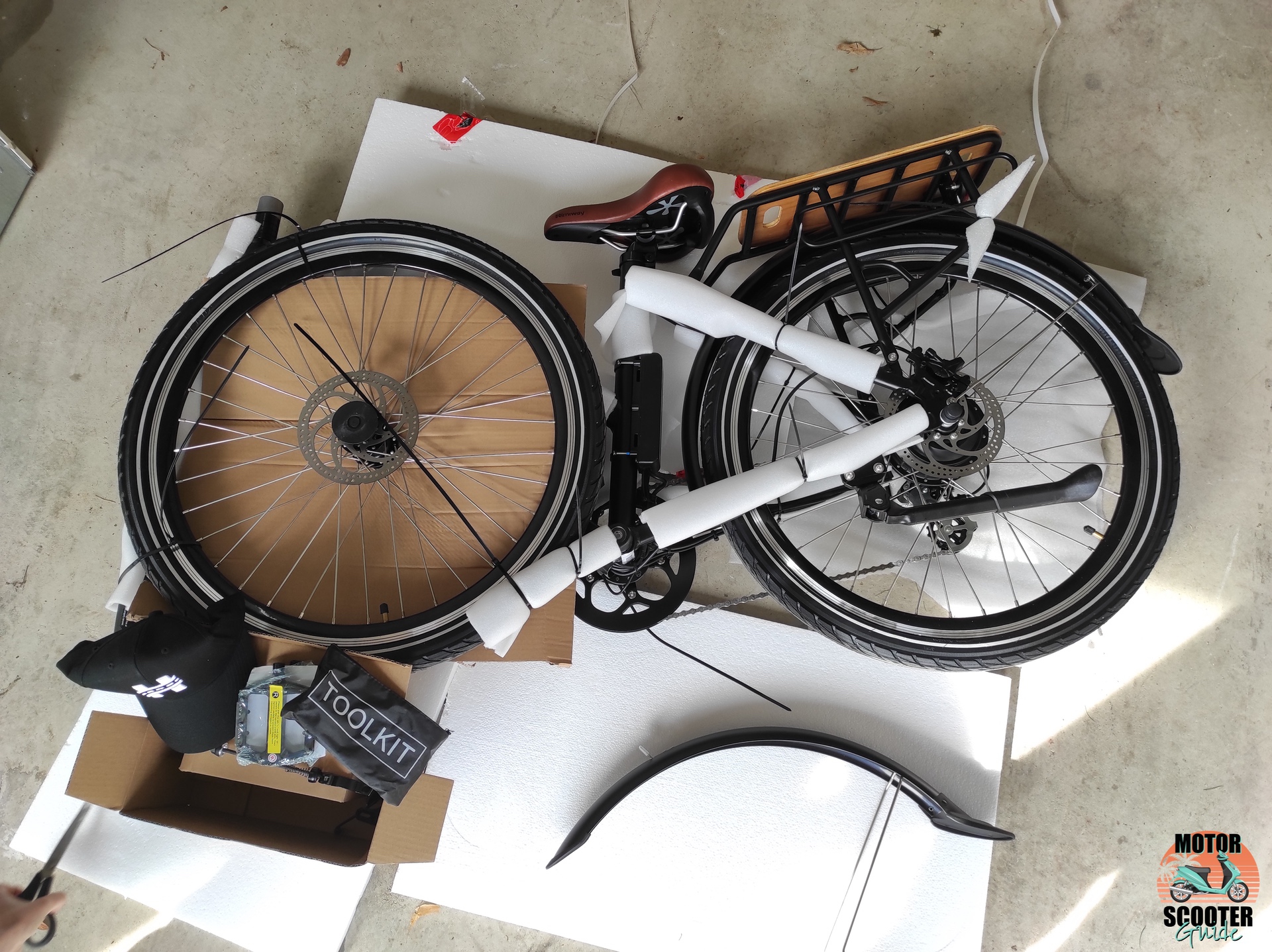 Inside this massive box, customers will find a smaller box, which includes several all-important goods, such as the pedals, a front wheel axle, tool bag, headlight, battery charger, and of course, a bit of Himiway merch in the form of a branded baseball cap. Underneath that, the bike begins.
The Himiway City Pedelec can be removed from the box in more-or-less one piece. The frame pulls out with the rear wheel and front forks already installed, with the front wheel attached to the frame with a series of cable-ties.
The handlebar was also attached, but only by the wiring harness. It needs to be handled with care before it's fully installed to prevent any unnecessary strain on the wiring.
Battery Unit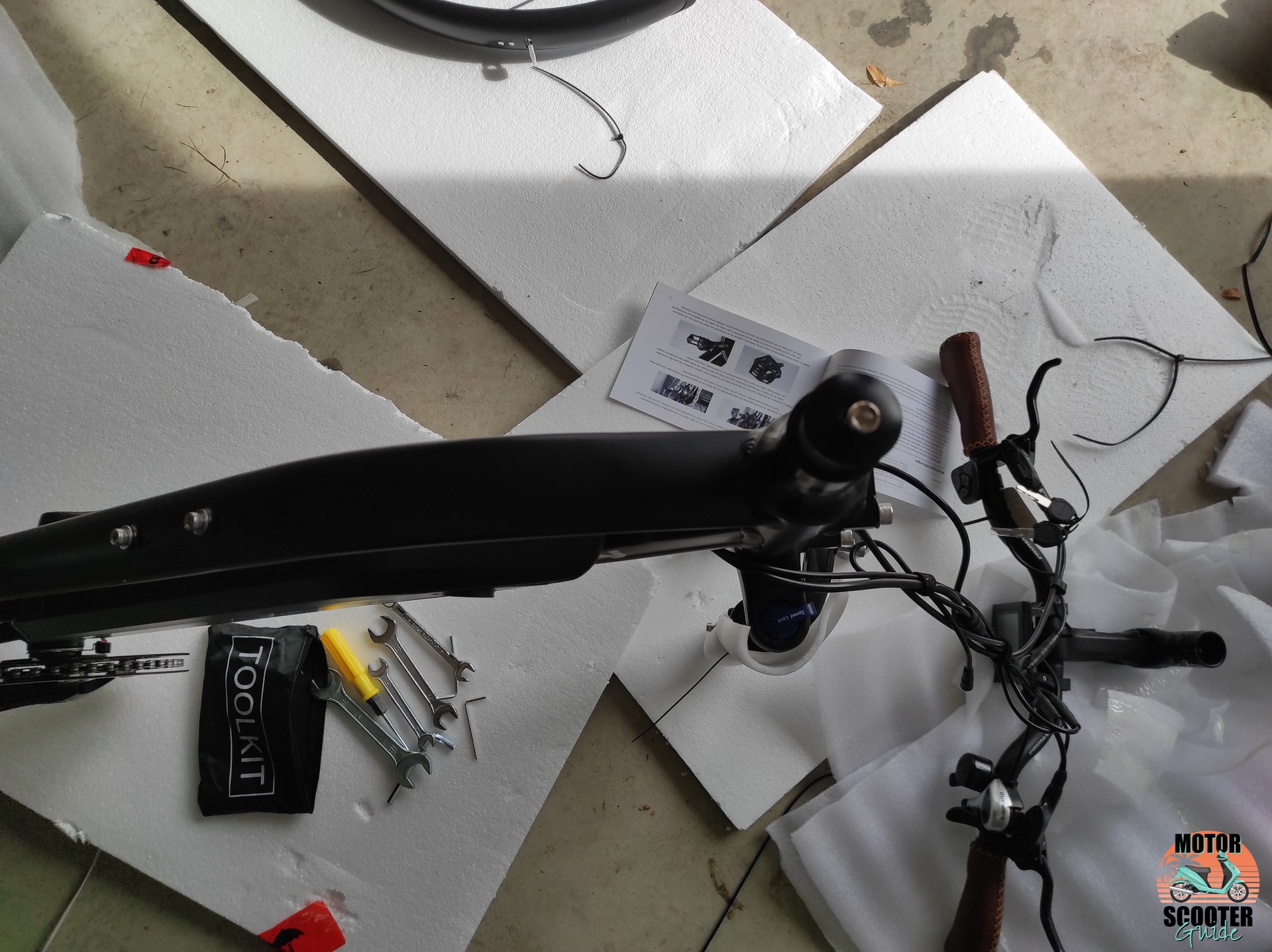 The battery unit is similar to that found on most eBikes: a long weighty thing that attaches directly to the frame. It's lockable, clicks into place, and features a very handy battery-life gauge that allows you to see the state of the battery even when it's not attached to the bike.
The battery itself is a 36V 18.2Ah Samsung lithium-ion unit with a capacity of 655 Wh, and an estimated range of 120km + per charge in pedal-assist mode. I've thoroughly tested this battery with another Himiway bike, and honestly, it does exactly what it says it can do.
Assembly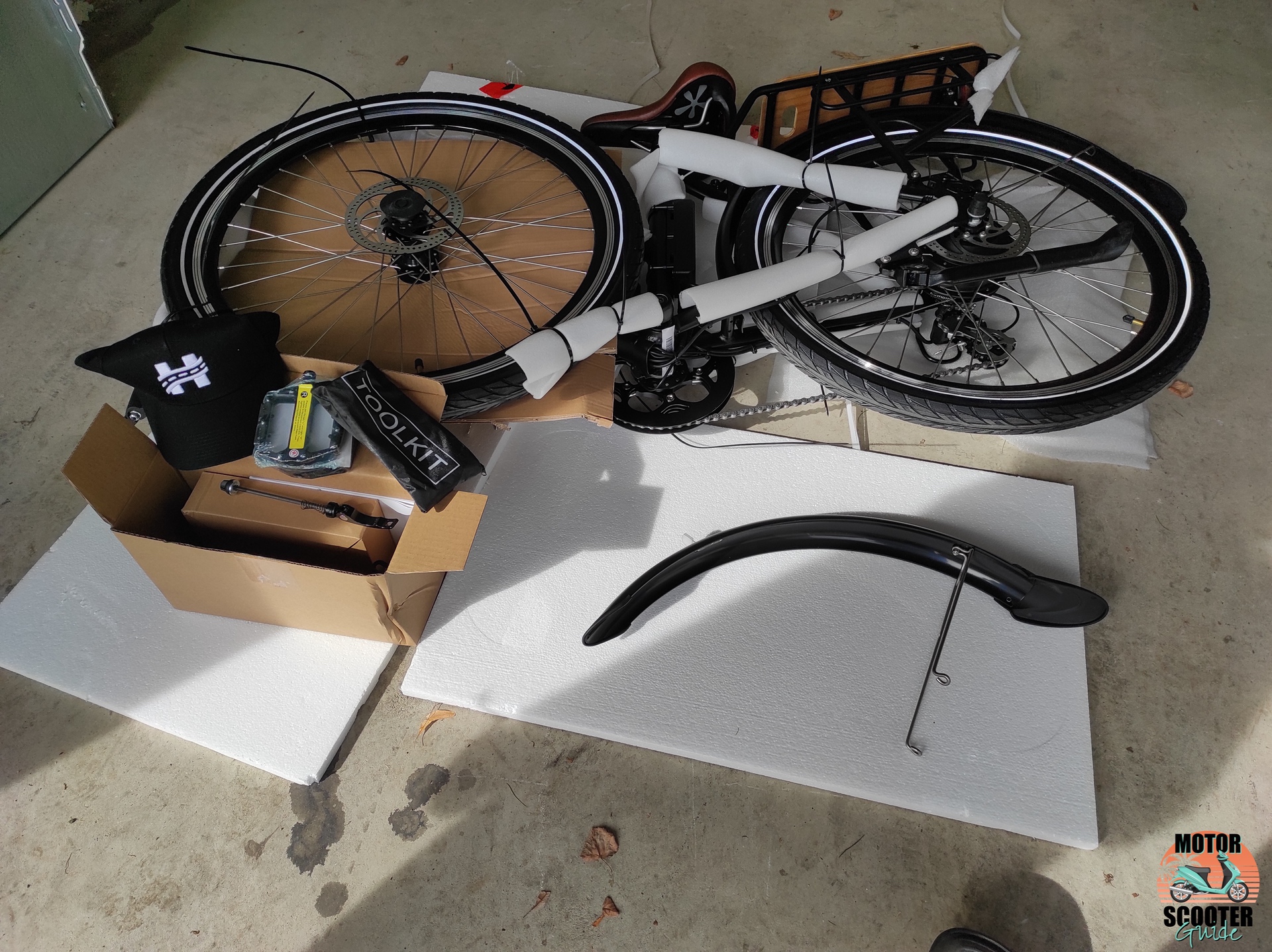 Putting the Himiway City Pedelec together is really easy. Even if you have zero skills with a spanner, don't panic. It's really straightforward.
However, if you're in doubt, or if you want to guarantee that your bike is set up perfectly, take it to a shop and get a real pro to put it together for you. You'll have the perfect bike set up, and you'll be doing something great for your local economy too.
Or if you want to do it yourself, whip out the Pedelec's tool kit, clear yourself some space, and put on some tunes. Note: unlike most free tool kits, this one isn't half-bad, and you can put the bike together with ease with included tools.
Last time, with the Fat Tire Cruiser, I had to use a few of my own real tools to get the job done. I expected the same routine here, but I was pleasantly surprised that I could do it all with the supplied tool kit.
The Process
Luckily, the City Pedelec arrives almost completely assembled. This means that all you're really doing is bolting a few extra parts on and tightening up a few nuts. However, even that can be problematic. Our advice is to get the thing assembled and then work on ironing out the creases. Get the bike together, then worry about fine tuning it to your needs.
In short, the process is very simple. You attach the handlebars, the front wheel, the lights, the pedals, the fenders, and pop some air in the tires. Job done. The electrics are all done for you. It's as simple as that.
But nothing is ever really that easy, is it?
The only hiccup that I encountered with the City Pedelec assembly was the handlebar mount, since it uses a fancy pull-release adjustable handlebar setting which baffled me for about 10 minutes. The rest of the bike was very easy. However, if you're in doubt, Himiway has a wonderful assembly video to help you out and take you through the steps.
Rather than focus on the nature of assembling the bike, I'll run you through the components and tell you what I liked, what I didn't like, and if there was anything noteworthy about the installation process. Spoiler alert: nothing noteworthy happened at all. All in all, assembly took about 45 minutes to an hour.
Himiway City Pedelec Components
Let's take a closer look at the components and learn more about them. Naturally, let's start with the most important feature: the battery.
36V 18.2 Ah Samsung Battery
Like I mentioned above, the City Pedelec is powered by a 36V 18.2Ah Samsung lithium-ion battery unit. It's a long and slender piece with a nice design, and while it's heavy, it's not over-the-top.
It's easy to lift and move around, and every part of it is well engineered. By this, I mean it clicks into place when it needs to, and releases when it's supposed to. It gives positive feedback when you slot it into place, and little details like that go a long way with me.
In terms of the specifications, the estimated range is more than fair, and I am confident that it will live up to its claims. We've experienced Himiway's battery tech before and it hasn't let us down yet.
As for charging, simply plug it in and watch it go. The instructions quote full charge between 6 and 9 hours, but it's more like 5 from empty to full, in my experience.
Bafang 250W Brushless Motor + Controller
The motor was a bit of a disappointment to me, but that's because I was spoiled with the larger 750W beast on the Fat Tire Cruiser. The smaller 250W unit on the Pedelec puts it more in line with similarly priced eBikes on the market, and the lack of punch and power shouldn't really be a disappointment. It's just the industry standard for the price bracket.
It delivers more than enough power for city riding, and that's what it's designed for. With 45 Nm on tap, you'll have no problem zipping along the city streets on this, and more power wouldn't do you any favors anyway.
Now, one thing I did like about the City Pedelec is the location of the controller. It's in a much better location than the unit on the Fat Tire Cruiser, which was unhelpfully located in a very vulnerable place. Here, it's located safely between the saddle post and the pedals. Someone at Himiway has been paying attention to our complaints!
26" x 1.95" Kenda K-Shield Puncture-Resistant Tires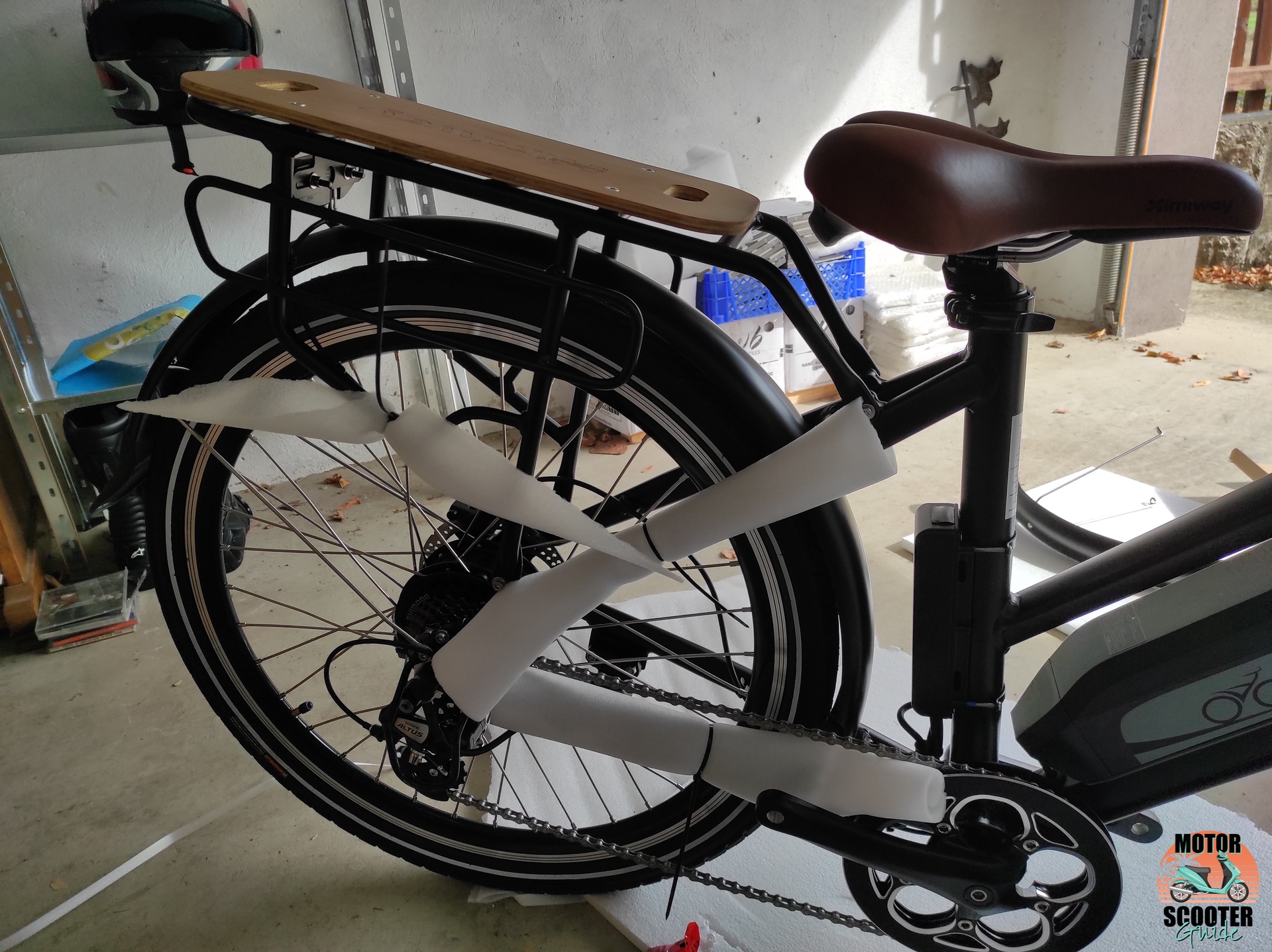 While the City Pedelec isn't advertised as a real fat tire bike, it does feature some chunky rubbers. The wheels are equipped with 26" x 1.95" Kenda K-Shield puncture resistant tires that can handle a wide range of different terrains.
Having said that, they're best on paved surfaces. They're tough tires, but they don't like to be pushed too hard. Still, they look very cool.
LCD Display, Settings Menu, & PAS/Light Switch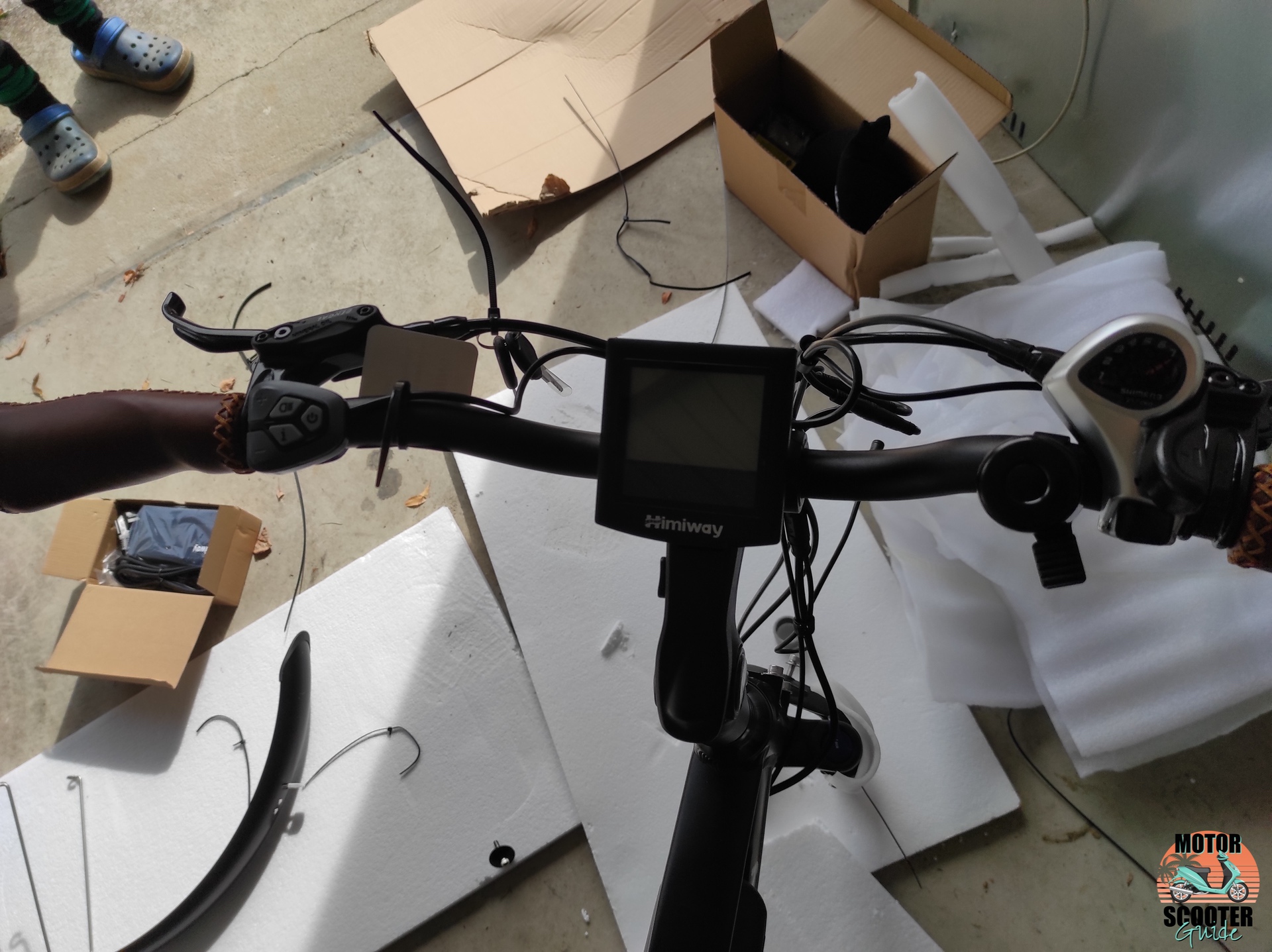 As a budget eBike, it's a nice surprise to see that the City Pedelec comes with some decent instrumentation. The handlebar mounted controls are accessible and easy-to-use, and the LCD display is large, visible, and displays everything you need to know about, from the charge of the battery to the speed that you're traveling.
The actual controls a series of buttons on the left handlebar, allowing you to swap between 7 power assistance levels (governed by a cadence sensor), switch the lights on and off, and access the menu to play around with the more advanced settings.
The display can show a number of things. It has an odometer, a battery charge level indicator, a speedometer, and a very cool wattmeter too. However, the most exciting part of the LCD screen is the addition of a USB charging port, which is very welcome indeed.
Curiously, the unlocking/derestriction hack does NOT work on this bike. I have reached out to Himiway to see if there's a different kind of button combination that can be used to override the speed controls, but as of yet, I've got nothing.
This is probably because this version is an EU-spec bike, and has to conform to certain rules—which, I have to say, is disappointing. Being restricted to 25 km/h is a bit of a joke. Especially when you can cycle faster than that on an unassisted bicycle.
Shimano Tourney Shifter + Shimano Altus 7-Speed Derailleur
Like the rest of the Himiway range, the City Pedelec uses the same Shimano technology for gear changing. Similar to other bikes in the segment, like the Pedego Interceptor and Pedego Boomerang, the City Pedelec uses the same SL-TX50-7R system for easy gear shifting.
Front Spring Fork Suspension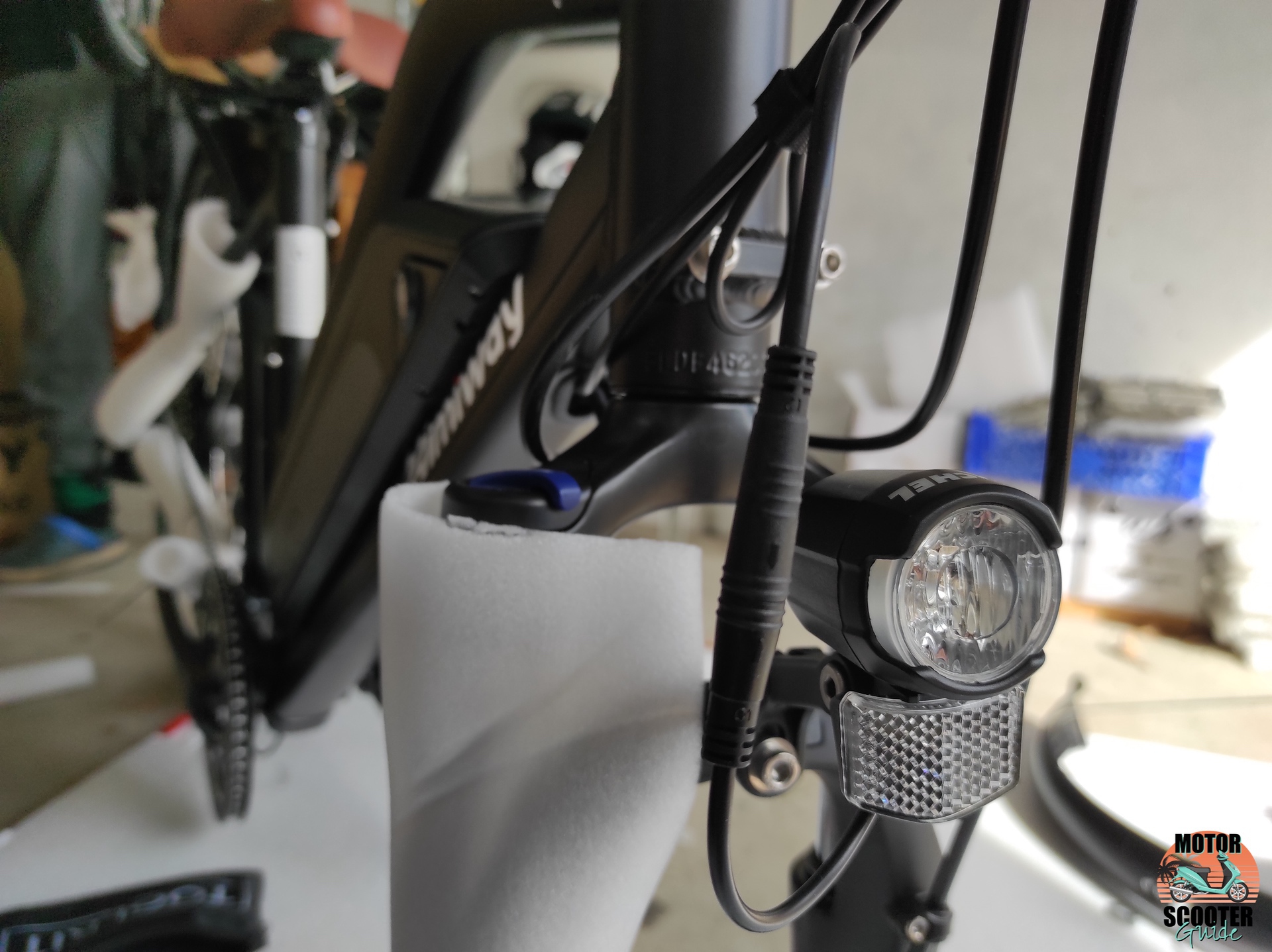 Since this is an urban-focused bike, having any kind of decent suspension is something of a blessing. The Pedelec boasts a fully-functional alloy front fork with a modest 80mm of travel, with options to adjust the preload and even lock it out.
Don't expect to see any branding on this unit, but for the price, you can't expect top tier components. In fact, at this price point, even this is a real blessing.
Bengal Hydraulic Brakes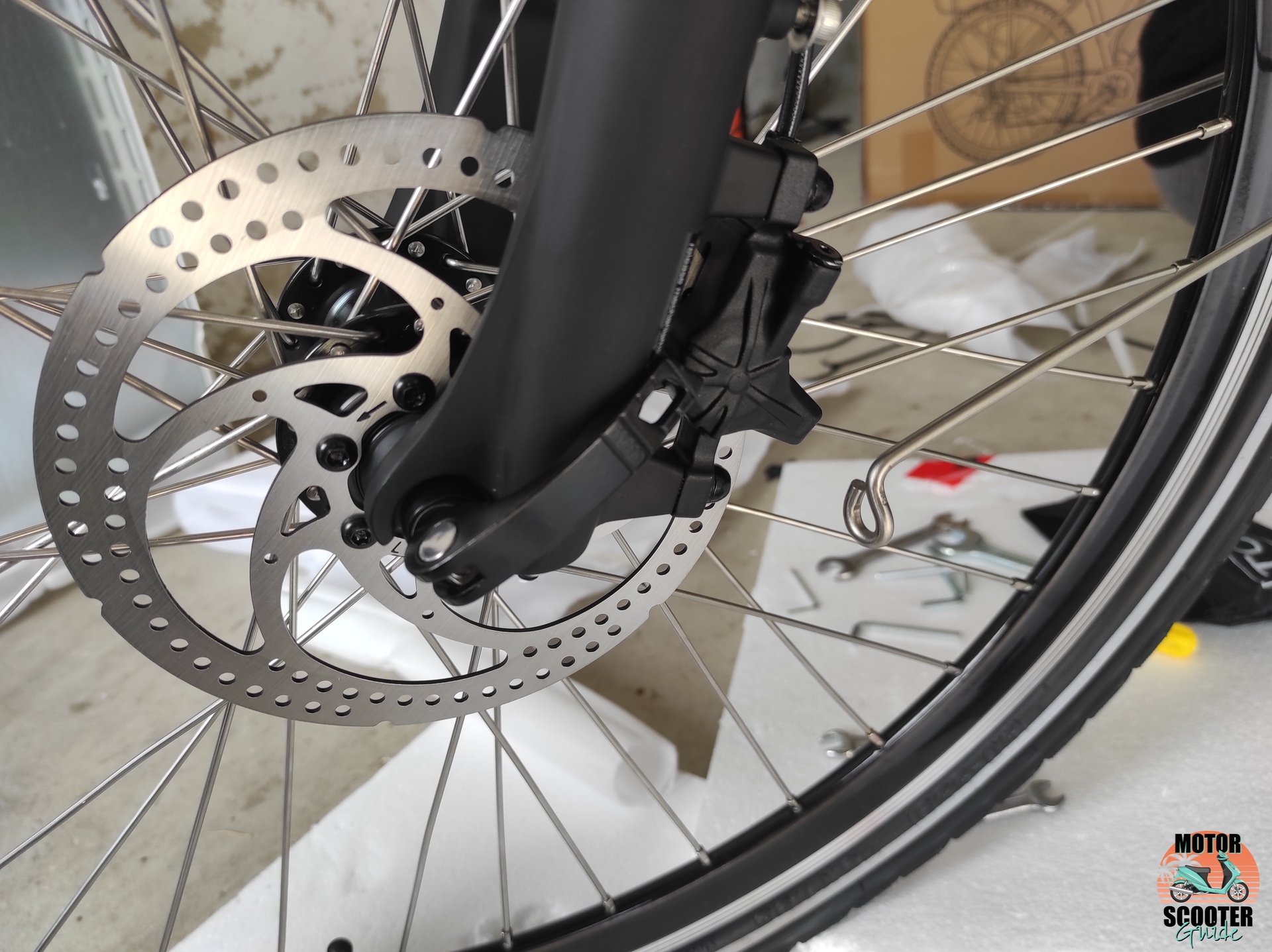 The Pedelec features confidence-inspiring hydraulic disc brakes from Bengal. The front and the rear are both 160mm units with reliable calipers that will get you stopped in no time.
Often, budget bikes like these come with very cheap disc brakes that aren't that good. I can't say how great these are yet, but since the bike is limited to a fairly low top speed, it's not too worrying. As long as they get you stopped in time, who really cares?
Buchel LED Lighting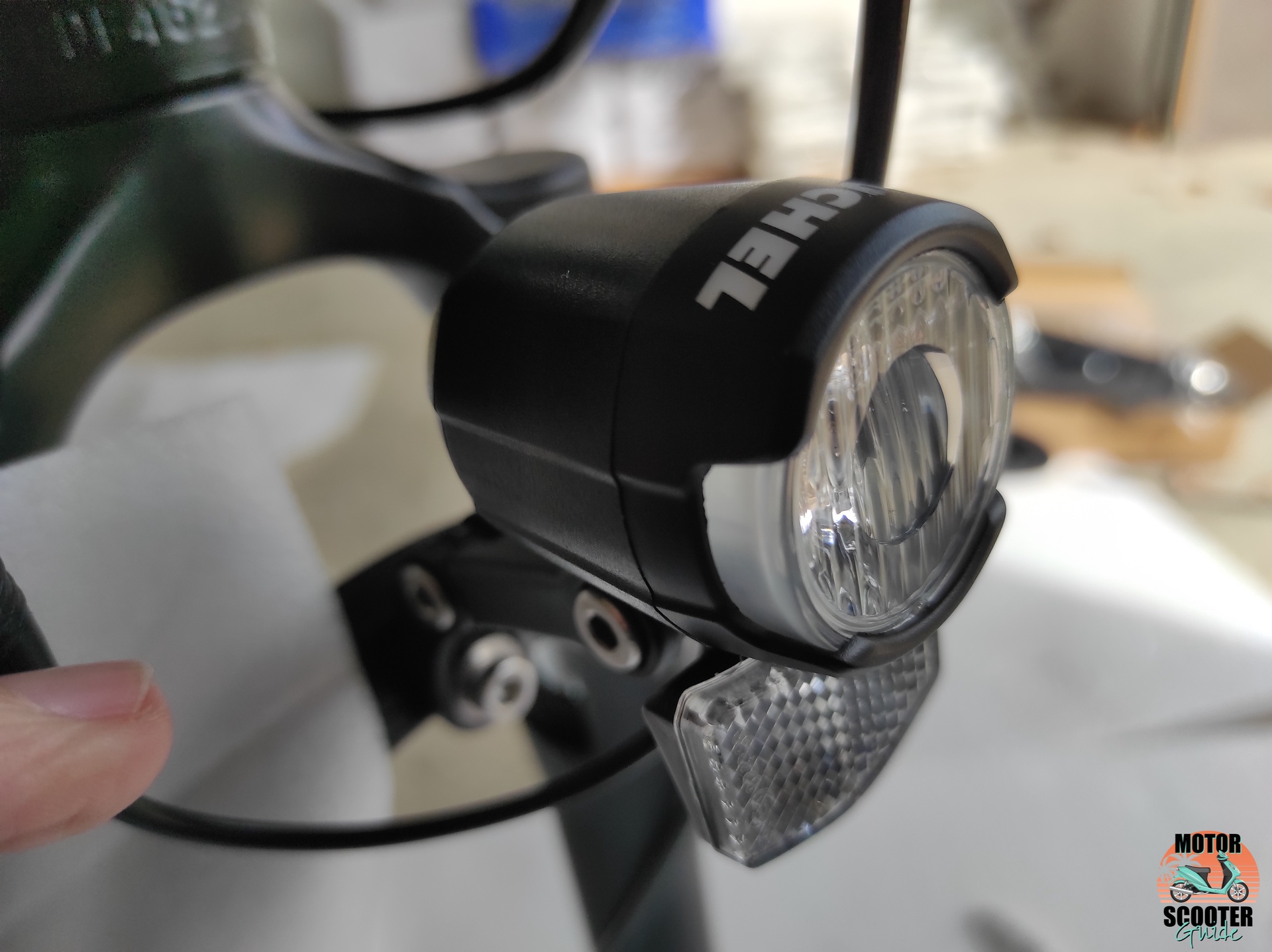 The Pedelec features 6-48V headlights from Buchel and they're… so-so. Installation was easy, the bracket looks tough and sturdy, and the lights promise to be waterproof. All good so far. However, on a quick night ride to give the headlight a test, the light actually stopped working and required some wiggling to get it going again.
What's more, the actual beam wasn't particularly strong and the spread was pretty disappointing. However, for street lit riding, it's more than enough. And I'm not above suggesting that the light problem could have been my poor assembly skills. But I don't think it was.
The Saddle
And now, my only real complaint: the saddle. This thing is uncomfortable. The website has this to say:
"The Himiway saddle is equipped with comfortable Cushion and PROMAX suspension seat posts, especially designed for pressure relief. A comfortable riding position is essential for mastering long distances. It will give you a more natural riding experience."
They lied. Let me tell you, this thing is not very comfortable. Swap it as soon as you can!
Other Details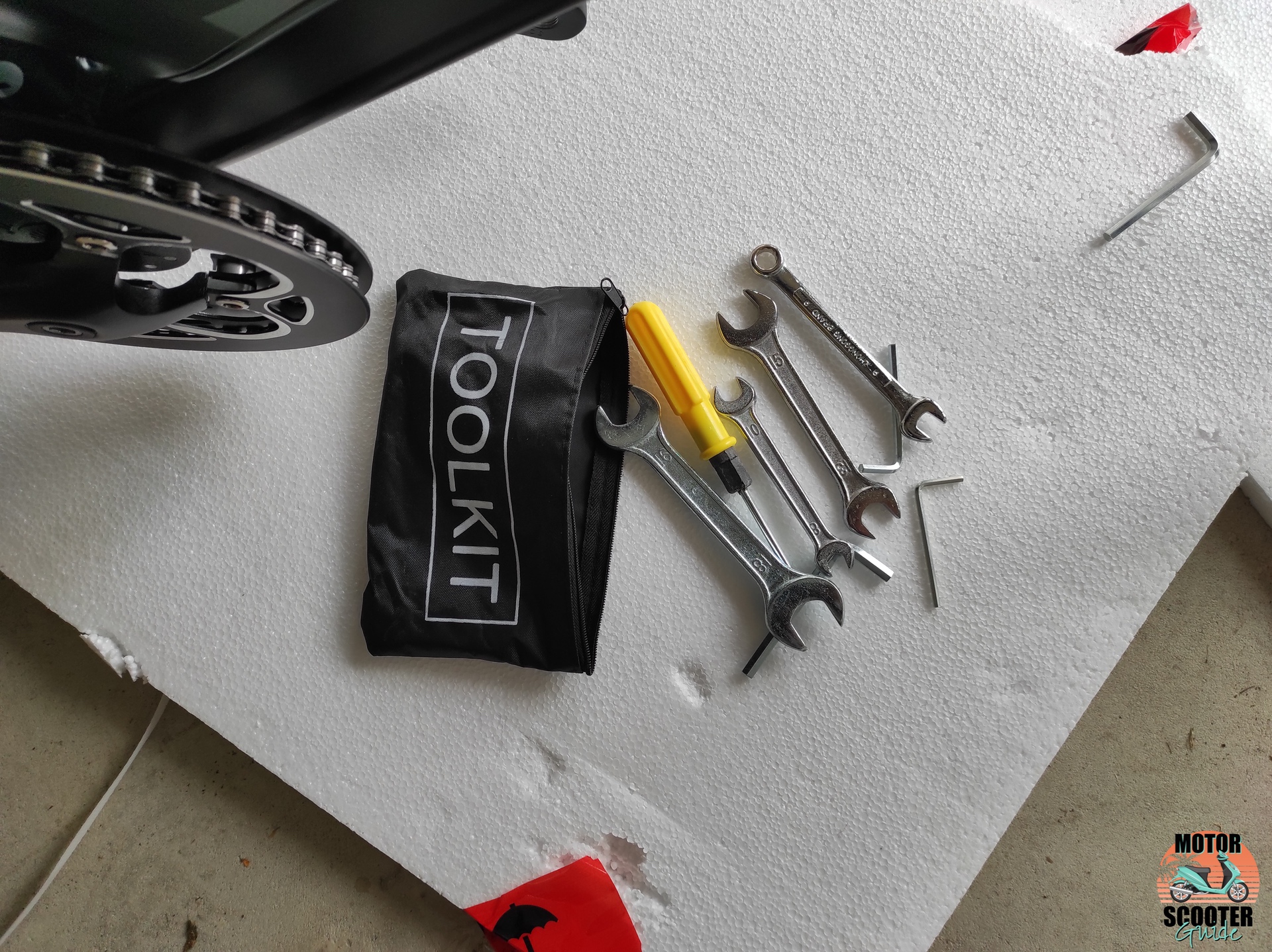 The rack, the pedals, the handlebar grips aren't much to write home about. They're good, they do the job, and everything was easy to install.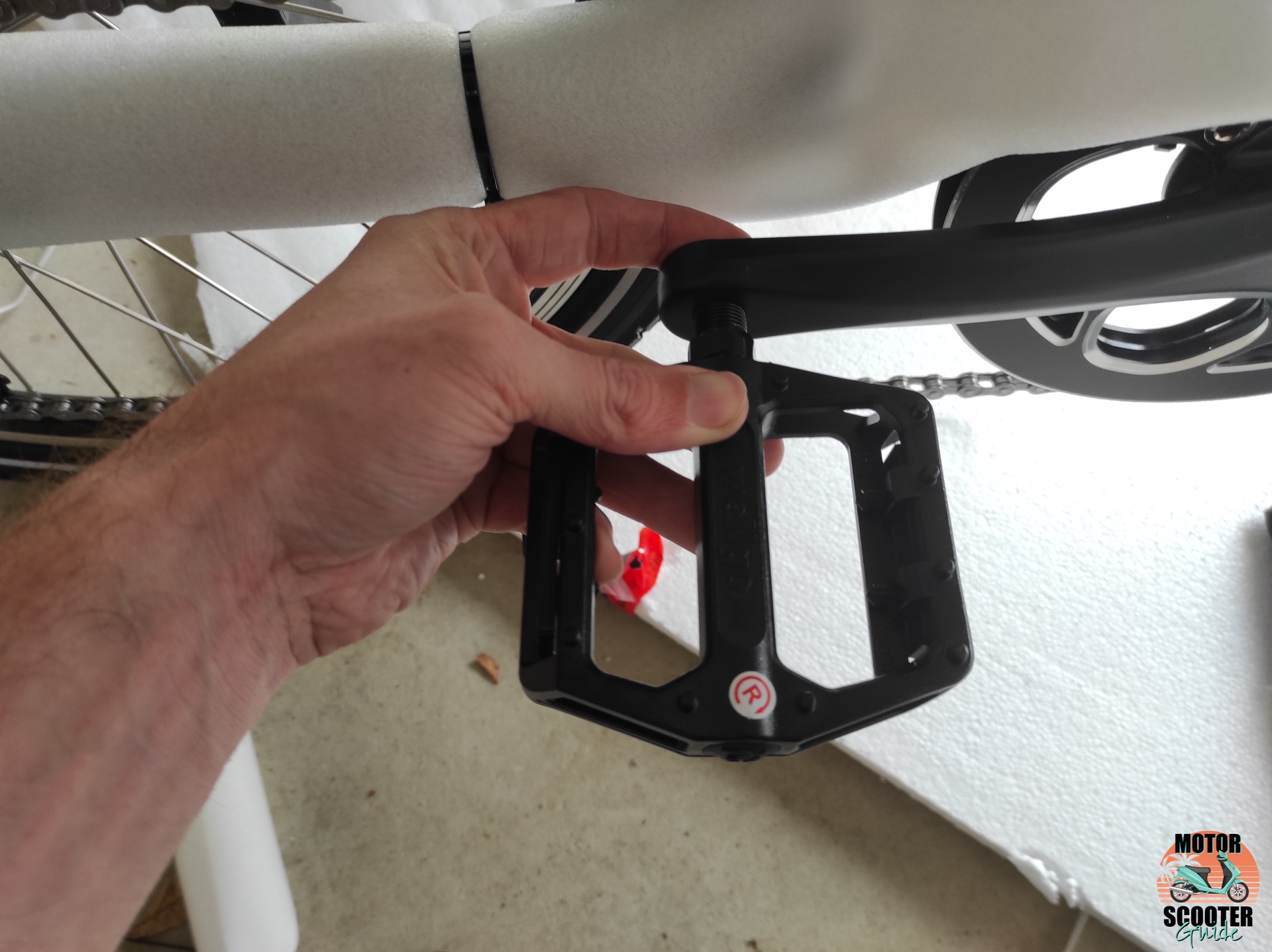 As long as you follow the instructions, don't panic, and don't try to overtighten everything, you will be able to have this up and running in no time at all. If your bike arrives in the morning, there's no reason why you won't be riding around on this beauty by the afternoon, even if you hit a major assembly snag.
Final Thoughts on the 2021 Himiway City Pedelec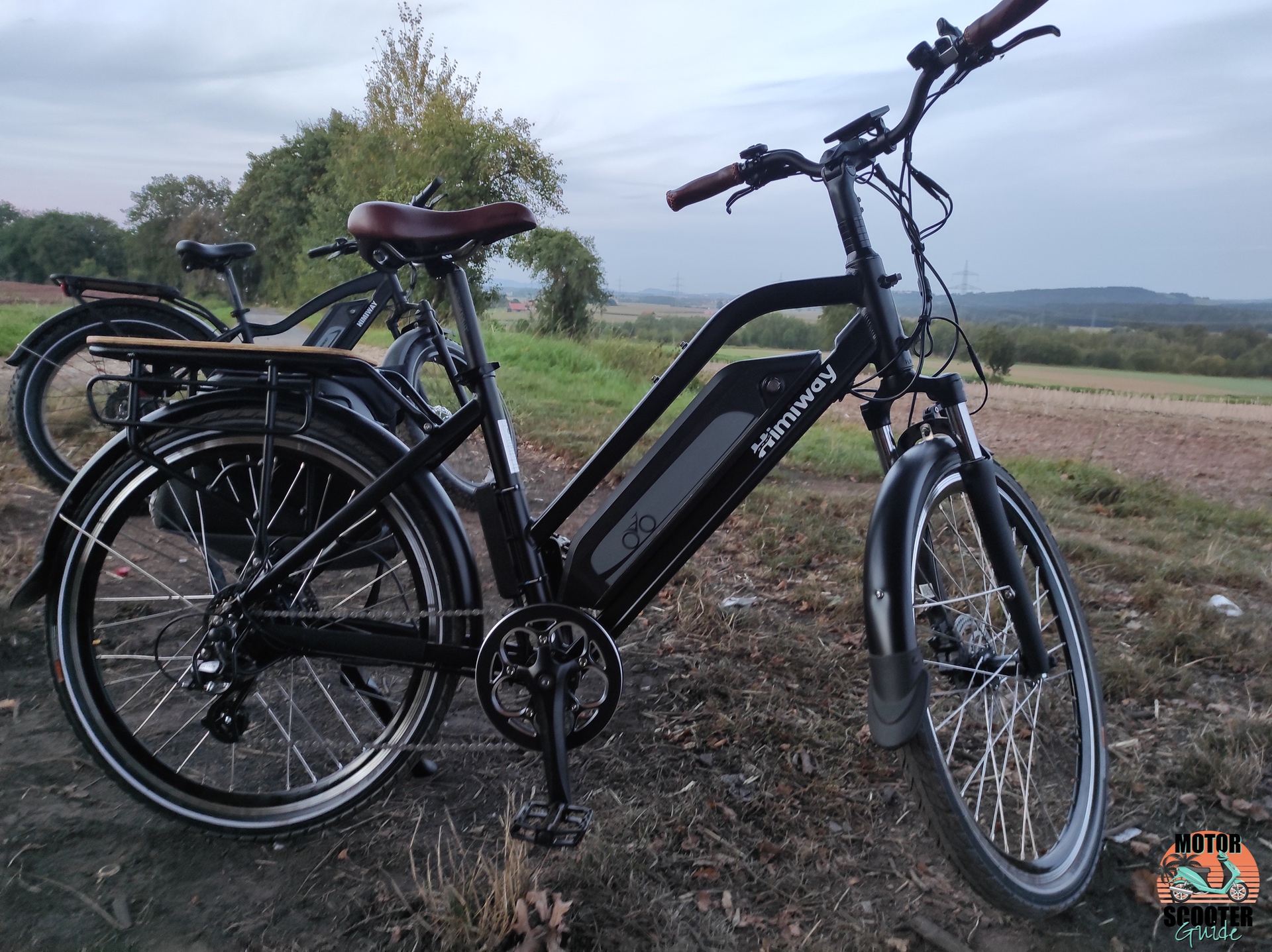 After the initial assembly, I took the Pedelec out for a spin and was pleasantly surprised. Unfortunately, this is my second Himiway bike and I loved the first one a lot more than this.
The Fat Tire Cruiser is genuinely fantastic for the price point, so stepping onto the City Pedelec felt a little disappointing. But I realized quite quickly that it was unfair to judge a city bike by the same metrics as a low-slung cruiser with off-road ambitions.
So I had to get over that initial disappointment and start looking at things more objectively.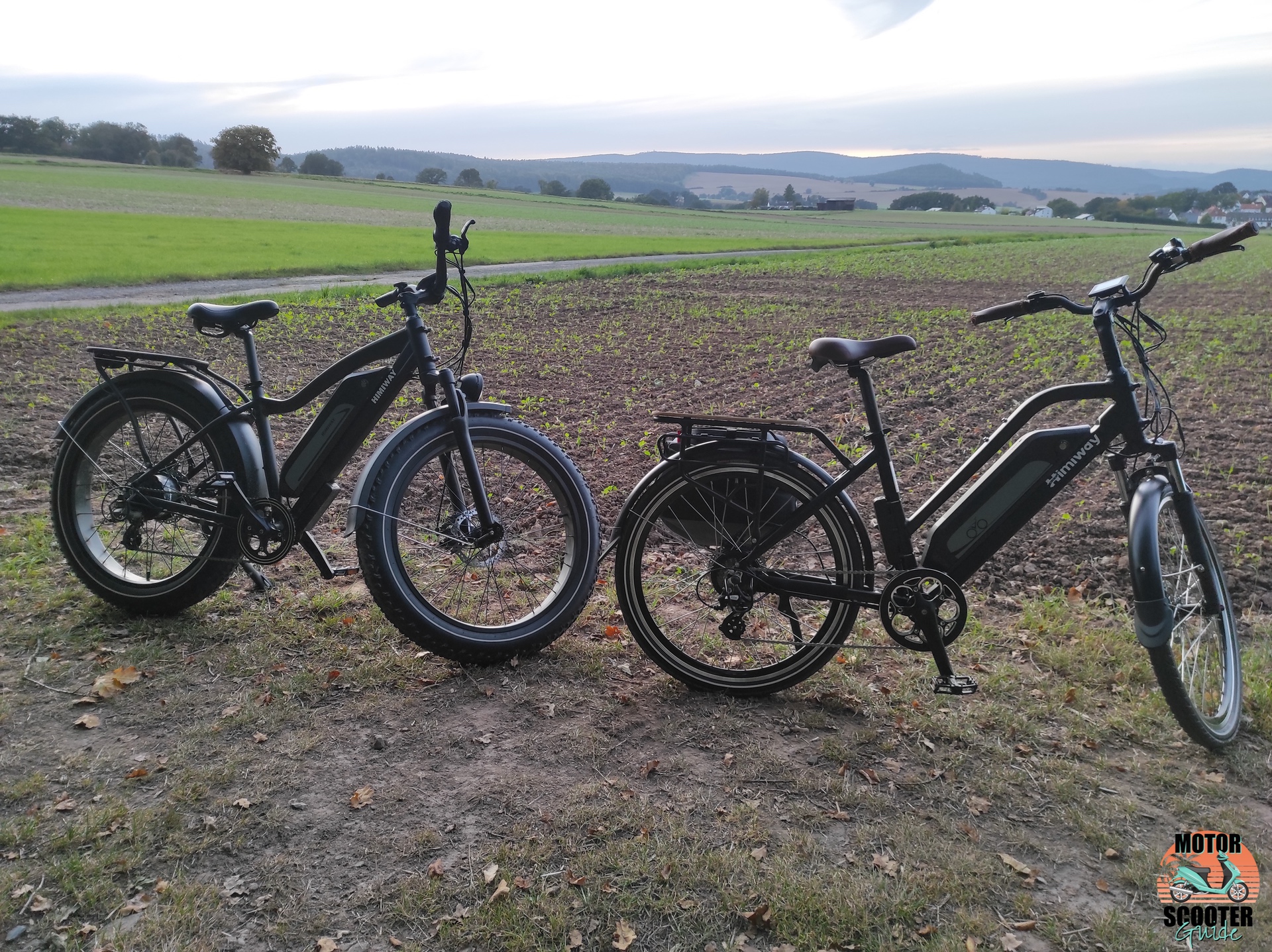 For example, the bike is well made. The frame is very well-engineered with no flimsy welds or weak spots. Nothing squeaks either.
The components are very good considering the bike's price point. And what's more, it's fun to ride. What's more, it looks pretty cool too—but not so cool that it would attract any potential thieves. It's quite a Plain Jane in that respect, but that's a blessing and not a curse.
My only real complaint is the saddle. Boy, it is not comfortable. Luckily, saddles are easily replaced. It's a shame though, because my other Himiway bike has a saddle that can only be described as "the best saddle I have ever had the pleasure of sitting on." Overall, a small gripe.
I can't wait to see how it handles when I put it through some more rigorous tests later on!
Summary
The Himiway City Pedelec is a smart city runaround for short commutes and joy rides in the urban jungle. It's well-made, easy to put together, and fun to ride. Change the saddle, and it has the potential to be one of the best city bikes in the segment!