If you believe high-visibility clothing is safer, then this hi-vis vest may also save you from road rage with its "Polite" message on the back.
Yes, it does look a lot like "Police" and will no doubt get the attention of the traffic. It may even prevent road rage with its simple message.
The British-designed "Polite" Think Bike waistcoat has been successfully on sale in the UK for more than five years and is now available in Australia.
Slowly, authorities are introducing hi-vis vests as mandatory for riders. Victoria requires novice riders to wear a hi-vis vest and France recently introduced a rule where riders have to carry a hi-vis vest with them.
Until then, many riders refuse to wear hi-vis arguing that it is unfair to place the burden of visibility on riders when cars don't have to be painted in luminous colours. (Read some of the stories below that flesh out the arguments about hi-vis.)
Whatever you think about hi-vis, you have to admit this one stands out.
This unisex, lightweight, breathable, fully adjustable waistcoat fastens with a front zip.
It features the iconic blue, or black, chequered banding that police se in many countries around the world and has the warning message "POLITE Notice Think Bike".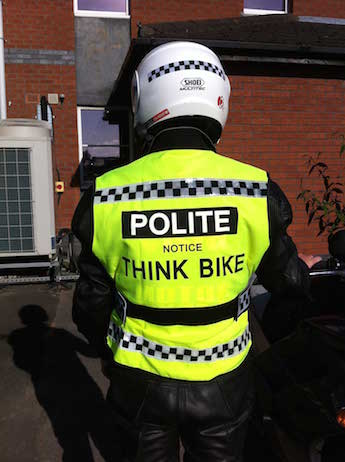 It is made of durable EN1150 fluorescent material and has hook and loop fastenings at the sides to allow the garment to be pulled in tight for a snug fit and to prevent it flapping around.
All zips have easy grab pulls and the waistcoat comes with two large, man-sized waterproof front-zipped pockets.
It is machine washable on 30C° using non-bio and should be hung out to dry, not in a dryer.
The vest is available from Xenonoz, costs $79.95 and comes in Small (32-34"); Medium (38-40"); Large (42-44"); XLarge (46-48"); 2XLarge (48-50"); 3XLarge (50-52") and 4XLarge (52-54"); 5XLarge (52-54").