If you are a shrewd investor, you should "invest" in one of the 300-odd Harley-Davidson Custom Vehicle Operations Pro Street Breakouts allocated to Australia before they're all gone.
Not only are they great to look at, but they will also be extremely popular and will retain much of their value.
That's not a subjective statement, either.
The original CVO Breakout was the biggest-selling CVO in Australian Harley history and the standard model has been their biggest seller here over the past two years.
Glass's Guide also tells us that cruisers retain the highest value of any type of bike; Harley has the highest brand retained value; and their CVOs are their best performers at resale.
Not that you'd want to sell a gem like this, but it's comforting to know.
And it's not such a huge investment, either. While the standard Breakout costs $29,750, the CVO Pro Street is $42,495 which is the cheapest of the CVOs.
You could almost tell your "significant other" it's an investment without having to worry about failing a lie-detector test.
We took a CVO Pro Street Breakout for a rigorous test ride through the streets and out to the highways and country back roads to test it out.
It's rare for Harley to offer a CVO to motorcycle journos for testing, but they seem to be keen to give this a promotional push.
HD Australia boss Nigel Keogh believes that anyone who tests a CVO will be immediately convinced of their worth.
He's right.
If you've never ridden a 110-cube Screamin' Eagle Harley before, now is the time.
That engine is like thick cream, compared with skim milk. It will pull from anywhere on the dial, it's smoother, lustier, mechanically quieter and revs higher.
Together with the Screamin' Eagle legal and compliant exhaust, they are a symphony of power.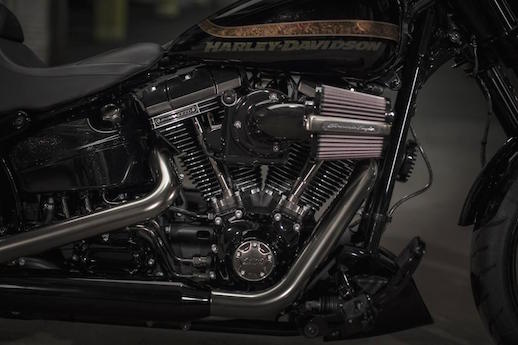 Ok, so you can now get the 110 in the S models – Slim, Fat Boy and Low Rider – but you don't get the same level of trim as the CVO.
Feast your eyes on the dark chrome, billet, the handcrafted frame welds and discrete wiring.
I know people do, because every time I pulled over somewhere for a coffee, the hoards descended on the bike. I've never received so many favourable comments and thumbs-ups from the general public over a motorcycle.
It's not just the bike as a whole, either. Come a little closer and start inspecting the finer details: the smoked plastic tubing on the steel braided brake and clutch lines that make it look like copper and the matching breather hoses coming out of the top of the fuel tank like a drag bike.
They perfectly match the "woodgrain" paint stripe and the "Smoke Satin Chrome" of the exhaust, handlebars, pushrods, oil cap, Screamin' Eagle Heavy Breather Elite air filter and other fine details such as the instruments.
Speaking of detail, even the smart immobiliser key fob is a classier piece of equipment with a foldout key and high-gloss black. It's what you would expect with a Ferrari.
And how about the flush-mounted fuel cap that you push and turn to pop it up and wind it out?
I also like the single-pod instruments with analogue rev counter and a TFT screen below it featuring a fuel gauge, speed and gear indicator all the time, while you can flick through the other functions via a button on the left switchblock.
So, why is this called a Pro Street?
Well, this time it is more performance-oriented with 43mm upside-down forks, drag bars, belly pan or "chin spoiler", race seat and "Scorched Chrome Custom Aggressor Wheels".
While that sounds racier, it's also more comfortable.
I rode a standard Breakout around SEQ for a couple of weeks and it was a bit of a back breaker for riding position and suspension.
Now, the ride is plusher, the steering more direct, handling more composed and even the 660mm race seat feels far more comfortable with the pillion pad acting as a lower-back support.
Even an hour-long stint on a straight stretch of highway didn't give me a numb bum or back ache.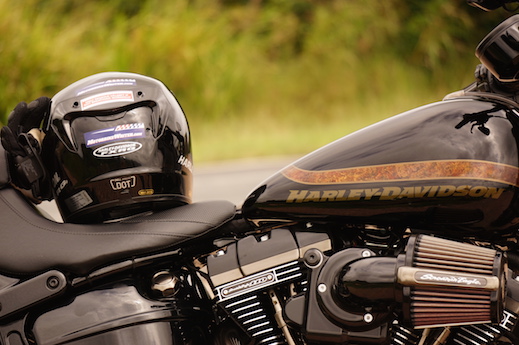 And a full day of riding through the hills left me feeling fresh and wanting more, more, more.
Show it a corner and it now turns in faster and with more precision than before.
It's still a Softail which is the beauty, not the performer, of the range and the Breakout is the prettiest yet least agile of all the Softails.
The limiting factors are are, of course, lean angle (24.8° right and 25.5° left) and the 240mm-section rear tyre which wants to stand the bike up in a corner.
You have to muscle those drag bars with plenty of counter-steer to hold it in a corner and you have to be aware the fat rubber will follow parallel lines and road ruts, making lane filtering a little scary.
While I usually don't baulk at chamfering the footpegs, these are absolutely beautiful and I was very reticent to touch down.
First time they touched down I think I grimaced. Against my better nature, I slowed down and enjoyed the ride, rather than pushing it through the corners.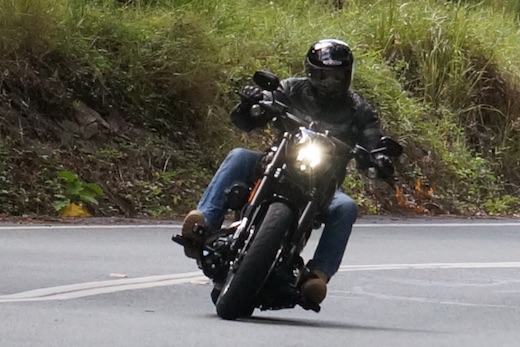 Instead, I braked even later, relying on the strong double discs, floating rotors and braided lines that provide almost sportsbike bite, and aggressively fired it out of the corners thanks to the massive torque from the 110-cube engine.
I've recently ridden the Slim S with the 12120 Screamin' Eagle engine and, while it was excellent, this seems to have even more refinement and pull.
Perhaps the hand assemblers pay a little more attention to the internals of CVO engines.
They also seem to do a better job with the transmission as this is the first big twin Harley I've ridden that easily finds neutral.
The cogs also click into place a little smoother, although the shorter-reach hydraulic clutch feels heavier than on other Twin Cam Harleys.
If you are ham-fisted with the clutch, you won't lock up the rear wheel thanks to a performance assist and slip clutch.
So, it looks beautiful, it rides and handles better, the engine has more oomph and it's an investment.
Need any more incentive?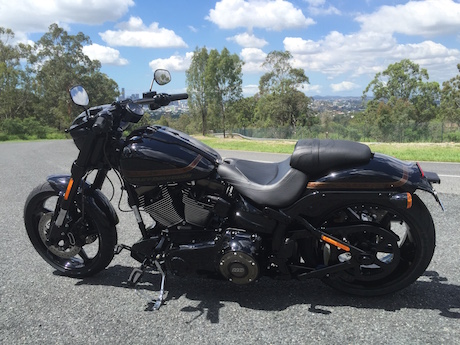 Harley-Davidson CVO Pro Street Breakout
Price: $42,995
Warranty: 2 years, unlimited km
Service: 1600/8000km
Engine: 1801cc Screamin' Eagle Twin Cam 110B
Torque: 151Nm @ 3500rpm
Transmission: 6-speed Cruise Drive, hydraulic clutch
Length: 2330mm
Seat: 660mm
Fuel: 18.9
Economy: 5.5L/100km
Dry weight: 318kg
Tyres: 130/60B19 61H; 240/40R18 79V
Colours: Starfire Black, Two-tone White Gold Pearl/Starfire Black