UPDATED OCTOBER 11: The Gold Coast Harley-Davidson dealership has relocated its showroom and celebrated with a massive party with customers getting the presents, including a Harley 883 Iron.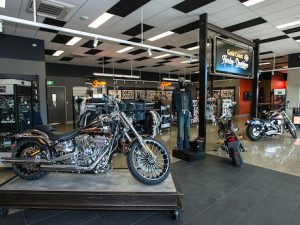 The party highlight was a performance by Grinspoon singer Phil Jamieson while Louise Lucock drew the grand prize of a new Harley-Davidson 883 Iron.
SEE ALL THE GRAND OPENING PHOTOS
The new Gold Coast Harley-Davidson industrial-inspired showroom has moved to a prime location just off the Pacific Highway at Nerang. Long-time motorcycle industry professional and former butcher Steve Schilling is the dealer principal and he says he's looking forward to cooking up barbecues for customers at the store's new outside barbecue area at Friday night "Beer & Beef" special events, as well as Saturday afternoons, or before Sunday social rides.
"This new location allows us to treat customers in the genuine Gold Coast style; relaxed and friendly," says Steve who fireD up the barbecue on the Grand Opening Celebration Day (October 11).
The event featured live music by Phil Jamieson and local bands Jimmy The Saint, The Sinners and The Swamp Stompers. MotorbikeWriter helped judge the Show 'n Shine which attracted almost 100 entries, including a gaggle of Sportsters. Winners were: Rodney Gordon, best Touring; Shane Wright, best non-Harley; Barry Lister, best Dyna; Luke Adams, best Vintage with a 1980 Shovelhead; Mandy Tylly, bestr Sportster; Steve Pras, best V-Rod; Jay Shaw, best Softail; and Dave Aprile, best CVO. Best in show was won by Jay with his Springer. 
The new Gold Coast Harley-Davidson showroom includes large open-plan windows behind the service counter, so customers can watch their pride and joy being serviced and maintained. The showroom's industrial styling includes custom-made one-of-a-kind pieces such as hanging light fixtures, bike display stands, a local map for planning rides and a customer bar table.