Review Summary
The Giant Loop (GL) Possibles Pouch drybags are right sized for a whole whack of applications and provide a sturdy waterproof housing when properly rolled and maintained. Whether used for tools or related support items, water/drink or fuel containers or other packable and essential gear they truly have endless possibilities regarding how they are mounted, fitted, or carried; there is even a fender mount version. And the distinctive First Aid (FA) marked Possibles Pouch, once packed with first aid essentials is never left behind. A truly valuable drybag usable for motorcycling or other powersports activities, walking, hiking, camping or whatever… And for the $50.00 USD investment, the return should be huge.
Materials & Build Quality
Pros
Small to mid-size drybag profile, very lightweight, packable
3.5L capacity
High roll top with full-width entry
Side web loops, roll top straps and two flat straps provides lots of mounting options
First Aid (FA) marked variant is a great offering
Competitively priced based on features and functionality.
Cons
No ability to lockdown contents easily
Missing a small MOLLE adaptation section to add even more mounting options
Buy one and you'll likely want more.
Giant Loop Possibles Pouches Image Gallery
As identified in the recently submitted GL Pannier Mounts and MotoTrekk Panniers review, a big box of Giant Loop goodies arrived early June this year.
The shipment contained a GL Pannier Mount Kit; the BMW R1200/R1250/F850 GSA adapter (off-set) kit; a set of MotoTrekk Panniers; two Possibles Pouch(es) – one with the First Aid Logo; a Hot Springs Heat Shield; and one of the small Zigzag Handlebar Bags – confirming that good things come in big packages as well…
So, this the second of three related Giant Loop product reviews being done, and this submission focuses on the GL Possibles Pouches products, of which two were received.
The Giant Loop Story
In 2008, Giant Loop pioneered the original horseshoe-shaped biomorphic motorcycle saddlebag design with the bolt-on (strap-on) Giant Loop Saddlebag and since those early days, the Giant Loop adventure proof packing systems, including products based on the original design have been utilized globally under demanding conditions.
Their theory of "go light, go fast, go far" regarding on/off-road travel has become a well-known, well-respected refrain heard virtually anywhere moto-travellers gather.
Everything Giant Loops designs, produces and markets is focused on the 'go light' aspect, along with designs that shape and position the pieces perfectly on the motorcycle for safe loading, better weight distribution and rider comfort (safety over the long haul).
And everything is built to last – meaning there should be fewer parts to fail along the way. Everything is made to military specification quality standards and backed by a limited lifetime warranty against defects.
In having used the original GL Saddle Bag for many years on many motorcycles – off-road, on-road, touring and sports machines and now the GL Pannier Mounts and MotoTrekk Panniers, this rider can attest that the versatility and longevity of that first product is very evident in the GL gear now being produced.
Giant Loop Possibles Pouch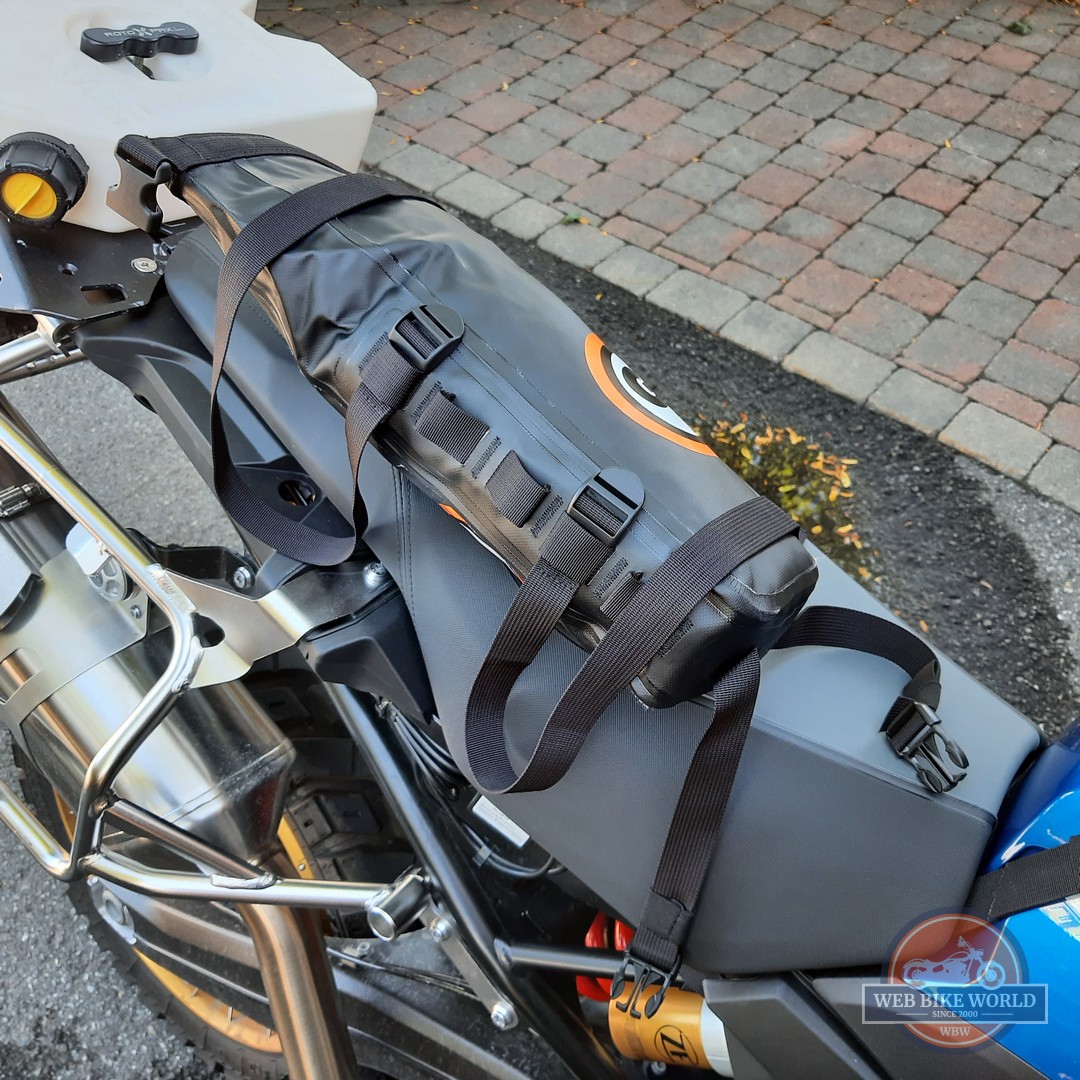 You might say, "what the heck is a Possibles Pouch". And where did the name come from?
According to the Giant Loop website, naming of the Giant Loop Possibles Pouch is historically related – named for the leather pouches carried by frontier explorers to keep critical gear or "possibles" in one handy location.
First Impressions
First impressions: appears visually small until opened fully with the high roll top extended; obviously built to be durable; and it has lots of webbing layouts and straps to offer plenty of mounting options.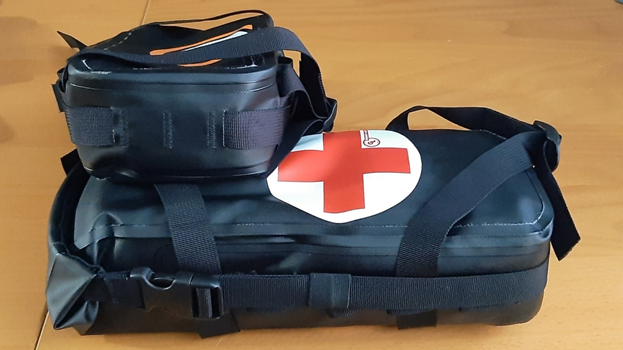 Form, Composition & Features
At around 3.5L or just under 1USG of volume, the Giant Loop (GL) Possibles Pouch is a small to mid-sized roll-top storage bag. They are designed to be small, easy to mount and easy to carry pouches with the capacity to carry needed essentials like the frontier folk carried in their leather or cloth pouches.
Measuring 10.5in x 5.5in x 3in with full width roll top, the Possibles Pouch is designed and formed to accommodate a wide variety of things – tools – like tire irons, tube, patch kits, air bottles, etc., some of which should be rolled in a containment layer to minimize movement and/or damage to the pouch.
The Possibles Pouch is also well sized for large drink containers (water bottles or wide-mouth thermos up to 12in high and 4in diameter), fuel canisters or light compressible gear items (rain gear or thermal liner).
If the roll top is properly rolled (three times) and secured everything inside will stay dry thanks to its 500D PVC shell and roll top sealing. The shell is very durable from the usual wear-n-tear and the elements – hot or cold, dry, or wet; only a couple of minor wear marks are showing along the bottom edges but without any loss of elemental integrity so far.
Another feature of the Possibles Pouch is that it is designed and equipped to be secured to almost any surface – upper or lower engine guards, tail racks, side frames or to other soft, semi-rigid or hard motorcycle luggage pieces, including the Giant Loop Saddlebags, Panniers and Drybags.
The Possibles Pouch is also available as a waterproof Fender Bag using rubber BOA straps for easy fender attachment on smaller machines where space is or can be limited; this variant of the Possible Pouch really lends itself for use on on/off-road oriented motorcycles. optional GL Pronghorn Straps are another option for securing the Fender Bag.
No shoulder strap is provided (unfortunately), although the flat straps are easily formed into a rudimentary carry solution but the optional GL Traveler Shoulder Strap or other similar pieces, like the many tote-bag and camera shoulder-pad straps around here, turns the Possibles Pouch into a handy shoulder bag for use when not riding.
Its size and shaping do indeed make the Possibles Pouch fully functional for dismounted use and almost any sort of outdoor adventuring whether on foot, other two-wheeled conveyances (powered or not) in virtually any type of climate or elemental conditions including water-based activities.
GL Possibles Pouches – Features & Specifications
RF-welded 500D PVC tarpaulin shell
Available with GL logo or First Aid symbol
Volume: 3.5L or 0.92USG
100% waterproof
Full width high roll-top closure with adjustable side release buckles on flat straps
Two heavy duty 28.5cm (27in) flat straps with thumb-lock buckle straps included
Multiple daisy chain webbing lash points
Dimensions: (Height/Width/Depth) 26.7cm x 14cm x 7.6cm (10.5in x 5.5in x 3in)
Limited Lifetime Warranty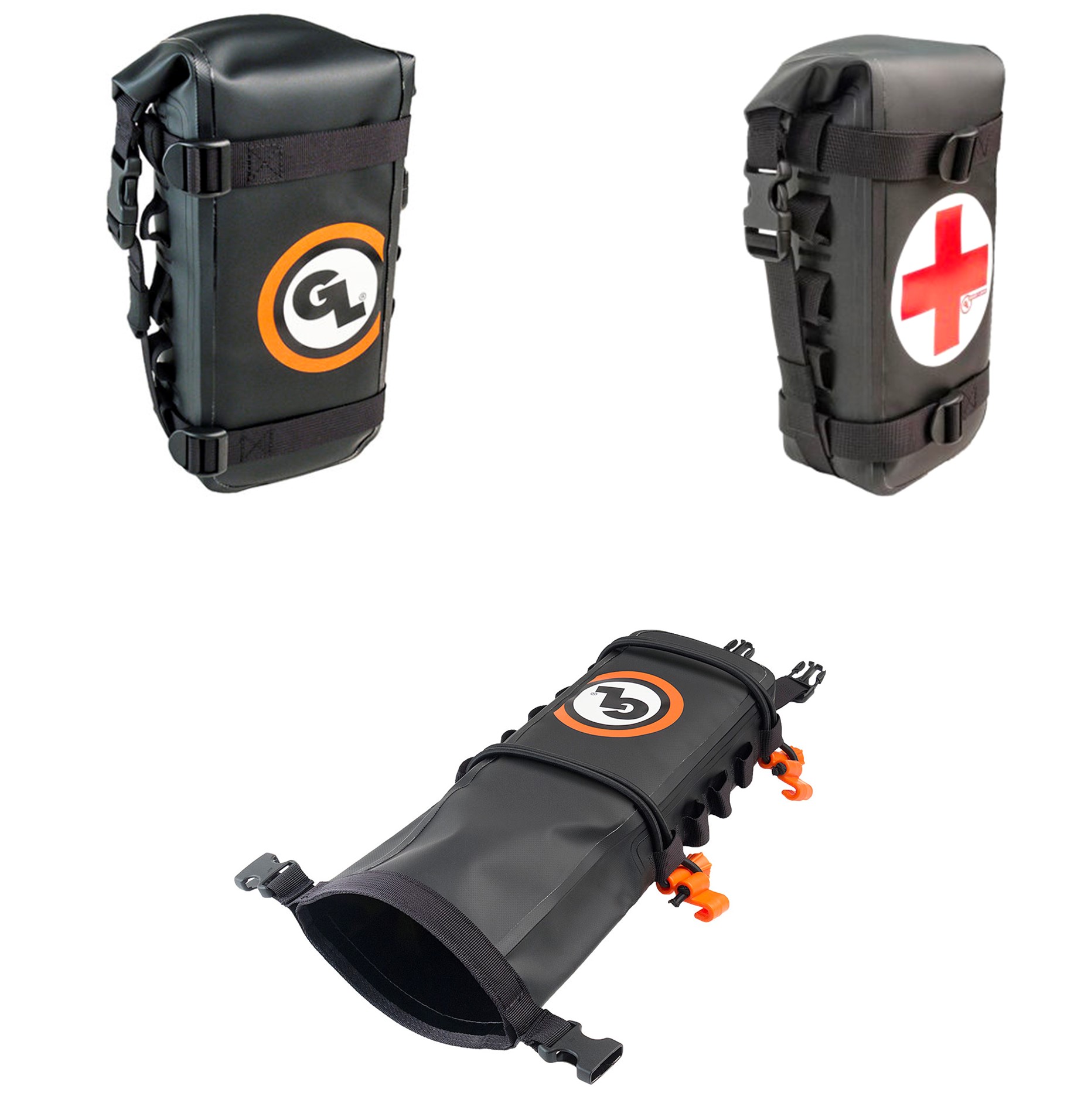 Possibilities for the Possible Pouch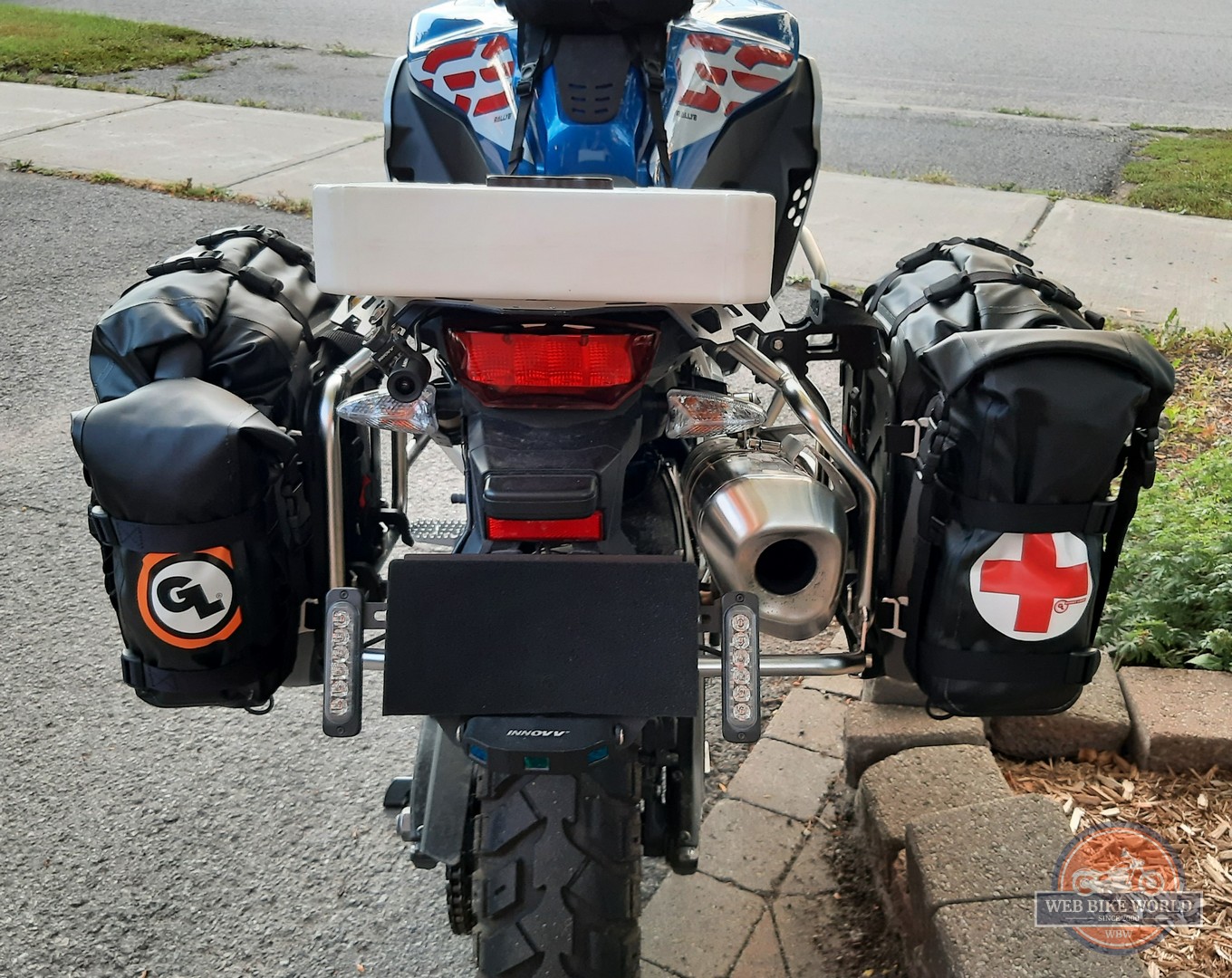 There is a whole lot of versatility and adaptability with a Possibles Pouch, whether used by itself as a single rugged waterproof housing or with other Possibles (daisy-chaining works well) or added to another piece of luggage; it's another one of these "endless possibilities" scenarios.
Layout
Between the five-slot webbed sections on each side, roll top side fastener straps and the two 70cm (27.5in) flat straps with slide buckles or, the use of other strapping including elastic flat or round products, it is hard to not find a way to secure the Possible Pouch to something.
Applications
Some of the many (many) applications for the Possibles Pouch are shown in these photos and additional photos in the review gallery.
Specifically, the standard GL logo and First Aid symbol marked Possibles are typically used as a set, either on the front or back of the GL MotoTrekk Panniers or on the backs when drink or other MOLLE-style strap-based containers are utilized on the front and thus closer to the rider.
Two favoured layouts for shorter off-road forays or day trips see the Fuel and/or Water RotopaX containers fitted to one or both GL Pannier Mount plates (fuel container never on the exhaust side) along with one of the Possibles fitted closest to the rider.
The other favoured option has two (three could work) Possibles side by side on the Pannier Mount plate creating more than enough carrying space for the day, including the 'don't leave home without it' FA Possibles Pouch.
And when needing to change loads or use the motorcycle mounted side frames for something else, the GL Pannier Mounts quick connect feature provides easy on, easy off use.
First Aid Possibles
Our favourite. Another one or two of these little gems are being procured; they get lots of attention when on the road; that FA marking is great visual messaging.
The FA Possibles always goes along whether any other luggage, hard, soft, or otherwise is taken and with the hard side cases and/or top case in use, the FA Possibles sits secured on top of the lid. Fortunately, it nor its contents have not (yet) been needed this season…
Relatedly, when one clicks on the Possible Pouch product page, a link to a specific GL First Aid Possibles video along with other links with valuable FA kit content/packing information is provided. As a long-time First Aider and former Instructor/Trainer this support, and the insights is most appreciated.
Care and Feeding of the Possibles Pouch
Although the Possible Pouch products are well made and very durable, like all Giant Loop gear, some care or cautionary observations are relevant if wanting to keep the pouches in tip-top shape while maintaining their waterproof integrity.
One 'hot' topic is just that – keep the pieces away from hot exhausts or high heat areas; with smaller bags that can be fitted almost anywhere, the 'anywhere' may not be the safest location. Another point, literally, is to avoid carrying sharp or heavy blunt pieces inside unless secured in a durable component bag or sheath of some sort.
Like other GL products, the Possibles Pouch is washable with water and mild soap, with rinsing off or out and air drying recommended. And although formed of PVC, keeping the interior cleaned out and dry minimizes build-up of bad things and bad smells. Wiping them out now and then with a damp cloth and letting them dry before repacking works while travelling.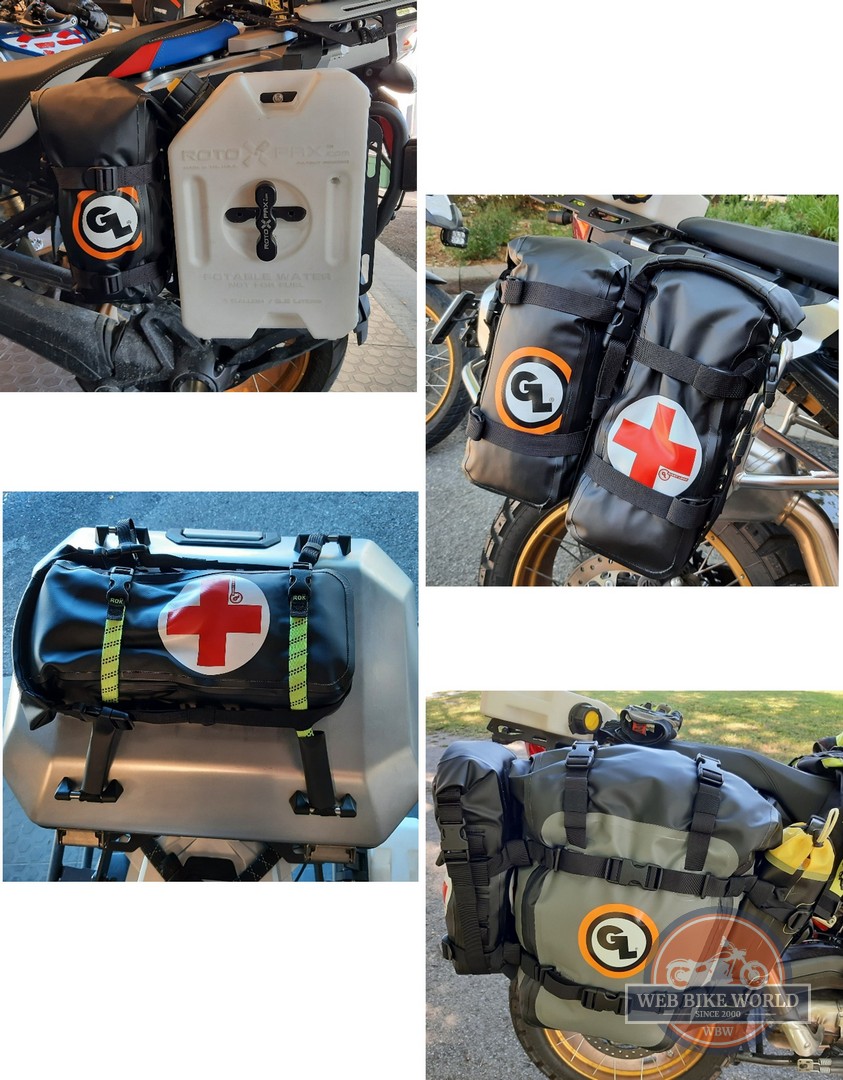 Two-Wheels Rolling Function & Performance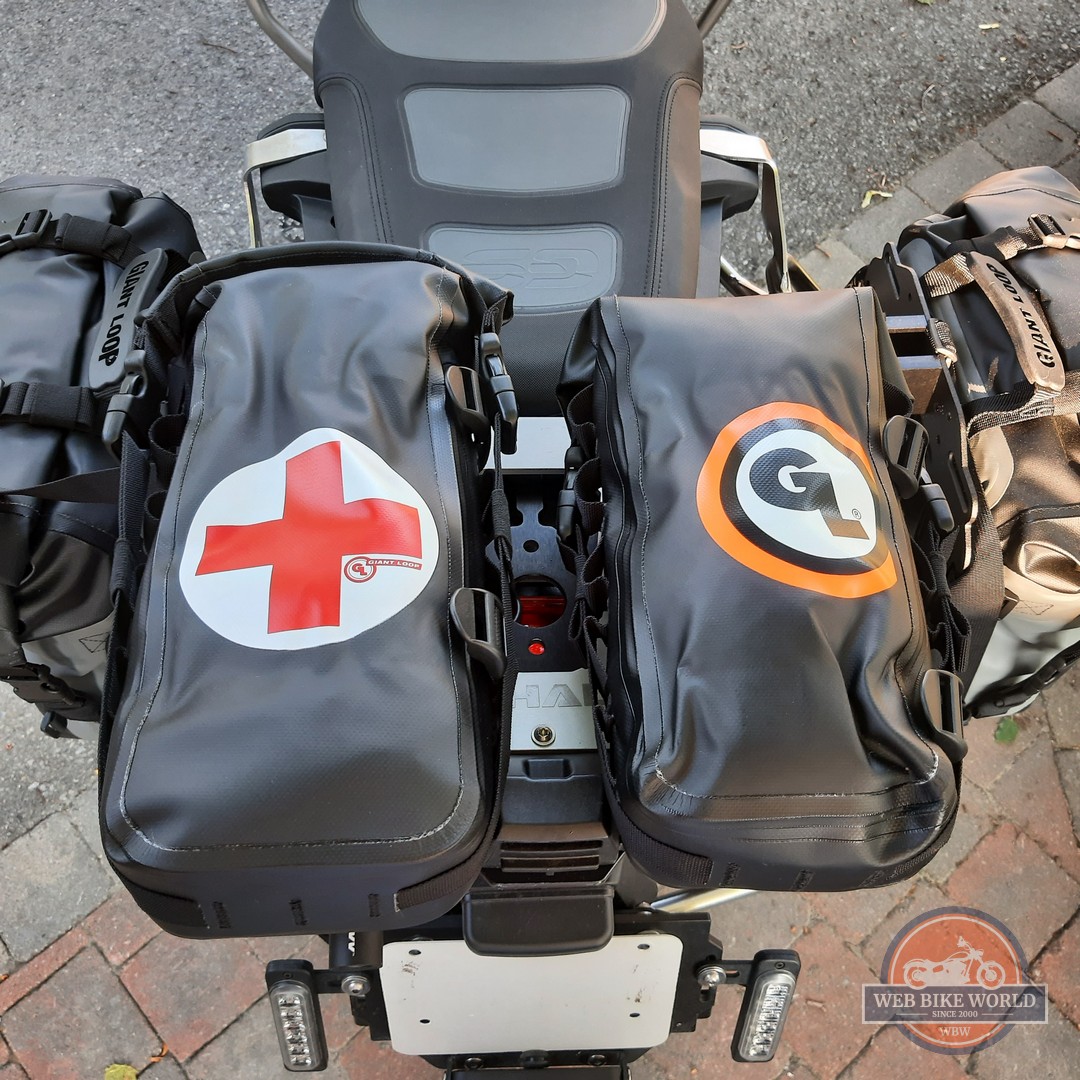 To repeat – life with the Giant Loop Pannier Mounts and MotoTrekk Panniers is good and the experience is made even better with the GL Possibles Pouch products along for the rides with their ability to carry a myriad of things – tools or hard-parts (usually wrapped), other ride related support pieces or packable personal gear.
Capacity and Convenience
As described above and shown in the photos, there isn't much the Possibles can't be used for, just make sure that tools or hard parts are wrapped or packed for protection (this works both ways of course).
The Possibles pouch can be heavily loaded without overstressing them, but by the same token, care then needs to be taken in where and how they are fitted or mounted; keep it safe.
Easy On, Easy Off
Whether fitted or mounted using the provided flat straps – best looped through the side web-loops or secured using other straps, there are enough options available to truly make these pieces easy to locate and secure almost anywhere.
Some short fastener straps with connectors, used for other luggage applications also work very well for fastening the Possibles directly to matching connectors on other luggage. Another option available here for easy on/easy off is to use aluminum slide fastener straps (available as kits from multiple suppliers), securely hooked onto the Possibles web-loops.
Elemental Protection & Durability
If the roll-top isn't left open to the world but is tightly rolled and secured with the side straps, the Possible Pouch is waterproof.
So far both Possibles are seeing constant use on the motorcycles, with or without other luggage pieces mounted and outside of a bit of chafing showing along the bottom edge of the GL logo pouch, both are standing up extremely well.
Stress Testing
Not 'formally' tested yet, but on occasion they have both fallen off their perches and at the time both were just loosely secured with one strap, including the one pouch that was heavily loaded with usual tool rolls – neither the fall or load, admittedly not that far, revealed any strain or damage to the pieces.
Secure and Security
Outside of the Possibles pouches themselves being properly secured for use, there isn't any other inherent security provided, nor expected.
Observation – in looking at the Possibles Pouch, it seems that if one or two loops were stitched into or formed as part of the webbing that runs across the roll top for side strap connectivity and if a small thin security cable like the ones we carry for other small bags or helmets were looped through these and the side webbing loops, or to something else, an initial deterrent could be provided…
Concluding Notes
Another Giant Loop product that just totally works. Yes, there are lots of small, mid, and large drybags on the shelf or used for other things, but the GL Possibles Pouch is a small unassuming drybag that is easy to handle and secure with enough capacity to carry many or most of the essentials we take or should take on any ride…even if someone else needs to use it. You can't use what you don't carry, right?
Simply put – the GL Possibles Pouch is an excellent go-to storage piece and only having two, one of which is dedicated for First Aid provisions (one of two kits carried on each motorcycle), leaves only one to use freely – a shortfall that is being rectified.
Just about every brand and type of drybag on the market uses a slightly different approach in laying out the attachment features, including panels, webbing, and straps and in this regard, Giant Loop is no different.
Where is this statement going? Well, if I could add one thing to the GL Possibles Pouch it would be a small MOLLE section mounted on one the front or back sections; between this, the side webbing and straps, there wouldn't be anything missing – except one of the logos perhaps.
Bottom Line: The Giant Loop Possibles Pouches are almost perfect in their current form and proven functionality. Smallish, well-shaped, easy to handle and fit/mount and easy to use – thanks to its full height full width roll top section. The pouches and fitting/mounting pieces are sturdy enough to cope with almost any type of loading (keep it safe). They have few limitations regarding where they are placed for use and work equally well by themselves or as part of a larger multi-part load configuration. The GL Possibles Pouch product is highly recommended; buy one, but you'll probably want more.
Pros
Small to mid-size drybag profile, very lightweight, packable
3.5L capacity
High roll top with full-width entry
Side web loops, roll top straps and two flat straps provides lots of mounting options
First Aid (FA) marked variant is a great offering
Competitively priced based on features and functionality.
Cons
No ability to lockdown contents easily
Missing a small MOLLE adaptation section to add even more mounting options
Buy one and you'll likely want more.
wBW Specs:
Manufacturer: Giant Loop
Price (when tested): GL and First Aid Marked Variants are $50.00 USD; GL Fender Bag is $65.00 USD with rubber BOA straps
Made In: (US)
Warranty: Limited lifetime warranty
Review Period: June to September 2021
Review Submission Date: 8 September 2021
Important Links / Where to Buy