v3.0 Revolver Luggage Review Summary
Review Summary
This sharp-looking, expandable set of rackless, soft luggage measured up to Mosko Moto's bold claims in every way I could imagine. No exaggeration or inaccuracies were found about its ability to provide user-friendly, waterproof, durable, high quality, minimalist storage of your bare essentials while out exploring the adventure world of motorcycling. If there was a way to more effectively protect the bike from chafing against the luggage (other than installing racks) that would be appreciated, but that's a minor issue. I just can't find much wrong and it's not for a lack of trying. We even had Bruce Cole join in the fun by co-reviewing another set of this luggage to ensure I wasn't fooled or sent a "specially prepared" set of luggage somehow. The Reckless 80L v3.0 Revolver truly seems one of the best all-around luggage systems available today. I can't picture anyone's needs not being satisfied by it.
MATERIALS & BUILD QUALITY
Pros
Durable, versatile, user-friendly, expandable, waterproof, dustproof, and well designed to fit any rider's needs
Stays put once installed, fits any motorcycle thanks to the pivoting holsters
Excellent versatility with strategically-placed (replaceable) flat straps and anchor points
Good warranty and generous crash repair;Excellent customer service and company to deal with that sells direct to customers
Cons
Expensive and is often sold out
Some stitched
fixed straps would be better on pivots for versatility, reducing wear
Can cause minor rub marks on bike paint
plastic panels
Theft is more difficult to fully mitigate against when using soft bags
Introduction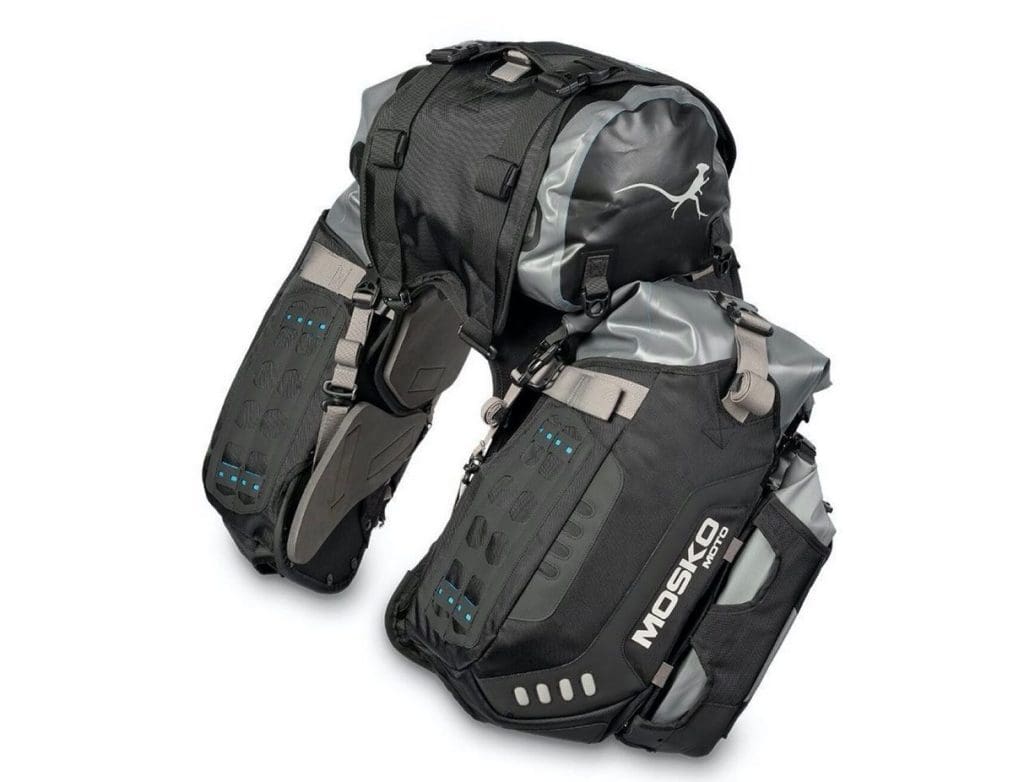 Photo from Mosko Moto
Two Reviewers, One Product
This is a longer-term multi-motorcycle, multi-role, multi-use, joint review that hopefully covers a lot of ground, literally and figuratively, regarding the Reckless 80L v3.0 Revolver luggage system, a mainstay of the Mosko Moto luggage and packing lineup and now in its third iteration.
Bruce Cole and Jim Pruner both tested out this luggage during the 2020 riding season to put it through its paces. That means you get to hear from both of us in this piece. Double the insight,  testing time, and word count.
As Jim and I discussed this review, he posed two big questions, "Is this the best version yet and why not call it "Rackless" instead of Reckless?" Time to find out.
Jim had his v3.0 system provided by Mosko Moto and Bruce purchased his v3.0 kit just after it was first released but before they went out of stock again. After we discovered our common ownership it seemed a joint wBW review effort would be valuable. ADV riding is a passion for both of us, with our activities more or less focused on or tailored by where we live – Jim out west, Bruce the east.
Jim's Vehicles
The 2019 KTM 790 Adventure S was made to wear a set of soft luggage like the Reckless 80 Revolver.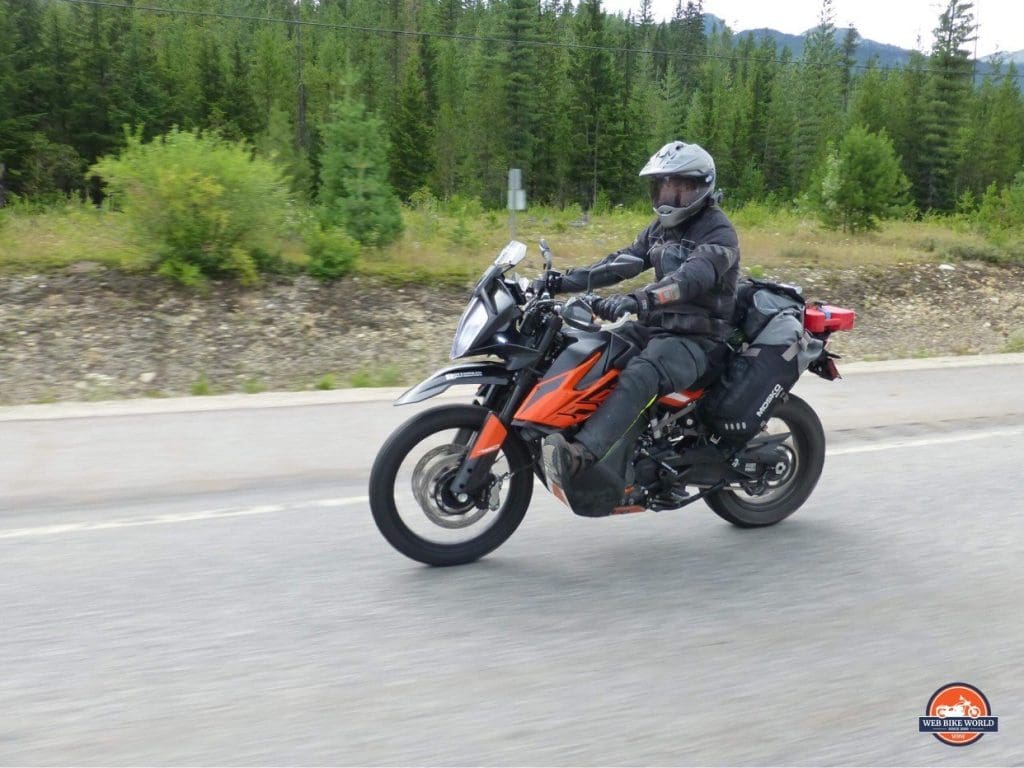 Photo by Greg Phillips
It's the lightest middleweight adventure motorcycle and so burdening it with the extra bulk of luggage racking makes little sense.
I thought to try installing this luggage on my 2018 Kawasaki Ninja H2SX SE but didn't bother after hearing the list of machines Bruce installed his luggage on. Suffice it to say I'm confident the Reckless 80 Revolver will fit on practically any motorcycle. It's that versatile.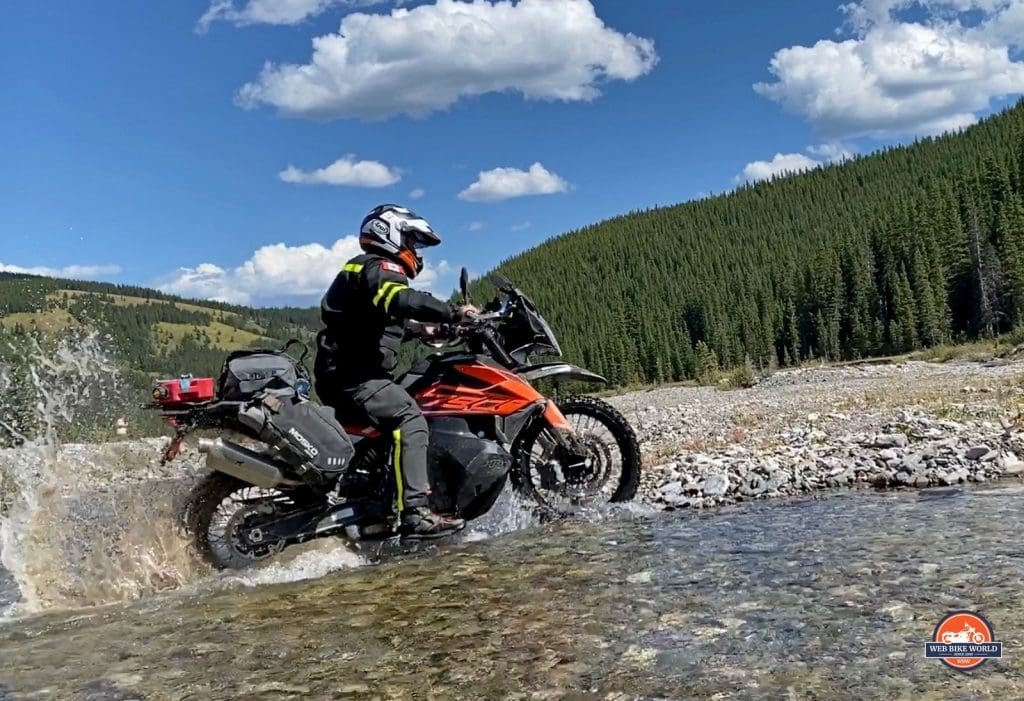 Bruce's Vehicles
The 2019 and 2020 BMW F 850 GS Adventure (regular and low frame variants) motorcycles are great all-around ADV rides, whether on or off the paved path.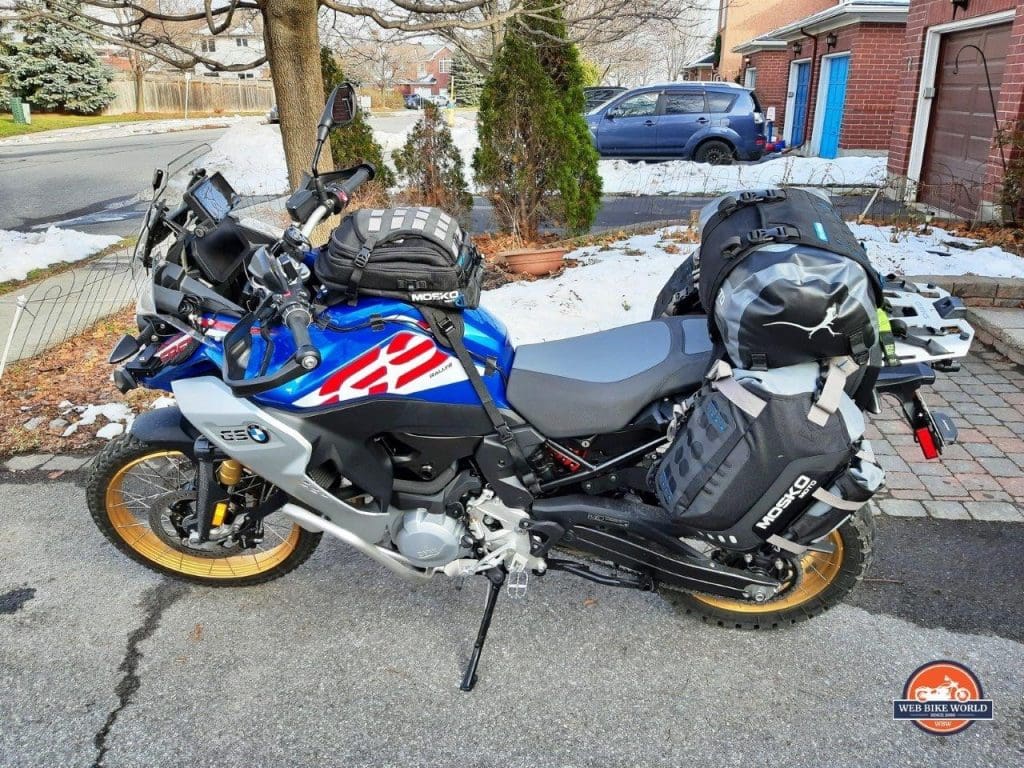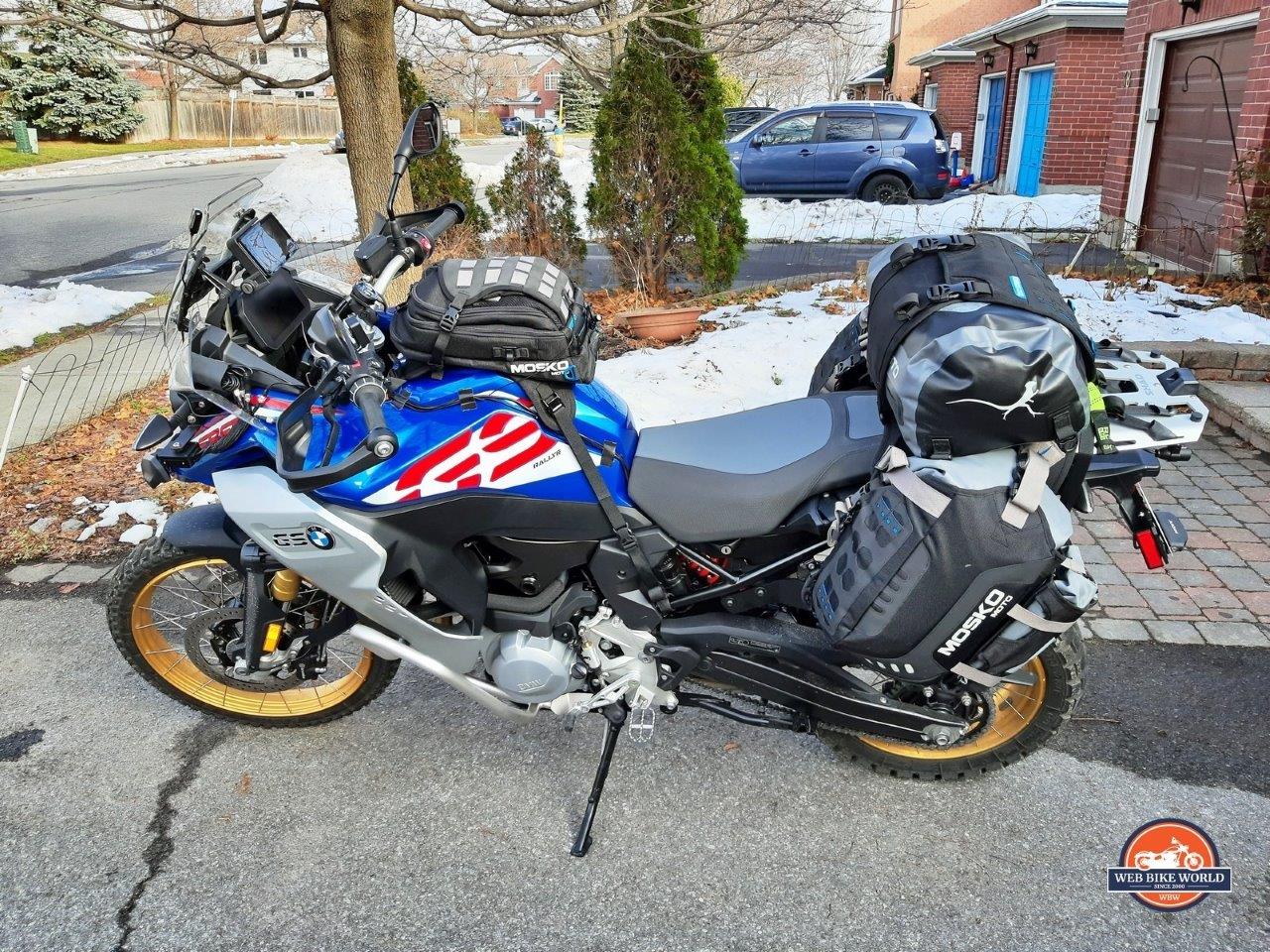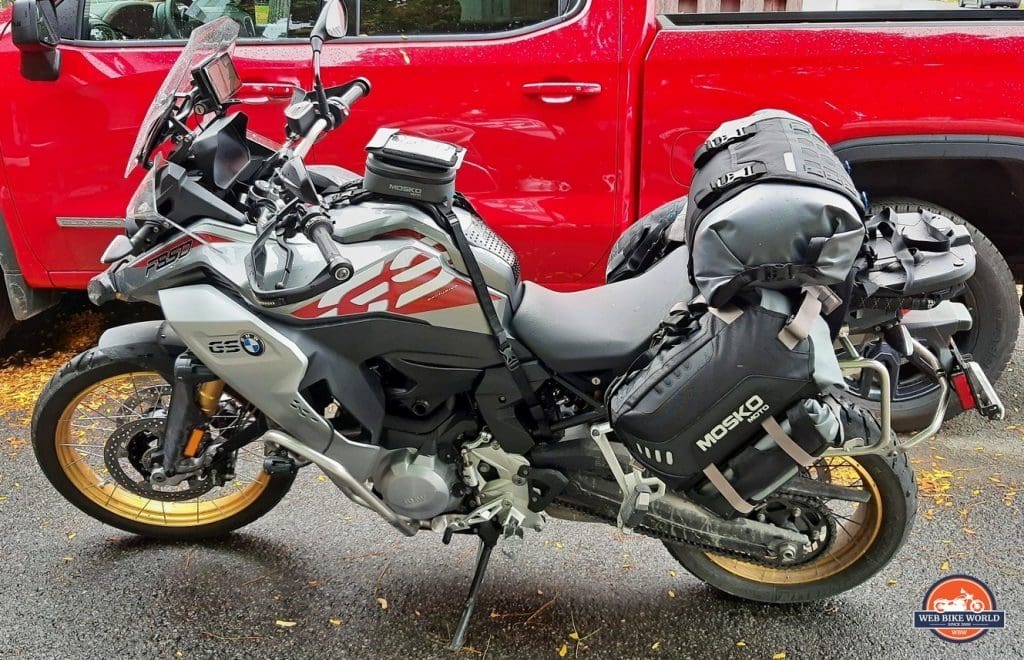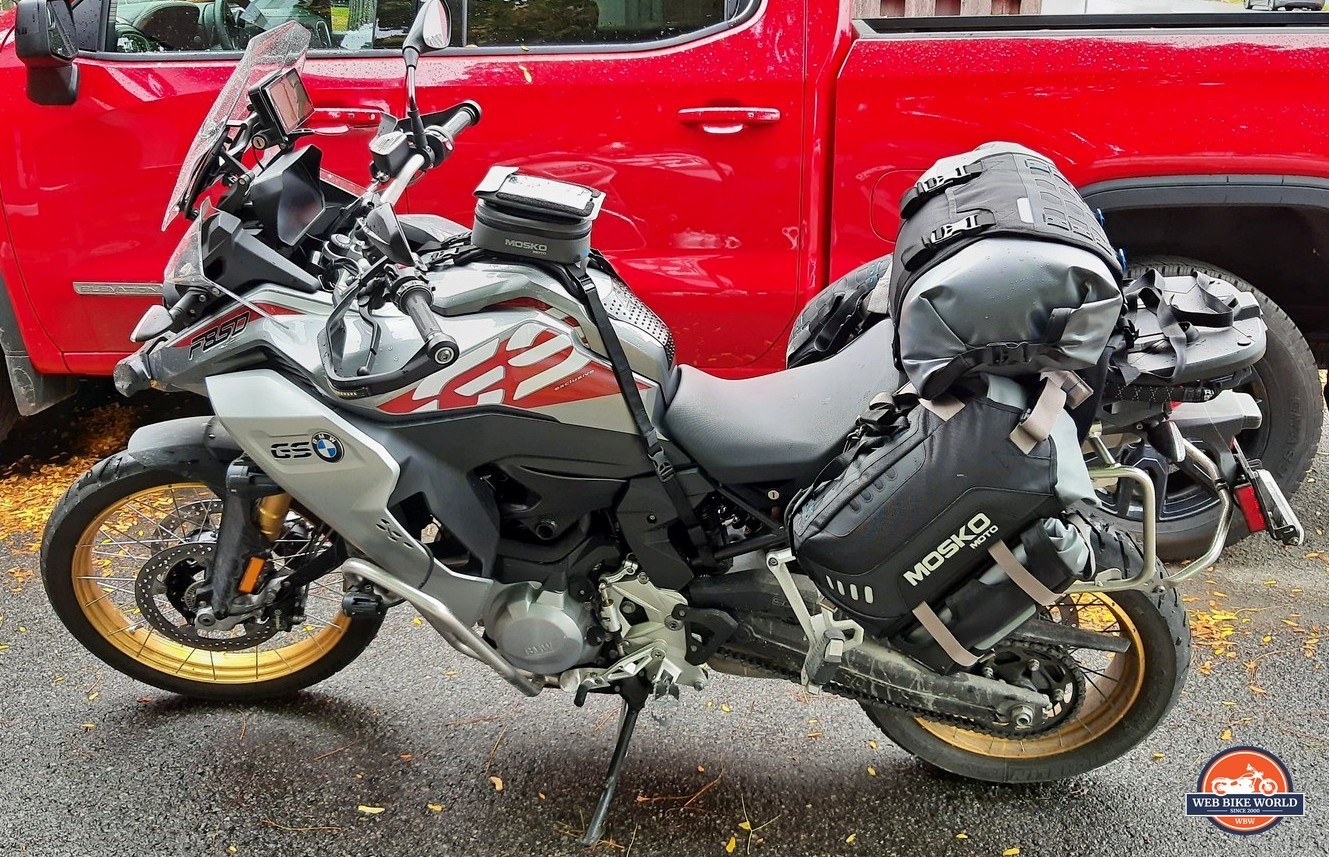 The 2020 BMW F 900 XR is a more road-oriented ADV-travel machine but one that, once fitted with a set of Pirelli Scorpion Trail tires can roam freely between pavement, mixed surface back roads, and trails.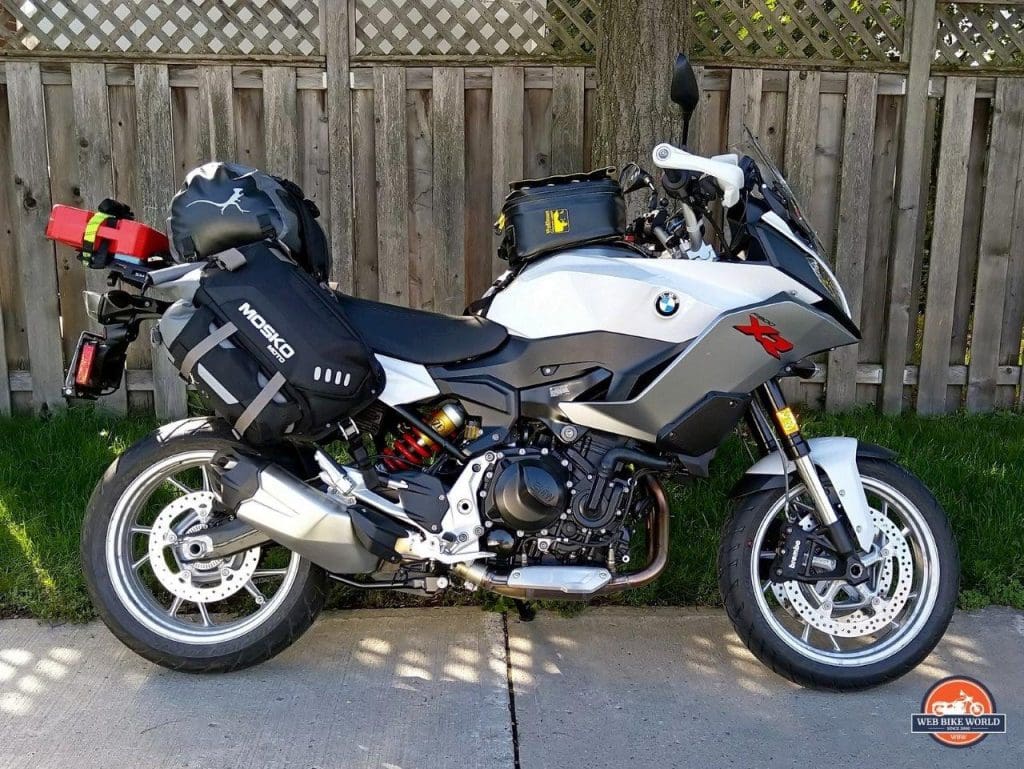 Ease of Installation
Jim – The first thing to do with the Reckless 80 Revolver is to partially assemble it by loosely attaching the two side holsters to the main body. This is best accomplished with it lying on the floor as opposed to on the bike itself. After connecting it together, lay the whole thing on the bike and choose the best angle for the side holsters to be locked into, before tightening up the fasteners to the final torque (with blue Loctite on the threads).
Next, secure the mounting straps to some appropriate anchoring points on the rear tail section of the bike and somewhere around the rear shock/passenger footpegs to freeze it there. This luggage isn't model-specific and so there's no obvious or "correct" position for it to live in. It's up to you to sort it out on your own.
At first, I found winging it a little challenging but the video on Mosko Moto's YouTube channel cleared it up for me. What can I say? I'm a visual learner and haven't installed one of these kits before on a 790.
The most difficult part of the installation for me was getting the small screws to engage into the receptacles during the initial assembly. Especially the ones which hold the auxiliary pockets (Aux Pox) to the main holsters on each side. It doesn't look hard but strangely can be, and Bruce concurs that this process could be made easier.
I would peg initial assembly and installation time at about 1 hour if you're unfamiliar with the Mosko system and fussy about getting it just right the way I am. After that, it's a no-brainer and can be slapped back on in about 15 minutes or less at a relaxed pace.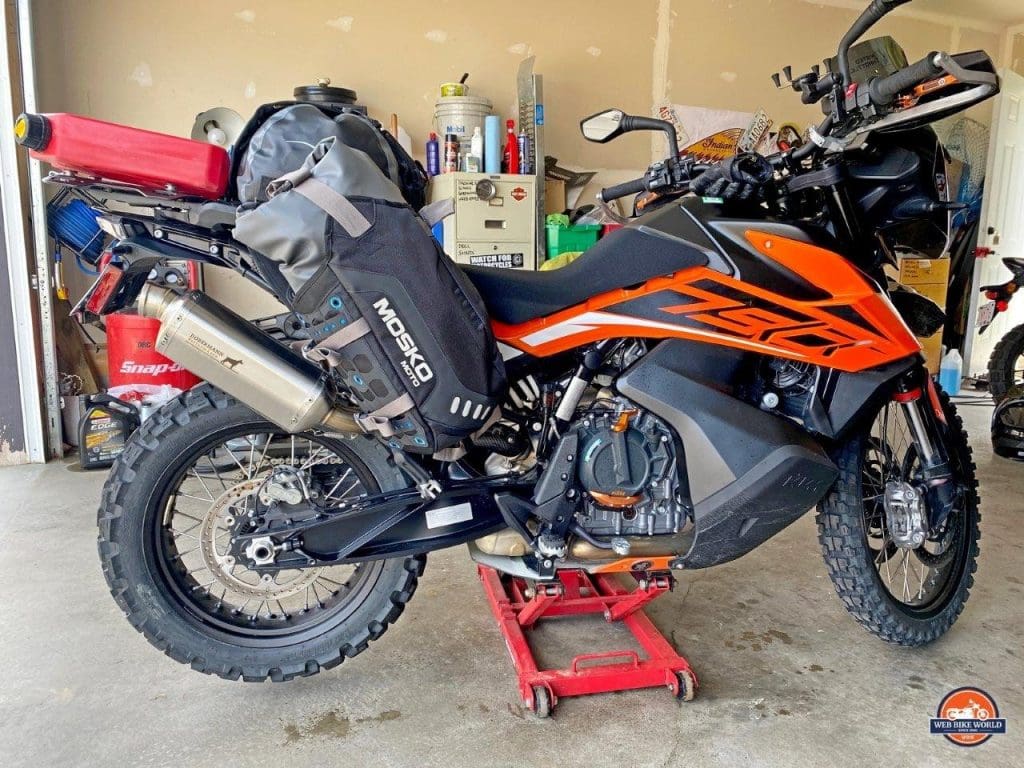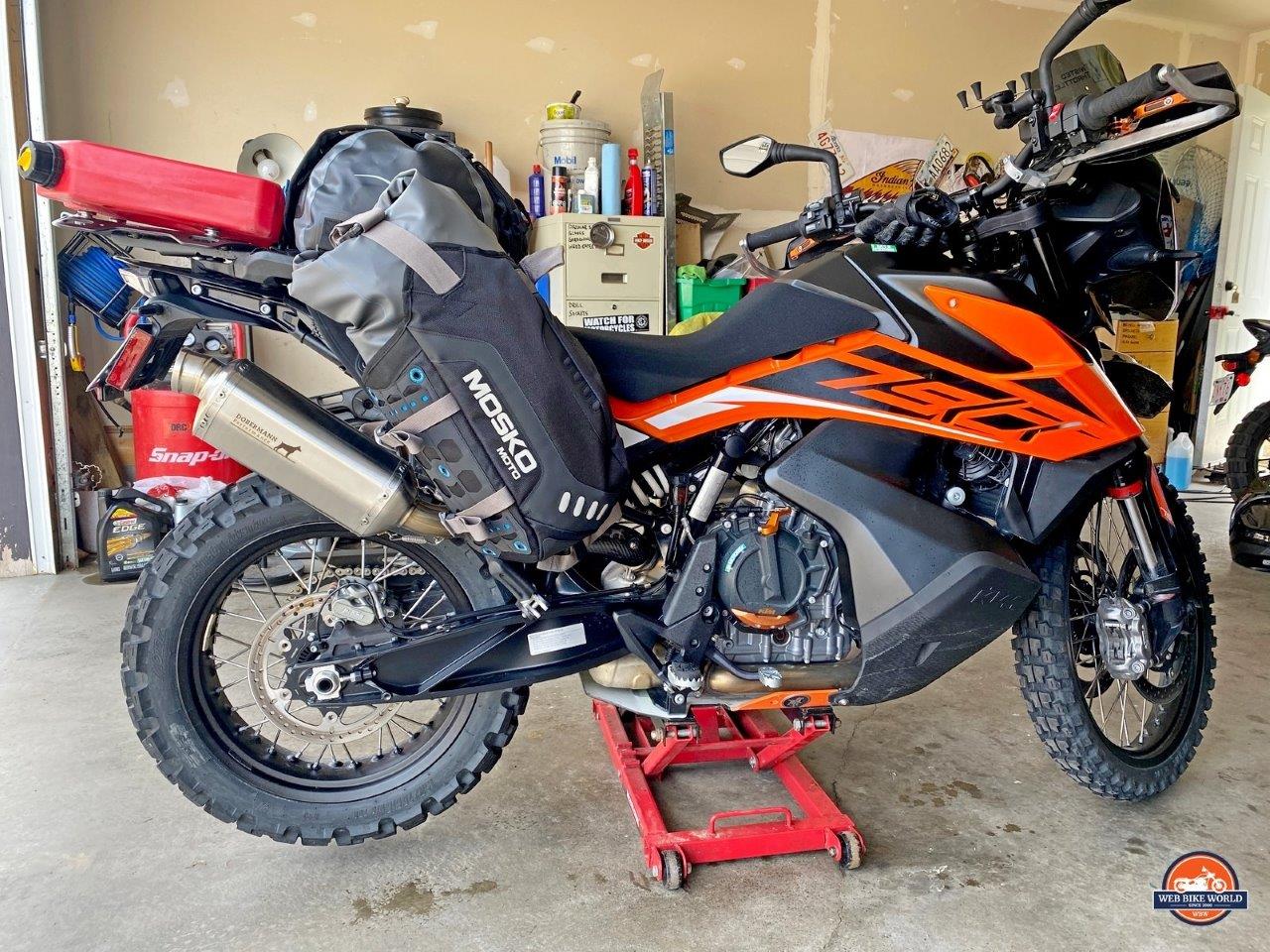 The connectors on each strap are easy to work with and pull tight to secure the luggage as you want it on the bike. Once everything was cinched down fully I was seriously impressed with the fact nothing moved one iota! Even after thousands of miles traveled I never once found the need to tighten any of the straps (although my obsessive nature forced me to check anyway).
Bravo Mosko Moto!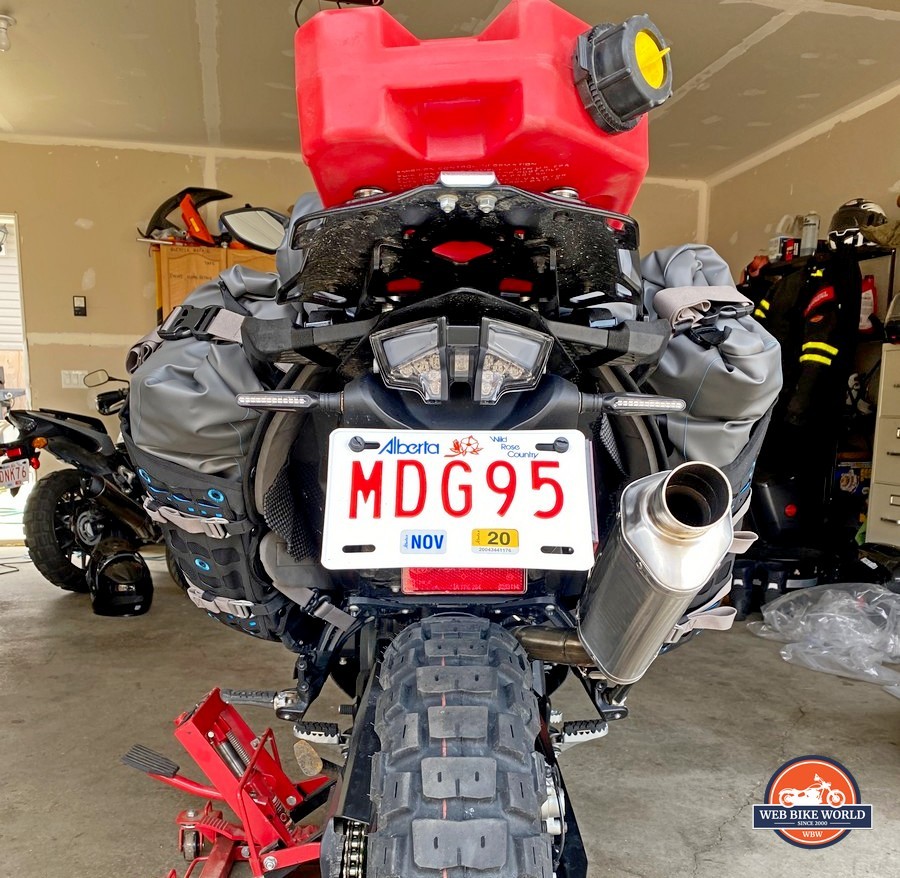 I opted to center my Reckless 80 Revolver luggage over the passenger seat instead of the SW Motech rack that I have on the rear of my 790. This way I had the option of putting the aluminum pannier on there if I wanted full touring capacity or as you see in many of my photos an extra fuel reservoir.
I feel this positioning keeps the cargo weight more forward/centered on the bike to keep my 790 closer to the thoroughbred performer it is sans luggage.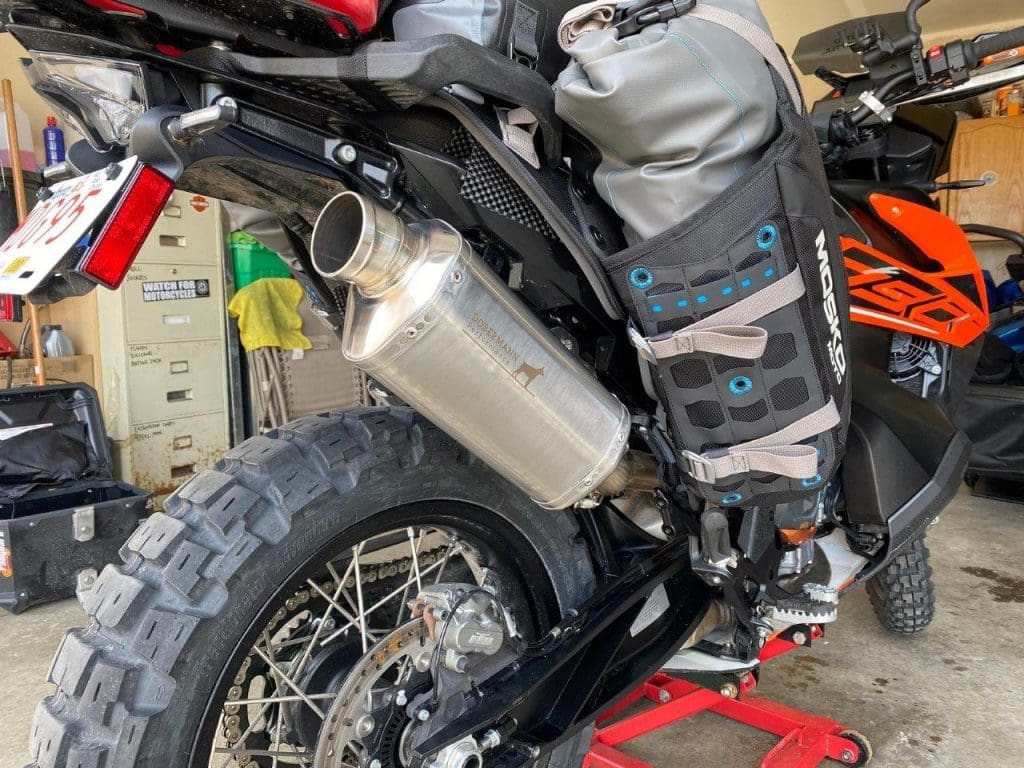 The Reckless luggage holster frame is very stiff and still is now after thousands of bumpy miles ridden. That stiffness and combined with the more forward positioning of the luggage has kept the right side holster several inches clear of my hot Dobermann Performance muffler which might have melted the nylon luggage in a close encounter. That clearance negated the need to install the aluminum heat shield included by Mosko Moto with the luggage.
I didn't end up installing the auxiliary pod on the exhaust side of the luggage in case that extra weight would have dragged it down into the muffler somehow. But I did install one on the left side to get up to a total of 76 Litres storage of the possible 80L. I suppose for that reason I should now refer to my luggage as the Reckless 76L v3.0 Revolver, eh?
Here's a sloppy little walkaround video I shot of the luggage on my bike.
Mosko Moto Reckless Revolver 80L v3.0 Walkaround Video
Removal of the Luggage?
Taking the Reckless Revolver 80L off the bike is much faster than installing it, but I wouldn't exactly call it fast or convenient due to the way I chose to install it on my KTM. Your chosen routing might speed it up considerably because I overthink and fuss over everything.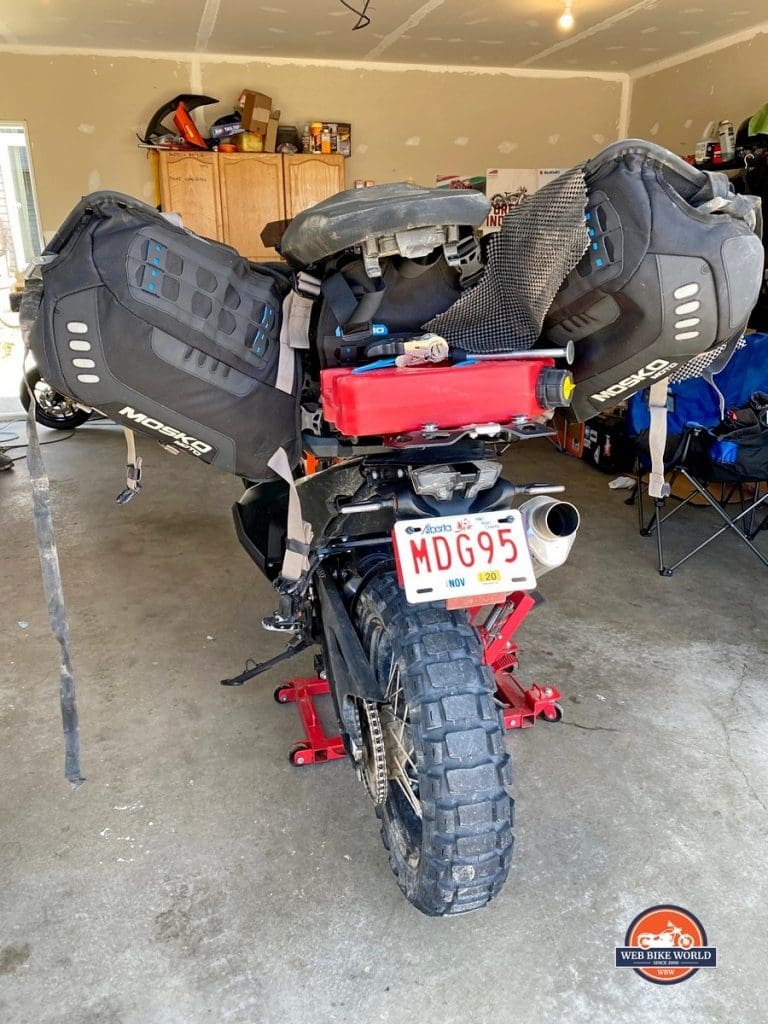 Due to the fact I installed the luggage on top of the passenger seat, I found it necessary to half uninstall the luggage for access underneath to clean my Rottweiler Power Plate prefilter.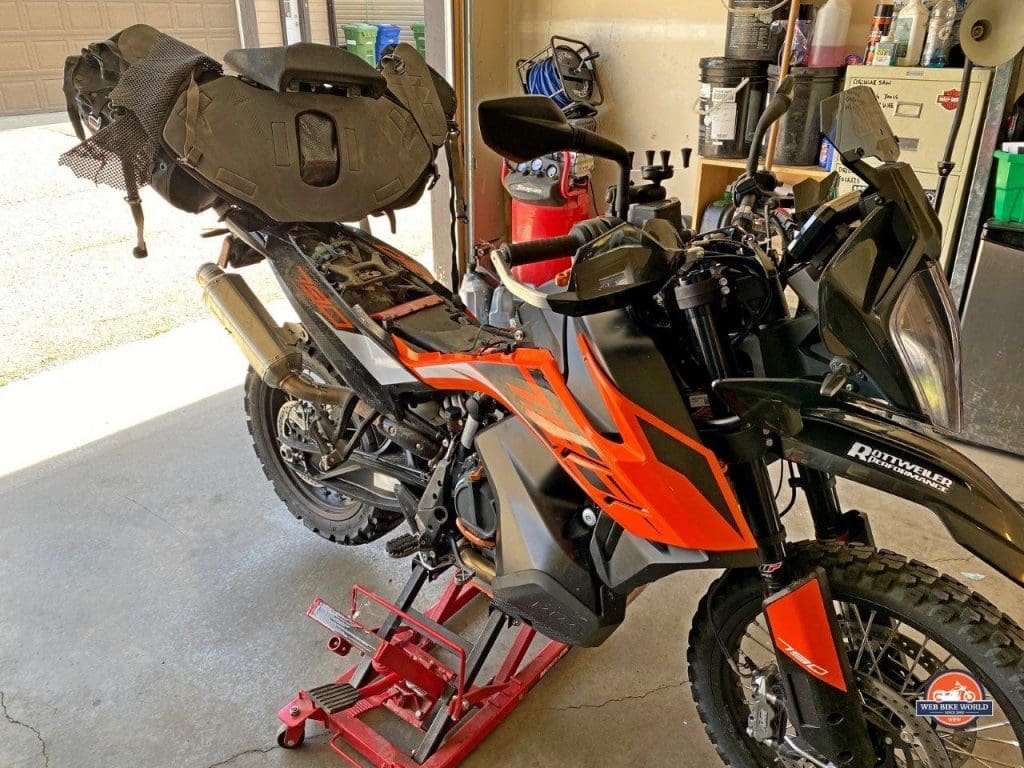 By the way, I highly recommend this prefilter if you own a 790 adventure because it allows you to save a lot of money on OEM engine air filters. Rottweiler has also just released an entirely new and improved airbox with a Twin Air filter on it if you prefer that option instead… but I digress.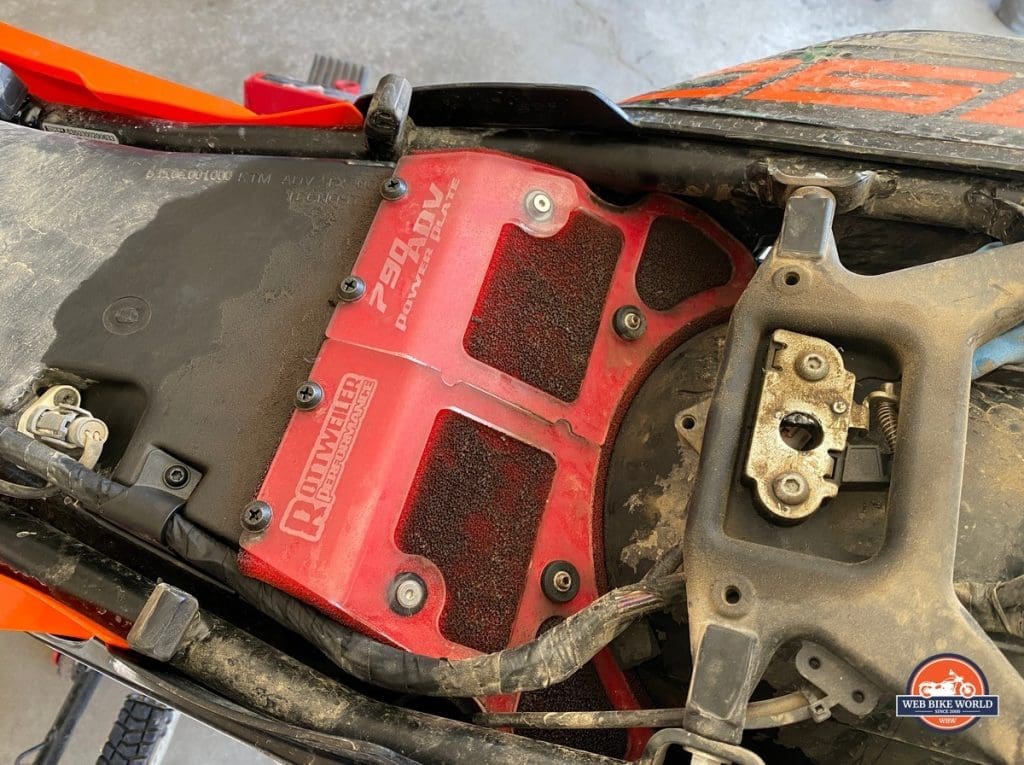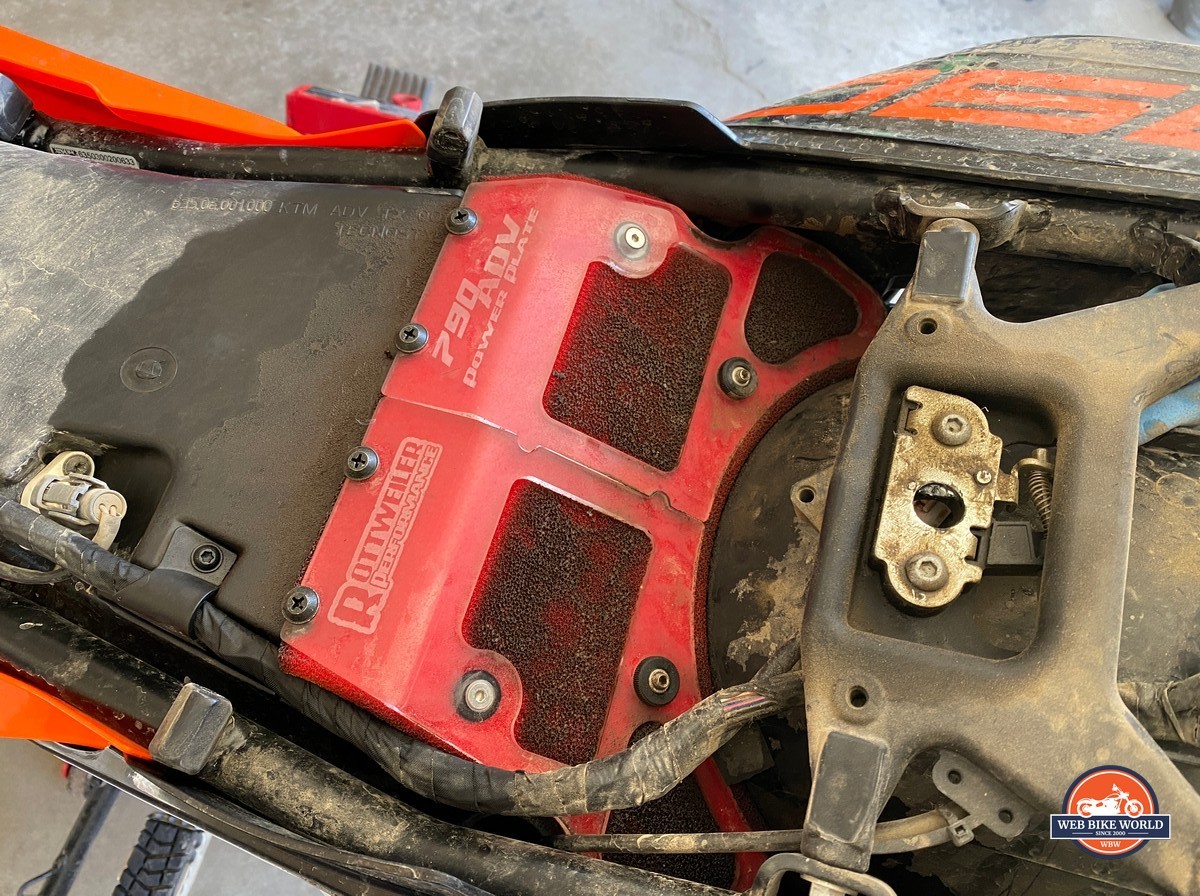 Bruce – my Reckless 80 v3 has now been 'installed' on five motorcycles, two for fitment assessment and three for use. An F 750 GS Low Frame and KTM 690 were guest hosts and outside of the requirement to add a good heat shield on the upswept muffler of the KTM, there aren't any issues.
All three of the F 850 GSA machines have the OE aluminum Adventure Luggage frames mounted that make near perfect side supports regarding clearance and stability, even though the Reckless 80 system can stand on its own…as designed.
This feature is now well-proven from my perspective; it sits and fits on the F 900 XR like it was made for it and this is a good thing 'cause when this new model motorcycle came home early this spring there wasn't much on the accessory market for it.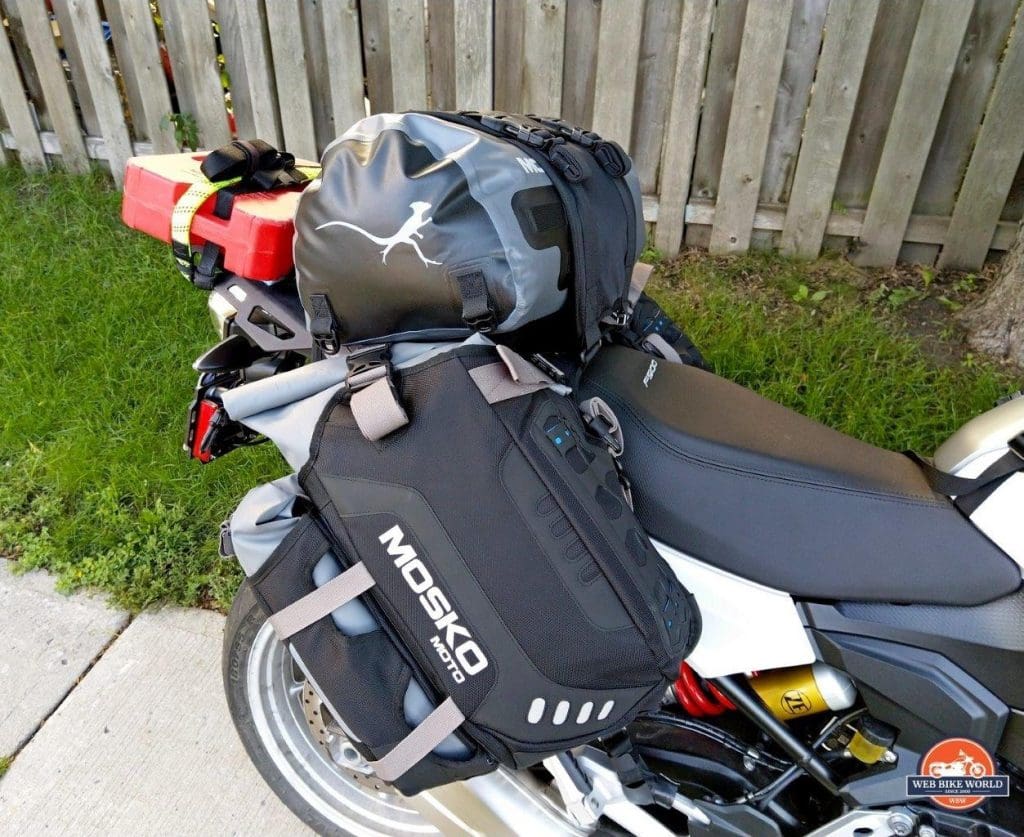 An older SHAD TopMaster kit with side rail mounting points that matched up to the lower frame OE luggage mounts provided a rear rack solution that then provided the needed solution for the R80 back attachment points, with the lower front straps using the passenger peg/exhaust hanger brackets. Simple and very secure, with good clearance between the right holster position and the exhaust system.
Being able to adjust angulation of the side 'holsters' is indeed a very smart feature that provides fore/aft and height accommodation for different motorcycles, although, for shorter taller motorcycles, like the F 900 XR, a fifth more vertical setting would be perfect (my set is being modified).
Once the process is known, initial assessment and fitting of the Reckless 80 system securely to any of the motorcycles never took more than five to ten minutes from scratch. Removal now takes less than a minute and remounting less than two, including verifying that mounting is solid and the straps tight; versatility and flexibility of use are great.
The F 900XR is now replaced by (another) new F 850 GSA (deja vu or what) test mule, with the Adventure side frames removed and a new SHAD 4P kit installed for use with the TERRA aluminum luggage (a pending wBW review) or the softer side of things, like the Reckless 80.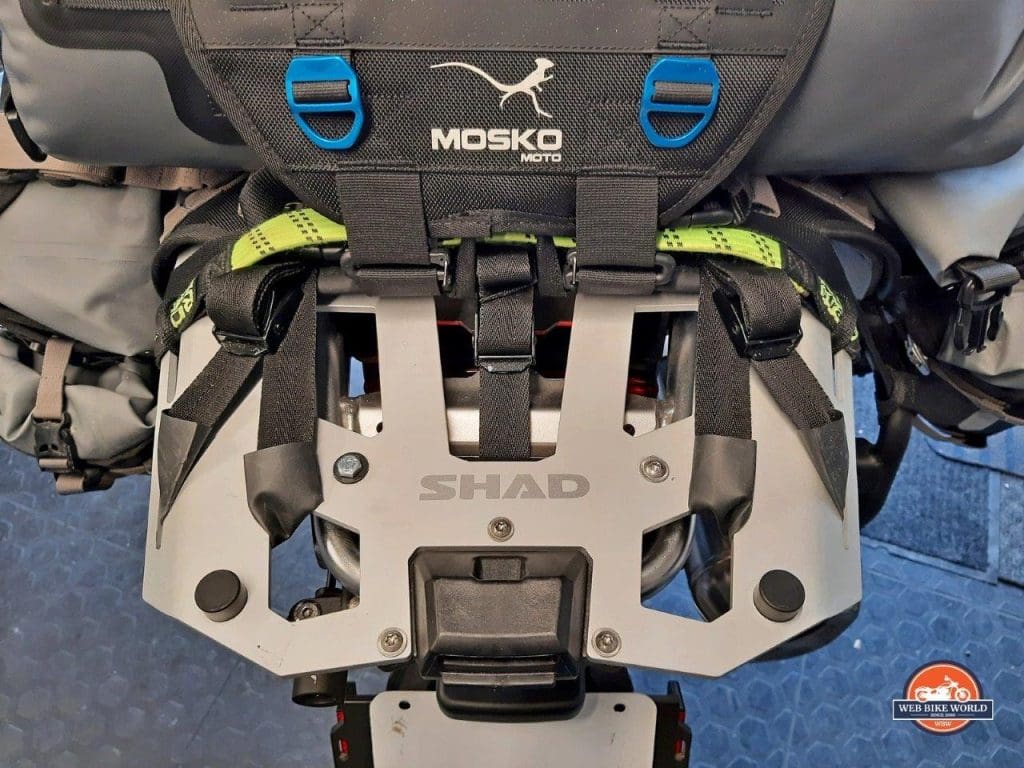 To agree with Jim…removal is easy and reinstallation may take a couple of minutes if adjustments are needed for load or layout changes (it happens as one travels…); the semi-rigid 'frame' approach is indeed an excellent one, for lots of reasons.
Durability
Jim – The holster section of this luggage is built out of ballistic nylon that is reinforced with Hypalon armor in strategic and logical areas. It's very tough stuff that doesn't flex a whole lot even after being soaked with rain or out in UV light for prolonged periods.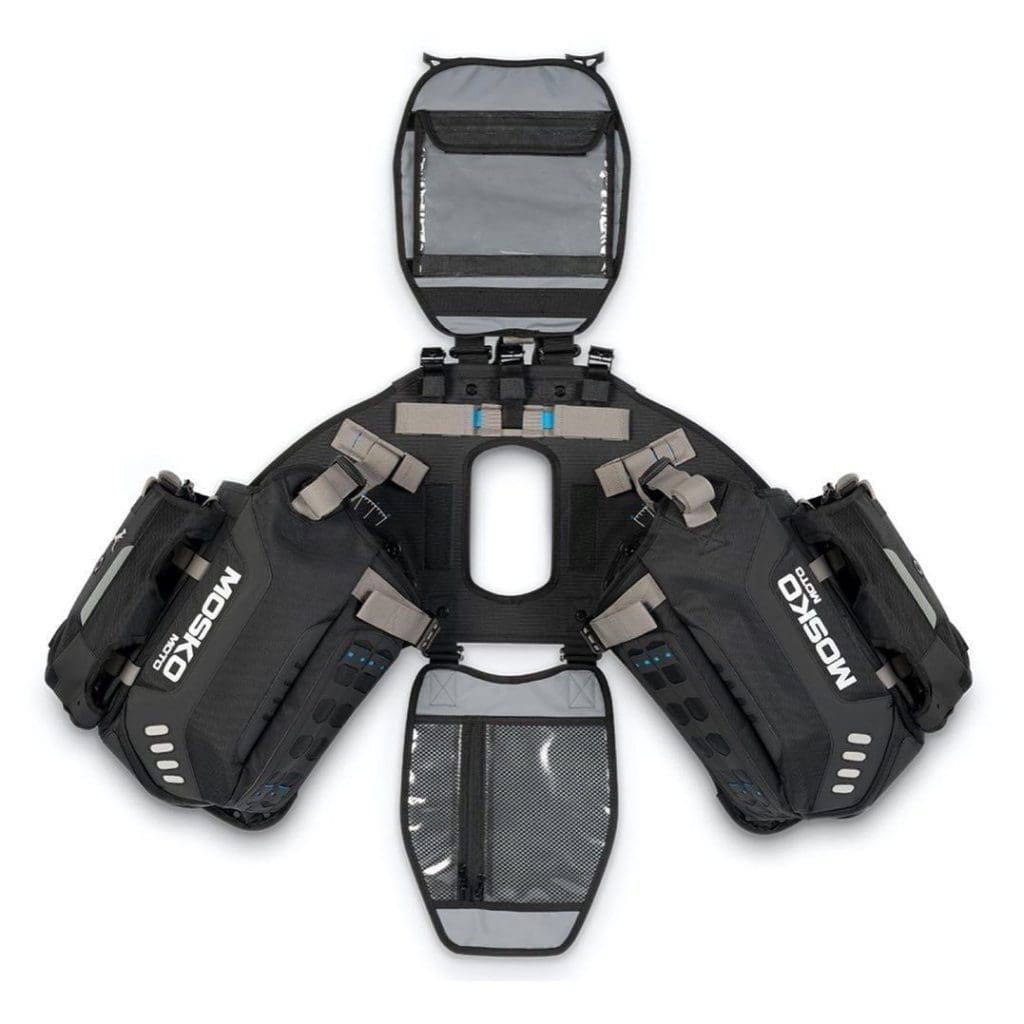 Photo from Mosko Moto
In the 4 months and roughly 5000 miles, I spent testing this Reckless Revolver system I didn't notice so much as a stitch out of place by the end of it all. The build quality is obvious and appreciated on my part. I pressure washed the luggage more than a few times with no ill effects.
No chafe marks, rubs, cracking, pilling, melted patches… nothing, zip, zilch… nada.
Bravo Mosko Moto!
In A Crash?
I didn't manage to send my bike skidding down the road at any point (I won't apologize for that), but I did drop my bike about 6 times out on the trail while stationary or close to it.
The net result again was zero damage to the holster or the dry bags. To my surprise, these tip-overs didn't hurt anything within the dry bags, but I keep all the more fragile items in the top-mounted Stinger 22L dry bag which isn't typically affected in a tip-over or crash scenario.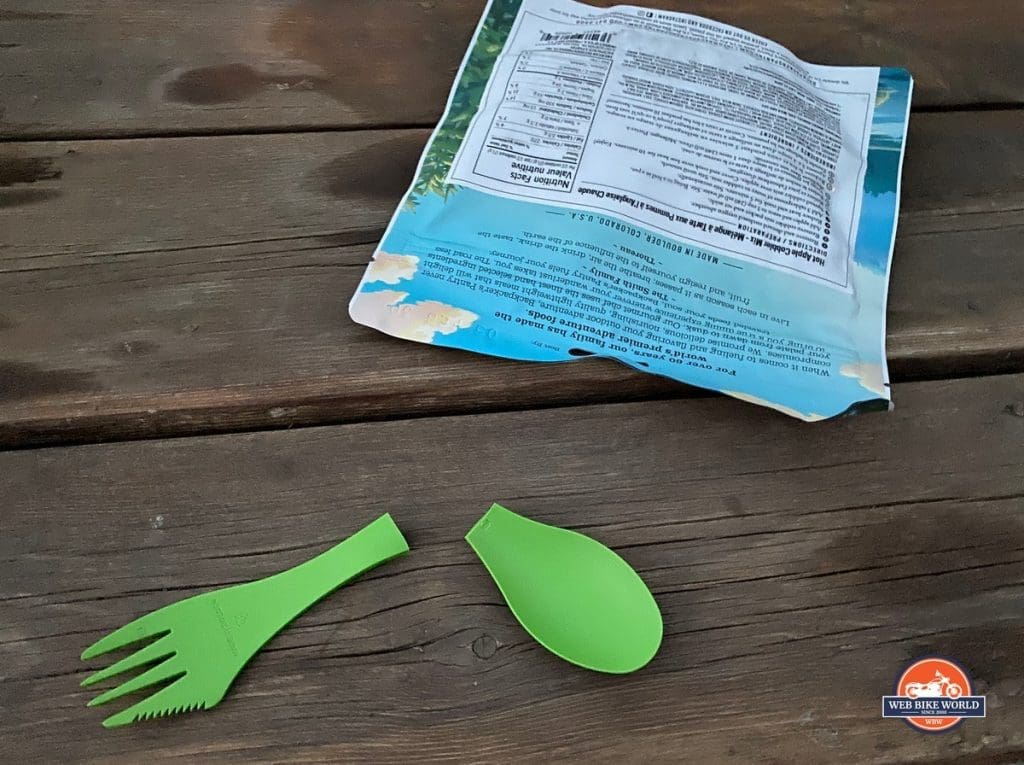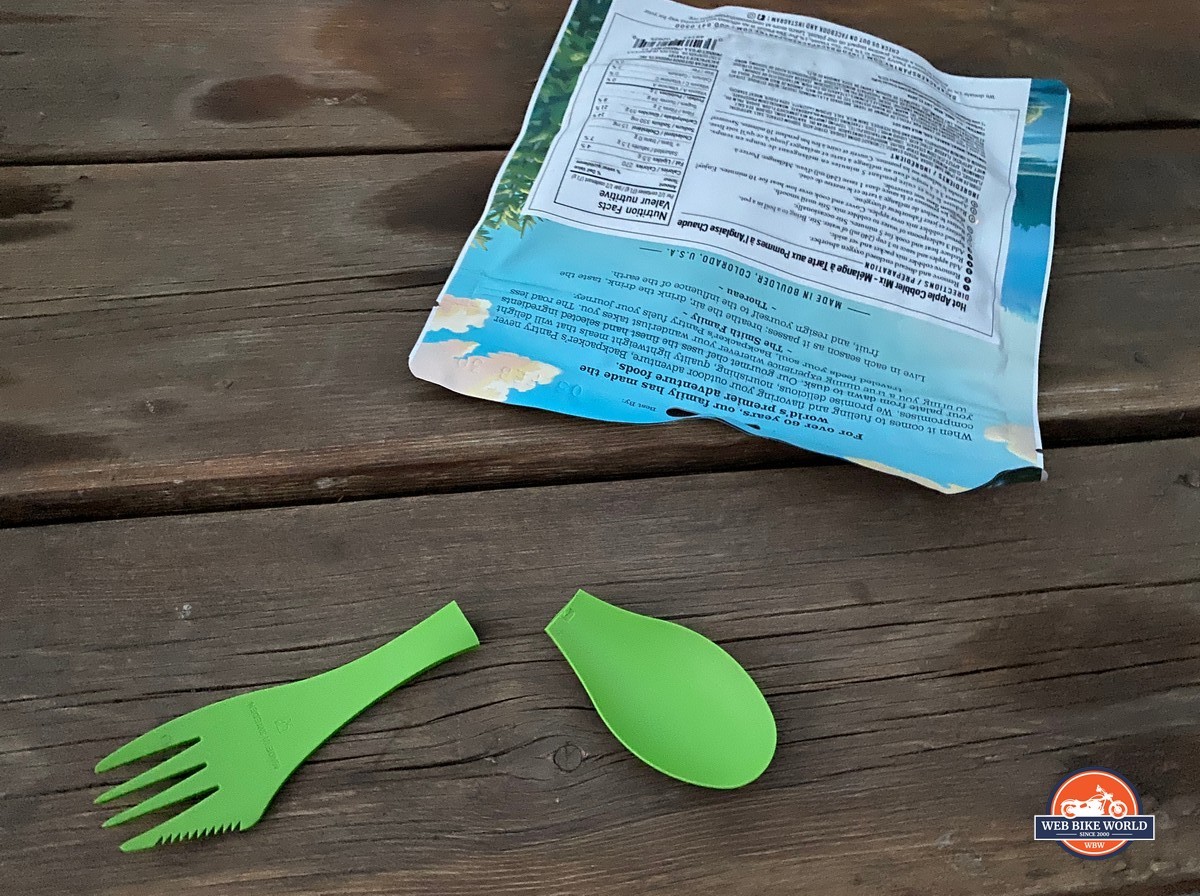 The only casualty of these spills was my plastic camping "spork" as you can see in the photo above. I had it stowed in the beavertail pocket section of the luggage which was folded over the upper Stinger 22L dry bag. I must have placed it in there the wrong way and then broke it when I pulled on the straps to lock everything down securely.
Crash Test Dummy Research
Lucky for us, (but unlucky enough for him) one of the members of a 790 Adventure FaceBook group I belong to did go for a low-speed skid with a similar Mosko Moto set of luggage.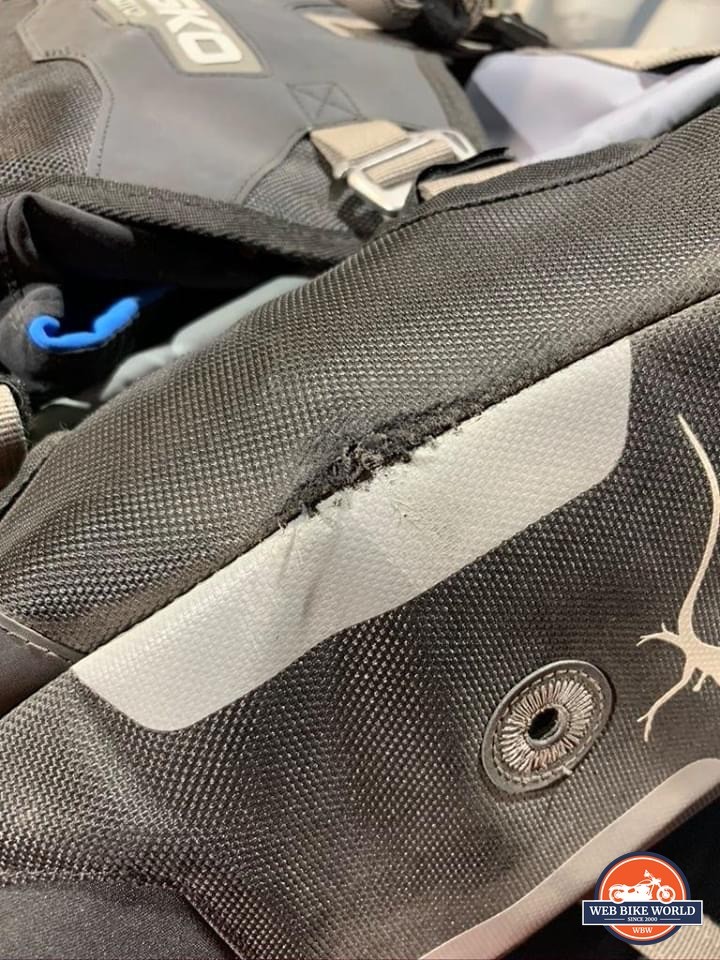 Thomas Bekker was kind enough to allow me to share these photos he took of his gear after a slide across some asphalt he experienced while traveling between 10 – 15mph.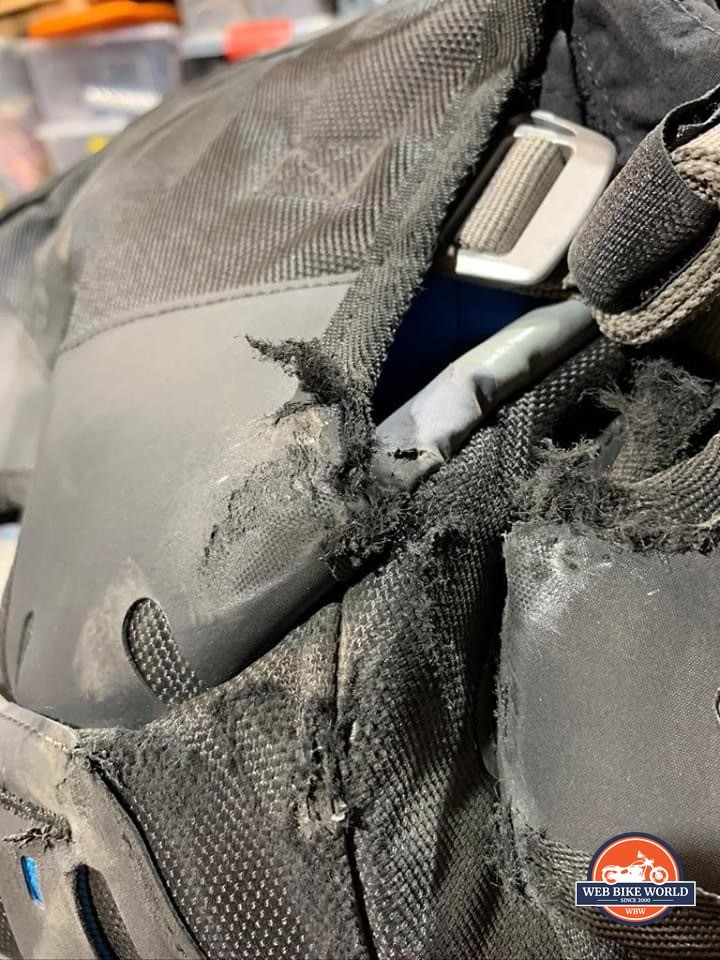 You can see the ballistic nylon took a fair bit of damage even at that paltry speed, but not enough to render it useless. It's just kind of ugly now from what I can tell. I'm a bit surprised at the degree of wear through the nylon and can imagine total destruction of this luggage holster could be a possibility if you happen to lay the bike down at 55mph or greater.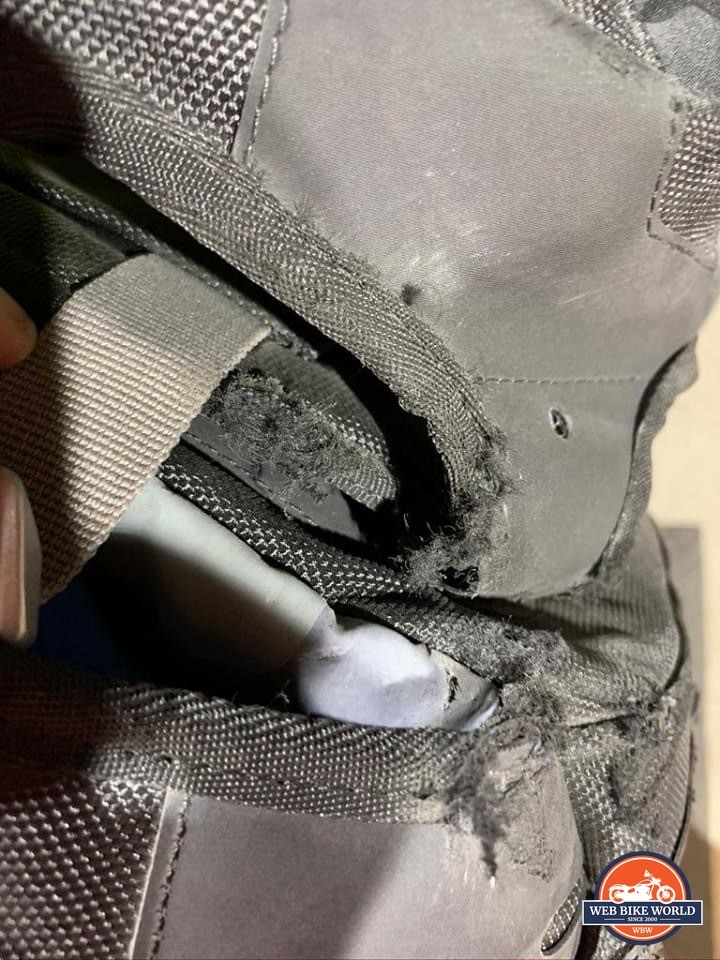 Luckily Mosko Moto has a program to repair or replace damaged gear like this. It's fairly similar to the one offered by Klim on their products and is unnecessarily generous, but appreciated in my opinion.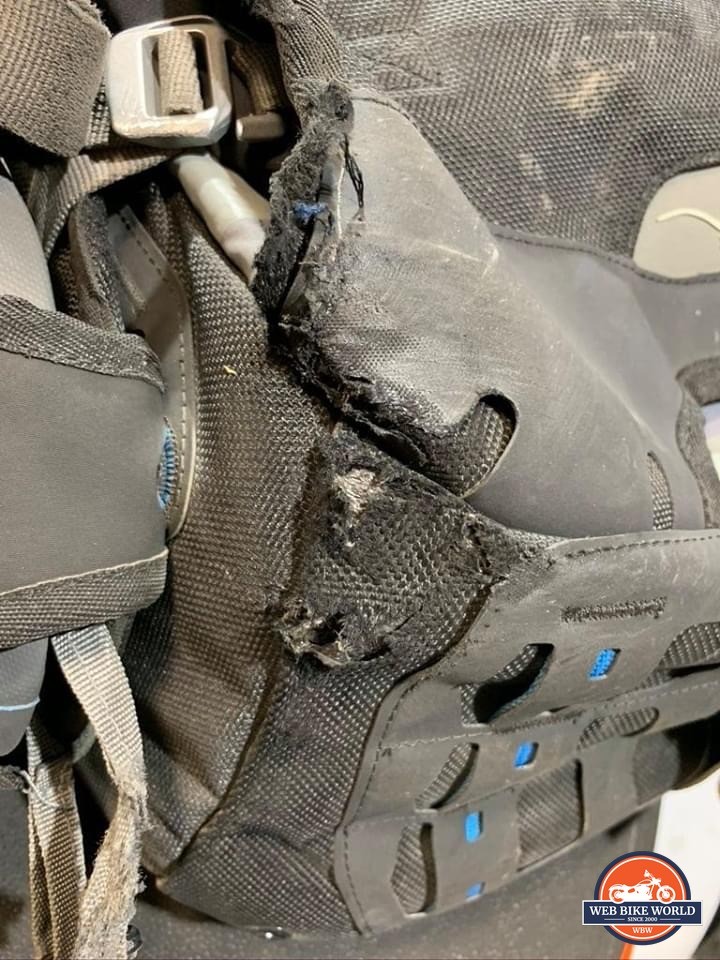 Bruce – it is truly hard to fault the build quality of any MoskoMoto product, including the Reckless 80 system. The only wear-n-tear observed came about while the system was on loan to a fellow rider for a (short) trip.
One of the side drybag retention straps got ripped partially off its stitched mount, possibly due to a mounting 'error' where undue stress became an issue…but the issue is locally repairable; even though the MoskoMoto support rep was willing to assist as needed – all good.
Waterproof Dry Bags
Jim – The dry bags appear to be similar to the ones many other luggage manufacturers use. They have a rubbery, polyurethane outer and inner layer encasing a tough nylon core.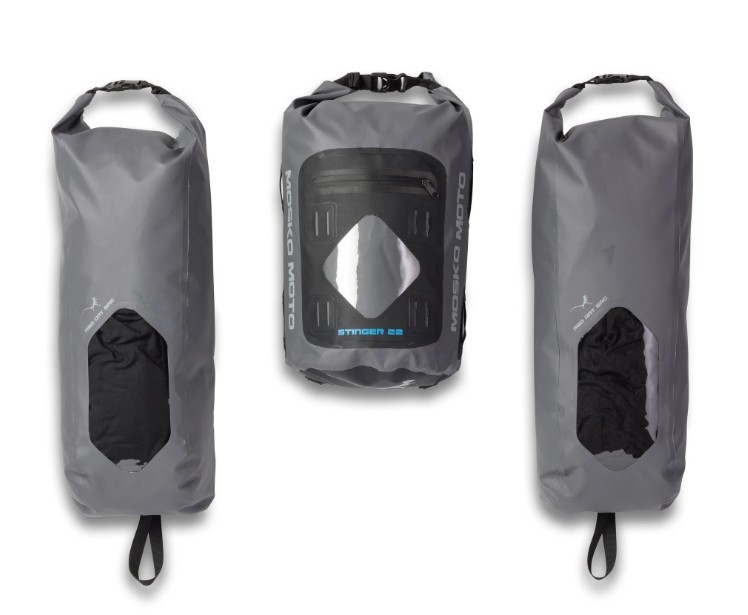 Photo from Mosko Moto
Water, Dust, and Dirt Resistance
Yup, they kept out everything from dust to water perfectly in my testing experience.
I did manage to rub away two small spots of the polyurethane layer thanks to my carelessness. I stupidly put a metal jacking tool with sharp edges inside one of the bags, but I noticed the small rub spots beginning to appear before they turned into actual holes and moved the jack somewhere else. Despite this mistake, the bag doesn't appear to be leaking in any way to my relief.
Bruce – all of the dry bags included with the Reckless 80 v3.0 kit are waterproof (if sealed or rolled properly with at least three wraps; some rough use (including one loaner trip) didn't faze any of the drybags. Granted, the pieces here have not accumulated anywhere near the use, time, and distance that Jim's have, but I expect a long useful life from all of them. And leaving them out in the rain keeps them clean!
Capacity and Convenience On The Road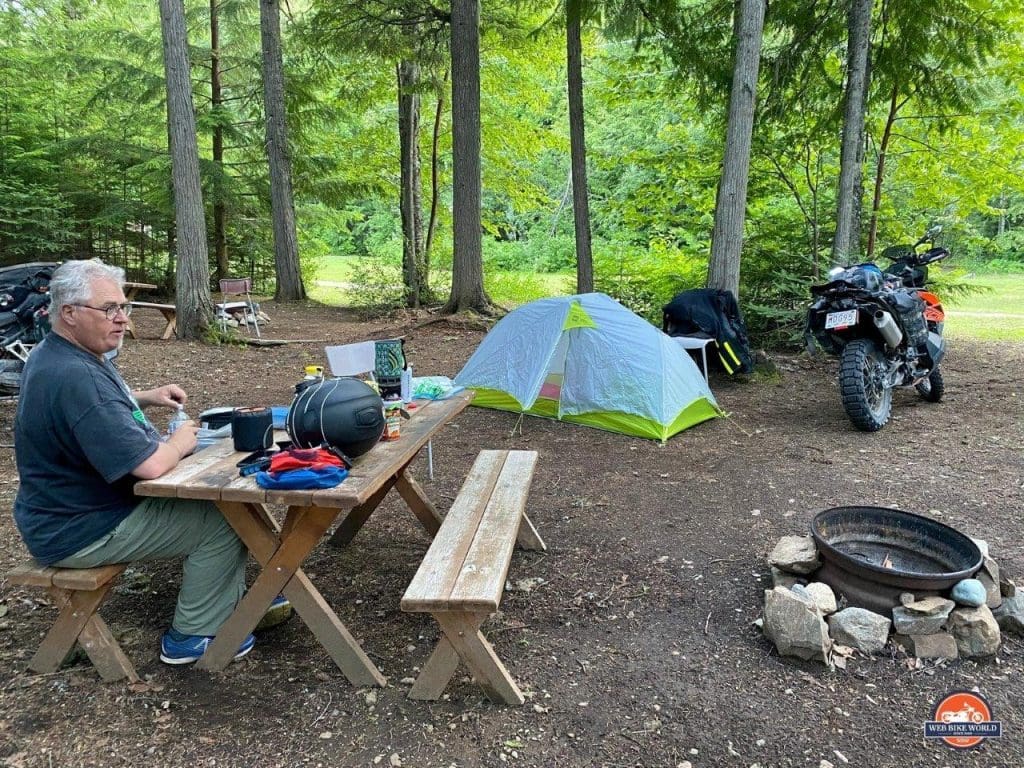 Camping off a motorcycle is all about the conservation of space and bringing only bare essentials.
The most I could manage to get in the system was about 60lbs of gear, food, clothes, tools, and other necessities. The good news is that's all I need and most times all I want to have with me as well. This is especially true when riding over gnarly terrain or when I have to pick up a tipped over 790 Adventure.
Bruce – You should try picking up a loaded F 850 GS Adventure.
On And Off The Bike
Jim – I can't think of a better way to have easy access to my gear than this Reckless Revolver system. The two side-mounted Dry Bags have clear plastic windows in them to help quickly identify where I packed rain gear or extra gloves, etc, but they also allow light to shine inside (when they're out of the holsters) for further help in that regard. Thanks to that feature I usually didn't find it necessary to tear everything apart to find what I was looking for.
Unloading and reloading the dry bags from the holsters is easy thanks to the quick connectors that stood up to all the abuse I dished out. In particular, I appreciate the small velcro loops on every strap that are designed to wrap up and retain any excess length. No flapping straps to be found on this luggage while riding at any speed down the road.
The Good News And Bad News
You've likely already deduced that if it's fast and easy for you to remove the dry bags from the holsters there's a decent risk of being relieved of your belongings quickly as well. You'd be right about that and Mosko Moto does sell locking straps and cables to anchor the dry bags to the holster and bike if you're concerned about it.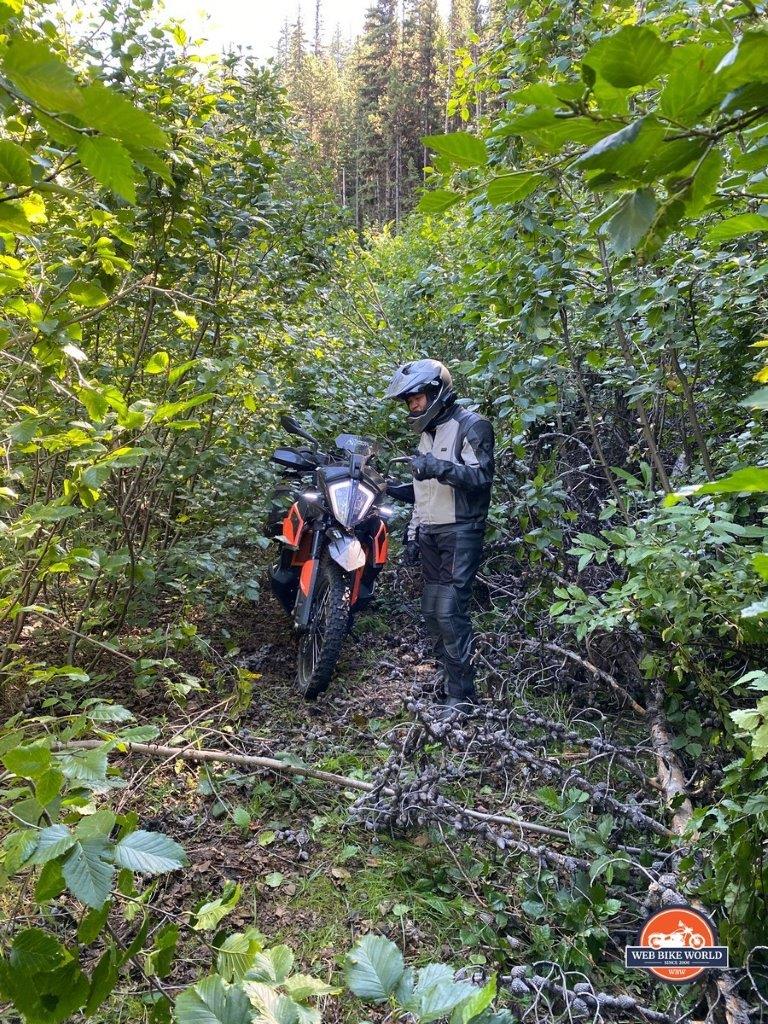 I didn't feel the need to lock anything up, because I tend to camp in remote areas or private campgrounds where I can easily keep an eye on my gear. My thought is, if someone is determined to steal from you they'll manage it even if they have to cut a retaining strap apart or slice open your dry bags with a knife to pull out the contents.
The Versatile Stinger 22L Top Bag
A wise way to minimize any loss is to put all your "must not lose" gear in the upper dry bag (named the Stinger 22L) that can double as a backpack thanks to the included straps and reinforced floorplate. This way when you leave your bike you can just bring the Stinger with you to keep it away from opportunistic rapscallions and cleptomaniacs.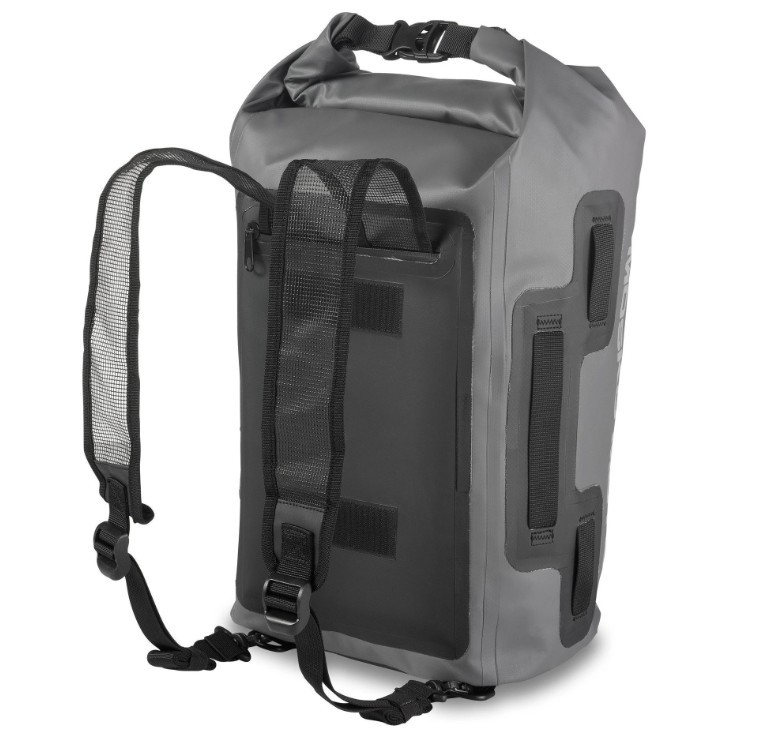 Photo from Mosko Moto
Choosing whether or not to wholesale remove the holster from your bike in addition to the dry bags while staying in a hotel room far away from where your bike is parked is open to debate. I find putting the harness back on too time-consuming, and so I would roll the dice as opposed to pulling the holster off unless I'm staying at a very dodgy motel I suppose.
Bruce – Everyone has their own packing modus-operandi, and most of my day to day or stopover stuff is packed in the top drybag or another almost as large bright yellow dry bag strapped on to the back rack, usually on top of the RotoPaX fuel container.
The 'camping' gear, which may or may not get used daily (an age and comfort thing…) usually resides in the two side holster bags, with the stove bag and other small camping stuff shared between the two 4L drybags aux pox in the back holster attachments.
The tent pole sac and usually a camera tripod-mount is carried on the back of the top drybag using the MOLLE layout. Can all the basics (and more) be carried with the Reckless 80 systems? Certainly. Packing right and packing tight, which includes getting rid of excess air works.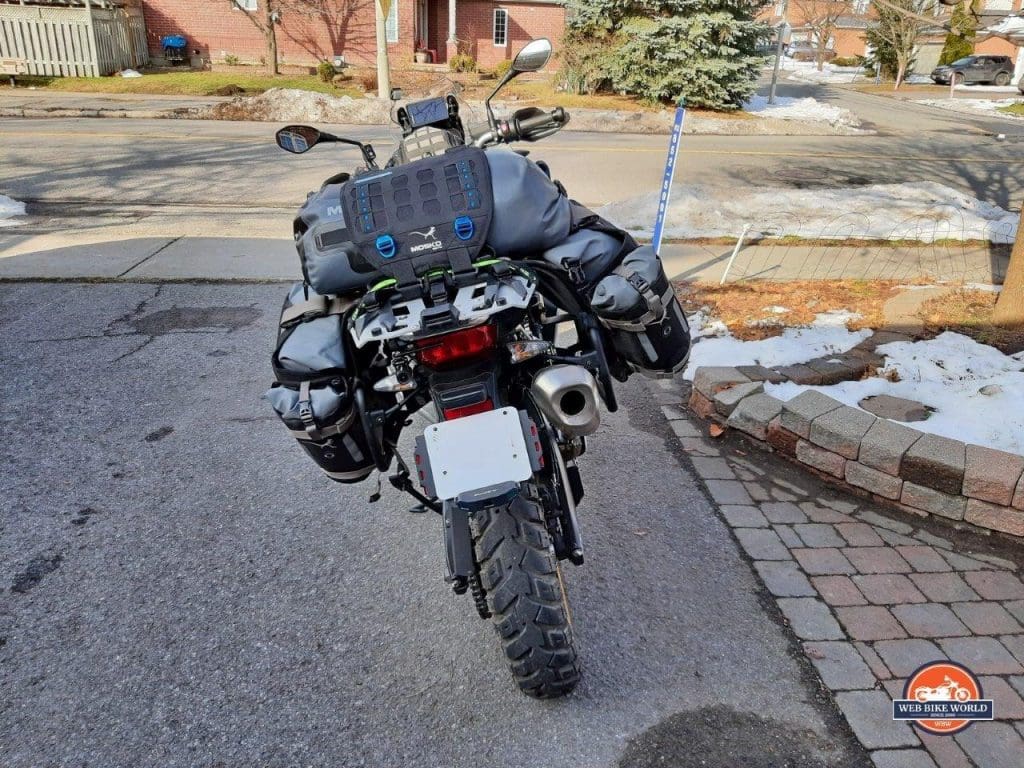 Flexibility of Application
Jim – As Bruce just mentioned, I learned right away how the dry bags need to have the excess air squeezed out before rolling up the velcro-sealed "mouth". If not, I'd end up with a "Mosko Moto Reckless Revolver Balloon" that didn't want to close up without a battle.
If Mosko Moto designed a check valve of sorts on the dry bag that would make this task easier, but might also create a prime candidate for leakage too.
A Dry Bag Camping Pillow?
This got me wondering whether I had stumbled upon a brilliant secondary application for the dry bags to serve me as a camping pillow. I don't know about you, but I can't justify bringing along a regular pillow on my camping trips due to the added bulk.
I gave it an honest try by attempting to sleep on one of the 25L side bags while partially inflated with air, but they don't hold air perfectly with the weight of my head pressing down on them as it turns out. The slow leakage resulted in my head resting on the hard ground after only a few hours.
Add to that how the grip of the rubbery exterior doesn't feel very nice on my face and it becomes clear none of the 3 main dry bags can satisfactorily moonlight as a camping pillow.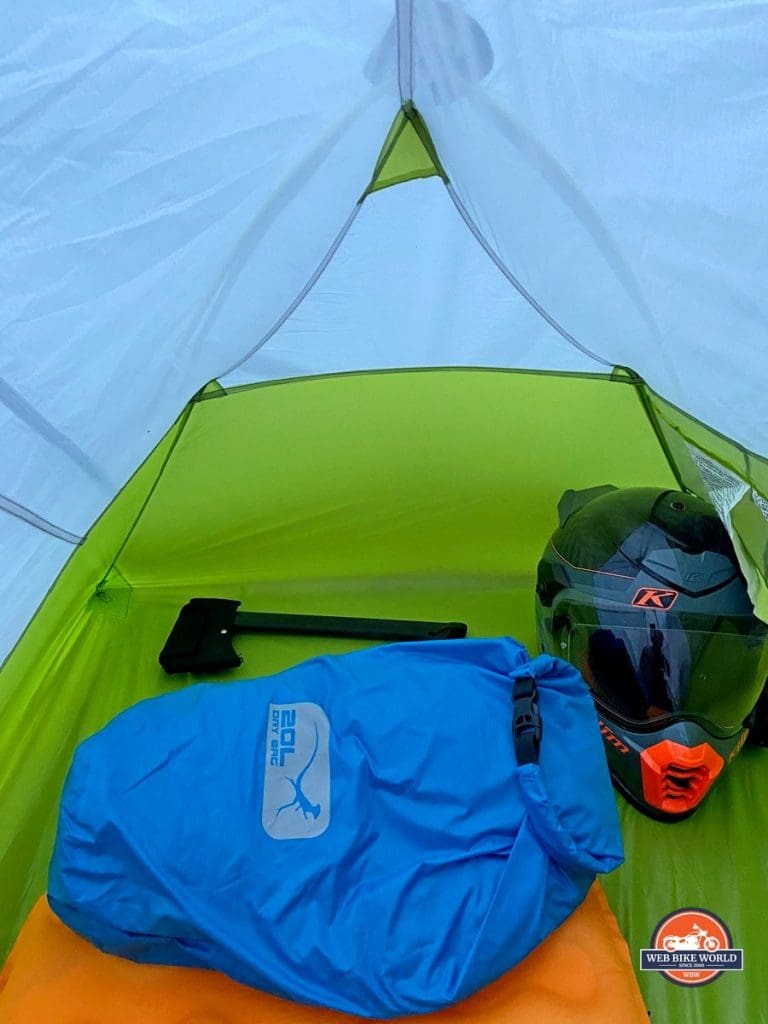 However, the 20L Dry Sak that comes included with the Reckless Revolver works well as a pillow! I use this bag as a home for my dirty and clean laundry while out on the road along with my rain gear and thermals. Pack all that padding into this bright blue-colored bag and VOILA! you've got a Mosko Moto Camping Pillow!
I find the Dry Sak to be waterproof and airtight enough to block out the smell of my dirty socks and ginch lurking inside busily sustaining a colony of bacteria. The exterior of the blue Dry Sak is a much more agreeable texture for my face to rest against thanks to its slippery nylon fabric coating as opposed to the grippy, rubber-coated exterior on the other dry bags.
Bruce – I don't usually carry a pillow either – a partially inflated dry bag from one of two that is always carried just in case, along with the sheepskin seat cover is all I need and if more shoulder support is needed, putting more air into the drybag or using a larger one works – versatility indeed.
MOLLE Webbing
Jim – There are several patches of MOLLE webbing on the holster that can be used to strap or cinch items you want to have nearly instant access to. Mosko Moto has a wide selection of small pieces to help you do this for sale on their website like this 2L small bag, but I found tie straps work pretty well for attaching flashlights or the aforementioned Black Dog Cycle Works trail stand to it. The MOLLE designed bags attach much better though.
If you'd like to add their MOLLE Map Pocket attachment to your luggage or tank bag I would recommend getting some of these Stix to make it a quick-release setup.
The MOLLE patches also allow you to stack more dry bags on top of the existing ones easily to expand your storage beyond 80L if the provided straps on the beavertails won't reach.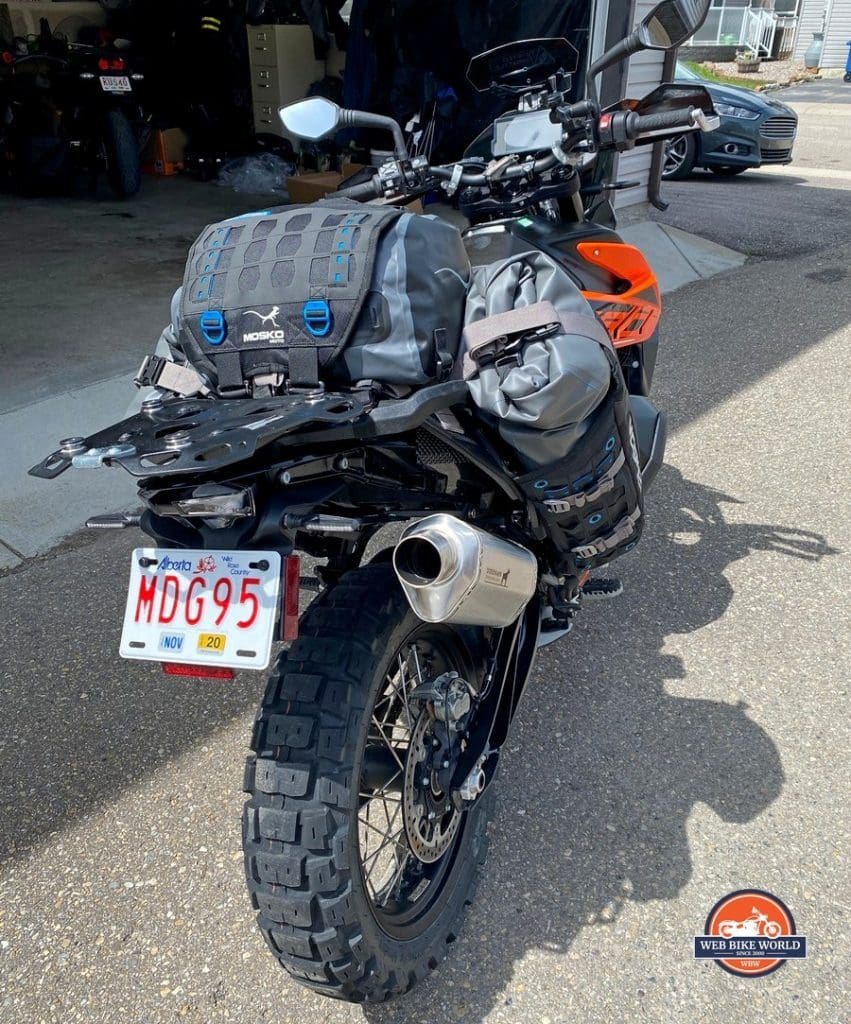 If I could change anything about this luggage it might be to have elasticized webbing on the sides instead of the stiff MOLLE type. This way I could stick items in behind the webbing for safekeeping instead of having to attach them with tie straps, bungees, etc.
Bruce – MOLLE is one of the best adaptations ever, but then I'm biased in having used the approach for years while in the military, and whether you interweave straps, use clips (STIX), or some other approach, it's all good – creativity is key.
But as Jim says, it would be great if the MOLLE inserts or pads (as many of them are stitched or welded in) could be laid out with elastic straps interwoven or, perhaps use MOLLE on one side of a dry bag and the same layout but in heavy-duty elastic on the other side…just saying.
Value for Cost Factor
Jim – $745 US sounds like a lot of money to spend on luggage but compared to buying aluminum hard panniers and the obligatory mounting racks for them, it's a bargain.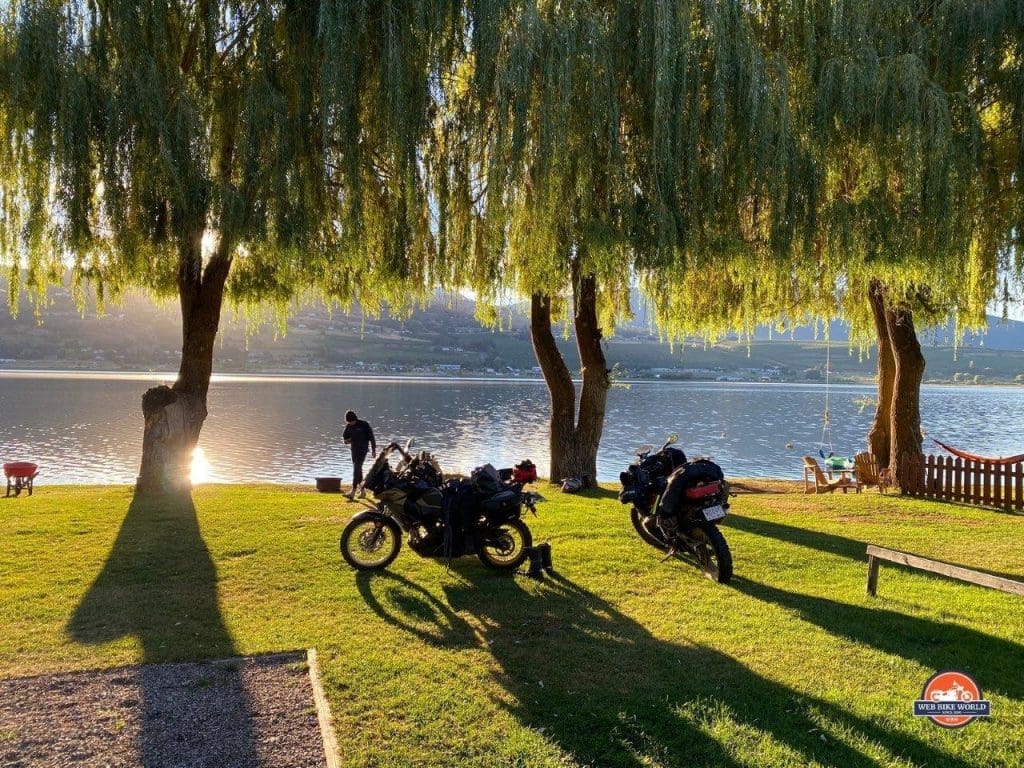 I'm confident these bags will serve almost anyone through at least 10 years (or more) of hard service. That calculates out to a most reasonable price of $74.50 per year or less. I'd jump to pay that much for this level of quality and convenience. Not to mention this luggage will install on practically any motorcycle as mentioned already.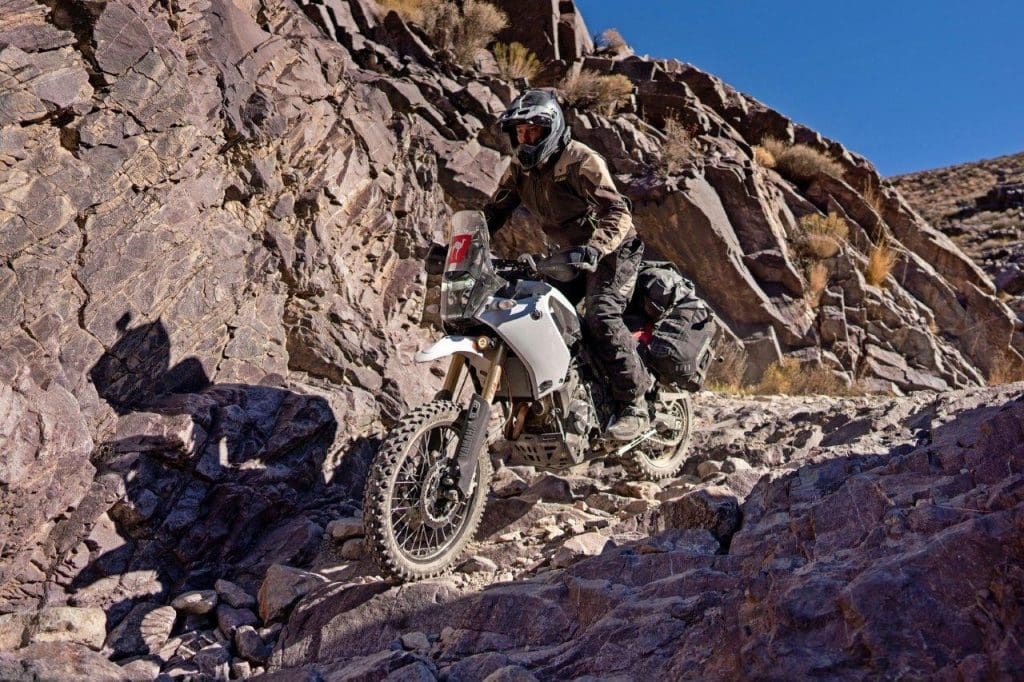 Photo from Mosko Moto and The Gear Dude
The Down Side?
Other than the notable financial cost of buying this luggage you should know it may cause minor damage to the exterior of your bike even if you take steps to minimize it as I did.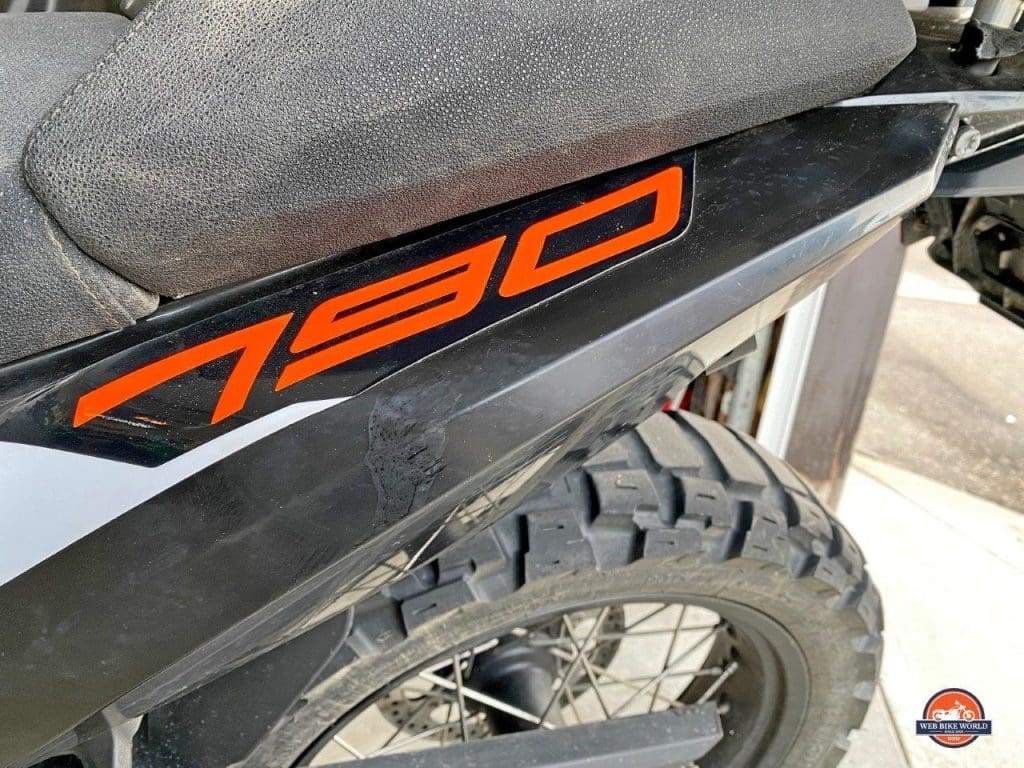 I installed sheets of rubber drawer liner under the luggage to be a buffer between it and the plastics of my 790.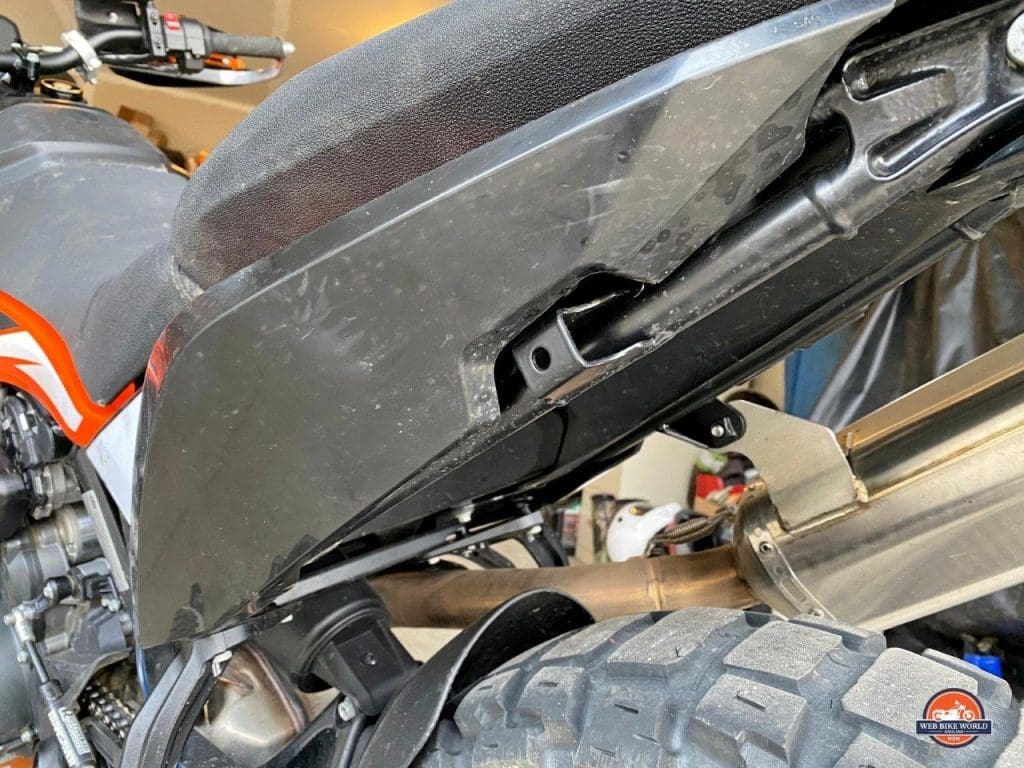 As you can see in the photos there still was some slight dotted, chafing damage achieved.
That's isn't a big deal to me since this is an adventure bike that gets scratched up regularly the way I ride it. I know many people use clear plastic tape made by 3M instead of the rubber drawer liner to prevent this on their bikes. That might be a more effective option.
One of the straps rubbed through the seat cover on the left side of my bike as you can see in the photos below. This is my fault due to the way I routed the straps to hold the luggage on. Be aware of how close the straps are to your seat cover when you install it and you'll avoid this unnecessary damage.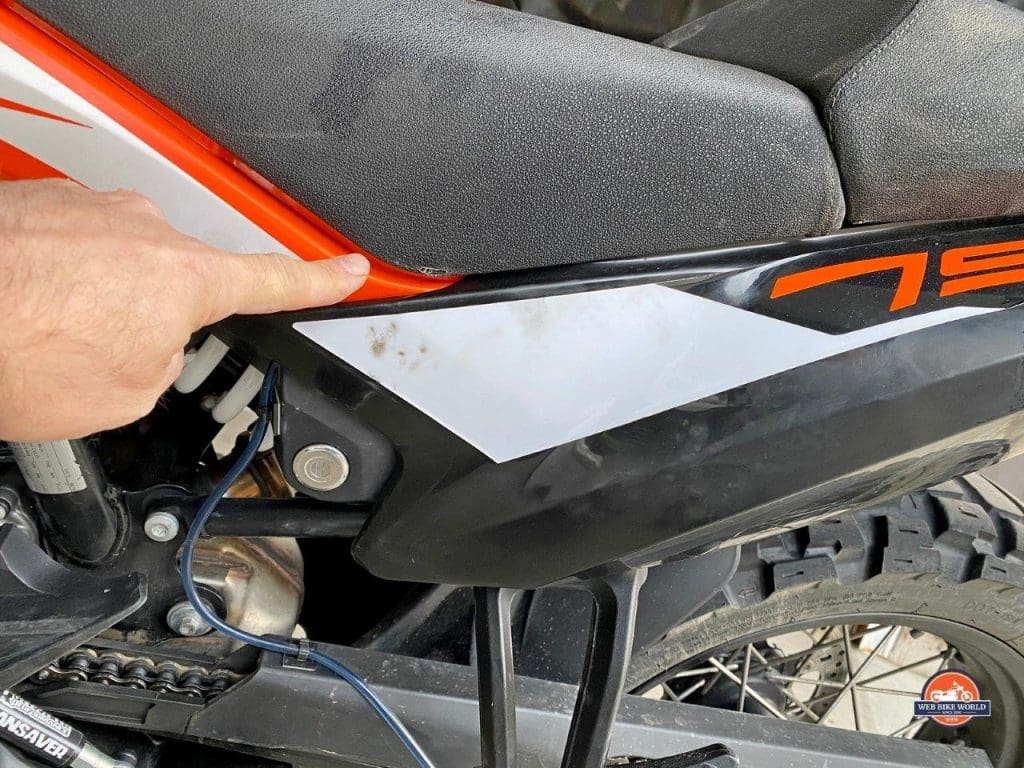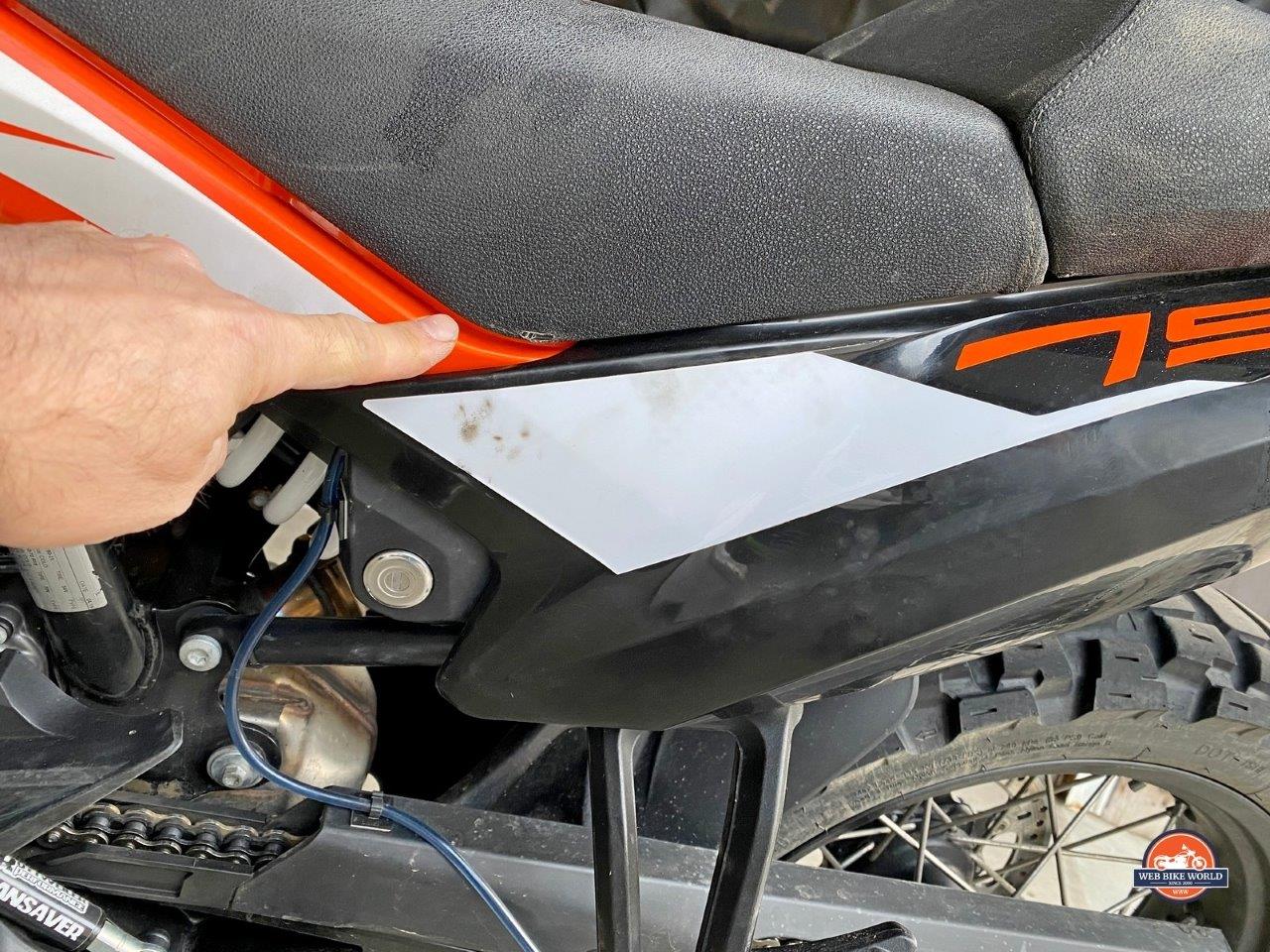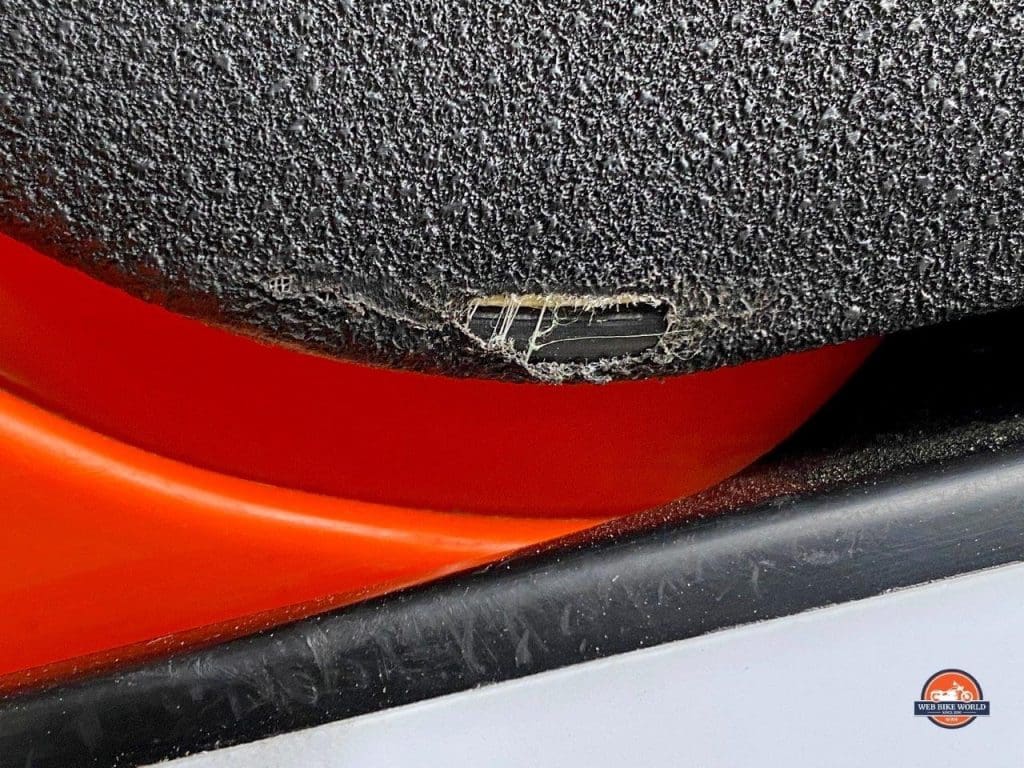 Bruce – overall, the finish and durability of the BMW Motorrad plastic and trim pieces are darn good and while a couple of rub marks are evident from initial mountings of the Reckless 80, there has been no wear or damage per se from the Reckless 80 frame and strapping. Further to that, the following suggestions are worth considering for any future installations;
To help minimize movement and halt virtually any chance of rubbing, I've cut and shaped a couple of large pads from Oxford non-slip material (akin to what is used for cushioning in tool drawers) to sit over the seat and sides of the motorcycle with the Reckless 80 frame overlaid on top.
This might add another $15.00 to $20.00 in costs to what is indeed a healthy investment, but so far it is proving to be a worthwhile one, especially when and if the Reckless 80 is used on other motorcycles that may be more susceptible to the movement of the piece once mounted.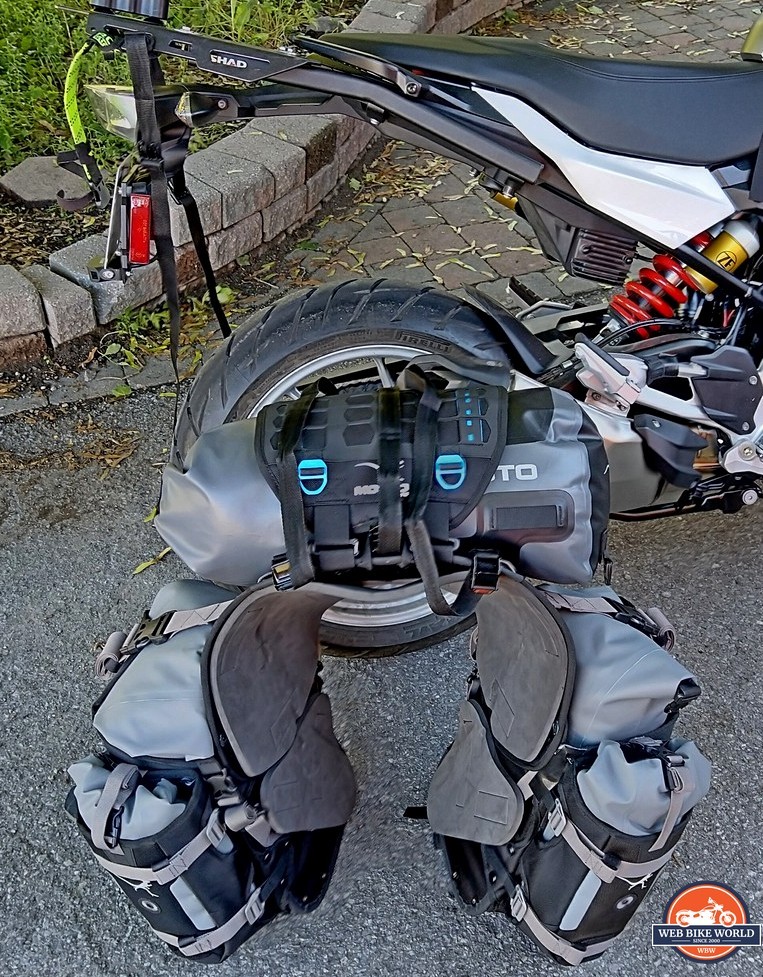 I also use lengths of heavy-duty heat shrink added over the front lower mounting straps and back (three) straps (as needed) to act as a friction rub-guard depending on how and where the straps are routed – it protects the surfaces and the lightweight strapping Mosko Moto uses, that should be heavier grade stuff.
Does It Measure Up to the Hype?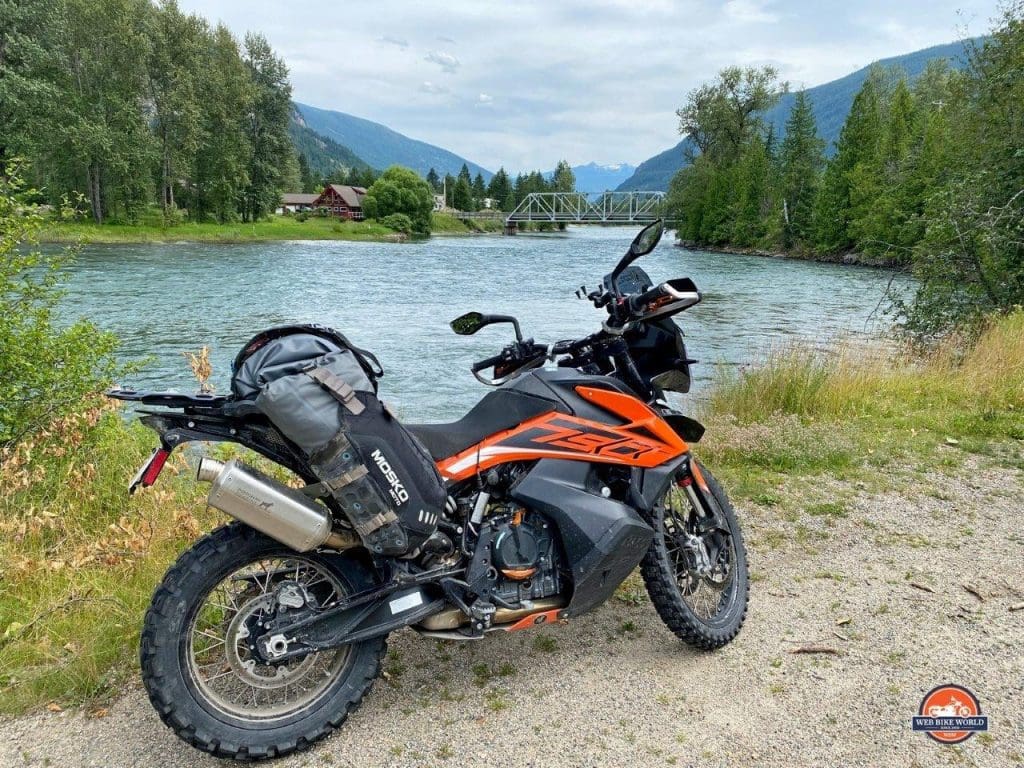 The v3.0 Reckless Revolver is touted as the most versatile incarnation of the Reckless 80 line to date. Their brash claim is to have "used all of the advantages of hindsight and truly created the ultimate rack-less luggage system." 
Perhaps it isn't unexpected to hear a confident, and respected American company like Mosko Moto throw down such a big gauntlet as they are by calling their system the best. But it is pretty cocksure of them considering just how good comparable systems from competitors like Giant Loop (wBW reviews here), Kriega (wBW reviews here), Touratech (wBW reviews), Enduristan, and many others have been for a long time now.
Jim – For myself, this is the first set of soft, rackless luggage I've personally owned or reviewed, but I've seen many friends using other specimens from several different manufacturers in my travels.
From what I can tell there's nothing better on the current rackless luggage market than the Reckless 80L v3.0 Revolver and it's good enough to be my first choice at this writing. It's designed and built the way I would want it done if I was Pete Day and Ashley Myhre. But there are many different ways of skinning the proverbial cat that is motorcycle luggage.
I admit to having a wandering eye for the Giant Loop Great Basin and Coyote systems to see whether their grass might be slightly greener. I'm seriously considering reaching out to Giant Loop to get a comparable set of their luggage to pit against this Reckless Revolver in a luggage battle-royale to satisfy my curiosity if nothing else.
By and large, I think the biggest determining factor for most shoppers hinges on their idiosyncrasies, budget, and access to products. I think those things matter more than the actual nitty-gritty details of any particular luggage's performance out on the road.
Meeting consumer demand seems to be one of Mosko Moto's biggest challenges lately, and sure enough, I see that the Reckless 80L v3.0 Revolver is (again!) sold out on Mosko Moto's website as I write this. It's kind of a nice problem to have if you're Mosko Moto, but it could sway some people away in favor of another option out of necessity or frustration over time.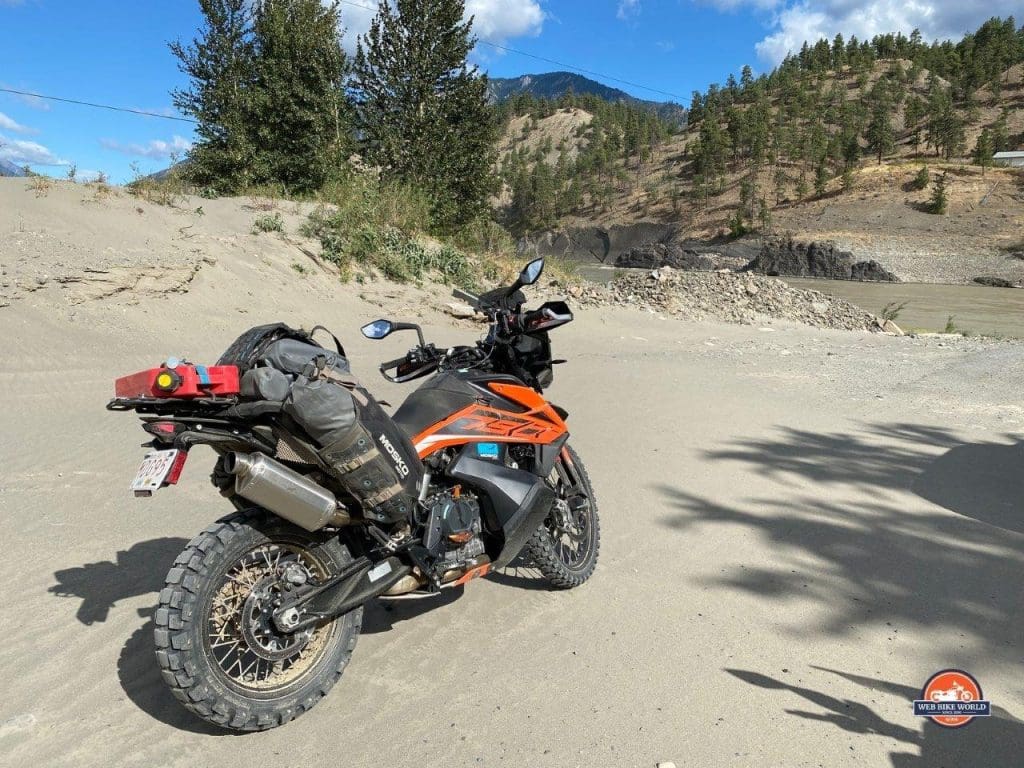 Why Buy Mosko Moto Over Other Brands?
Jim – Perhaps you have a quirky, yet genuine affinity for Basilisk lizards? I like the Mosko Moto lizard logo on their branding in case you can't tell what that comment is referring to.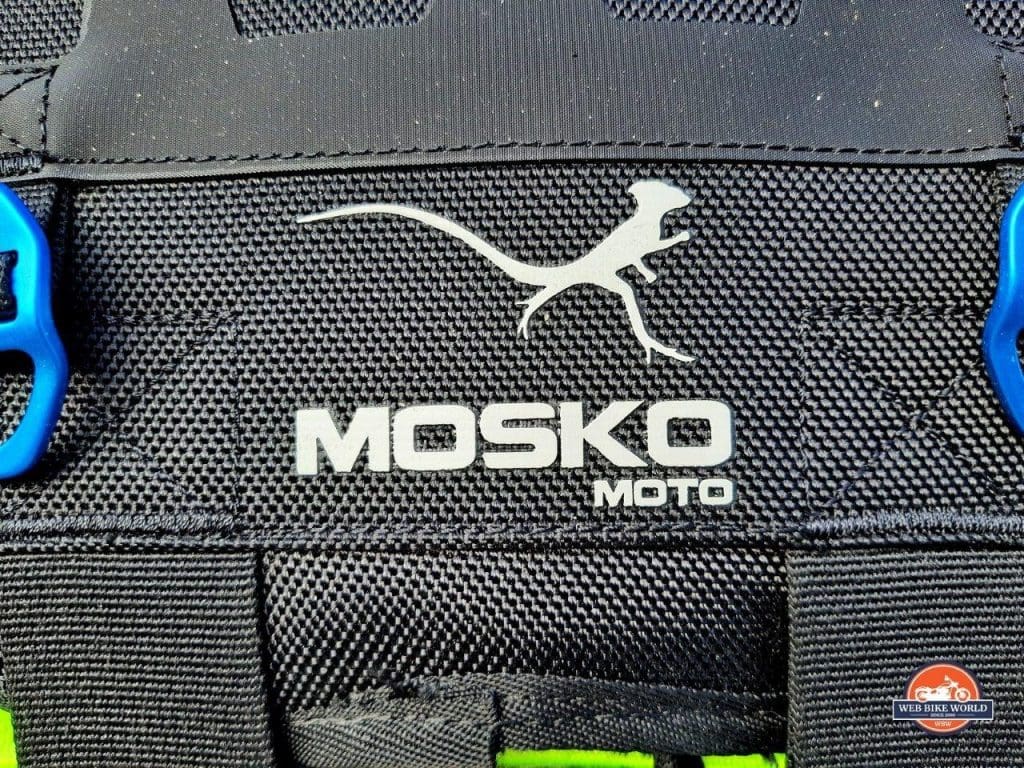 Moreso, I appreciate the way Mosko Moto sells direct to everyone as opposed to involving a middle man to inflate their prices. They've got a small company vibe going on that's charming and genuine because, well… they are a small company. They don't even advertise very much but rely instead on referrals and word of mouth to win over new customers. I have to say that I'm definitely sold on them and will happily recommend their products I've tried.
If you follow Mosko on social media you'll see a happy group of bona fide motorcycle enthusiasts selling gear they personally torture test on their bikes and endorse above all others. I like that a lot and I'd love to be a part of that kind of workgroup. Seriously… let's talk!
If you like what you see from the Mosko Moto Reckless 80L v3.0 Revolver in this review then I guarantee you'll love it out on your adventures.
Bruce – I won't argue with Jim's arguments for which is or could be the 'best' solution; the Reckless 80 system is about the last of the major products (most of which Jim identified above) that I have used or have sitting here, including the original Giant Loop pieces, and all of them have proven useful for specific motorcycles and a wide variety of ADV activities.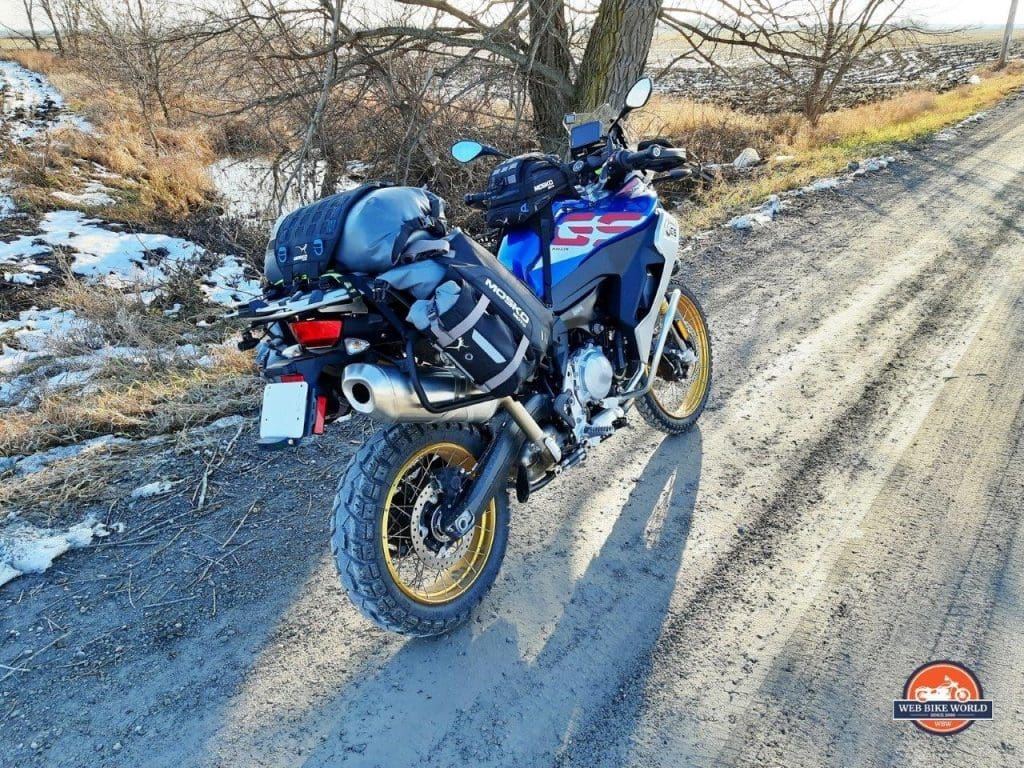 But, the MoskoMoto Reckless 80 v3 is definitely at or near the top of the heap. It deserves a high reputation and its popularity. Is it the 'perfect' piece? I would say it's close. A couple of small design or build changes (identified earlier on) would bring it even closer to perfection. Knowing how the MoskoMoto crew eats, breathes, and sleeps ADV, I expect v4 will follow. When it arrives Jim and I can fight over who gets it!
Pros
A durable, versatile, user-friendly, expandable, waterproof, dustproof, strong, and solid design that will fit any rider's needs
Stays put once installed and will fit any motorcycle thanks to the pivoting holsters
Good warranty and generous crash repair/replacement offer from Mosko Moto
Drysak doubles as a camping pillow
Compact and aesthetically pleasing
Excellent customer service and company to deal with that sells direct to customers
Cons
Expensive and is often sold out
Some stitched/fixed straps would be better on pivots for versatility, reducing wear
Can cause rub marks on bike paint/plastic panels
Theft is difficult to fully mitigate against when using soft luggage
Specs
Manufacturer: Mosko Moto
Price (When Tested): $749 US
Made In: China, Designed in the USA
Sizing: 80L, 76L, 72L, 40L, etc
Colors: One scheme (Black/Grey/Blue)
Review Date: November 20, 2020