Each year as winter comes upon us, and I start going through the normal routine of putting my bikes away for the season, I tend to start looking ahead to the upcoming model year. I get excited with the bike shows being just a couple of months away. Knowing this, and knowing we will start seeing many buyers guides listing every single detail of everything being produced for 2021, I wanted to give you my list of the bikes that have my attention in the Enduro world. These are the bikes I will be having a good look at, because as a somewhat larger guy (6ft, 245 lbs), somewhat older ('cough" 50 "cough"), they fit how I ride.
With 90% of my miles being on pavement, I have had great times with adventure bikes, both on and off-road. I am not looking to hit the motocross tracks, but I live in Western Canada, with endless trails in the mountains and foothills, and I love exploring them all.
Typically I would trailer the bikes out to riding areas happy to have everything possible at a base camp. With that knowledge, you will see how this list reflects such. I am adding a few very cool unique bikes at the end of this list, I just have to share them.
2021 Honda CRF450RL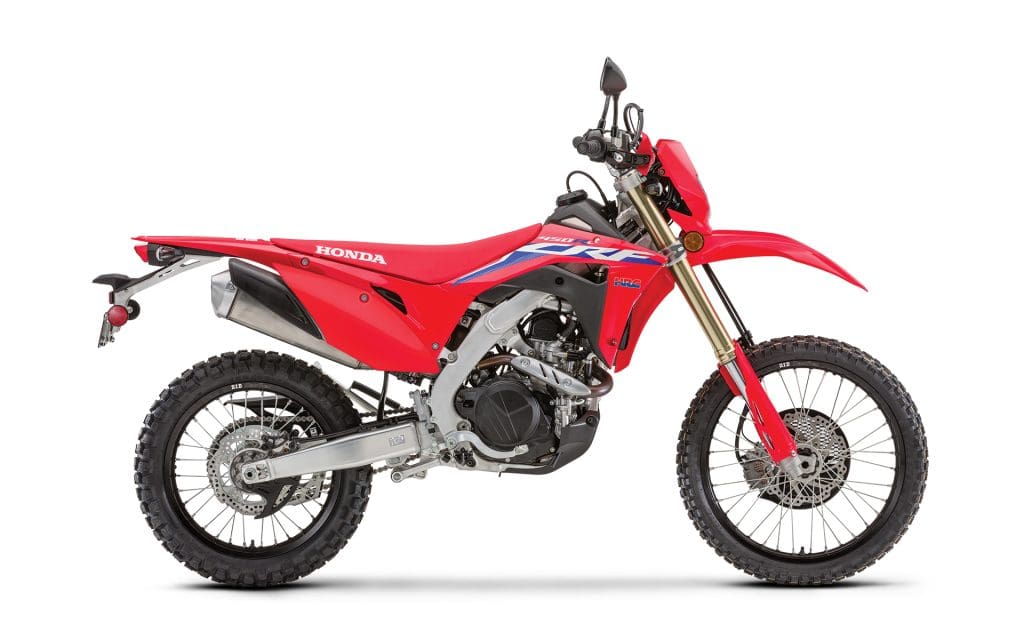 The Honda CRF450RL is packed with off-road goodness. The "R" reminds us that the 2021 model uses the CRF450R motocross platform, then tunes it for trail greatness.
Engine modifications include; a specific crankshaft for this bike that adds inertia and enhances low RPM torque, and three piston rings to increase durability. A new ECU further refines the fuel injection tuning bringing the 449cc Unicam engine to 41.7 hp, and 23.6 lb/ft of torque.
The frame was widened slightly to accommodate a 6-speed transmission, providing a wider gear spacing to benefit both, low-speed abilities, and a tall 6th gear for long high speed stretches.
The Showa 49 mm front fork has 12 inches of travel and the Prolink rear suspension 11.8 inches of travel. New lightweight handguards are standard. The titanium fuel tank is 20% larger than the R at 2.0 gallons (7.6L).
In street-legal ready to ride trim the bike comes in at 291 lbs. Pricing comes in slightly less than the 2020 model, at $9,999 ($12,099 CDN).
Model
2021 Honda CRF450RL
ENGINE
Type
449.7cc liquid-cooled 10º single-cylinder four-stroke
Valve Train
Unicam® OHC, four-valve
Bore x Stroke
96.0mm x 62.1mm
Compression Ratio
12.0:1
Induction
Programmed fuel-injection system (PGM-FI); 46mm throttle bore
Ignition
Full transistorized
Starter
Push-button electric starter
Transmission
6-speed wide ratio; manual
Clutch
Multiplate wet (6 springs)
Final Drive
#520 sealed chain; 13T/51T
SUSPENSION
Front

49mm fully adjustable leading-axle inverted telescopic

Showa coil-spring fork w/ 12.0 in. travel

Rear

Pro-Link system; fully adjustable

Showa single shock w/ 11.8 in. wheel travel

BRAKES
Front
2-piston caliper hydraulic; single 260mm disc
Rear
1-piston caliper hydraulic; single 240mm disc
TIRES
Front
IRC GP21 80/100-21 w/ tube
Rear
IRC GP22 120/80-18 w/ tube
MEASUREMENTS
Rake (Caster Angle)
28°30'
Trail
122mm (4.8 in.)
Length
89.6 in.
Width
33..3 in.
Height
49.9 in.
Ground Clearance
12.6 in.
Seat Height
37.2 in.
Wheelbase
58.9 in.
Fuel Capacity
2.0 gal.
Color
Red
Curb Weight*
291 lbs.
2021 Yamaha WR450F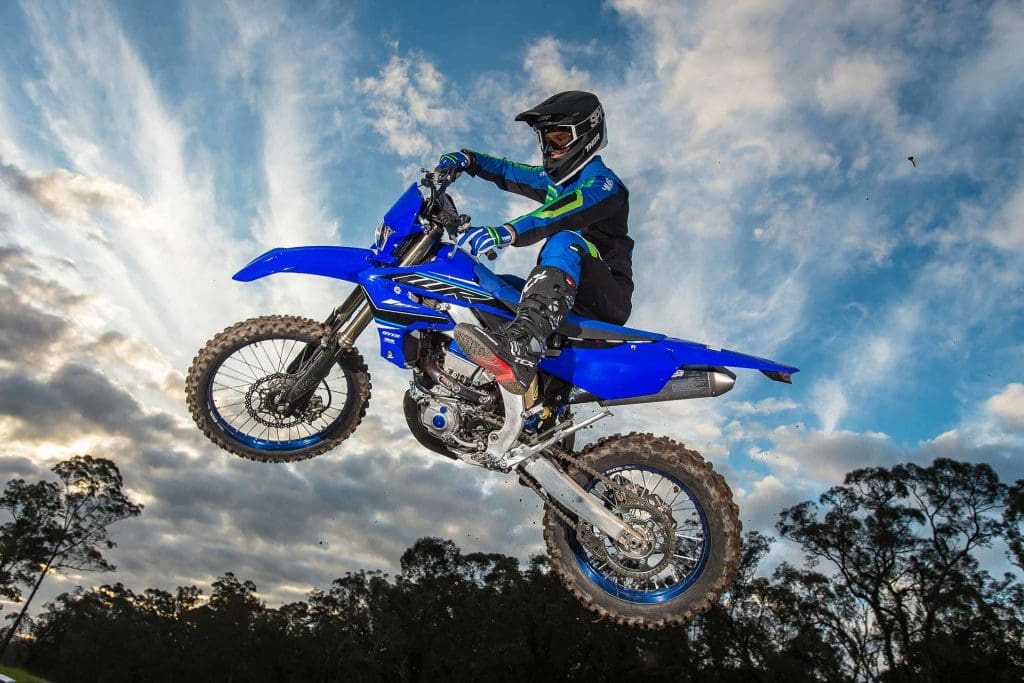 Yamaha has introduced the 2021 WR450F as being "lighter, more powerful, and better handling"
Let's start at the core of the bike. For 2021, the liquid-cooled 449cc engine features an all-new compact cylinder head with a redesigned combustion chamber shape and steeper valve angles. Compression is up from 12.8:1 to 13.0:1. New low friction rings have been added to the pistons and attached to longer connecting rods. Increasing the use of magnesium parts has saved 310g compared to the 2020 model.
The 5 speed, wide-ratio transmission, promises smoother shifting, and an uprated heavy-duty clutch over the YZ450F should bring increased durability for this enduro.
Yamaha continues to evolve the aluminum bilateral beam frame, altering the wall thickness and flex characteristics. A new triple clamp, holding the KYB fork, has been refined to save weight and improve feel. The bars have been shifted 15mm forward and 5mm down. The suspension tuning has been revised. All these changes Yamaha feels will greatly improve handling and feel, inspiring rider confidence out on the trail.
Overall weight savings were found in the suspension, chassis, and engine. 262 lbs wet weight represents a 3lb savings over 2020. Impressive for a bike holding 1.7 gal (7.9 L) of fuel.
Pricing comes in at $9799 ($11,199 CDN), a $100 increase over 2020 model.
Model
2021 Yamaha WR450F
ENGINE
Type
450cc liquid-cooled
Valve Train
DOHC 4-stroke; 4 valves
Bore x Stroke
97.0mm × 60.8mm
Compression Ratio
13.0:1
Induction
Mikuni® fuel injection, 44mm
Starter
Push Button Electric Start
Transmission
Wide-ratio 5-speed
Clutch
Wet multiplate clutch
Final Drive
O-ring chain
SUSPENSION
Front

KYB® Speed-Sensitive System inverted fork

fully adjustable, 12.2-in travel

Rear
KYB® single shock; fully adjustable, 12.5-in travel
BRAKES
Front
Hydraulic single disc brake, 270mm
Rear
Hydraulic single disc brake, 245mm
TIRES
Front
80/100-21 Dunlop® MX33
Rear
120/90-18 Dunlop® MX33
MEASUREMENTS
Rake (Caster Angle)
27.0°
Trail
4.6 in
Length
85.6 in
Width
32.5 in
Height
50.0 in
Ground Clearance
12.6 in
Seat Height
37.6 in
Wheelbase
58.3 in
Fuel Capacity
2.15 gal
Color
Blue
Curb Weight*
262 lbs (wet weight)
2021 Beta 430 RR-S
After a major overhaul for the 2020 models, the 2021s receive minor refinements.
The 430.9 cc engine carries forward with few changes. Having been dyno tested by Cycle World, producing 44.4 horsepower at 8,150 rpm and 32.1 pound-feet of torque at 6,600 rpm, I expect the same from the 2021s.
Beta has updated the steering head attached to the chromoly frame, for improved feel and durability. They also identify an improved rear subframe, claiming greater durability.
A new side panel access to the air filter is easy to remove without tools, very handy out on the trail.
The seat offers better comfort with slightly softer padding. The excellent Voyager GPS display system continues to be far superior to what every other manufacturer offers.
The Sachs front and rear suspension were both tweaked to improve traction and feel.
The 243 lbs wet weight (without fuel) and a large 2.4 gal (9.0 L) fuel tank, are both standout figures for this group.
Pricing comes in at $10,799 ($11,999 CDN), a little more than others in this group.
Model
2021 Beta 430 RR-S
ENGINE
Type
430.9 cc Single Cylinder
Valve Train
4-valve, (steel intake and exhaust) 4-stroke
Bore x Stroke
95 mm x 60.8 mm
Compression Ratio
12.33:1
Induction

DC-CDI with dual map selection, Kokusan.

200 watt output at 6000 RPM

Starter
Electric start. (back-up kick start available as an option).
Transmission
6-speed
Clutch
Wet multi-disc
Final Drive
O-ring chain, DID
SUSPENSION
Front

48 mm Sachs USD fork, adjustable compression,

rebound, & spring preload.

Rear

Aluminum Body Sachs shock w/adjustable rebound

and hi/low speed compression

BRAKES
Front
260mm rotor
Rear
240mm rotor
TIRES
Front
Michelin Enduro, DOT approved
Rear
Michelin Enduro, DOT approved
MEASUREMENTS
Ground Clearance
12.6 in
Seat Height
37.0 in
Wheelbase
58.7 in
Fuel Capacity
2.4 gal
Color
Red
Curb Weight*
243 lbs. (wet weight, no fuel)
2021 KTM 350 EXC-F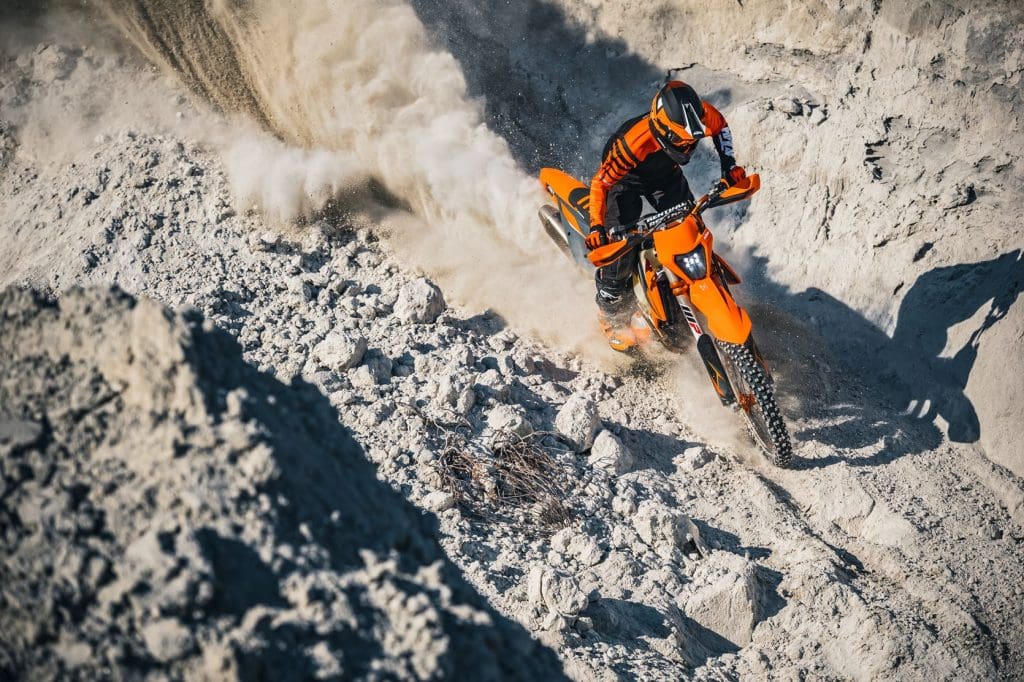 For KTM the 350 four-stroke has been the most popular in their enduro lineup. Known for fantastic 450 like power, and 250 like handling, I am choosing it for this list over the 500 EXC-F. I honestly feel like it is the one I would be choosing out of the KTM lineup.
The 2021 model doesn't change much from last year. The main improvement looks to come with the WP suspension. Updated WP XPLOR forks now feature an external preload adjuster as standard. This makes rider changes, and trail adjustments quick and easy. The WP XPLOR rear shock with PDS (Progressive Damping System) technology features a second damping piston in combination with a closed cup towards the end of the stroke, supported by a progressive shock spring. Many riders prefer this tucked away PDS system to the more common hinged rear linkage, for the added rear clearance.
The KTM 350 EXC-F's fuel-injected DOHC engine offers the best power-to-weight ratio on the market (KTM claim). It delivers a broad torque curve that just delivers. If you want brute power, choose the 500 EXC-F as it offers superb balance throughout the rev range and upwards of 34 hp.
Wet weight (without fuel) is 238 lbs. The fuel capacity is 2.25 gal (8.5 L)
All EXC-F models have KTMs lightweight Chromoly steel frame, Brembo clutch and brakes, lightweight Lithium battery, and signature orange graphics.
Ready to Race pricing comes in at $11,199 ($12,699 CDN).
Model
2021 KTM 350 EXC-F
ENGINE
Type
Single Cylinder, 349.7 cc
Bore x Stroke
88.0 mm x 57.5 mm
Induction
Keihin EFI, 42 mm
Starter
Electric, Lithium Ion 12 V 2 Ah
Transmission
6 Gears, Wide Ratio
Clutch
Wet Multi-Disc DDS-Clutch, Brembo Hydraulics
Final Drive
14:48
SUSPENSION
Front
WP XPLOR USD Ø 48 mm
Rear
WP XPLOR Shock with PDS
BRAKES
Front
Disc Brake 260 mm
Rear
Disc Brake 220 mm
TIRES
Front
21″ Continental TKC 80
Rear
18″ Continental TKC 80
MEASUREMENTS
Rake (Caster Angle)
26.5º
Length
58.3 in
Ground Clearance
14.0 in
Seat Height
37.8 in
Wheelbase
58.3 in
Fuel Capacity
2.25 gal
Color
Orange
Curb Weight*
237.6 lbs (wet weight w/o fuel)
2020 Husqvarna 701 Enduro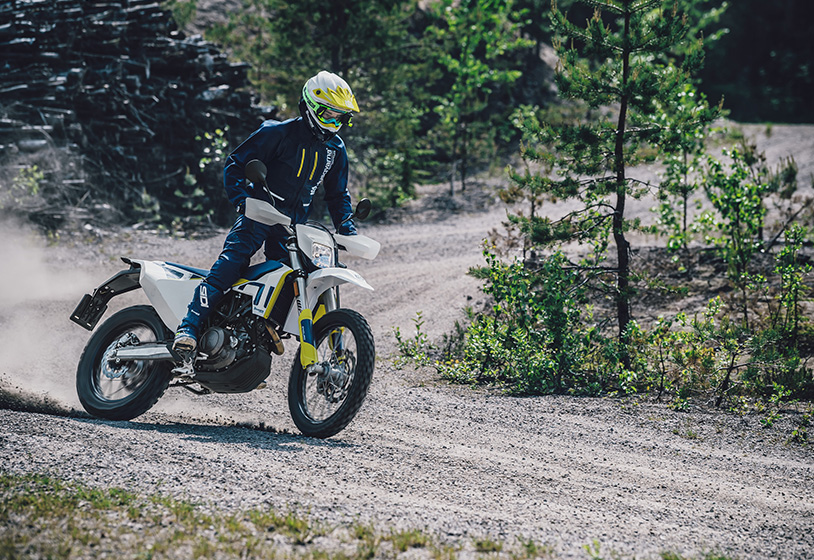 The Husqvarna 701 is the largest single-cylinder motorcycle available. At this displacement, the 701 begins to compete with Adventure bikes. Providing the desirable higher power output, but with the more manageable weight of an Enduro.
Producing 74 hp, and weighing in at 321 lbs, the 701 is perfect off-road, on forestry roads, open prairie sections, and the highways to get to your favourite riding spots.
Husqvarna has loaded this bike with all the electronics,ride-by-wire throttle, on-road/off-road power settings, on/off traction control, on/off ABS, and a lean angle sensor that helps control rear-wheel slip in a corner on the pavement, as well as prevent wheelies. A slipper clutch and Easy Shift (clutchless up and downshifts) are standard features.
Two models, 701 and 701 LR, are available. The 701 LR adds an additional, 3.2 gal (12L) front-mounted fuel tank. Combined with the standard 3.4 gal (13L) rear subframe mounted tank, the iron butt group will love the 310 mile range (500 km).
Pricing comes in at $11,999 ($13,299 CDN).
Model
2020 Husqvarna 701 Enduro
ENGINE
Type
Single Cylinder, 692.7 cc
Power
73.8 HP @ 7000 RPM
Torque
49.4 ft/lbs @ 6500 RPM
Bore x Stroke
105.0 mm x 80.0 mm
Induction
Keihin EMS with RBW, twin ignition
Starter
Electric
Transmission
6-speed
Clutch
APTC(TM) slipper clutch, hydraulically actuated
Final Drive
Chain
SUSPENSION
Front
WP USD Ø 48 mm 4CS closed cartridge
Rear
WP shock absorber with Pro-Lever linkage
BRAKES
Front
Single disc. ABS, 300 mm
Rear
Single disc. ABS, 240 mm
TIRES
Front
90/90-21
Rear
140/90-18
MEASUREMENTS
Rake (Caster Angle)
25.8°
Trail
4.0 in
Length
58.3 in
Ground Clearance
10.6 in
Seat Height
36.2 in
Wheelbase
59.2 in
Fuel Capacity
3.4 gal
Color
White
Curb Weight*
320 lbs dry weight
Sum it up, man!
This is all simply a small slice of the Enduro range. I wanted to share the bikes which fit my riding needs, from the manufacturers I feel have the best offerings in 2021. They all have compelling products between 125cc and 500cc. KTM, Husqvarna, and Beta also have 2-stroke choices.
With all brands continually improving their fuel injection systems and suspension setups, if your current ride is 4 plus years old, you will find huge improvements to get excited about.