Updated March, 2019
Our Top Picks
Best Overall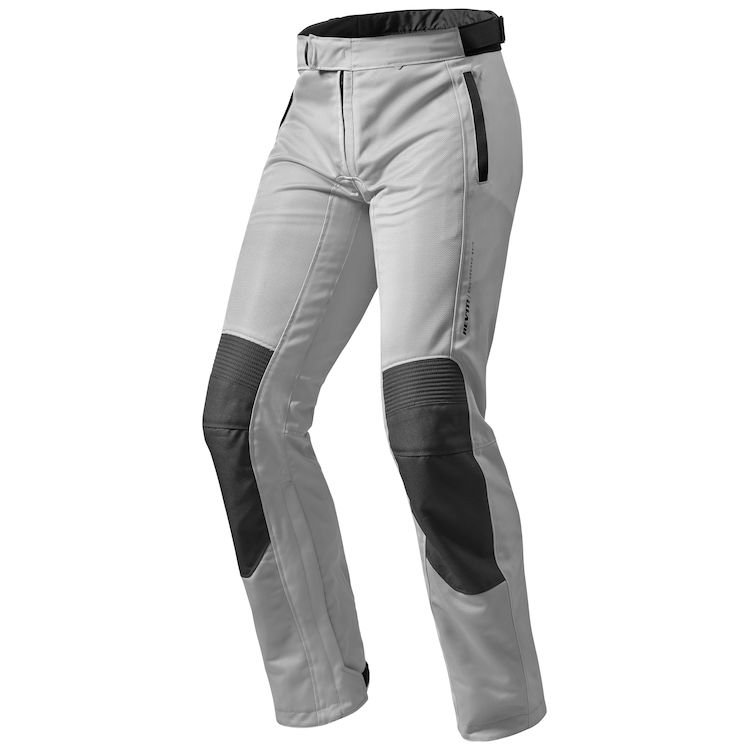 Best Value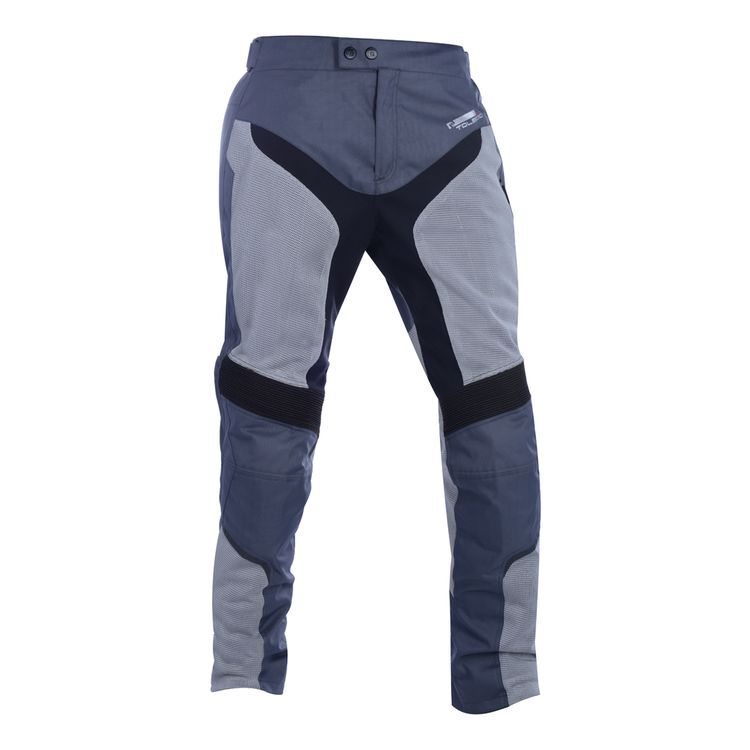 Fully Loaded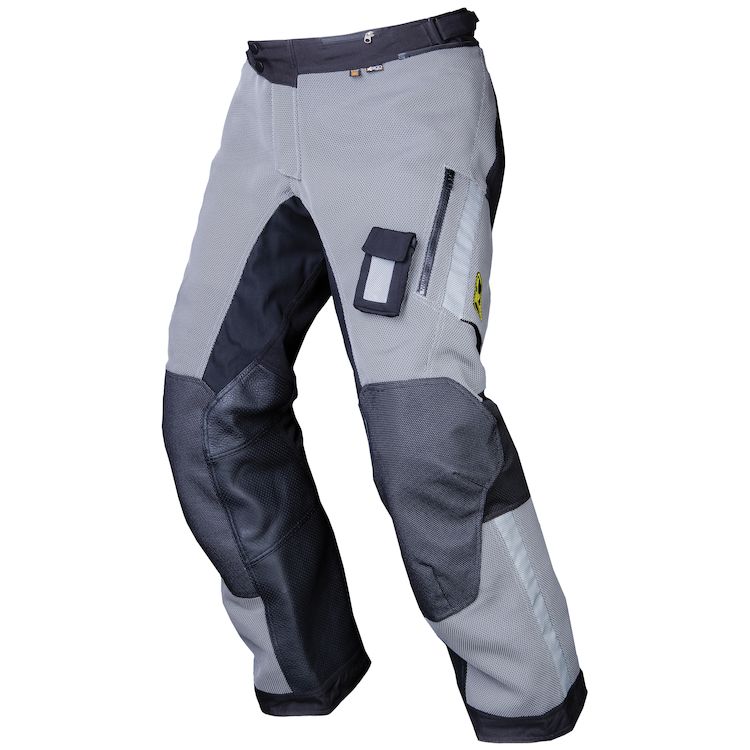 Other great options:   Klim Mojave, Sedici Marco Mesh Waterproof, Joe Rocket Phoenix Ion
---
The climate that you ride in and the type of riding that you enjoy can have a huge impact on the type of gear that will best meet your needs. For riders in a hot climate, mesh pants can be one of the greatest pieces of gear that you will ever select. The offer the protection needed for your lower body but they also allow for great airflow and much needed natural cooling of your body through evaporation.
As a desert dweller, I know that it doesn't take very long to overheat when riding and begin to dehydrate which can be life-threatening to a motorcycle rider as you could become dizzy, have trouble breathing, become confused, faint or become unconscious. But a quality pair of mesh pants can greatly increase your body's ability to naturally cool itself and keep you focused and safe to operate your bike.
Equally important to maintaining your body temperature is the ability to protect your skin in the event of an accident. Sliding on any paved surface is not a fun experience, but the damage caused by hot pavement can be even worse than a conventional abrasion burn to the skin. When the air temperature is 100-degrees, it is not unheard of for the pavement to reach literally a blistering temperature of 138-degrees. To put that into perspective, second-degree burns occur with just short term contact to an item that is 131 degrees. The prolonged contact with pavement in excess of 131 and the added issue of abrasion from a slide can easily cause burns through the skin as well as other tissue including muscle.
Avoiding the potential for significant injuries from hot pavement and abrasion burns is one of the main focuses of mesh pants. The addition of textile, armor, and Kevlar in strategic locations provides the durability that riders need to walk away from a nasty slide with his or her skin intact.
Be sure to check back regularly with us here at wBW to read about our latest hands-on reviews of mesh pants and other great products for riders.
Mesh Pants Buyer's Guide
There are a lot of riders out there who really believe that wearing jeans is all that they really need to protect their lower body when riding. And in the hotter climates, there are even a good number of riders who are willing to wear shorts and just try not to think about the consequences of sliding across the hot asphalt with nothing to protect their skin. So one of the key factors in selecting any pair of riding pants is that they fit and are comfortable enough for the rider to choose to wear them whenever he or she is riding. The safest pair of pants in the world will not help you if they are hanging at home in the closet when you are sliding across the pavement at 40 miles per hour.
The second factor to consider when selecting mesh pants is ventilation. Each rider needs to honestly access the conditions that he or she will face and select a pair of mesh pants that will provide enough airflow and armor protection. Airflow is not just a comfort factor in hot climates, it is the catalyst for evaporation and natural cooling that keeps a rider physically and cognitively sharp and able to operate a bike in a safe manner.
Our reviews below are focused on providing riders with some quality choices that offer durability and safety as well as a range of riding styles and uses. This information, along with riders personal preferences and intended use will take the guesswork out of selecting a great pair of mesh pants.
Best Mesh Pants
In Detail
Best Overall
The REV'IT Airwave 2 mesh pants are the counterpart to the Airwave 2 jacket and offer riders the same great comfort and safety features.
Construction & Fit:
The great fit and comfort of the REV'IT Airwave 2 mesh pants come from the combination of:
High-density polyester 600D
PWR|shell mesh
PWR|shell 500D stretch used in the outer shell
100% polyester lining
Other features include:
YKK slide lock front zipper closure
Elastic at the waistband
Adjustable pockets
Grip panel added to the seat
The touring cut of the Airwave 2 offers a more relaxed fit that is easily adjustable thanks to the straps at the waist and the tabs at the ankles. The short connection zipper allows these mesh pants to attach to the jacket for full body safety and comfort even in hot and harsh conditions. REV'IT Strappers suspenders are also compatible with the Airwave 2.
Safety Features:
In addition to abrasion protection offered by the Airwave 2 mesh pants, there is a great amount of protective armor included.
Adjustable Knox Flexiform CE protection is located at the knees for a custom fit
Seesmart CE-level 1 armor is located at the hip
At just over the $200 point, the REV'IT Airwave 2 Mesh pants offer riders the much-needed ventilation for riding in a hot climate as well as the protection that is critical when you go down on the hot asphalt, making the Airwave 2 the Selection for the Best Overall Mesh Pants 2019.
Buy REV'IT Airwave 2
We receive a small commission when you purchase from one of our affiliate partners. Thank you for supporting us.
RevZilla
---
Best Value
The Oxford Toledo 1.0 Mesh pants are a basic option for riders who want to get better ventilation than that of blue jeans or other typical street pants.
Construction & Fit:
Mesh panels are located at the thighs, shins, and the back of the knees.
Added comfort is afforded by the stretch panels located at the waist and at the knees
Extra grippy panel is added to the seat for added peace of mind even when you are hot and sweaty
Large adjustment panel on the lower leg makes it easy to accommodate a variety of boot styles very comfortably
Connection zipper lets you pair the Toledo 1.0 Mesh up with an Oxford jacket for full body comfort and protection
Added abrasion protection in the form of extra textile is added to the seat, hips, and knees as these are the areas most likely to be in contact with the pavement when your ride and your day go downhill very quickly.
Safety Features:
As you might have sensed, there is no armor included in the Oxford Toledo 1.0 Mesh pants, but they are still on this list because not every rider is a fan of armor. And those who are, have the option to select independent armor or even undergarments that offer additional wicking and armor.
At a price of just over the $100 point, the Oxford Toledo 1.0 Mesh pants are a great place to start and offer plenty of pennies left to invest in additional armor if a rider feels the need. For these reasons, the Oxford Toledo 1.0 Mesh pants are the 2019 selection for Best Value Leather Pants.
Buy Sedici Gabriel
We receive a small commission when you purchase from one of our affiliate partners. Thank you for supporting us.
RevZilla
---
Fully Loaded
For those riders who live in particularly arid environments such as Phoenix, Southern California or the face of the Sun, sinking almost a grand in well-ventilated mesh riding pants is just a sound investment.
The Klim Adventure Rally Air mesh pants are pretty much the pinnacle of safety, fit and function all rolled into one awesome piece of gear. The Adventure Rally Air pants are a combination of reflective mesh, SuperFabric, and premium leather at the knees to give riders the protection and ventilation they need for hot weather.
Construction & Fit:
The heavy-duty Kevlar mesh looks almost like an old world Chain Mail and provides both great airflow and protection but far more comfort than a layer of woven metal draped around a riders waist.
The crotch is upgraded to a stretch mesh but is also made of Kevlar to offer the protection that you need along with a full range of motion and to eliminate bunching and bulk when you move
SuperFabric and leather round out the knees to resist abrasion and the heat that can be pouring off of your bike and reflecting off of the almost molten asphalt in the summer
Other comfort features include:
Moisture-wicking mesh liner
Spacer mesh at the knees for added breathability
Adjustable boot cuffs to accommodate a variety of types and styles of boots without compromising comfort or a secure fit
Take a look at the Adventure Rally's ventilation panel locations here.
Safety Features:
The safety features of the Adventure Rally Air do veer back to mimic those of the Chain Mail suit but with far less weight and restriction.
D3O Xergo knee and hip armor meet and exceed the newest proposed CE level 2 limb protector standards of [pren1621-1:2011]
Poron XRD extreme impact foam is used for a strategically located coccyx (tailbone) pad
Dow Corning S7-005 Deflexion on the top of thighs provides protection and breathability
The protection offered by the Adventure Rally Air is suitable modern-day armor for any rider of today's most agile and favored transportation.
Clearly, not every rider is looking to drop almost $1,000 on a pair of mesh riding pants, but for those who are looking to get the best protection, comfort and ventilation for everything from the waist down, the Klim Adventure Rally Air is the 2019 selection for the Best Fully Loaded Mesh Pants and can be paired with the Klim Adventure Air Jacket for the full body experience. .
Buy Klim Adventure Rally Air
We receive a small commission when you purchase from one of our affiliate partners. Thank you for supporting us.
---
Other Great Mesh Pants
In Detail
The Klim Mojave is that perfect blend of form and function at a price that works for most riders budget. The Mojave offers many of the same Klim distinctive features of the fully loaded member of the family above but with a cost topping out at close to $200.
Construction & Fit:
Durable, highly breathable mesh materials are combined with heavy-duty 840 Cordura at the knee and in the seat to provide the perfect balance of ventilation and abrasion protection.
Leather inserts on the legs help to resist the heat of your bike and add to the ability to grip when you are working to hang on but covered in sweat
Flex zones at the knees, back of the legs and the crotch make sure that you have the freedom and ability to move freely without bulky fabric or bunching
Hanging liner construction with stretch panels helps to wick away moisture and add to your comfort even in the hottest conditions
Safety Features:
The Mojave comes with armor pockets but no hip or knee armor is included with the initial purchase. But at around $200, you have the option to invest in the armor that you find the most comfortable and appropriate for your riding style.
For an all-in price of around $300, you can have a great pair of very durable mesh pants and the armor that you find to be the best fit for you.
Buy Klim Mojave
We receive a small commission when you purchase from one of our affiliate partners. Thank you for supporting us.
---
At $139.99, the Sedici Marco Mesh Waterproof pants offer riders a ton of function at an extremely reasonable price.
Construction & Fit:
Constructed using strategically located panels of ultra-flow mesh combined with 450D reinforced fabric the Marco offers the perfect blend of protection and airflow for hot climates.
Add the waterproof and windproof liner to keep enjoying your ride in comfort when the weather turns on you
Stretch panels above the knees and in the back of the waist add to both the comfort and range of motion.
Hook and loop tabs at the waist let you customize the fit with or without the liner.
Slide leg zipper openings make these mesh pants easy to put on and take off while still providing a secure fit while riding in any weather conditions
Safety Features:
CE Level 2 armor at the knees and pockets at the hips for optional armor
Even after adding hip armor to the Sedici Marco Mesh Waterproof pants, riders are likely to have invested less than $200 for a quality pair of mesh pants that even offers a liner for wet weather, making the Marco a  great investment for any rider in a warm climate.
Buy Sedici Marco Mesh Waterproof
We receive a small commission when you purchase from one of our affiliate partners. Thank you for supporting us.
---
The Joe Rocket Phoenix Ion pants are the counterpart to the ever-popular Phoenix Ion jacket.
Construction & Fit:
Constructed of Cooling FreeAir mesh and DYNAX reinforcements at the seat and in the hips, the Phoenix Ion is a must for riders in the hottest regions. The melt resistant material on the lower leg provides protection and heat resistance even though the pants are lightweight and predominantly mesh material.
Additional features include:
Inseam leg zippers make these mesh pants easy to put on and even easy to take off when you are hot and sweaty.
And the two external pockets provide a place for keys or some cash when you are off your bike.
Sure Fit adjustable waistband eliminates any unwanted bunching or binding
FullFlex articulated expansion panels on the hips, the knees, and at the tailbone ensure your comfort even on a long ride.
And the 8" zipper for jacket attachment pairs to the Phoenix Ion jacket and other assorted Joe Rocket jackets for full body protection as well as complete ventilation for awesome natural cooling.
Safety Features:
CE rated hip and knee protectors are included with the initial purchase and riders can upgrade the armor or replace it after several years of use have taken its toll
Knee armor is also adjustable to customize the fit of the Joe Rocket Phoenix Ion mesh pants
At under $200, the Phoenix Ion mesh pants are a great selection for fit and function at a price that makes this a viable option for any rider in Phoenix or any other hot region.
Buy Joe Rocket Phoenix Ion
We receive a small commission when you purchase from one of our affiliate partners. Thank you for supporting us.
Download & Save Our Infographic!
Can't decide on your favorite Mesh Pants? Acquire all the information you need with our handy infographic to decide later or on-the-go. Download and save all our top picks for best Mesh Pants of 2019.