Updated February, 2018
Leather has been the material of choice for motorcycle riders since the early 1920's when Irving Schott began creating a purpose built leather biker jackets in his lower East Side Manhattan factory. The material had survived nearly two decades of use in the jacket of choice of the early aviators and the durability appeared to transfer well to meet the needs of motorcycle riders as well.
One of the greatest benefits leather offers over textile and mesh materials is that the leather panels are a single, solid piece of material. This eliminates the potential for weaker areas due to stitching or seams. Also, the thickness of leather as a single material makes it often times more durable than any type of woven fabric.
An old proverb states that "a chain is only as strong as its weakest link" and the same can be said for any fabric. When a single thread breaks then the entire fabric is compromised and begins to deteriorate with increasing speed. Leather eliminates that concern as it is a single, solid piece of animal hide. In general, a single piece of leather offers a greater abrasion protection and durability than manmade materials which are comprised of many smaller components.
Textiles and mesh certainly have their benefits and place in the gear world, but no other material has stood the test of time like leather. Protecting riders for nearly a century, leather has proven over and over that it's durability, comfort and protection are second to none.
The modern improvements offered in today's leather riding pants have only made them an even greater resource for riders. Laser perforations, liners to provide wicking capabilities and the addition of low profile armor and reinforcements make leather riding pants the best protection a rider can have on their lower body.
Be sure to check back regularly with us here at wBW to read about our latest hands-on reviews of leather pants and other great products for riders.
Recommendations
Our Top Picks
Best Overall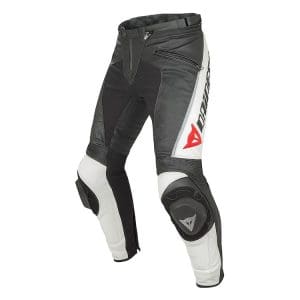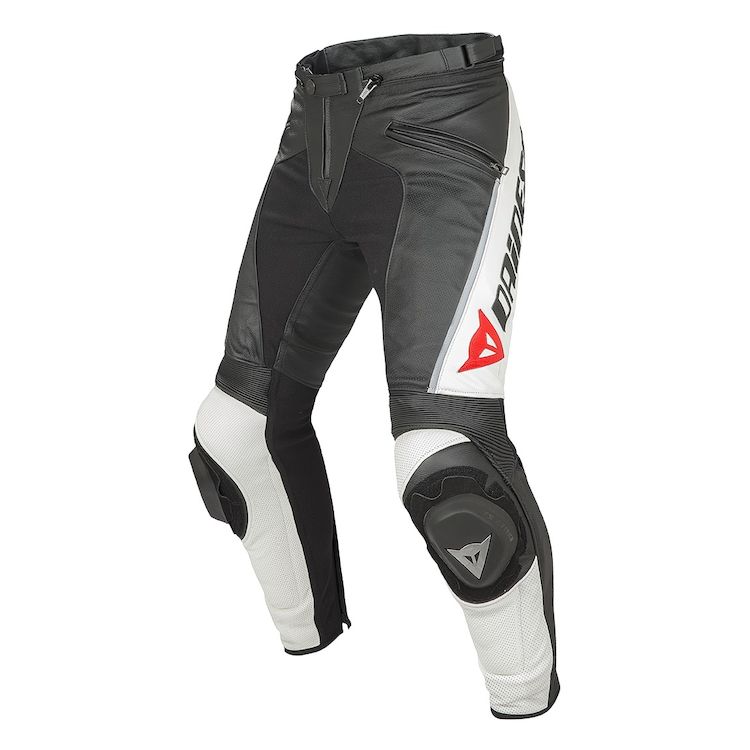 Best Value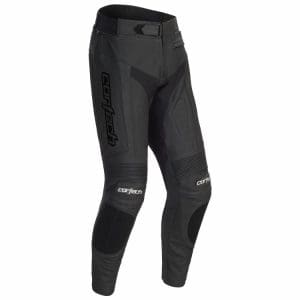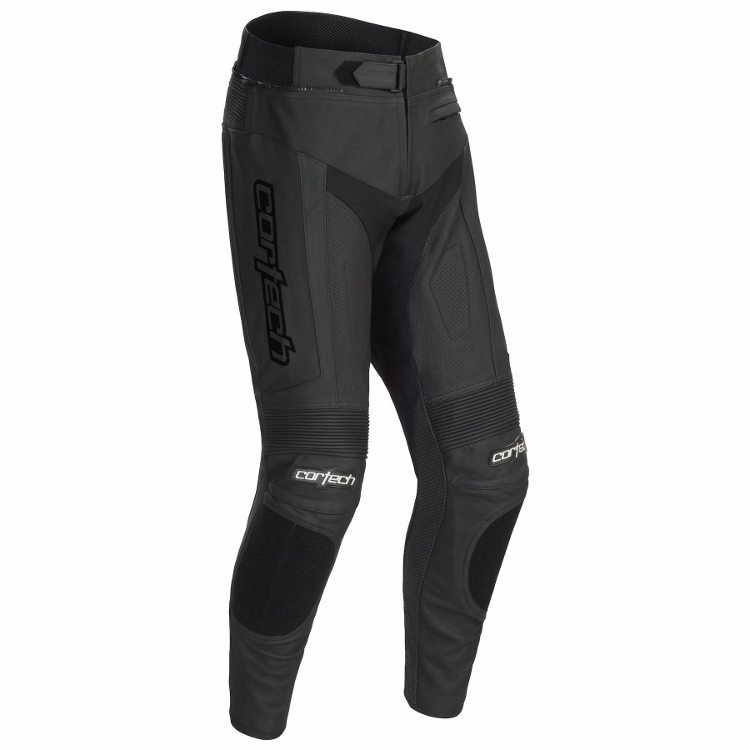 Fully Loaded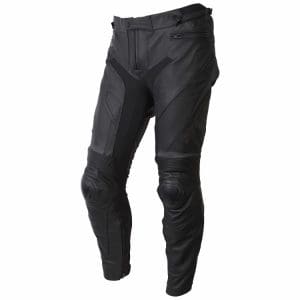 Other great options: Joe Rocket Perforated Stealth, Scorpion Clutch Phantom, Alpinestars Missile Airflow
Leather Pants Buyers Guide
Selecting a cut and style of pants is a very personal choice. Fortunately, gear manufacturers understand that fact and offer leather riding pants in a huge variety of cuts and styles. For these reviews, our goal is to inform riders of the quality of the products, their durability and the protective features that they offer. Riders can use our information along with their personal choice of style and comfort to select the best leather riding pants for their taste and needs.
The Winners
In Detail
Best Overall


Dainese Delta Pro 2 Perforated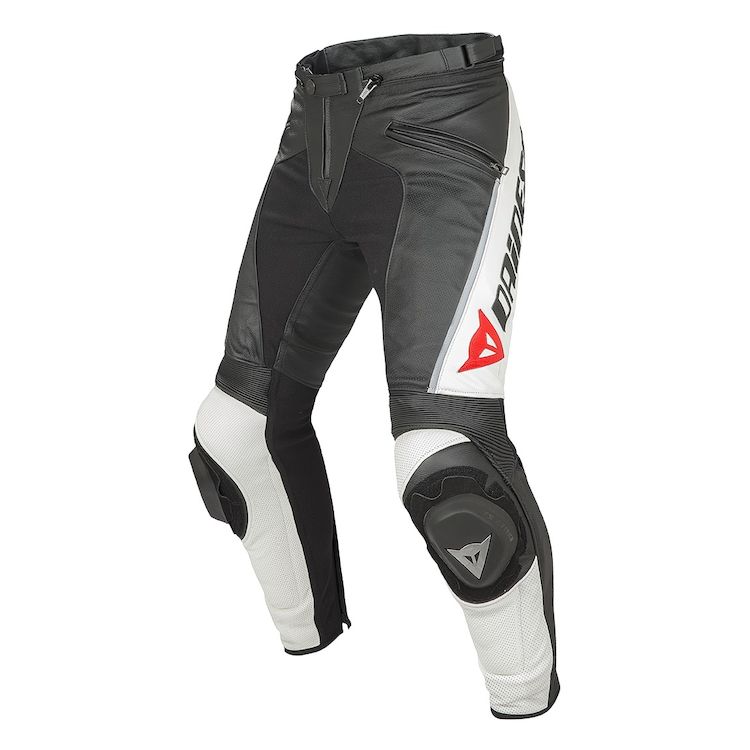 The Pro 2 Perforated leather pants from Dainese are the perfect blend of features from the track and comfort for everyday riding. These pants are cut for a snug race fit and rides have reported that they feel tight initially but do relax and stretch a bit as they are worn. However, these are definitely not the choice for riders looking for a relaxed fit.
The Delta Pro 2 is crafted from very durable Toto cowhide leather to offer superior abrasion protection. The S1 stretch fabric and elasticated inserts allow for a form fit but also for a complete range of motion. The double calf zippers and the jacket to pants zipper fastening system make these pants easy to put on and to convert to a full leather suit. Localized perforations and the sanitized lining add to rider comfort and the ability to wear these leather pants in warmer weather.
Where the track history of this design comes into play is with the safety features.
These pants are certified to the CE Category – 89/686/EEC Directive and offer Pro Shape soft protectors certified to EN 1261.1 Standard at the sides.
In addition, there are composite protectors to the same standard at the knees. Replacement sliders with Velcro attachments can be purchased for the knees.
These pants offer riders a lot of great options for the level of armor that they want to wear while still offering outstanding abrasion protection. Adding the knee sliders is great for a day on the track of a highway ride. Or the sliders can be removed for a more casual look when you are headed out for a day on the town.
The combo black and white color scheme is a nod to the race suit look while the solid black is a less conspicuous look for casual wear. All of these features offered by a leader in the world of safety riding gear makes the Dainese Delta Pro 2 Perforated Leather Pants our choice for the Best Overall Leather Pants selection.
Buy Dainese Delta Pro 2 Perforated
---
Best Value


Cortech Apex 2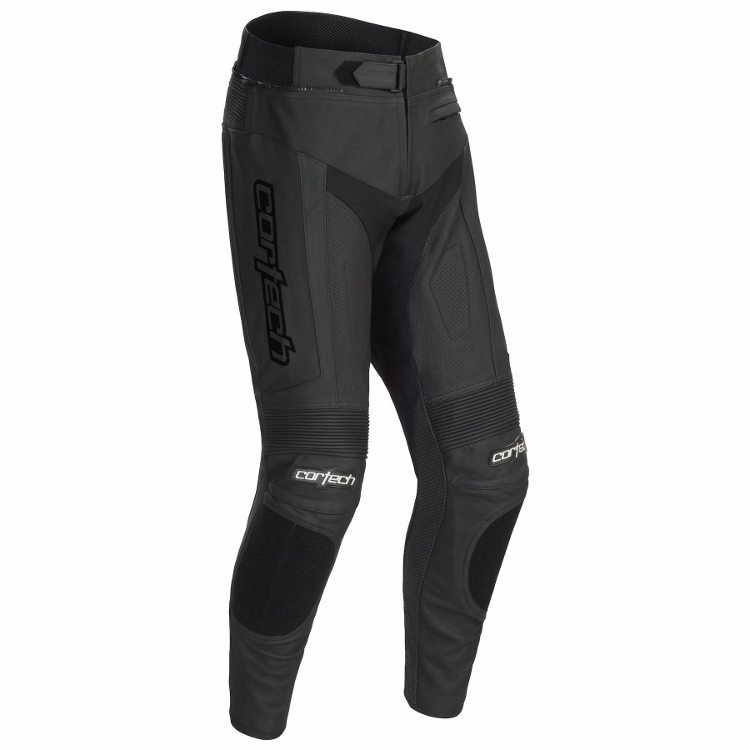 Constructed of top grain 1.2mm to 1.4mm perforated and non-perforated leather, the Apex 2 is designed to provide top abrasion protection. In addition, riders have the option to personalize their desired level armor and impact protection to meet their needs.
The full mesh lining offers greater comfort and air circulation to make these pants a great selection for riding in warmer climates.
Removable CE approved knee armor and soft hip armor can be added or removed to meet the demands of any type of ride.
For a day of racing, riders have the option of adding knee sliders which are sold separately.
The elastic waist ensures a custom fit and with the addition of a Latigo or Adrenaline jacket, you can zip into a full race suit.
The accordion expansion panels at the knees along with the pre-curved knee construction make these pants very comfortable for long rides and provide great flexibility.
When selecting your size keep in mind that other riders have found these pants to run a bit large so selecting a size smaller than normal is advised. And as with any quality leather garment, as the leather breaks in it will tend to stretch and relax a bit.
Priced at under $300, the Cortech Apex 2 offers the rider a great deal of protection and comfort at an amazing price. And add in a compatible Cortech jacket and you can have all of the benefits of a full race suit for less than $600, or the cost of some jackets! This makes the Apex 2 our selection for Best Value Leather Pants.
Buy Cortech Apex 2
---
Fully Loaded


Scorpion Ravin
The Scorpion Ravin leather pants offer riders a great fully loaded option complete with comfort and a look that is more casual and less track focused.
The construction is a combination of top grain Monaco leather and Scorpion power stretch panels. This blend has created an ultra-safe pair of leather pants that also offers extreme comfort.
Rider comfort begins with the pairing of perforated and non-perforated 1.2mm to 1.4 mm leather for great airflow without compromising on safety.
There are also inset accordion stretch panels running horizontally and vertically at the waist to ensure full range of motion and maximum rider comfort.
Power stretch panels are also located on the thighs and calves for a custom fit.
If riders choose to pair these pants with the Ravin jacket, the full 28" zipper connection converts these two pieces into a solid racing suit.
These pants are fully capable of providing all of the safety features needed on the street or on a racetrack.
The hard anodized aluminum knee protectors are exposed but are recessed into the leather for added durability and a lower profile than some exo-armor.
The Sas-Tec CE Level 2 removable SC01/05 knee armor fit into a fully adjustable armor pocket and allow for complete custom adjustment thanks to the Velcro closure system.
Sas-Tec CE Level 1 certified SC-1/07 hip protectors are also included in these pants for added impact protection.
All of these features might sound like overkill for leather pants to wear on the street but there is never too much protection anywhere you are riding so why not have the best all of the time?
The Ravin pants are certainly riding pants but the comfort features and the low profile armor and badging make them a great choice to wear anytime you are out on your bike. When you want the best leather riding pants and are not worried about paying top dollar, the Ravin by Scorpion is a great Fully Loaded choice.
Buy Scorpion Ravin
---
Other Great Leather Riding Pants
In Detail
Joe Rocket Perforated Stealth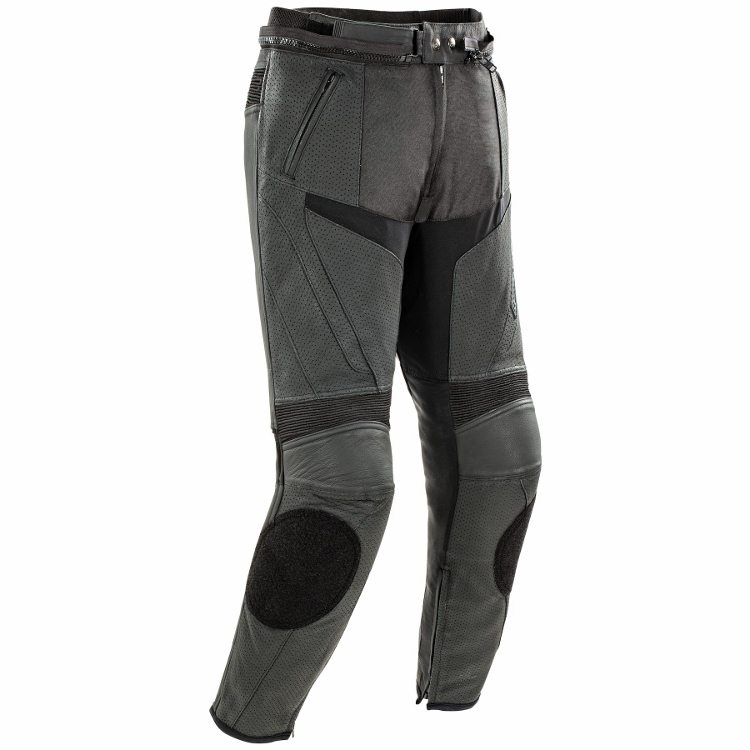 The Joe Rocket Perforated Stealth pants offer riders a slightly lighter weight leather for warmer conditions while still providing good protection at a reasonable price. However, riders have noticed that these pants tend to run small so it is recommended that you purchase accordingly as these are designed for a racing fit and are not relaxed or extra roomy.
These pants are constructed of 1.1mm to 1.3 mm top grain cowhide leather.
The accordion-style inset below the back of the waist offers good flexibility and range of motion as do the full flex leg stretch panels.
The pre-curved legs also add comfort and help to reduce fatigue on a longer ride.
The adjustable waist allows for complete customization of the fit and offers added adjustment when pairing these pants with a Joe Rocket jacket for a full race suit.
The Stealth pants include CE approved knee armor and high-density hip padding for added impact protection.
Pouches with Velcro closure provide the rider the ability to include optional knee sliders which are sold separately.
Joe Rocket has created a great warm weather leather riding option for riders who want abrasion protection, the ability to added impact protection and a covert style, all for an affordable price.
Buy Joe Rocket Perforated Stealth
---
Scorpion Clutch Phantom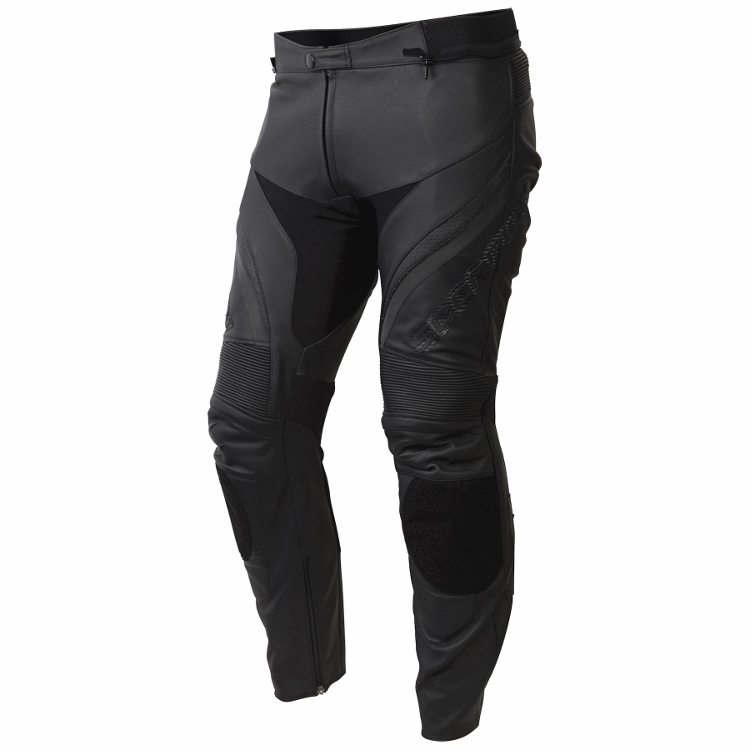 The Scorpion Clutch pants were designed to be used with the Clutch jacket to offer riders a full race suit as well as the option to wear the pants or jacket independently.
Top grade leather is used to construct the pants and the thickness ranges from 1.2 mm to 1.4 mm depending on the needed level of protection and range of motion requirements. As a pair, this jacket and pants set really do create a race quality suit.
In addition to the solid leather panels, there are also strategically located panels of laser-perforated leather to provide increased ventilation and rider comfort.
The lining of these pants is also perforated to promote much-needed air flow.
The carbon trim and branding on these pants is subtle enough for the pants to be worn in a casual environment and not scream that they are motorcycle race pants.
To increase mobility and comfort accordion panels have been added behind the knees and at the rear hem.
Along with the outstanding abrasion protection offered by the high-quality leather construction, Sas-Tec CE Level 2 certified armor is provided at the knees and PE foam protectors at the hip.
The foam pads can also be replaced with Sas-Tec hip armor which is sold separately.
The pants also offer knee slider attachment pads with a standard hook and loop attachment so that riders can use any type of slider that they prefer.
At around $350, the Clutch is a great option for a pair of leather pants that can transition from casual wear to a serious race suit when you are on the track or ready to go fast. Adding even the top of the line Clutch jacket would bring your investment in at less than $900. But for that investment, you are getting a full leather race suit, a great jacket and leather pants that can be worn together or separately. That is a lot of function for less than a grand.
Buy Scorpion Clutch Phantom
---
Alpinestars Missile Airflow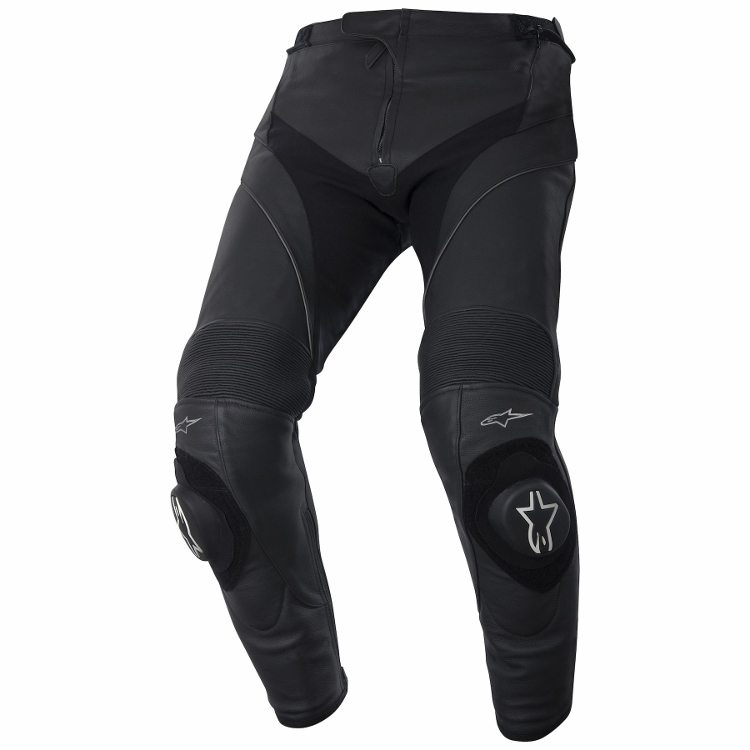 The Missile Airflow is a great pair of leather pants for any rider who is in a warm climate but does not want to sacrifice abrasion or impact protection.
These pants are made of durable full grain leather and stretch poly fabric inserts on the inside of the leg and crotch for added comfort and flexibility. The high cut rear waist ensures great protection for the lower back and hips even when the pants are not attached to a complementing jacket. The stretch fabric above the knees reduces bunching and fatigue on long rides. The mesh lining also has stretch panels in the same areas as the outer leather layer to ensure full range of motion and comfort.
Riders will be able to fine-tune many aspects of the pants fit using the Velcro and D-ring closures at the waist and the zippered calf gussets for sizing perfection.
The safety features start with the removable CE approved GPR knee and shin protectors and the foam hip pads.
The hip pads are removable also and can be replaced with CE armor if the rider desires additional impact protection in the hip area.
Multiple seams on the leather panels also help to prevent ripping which could result in abrasion injuries.
The seat and knee areas are also reinforced on the inside of the pants for extra protection in the event of a slide.
Finally, the sport knee sliders can be easily replaced as they begin to show wear.
For less than $500, the Alpinestars Missile Airflow leather pants offer riders great protection when worn alone or zipped to an Alpinestars jacket to create a full race suit. In addition, these pants focus on providing great airflow to ensure that the rider is comfortable and safe even in hot weather which can be a difficult combination to attain.
Buy Alpinestars Missile Airflow
---