Updated March, 2019
Our Top Picks
Best Overall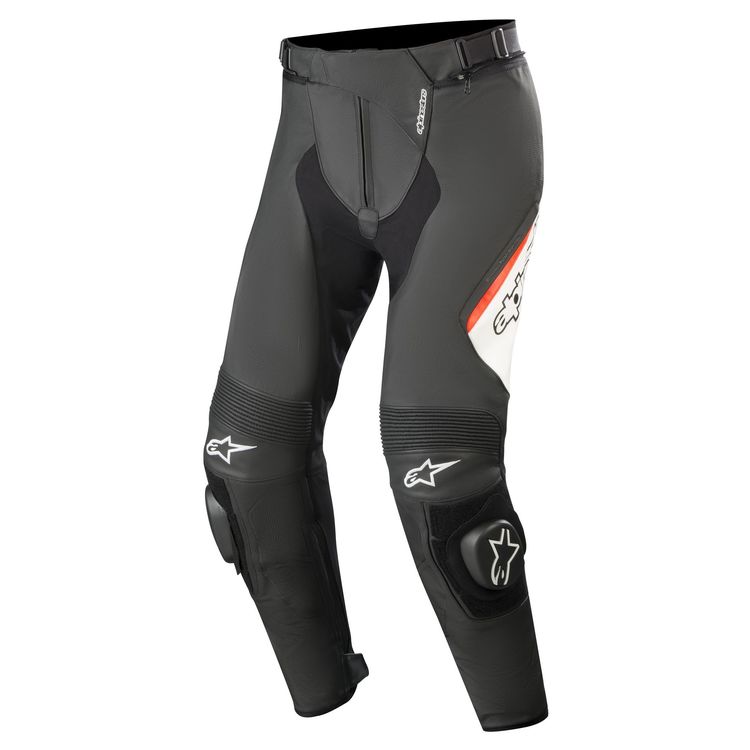 Best Value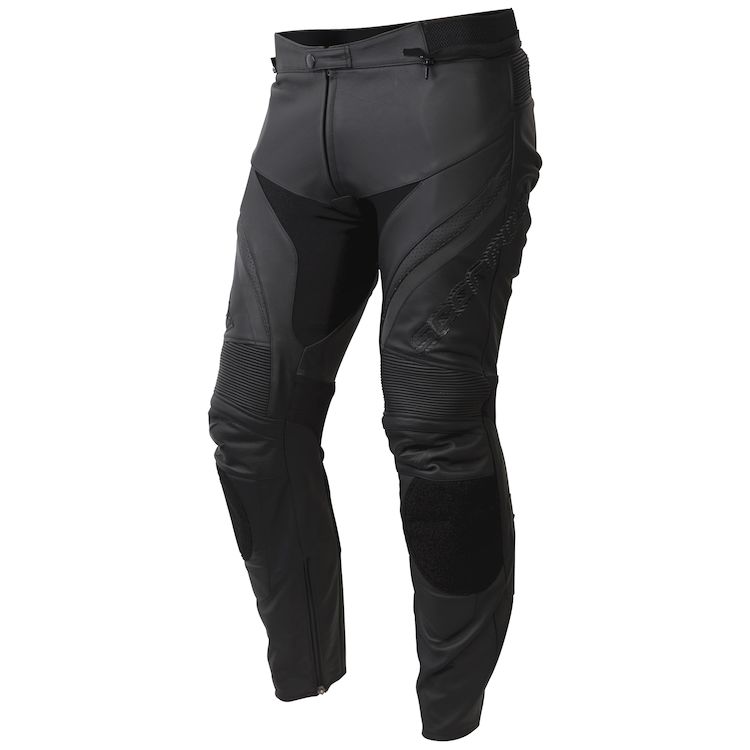 Fully Loaded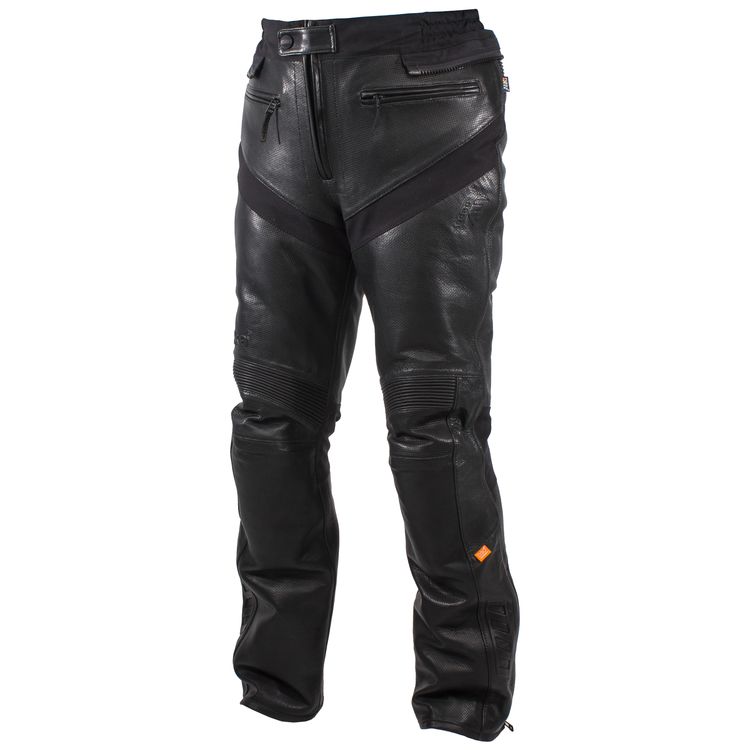 Other great options:   Spidi RR Pro Wind, Spidi Evotourer, Dainese Misano
---
Leather and other animal hides have been used to make garments since the Paleolithic period. And after over 3 million years of trials and testing, leather is still the most favored material for durable, protective and comfortable clothing.
The added durability of leather over manmade materials, such as mesh and textile, is because leather is a single panel of solid material while manmade materials are woven fibers. And when a single fiber breaks, the entire strength of the material can become compromised. In addition, the thickness of most commercially sourced leather adds to the ability to protect against friction burns and other injuries from severe abrasion.
Textile and mesh are certainly important in the gear world and especially in warmer climates where ventilation is not just a desire but a must to maintain safe body temperature. Fortunately, most manufacturers have become very skilled at integrating mesh, textile and even micro-perforated leather panels in leather pants and other leather gear to address the dangers of overheating while riding.
Other great innovations in the safety offered by leather riding pants include the addition of a Kevlar lining and Kevlar panels, incorporating extremely durable armor panels which are much stronger and also much thinner than old style armor and even Kevlar thread to make the seams in garments less likely to burst on impact.
Leather has been the protective material of choice for millions of years and thanks to modern advances, leather riding pants are still the best way to protect your lower body from impact and abrasion injuries.
Be sure to check back regularly with us here at wBW to read about our latest hands-on reviews of leather pants and other great products for riders.
Leather Pants Buyer's Guide
The cut and style of the best leather pants to meet your needs will depend greatly on the style of riding that you enjoy and the environment that you ride in most often. Fortunately, gear manufacturers have greatly increased the variety of both sizes and styles of great leather pants that they offer. And in the case of larger brands, there is a fairly good selection of ladies leather riding pants available.
Our reviews below are focused on providing riders with some quality choices that offer durability and safety as well as a range of riding styles and uses. This information, along with riders personal preferences and intended use will take the guesswork out of selecting a great pair of leather pants.
Best Leather Pants
In Detail
Best Overall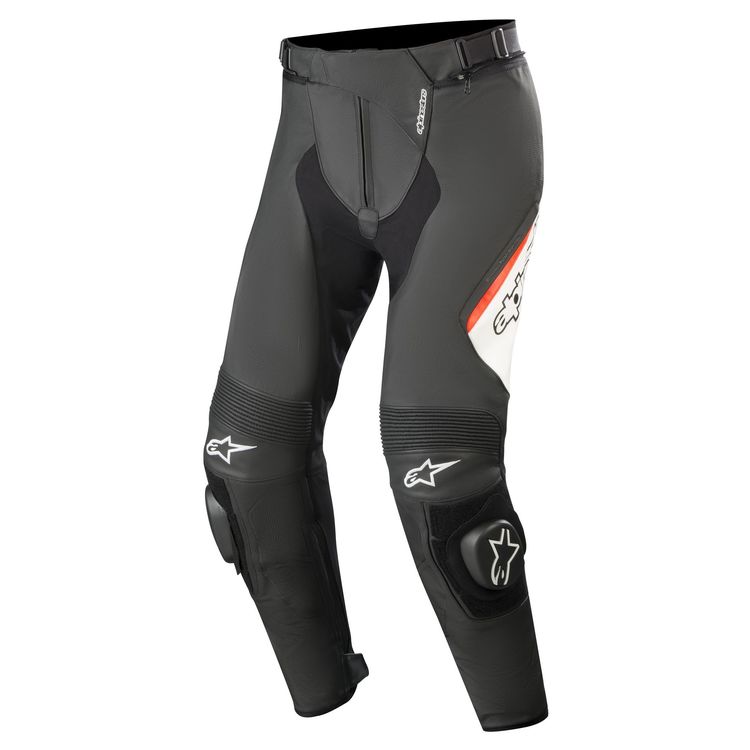 The Alpinestars Missile v2 and the Alpinestars Missile v2 Airflow offer riders CE certified pants for peace of mind when spending a day at the track as well as the comfort that is often times sacrificed when buying quality leather race style pants. Riders need a full range of motion and the ability to move quickly and easily to negotiate a tough track while cheating gravity and inertia and that is exactly what both versions of the Missile v2 provide.
Construction & Fit:
Main body is constructed of 1.3 mm bovine leather
Stretch textile panels on the calf and at the crotch makes it easy to transition from a more upright position into a tight tuck for an equally tight corner
Accordion leather stretch zones above the knee offer improved comfort and fit so that the leather does not bind or bunch
Pre-curved leg construction helps to reduce leg fatigue and adds to the comfort of the fit as does the extra long rear waist.
Longer waist also greatly increases the comfort when the Missile v2 is worn with an Alpinestars jacket to create a full suite of protection
Ventilation can be controlled with zippered vents in both the standard and the Airflow version of the Alpinestars Missile leather pants.

The added ventilation and cooling capabilities of the Airflow model are thanks to the extensive use of perforated leather from the waist to just above the knee accordions.

Mesh lining with stretch inserts helps to promote wicking of moisture and cooling in both versions of the Missile v2
Safety Features:
Main bovine leather component of the Alpinestars Missile v2 pants is internally reinforced in the seating area to offer added abrasion protection and durability in the high mobility area
Alpinestars GP-R knee protection which is CE Level 1 certified is included and riders can opt to add replaceable sport knee sliders for excellent impact and abrasion protection.
Pockets are located in the hip area to accommodate added impact protection as well if the rider chooses to purchase it separately
The Alpinestars Missile v2 and Missile v2 Airflow offer riders superior comfort and protection, making them the selection for the Best Overall Leather Pants 2019.
Buy Alpinestars Missile v2 & Missile v2 Airflow
We receive a small commission when you purchase from one of our affiliate partners. Thank you for supporting us.
---
Best Value
The Scorpion Clutch Phantom pants are great value for superior protection features not usually found at this price point.
Construction & Fit:
Constructed of 1.2 to 1.4mm premium Monaco leather with perforated leather panels in the thigh for added airflow and comfort.
Accordion stretch panels at the knees and rear hem offer increased comfort and mobility
Power stretch panels are also included at the inseam and knees for added comfort when in a tight tuck or when just leaned forward slightly
Calf expansion gussets allow for unrestricted movement and increased comfort when wearing the Clutch Phantom inside a race boots
Added comfort and fit features include:
EXO-Stitch seams
YKK main closure
Metal hook front waistband
YKK fold-flat locking zippers at the cuffs
Perforated inner lining
The Clutch Phantom can also be paired with either the Clutch or Ravin jacket to create a full leather race suit using the 28" YKK zipper connection system.
Safety Features:
The armor and protection offered by the Scorpion Clutch Phantom leather pants are far superior to what riders will find in many of the competitors leather pants which sport a much higher price tag.
Sas-Tec CE Level 2 certified removable viscoelastic armor is located at the knees
Pockets are provided at the hips so that riders can insert additional hip protection if they wish to remove the PE foam pads that come with the pants
Scorpion SAS-TEC Replacement Hip Armor is offered for about $30
Hook and loop panels are available at the knees which will accommodate most knee sliders
At under $400, the Scorpion Clutch Phantom leather pants offer riders far more comfort and protection features than many other leather pant options which cost far more, making them the 2019 selection for Best Value Leather Pants.
Buy Scorpion Clutch Phantom
We receive a small commission when you purchase from one of our affiliate partners. Thank you for supporting us.
---
Fully Loaded
Visually, riders will immediately see that the Rukka Aramos is a more relaxed pair of leather pants that are not really looking for the excitement of a day at the track. The Aramos is looking for adventures that can be found on the open road or maybe even a remote trail.
Construction & Fit:
The Rukka Aramos leather pants are a different breed than most as they offer perforated aniline leather Corium+ laminate, which is a special configuration of leather and waterproofing.
An additional thermal layer can be added to make these a full four-season option in many climates
Elastic panels in the crotch and at the back of the knee make these pants comfortable for long rides in any climate
Stretch panels above the knee and at the back yoke offer more comfort and range of motion
Leg cuffs offer zipper closures while the waist is a snap closure
And the jacket to pants connecting zipper lets riders convert the pants to a full suit to block out all of the rain and cold weather that could come their way.
Safety Features:
Even with all of these comfort features, Rukka was able to include some awesome protection.
Rukka D3O LP1 knee/shin and hip protectors, CE Level 1 EN 1621-1 2012, are included in these pants
Rukka suspenders, which are sold separately, can also be added for additional comfort and security when stretching your legs after a long ride
Warranty is valid for five years from the date of purchase against faults in material or workmanship
And finally, Rukka is willing to justify the cost of the Aramos by saying that these leather pants are designed to last.
At over a grand, the Rukka Aramos leather pants are not going to fall into everyone's budget. But for those riders looking for a relaxed fit in leather pants that still offer all of the protection of a leather race style pant, the Aramos should be one of your first choices, making them the 2019 selection for the Best Fully Loaded Leather Pants.
Buy Rukka Aramos
We receive a small commission when you purchase from one of our affiliate partners. Thank you for supporting us.
RevZilla
---
Other Great Leather Pants
In Detail
For warmer climate riding, look no further than the Spidi RR Pro Wind pants.
Construction & Fit:
The pants are constructed of 1.2mm cowhide with perforated panels from the crotch to just above the knee gussets on the thighs.
Flex Tenax is inserted at the crotch and the back of the legs to provide more mobility and comfort. These leather pants are Teflon coated to help repel rain in the event of a sprinkle and will connect to a jacket using the full circumference waists connection zipper.
The Spidi leather pants have been found to run a bit snug, so ordering a size larger than normal is recommended.
Safety Features:
EN1621-1 certified Multitech protectors are located at the hips
Adjustable EN1621-1 Multitech protectors can be custom located at the knees
For the most aggressive cornering, knee sliders round out abrasion protection
For riders who are looking for a great summer weight leather riding pants that can handle a day at the track.
Buy Spidi RR Pro Wind
We receive a small commission when you purchase from one of our affiliate partners. Thank you for supporting us.
RevZilla
---
Not every rider is ready to fold up on a sportbike and test the laws of physics and Spidi gets that. The Spidi Evotourer was created to meet the needs of the riders who want the protection of leather but don't want the look or feel of second skin-like race pants.
Construction & Fit:
The Evotourer is constructed of the same 1.0 to 1.2 mm thick Italian cow leather as the track style pants but the design is more along the lines of your favorite pair of blue jeans.
Even with the more relaxed fit, Spidi included FlexFabric at the crotch and a connection zipper to mate these up with your favorite jacket.
Safety Features:
Even with the casual look and super comfortable cut of the Spidi Evotourer, there is a great deal of impact protection provided by the Multitech removable protectors CE certified EN 1612-1:2012 which are located at the knees and hips.
For a great casual fit in a not so sportbike oriented pair of leather pants, the Spidi Evotourer is a very solid choice.
Buy Spidi Evotourer
We receive a small commission when you purchase from one of our affiliate partners. Thank you for supporting us.
RevZilla
---
Dainese Misano leather pants offer the same great fit, comfort, and protection as the full race suit for riders who are not looking for a single, full body piece of gear.
Construction & Fit:
Constructed of D-Skin 2.0 leather, S1 bi-elastic stretch fabric, and NanoFeel Silver Ion antimicrobial liner, these pants can handle the track but are also comfortable enough for any ride.
Elasticated inserts and the S1 fabric allow these leather pants to custom form to your body and move with you without binding or bunching.
Seamless thermoform soft inserts provide added protection and comfort on the track or on the street.
Safety Features:
Overall safety level of the pants meets the CE – Cat. II – 89/686/EEC Directive
Pro-Shape soft hip armor is certified to Standard EN 1621.1.
Interchangeable knee sliders round out the abrasion protection
Double calf zippers and a suit to boot connection system add to the great fit and comfort when you are in full gear and ready to push your bike and your gear to the limit, making the Dainese Misano a great selection for a race quality pair of leather pants.
Buy Dainese Misano
We receive a small commission when you purchase from one of our affiliate partners. Thank you for supporting us.
Download & Save Our Infographic!
Can't decide on your favorite Leather Pants? Acquire all the information you need with our handy infographic to decide later or on-the-go. Download and save all our top picks for best Leather Pants of 2019.