Review Summary
A cooling base layer that does what it says on the packaging, the Fieldsheer Mobile Cooling Long Sleeve feels more like a generic cooling base layer than a motorcycle-focused one. Moisture-wicking fabric does its job and cools using evaporation and heat transfer, but across the back of the shirt, this effectiveness is cut in half by using open mesh.
Materials & Build Quality
80
Pros
No chemical agents used during cooling
Compression fit, keeping it tight to your skin for optimal cooling
Machine washable
Does not lose any cooling functionality after washing
Comfort-fit seams sit flush and comfortable against the skin
Made of 92% recycled fibers
True to sizing chart
Cons
Back is made of open mesh instead of cooling fabric
Feels more like general use garment than motorcycle focused
I had the pleasure of reviewing the KLIM Aggressor -1.0 Cooling Shirt during the hottest summer that Calgary, Alberta, Canada, and most of the Pacific Northwest of North America, have seen in probably a decade. That shirt gave me the surprise of my riding life when it actually worked as described, and I gave it possibly the highest score I have ever given a piece of gear: 90%, which in MotorBikeWriter and webBikeWorld "review speak" means "damned near perfect, no flaws, top of the pile."
That review also piqued my interest in cooling garments, as I am a bit on the bigger side and have many built-in layers to keep me warm. When bundled up in gear on a 30+ C day, that also usually means I sweat. A lot. So having something that passively helps me stay cool without having to take it out of the freezer and slot it into a special vest or dunk it in water to activate it is definitely something I want to review.
In the middle of the "Sizzling Summer," as I have come to call it, Fieldsheer, a company well known for providing four-season and snowmobile heated gear, contacted us to see if we'd be interested in their newest line of cooling base layers. When this opportunity arose, of course, I jumped up and down and raised my hand to be put on the list. I am enthusiastic about keeping myself cool while on long rides, and I also wanted to pit a competitor's product against what I considered the standard for this segment of motorcycle gear, the KLIM Aggressor named above.
About Fieldsheer
Since 1978, Fieldsheer has been involved in the heated and heat-retention garment business. This has included everything from the design and production of motorcycle jackets to developing battery-powered, heated work apparel. Thanks to advances in fabric technology, the company was recently able to provide a wider range of heated—and for the first time, passive—cooling garments for various uses.
Fieldsheer has recently refocused its product lines on heated and cooling apparel and includes active heat management in its battery-powered heated gear via smartphone integration. These heated and cooling garments come as base layers, regular use garments, or top layers and include everything from snowmobile and skiing gear to industrial cooling bandanas, skull caps, and shirts.
About webBikeWorld's Review Policy
This product was provided by Fieldsheer for review purposes. Note that we do not allow brands to influence review scores or content. Please see our review policies for more information.
We here at webBikeWorld believe that you can't just try something out once and give an honest opinion of it. Any product we test is actually used by our testers, and for the month of August and part of September 2021, any time I rode—hot or cold—I wore this base layer.
Fieldsheer Mobile Cooling Long Sleeve Shirt Features
Bike: 2012 Kawasaki Ninja 650
When I first unpacked the Fieldsheer Mobile Cooling Long Sleeve shirt from the packaging, I was surprised to find that there were, in fact, two shirts in the package. As I am 185 cm and 127 kg (depending on if I ate a lot for dinner the night before), I am definitely in the XL to 3XL range for most gear. I have a 127 cm chest circumference and pretty broad shoulders from both genetics and playing rugby in my younger years. Using Fieldsheers' sizing chart, I found that I was in between 2XL and 3XL, so I requested the 2XL, but they sent me a 2XL and 3XL. Thanks, Fieldsheer, for the generosity in this aspect for an in-betweener!
The biggest thing I noticed right off the bat is that the Fieldsheer cooling shirt is much thinner than my KLIM shirt. Whereas the KLIM feels like it's been knit together by some very small knitting needles, the Fieldsheer shirt is, to borrow a word from their name, sheer. It's about 1 mm thick, if that, and is very stretchy, as it is 8% spandex. I also noticed that there were two small panels on the chest and back, as the chest was made of what Fieldsheer calls DriRelease, and the back was an open mesh.
Putting the 3XL shirt on, I found that it was actually a tad too big, with the garment not pulling close to the skin and the sleeves sticking out from under my Rev'It Arc Air jacket. Doffing that, I put on the 2XL shirt and found it to be a much closer, nearly compression-style fit. It still sat a bit loose on parts of me, but where it counted, it was in contact with the skin and pulled smooth.
Like most base layers, as I have discovered through research, the Fieldsheer Mobile Cooling Long Sleeve shirt features comfort stitching, meaning that there are no seams or joins pressing annoyingly into your skin. The fabric is smooth and feels premium on the skin, although I did notice that most of the adjustment and stretch of the shirt happened everywhere except the back panel.
Fieldsheer Mobile Cooling Long Sleeve Shirt Fit & Comfort
Although I already touched on this above in the features, I will go more in-depth here regarding the fit of the shirt.
As per the Fieldsheer size guide, I am between 2XL and 3XL. As I expected stretching, that is why I asked for a 2XL. I have also found that with most gear, it is either one size too big, or one size too small, because of differences in standards across the globe. For example, my Forma Trace riding boots are a Euro size 46, but my feet are 10.5 (Wide) in US sizing—which should equate to an EU 39 sizing, but does not.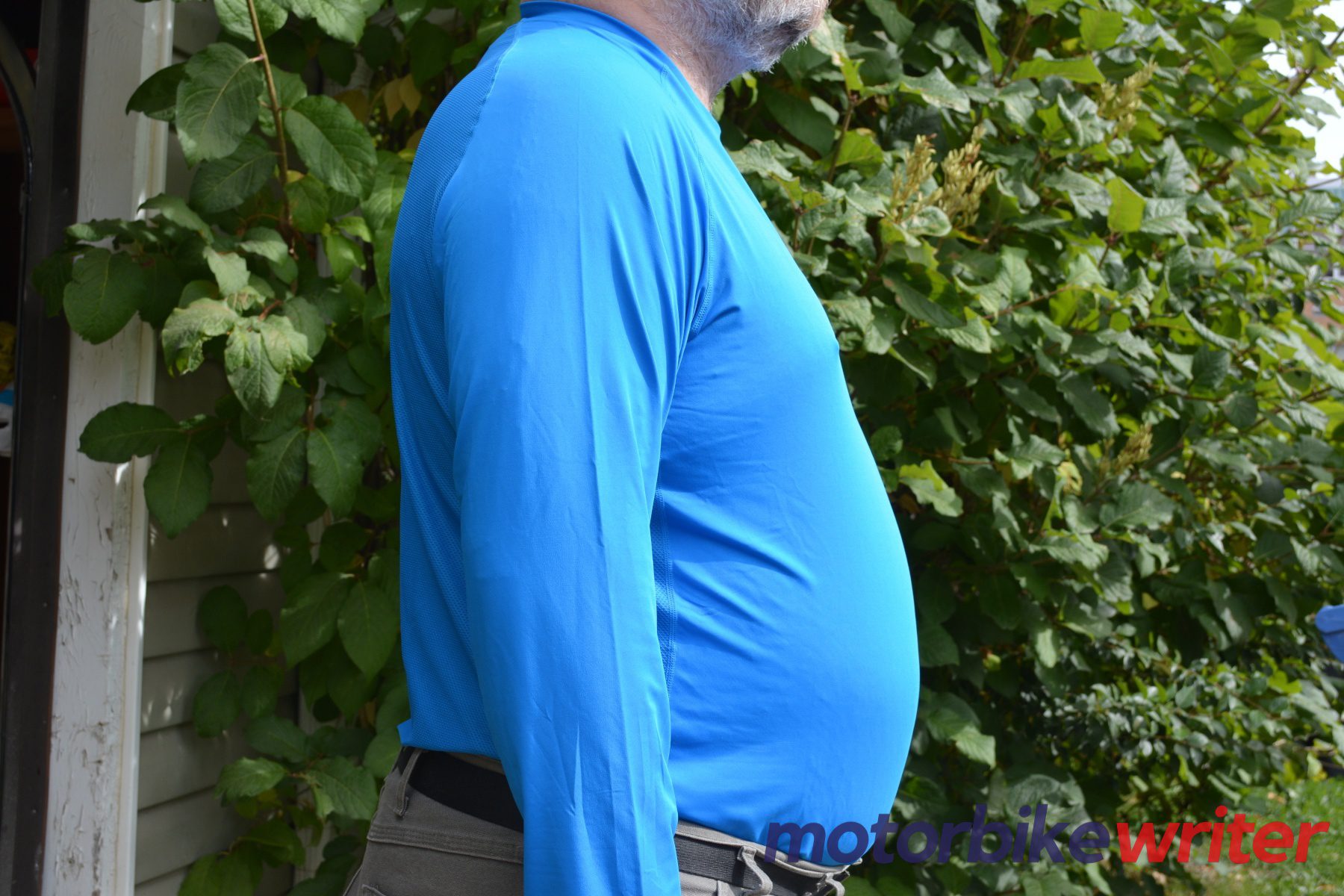 I can report that the Fieldsheer gear, at least as far as I have experienced, fits bang on according to the size guide. My chest is 127 cm, the 2XL has a max chest of 127 cm, and it fits perfectly—not squeezing me, but definitely keeping contact with the skin. My side-of-neck-to-wrist sleeve length is 69.5 cm, and the 70 cm sleeve of the 2XL is nearly perfect, just 5 mm too long and peeking out from under my jacket by a hair.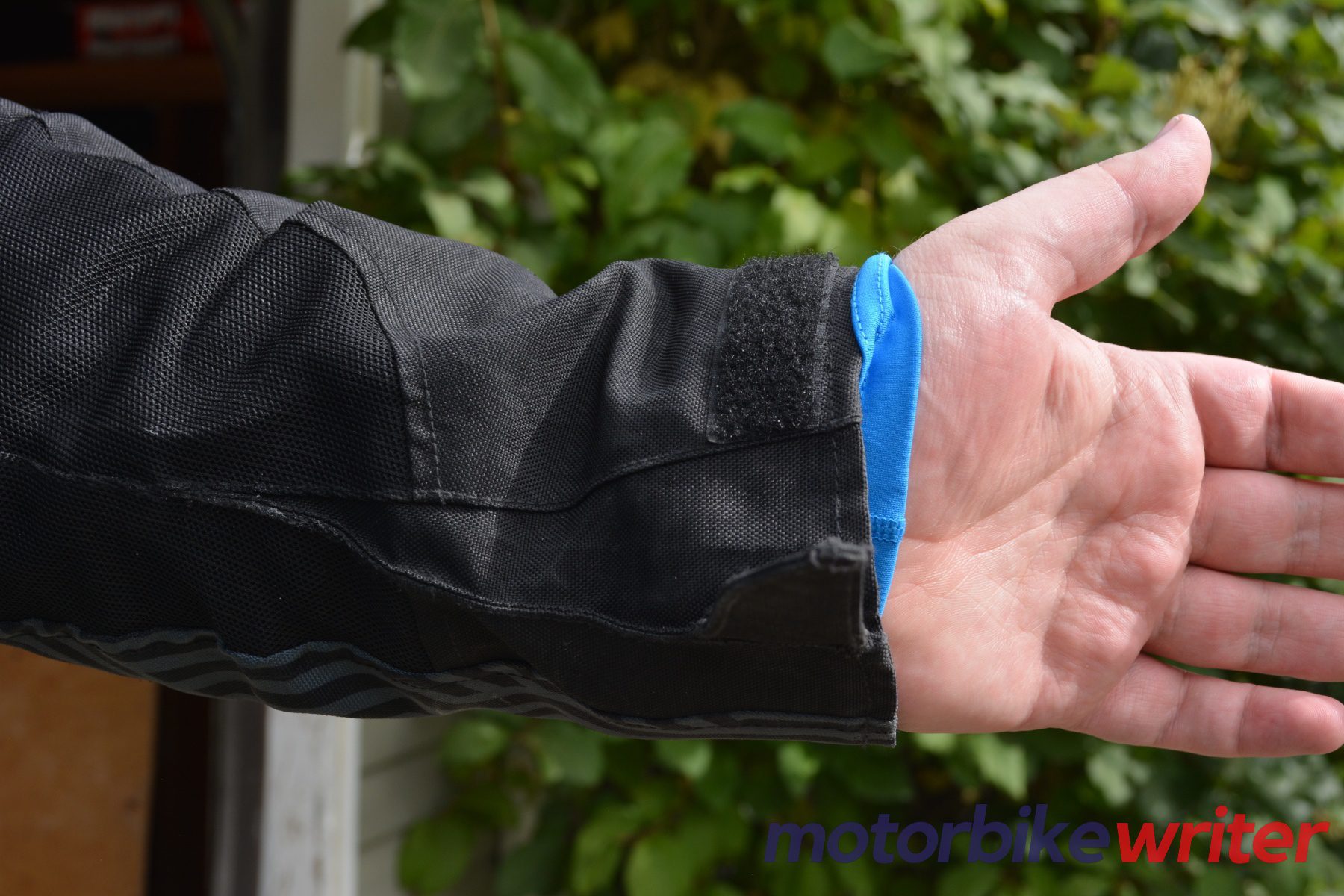 Comfort-wise, after about 5 minutes of getting used to the new-out-of-the-bag feel and letting the fabrics start to passively cool you, this is definitely a shirt you could wear for any type of activity. It kind of joins with your body in a way that makes it feel like a second skin, albeit a looser layer. It's so lightweight you barely notice you're wearing it unless you're actively looking down at yourself and saying, "ah, I'm wearing a cooling shirt."
The comfort stitch seams, and spandex fabric interwoven with the DriRelease, do their job to help with that. The only part I was actively aware of being a shirt, and will definitely explain in much more detail in the Real World section of this review, is the back. The back panel, as well as the underarms, are open mesh, and because of that, they are not as effective as the other panels at "becoming one with your skin."
Fieldsheer Mobile Cooling Long Sleeve Shirt Ventilation
Since I'm mentioning that back mesh panel, let's talk ventilation. By nature of biology, humans have five major radiators to dump excess heat from our bodies via sweat from our skin. These are our heads, underarms, backs, groins, and feet. A cooling shirt touches two of those areas: the back and the underarms.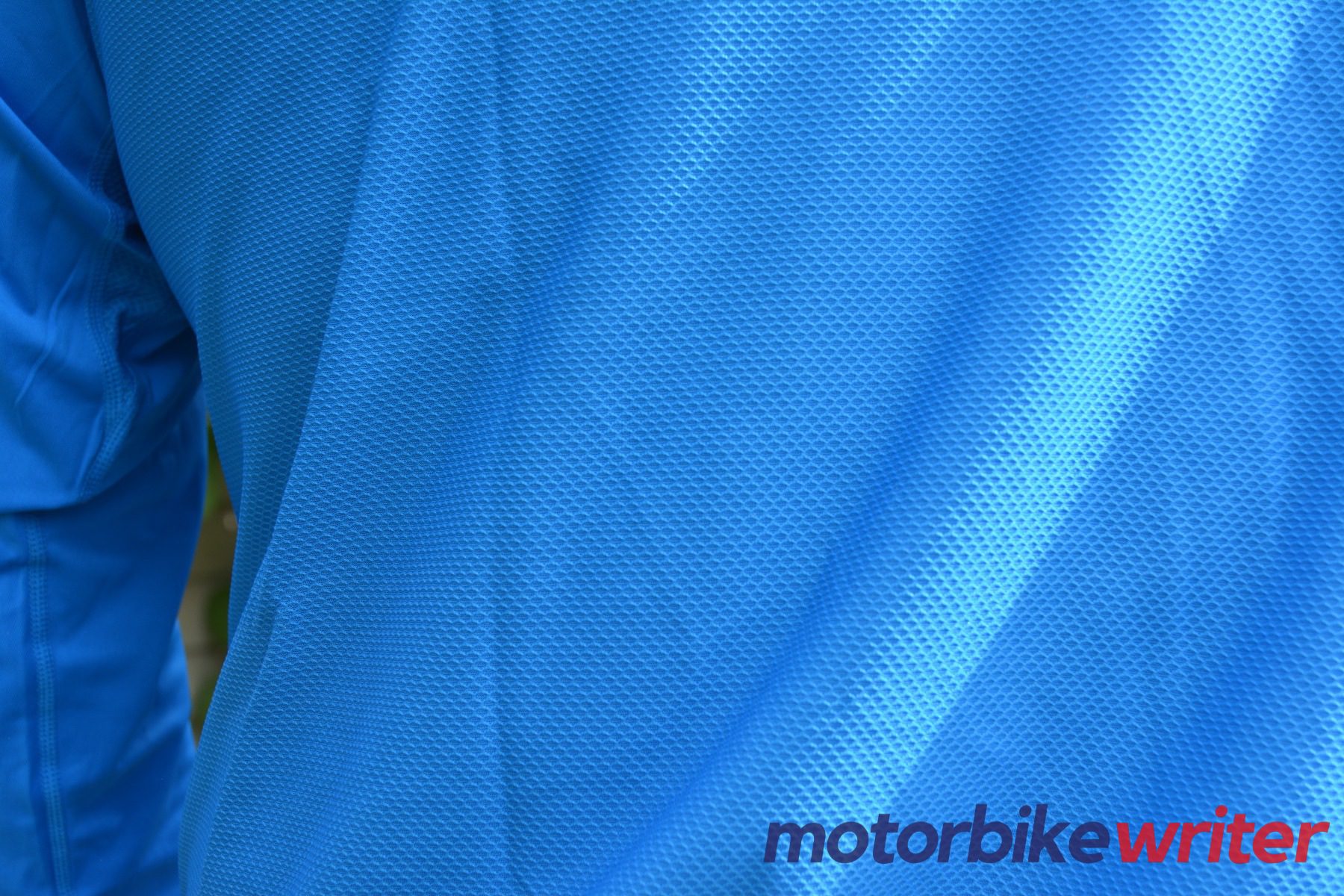 Most riding jackets, be they cold, warm, hot, or extreme weather jackets, have ventilation that passes across the underarms in some way, and exhausts out the back. By placing open mesh in the underarms and on the back, my assumption is that Fieldsheer wanted natural convection to occur with these vents to both wick sweat away from the DriRelease fabric and get ventilation air to the skin in the major radiation points.
When I mention open mesh, I really do mean open mesh. Each ventilation hole is at least 1mm wide when not being worn, and I assume a mild amount of stretch opens them even wider during use, especially when leaning forwards towards handlebars.
Fieldsheer Mobile Cooling Long Sleeve Real-World Testing
As stated earlier, it was bloody hot over the summer here. Even as I write this review in mid-September, it is still breaching 20 °C some days of the week, in a month that sees traditional temperatures from 5 to 15 °C. Most days I was out riding in August, the temperatures were in the mid to high 20s, and more often than not, they were above 30 °C. This shirt was used with a combination of jackets, from my Alpinestars Andes V3 on the colder days to my Rev'It Arc Air on moderate-to-hot days, and with my review sample Rev'It Tornado 3 hot weather mesh jacket on the super-hot days.
For the first little while, I tested the Fieldsheer shirt "as it is," meaning there were no special considerations given to maximizing airflow, opening or closing specific vents to affect which bits were touched by the wind, etc. Calgary is very prone to wind, as we sit right at the confluence of warm Pacific Ocean air coming over the Rocky Mountains and the North American part of the Jetstream.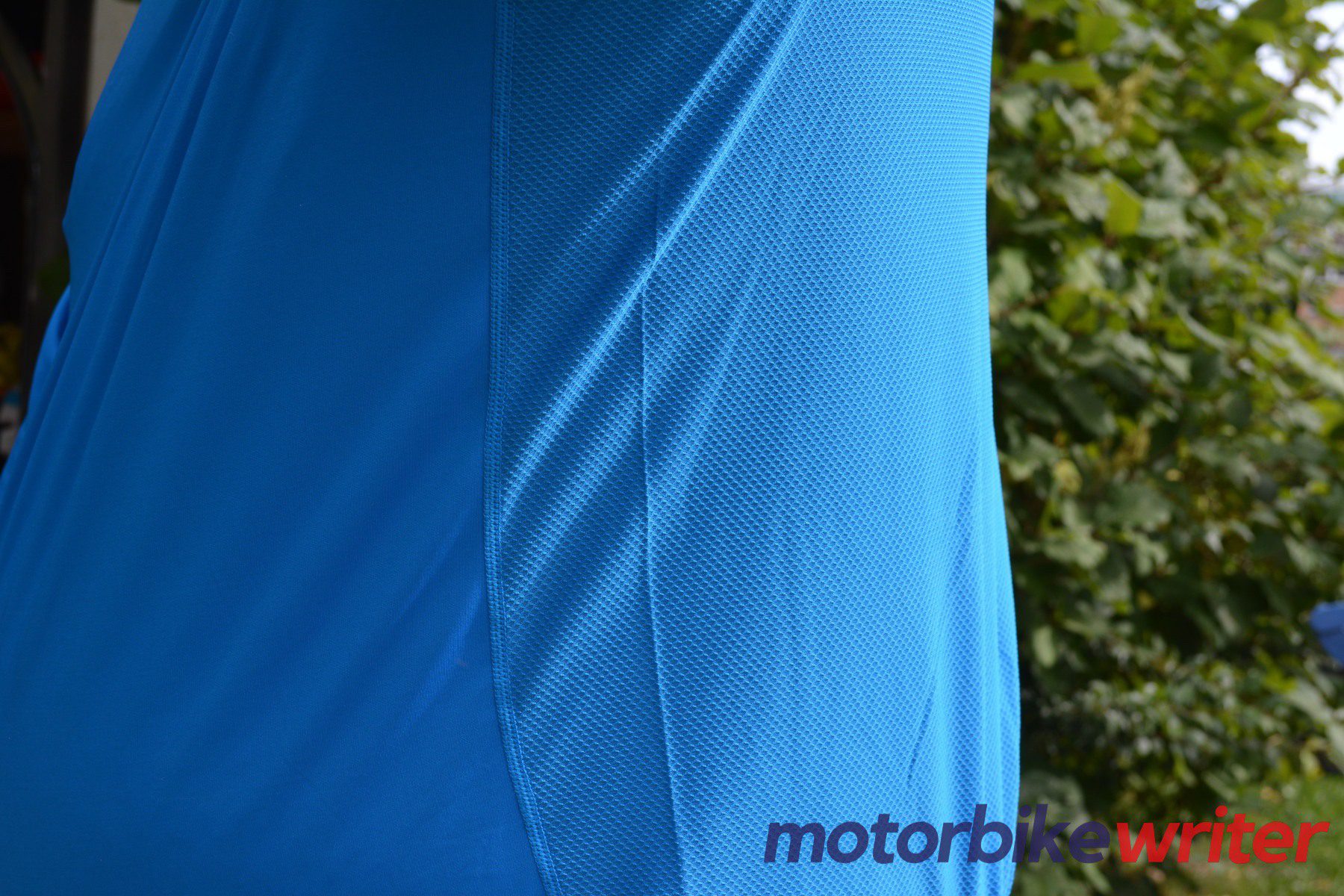 Through gentle headwinds, gusting tailwinds, and at one point what felt like a howling gale as a thunderstorm rocked up in 5 minutes flat and dumped a ton of rain and hail on the city, my front and sides were comfortable. If it was a particularly cold day, say between 10 to 15 °C, I did find that I sometimes got a touch cool, but not to the point of it being dangerously cold.
The biggest issue that I had with the Fieldsheer cooling shirt, however, was the back. Because it's that open mesh and not the DriRelease smooth panel fabric, I found it didn't wick up the sweat and heat as well, especially in my waterproof Alpinestars Andes V3. That jacket sends a lot of cooling air around the outer shoulder and underarms, with exhaust vents to get rid of it on the sides of the back.
My underarms definitely benefited from that ventilation path, but my back never seemed to pull any heat away from the spine, while the KLIM Aggressor, with its solid back panel of Klimatek cloth, did so with the same jacket on. With the Rev'It Tornado 3, whose back panel is literally one big mesh, there was a lot of evacuation of air and heat, but it still never felt quite as cool as my front did, especially on the 30+ C days.
This made me go back to Fieldsheer's website and look up the Mobile Cooling shirt again—where I found out that "powersports use" is just one of the many applications they recommend the shirt for. As such, I tested the shirt for a few other things as well, wearing it for one of my pedal bike rides on a hotter day in August, as well as trying it on under a cotton t-shirt during a walk (as someone hiking in a slightly cooler area might).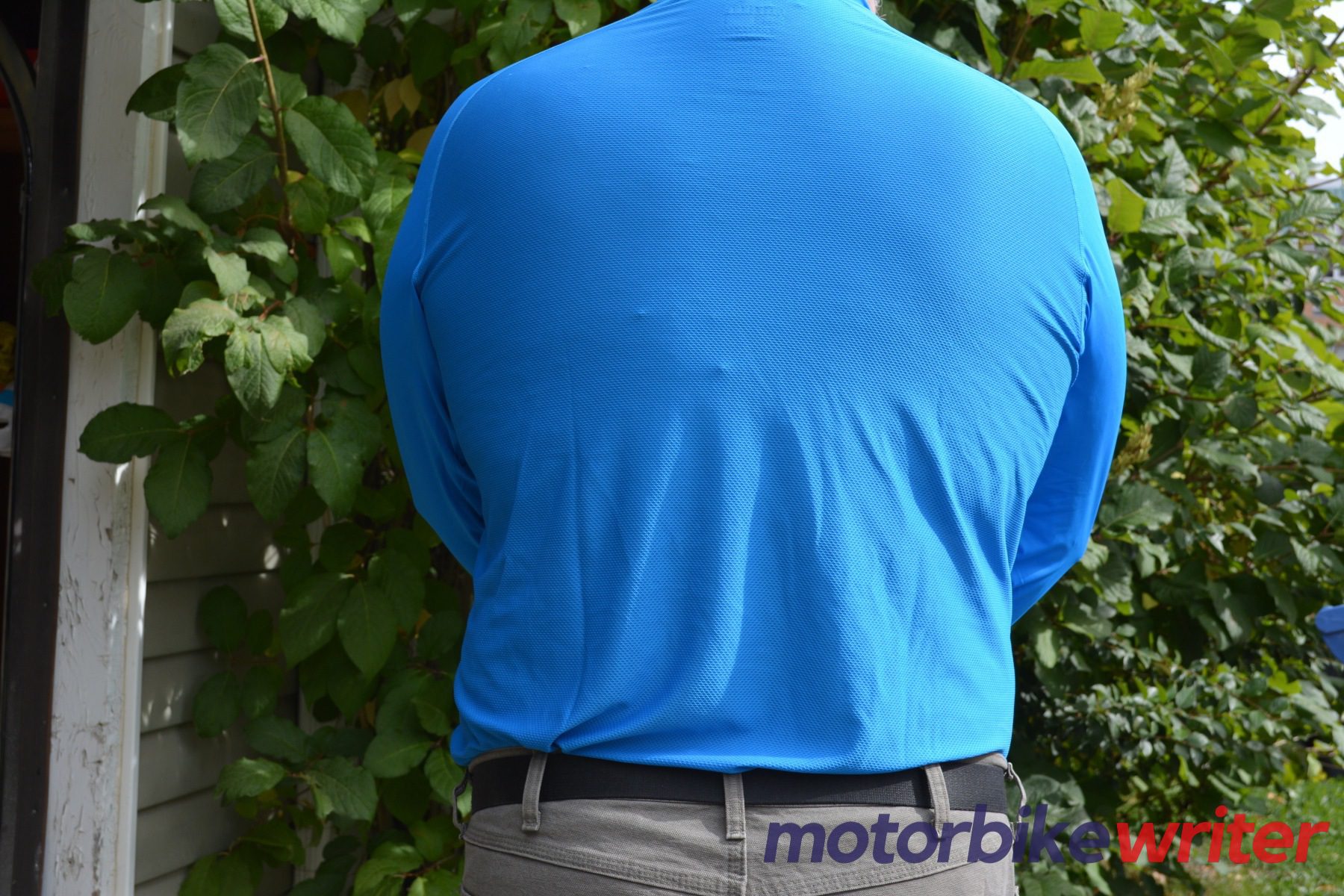 I can report, through this "not on a motorcycle" testing, that the shirt worked flawlessly in both situations. In fact, on the pedal bike ride where my speed averaged about 15 to 30 KPH, it worked better than it did under a motorcycle jacket. Under a thin cotton t-shirt on a cooler day—as hiking in Alberta is generally in the mountains and can get quite chilly—my walk was improved by my underarms and forearms not getting soaked in sweat. The sweat-wicking DriRelease fabric did its job, carried the sweat to evaporation areas, and kept me comfortable.
It is due to this testing—as well as Fieldsheer's outright admission—that I think the Mobile Cooling Long Sleeve is more of a general-use cooling shirt rather than a dedicated garment for powersports use.
Should You Buy the Fieldsheer Mobile Cooling Shirt?
At the end of the day, the Fieldsheer Mobile Cooling Long Sleeve shirt is an effective general-purpose cooling shirt. I want to highlight the "general-purpose" bit there. I feel my KLIM Aggressor would be a bit too warm to wear under another t-shirt for hiking, and while it would work just as well for pedal biking, the Fieldsheer is thin and light enough to be eminently useful in both those areas.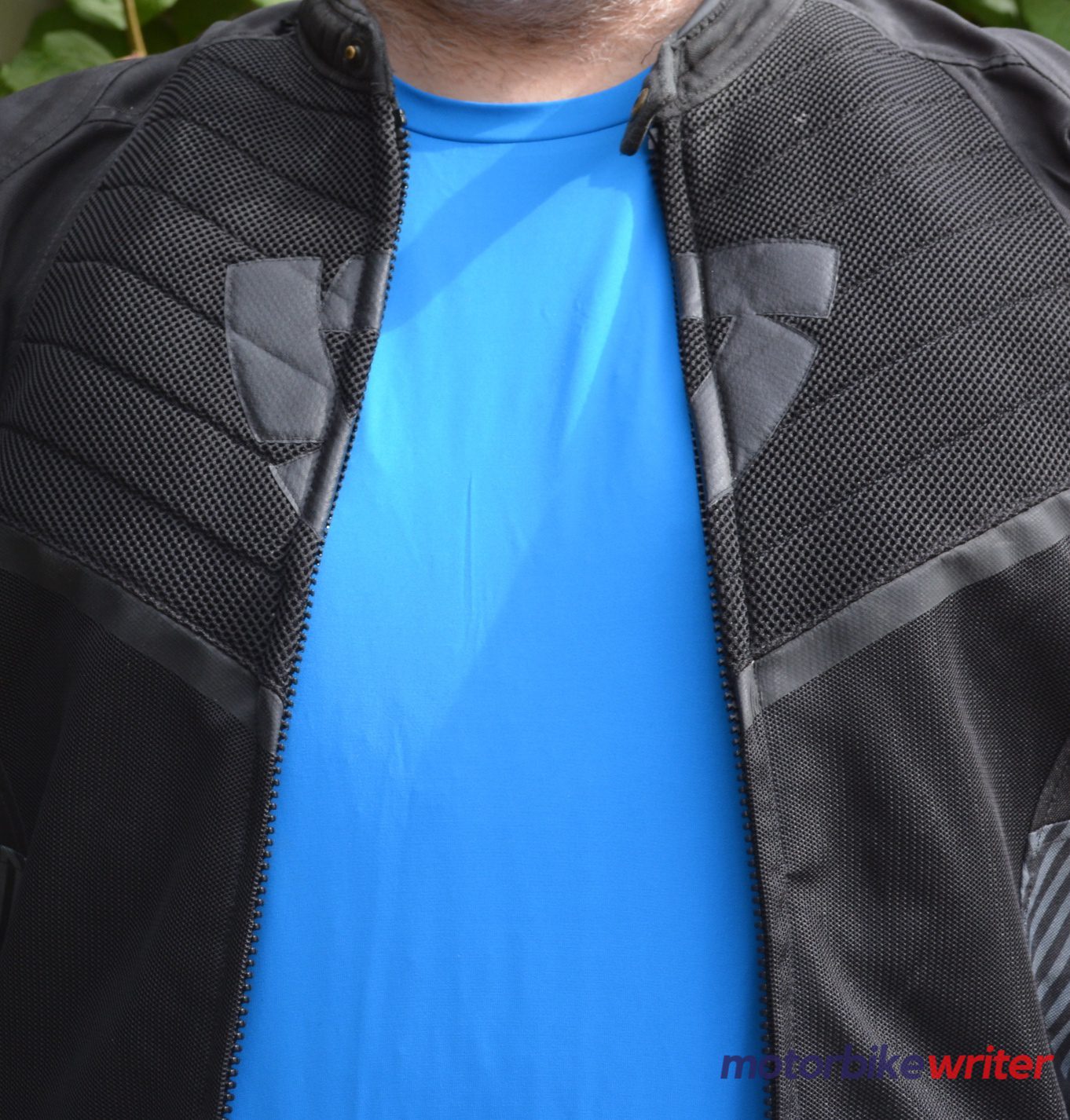 Personally, I think having the back panel made of the same DriRelease fabric as the front would make it much more useful as a base layer under a riding jacket. The underarms with the open mesh are great, since they were definitely effective in reducing a ton of heat through being blasted by colder air. Just make the back solid fabric, allowing it to carry the sweat and heat to the ventilation areas, and my rating on this shirt would be a few points higher.
That said, I can't deny that having a shirt that doesn't need to have any chemicals activated by water and isn't made of exotic unpronounceable things is a step in the right direction. By being made out of almost entirely recycled fabric, the shirt, and Fieldsheer in general, are helping reduce waste and allowing for generally more affordable garments for riders. If you are riding in warmer parts of the US, just make sure to pair it with a hot weather jacket, so you have that armor on top and cooling underneath.
Despite the "my back is kind of warm" issue I faced—and what I consider minor design considerations that make the shirt more general-use vs. motorcycle-oriented—I still can't fault it too much. If only that back panel was made of the same material as the front, and they extended the mesh from the underarms down the sides, it would work much better with the heat from a rider's back.
With that in mind, I can safely give the Fieldsheer Mobile Cooling Long Sleeve a solid 4 out of 5, or 80%, rating, and will recommend it to anyone that wants to have a multi-use cooling shirt that isn't purely for riding.
Note: As a bit of a fun aside, I wrote this entire review wearing the cooling shirt at my computer desk, and it's kept me perfectly comfortable the entire time!
Specs
Price (When Tested): $65 USD
Alternative models & colors: Cerulean (light blue), Morel (grey), Coyote (olive brown), Ocean (very light blue), Hi-Viz (fluorescent yellow)
Important Links / Where to Buy
Fieldsheer Mobile Cooling Long Sleeve Shirt Gallery