Fieldsheer Hydro Heat Textile Jacket Hands Review Summary
Review Summary
An all season, rugged, 100% waterproof, windproof, comfortable adventure jacket that particularly shines in cold weather riding. Especially nice is the option to run the heated elements in the arms, chest and back off the motorcycle charging system or just the back and chest off an optional battery pack. The Hydro Heated Jacket from Fieldsheer converts quickly to stay cool in hot weather riding. It adjusts well to fit a wide range of people shapes and sizes. Overall there's little to complain about and lots to rave about when you wrap yourself in this jacket.
Pros
Above average weather protection
Excellent fit and finish
D600 Carbolex HD Nylon textile outer shell
All 4 exterior pockets are waterproof
Outer shell is double thick in impact areas over the armor
Black color is balanced with plenty of reflective material
Mobile Warming Heated liner doubles as a second jacket to wear
Mobile Warming system has four levels of heat to suit rider needs; Optional Lithium-Ion power pack gives over for 2 hours of constant heat when you're off the motorcycle and has a USB port to charge devices
Good value for the money with 2 year warranty
Cons
Heat control settings aren't intuitive (directions have to read to understand)
It's difficult to control heat settings while riding
Armor is only CE level 1 in arms and shoulders and back armor is sub-par
Black color is the only option with no hi-viz areas
No women's sizing
Power pack takes a long time to fully charge, Power pack doesn't heat up the arm area elements
Power pack is quite bulky and heavy to keep in your pocket
Internal wiring for heat elements can slightly restrict arm movement
Heat Textile Jacket Hands Image Gallery
As a born and raised Canadian whose day job consists of pulling wrenches at a diamond mine up in the sub-Arctic half the year, it's safe to say that I'm an expert on the subject of cold weather and how to deal with it.
This Fieldsheer Hydro Heat Textile jacket is a fantastic tool to include in your cold weather toolbox.
When WBW was approached by a Fieldsheer representative named Ray Cruz about doing a review of their Hydro Heat Textile Jacket I took one look at it online and suspected I would love it. I was right.
I've been impatiently waiting in vain during our unusually cold Spring weather for a heated vest to show up from Tourmaster to review, so this was perfect timing on Ray's part. He must have heard my teeth chattering all the way down in California while I've been riding around in below freezing temps, eh?
First Impressions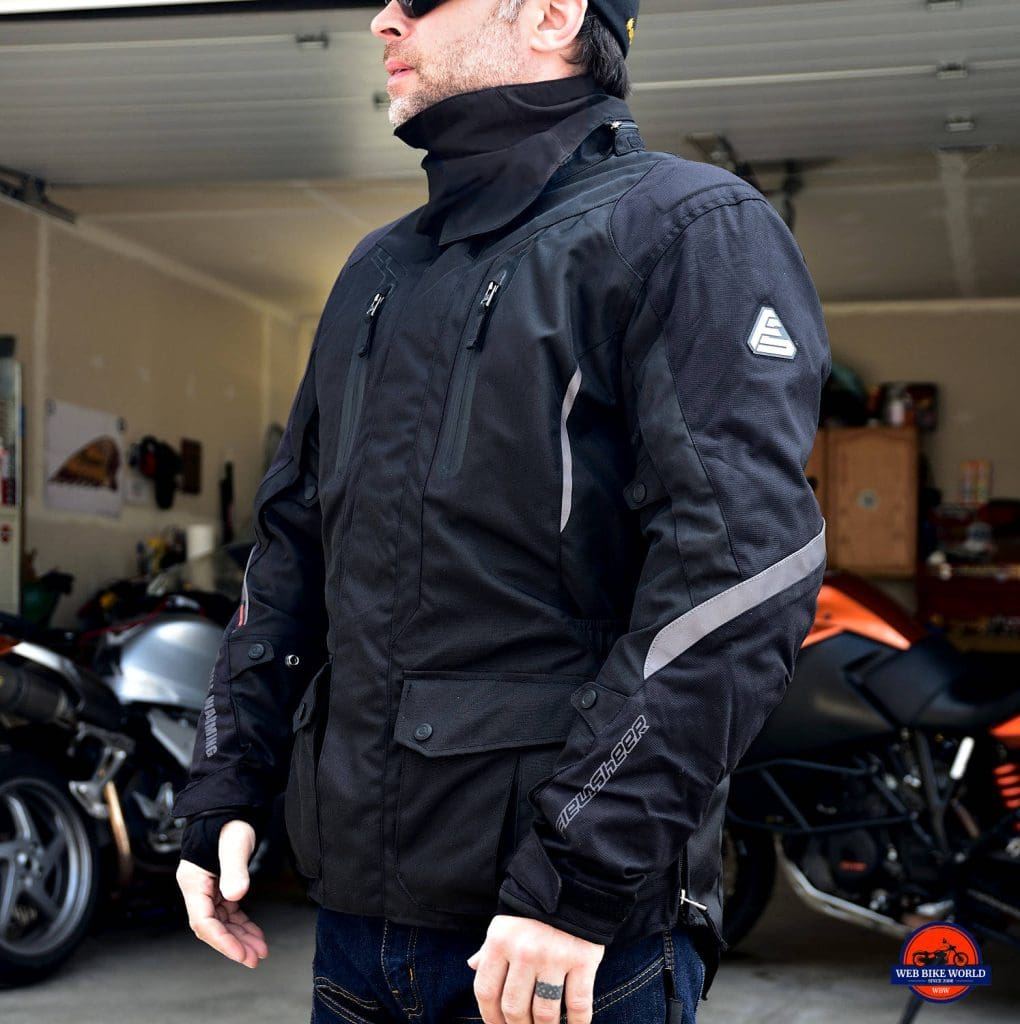 When you pick it up the jacket feels heavy but not too heavy and the D600 Heavy Duty textile outer shell is smooth, soft and cool to the touch. The stitching is tight and sealed everywhere on the exterior and interior.
All the buttons and exterior zippers are rubber coated and feel very positive when you undo them or close them up. There's a general air of classy yet rugged construction to this jacket.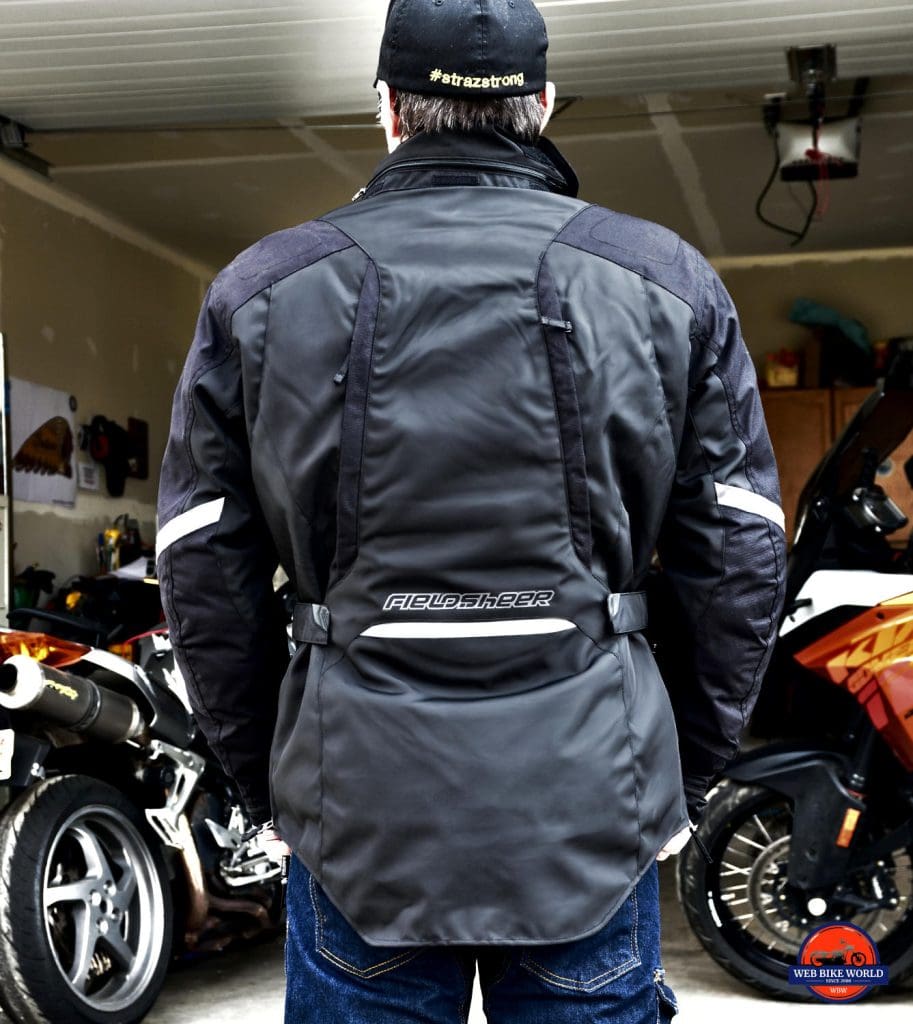 The jacket also has a badass look to it being all black with tastefully placed, minimalist striping and branding of reflective Phoslite material on the arms, lower back and chest. I immediately opined that this is missing some brighter hi-viz coloring, but couldn't deny I liked it as it was.
Johnny Cash would have loved this jacket.
The Fieldsheer logos on either shoulder jump out at me and remind me of something you'd see on a futuristic sci-fi series military uniform. If Han Solo were riding a motorcycle on planet Hoth I'm positive he'd wear one of these. I'm going to check carefully to see if it's so in the upcoming Solo movie…
Fit and Finish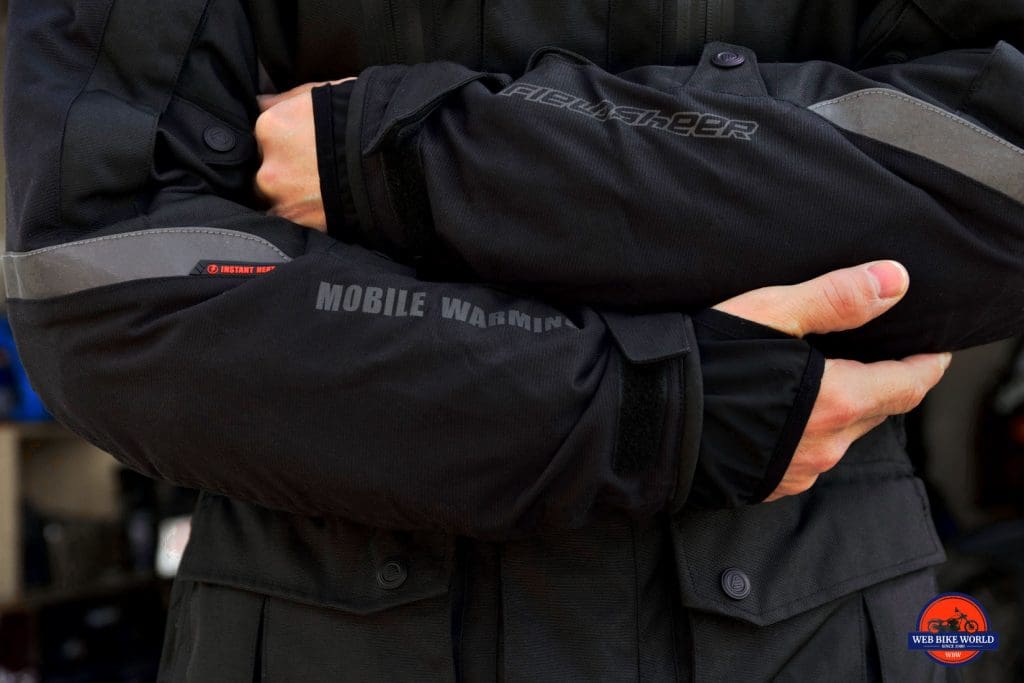 After donning it I notice how well the Medium sized jacket fits my 40-inch chest and tapers nicely to my 34-inch waist. The sizing chart is very specific and useful on Fieldsheer website. Incredibly the arms are an agreeable, to me, 26-inch length for my stubby limbs and the velcro closures at the wrist are narrower than most other jackets I've worn.
I can still fit the wrist openings overtop the gauntlet portion of my gloves with some effort, but it was easier instead to tuck them inside. If you have really thick wrists (or long arms) you may find this jacket a bit uncomfortable on you.
There's plenty of adjustment in the waist and arm areas using snaps or velcro to expand or reduce the outer shell to obtain a good fit.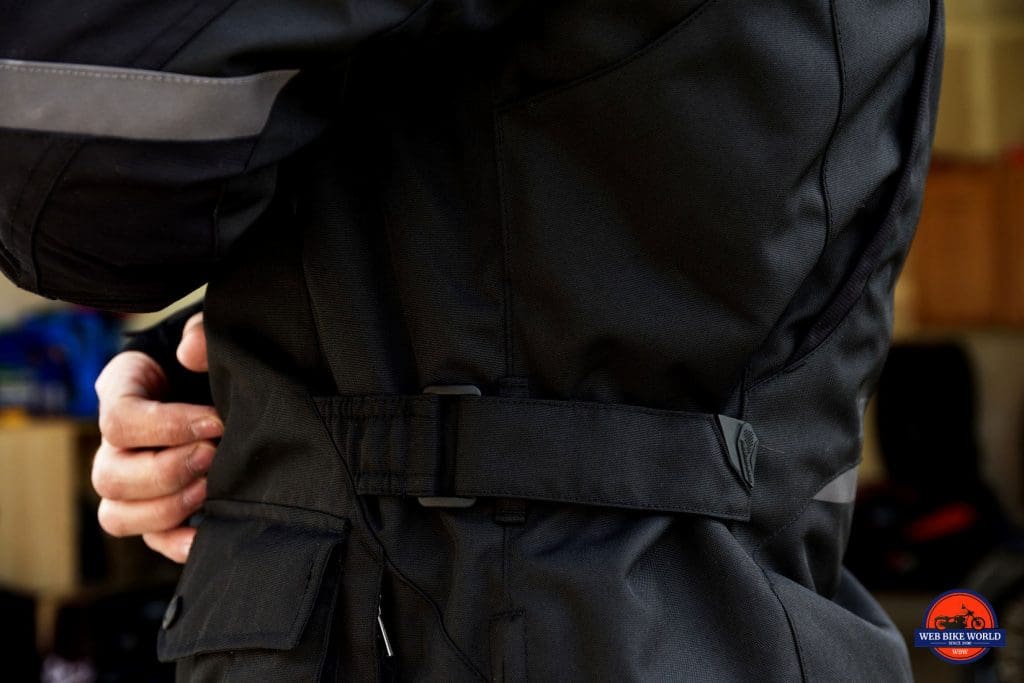 The rear of the jacket comes down below the waist by several inches to cover you up nicely even when hunched over in a sport riding position.
ESO Zippers
The ESO zips on this jacket deserve special mention as being my favorite kind, built with large teeth and pull tabs. They don't snag when you run them up in a hurry and glide faster than most others. I really appreciate that quality in a garment.
The ones on the two front, chest pockets/air vents are more typical small-tooth design but they slide smoothly too. There are flaps on either side of the outer shell zipper that has velcro to seal up tightly for blocking the wind.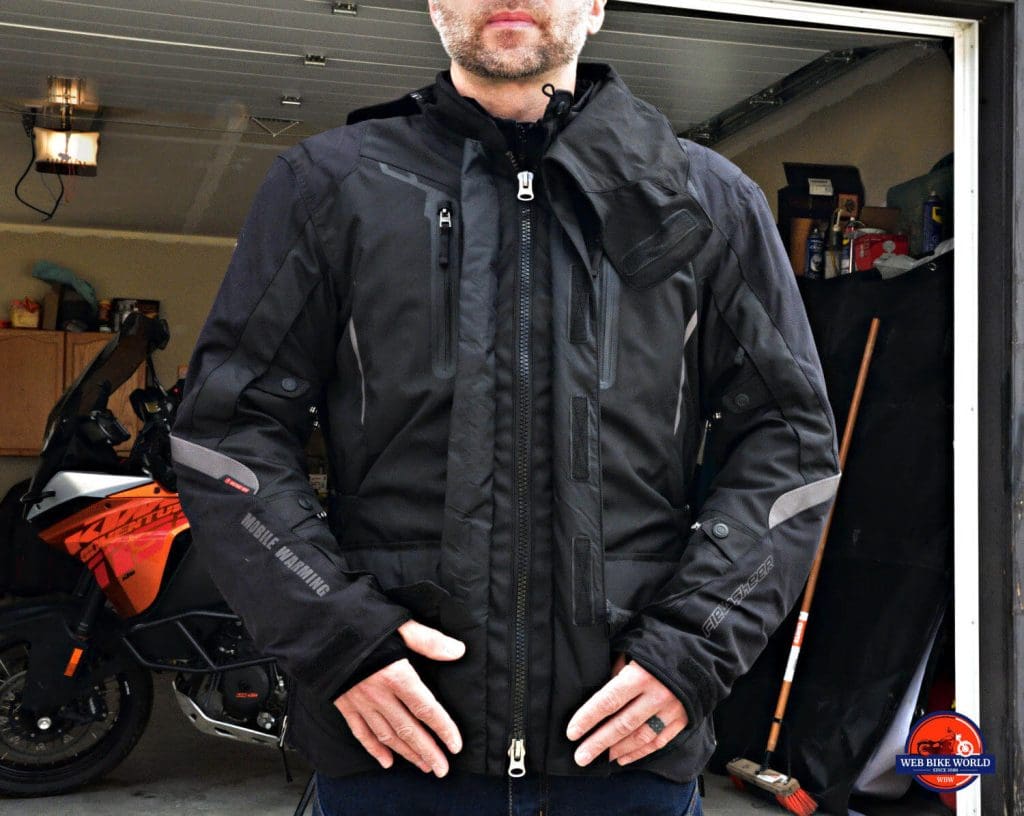 The design worked flawlessly in keeping cold wind on the outside even during a chilly and windy 42-degree test ride I took wearing it.
Armor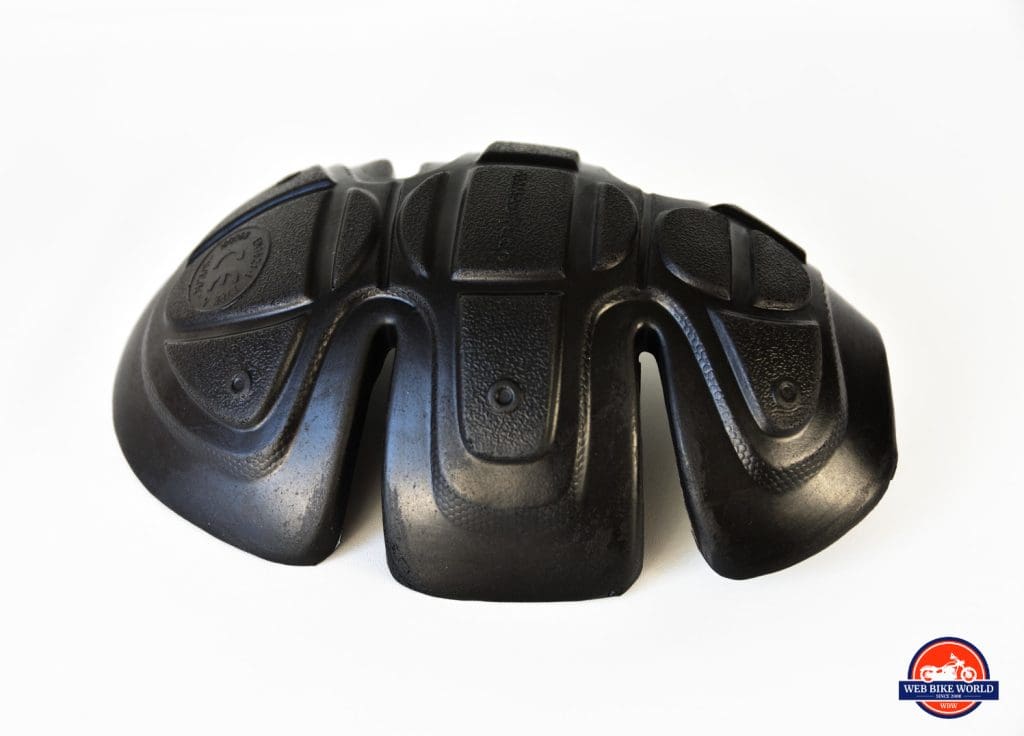 I pulled out the Armadillo armor for inspection as always. I noted the ones in the shoulders and arms are an ok quality CE level 1 rubber design that should be effective to a point in a minor crash when it comes to protection. They have CE level 2 padding available for $19 and $14 on the Fieldsheer site that would be worth substituting, in my opinion.
https://fieldsheer.com/armor.html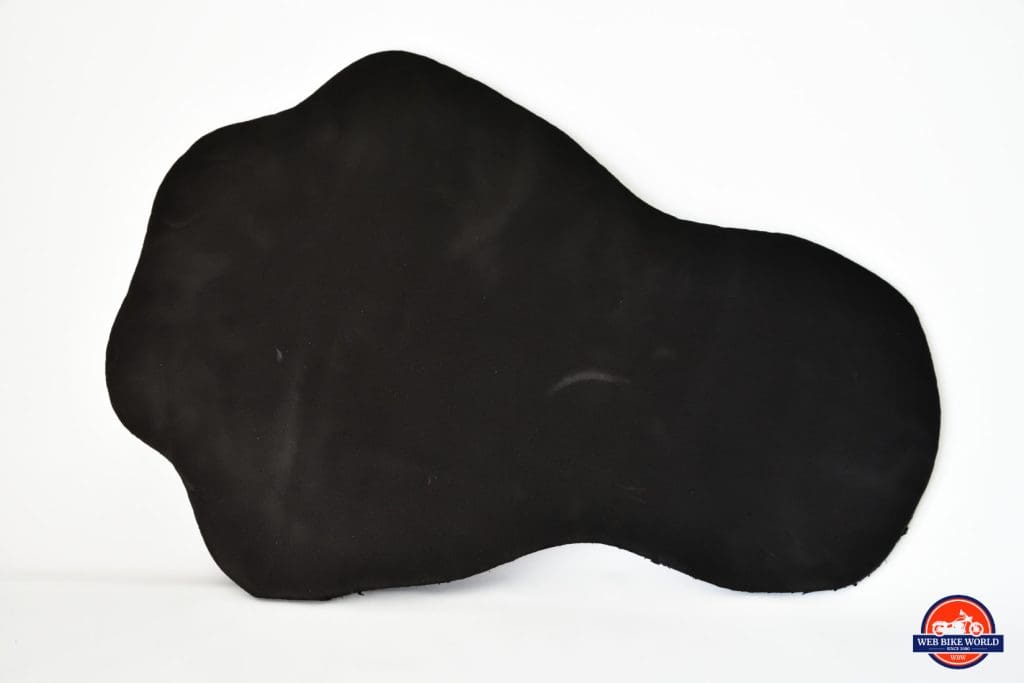 The "armor" I found in the back area was of underwhelming quality. The Fieldsheer site calls it a "contoured EVA back pad". I would describe it as a piece of packing foam at best and wondered why the jacket didn't come equipped with the Armadillo CE level 2 back pad I found on the Fieldsheer site instead. It's only $25 more and I would happily pay that for a good quality one like it is.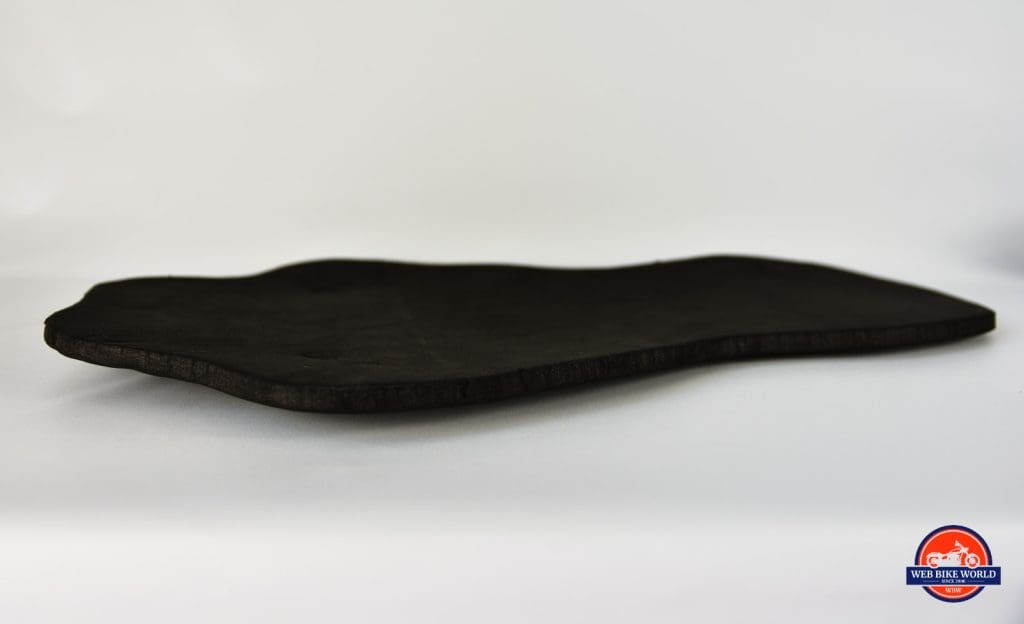 The back pad probably does provide some heat insulation, but in a crash, it's not convincing me that it would serve much purpose.
Inner Heated Liner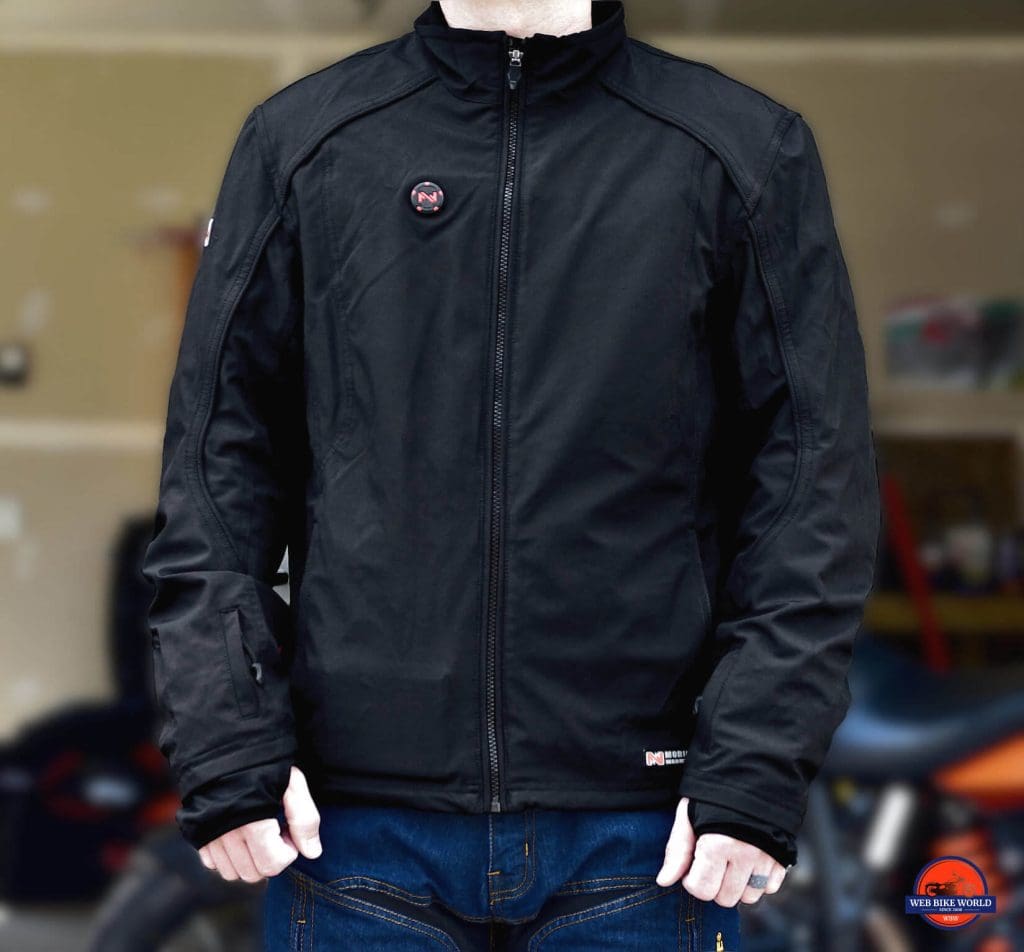 The outer shell is in itself an above average jacket well worth the $449 price tag without question to me. The really beautiful bonus is the inner heated component that comes free if you look at it in that way.
The inner layer can be quickly removed from the outer shell via four snaps. It has thumb loops on the ends of both sleeves that make those snaps unnecessary. I found myself just slipping the outer shell on top of it and not bothering with the physical connection between the two layers.
It's A Nice Second Jacket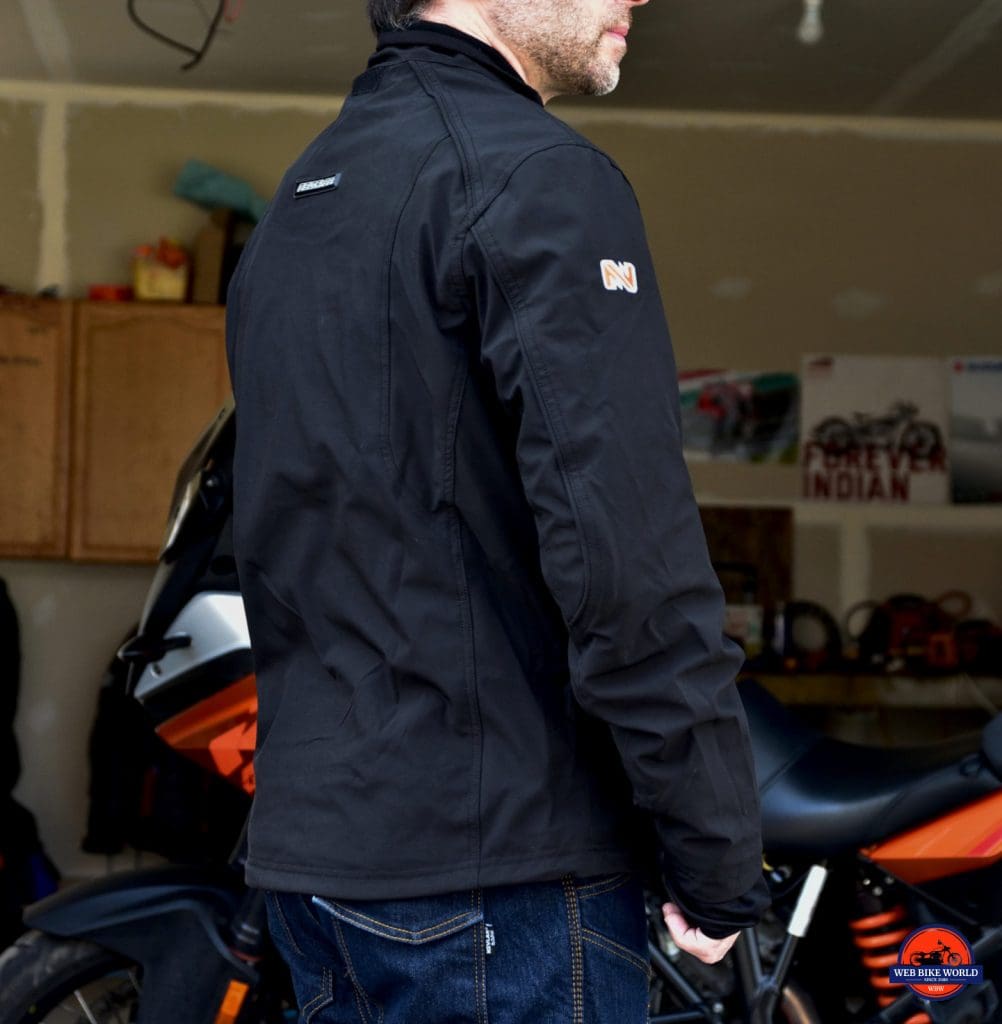 I like wearing the inner liner as a walking around jacket. It's got a smart look to it that fits me well like the outer shell does. It keeps me warm even when it gets quite cool thanks to the microfleece interior and nylon exterior that I would call water resistant.
Obviously, the portable power pack combined with the Mobile Warming heating elements makes things even better when it comes to staying warm, but the power pack is bulky, heavy and takes up a whole pocket.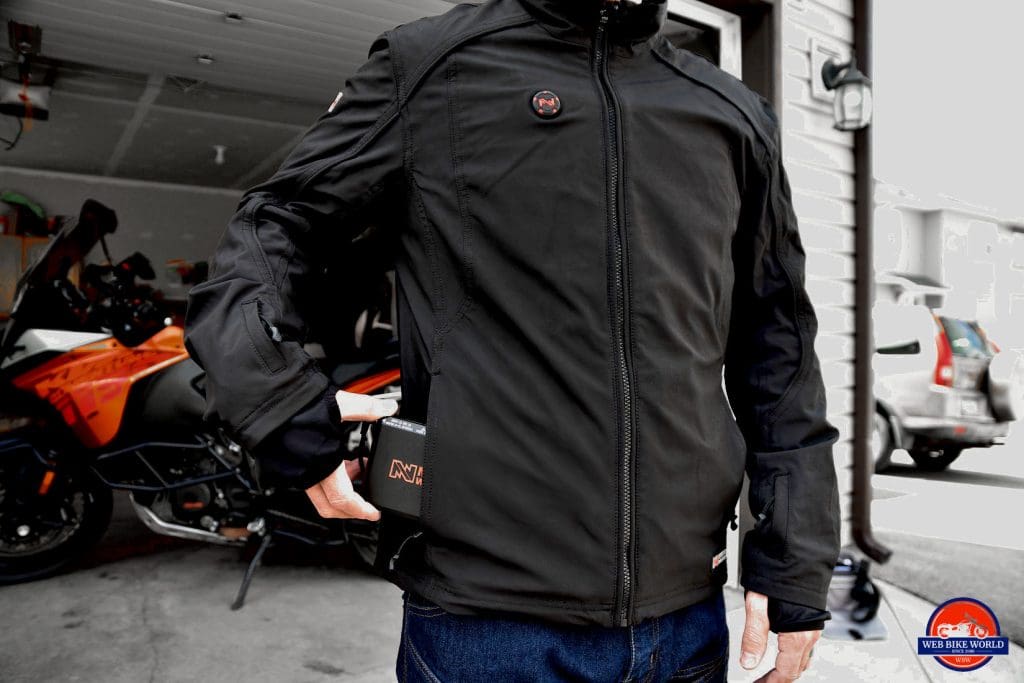 "Idiot Mittens"
The only thing I am not really fond of about the inner jacket is that I can feel and notice the wiring running across my shoulders used to connect the heating elements in the arms to the ones in the back and chest.
There are small zippered openings at the end of each sleeve that house a connector for attaching a set of heated gloves you can buy from Fieldsheer separately.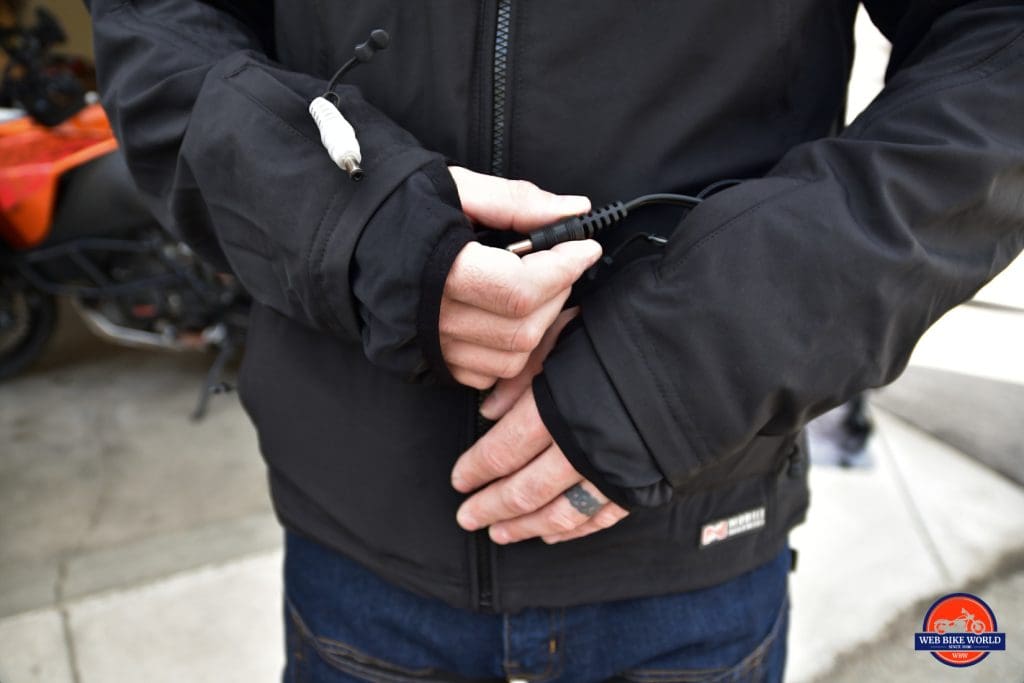 These integrated harnesses pull slightly across the shoulders when I reach in front of me and give the same eerie sensation I remember from my childhood when I was forced to wear "idiot mittens".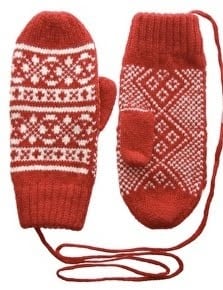 If you're unfamiliar with that term it's one used to describe the string that runs from one glove or mitten up a coat sleeve, across the back, and down the opposite sleeve to connect to the other arm's mitten or glove. This is a Canadian Mother's way of ensuring her children never lose their winter hand protection.
It's also great fun for everyone else. You can run up to someone you know is wearing this contraption and pull hard on the left or right mitten to result in the string connecting the other side retracting the person's other arm in such a way they hit themselves in the face or chest.
You people living in California and other warm climates will never get to try out this hilarious prank unless you come north for a visit in winter.
Lithium Ion Mobile Warming Battery Pack Heat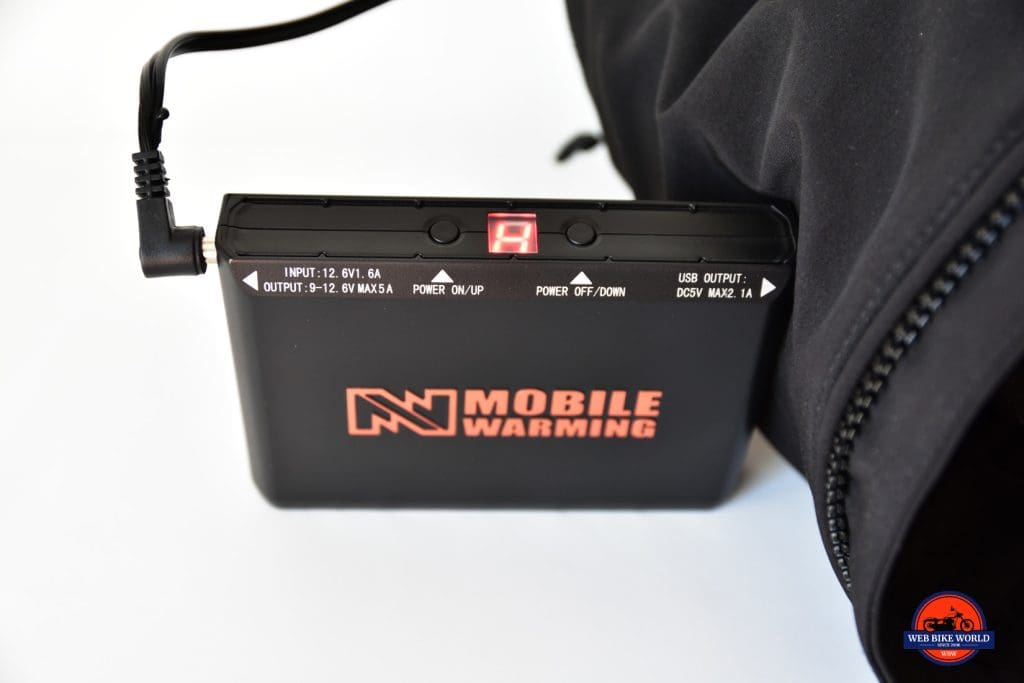 I put the inner jacket on my wife (who is always cold even inside the house) to see how long the battery would last while on the highest heat setting. She has never been happier in her life than during the two and a half hours that followed.
When running on the battery pack only the chest and back elements heat up unfortunately but they do get quite hot. I measured them at 110 degrees with my temp gun.
Heat From The Motorcycle Charging System
I installed the wiring harness provided with the jacket to my bike's battery in about 5 minutes and plugged in the connector on the jacket side of the circuit. I was wearing just a T-shirt at the time and put on the jacket to test out the highest heat setting. In about 10 seconds I immediately noticed my elbows were uncomfortably warm and my chest and back were getting hot too.
I measured a scorching 124.8 degrees using my temp gun on the back element after only a couple of minutes time.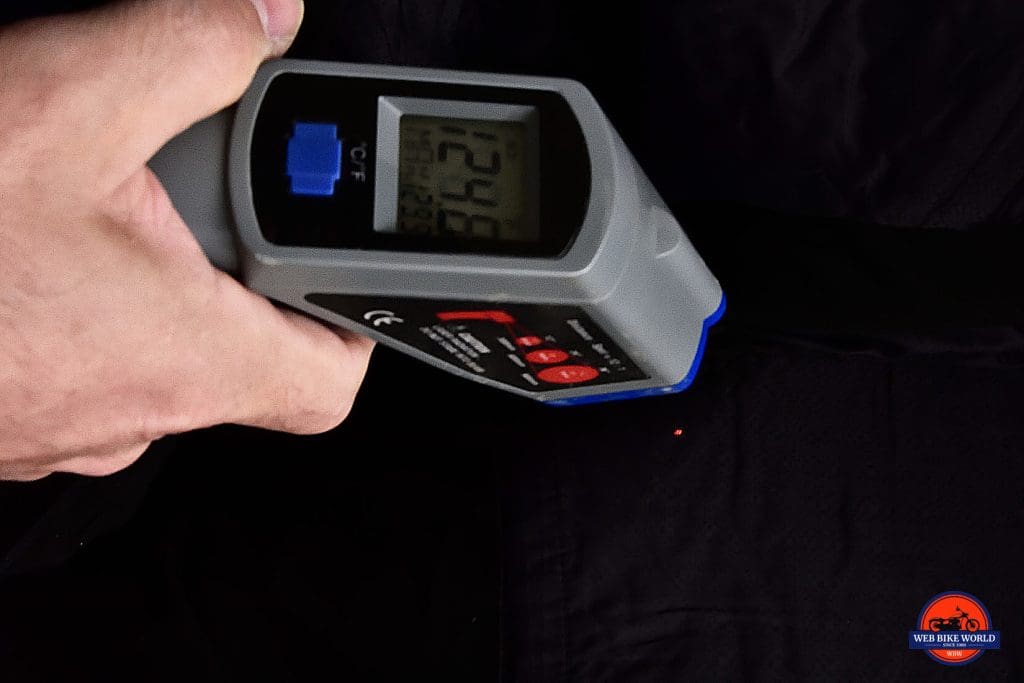 It wouldn't hit the claimed top temperature of 149 degrees while lying across the seat of my bike, but I'm sure it did while I was wearing it on several test rides I took.
Man, oh, man… Mobile Warming is REAL!
How To Use Mobile Warming
I supposed it easy to manage the system without reading the instructions, but I was wrong. Running on the bike's charging system it was somewhat straightforward:
Plug in the jacket to the bike connector harness
Push and hold the rubber button located on the right chest until it lights up red
Do the opposite to turn it off
If you momentarily push and release the button the color changes to orange, green and purple with subsequent toggles before coming back to red. I don't know about you but I found this a bit confusing. I figured these were different settings but wasn't sure what green vs red would be so I had to grudgingly read the instructions that came with the jacket on one of the tags.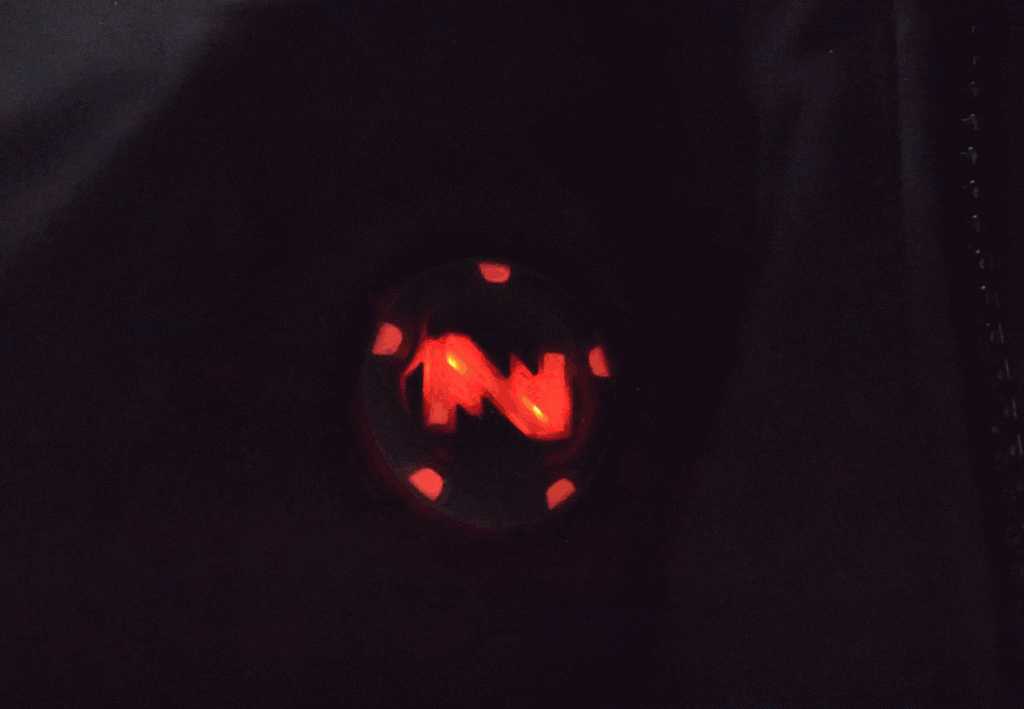 Here's a video of it I found explaining it as well:

Red: 100% heat power at 149 degrees
Orange: 75% heat power at 132 degrees
Green: 50% heat power at 118 degrees
Purple/Blue: 25% heat power at 100 degrees
Using The Power Pack was even more perplexing because when I would push the ON button I would get a momentary number appearing between 1 and 4 that would cycle to the letter "H" and then shut off while rendering no heat.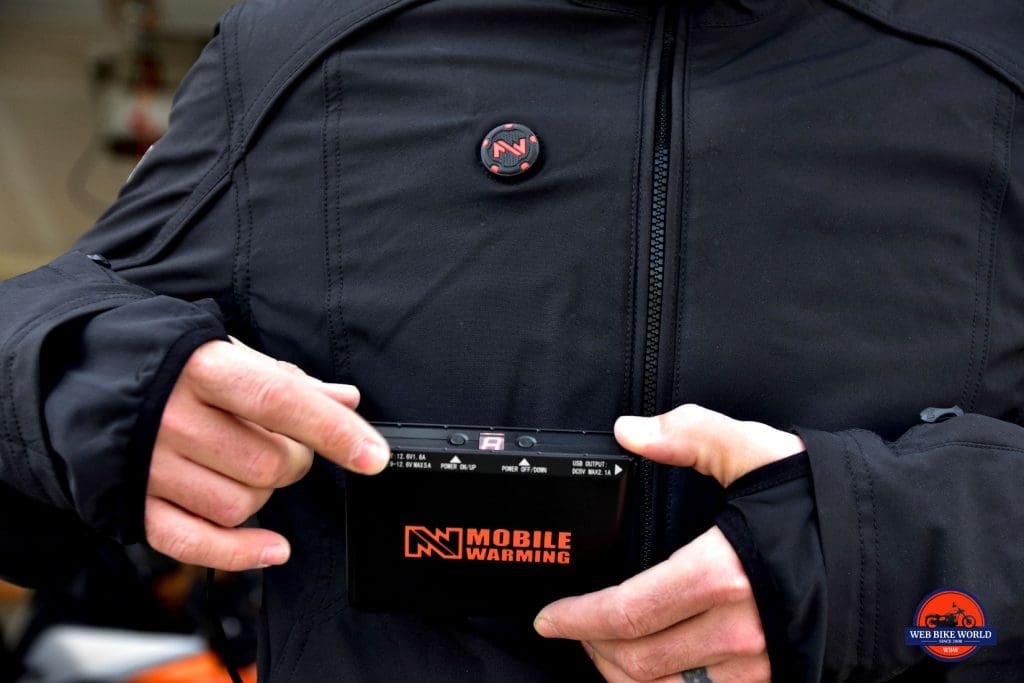 After reading the directions, I came to find out you need hold the ON button until the "H" appears solid indicating it's powering up and then a non-flashing number would appear to tell you the battery pack charge status: 1 low charge up to 4 full charges.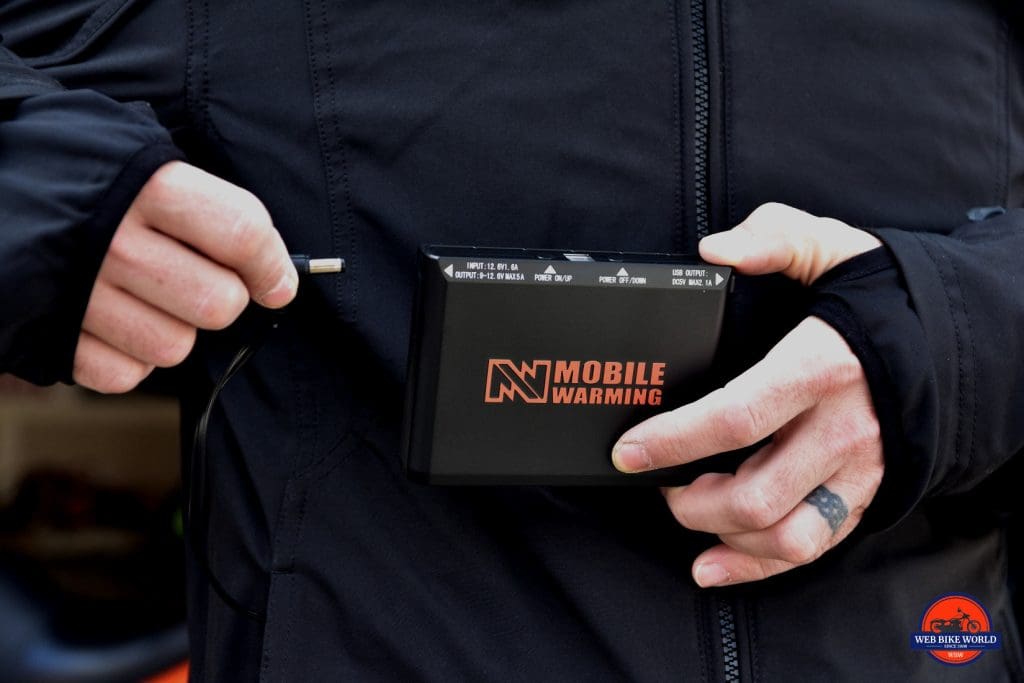 Next, you hold down the chest button to turn on the heat and select your desired temperature. Pretty simple once you understand what you're dealing with, really.
My Biggest Beef
This leads to my biggest complaint about the jacket heating system: using it on the fly.
The control button is located only on the inner jacket and it's hard to locate with your gloved hand while riding to adjust the temperature or turn on and off. There's only a little popping sensation when you push the button that is hard to notice with a gloved hand under the outer jacket.
The control button lights up nicely to let you know it's on, but when it's covered by the outer jacket you can't see it.
Dear Fieldsheer jacket designers: in the next generation, please put a clear cover over the button area of the outer jacket so I can see where it is and what's going on and better control it.
It could alternatively be located on the right forearm with a clear window in the outer jacket to make life easier.
Road Testing In Hot and Cold Weather
This is an all black jacket that has an integral Rainguard waterproof membrane. It screamed out to me that it would be an oven in cold temperatures even without the heated system turn on, I was right about that. I was very comfortable in 42-degree riding even with a stiff crosswind. I love the removable neck gaiter. It was a huge difference maker.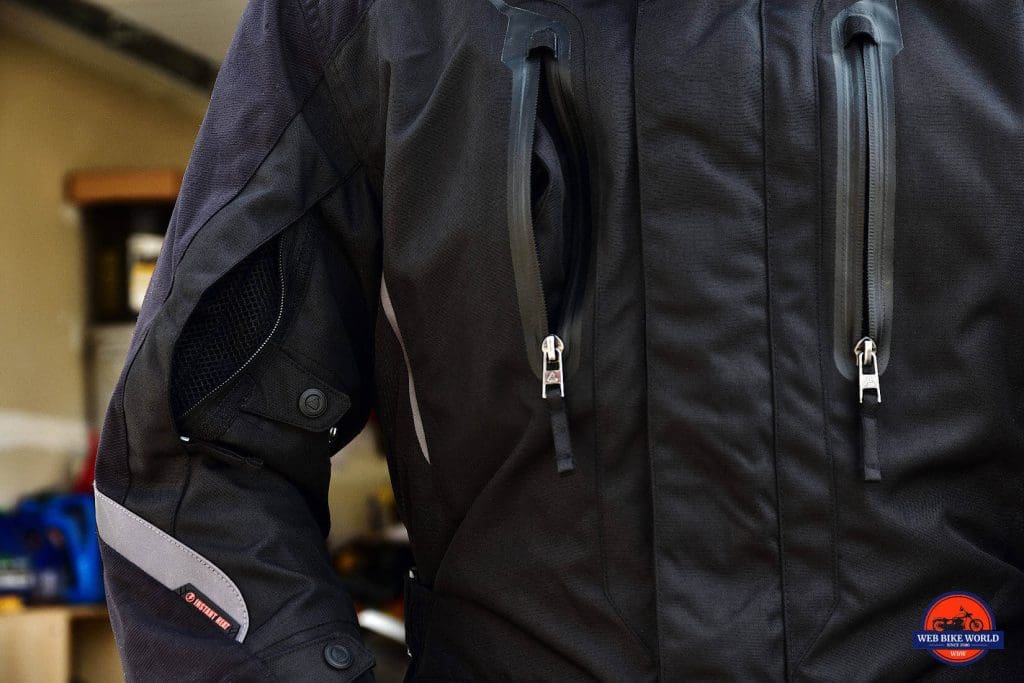 I tested it in 80-degree weather after removing the inner jacket and opening the vents in the chest, arms and back to see if I could stay cool even in traffic.
To further help keep the rider cool, there's a small hook on the collar allowing it to be pinned open after removing the neck gaiter.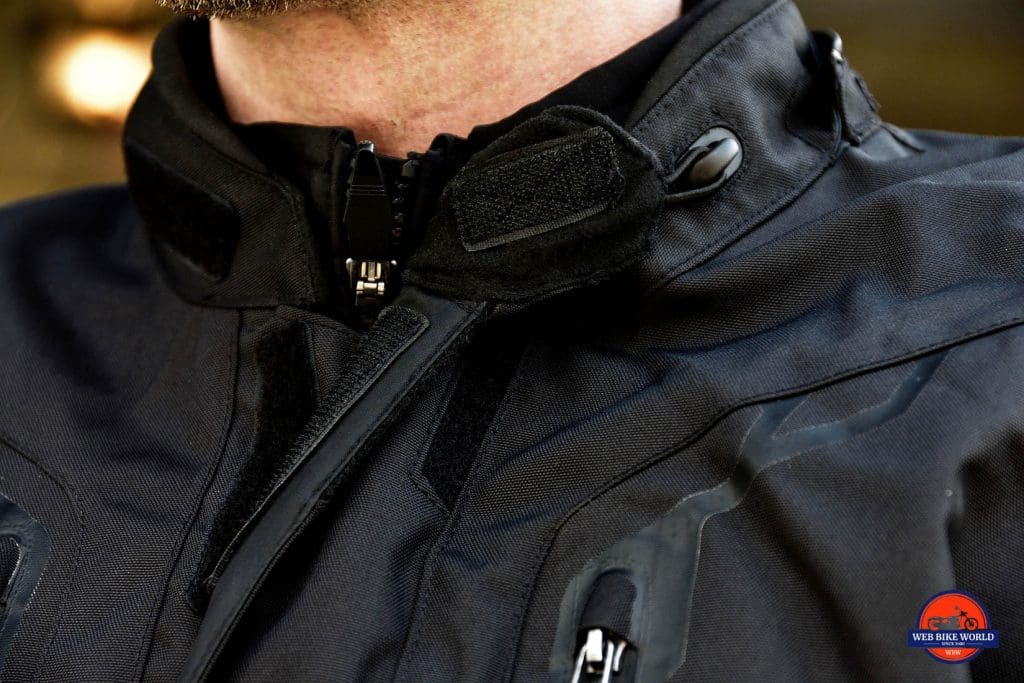 I was totally blown away by the venting and breathability of the jacket shell. The exterior textile seems to shed heat very easily even in sunlight. Once I got moving the airflow was terrific and at highway speed, I was actually starting to get too cold as the entire surface of the jacket seemed to be conducting the cool wind. The inside material of the outer jacket is a silky smooth, nylon that really gets cold in a hurry and cools the rider.
You can see in the photos below how the rear vents are wide open on the lower back.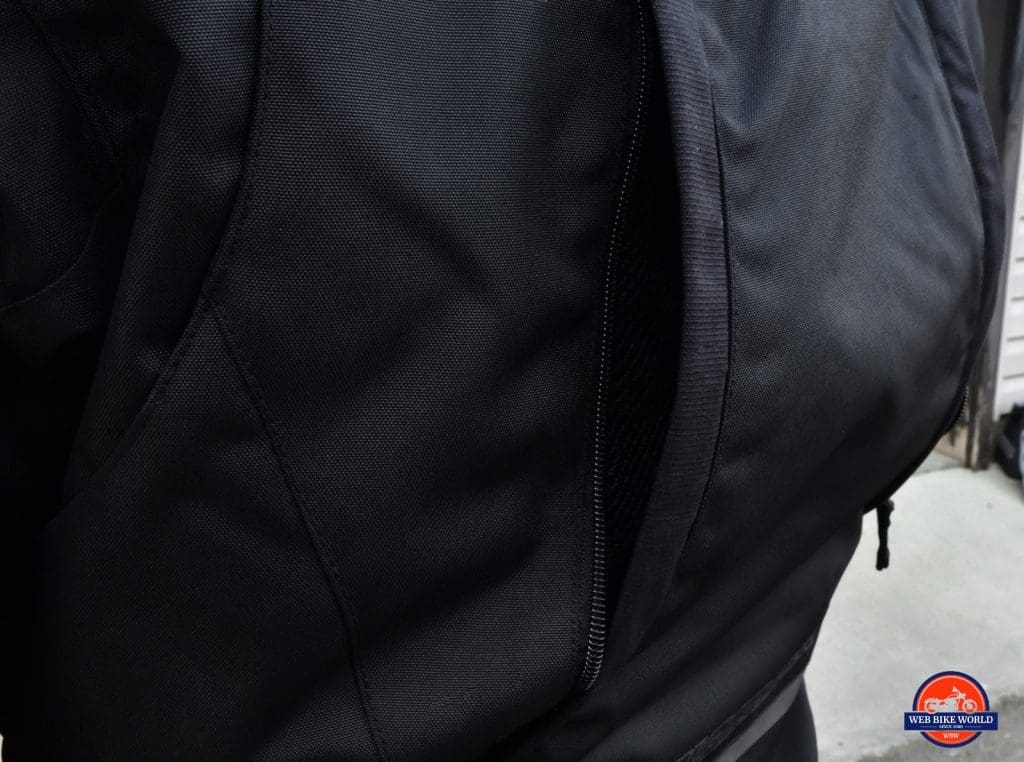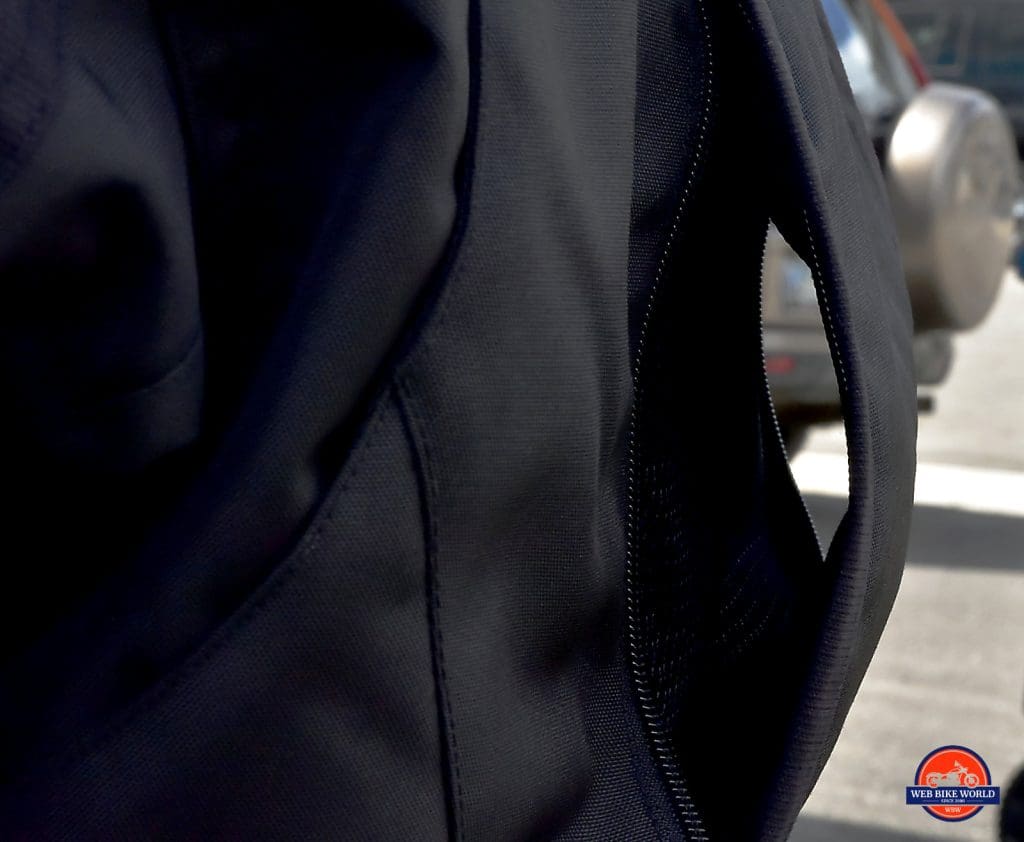 Rainguard Waterproof Testing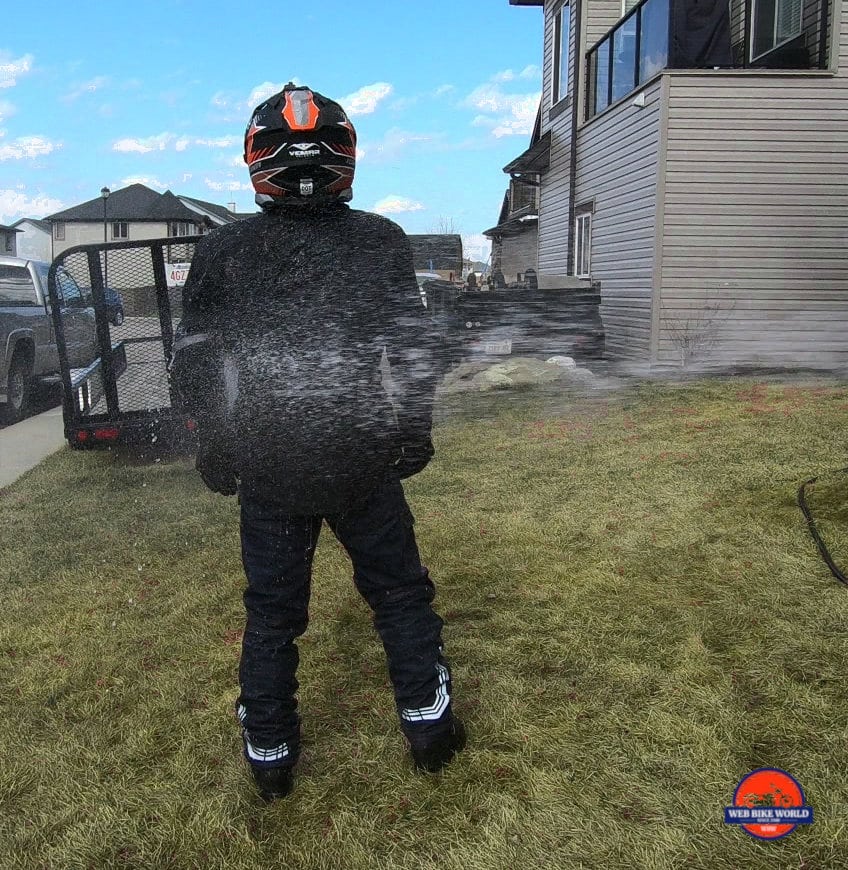 I put the Hydro Heat jacket through the same waterproof torture test I always use which involves my wife spraying me with the garden hose on full blast at 5 paces for 5 minutes. I like this test because it sends gallons of cold water everywhere I specifically want to expose leakage problems. Additionally, it tells me how good the inner layer protects against cold rain sapping body heat.
I can report that not only did I stay warmer than I have compared to any other jacket during this test, but I was pleased to find all four exterior pockets are completely waterproof! I put strips of paper in the pockets to see if any amount of moisture bleeds through the rubber coating on zips and the Fieldsheer shrugged it off like… well, water off a duck's back.
Very impressive to say the least.
Final Verdict?
This Fieldsheer is my new favorite all around jacket. It looks cool, keeps you warm or cool equally well much to my shock and is totally waterproof.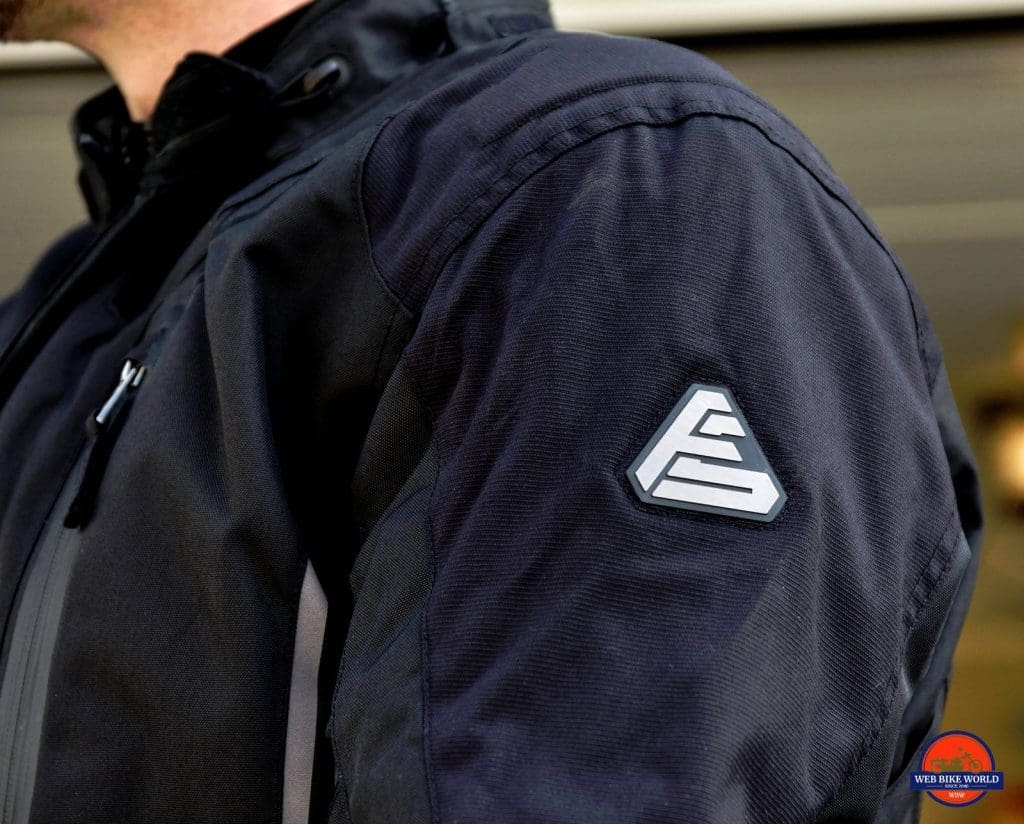 The fit is flattering and you feel good wearing it. You don't look like a highway or construction worker with obnoxious neon colors adorning your jacket, but you'll still be visible in low light thanks to the reflective striping. I know, I know… Hi-Viz is desirable… yadda, yadda, yadda.
The included armor kind of stinks but can easily be improved for about $60 more to all CE Level 2.
The Mobile Warming system is luxurious comfort out on the cold highway or out and about if you get the optional power pack. They just need to address the issues with the temp control button and the size of the bulky power pack for it to be perfect.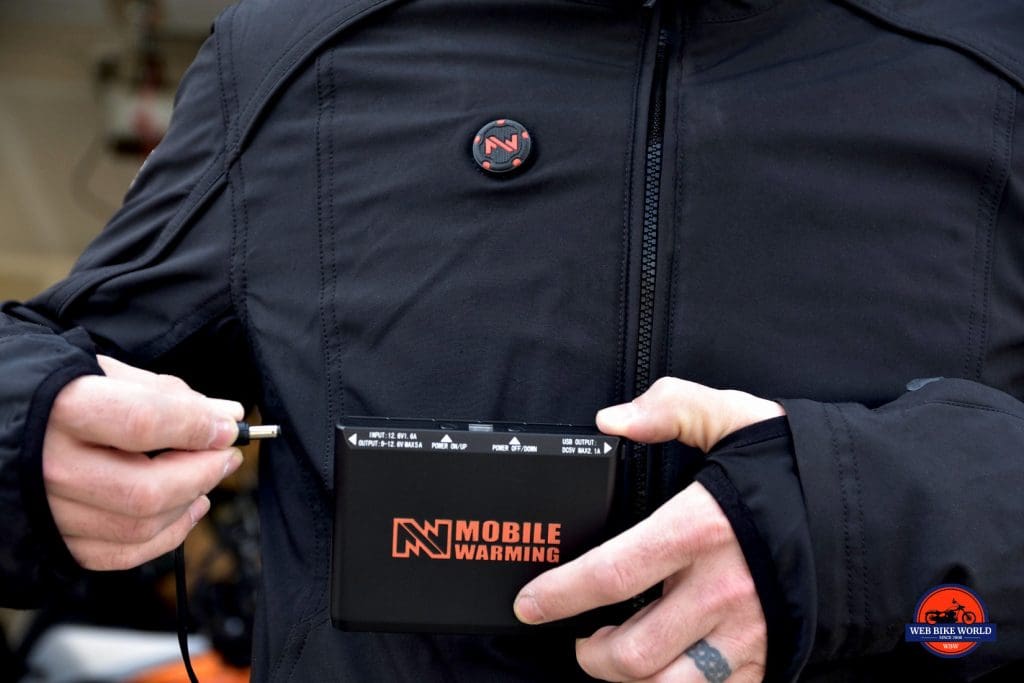 Perfect? Well, it's pretty darn close to it as is. I'm keeping this one around, even if just to keep my wife happier.
Pros
Above average weather protection
Excellent fit and finish
D600 Carbolex HD Nylon textile outer shell
All 4 exterior pockets are waterproof
Armadillo armor padding in elbows, shoulders and back included
Outer shell is double thick in impact areas over the armor
Black color is balanced with plenty of reflective material
Mobile Warming Heated liner doubles as a second jacket to wear
Mobile Warming system has four levels of heat to suit rider needs
Optional Lithium-Ion power pack gives over for 2 hours of constant heat when you're off the motorcycle and has a USB port to charge devices
Wear only the well ventilated outer shell in hot weather to stay cool
Removable microfleece neck wind blocker
Good value for the money with 2 year warranty
Cons
Heat control settings aren't intuitive (directions have to read to understand)
It's difficult to control heat settings while riding
Armor is only CE level 1 in arms and shoulders and back armor is sub-par
Black color is the only option with no hi-viz areas
No women's sizing
Power pack takes a long time to fully charge
Power pack doesn't heat up the arm area elements
Power pack is quite bulky and heavy to keep in your pocket
Internal wiring for heat elements can slightly restrict arm movement
Specs
Manufacturer: Fieldsheer
Price (When Tested): $449.99
Made In: Bangladesh
Alternative models & colors: Any color as long as it's Black
Sizes: SM to XXXL
Review Date: May 18, 2018