Ducati has just taken that (not so) little single-cylinder Desmo-powered engine they recently debuted and shoved it into their first-ever road-going Hypermotard. 
Meet the 2024 Hypermotard 698 Mono, Team Red's first single-cylinder Supermotard and, in fact, the world's most powerful single-cylinder engine to date. 
This overhauled machine carries so much new stuff there's basically nothing leftover from the 2023 model except, perhaps, the aesthetics and some electronics. As ever, Ducati's new Hypermotard is continued proof that Panigales and dirt bikes still hook up from time to time… only this machine definitely takes after its supersport mama by going easy on the understeering.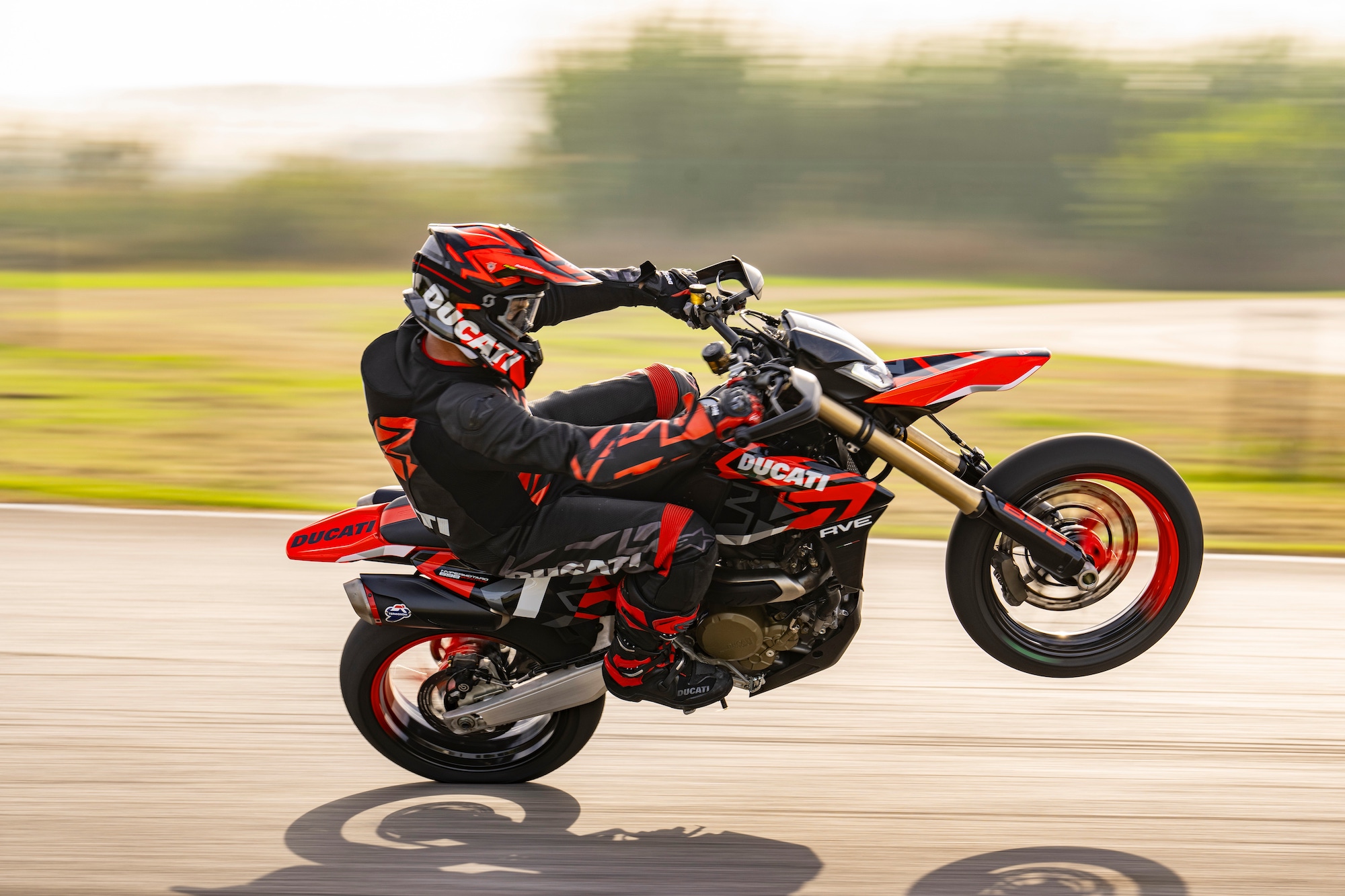 In essence, Ducati's given their 2024 Hypermotard 698 Mono "the precision of the front end of Ducati sports bikes with the typical nimbleness of Supermotards, for easy, intuitive riding like a fun bike should have."
Sounds like a steal to me, so let's get into the nitty-gritties and figure out what all of this will cost to own. 
This slideshow requires JavaScript.
Instead of the V-power of Ducati's 2023 Hypermotard – a bike showing off 114hp and 71lb-ft of torque burning a hole through a 937cc Testastretta – we've been given a down-tick on the power and an uptick on the innovation.
By contrast, Ducati's new, single-cylinder, oo-la-la Superquardo Mono is a powertrain capable of 659cc or 77.5hp @ 9,750rpm with 46.4lb-ft of torque available @ 8,000rpm. 
The punt comes with the sweet, sweet promise of a 10,250 redline – the highest rev promise ever offered to a single cylinder – as well as the assurance that the brand's dedicated racing exhaust and specific air-box cover / more permeable filter will spike punt payout to a max of 85hp @ 9,500rpm and 49.4lb-ft of yank @ 8,000rpm… if you're into that sort of thing.
Here's our article on the partisulars of the new single-cylinder Superquardo Mono, if you want to take a closer look at the powertrain Bologna's developed for their coming season of Supermoto shenanigans.
Back to the bike comparisons.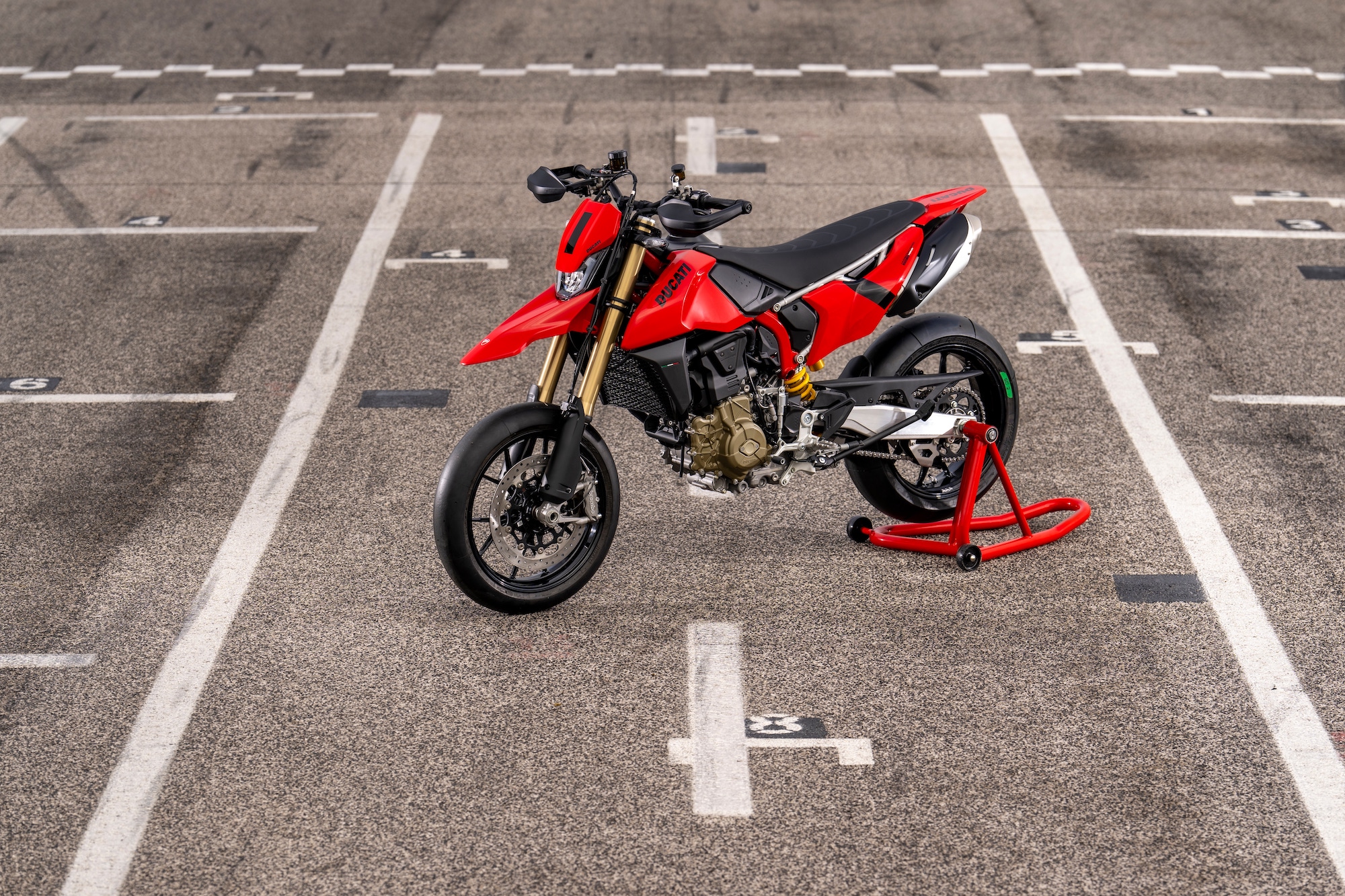 Weight plummets from the 2023 Hypermotard's curb figure of ~437lbs to a lean 333lbs, with suspension offered in the form of a fully-adjustable Marzocchi (not Öhlins) upside-down fork and an equally adjustable Sachs (also not Öhlins) monoshock at the rear. 
Brake duty is the job of a nifty Brembo/Bosch combo, mounted to five-spoke alloy wheels shod in Pirelli Diablo Rosso IV tires (120/70 ZR 17 front and 160/60 ZR 17 rear).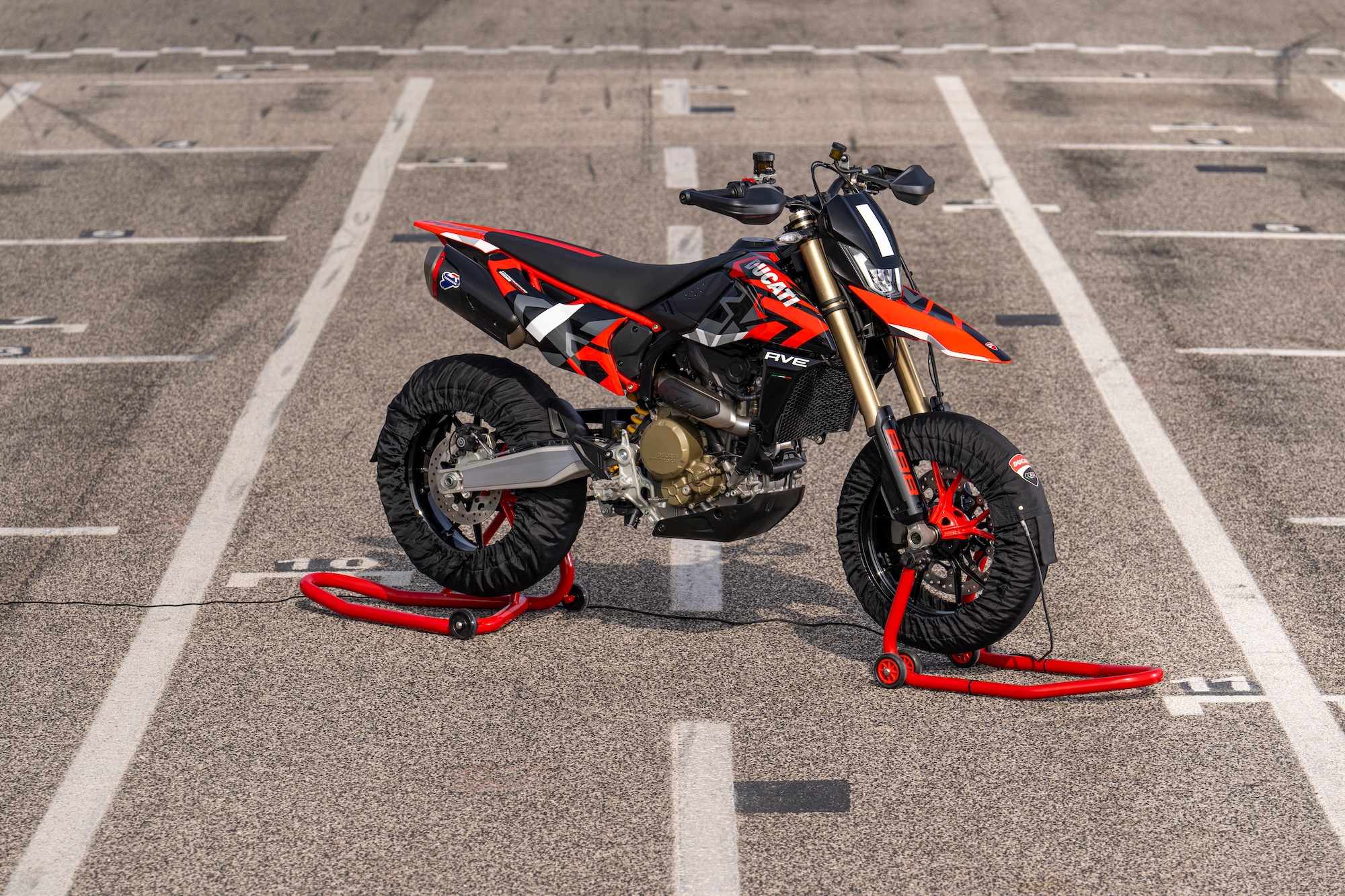 A 330mm aluminum flange disc is mated to a Brembo M4.32 caliper and radial pump with adjustable lever for the front of the bike, while the rear brake carries a 245mm disc and single(not dual)-piston floating caliper.
Both ends of the bike show off a Bosch Cornering ABS System – and by the way, this is the very first Ducati to have four levels of ABS.
Here's what you're getting with each level:
Level 4 ABS
Available in "Wet Mode," this ABS setting offers better tractability in low-grip situations. 

"developed for low-grip situations to guarantee maximum stability and safety, and the default setting with Wet Riding Mode."
Level 3 ABS
When braking aggressively on track, "Slide-by-Brake" will activate and allow better containment of a particular lean (aka "backing in"). 

"This level was developed for less experienced riders on the track who want to start learning sideways corner entry techniques."
Level 2 ABS
When braking aggresssively on track, "Slide-by-Brake" will achieve a more pronounced slide into the corner. 

"This level was developed for sporting use on the track for those who already have experience with "backing in" braking, but want to count on some of the security offered with the ABS system."
Level 1 ABS
ABS, not Cornering, is active only on the front.

"For more experienced riders who want to independently manage slides when entering corners on the track."
Four additional levels of Wheelie Control join 3 Power Modes (Low, Mid, High) and 4 Riding Modes (Sport, Road, Urban, Wet) with the following list of Ducati specialty electronics for kick and giggles: 
Ducati Wheelie Control (DWC)

Ducati Traction Control (DTC)

Engine Brake Control (EBC)

Ducati Power Launch (DPL)

Ducati Link Ready with infotainment apps

Ducati Quick Shift (DQS) Up&Down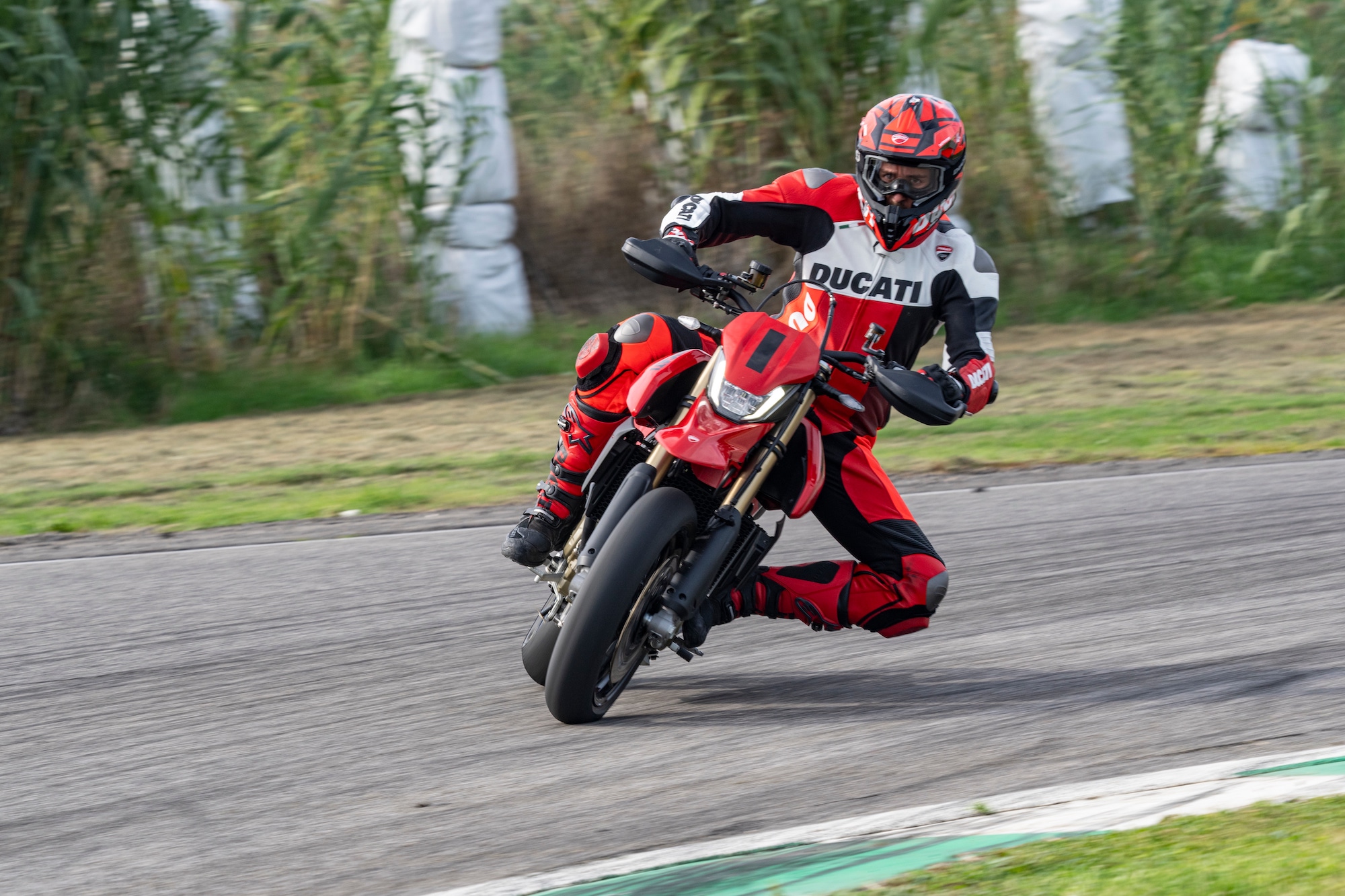 Here's the rest of official stuff that comes as standard with Ducati's new Hypermotard 698 Mono: 
 Steel trellis frame with tubes of different sections and thicknesses, steel tube subframe, and aluminum double-sided swingarm

5-spoke alloy wheels 120/70-17" and 160/60-17"with Pirelli DIABLO™ Rosso IV tires

Rider footrests optimized for sport riding with removable rubber covering for maximum grip with racing boots

Full LED headlight with double-C DRL, Full-LED rear light

Dashboard with 3.8" IBN (Improved Black Nematic) LCD screen with gear shift LED

Lithium-ion battery

Bosch Inertial Measurement Unit (IMU)
Want to make your 698 circuit-happy? Ducati recommens upgrading to the "Termignoni racing exhaust, racing seat, motard footrests, as well as sliders and protective covers for the engine crankcases."
And now, the big Q.
What's this all going to cost?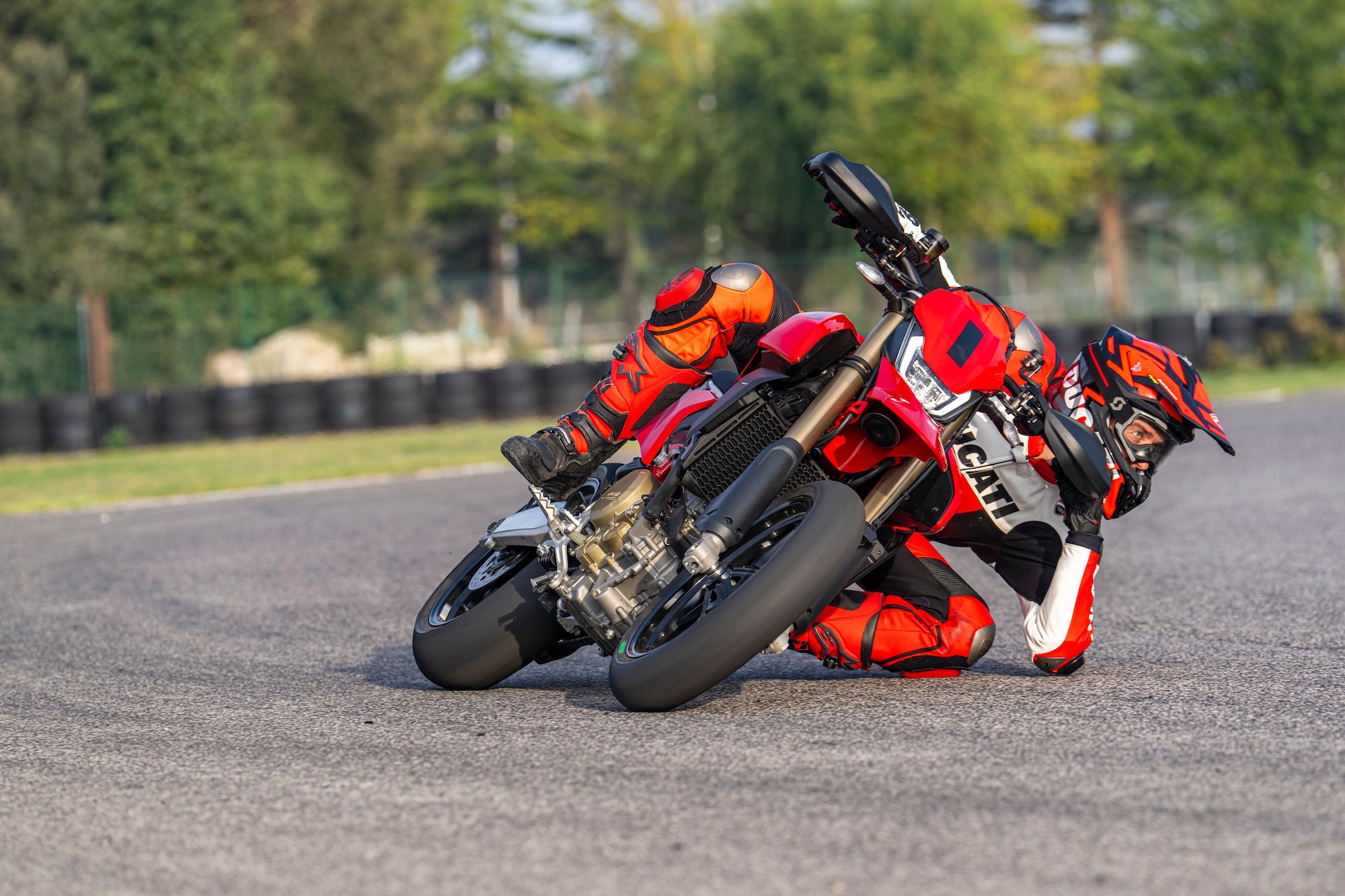 It's Ducati, so don't expect penny-pinching steals. We've got an industry-first engine inside a bike made to be versatile, so the price points – and liveries – remain as follows:
2024 Ducati Hypermotard 698 Mono Colors & Prices
Ducati Red
$12,995 USD / $15,295 CAD
RVE Edition
$14,495 USD / $16,395 CAD
*RVE Edition comes with dedicated graphics, black frame and DQS quickshifter as standard*
Expect the 2024 Hypermotard 698 Mono to be available in dealerships as of February.
Keen on keeping up with the Ducati World Première 2024? Here's our coverage of previous episodes to date: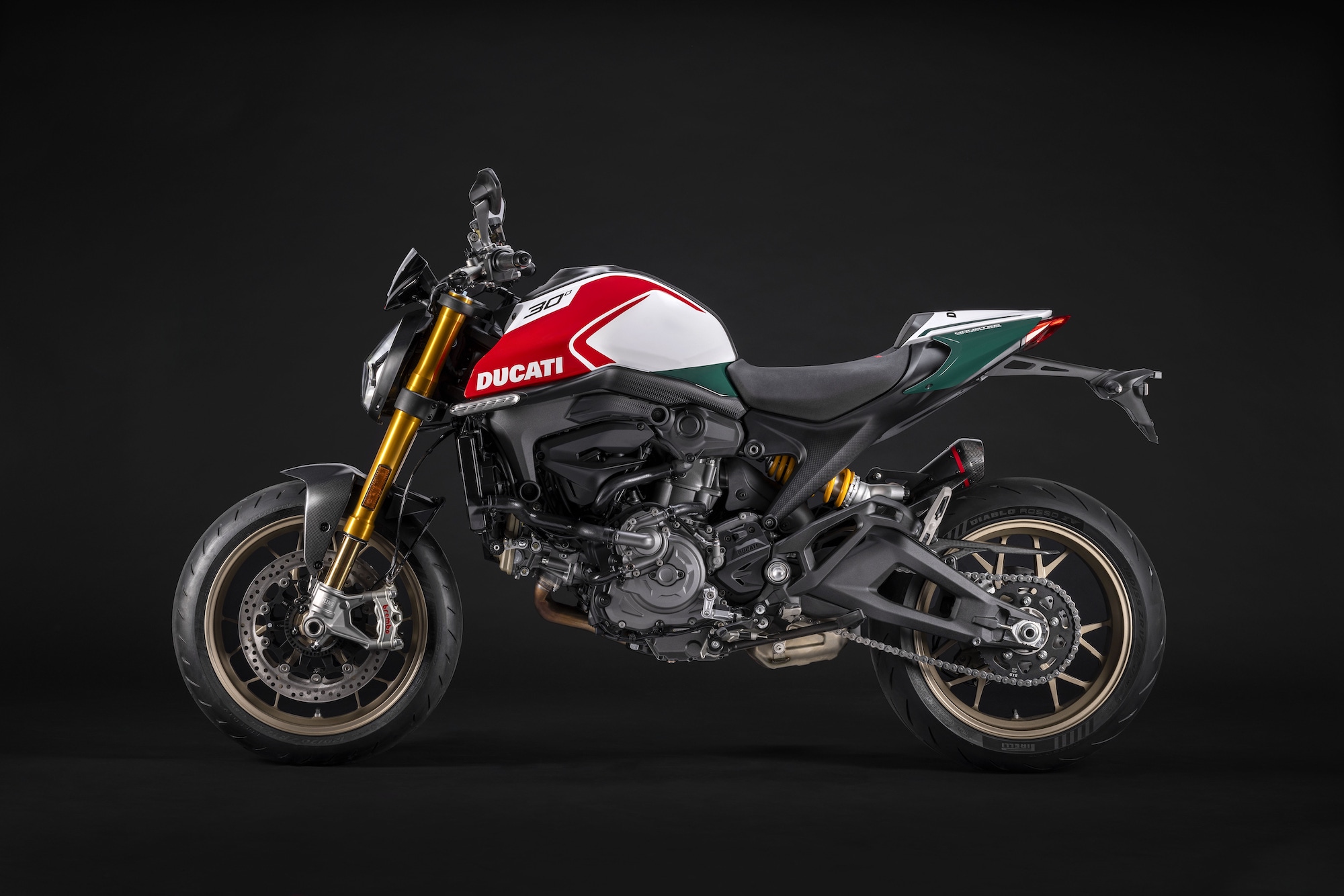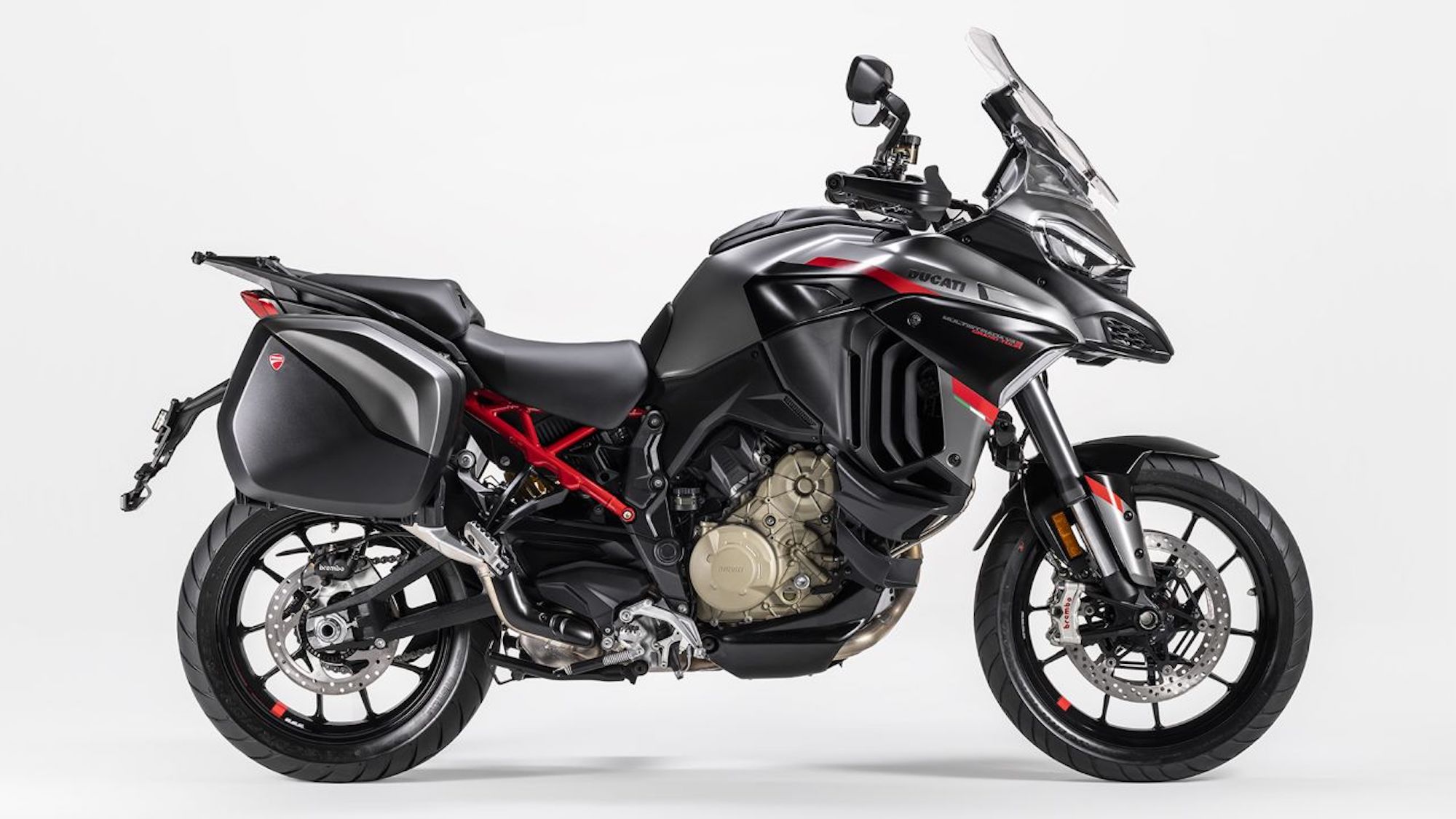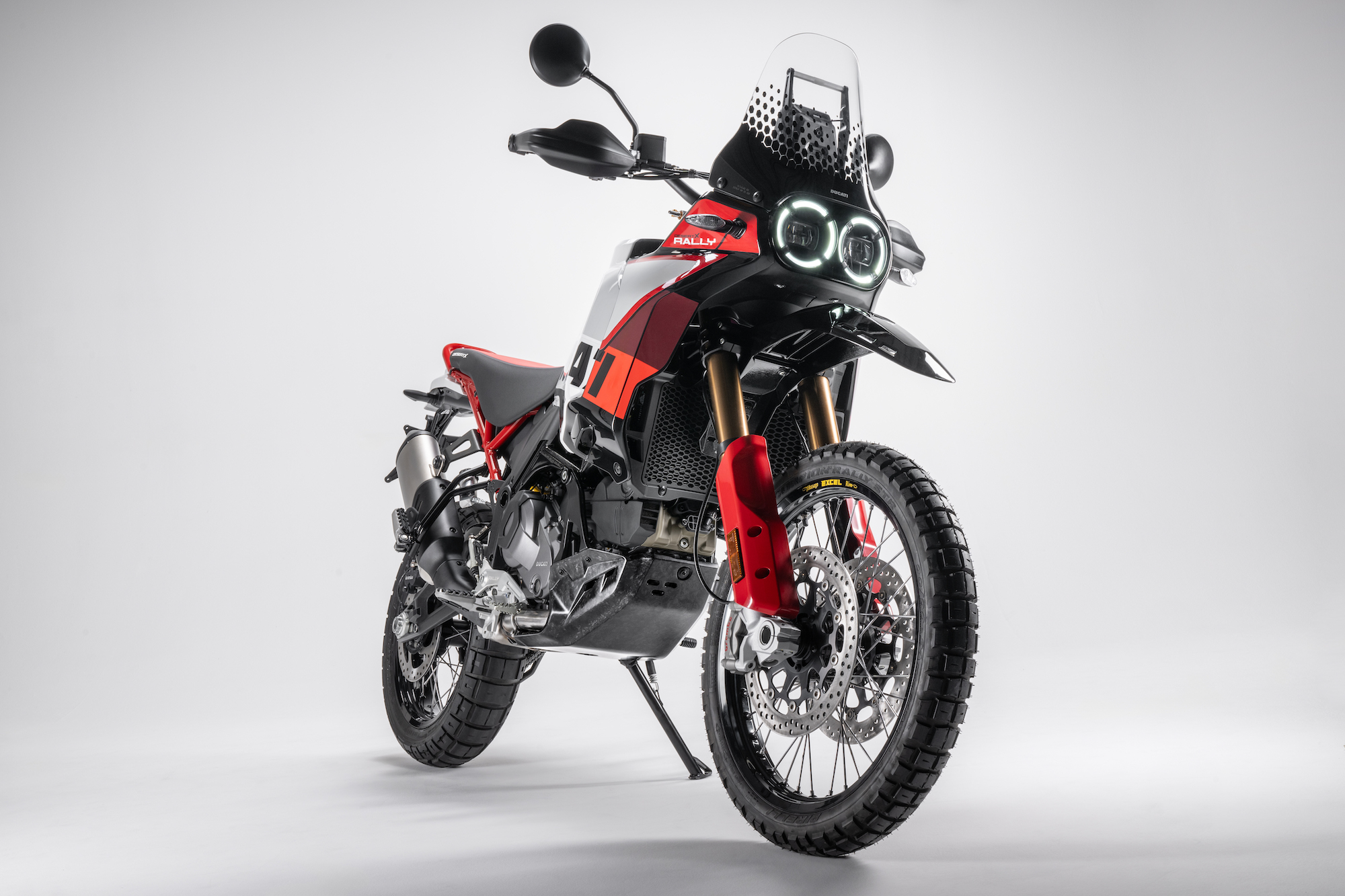 What do you think of Ducati's very first single-cylinder Hypermotard?
*All media provided by
Ducati
*