After some serious patents and filings to the NHTSA, Ducati's finally dropped their Multistrada V4 S Grand Tour – and it's their "most complete Multistrada V4 ever." 
By complete, we mean techy stuff for days, of course – nothing crazy new as this is still technically a Multistrada V4 S at its bones, but certainly a slew of Ducati-specific componentry that's great to see on a new Grand Tour variant. 
This slideshow requires JavaScript.
Bologna's new GT machine includes updates that have been donned by Ducati's recently-debuted V4 Rally, including a rigidly-mounted handlebar and the Rally's pillion saddle.
Heat shields have been placed on the swingarm and rear subframe, as well as "the closable conveyors in the leg area," allowing thermal comfort to complement the inclusion of ventilation for the bike's smartphone compartment.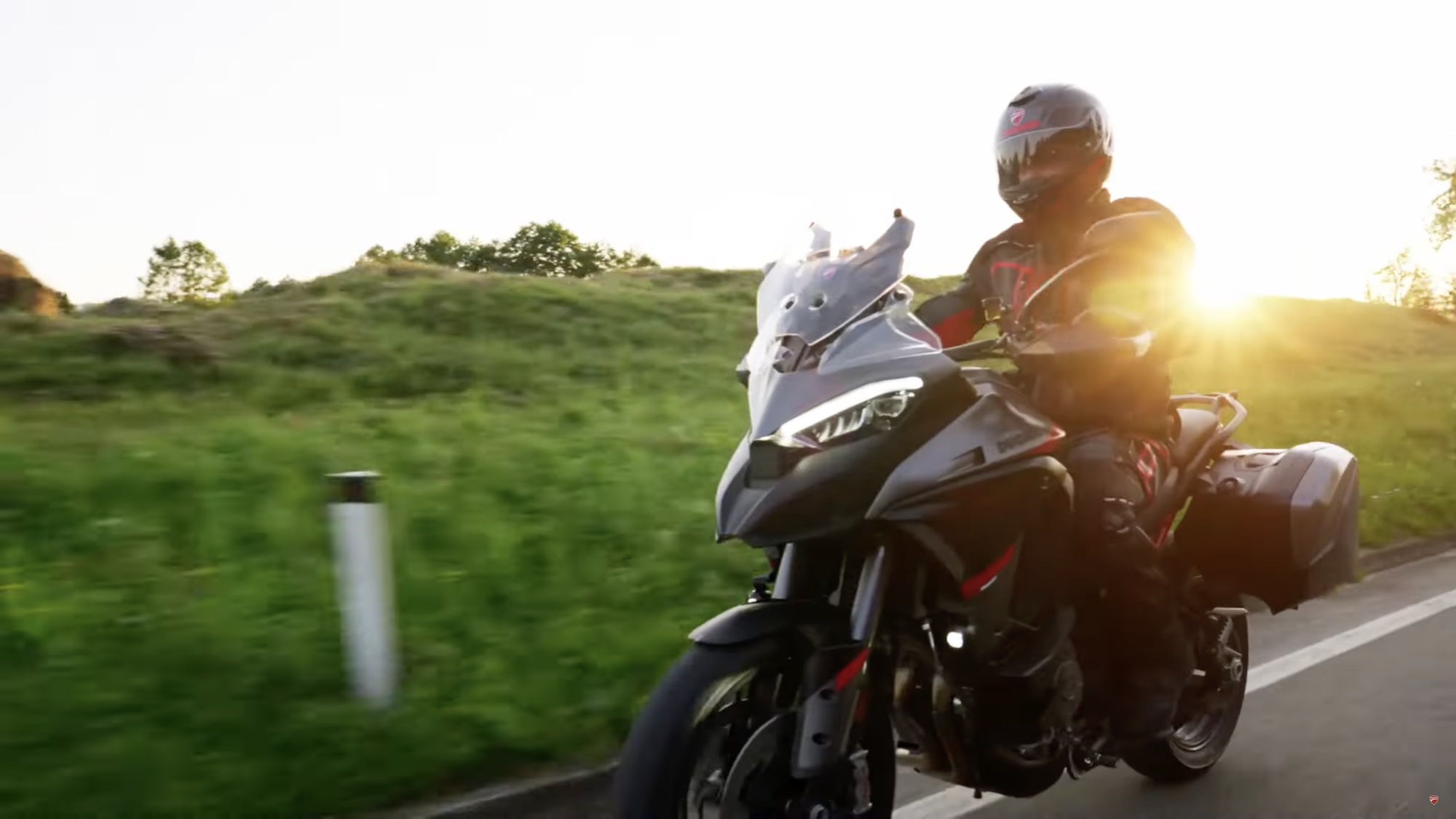 Electronics for this year's variant include the following as standard: 
Adaptive Cruise Control (ACC)

Blind Spot Detection (BSD)

Tyre Pressure Monitoring System (TPMS)




Bike-lowering Minimum Preload tech
All of the above rolls to destination thanks to Ducati's iconic V4 Granturismo heart, capable of 170hp @10,500rpm and 92lb-ft of yank @ 8,750rpm, with service intervals still logged at a very nice 36,000 miles. This comes with some very snazzy, integrated 60-liter side cases as well as "lockable" aerodynamic winglets and LED spotlights for better accessibility in low lighting. 
Add to this Ducati's Roadside Assistance and Multistrada 4EVER program perks, and you've got a thoroughly inclusive machine that boasts "techy" while still being both approachable and accessible. 
Currently, the closest competition to Ducati's new, ultra-powerful Multistrada V4 S Grand Tour would be BMW's R 1250 GS Adventure, though we're keeping a close eye on the 1300 GS they've been purportedly working on as of late. 
Since Ducati wasn't as forthcoming in full press release content following the reveal of this bike, we also headed over to MOTORRAD Online, where Fabian Dresler had the pleasure of being among the first to take this bike for a test ride. Dresler commented on the adjustable winglets thus:
The result of [the adjustable winglet mechanism] is noticeably less [wind] pressure, but more heat in the area of the shins – especially useful for winter use. [In] ~25 degrees outside temperature, [it's preferred that] the flaps… remain open."

– Fabian Dresler, Multistrada V4 S Grand Tour tester (MOTORRAD Online translated to English)
Expect Ducati's 2024 Multistrada V4 Grand Tour to go in the US for an MSRP of $27,895 USD. 
What do you think of Ducati's new Grand Tour variant?
This slideshow requires JavaScript.