We not only covered the Clubmans All-British Weekend 2012, we set up a photo booth to take studio-grade pics of gorgeous classic British motoryclces. For more coverage of the show, and lots more eye-popping photos, go to our Clubmans Show 2012 Pictures page.
---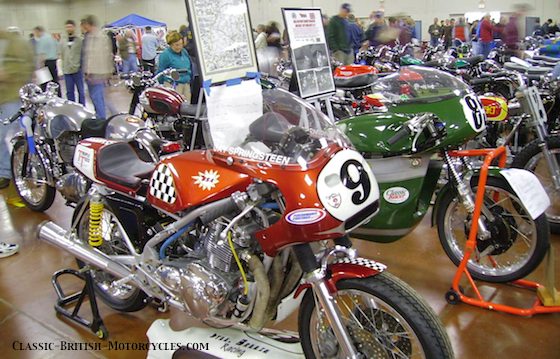 CLUBMANS All-BRITISH WEEKEND 2012 –
The 25th Annual CLUBMAN'S SHOW
If you love classic British motorcycles, then you absolutely MUST make this show! The Clubmans is the largest all-British motorcycle show west of the Mississippi. This indoor show will feature over 150 gorgeous classic Brit bikes competing for awards in various classes, along with vendors, a swap meet, a 'bikes for sale' corral, food, beer & wine. This, the 25th Annual, takes place, as always, on the Saturday in March, the 31st this year. Doors open at 8:00am & the show runs until 4:00pm, and get this…it's only five bucks ($5.00) to get in! (Kids under 12 are free). And as always, it takes place at the Santa Clara County Fairgrounds, 344 Tully Road in San Jose CA. This is an event worth traveling for. And sometimes you even catch the occasional motorcycle celebrity.
CLUBMANS ALL-BRITISH WEEKEND 2012 –
BROUGHT TO YOU BY THE BSA OWNERS CLUB
The BSA Owners Club of Northern California (BSAOCNC) has been putting these Clubman's Shows on for 25 years now, all with volunteer labor from their club & other clubs. It's a Herculean effort, but one that they pull off with grace every year. Then, after all that effort, they take the next day to just ride & enjoy their classic Brit bikes on "The Morning After Ride", leaving nearby Los Gatos at 10:00 am Sunday morning & winding through the Santa Cruz Mountains, the Redwoods & ending up at the Coast.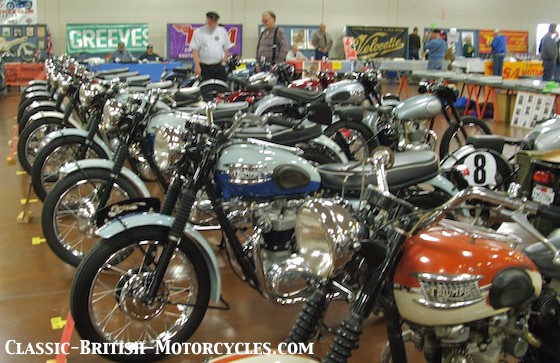 CLUBMANS ALL-BRITISH WEEKEND 2012-
ROWS & ROWS OF GORGEOUS BIKES
The selection & the quality of the classic British motorcycles at this show is mind-boggling. From rows of Triumphs, to rows of Velocettes. While some of the bikes are what might be termed "trailer queens" (ie: rarely ridden, if at all), many are running, riding motorcycles & compete in the 'Ridden' class as opposed to the 'Show' class.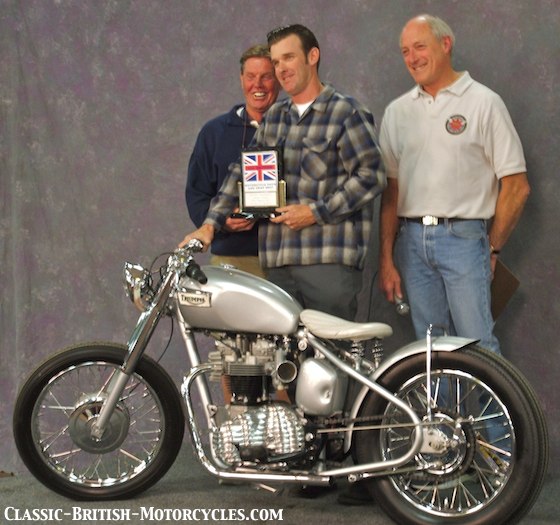 CLUBMANS ALL-BRITISH WEEKEND 2012 –
MOTORCYCLE CELEBS GIVE OUT TROPHIES
Motorcycle racing legend, Eddie Mulder (left) & Don Danmeier (right) of the BSAOCNC, present a trophy to the proud owner/builder of this cool Triumph chopper.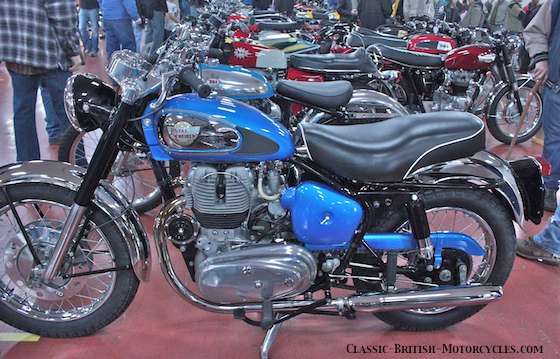 CLUBMANS ALL-BRITISH WEEKEND 2012 –
DIVERSITY IS ITS OWN VIRTUE
The Clubman's All-British Weekend is more than just Triumphs, or even BSAs, all British marques are invited & enthusiastically participate. Here this luscious 1963 Royal Enfield Interceptor MkI heads up an entire row of eclectic Brit Iron.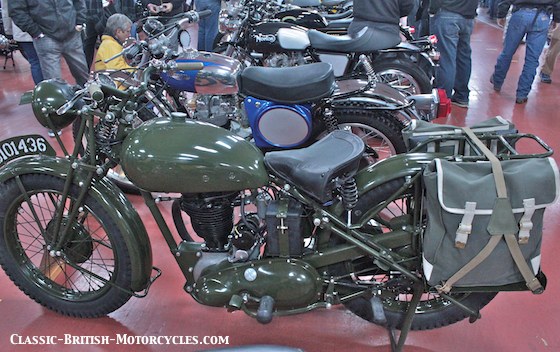 CLUBMANS MOTORCYCLE SHOW 2012 –
THERE ARE ALWAYS A FEW MILITARY BIKES
All genre of British motorcycles are represented at the Clubman's All-British Weekend show. This includes old military bikes, like this WWII-era BSA M20, a 500cc side-valve single, of which they produced 126,000, the largest number of any military motorcycle produced for WWII.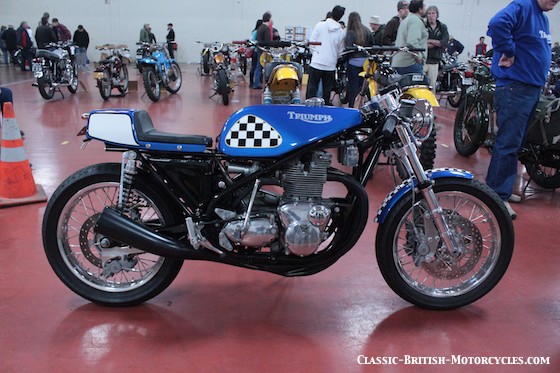 CLUBMANS ALL-BRITISH WEEKEND 2012-
COOL CAFE RACERS & SOME REAL RACERS TOO
There were plenty of actual competition bikes at the Clubmans Shows of the past, some dirt bikes, some road racers. And there are always lots of great-looking Cafe Racers like this delicious Rob North-style Triumph T150 Trident,
which looks like a barely-legal road racer.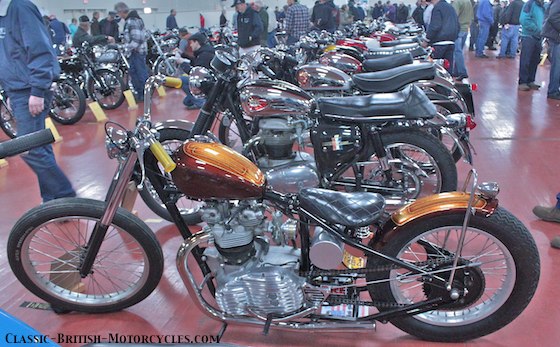 CLUBMANS ALL-BRITISH WEEKEND 2012-
CHOPPERS, BOBBERS & RAT BIKES, OH MY…
And lately, there have been more & more great custom bikes at the Clubmans Show, some dividing that fine line between Chopper, Bobber & Rat Bike. Where does one end & the others begin?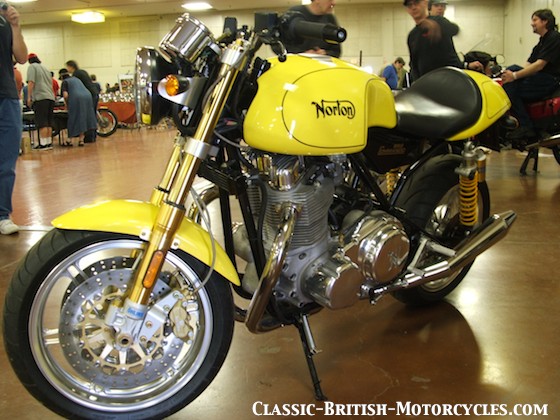 CLUBMANS ALL-BRITISH WEEKEND 2012-
MODERN BRITISH CLASSICS
With the recent revival of some of Britain's great marques, some choose the Clubmans Show as a venue to promote their new models. Here at the 2008 show, Norton shows off their new 961 Commando.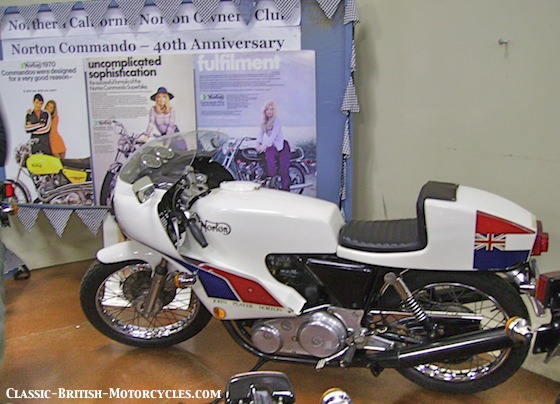 CLUBMANS ALL-BRITISH WEEKEND 2012-
OWNERS' CLUBS PARTICIPATE
Not only is the Clubmans Show put on by a club, the BSA Owners Club of Northern California (BSAOCNC), several other clubs participate in the show as well. And usually every year one of these clubs sort of co-sponsors the show at the 'featured marque', putting on an extra special display. Last year it was the Velocette Owners Club. Here above, in 2008 the Norton Owners Club were the featured marque. That's a '74 John Player Special, a highly-stylized pseudo-replica of the iconic racer built by Norton from a stock Norton Commando. Now a collector classic.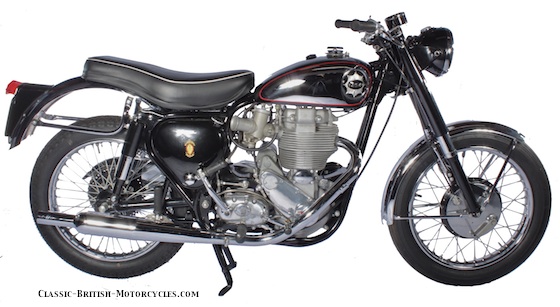 CLUBMANS ALL-BRITISH WEEKEND 2012-
WIN THIS BIKE FOR JUST $1.00!
Every year, BSAOCNC acquires a classic BSA, restores it as needed to near-show condition, then raffles it off at the Clubmans Show. And get this: tickets are just $1.00! Really! I couldn't believe it myself. Contact BSAOCNC.org for tickets in advance, or buy them at the Show. This year, the Raffle Bike is a drop-dead gorgeous 1957 BSA Gold Star. I've seen it & it looks like a brand-new bike…back in 1957, that is.

CLUBMANS ALL-BRITISH WEEKEND 2012 –
A SWAP MEET, VENDORS & MORE…
And what classic motorcycle show would be complete without a swap meet brimming with rusty old crap? And there are tons of them, each seemingly with a specialty. It means nothing to one guy, then the next one acts like its gold! There are also lots of vendors selling new stuff, but all related to classic Brit bikes, no kitchen knives or juicer demonstrations.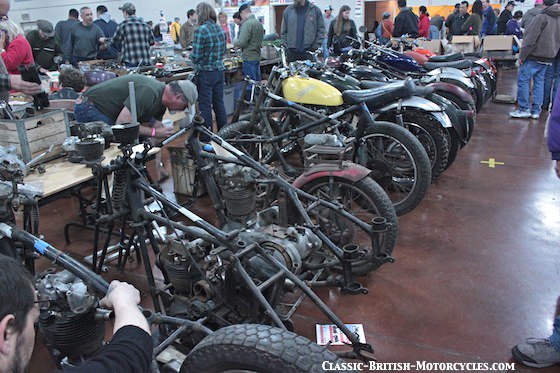 CLUBMANS ALL-BRITISH WEEKEND 2012-
MOTORCYCLE SALES CORRAL – ADOPT A BIKE
…and on the subject of rusty old crap…Actually, there were some real gems in there. And they're not all restoration projects, there were some great-looking, running bikes for sale there.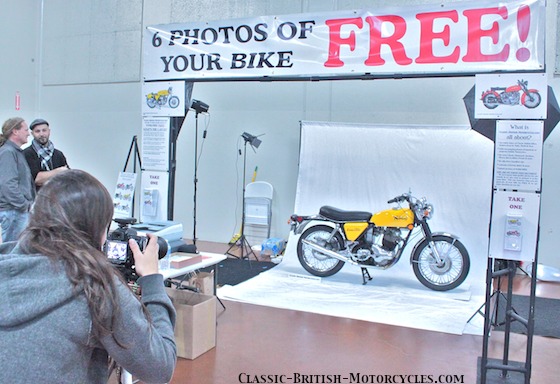 CLUBMANS ALL-BRITISH WEEKEND 2012-
FREE STUDIO-QUALITY PHOTOS OF YOUR BIKE!
CBM (Classic-British-Motorcycles.com) also participates in the Clubmans Show. Starting last year, we set up a photo booth at the Show & offered to take free studio-quality photos of any motorcycle entered in the show. The deal was simple: I take the photos, then send them 6 digital images via email, all in exchange for them giving me the rights to use the pictures myself on this site & other things. It was a huge hit! At first no one could believe it, they thought there must be a catch. But when they started seeing the eye-popping photos we were taking, all for free, they quickly jumped on board. Here, my daughter Sky, who is a professional film maker & an exceptional photographer, snaps some shots of a Norton Commando. We'll be doing the same thing this year. So that's one more reason to put your bike into the Clubmans Show. You'll get a killer set of photos of your bike that look like this: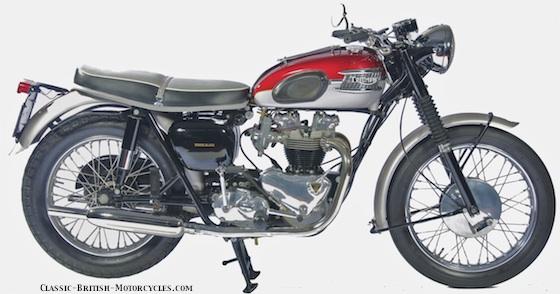 CLUBMANS ALL-BRITISH WEEKEND 2012-
WE TOOK SOME EYE-POPPING PHOTOS…
This is just one example of the incredible photos we took at the 2011 Clubmans Show. This amazing 1962 Triumph Bonneville was just one of 26 bikes we photographed that day.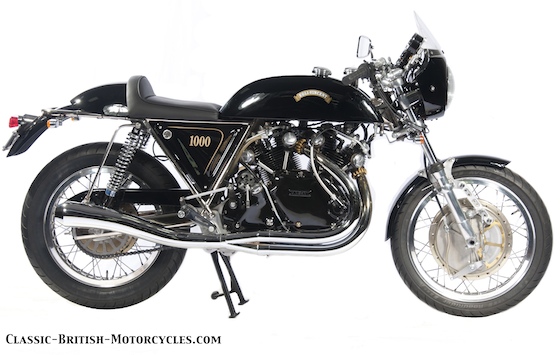 CLUBMANS ALL-BRITISH WEEKEND 2012-
…OF SOME AMAZING BIKES
This stunning 1970 Egli-Vincent won the Peoples' Choice Award at the 2011 Clubmans Show. But it was not alone. There were some breathtaking machines, rows of them. Again…DON'T MISS THIS SHOW!!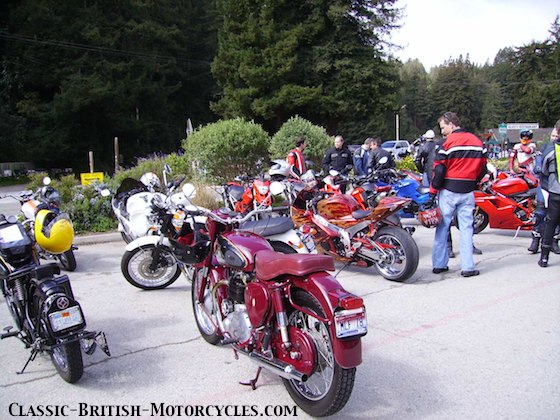 CLUBMANS ALL-BRITISH WEEKEND 2012 –
THE MORNING AFTER RIDE
Ever wonder why they'd call a one-day motorcycle show the "All-British Weekend"? Because it's more than just a show. It's also a ride…the Morning After Ride. Taken, you guessed it, the morning after the Clubmans Show. Each year, part of the Clubmans tradition, everyone takes out their vintage, classic & modern bikes, many of whom were in the show the day before, and ride them. Everyone meets at Hobees Restaurant in Los Gatos at 10:00 am on Sunday morning, in this case on April 1, 2012. Then we ride in groups through the lush, beautiful Santa Cruz Mountains, through the Redwoods, even the Coast. Here we stop for a break at the legendary Alice's Restaurant (you can see the sign in the background), made famous by hippie/rock star Arlo Guthrie back in the late 60s.
EAT, DRINK & BE MERRY
Motorcycle events, shows, rallies, overnight rides, etc., are many things. Among them they are a gathering of like-minded people, friends even, sometimes drawn together only once a year for this one event. They spend a few days together, then don't see one another until next year's event. Many such events are family gatherings, sometimes camping, BBQs, and ice chests full of beer. Many set up well-equipped campsites with cooking gear right down to the kitchen knives along with all the other comforts of home. People used to set up BBQs outside the Clubman's Shows, on the shady lawns of the Santa Clara County Fairgrounds. It's a lifestyle, made all the better when you have friends and family who share the same passion.
CLUBMANS ALL-BRITISH WEEKEND 2012 –
WAIT, THERE'S MORE…
Not only do you have the chance to go to one of the world's greatest classic British motorcycle events, but there are also some other things happening there at the Fairgrounds at the same time. A classic Japanese Motorcycle club, and a classic European club each put on their own similar shows, each in their own buildings right next to the Clubmans show, at the same time. And, as if that weren't enough, on Friday, March 30 & Saturday, March 31, the arena will be thundering with the noise of the 6th Annual Pro Short Track indoor concrete motorcycle races. That's right, they're flat tracking on concrete! How do they do it, you ask? They pour CocaCola syrup on the ground & let it get sticky to increase the traction. As it turns out, the slip coefficient on concrete is just about ideal for sliding a motorcycle through a turn. But it surely must hurt when you fall! Ouch!! Lots of action.
CLUBMANS ALL-BRITISH WEEKEND 2012 –
FOR MORE INFORMATION…
Please plan to attend this show. First off, if you love British bikes, or classic bikes of any kind, you owe it to yourself to go. But you can also show your support for clubs like BSAOCNC, in their gallant efforts to preserve & cultivate this crazy Brit bike thing we've got going. For more info about the show, please email the club at BSAOCNC.org or call Don Danmeier at (415) 898-0330. And while you're at it, buy some tickets for the Raffle Bike.
---