Keeping your legs protected should be one of the top priorities of any rider. While it's good practice to always dress for the slide, wearing hard wearing, tough, and durable pants should make sense even if you're not planning on having a high-speed accident. Even when a motorcycle is stationary it can cause you harm. Ask any backpacker who has rented a scooter for the first time in South East Asia. Those hot exhausts can really damage bare legs!
If you're searching for the best motorcycle pants you can buy, it means that you already care about your legs, so we don't need to preach to the choir! But if you're struggling to find the right pair of riding pants for your needs, we've got a few recommendations for you.
Our methodology in determining our recommendations is based on a few factors. First, it's based on real-life experience and overall product familiarity. Secondly, it's based on quality reviews from trusted sources. Lastly, we look at customer satisfaction and feedback to see whether a product lived up to its expectations If it passes those tests and offers real value for money, then it's worthy of our recommendation.
So, without further ado, let's see what we came up with.
Alpinestars Missile v2 Airflow Pants
Review: In-depth review
Price: $469.95
Buy: Revzilla | Amazon
The Alpinestars Missile v2 Airflow Pants are aimed at sports riders who spend a good deal of timing leaning into corners at their local track. They're designed with maximum airflow in mind, in a tough and durable package that won't let you down when it matters most. Since airflow is the highlight here, they're best suited to warmer environments!
Made from premium 1.3 mm bovine leather with stretch and accordion panels, and high-density perforation, these pre-curved motorcycle pants offer superior flexibility as well as top-shelf protection. Armor comes in the form of Alpinestars' GP-R knee protectors, replaceable knee sliders, and reinforced padding in impact zones. There are additional pockets for supplemental armor inserts too.
These pants also feature zippered vents for more ventilation, a jacket-to-pant connection zipper, and a high-backed waist for a safer pant-to-jacket overlap.
The only noticeable downside to these awesome riding pants is the fact that they're obviously not ideal for colder climates and the steep price tag. However, if you're a sports rider that attends regular track days in a hotter region, then the expense will be more than justified.
REV'IT! Offtrack Pants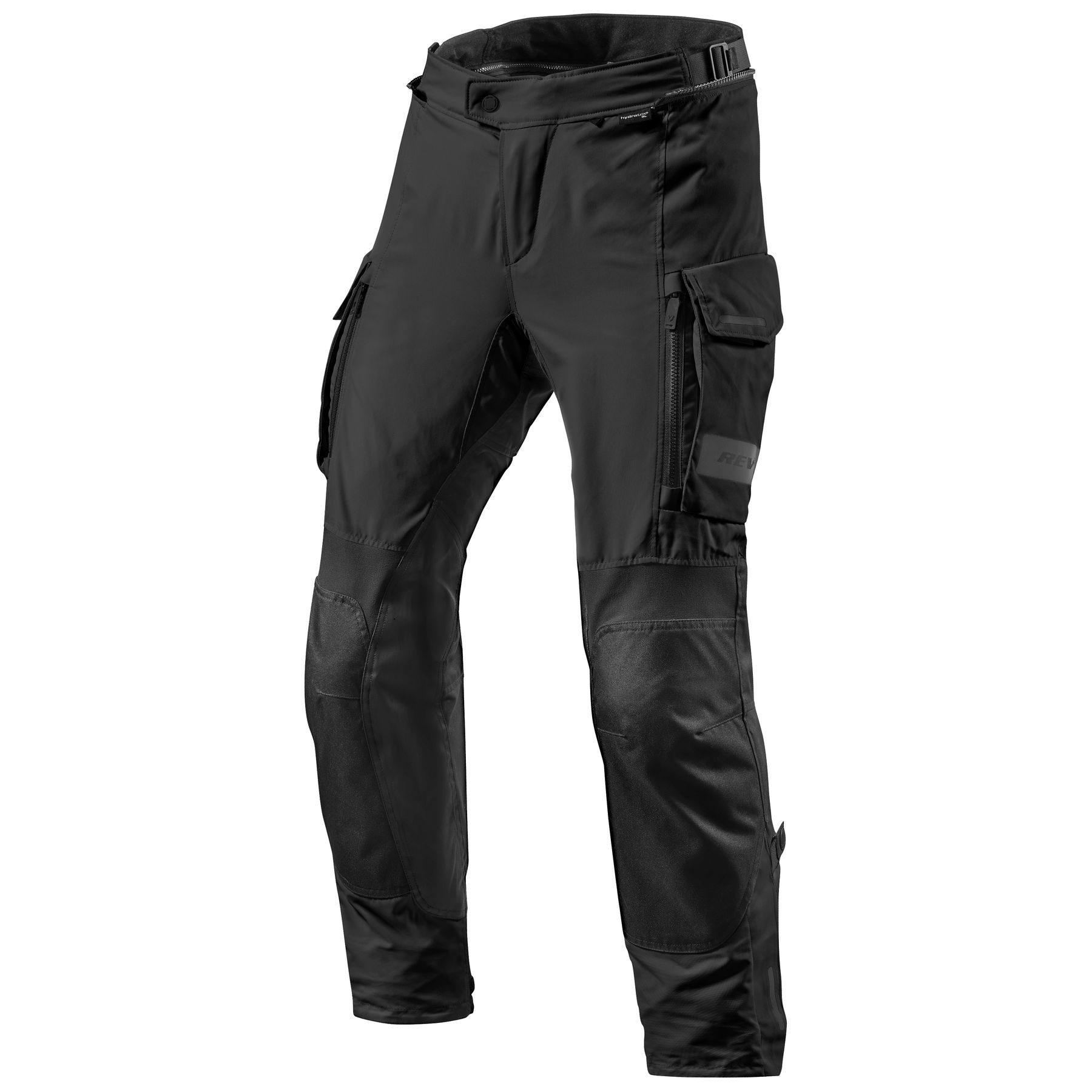 Review: In-depth review
Price: $329.99
Buy: Revzilla
REV'IT!'s Offtrack pants are a great choice for riders who need a pair of versatile and functional riding pants. They can be worn by sports riders, sports tourers, adventure riders, and more. They're a great pair of all-around pants that will give you a comfortable and safe riding experience, in hot and dry or wet and cold environments.
These pants are made from 600D polyester outer shell with ripstop polyester and Softshell 3L materials. On the inside, they feature a detachable thermal layer, with a Hydrate Mesh G-liner. They can be adapted to any weather conditions by simply adding or removing the appropriate liner, and by opening and closing zippered vents to increase breathability and airflow.
Protection comes in the form of CE level 2 knee protectors, and CE level 1 hip protectors. The armor can be replaced and upgraded if necessary—and we do recommend ditching the hip protector in exchange for something a little better if possible.
These close-fitting pants can be adjusted thanks to a selection of adjustment straps and tabs for a closer fit. Other cool features include stash pockets, reflective details, and a robust YKK slide lock front closure.
Alpinestars Copper Out Riding Jeans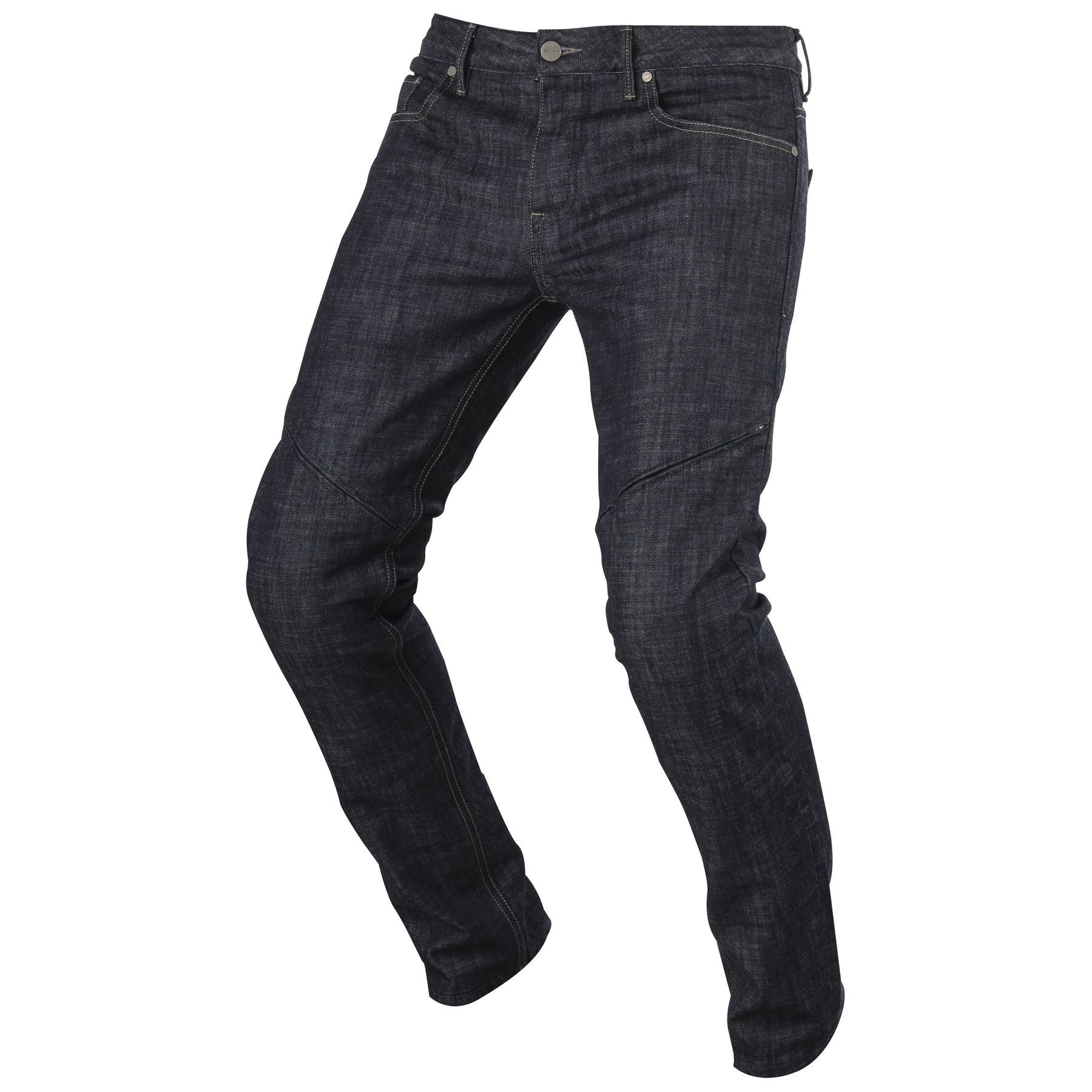 Review: In-depth review
Price: $191.96
Buy: Revzilla | Amazon
Many riders prefer to forgo obvious motorcycle protection in favor of casual-looking riding jeans. While they're not as protective as high-quality leather or top-level textile riding pants, modern riding jeans are surprisingly tough and durable. They're popular with urban riders and street riders alike thanks to their cool looks and practical nature. Alpinestars Copper Out riding jeans just happen to be some of the best on the market.
These jeans are tough, but there's more to them than just cotton denim fibers for protection. Instead, these jeans have been upgraded with an aramidic fiber on the interior to reinforce the overall protection of the jeans and boost abrasion resistance. On the surface, they're regular straight fit jeans, but underneath, they offer serious protection.
Other protective features include removable CE-certified knee armor and removable hip protectors. These protectors can be upgraded with better units if required, and you install them simply by slipping them into the necessary pockets and securing them with Velcro if required.
If you're looking for styling riding jeans with an advanced aramid fiber and upgradeable armor options, these are the jeans for you.
Bull-it SP120 LITE Jeans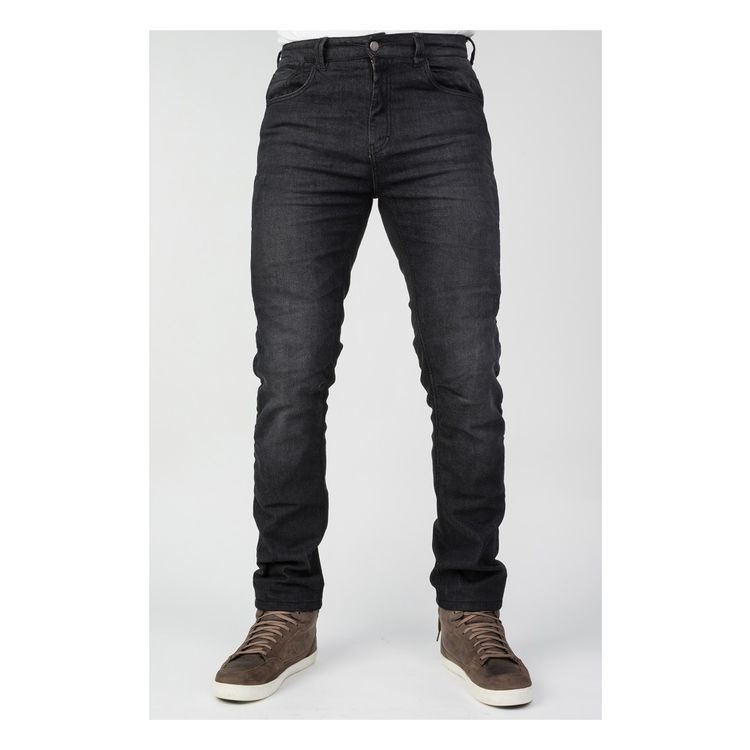 Review: In-depth review
Price: $103.99
Buy: Revzilla | Amazon
Next up, we've got another pair of casual riding jeans that offer superb protection without compromising your style. According to Bull-it, these jeans have been speed tested for accident situations at 75 mph. Reviews from satisfied customers have confirmed that they hold up extremely well in a slide too. So if you're looking for tough riding jeans, don't rule these ones out.
Made from tough slim-fitting cotton denim, these jeans boast a Covec SP120 liner for additional protection. The result is a pair of riding jeans that receive an AAA abrasion resistance rating using CE EN17092-1 Certification testing at speeds of 75 mph. They offer great protection in key impact zones. These jeans have pockets for hip and knee armor, though it doesn't come as standard.
Other cool features include a moisture-wicking interior mesh liner, a five-pocket design, and availability in 3 different fit styles to ensure a close and stylish fit. These jeans are a great choice for those who want to ride safely and look cool at the same time. If the armor was included with these jeans, they would easily be one of the top pairs of riding pants on the market. It's a shame that that's not the case.
Rukka R.O.R. Pants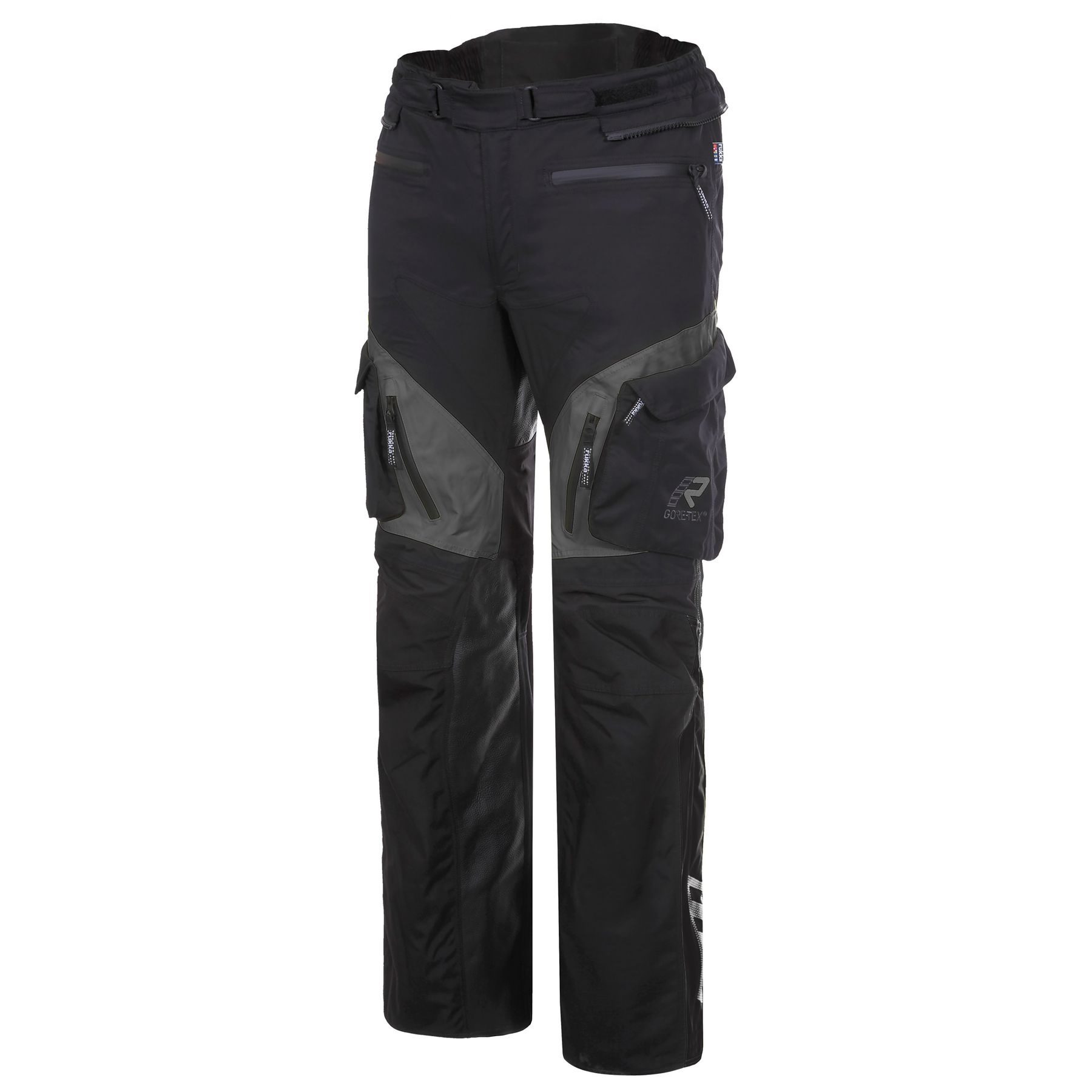 Review: In-depth review
Price: $384.30
Buy: Revzilla
Ideal for adventure riding and off-road trail riding, the Rukka R.O.R pants offer excellent protection, from road hazards, trail obstacles, and most importantly, the elements! If you need a versatile pair of pants that you can wear on a cross-country adventure or for a blast around your local quarry, these are worthy contenders.
Made from a light and durable 150 D polyester shell fabric that has been reinforced with 100% breathable, wind- and waterproof Gore-Tex. For additional protection, these pants feature abrasion-resistant 500 D Cordura sections across the knee, shin, and seat areas. Though it doesn't ship with armor, these pants have pockets for Rukka D30 knee, shin, and hip protectors.
Since supersport performance isn't the aim of the game here, these pants boast a looser fit. Wider legs allow for these pants to easily fit over adventure boots, and looser knees allow for greater comfort when wearing knee armor. Other thoughtful additions include zippered thigh vents, heat and abrasion-resistant paneling on the inner knee and seat, and handy stash pockets for your things.
These pants aren't cheap—but they do boast an impressive five-year warranty.
Sedici Garda Waterproof Pants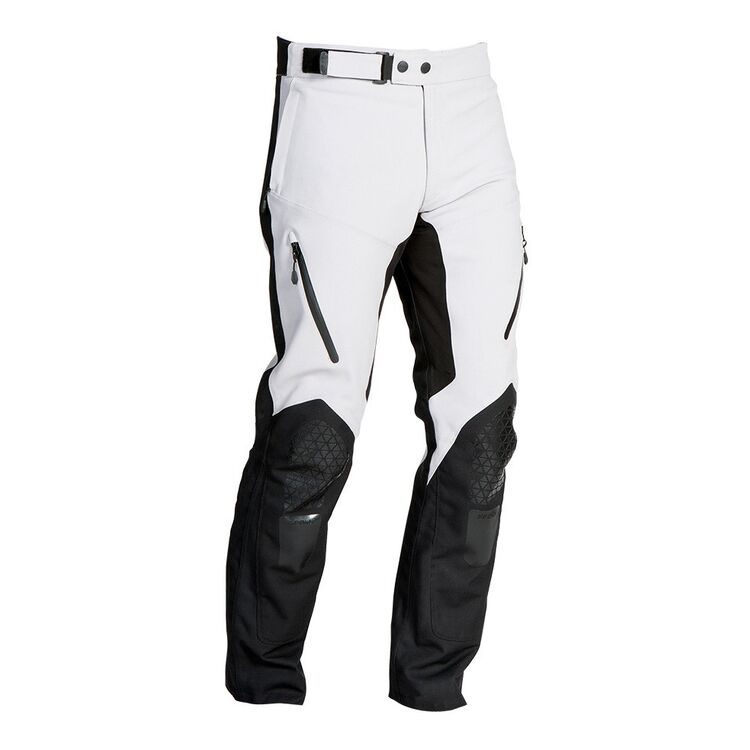 Review: In-depth review
Price: $199.99
Buy: Revzilla
Next up, we've got the Garda Waterproof Pants from Sedici. They're the perfect pants to complement Sedici's Garda jacket. However, they're great standalone pants too. The design of them makes them ideal for adventure touring, but they're fairly generic and work just as well as day to day riding pants or for off-road pursuits too.
Sedici's Garda pants use a waterproof stretch 600 D laminated material that's tough, durable, and waterproof, but breathable and non-restricting at the same time. 1200 D reinforcement panels add extra abrasion-resistance in key impact zones, and textured rubber sections add another layer of protection in high wear areas.
The standard armor that comes with it includes CE knee protection, which is good but we recommend upgrading to something better if possible. Luckily, these pants also feature pockets that can accept hip armor inserts too.
An adjustable waist, stretch sections, convenient zip vents, and handwarmer pockets are also nice additional features. If you need versatile gear for a variety of different riding situations, then these waterproof pants are worth investing in. They even come with a 2-year warranty!
Dainese New Drake Air Textile Pants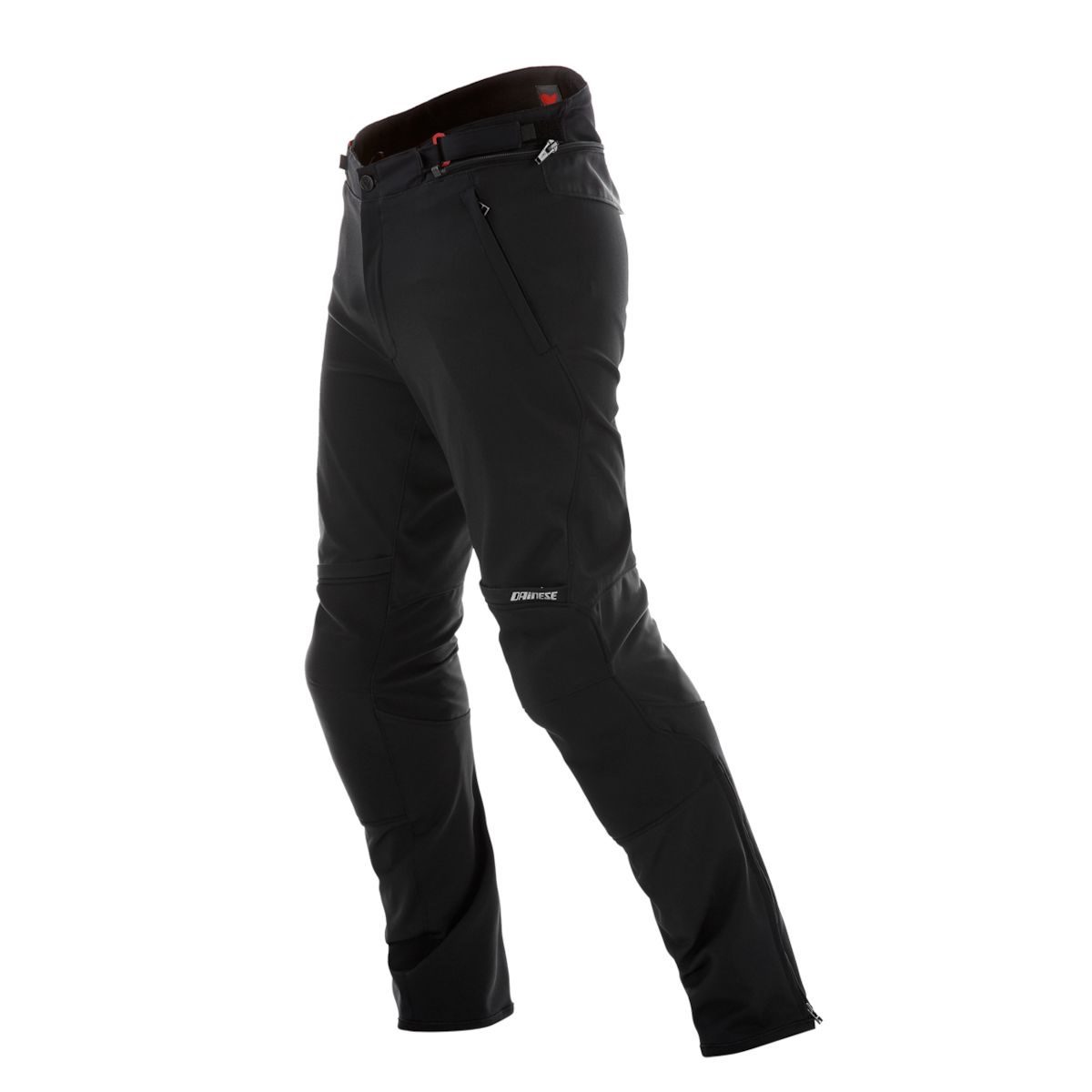 Review: In-depth review
Price: $259.95
Buy: Revzilla | Amazon
If you're searching specifically for motorcycle pants for riding in the summer, then you really can't go wrong with Dainese's New Drake Air Textile Pants. They're fairly common riding pants and it seems like almost everyone has a pair of them. Why? Because they're quality pants that offer everything you'd want from summer bike gear, at an appropriate price point.
These slim-fitting pants are built around a 750 D Cordura base with Suretta sections. Since these pants are all about airflow, they feature perforations and mesh-backed vents. There's a jacket-trousers fastening zip, and handy calf zips too. On the inside, the pants have a sanitized lining and very impressive armor.
The Dainese New Drake Air Textile Pants come equipped with removable CE-rated composite armor. These are located at the knee, and they also include soft hip pads at the waist too.
The only real downsides to these pants include the fact that only come in black, and that the hip armor isn't upgradeable. Granted, these two issues are hardly deal-breakers but for the price, you'd hope that you could upgrade all of the armor. Again, they're not exactly big negative points, are they?
Alpinestars Andes v2 Drystar Pants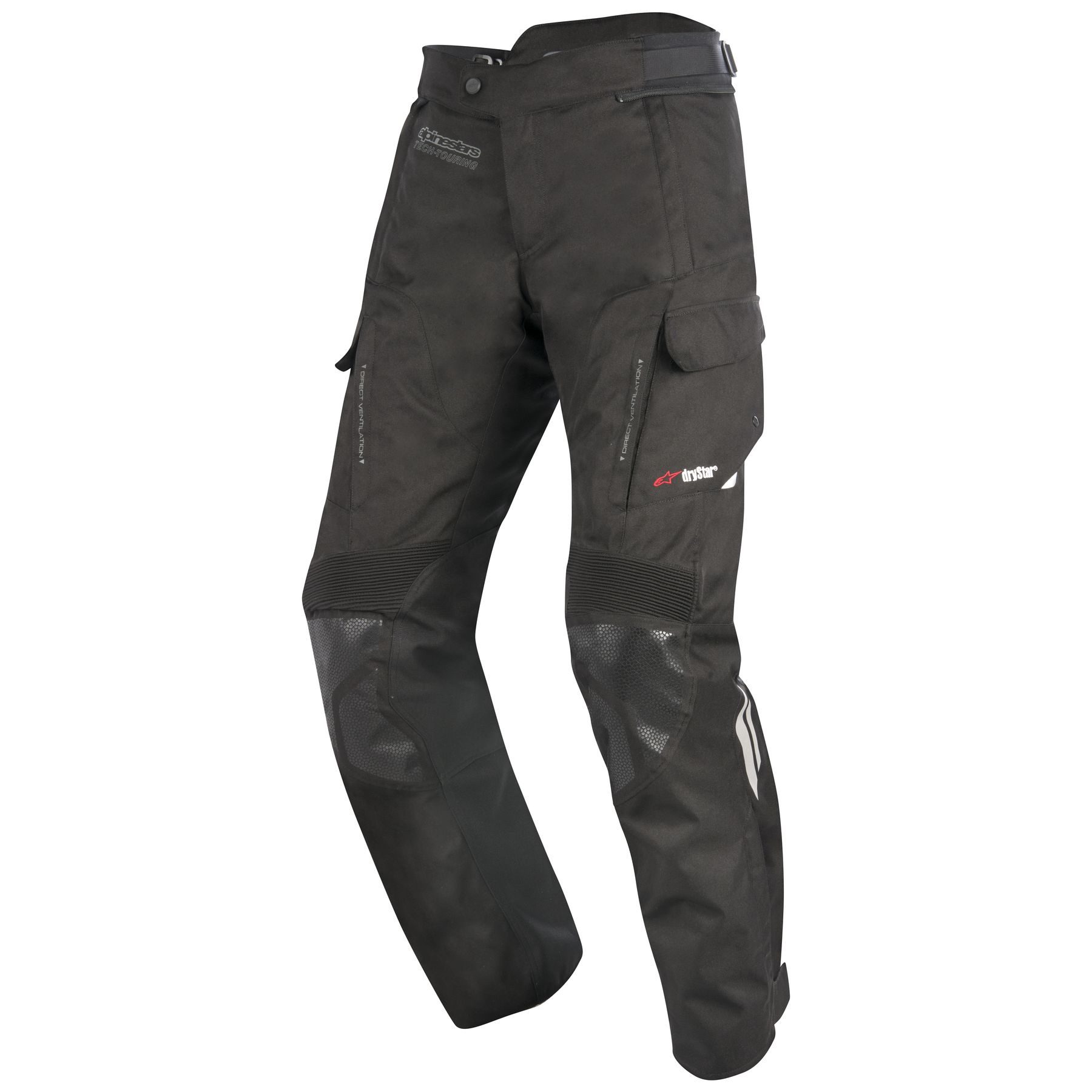 Review: In-depth review
Price: $229.95
Buy: Revzilla | Amazon
Lastly, we have the Alpinestars Andes V2 Drystar riding pants. When it comes to functionality and versatility, then these are our favorites. If we had to choose one pair of pants to wear every day for a whole year, then these would be what we choose. They're hardwearing, waterproof, comfortable, and breathable. Ideal for all seasons.
Made from an exclusive Alpinestars Drystar poly-fabric material, these pants offer rugged durability and abrasion resistance, as well as exceptional waterproofing. The material features a waterproof membrane that successfully keeps water out but won't overheat your legs in the process. A removable thermal liner is included for both hot and cold days, keeping you cool or warm depending on the situation.
Ventilation is a key feature of these pants. Zippered air intakes and direct ventilation vents help keep your ride experience comfortable, while an adjustable waistband and bib braces keep the fit of the pants close and snug at the same time.
Protection is provided by reinforced polymer sections in high abrasion risk zones, hardy CE-rated knee protectors, and optional hip protectors.
If you're in the market for four-season versatility, with a focus on airflow and waterproofing, then these are the pants for you.