Rukka ROR Pants Review Summary
Review Summary
Brand New for 2018 is the Rukka Off Road riding pants. Featuring unbeaten quality fit and finish when it comes to riding gear. They're almost as light and comfortable as jogging pants, look like Armani designed them but protect like motocross racing pants. Completely waterproof and windproof gear of the highest quality. The slightly loose fit around knees and hips offer the rider the option of wearing the heavy duty, aftermarket crash armor underneath. The lower leg flares out twice the leg diameter to make putting big boots on a breeze. In short, these pants will do it all and you look like a Boss doing it. All it lacks is a thermal liner and some Superfabric on impact areas to be the best adventure gear on the market.
Pros
Very lightweight, versatile, 100% windproof and waterproof 2-layer laminated Gore-Tex shell
Can equip Rukka D30 armor or aftermarket heavy duty armor
Double thick layer of Cordura 500D in impact areas with soft and supple SPL 150 GoreTex with double stitching everywhere else
Thick leather on inner thigh, crotch and seat prevent melting/ wear
2 air vents on the thighs for cooling in hot weather
Regular, tall and short sizing available
Purchase price is lower than some other big brands
Cons
Armor must be purchased separately
No thermal liner for colder weather
Expensive to buy $549
Rukka ROR Pants Image Gallery
First Impressions
"So unbelievably lightweight and soft to the touch. How can these be riding pants, suitable for on and off-road protection?"
Stylish and clean looking design with obviously waterproof pockets that zip shut and/or have a velcro flap over them for added security of the contents.
They FIT ME!!
I've worn and reviewed several sets of riding pants and none have properly fit my admittedly difficult-to-fit frame. I have a Hobbit-like 26.5" inseam, a 34" waist and 42" hips. I'm short, stocky and have some "junk in my trunk". To put it bluntly, most pants that fit in the waist and legs want to violate my wedding tackle and private parts in ways I don't appreciate or want to get into.
It's been a battle my whole life to find pants that fit… until I tried on these size 50 Short Rukka ROR pants! Finally, I don't look like I'm borrowing my big Brother's pants. It's so undeniably refreshing that I may overrate these pants just based on that comfort and satisfaction factor alone.
Just kidding, they really are that good overall, my personal satisfaction notwithstanding. You can get them in regular, tall and short sizing additionally.
Adjustability
The waist has a velcro strip on either side of the zippered fly allowing about a 3 or 4-inch span of adjustment. It also has an elastic area in the backside region to keep a little tension on your hips and thus stop the pants from drooping on someone built like me. Thank you Rukka!
There's elastic material hidden on the inside of the knees, crotch, and backside to help keep everything where you want it.
You've probably also noticed the large zipper running along the waistline used to connect the pants to a jacket if that's your cup of tea. I tried it and think I prefer leaving them separate.
Rukka Air Cushion System
During the testing, I noticed that my nether region never sweated much. I was always quite dry and comfortable, in fact. I attributed that fact to the two air vents in the thighs, but then I read about the Air Cushion System incorporated into the crotch and backside and realized how effectively it worked. Especially off-road when things can get pretty active and hot due to lower speeds.
Wide Openings For Boots
The lower part of the pants flares out when unzipped to at least twice the diameter needed, making it a struggle-free experience putting tall boots on underneath.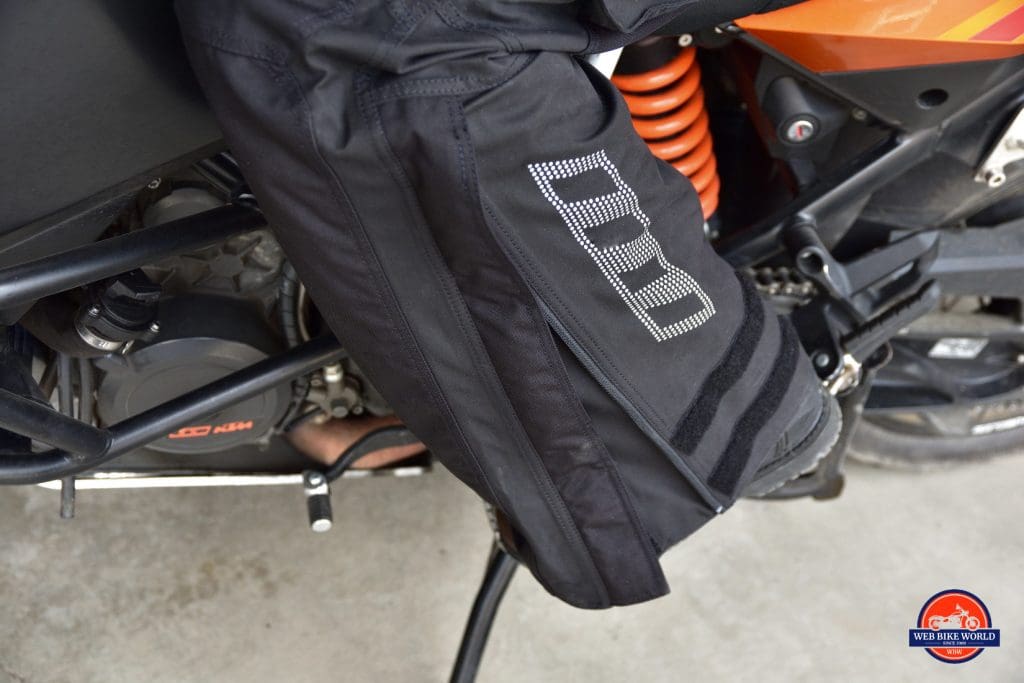 A YKK zipper runs most of the way up to the knee with velcro on the flaps to make cinching everything up tight to the boots quick and dirty.
I found that it worked best to leave the zipper undone about 1.5" above the end of the line because there's an extra tab of velcro housed there that can be used to really tighten the very bottom of the pants around the ankle on your boots.
Pick Your Size Carefully
A snug fit is always appreciated in motorcycle gear, but one caution I would give is not to err on the side of caution when you gauge the sizing you need. Go on the bigger side if you are in between sizes. The ROR is supposed to fit loose in order to accommodate really heavy duty aftermarket armor underneath.
I initially ordered size 48 pants and they fit perfectly without armor in them. Once I installed hip and knee armor I couldn't lift my leg high enough to swing over a bike and I had to exchange them for a size 50.
Armor
The feature setting these pants apart from others is the loose fit and extra room to wear really heavy duty off-road armor underneath for serious off road adventure days.
Unfortunately, I don't own anything like it so I opted instead to go with the Rukka D30 Air Level 2 pads that can be installed in the hip and knee pockets. Everything went in nicely and didn't significantly increase the weight of the pants or limit my mobility or comfort.
I tested the armor by jumping up in the air and landing on my knees a dozen times. The armor is very effective! All the noise brought my wife and kids running to investigate out of concern for the floor's welfare I would guess.
The honeycomb design of the Rukka armor lends itself well to providing good airflow and evaporation of sweat despite the fact it's about an inch thick. Rukka really has put a ton of careful thought into these pants and made them easy to pick for on and off-road riding.
Ventilation
Of crucial importance in any waterproof garment is breathability. Rukka wisely puts in two vents on the front of the thighs in just the right place to be effective even in 86 degree weather that I was riding off road in during some of my testings.
These vents in the ROR pants combined with the Air Cushion System succeed beautifully together and I never found myself uncomfortably warm. In fact, I found my whole body was an even temperature thanks to the quality of the textile shell. I've never worn anything better on a bike that's for sure.
Waterproof Testing
---
I'm a "show me don't tell" me kind of person, so when a company makes a claim I need to see it work myself.
For that reason, I subjected the pants to my waterproof torture test involving my wife hosing me down with the chilly garden hose water at 5 paces for 5 minutes. We go out of our way to aim tons of cold water at any part of the test subject we feel could leak.
The ROR pants didn't even blink. I placed strips of paper in each pocket to measure whether even the slightest bit of moisture came through. Nothing doing.
This stuff is really good at limiting the transfer of cold through it too. I could tell the water was quite cold through the shell, but it wasn't bothering me one iota.
Thermal Liner
These pants would be perfect 4 season appropriate with a thermal liner in them. I think Rukka took the easy way out by saying that the loose fit allows for one to be worn underneath of the owner's choosing.
This is the only thing I would improve on them really. Come on Rukka, just include a removable liner with the pants.
Rukka pants usually come with suspenders too, but not so for the ROR pants. Too bad I was looking forward to walking around with my thumbs tucked in behind them while winking at people like I see the some of the creepy old men in my town sometimes do.
Final Verdict?
---
What do you say when you put hundreds of miles worth of riding on and off road into something and basically find yourself speechless and stumped with regard to finding anything to complain about?
These are expensive pants, but they're totally worth the price. No question. They seem a little on the fancy side to take through mud and dust while riding off-road, but I can't deny how suitable they are for that and any kind of riding for that matter.
The mud and dust brush off them like nothing, and if you want you can just spray them off with the hose when you get home to make them clean again. Man, these are good.
Are They Klim Good?
Here's the million dollar question of course: how do they stack up against a known adventure favorite Klim comparable pant like the Carlsbad?
The Klim Carlsbad pants are $40 cheaper and come with Level 1 armor. They are made of the same 500D textile and are a proven performer that have great ventilation properties too.
The Klim doesn't have the range of sizing options the Rukka ROR does, the same amount of pockets, the Air Cushion System, as large of opening at the bottom for boots or quite the quality of adjustment in the waistline the ROR pants do, or the room to house heavy duty armor underneath.
The Carlsbad lacks the refined styling of the ROR. Some people prefer a simple and plain style though.
Especially for short riders, the ROR is overwhelmingly the way to go over the Klim pants, and that's saying a LOT! Klim is the standard everyone is measured by in the adventure gear world.
Overall, it's Rukka by a landslide in this comparison.
Pros
Very lightweight, versatile, 100% windproof and waterproof 2-layer laminated Gore-Tex shell
Can equip Rukka D30 armor or aftermarket heavy duty armor
Double thick layer of Cordura 500D in impact areas with soft and supple SPL 150 GoreTex with double stitching everywhere else. The finest textiles on the market.
Thick leather on inner thigh, crotch and seat prevent melting/ wear
2 air vents on the thighs for cooling in hot weather
Reflective material on shins are subtle yet effective
Adjustable waistline velcro strips
Regular, tall and short sizing available
4 exterior waterproof pockets and 2 interior
5 year warranty
Purchase price is lower than some other big brands
Cons
Armor must be purchased separately
No thermal liner for colder weather
Expensive to buy $549
Specs
Manufacturer: Rukka Oy (Luhta Sportswear Company)
Price (When Tested): $549.00
Made In: China, Designed in Finland
Alternative models & colors: None
Sizes: Normal leg lengths from 46 to 62, with longer leg lengths in sizes 48 to 58 and with shorter leg lengths in sizes 48 to 58.
Review Date: May 22, 2018