Review Summary
The new Motion Infinity is the top tier offering from UClear and it's here, in a big way. With Bluetooth v5.0 (an industry first), an integrated three-way sensor with leveraged features, and a host of other new capabilities including autoconfiguring DynaMESH and the USAFE emergency contact feature (another big first); is it all evolutionary or revolutionary – you decide.
Pros
First available system with BT 5.0
Industry-first integrated triaxial sensor
Gesture 'input' (really hands-free)
USAFE Impact and Emergency Notification feature
Works with virtually any helmet
Extendable microphones for great flexibility
'Virtual' microphone provides unparalleled sensitivity
DynaMESH and U-Pair manage all paired devices
Audio that is (still) hard to beat
Noise Suppression Slider to allowing tuning of helmet/cockpit environment
Cons
Mounting solutions lightweight and not as solid as they should be
Optimal placement of extendable microphones takes some testing
All features work, but some need tweaking or revisiting
Expensive, but BT 5.0 and USAFE are great investments
UClear Motion 6 Image Gallery
Foreword
This second (of 2) reviews in the UClear Motion Series introduces the Motion Infinity, the top tier offering from UClear with unique features – one being a game-changer. Included in this posting are Motion series common feature updates, the unique features of the Motion Infinity and the On the Road Roundup. We hope you enjoy the UClear Motion Series coverage – the wBW team.
Introduction
The Motion Series comprising the Motion 6 and the Motion Infinity are the newest systems from UClear. Both feature Bluetooth 5.0, new high-performance boom-less headsets and a raft of updates and new features including industry firsts – these are premium offerings.
Another Bluetooth v5.0 helmet system from another brand is now on hand (review pending) and more will follow. But nothing can take away the fact that UClear was first to market with the Motion Series featuring Bluetooth v5.0.
Of the two Motion Series systems, the Motion Infinity is the top tier offering with two unique distinctive attributes, one being the game-changing USAFE.
The Infinity has the goods to put UClear on a pretty even footing with other leading brands when considering the application of innovative technology along with outstanding phone, intercom, and music audio; all convincing reasons to take a hard look at the Motion Infinity or its more basic sibling the Motion 6.
But before starting our look at the Motion Infinity keep in mind that almost all the common features were covered in the Motion 6 review. Those that were not or those that bear more detailing is included below.
Unique Features of the Motion Infinity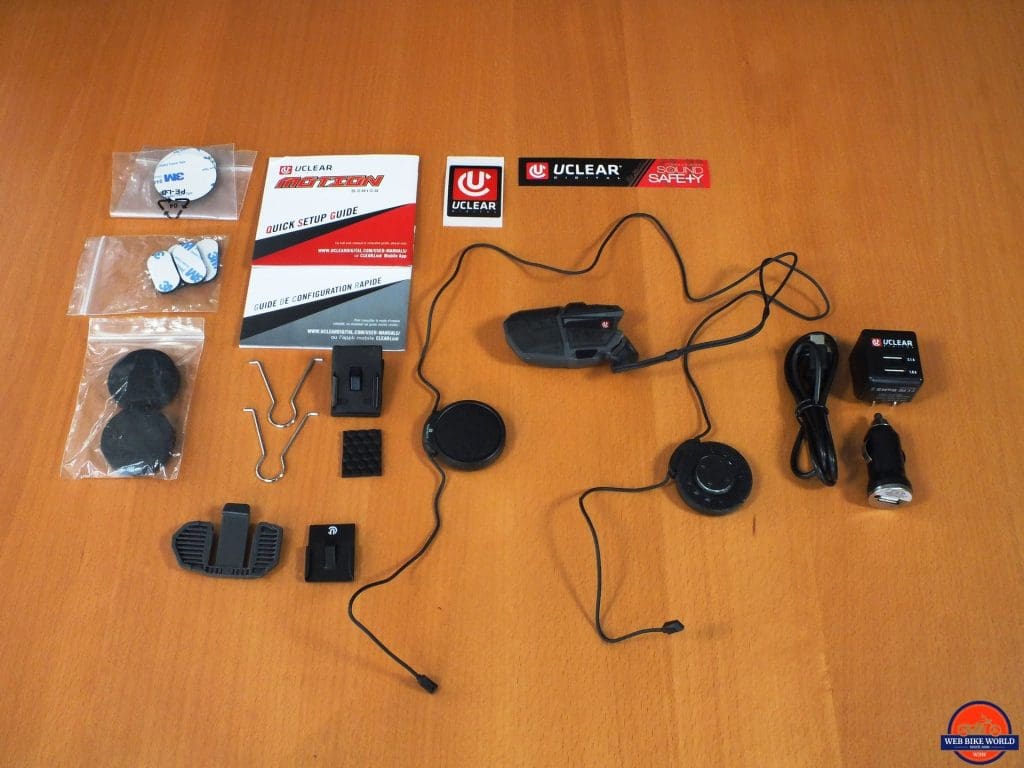 As the first to market with Bluetooth 5.0, the Motion Series systems definitely begin to exploit the advanced features and capabilities of BT v5 with lots of standard (and enough unique features) to hint at their evolutionary potential over the longer term…
DynaMESH
The first additional feature offered by the Motion Infinity is that it has, well, infinite rider connections thanks to UClear's exclusive DynaMESH or Mesh-Bluetooth hybrid feature that is also found on the base Motion 6 system but, as its name reveals, is limited to six users.
USAFE Crash Sensor
Of the list of new features found with the Motion Infinity, U-Safe or USAFE Crash Sensor is the most exciting. Unique to the Motion Infinity, at least for now, it is one of those technology-enabled offerings that could be classed as either evolutionary or revolutionary (you decide). Regardless, it is a game-changer.
The USAFE feature is based on an advanced embedded triaxial accelerometer that detects and measures both linear and rotational helmet impact forces. Simply put, USAFE is an impact or crash sensor. How it all works is detailed in a later section.
Motion Infinity – System Fitment Redux
Motion Infinity module, speaker, microphone, & mounting pieces
Like virtually everything UClear has produced over the years, the new Motion Series systems fit on full-face, modular, off-road, three-quarter and are adaptable to half helmets, thanks in large part to their light-weight small form factor and a unique speaker/microphone approach.
Speakers
As identified in the Motion 6 review, the Motion Series systems feature new upgraded speakers identified as UClear Pro 2.0. While always impressed with UClear headsets these new pieces move the audio yardstick forward again, providing outstanding sound – the app-based Equalizer and Noise Suppression features are icing on the cake.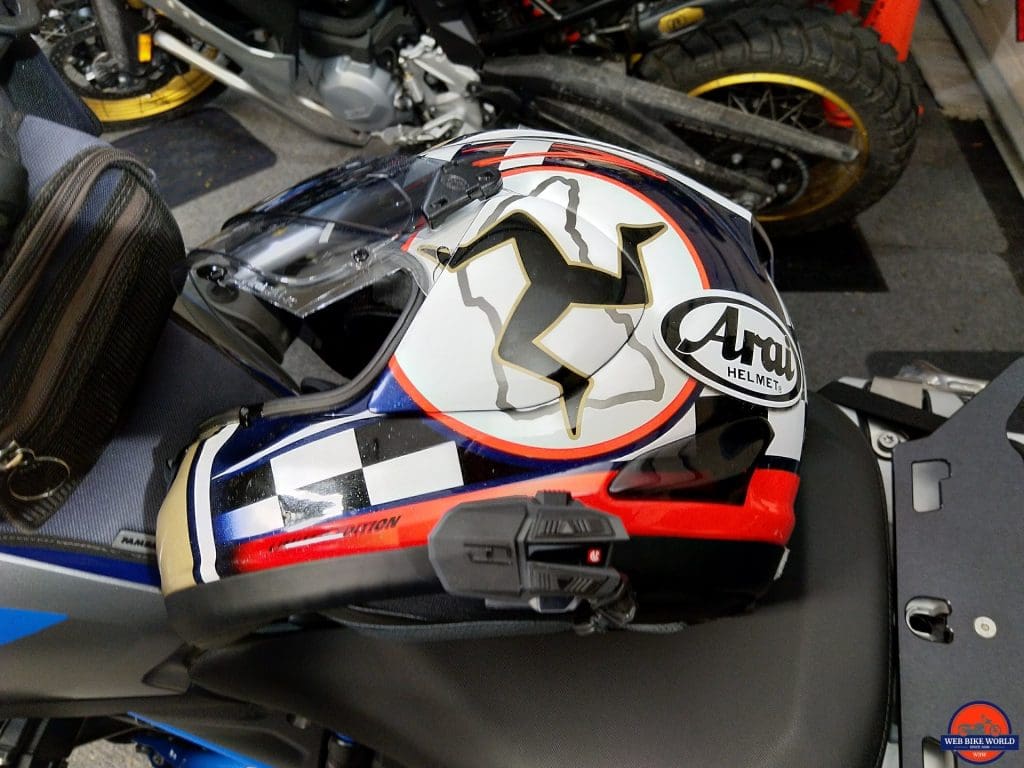 While the Motion 6 took its first assignment on a Shoe GT-Air (1st Gen), the lottery draws for the Motion Infinity resulted in the soon-to-be-replaced Arai XD4 being selected – the XD4 is/can be a noisy helmet so it seemed to be a good first candidate, and was.
Audio Pickups await install in Arai Corsair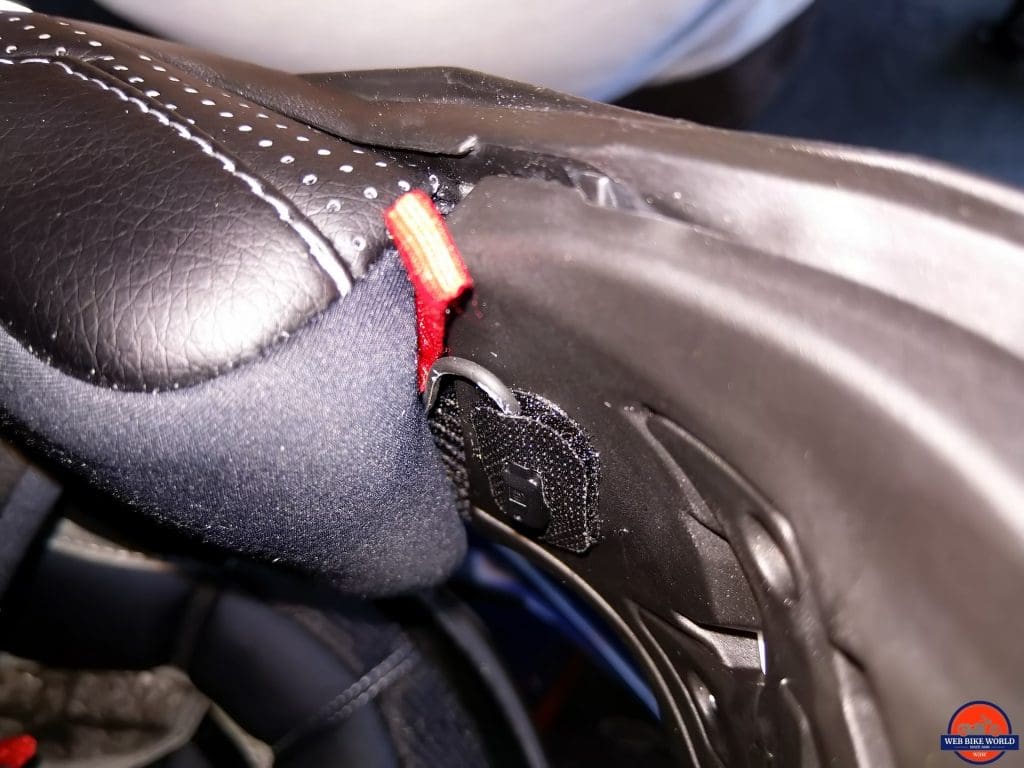 Closeup of Audio Pickup Mounts
The UClear Pro speakers are thicker than the 10C pieces so the 8mm spacer pads were removed and the UClear Pulse Pro 2.0 speakers mounted directly to installed pads on the Arai cheek-pad indents that provide enough real estate to get that 'just right' positioning vis-à-vis the ears.
Microphone
Running the microphone leads forward between the liner and cheek pads places the pick-up heads positioned just clear of the join between the pads and the front chin piece and positioned so the holes face inwards for an effective balanced 'virtual' microphone.
Small adhesive layered hook-n-loop pieces from the mounting kit feature cut-outs that hold and position the microphones precisely. This is a neat touch and attention to detail not seen with many other brand/model installation kits.
With speakers in the desired position and the microphones placed likewise, the helmet is reassembled and checked for fitment and clearances. There are about three inches of headset lead exiting the left side of the helmet – perfect.
Mount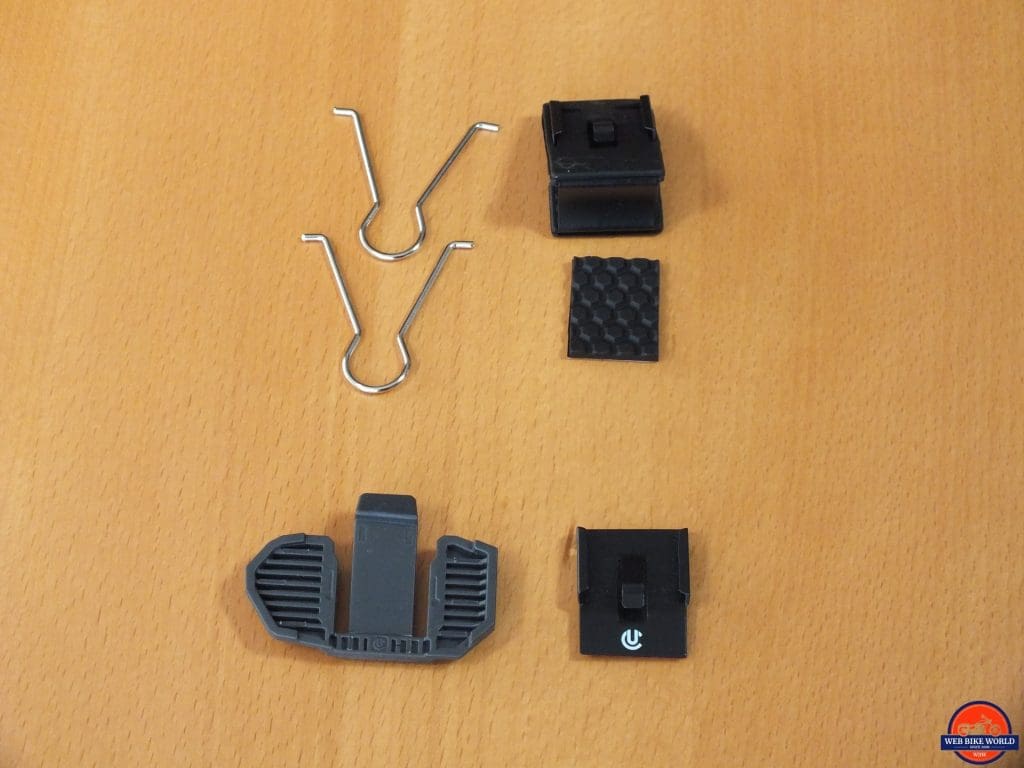 One of the temporary U-shaped tensile steel clamp mounts and half of a silicone cushion pad from the installation kit forms a secure but temporary mount for the Motion Infinity module; it sits in a (relatively) horizontal position that is optimal for the Gesture Sensor beam.
Helmet Versatility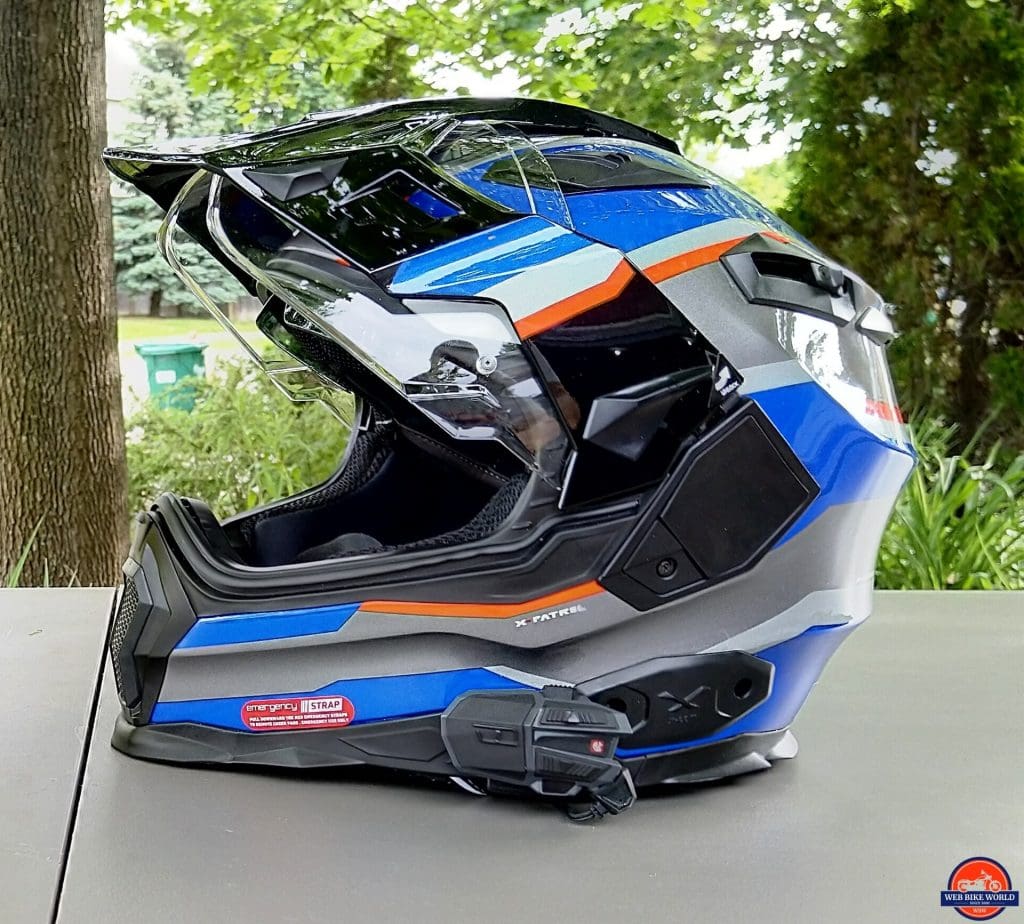 Since this first installation, the Infinity found a temporary home in the Arai Corsair (comfortable, quiet and a superb audio listening environment), then the Schuberth C3 Pro (the best audio environment) with it now residing on the reviewed NEXX X-Patrol.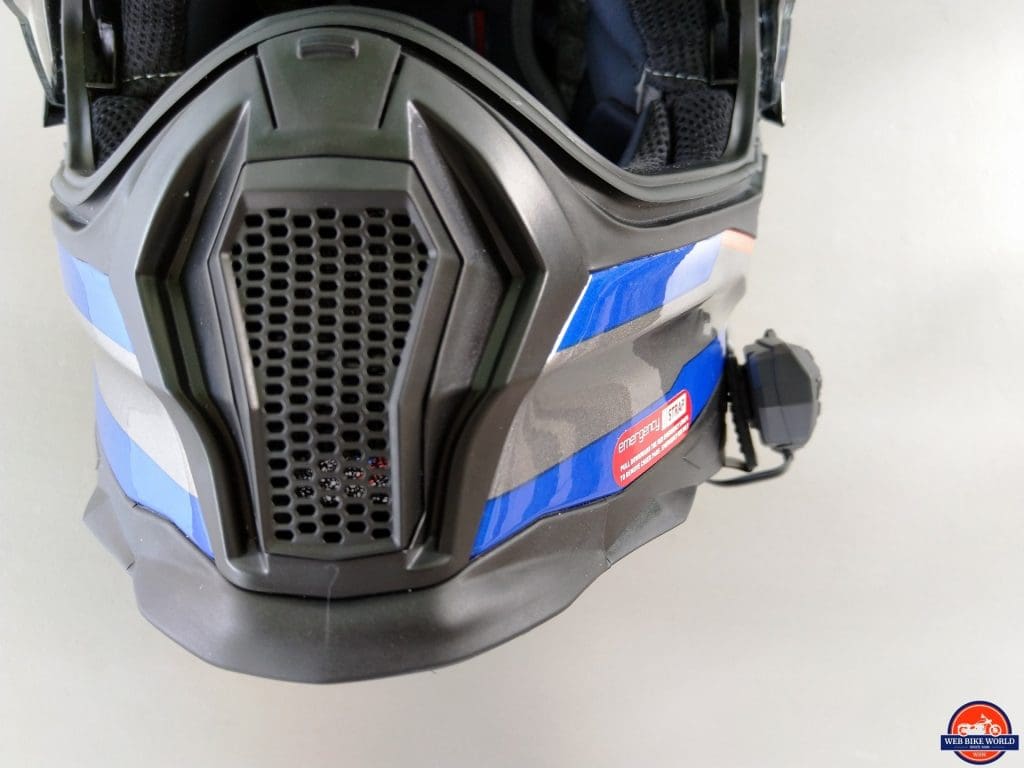 Low profile installation & Gesture Sensor alignment good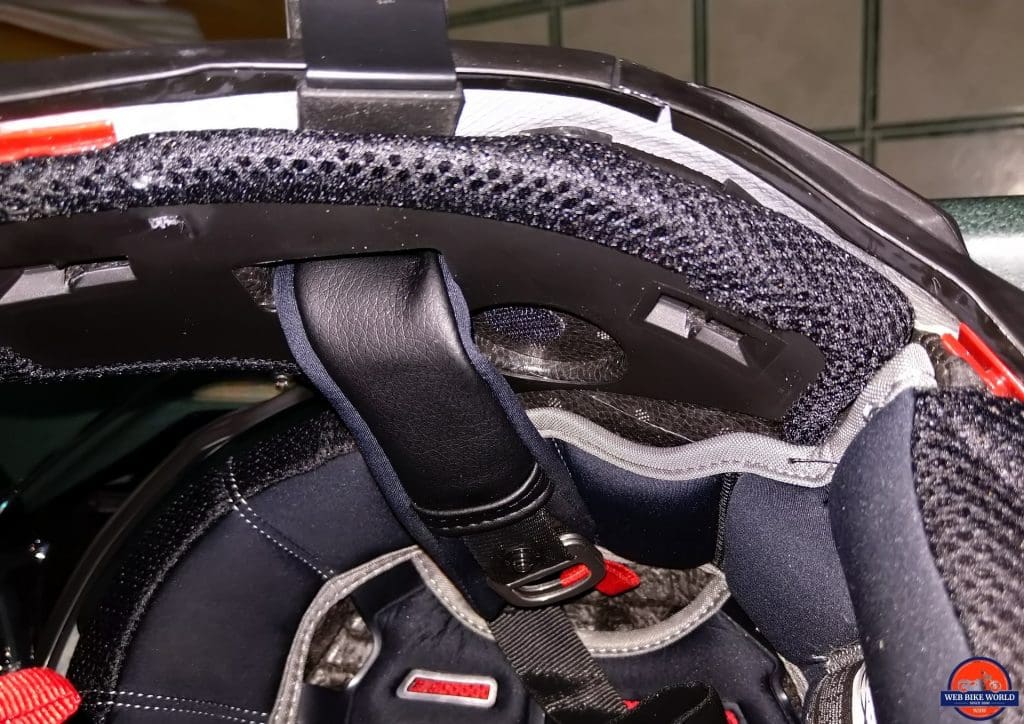 NEXX X-Patrol recesses just accommodate the speakers
Microphone mounting in NEXX X-Patrol
Temporary removable mount works well on NEXX X-Patrol
As with virtually every BT Helmet System tested, the systems are used on as many helmets as possible – this approach pays dividends in the long run, be it for our readers/potential consumers or to facilitate support to users over the longer term.
Motion Series – U-Move
We briefly identified U-Move in the Motion 6 review… with the full intention of addressing the experience with it at the time. But the guilty party (moi) raises his hand to acknowledge the error in noting the feature, then missing it during use…
It's not hard to overlook depending on how the host helmet and system are used or where placed when not in use, even temporarily, e.g. – coffee at Timmies or a lunch stop.
Usability
When the system is turned on U-Move activates as a background timer (tick-tock) and if the helmet/system is not used or moved after two minutes, it blinks Red and shuts down, then when moved or tapped it comes to life and is ready to go – all good so far.
In many user environments however including most of mine, the feature's (over) sensitivity works against it, meaning the tick-tock conditions are seldom met – so the system stays on or perhaps powers off a few seconds but is then almost immediately activated by something…
Bottom Line
It's a neat feature vice gimmick that runs in the background and if conditions are right it works just fine.
And in raising the sensitivity issue to the UClear rep, it's likely that this feature may be made a little less 'responsive', which would be a good thing. Alternatively, adding it as a Configuration Option in the CLEARLink app with some basic adjustability could work…
U-Command
This feature offers up two options.
First Feature Option
The first one is directly using the U-Command feature that does not live on board the module but rather with the CLEARLink app that needs to be running in the foreground or background for use.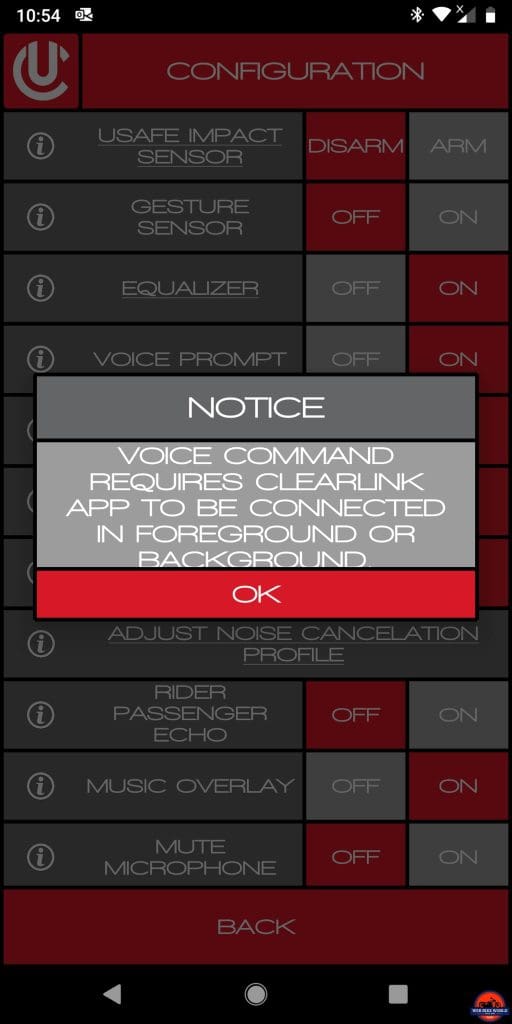 Implementing this new feature is a long-overdue good thing and if properly evolved it advances UClear headset use on many fronts. But, it also adds complexity in making the CLEARLink app and phone essential components of the functional architecture. I kind of hope this isn't a directional arrow of sorts…
With the Voice Command option activated under the Configuration menu of the CLEARLink app, push the Quick Access Button once and then waiting (sometimes for multiple seconds) for the activation tone. Once it is heard, the user can speak one of the few library commands or just say, "What Can I Say" to get the verbal shortlisting.
In use, the feature doesn't perform well – lots of lag time (resource-based) and very hit-n-miss regarding voice input interpretation even after two months of use. How well this voice command option is received remains to be seen.
Second Feature Option
The second U-Command option is also external, but less conditional as the CLEARLink app is not required to be in play.
A double push of the Quick Access Button initiates the direct wake-up call to either Apple Siri or Google Voice depending on the device in use and if said device is configured for either feature – this option works well…
U-Pair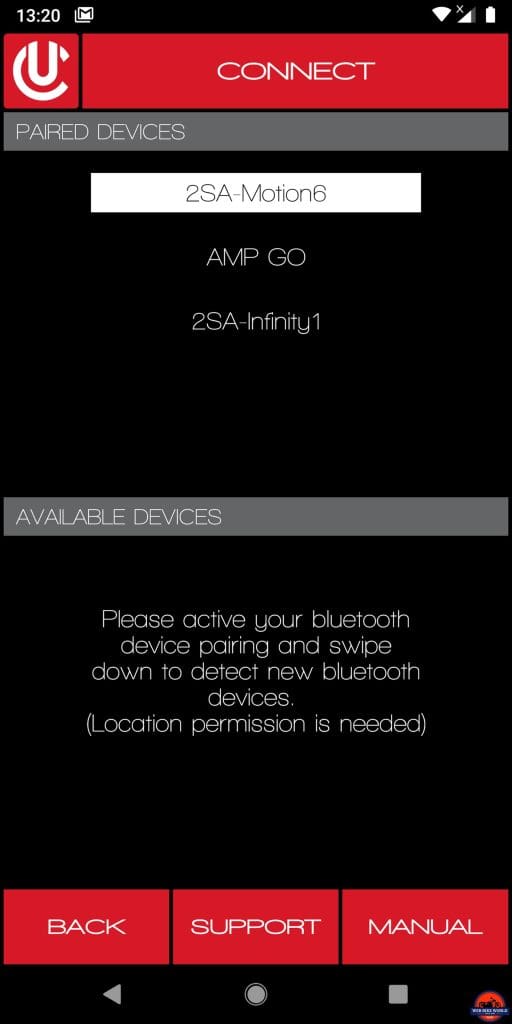 This is a refresh of the feature initially identified and discussed in the Motion 6 submission. And to perhaps clarify things going forward in working with Bluetooth – the devices must be 'paired' before they can be 'connected' for communications of some sort.
So far everything offered up has ended up 'paired' to the Motion Series systems for use, but not everything has 'connected' for communications.
A total of 20 different Bluetooth systems or Bluetooth enabled products are now checked off on the successfully paired and connected list, including the Bluetooth-based BMW TFT component, an older set of Bluetooth equipped PTT radios and the newly arrived Sena Momentum Pro helmet (review pending).
The remaining 17 are standard Bluetooth-based helmet communication systems of varying age and capability and all can be used for Universal Intercom sessions with the Motion 6 or Motion Infinity systems.
Note – sometimes patience is needed to get some of the systems connected…
Beginning the Pairing Process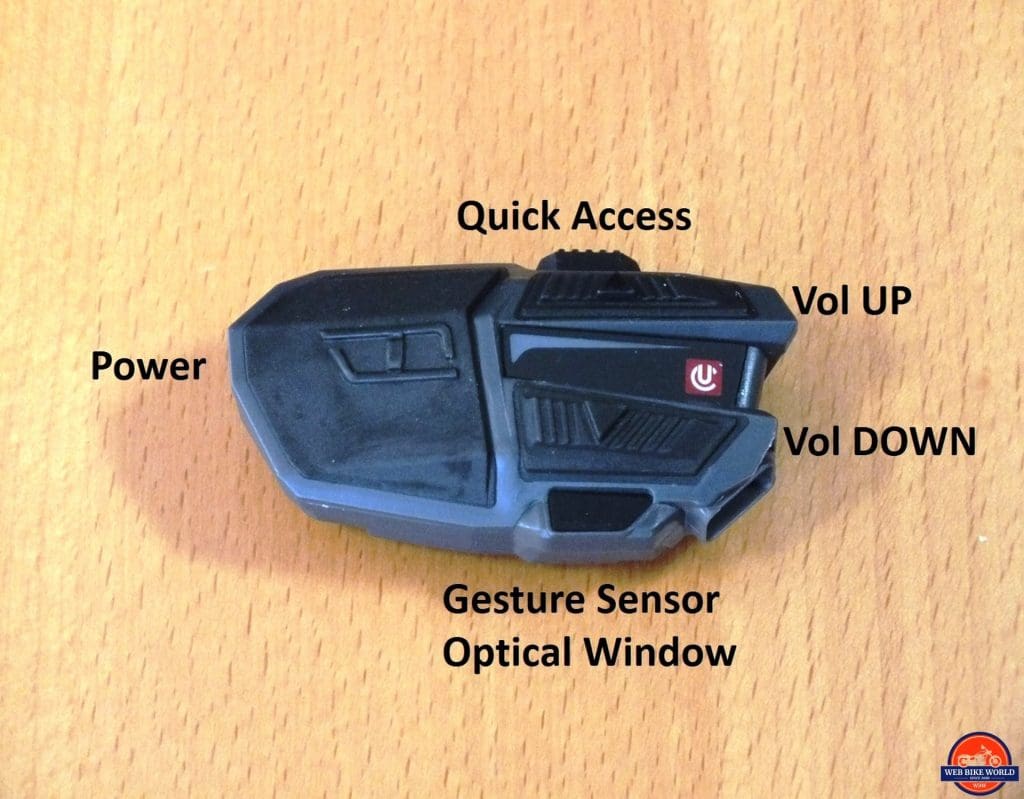 Preparation for this activity involves putting the target system into its (primary) phone pairing mode and making sure the Motion Infinity is turned off. Now press the Motion device Power button to start the universal 'scan', an action that results in either (A) or (B) below.
If the Motion sees the offered device and pairing is attempted, the Motion LED works through a series of Purple hued LED flashes and after a few seconds goes into a double-Green pulse, indicating a successful universal pairing (the intercom will be live)
It may initially see the offered device and try to pair, indicated by one or two Purple hued LED flashes, followed by the familiar Blue LED pulsing, indicating that it's not going to play on this go-around. If so, turn the Motion device off and try the sequence again.
Tips n Tricks
If the target system has a relatively long pairing cycle (most are a minute or so), then it is possible to cycle the Motion device 2-3 times during this time frame and end up with a successful Universal Intercom session.
If viable, clearing all Bluetooth pairings and then rebooting the target system worked really well in getting the older or somewhat crankier systems paired to the UClear Motion 6 or Infinity. And with the Packtalk Bold/Slim models, using the Primary (phone) pairing channel works every time…
Bluetooth versioning is a factor in all of this. Systems with BT 4.0 and some BT 4.1 devices take two to three passes before pairing whereas BT v4.2+ and BT v5.0 systems sync up quickly, usually on the first pass.
Once a Connection Is Established
Once the two mixed brand devices are communicating, the Universal intercom link is manageable from the Motion device only (a one-way function typical for most Universal Intercom Pairings). A one-second push on the Volume Down to end and a one-second push on the Volume Up to start.
It is important that the Up/Down control be held for at least one second until a low background beep is heard as confirmation. The other headset may also 'beep' or a voice announcement made regarding intercom status.
Restarting a universal intercom session can take a few seconds, but eventually, the double-Green pulsing will reappear on the Motion device, with either a single or double Blue on the other device.
Newer the Bluetooth the Better
Depending on the target system, the Universal Intercom pairing may or may not be recognized once the systems are turned off and cycled back on, requiring a re-pairing effort. 
Related to this and the versioning observation above, newer BT 4.2+ and BT 5.0 systems have better persistence with each other – understandable given enhancements and additional features found in the newer Bluetooth versions including Bluetooth Low Energy or BLE.
Working through the pairing, connection, and persistence issues is an ongoing longer-term test and evaluation activity. We hope that a more comprehensive and continuing wBW picture of everything Bluetooth system-related can be created and maintained going forward.
UClear DynaMESH
This is a refresh of the feature initially identified and discussed in the Motion 6 submission.
DynaMESH is a hybrid Mesh and Bluetooth management feature that works well in managing a mixed environment. A mixed-mode UClear communications environment of six systems is in use without issue; as the systems come and go, DynaMesh reconfigures and adjusts accordingly.
We could wish for better results regarding intercom range; updated averages in clear terrain are around 600 to 800m (1968 to 2624ft or 0.49mi), somewhat less than UClear's stated (optimal) range of up to 1.2km (0.75mi) per user.
However, time of day, heat, humidity along with terrain and man-made structures can and do impact performance. With the HBC200 and Amp GO systems in the group, ranges for these systems is about 500m (1640ft) – expected and acceptable. Your experience, of course, may vary.
Motion Infinity USAFE
And yes, we've left the best for last; to put it succinctly – the UClear Motion Infinity USAFE is a game-changer (period).
UClear's implementation of this feature, currently found only on the Motion Infinity model is truly unique. A multi-axis sensor integrated within the headset provides the capabilities for both the motion or gesture sense control and USAFE features.
USAFE is an accelerometer-based real-time emergency response capability and while a unique feature on the UClear Infinity, its is not a new technology per se… but it is a first for a BT Helmet System.
Multiple manufacturers and third-party technology providers are adding or integrating and enabling similar features, typically by using motorcycle-based (onboard) sensors, a cellular-based SIM capability, a personal (paired) mobile device, or a capability like one of the SPOT products.
BMW Motorrad's SOS or eCall system is one on-board example, although we don't have this emergency service yet here in North America (pending approval).
But with the UClear Motion Infinity on the helmet, a GPS enabled mobile phone, and CLEARlink app in the loop, UClear Motion Infinity users do have it… and it works.
How it Works
If a severe impact or crash occurs and the UClear Motion Infinity is paired/connected to a GPS (location feature) enabled mobile device and is paired with the CLEARLink app, USAFE responds after 30 seconds (user intervention period) to notify (listed) emergency contacts of your situation, identified position, and listing the closest medical facilities.
UClear thoughtfully provides the ability to test the feature from the CLEARLink app. This is a good choice to allow users to learn, configure things, and conduct closed-loop testing – more on all of this in the 'Walkthrough' found below.
Set-up only takes a couple of minutes – activate the feature and configure things from its sub-menu screens and then fill in the needed emergency contact information. It is a small slice of time to pay for the capability and safety provided.
A Walkthrough
Pair the Motion Infinity to GPS enabled mobile device
Make sure there is will be a data connection/mobile phone service
Connect to the UClear CLEARLink app
Agree to (any) permissions and make sure the mobile device GPS (location) feature is on
'Arm' USAFE in the Configuration Menu of the app (running foreground or background)
Enter your rider information and contact information for up to three (3) emergency contacts

Phone numbers must include + and country code, e.g. – Canada is +1 xxx-xxx-xxxx
The first emergency contact is the 'primary' contact, including the auto-dialing call
DO NOT use 911 or civil emergency services as a USAFE emergency contact without their prior written permission.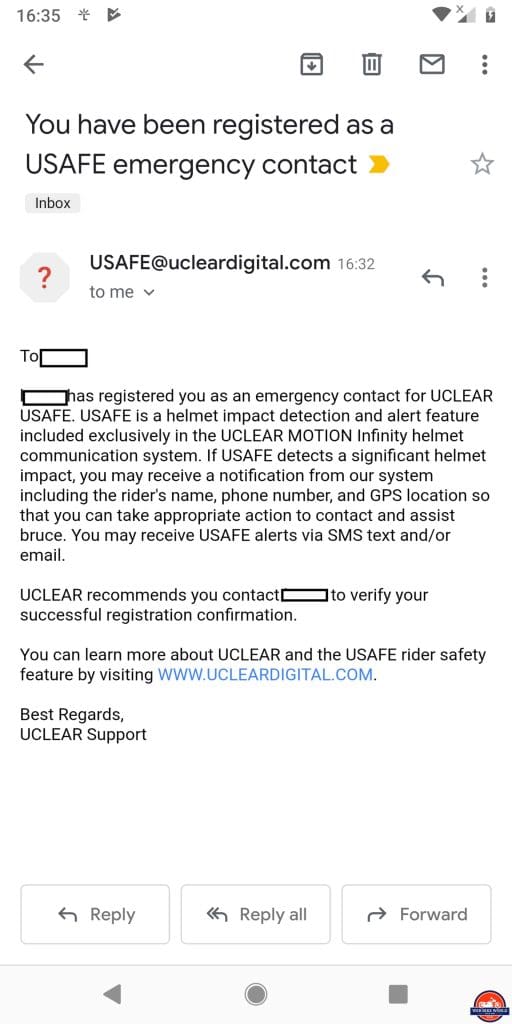 7. Tap 'Register/Update' to register/refresh the USAFE database – this triggers an email
8. notification (text) message to your listed contact/contacts letting them know they have been added by you as emergency contacts    for USAFE
9. USAFE is now 'Armed' and ready to go. Arm/Disarm is done anytime from the CLEARLink Configuration menu
10. Test Mode – use 'Test USAFE' button to test the sensor and emergency notification process; a good tap or series of taps on the module initiates this.
a. The notification message/call can be stopped within the 30-second 'wait' window. If not stopped the emergency notifications and call (clearly identified as 'TEST ONLY') are sent out after this period.
USAFE Tested with email notification, location update, and closest hospital
While I have not (yet) had USAFE activated due to an impact or crash (touch wood), test mode activities are always good and timely. While out riding the systems are 'armed'. It's there, it works, use it.
For Test Mode sessions with the feature, my own contact info as a loop, or that of a fellow rider who can actively watch for any alerts is used; all serving to prove the feature works very well.
In virtually every instantiation, auto-dial calls and emergency contact email information is received within 15 to 30 seconds after the 30-second wait or time-out period, with needed emergency information generated and received within 60 to 75 seconds. Impressive.
There isn't a lot of real-world data on USAFE available yet, although I am sure UClear is keenly interested in the statistics of it all.
USAFE Testimonial
There is a short but informative testimonial video on Youtube, posted by UClear and dedicated to their new friend who is identified as the first motorcyclist to benefit from the USAFE system.
Privacy and security concerns are real but have not yet been pursued with UClear. To a large extent, USAFE functions much like (typically) more expensive and involved third-party emergency notification and tracking systems.
On the Road Roundup – Performance & Observations
General Use
Using the Motion Infinity, and the Motion 6 together or with other paired UClear or other brand systems connected via the Universal Intercom capability creates a relatively comfortable environment, although respective Bluetooth or Mesh modes and individual system range limitations must be appreciated.
Audio Excellence
UClear systems arguably remain the or among the best on the market. Answering a phone call or using the intercom and listening to audio streaming, like your favorite Ticket Playlist, serves to validate this statement in no uncertain terms.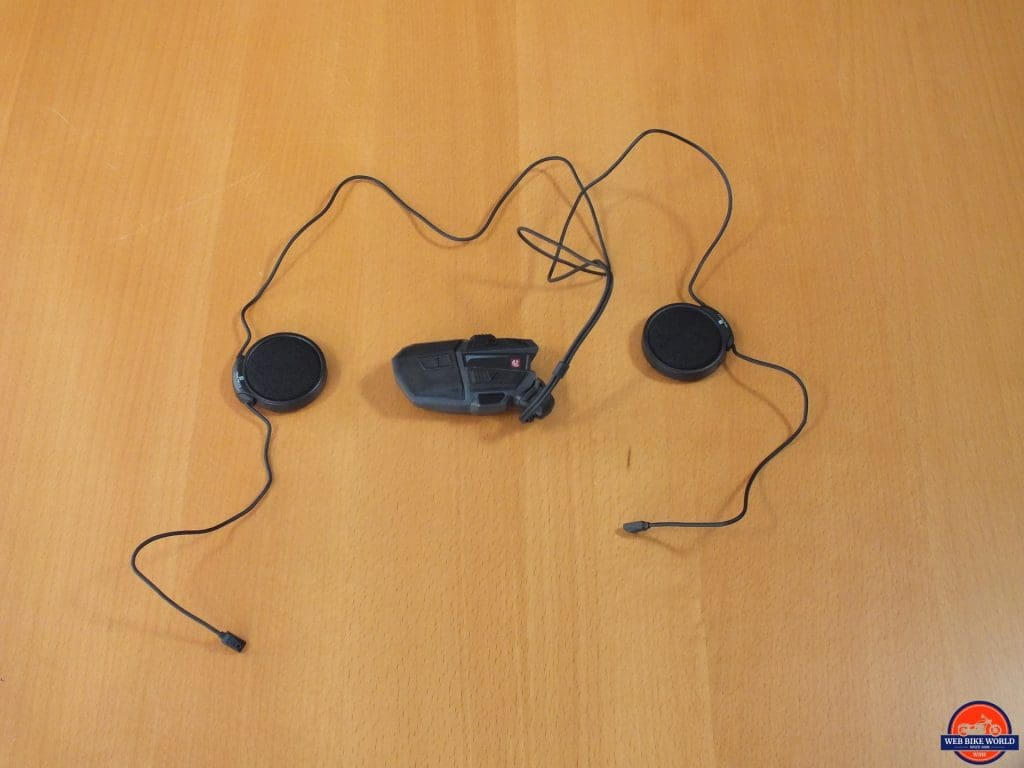 Between the innovative dual audio pick-up or microphone placement, the superb Pulse Pro 2.0 speakers, the app-based Equalizer, and (Noise) Suppression Slider features, any helmet of almost any style can be tuned to provide a better environment.
App-Based Tuning
The two app-based features are of note while using the systems. For the audiophile or those of us who have hearing 'differentials', the Equalizer provides Bass, Mid and Treble sliders and very much appreciated, a Left and Right balance slider.
This ability to balance the environment between the two speakers can seal the deal in tuning a helmet environment for an individual user, especially if speaker positioning isn't precise or where the left and right intakes differ – my right ear is near perfect, the left, not so much. And don't forget noise-related variables that may be present one (road) side but less on the other.
Sometimes it seems like nobody has yet brought a system to market that deals effectively with the riding, cockpit, and helmet environments as a collective; but it's not for a lack of interest – there is lots of research and some marketed solutions including the Sena Momentum INC helmet (hopefully on tap for a future review).
Adjust Noise Cancellation Profile
Adjust Noise Cancellation Profile or Suppression Level slider is a most valuable and functional feature that can enhance intercom audio whether speaking or listening, allowing individual users to positively tune their helmet environment and cope with helmet and cockpit noise
CLEARlink App – Selection Screen, Info Screen, & Level Control Screen
Intercom
Motion to Motion mesh-based intercom ranges of 600 to 800 (1968 to 2624ft) are the average, with longer range communications over the very open road stretches, Mixed-mode (Bluetooth and Mesh) communications have been about the same on average or longer over the wide-open stretches.
The shorter ranges experienced are not that far out of line for other Mesh or mixed environments used by other brands. Although with an optimal number of riders (around 6 to 10, something the Infinity is made for) the end to end range can be significant… we need more of the Motion Series systems to try this though.
And less the Universal Intercom sessions that don't (seem) to reconnect when lost due to distance or terrain, the DynaMESH environment is quite well managed – connecting and reconnecting members of the group dynamically – typically confirmed with audio advisories.
Like all other UClear products, especially the Motion Series, intercom clarity remains hard to beat, especially with the dynamic tuning features provided.
Battery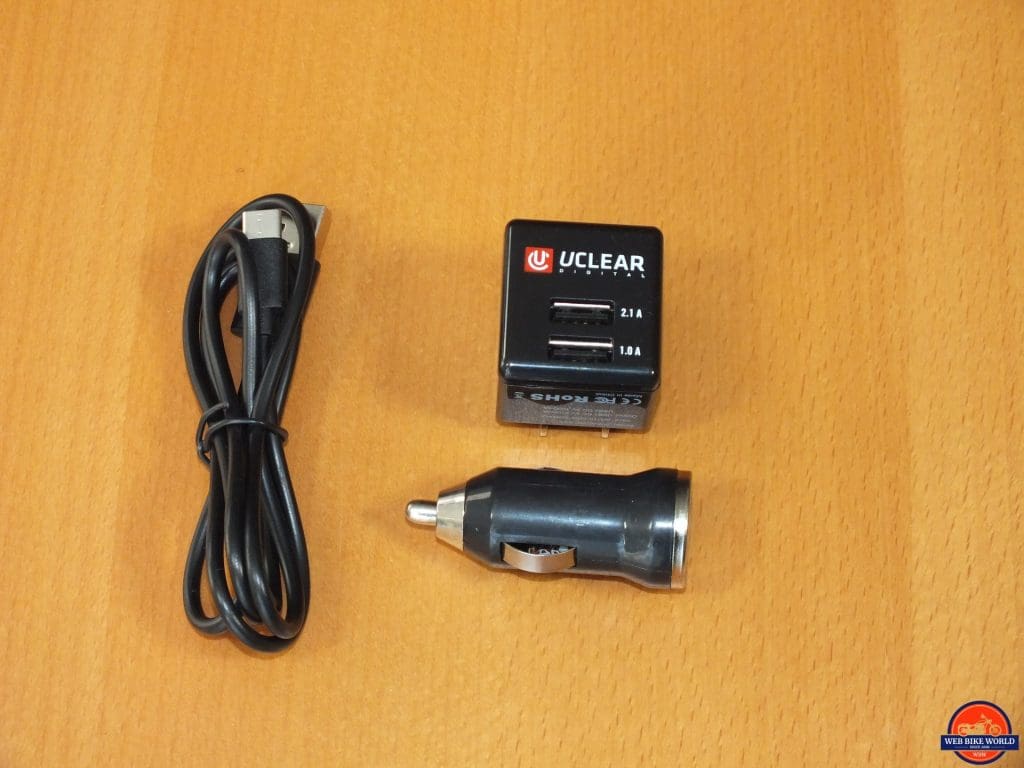 Darn good if you ask me. I haven't yet done a full rundown test, but getting one full day of sustained use typically has the battery at or near the 50% mark; two days might not be a big stretch. And once the charging harness is available, keeping the system at optimal strength will be possible – finally.
Motion Series Conclusion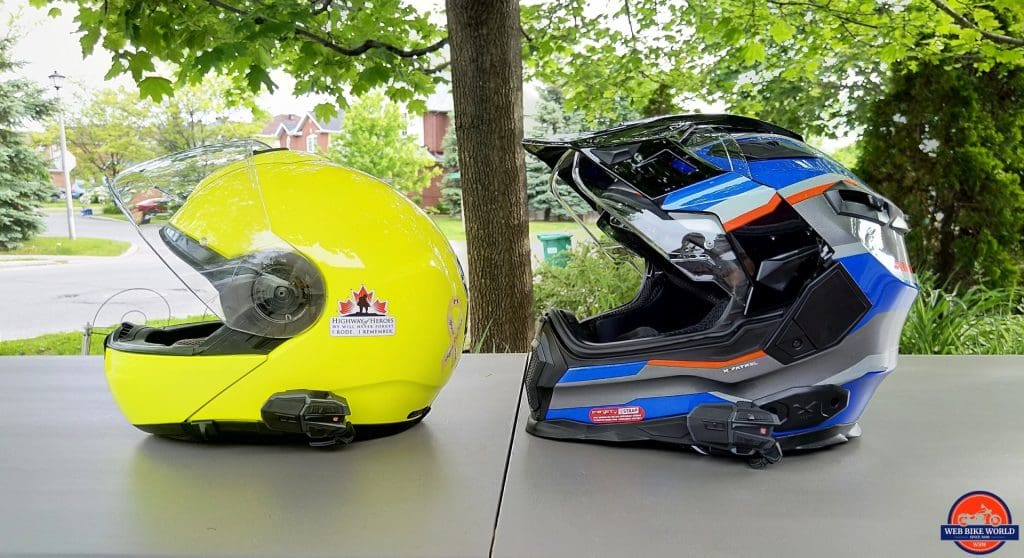 Motion 6 (L) & Motion Infinity (R)
Having both members of the Motion Series family, the Motion 6 and Motion Infinity, provided a great opportunity to use and review both systems individually and together as compatible systems.
The Motion Series systems do not have the same multi-channel multi-audio source capabilities of other leading brand systems, but what is packaged into the stylized lightweight modules and superb headsets works.
Not without the often-seen 'new' teething issues, there are some differentials between what is advertised and that observed during testing and use. But, with continued use and ongoing interoperability testing, some of these issues are being mitigated to degrees.
Everything identified as an issue or observation is known to the UClear rep, who has been more than willing to answer questions posted. However, for the near term, a firmware update release remains (high) on my wishlist…
UClear's commitment to motorcyclists regarding communications, audio excellence, and safety is the real deal. To wit – USAFE. Users now have a reliable crash sensor and emergency notification capability along for the ride – a BIG safety positive.
Technology and innovation are big parts of my life, always have been, always will be. As an avid long-time motorcyclist most of what I see being evolved or coming to market is exciting and positive.
Along with the Internet of Things (IoT) and myriad "information roads" initiatives for mobile platforms, wireless capabilities, including Bluetooth headsets will have a continuing and evolutionary role.
The Motion Series systems represent a big step for UClear and in some respects for the whole Bluetooth helmet communications industry. The systems should be very evolvable and I for one eagerly await UClear's next steps.
Bottom Line: The Motion Series 6 and especially the Motion Infinity with its unique U-SAFE is highly recommended.
ADDENDUM – Motion Series Technical Data & Specifications
CLEARLink App – Device Configuration Menu Listing
USAFE Impact Sensor (Motion Infinity only)
Gesture Sensor
Equalizer
Voice Prompt
Voice Command
Auto Volume
Voice Answer
Adjust Noise Cancellation Profile

Suppression Level Sub-menu choices, sliding scale – Low > Standard > High (100dB)

Rider Passenger Echo
Music Overlay
Mute Microphone, and
Reset All Pairing Info
LED Output Indicators
| | | |
| --- | --- | --- |
| LED Output | If Blinking | If Solid |
| Blue | Power on/call in progress | Battery fully charged |
| Red | Power off/battery low | Battery charging |
| Purple | Intercom pairing mode | Battery faulty |
| Blue/Red | BT pairing/incoming call | |
| Green | Intercom connected | |
| Turquoise | Music & Intercom overlay | |
| Chartreuse | Crash detected (USAFE) | |
Listed Specifications
Bluetooth version 5.0 with BR, EDR and BLE, Class 1 output
Profiles HSP, HFP, A2DP, AVRCP, GATT
Intercom Range, up to 1.2km (0.75mi) per person
Talk Time, up to 18 hours
Standby Time, 400 hours
Operating Temp, -40C (-40F) to 60C (140F)
Charging Temp, 0C (32F) to 45C (113F)
Charging Time, 2.5 – 3 hours
Controller Size, 72 x 44 x 26mm (2.8 x 1.7 x 1.0in)
CLEARLink Mobile App, Android 4.2 or later, Apple iOS 8 or later
Warranty, 2 years for control unit, 1 year for accessories
Listed Technical Data
Dimensions (L x W x H) 72 x 44 x 25mm (2.8 x 1.7 x 1.0in)
Weight 33g (1.16oz)
Audio     Frequency Response 20Hz to 20kHz

Sampling Rate 48kHz, 16bit
SPL 105dB +2dB

Radio

Carrier Frequency 2.402 – 2.480GHz
Range up to 1.2km (0.75mi) per person, under ideal conditions
RF Output Power 19.61 dBm (max)

Power

Consumption 200mW (max)
Power Input (charging) 5V / 400mA / 2W
Battery 3.7V, 650mAh, Lithium-ion Polymer (rechargeable)
Music/Talk Time up to 18 hours
Standby Time 400 hrs

Temperature

Operation Temperature -40C to 60C (-40F to 140F)
Charging Temperature 0C to +45C (+32C to +113F)
Storage Temperature -40C to +80C ((-30F to +176F)
Pros
First available system with BT 5.0
Industry-first integrated triaxial sensor
Gesture 'input' (really hands-free)
USAFE Impact and Emergency Notification feature
Works with virtually any helmet
Extendable microphones for great flexibility
'Virtual' microphone provides unparalleled sensitivity
DynaMESH and U-Pair manage all paired devices
Audio that is (still) hard to beat
Noise Suppression Slider to allowing tuning of helmet/cockpit environment
Cons
Mounting solutions lightweight and not as solid as they should be
Optimal placement of extendable microphones takes some testing
All features work, but some need tweaking or revisiting
Expensive, but BT 5.0 and USAFE are great investments
Specs
Manufacturer: UClear Digital
Price: Single Kit $274.95 USD, $350.99 CAD; Dual Kit $499.95 USD or $629.99 CAD
Fitment: Universal
Warranty: 2-year (control units), 1-year (accessories)
Original Review Date: June 2019
Product: UClear/BITwave provided the product for this review